The Kande Beach campsite wasn't as picturesque as Makuzi, but being on flat ground, meant that at least it drained well. They also have a nice bar on the beach itself.
It turned out that we were fortunate to have moved on. Not only did Makuzi suffer even more rain over the next couple of days but Kande has an uninterrupted view directly north up the lake. The evening we arrived we had a couple of 'Greens' with Kirsty & Gareth on the beach and were fortunate enough to be there on one of the few occasions when the rising of a full moon coincided with the setting of the sun.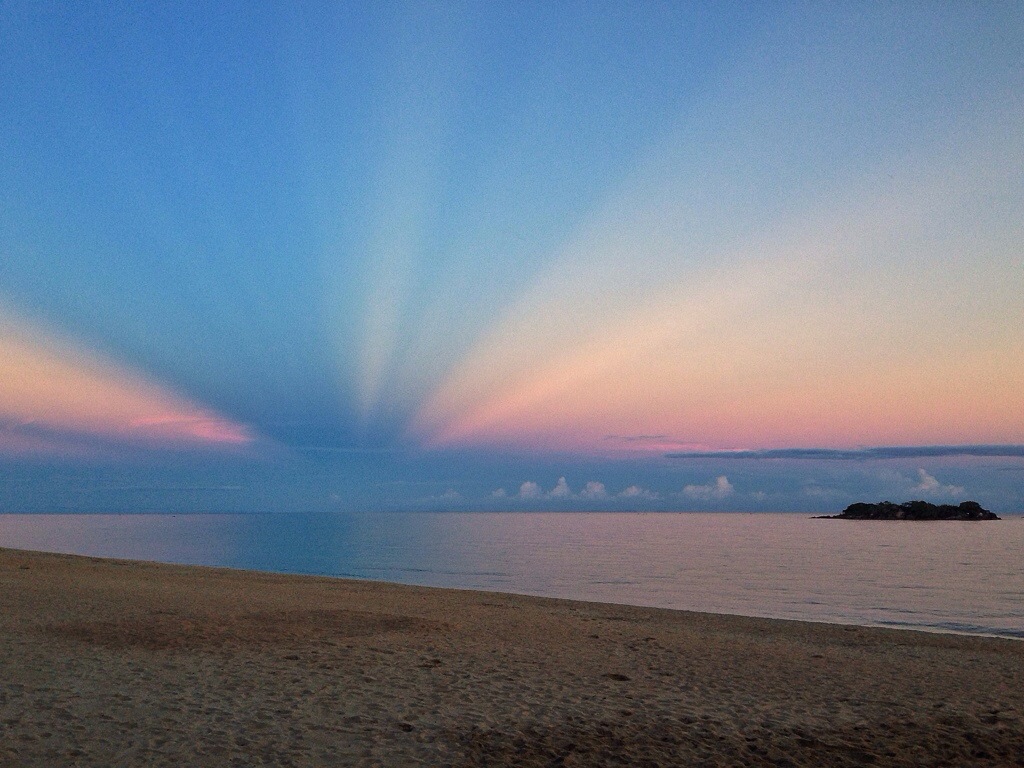 The 'sunset' colours in the sky are in the east and actually a reflection off the moon just below the horizon.
It appeared as if the full moon rose directly out of the lake.
Superb (unfortunately we didn't have the camera so the phone pictures don't really do it justice).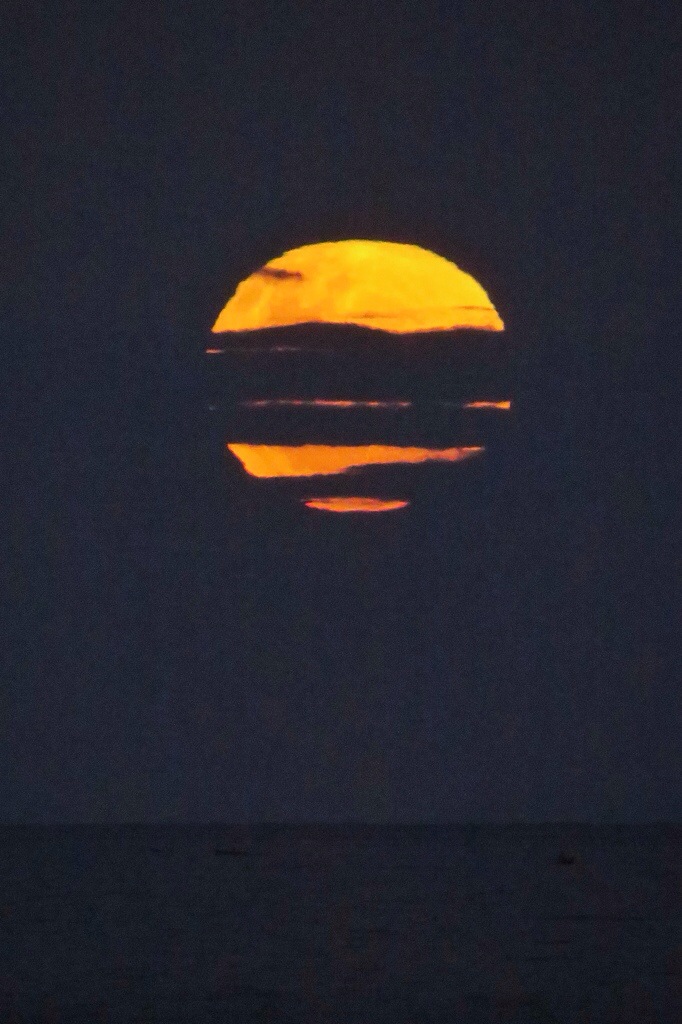 Not bad for a phone camera though.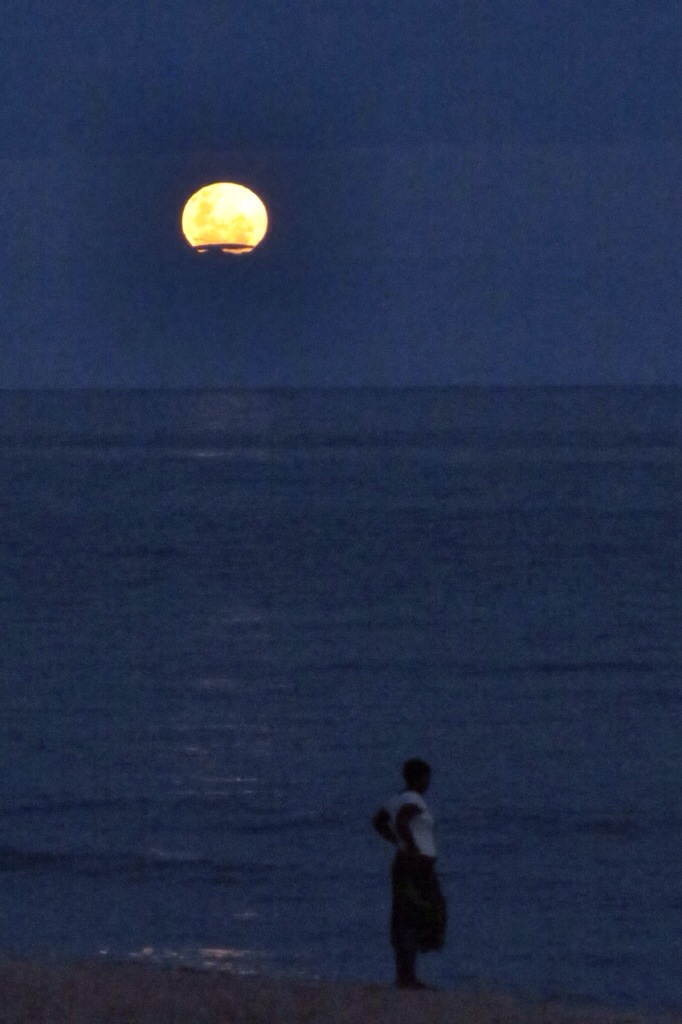 Just before we left to head north a bunch of guys arrived who are 'recycling' their BMW ie returning it to Germany. They plan to drive it all the way but, although they can stick to tar roads most of the way, I'm surprised they managed to get it down the steep muddy track to the Kande Beach camp. It'll be even more fun trying to get it back up.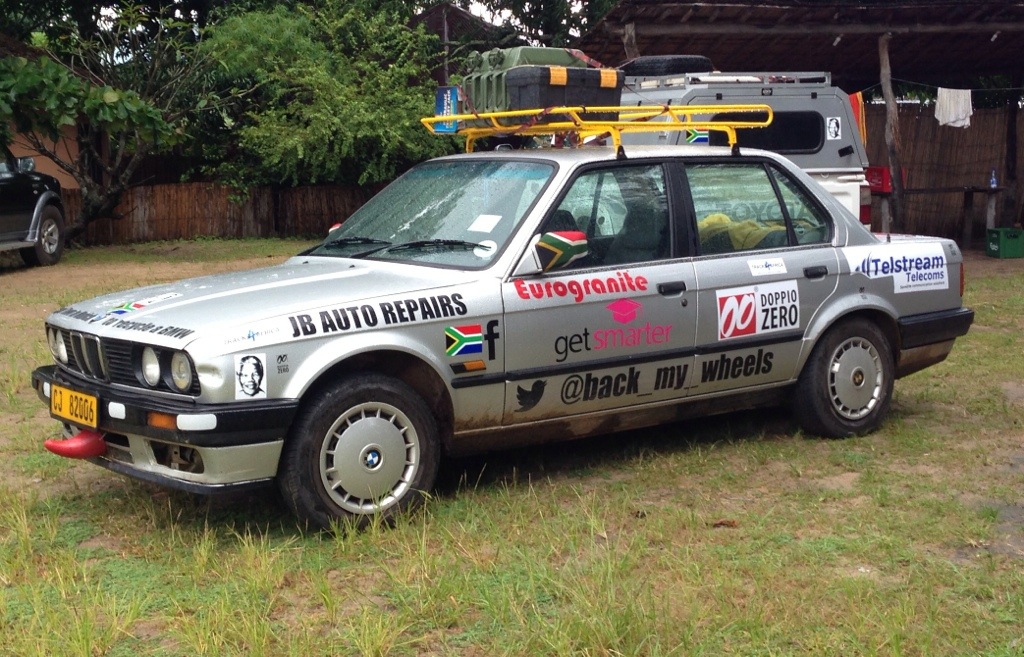 After Kande we went 120km north up the lake to Nkhata Bay looking for camping.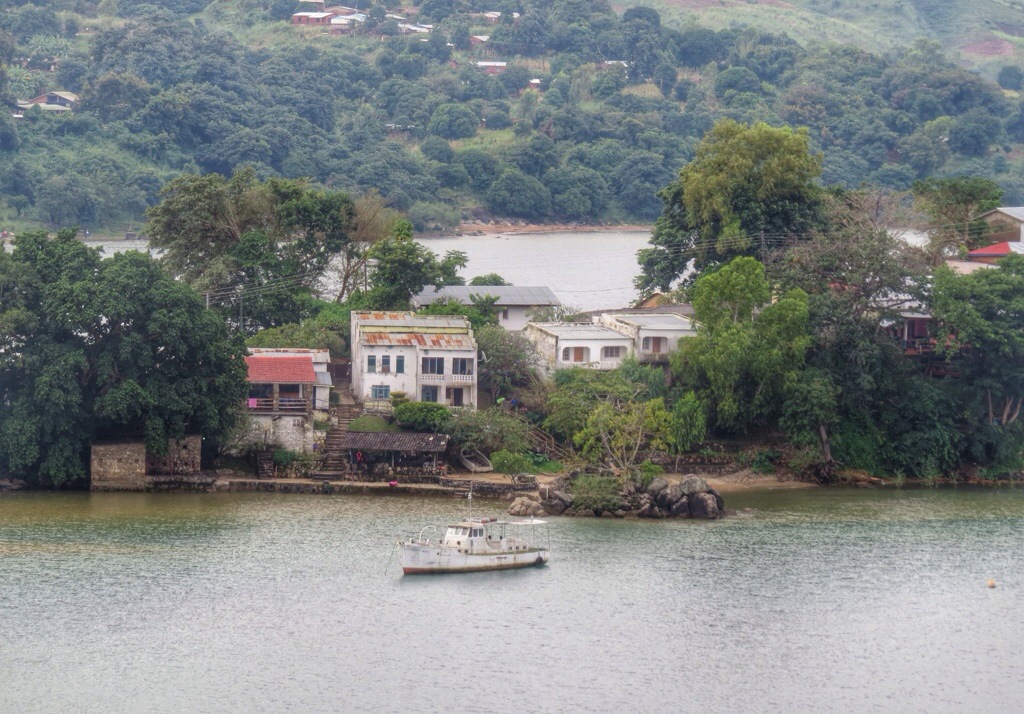 Although the village is pretty scrappy, a couple of the adjacent coves are lovely and have some attractive lodges. Unfortunately none of them have any facility for rooftents (other than being crammed into their car parks – the only relatively flat land around). Not what we're looking for.
We stopped here for lunch and they said we could camp in their beach. We decided not to – it's a small public beach and, since it's Easter Weekend, very crowded. We would have ended up as the local TV Channel.
In the end we didn't get lunch either. After waiting about 30 minutes (not unusual out here) the waiter came back and said it could be another hour or two as the drivers had gone into town looking for supplies (we only ordered a couple of omelettes). We couldn't wait any longer as the next likely camping was Mzuzu town about 60km away and it would be dark before we arrived and found somewhere to stay.
Leaving Nkhata we got stopped at a Police roadblock and (unusually) they wanted to check everything: passports, Visas, car insurance and then all the vehicle lights. They found the reversing light wasn't working and said the fine was up to 20,000 Kwacha ($50). With a bit of good humour I managed to talk them down to 3,000 ($7) but there was no way I was going to be able to talk my way out of it.
Mzuzu is a large town with most amenities, loads of fuel, ATM, a new shopping mall, etc. Unfortunately it doesn't have any camping. There is a Backpackers but we couldn't find it (fortunately, as a number of people have since told us it's a dump) and we ended up in the Ilala Crest Lodge / Motel, just outside town.
Clean and with a good, cheap restaurant & bar. Dinner $4 each, beers $1. Rooms were expensive though (by our standards) at $60 per night.
Still, we lucked out. We met Neil, Elaine & Ashleigh in the bar. Part of a group from Dublin Institute of Technology, they are over here volunteering for an Irish Charity based in Mzuzu called 'Wells For Zoe'. Over the last 7 years they have established a sustainable community farm and a programme for locally manufacturing and installing pumps for wells in communities that wouldn't otherwise have local access to water.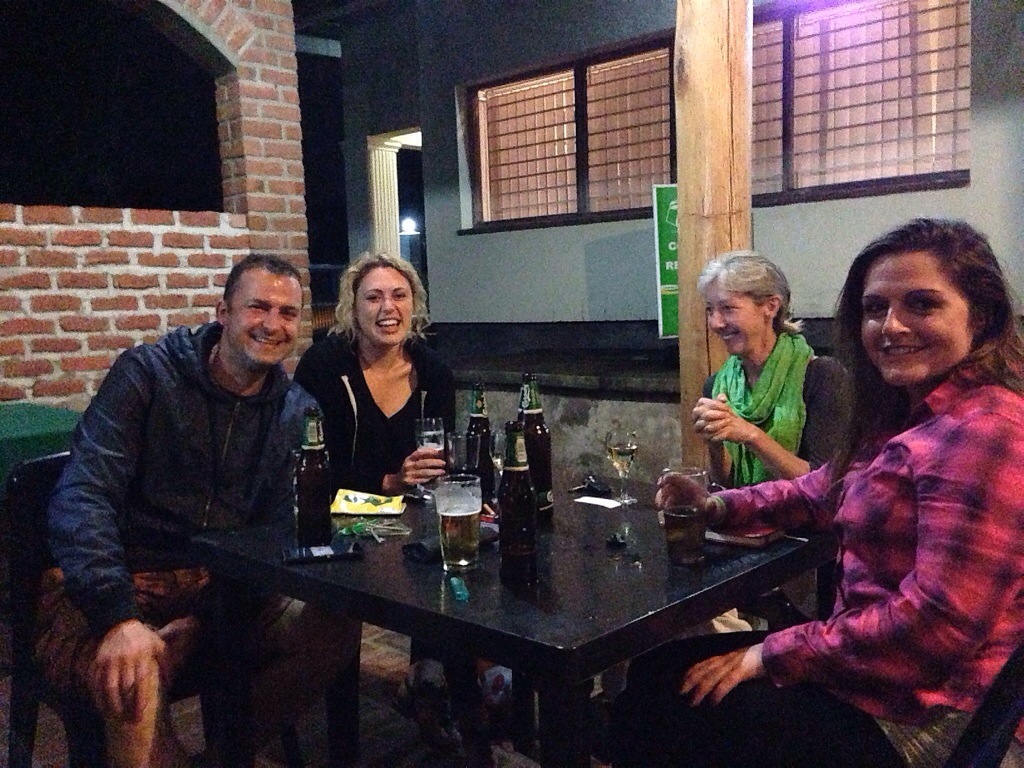 It was fascinating and inspiring. They said they were going to install a pump the following day and, although we were planning to move on, we asked if we could tag along. Better still, they offered to show us the small factory they had built in Mzuzu to manufacture the pumps.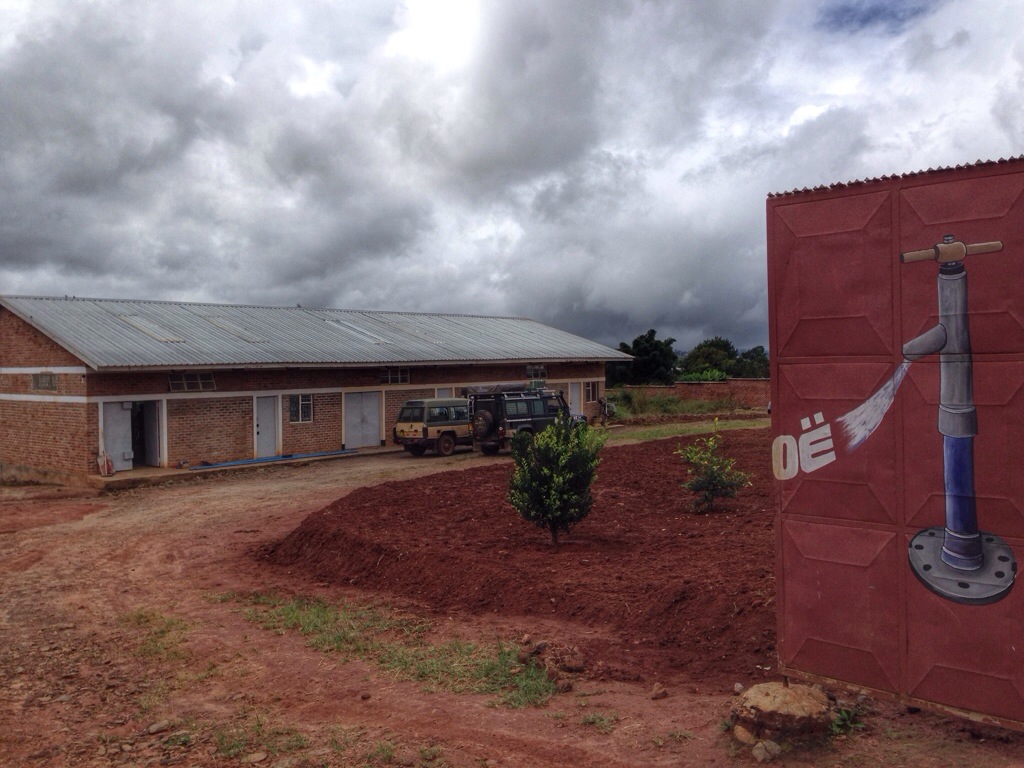 William (at 1 of the 2 lathes imported from Ireland 3 years ago) and a couple of colleagues make all the pumps from scratch.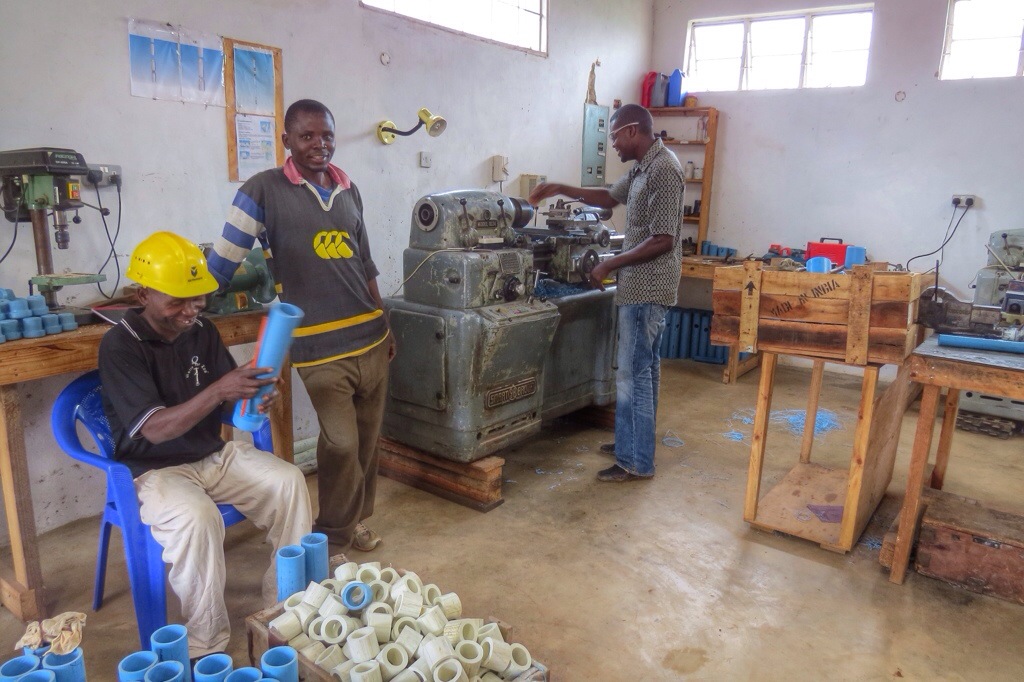 William was originally one of the farm labourers who took an interest in the manufacture and now is in charge of the team on the ground. Wells for Zoe recognised his abilities and between him and a young girl called Aliffe (their local administrator) now have a really good team based in Mzuzu.
The pumps are beautifully clever and simple.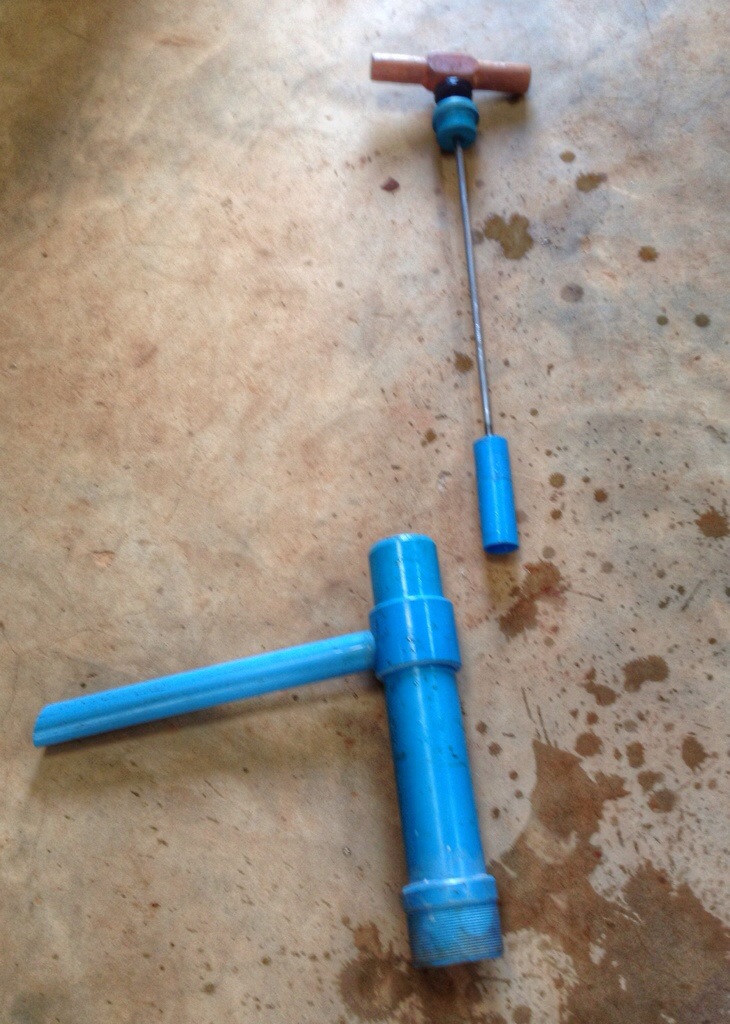 They're made from Polypipe and solid plastic block. All components are milled, and connected by screw-threads produced on the lathe so that there are no elements that need to be imported. Each pump has 2 reciprocating valves, using bicycle inner-tube or pond liner as the flexible diaphragm.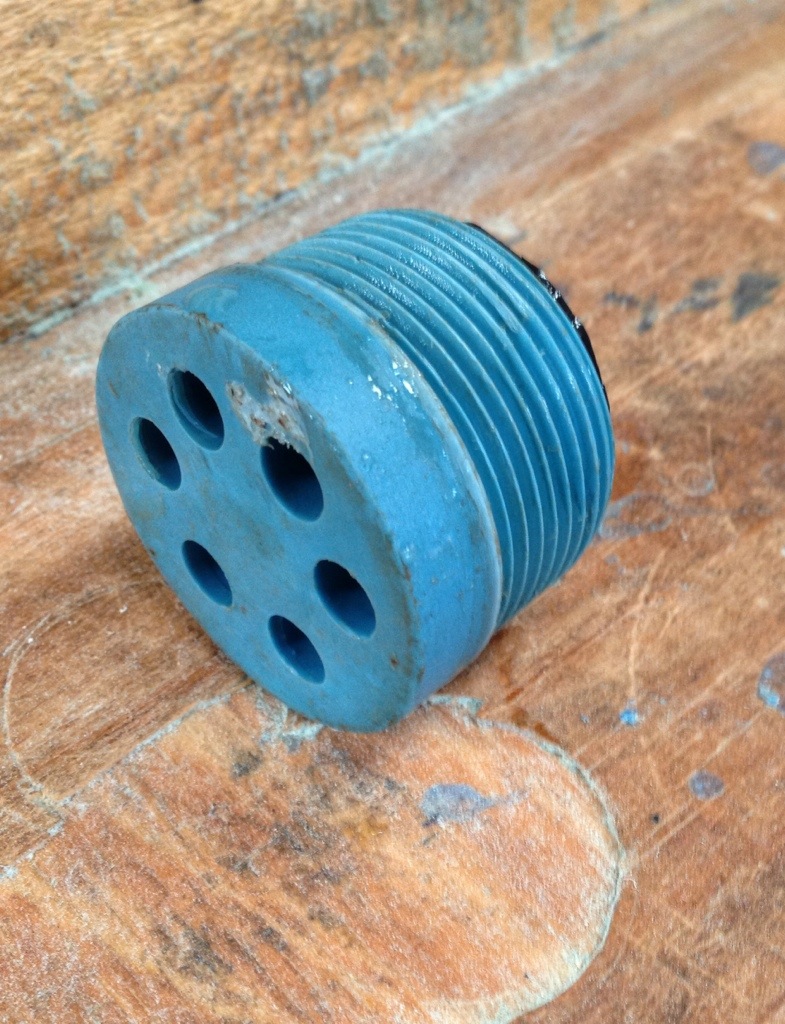 Best of all they're reliable and cheap (steel pumps may look stronger but they can cost up $500-$1000 dollars to produce). They also have components that are difficult and expensive to replace. These 'Canzee Pumps' designed by SWS Filtration Ltd, can be manufactured in Mzuzu for about $50-$60 per unit!
We met up with the rest of the 16-strong team of volunteers from DIT who have been digging a well locally, all piled into our car, their battered old Land Cruiser and an old saloon they have and headed out to see a pump being installed.
The communities these pumps go into are very remote and access is difficult. We got the saloon through most of the 20km journey, but eventually, due to the steep muddy, clay tracks, had to abandon it and I ferried the team the last 3-4km in 3 trips.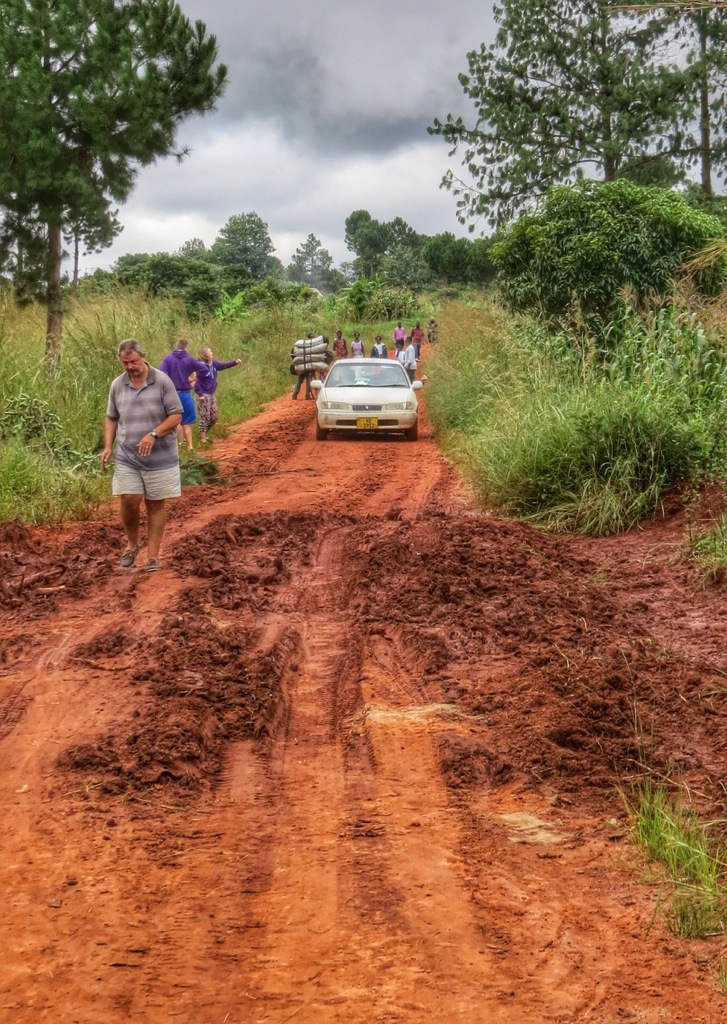 Eventually we had to leave even the Land Rover and walk about 1km down a steep valley carrying all the equipment needed.
The first installation was in a small group of half a dozen dwellings.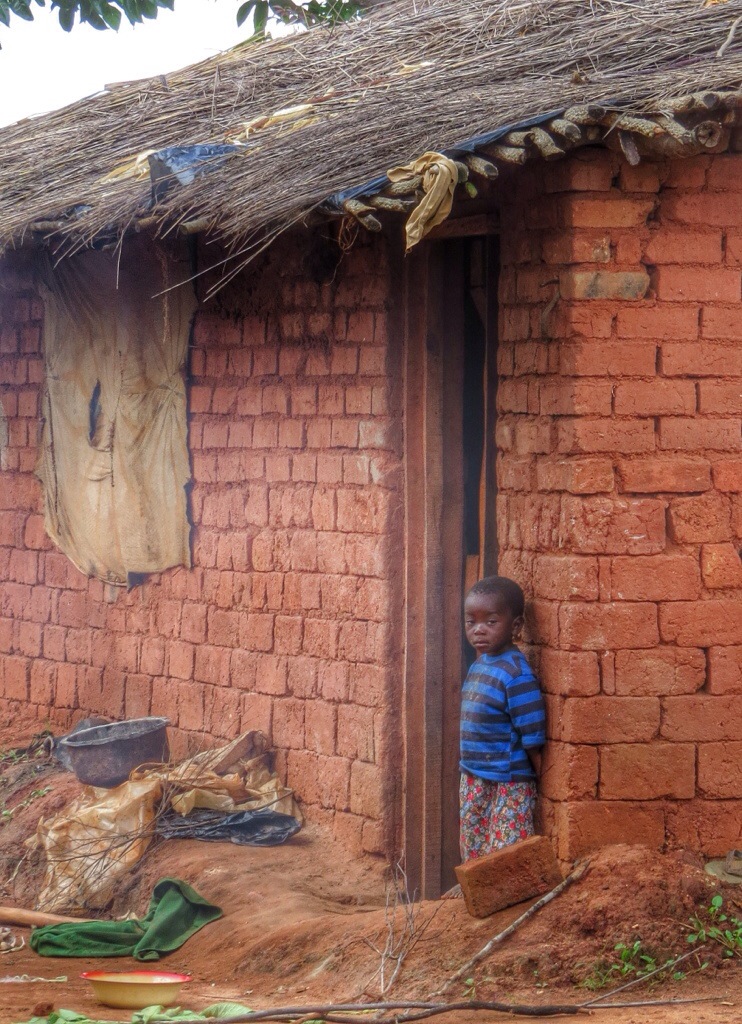 Their steel well pump (installed in 2006) had been broken for the last 18 months. Their alternative water sources have been either a well in the next village (an arduous steep, 6km walk each way) or the poor quality ground water next to their houses.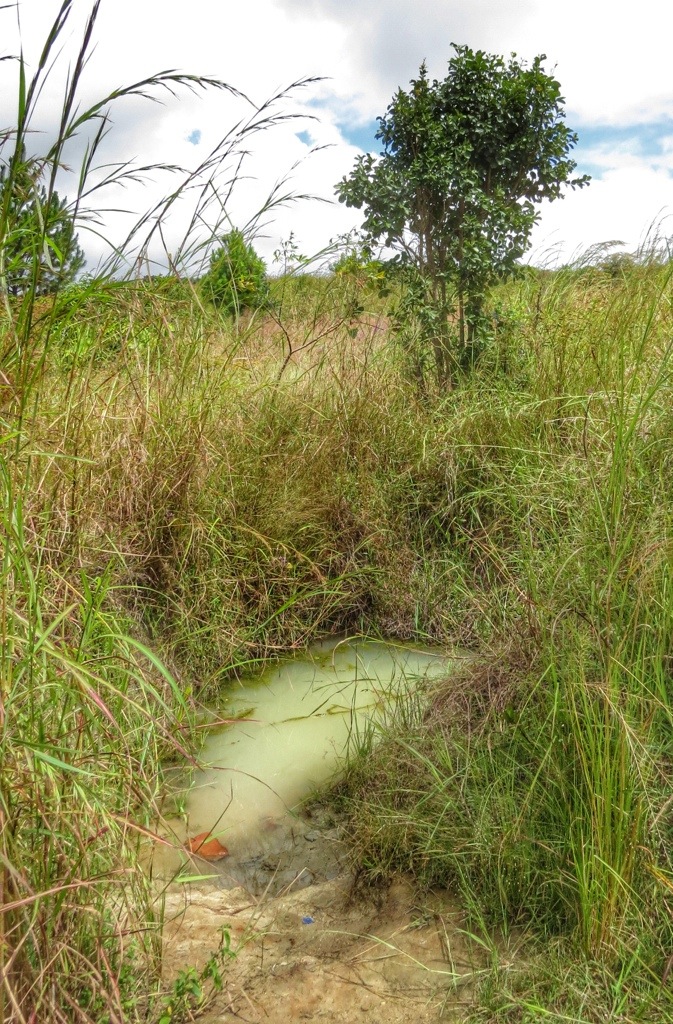 The old well had been repaired, cleaned and re-pointed over the previous weeks.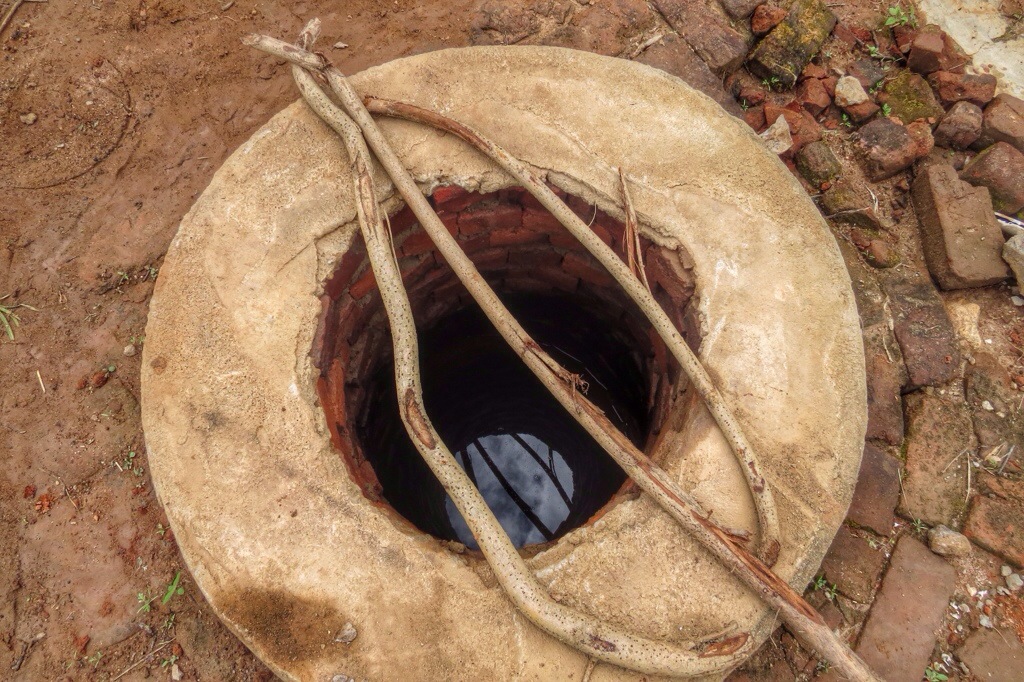 A new well-head cap was made out of concrete.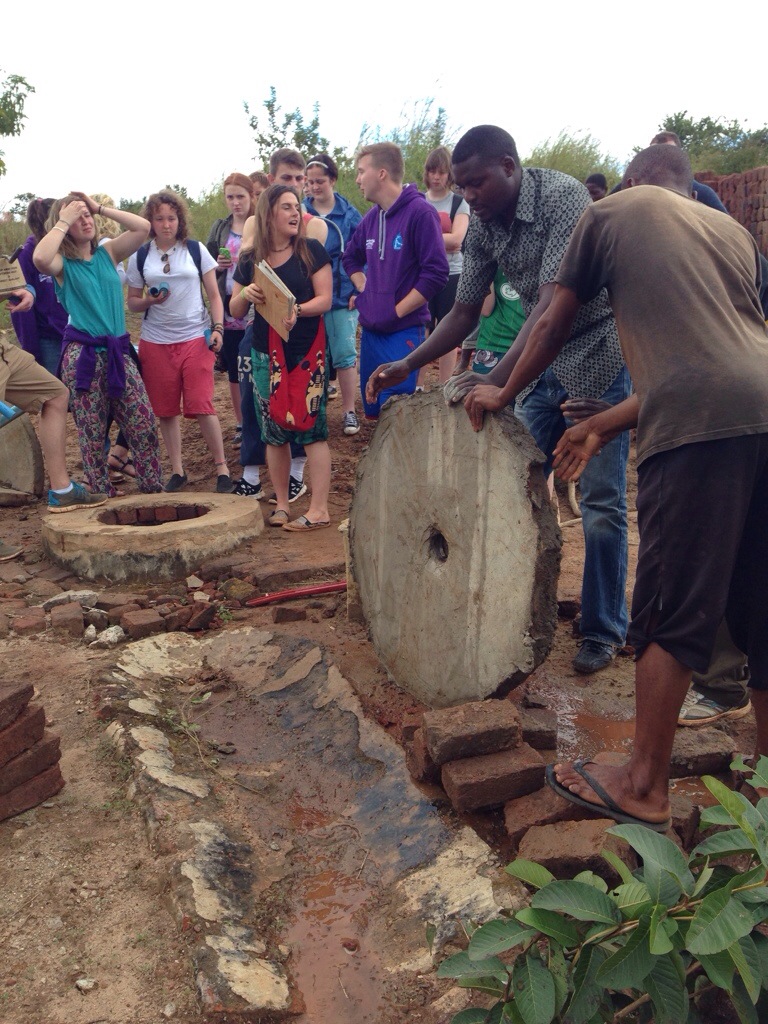 William showed the locals how the valves were fitted to the pipes so that they could maintaing / replace the bicycle inner-tube diaphragms.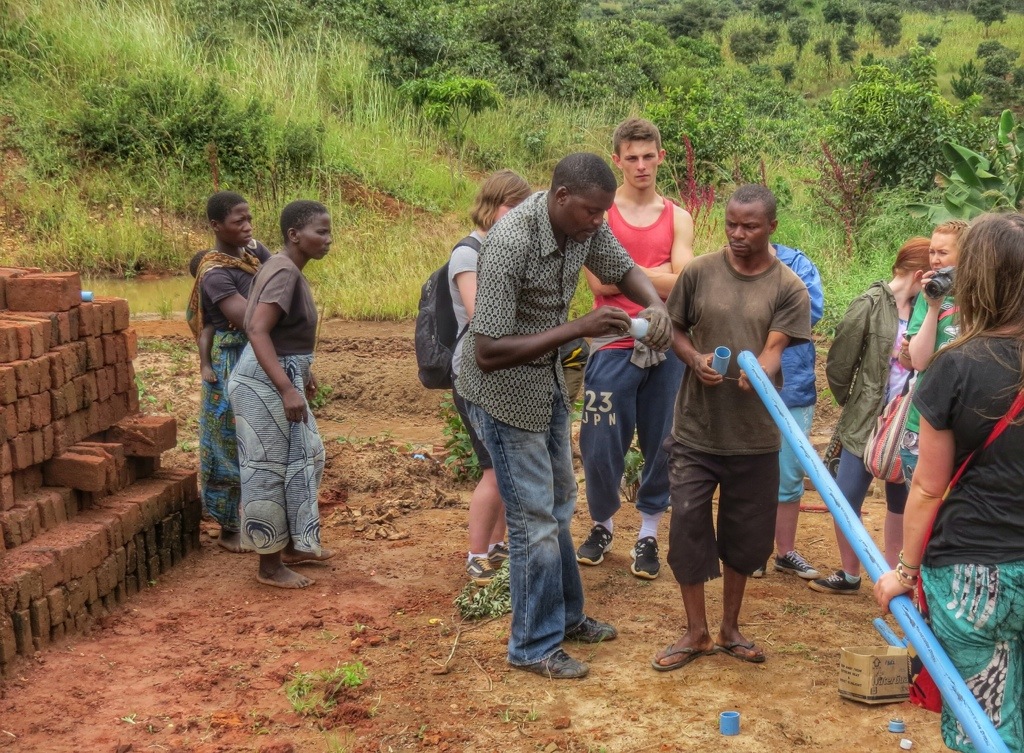 The inner and outer tubes were assembled into a screw thread set into the well head.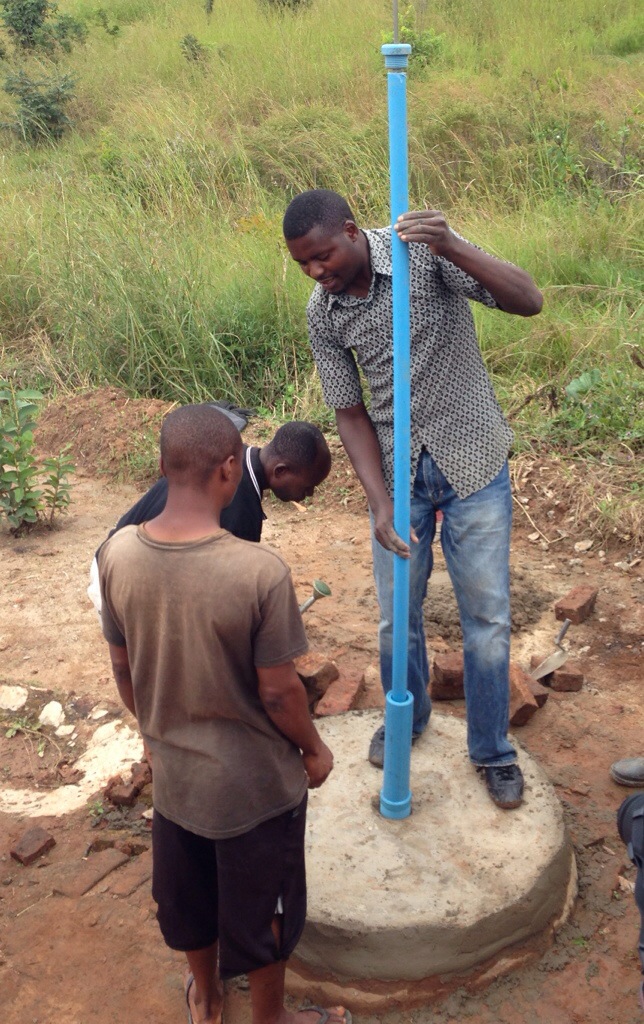 The pump itself was attached to the well pipes and the new well-head cemented.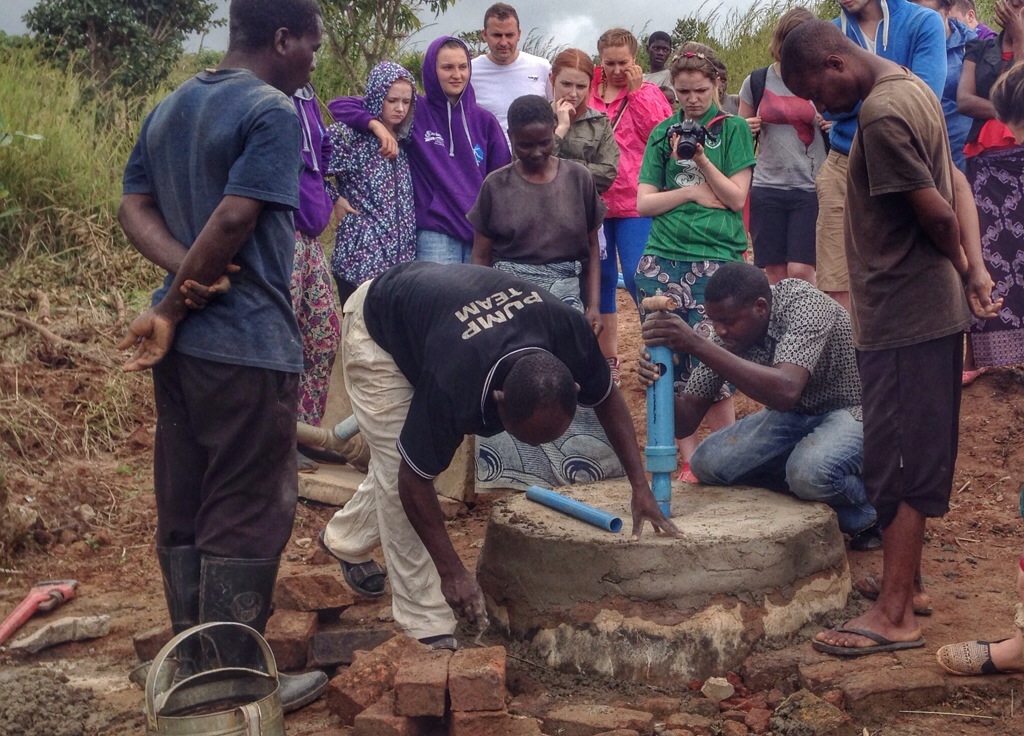 No more than 20 minutes later, fresh water was being pumped. This well will serve around 100 people.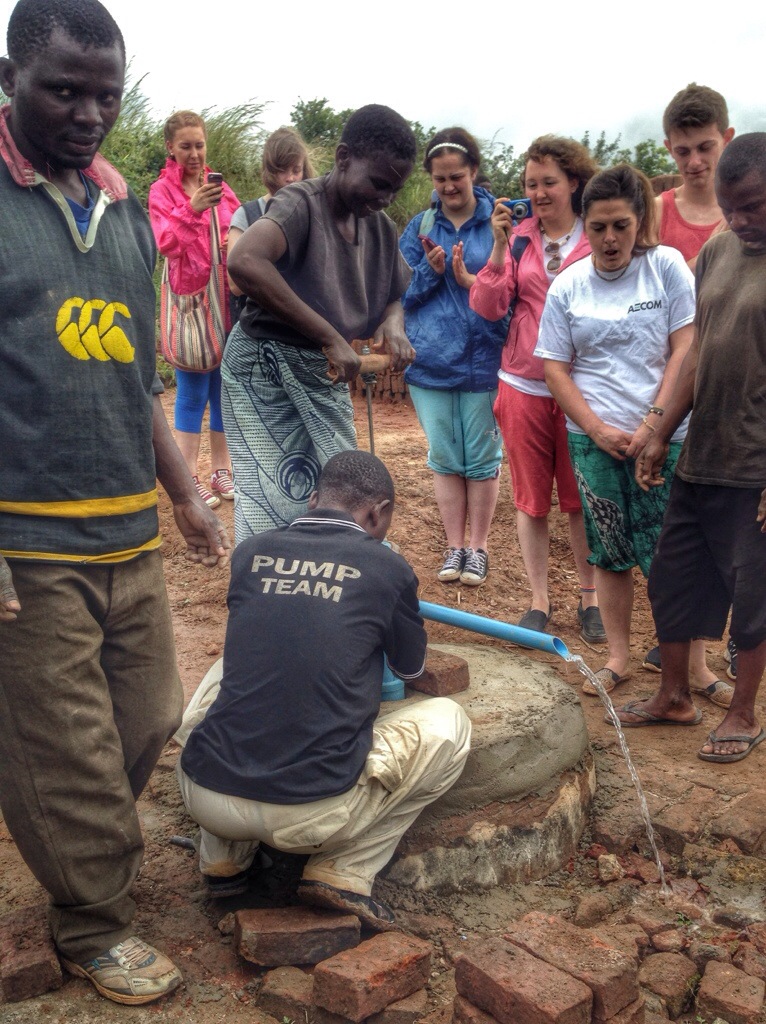 We walked to a second community a couple of kilometres away to install a second pump. Unfortunately this couldn't be completed because, although they had been without fresh water for 12 months, the people there hadn't cleaned their existing, damaged well as they had been asked to to.
If the pump had been fitted that afternoon they would never have cleaned it and, although they would have had a pump, the water would have remained severely contaminated. Better to promise to return a 4 days later and complete the installation once they'd kept their side of the bargain, than to put in a bad system.
The locals dig the wells themselves and either leave the shaft bare or line them with home-made clay bricks. The pump itself costs $50-$60. The most expensive element is the concrete for the well head (due to it's scarcity here) at about $100.
Best of all, Wells for Zoe is prepared to manufacture & supply the pumps to anyone who may be interested around Africa.
Outstanding. Inspiring. Life-saving.
Top Tip: visit the Wells For Zoe website.