We've crossed the Victoria Fall border between Zambia and Zimbabwe 7-8 times over the last few years. The border has always been pretty easy and, despite political problems and poverty, we like Zimbabwe and the everyday Zimbabwean people have always been welcoming and friendly.
One way or the other though, President M (Uncle Bob) is still working his feverish little scams to fleece people of their money and line his pockets. As someone said to us the other day "How else can he afford all that expensive Chinese plastic surgery?"
His latest jolly wheeze is the printing of the 'Zimbabwe Dollar'. His scam is that US$ (the previously used national currency) are taken in at borders, used by tourists to buy visas, spent in shops and hotels and then any currency handed out by banks, used by the government to pay locals, given out as change, etc will generally be in Zimbabwe Dollars.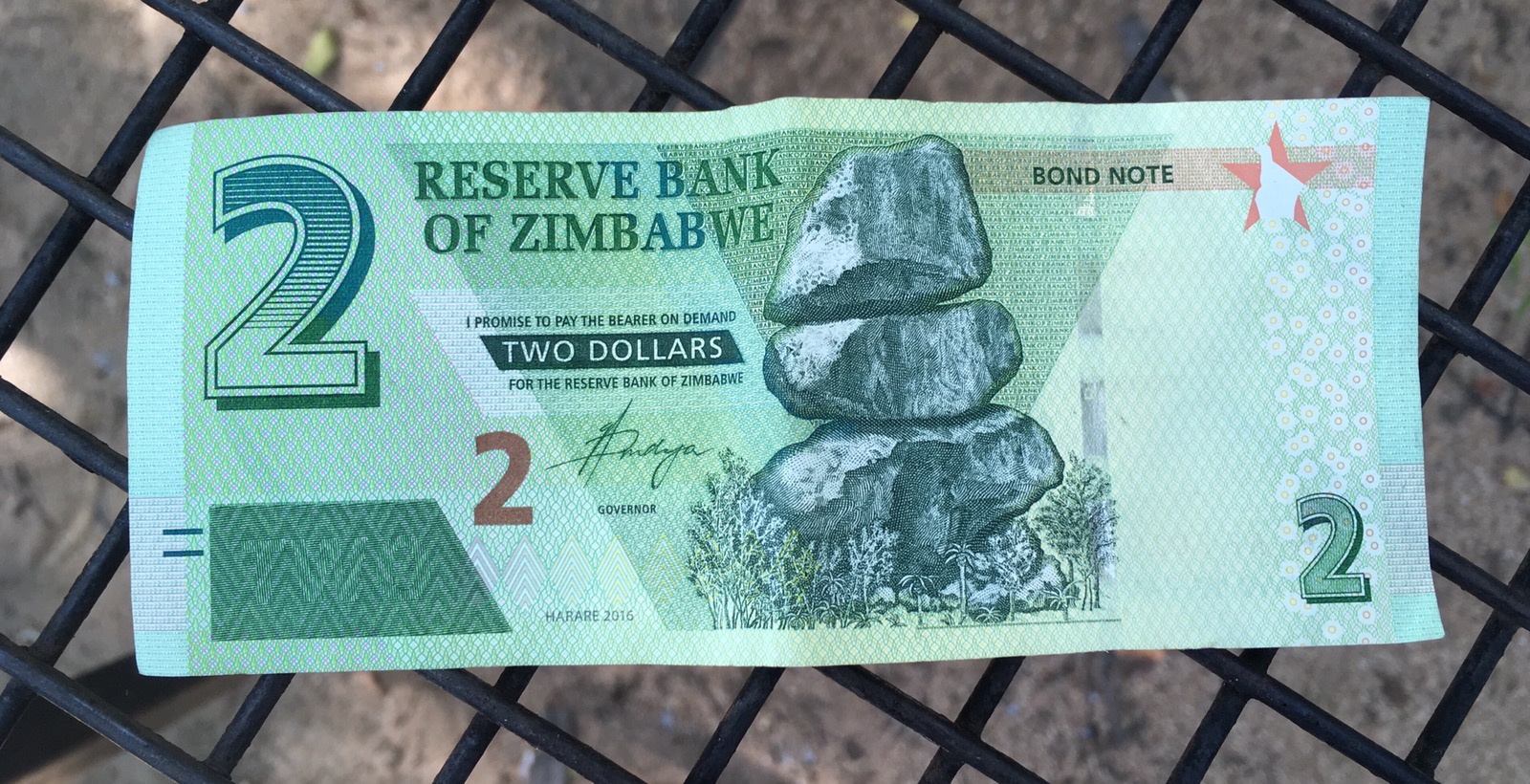 So, where do the real US$ we paid for visas etc at the border go ($55 each for visas, $11 Carbon Tax for the car, $10 Road Levy, $30 for 3rd-Party Car Insurance)? They certainly don't go to all the local or national Government employees – they're paid in Uncle Bob's Disney Dollars. These new $Zim can be used throughout Zimbabwe totally legitimately, but aren't recognised outside the country so, UNDER NO CIRCUMSTANCES leave the country with any in your pockets as no Forex Bureau or bank will touch them.
There's another scam going on at the border where money changers are convincing people new to Zimbabwe that they must pay for certain things (Road Levy, etc) in Zim Dollars. This was all new to me and, although I was sceptical, I reluctantly changed US$15 for $10 Zimbabwe. I'm usually pretty aware of money changing scams at the border, but with these new notes in circulation and new visa / toll costs in Zim I didn't want to get stuck in no-man's-land between Zambia exit and Zim entry with no appropriate currency.
Needless to say, it was a scam. Sure, you can change US$ for $Zim. But their is no need to and there's no exchange rate. It's strictly 1:1.
Oh well, at least I only changed US$15 – mind you, the money changer must be a wealthy guy if every sap crossing the border pays him a 50% commission like I did. Thank God I didn't change more money.
Top Tip: At borders, be friendly, calm, polite and patient. Trust your instincts. Trust no one else.
We planned to stay only 1 night in Victoria Falls as we were on a tight(ish) timetable to get down to Bulawayo and The Motopos National Park. In the end we stayed 3 as we met up with a couple of really interesting Brits, Doctors Niall & Mark.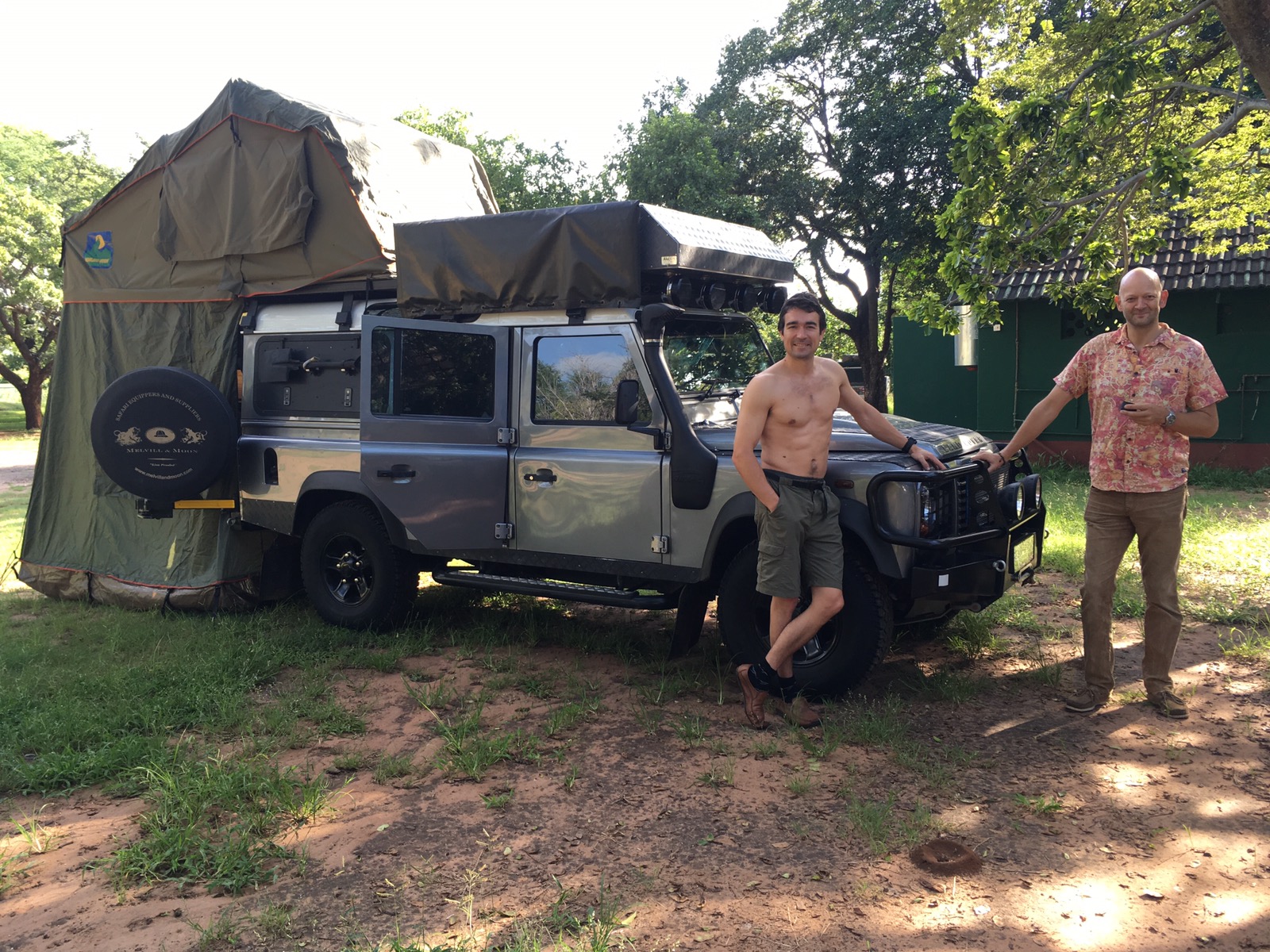 They're Zoological Doctors and have worked for many years across the world filmmaking and crusading with Sir David Attenborough and many other wildlife experts. Their latest project is 'National Park Rescue'. It's just getting off the ground here in Zim but you can check out some preliminary information at www.nationalparkrescue.org
Essentially, they're signing contracts with the National Parks to provide training, education and (perhaps more usefully) direct-action response to restore law-and-order, dealing with poaching and try to stamp out corruption in the National Parks themselves. Their main high-profile UK patrons include David Attenborough, Roger Moore, Michael Palin, Michael Caine, Joanna Lumley.
975,000 lions have been killed in Africa over the last 100 years. Only 3,500 males remain! Rhino: 471,000 killed, only 29,000 remain (1 is butchered every 12 hours). Elephant: 4,650,000 killed, only 350,000 remain and they're being slaughtered at the rate of 35,000 per year. Essentially lions, rhino and elephant have 10 years left!
A fascinating couple of days talking to them. We heard some encouraging stories about actions taken, saw some depressing, short films they have made documenting numerous large-scale local poaching atrocities and were pretty shocked at some of the theories of Institutional corruption that is actually behind (and financing) the widespread poaching that is going on.
We also heard from one 'authority' that, realising there a world-wide ban on ivory trading, one Minister recently used her 'export' company to round up 400 young elephants, tear them away from their mothers and ship them (live) to Chinese 'farms'!
It's going to be a tough battle for Niall & Mark, and a political minefield. Potentially dangerous too.
They were both fascinated by Helen's briquette initiatives and the training we have been doing informally. After checking out the blog and our web-pages both Mark & Niall were tremendously encouraging and seem determined that they can point us in the right direction to getting some promotional films made, Corporate Funding, sponsors & Grants that would pay our costs and enable us to tour Africa with a long-term, properly funded training programme.
It's something to think about seriously as we wind our way south and we could have stayed to talk with them for days, but we had to get back on the road and so did they.
It's almost 500km from Vic Falls to Bulawayo and the road is tar all the way. Nevertheless, it's slow going. The tar is reasonably good, but sways the car from side to side like being in a boat on a sloppy sea. Also, the 14 police road-blocks and checkpoints make it a long drive.
Every one wants to check something different. Lights, car registration papers, insurance, warning triangles, fluorescent safety jackets, windscreen wipers, Carnet, fire extinguisher, fog lights (FOG!). In that way, they can write you a ticket at each one rather than get it all over in one go.
I had checked all my lights in Vic Falls, but by the time we got to the first road-block I got pinged for the number plate light not working. The official fine is $20 per offence. I could have told the officer that I didn't need a receipt and just paid a few dollars, but I knew the next roadblock would just fine me again. I paid up in full and took the receipt since it gives you 48 hours 'immunity' to get it fixed. I tracked it down to a loose connection subsequently but at least I was able to wave the receipt under the noses of the officers at each of the other 10 roadblocks that made us stop.
They were all reasonably pleasant and there was no aggression, but I did have a 10 minute 'conversation' with one officer who inspected our fire extinguisher and said that it was illegal as the needle on the gauge was marginally between the green and the red. It was only when I convinced him that I was a Deputy Fire Chief back in the U.K. and the ambient temperature in Zimbabwe at this time of year affected the coefficient of expansion and viscosity of the powder under pressure in any extinguisher less than 2kg, that he finally let us go.
We camped overnight at Burke's Paradise in Bulawayo (nice, cheap, very friendly & helpful, a bit 'happy-clappy') then moved on south west to The Motopos. On the way we dropped in to Khami National Ruins, a UNESCO World Heritage Site. It was developed around 1450 BC and was a complex series of walled structures built to accommodate the kings (rich in gold, cattle and ivory) on the highest plateaus and featuring uncommon patterns in the granite-blocked walls.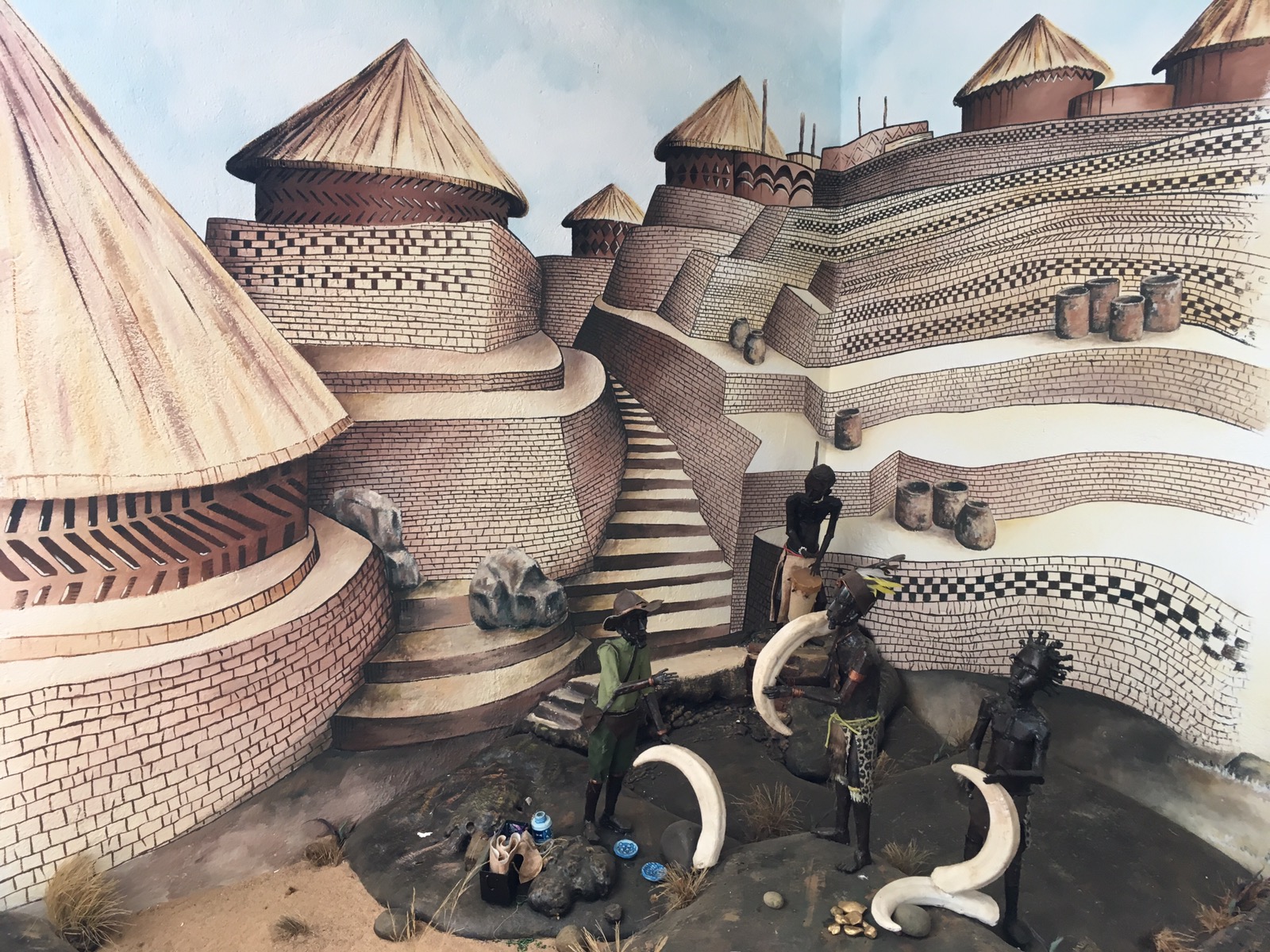 Spread over a 2km site, it's not as widespread as Great Zimbabwe Ruins, but it's also not as ruined.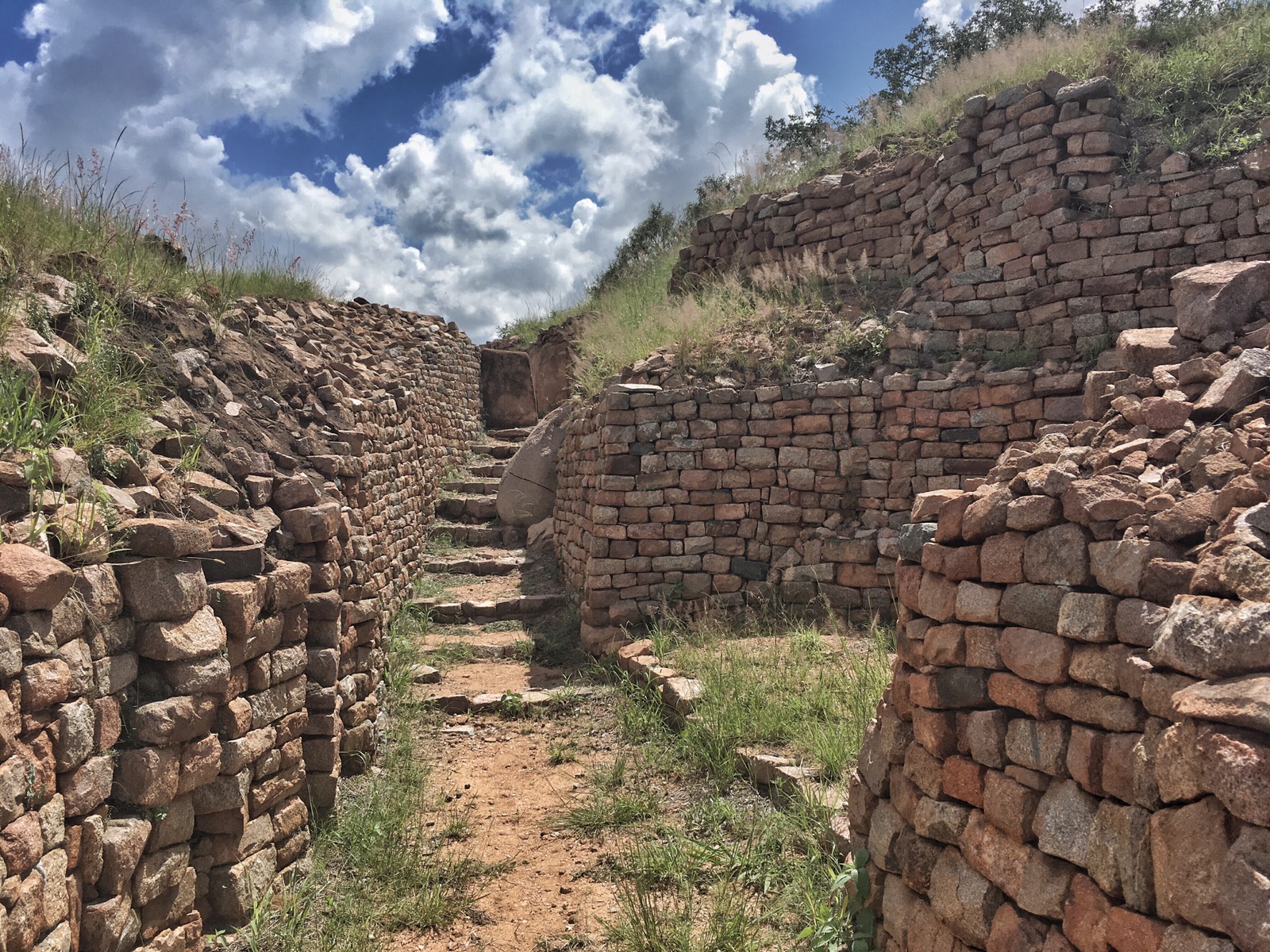 It also has the longest decorated wall in Southern Africa.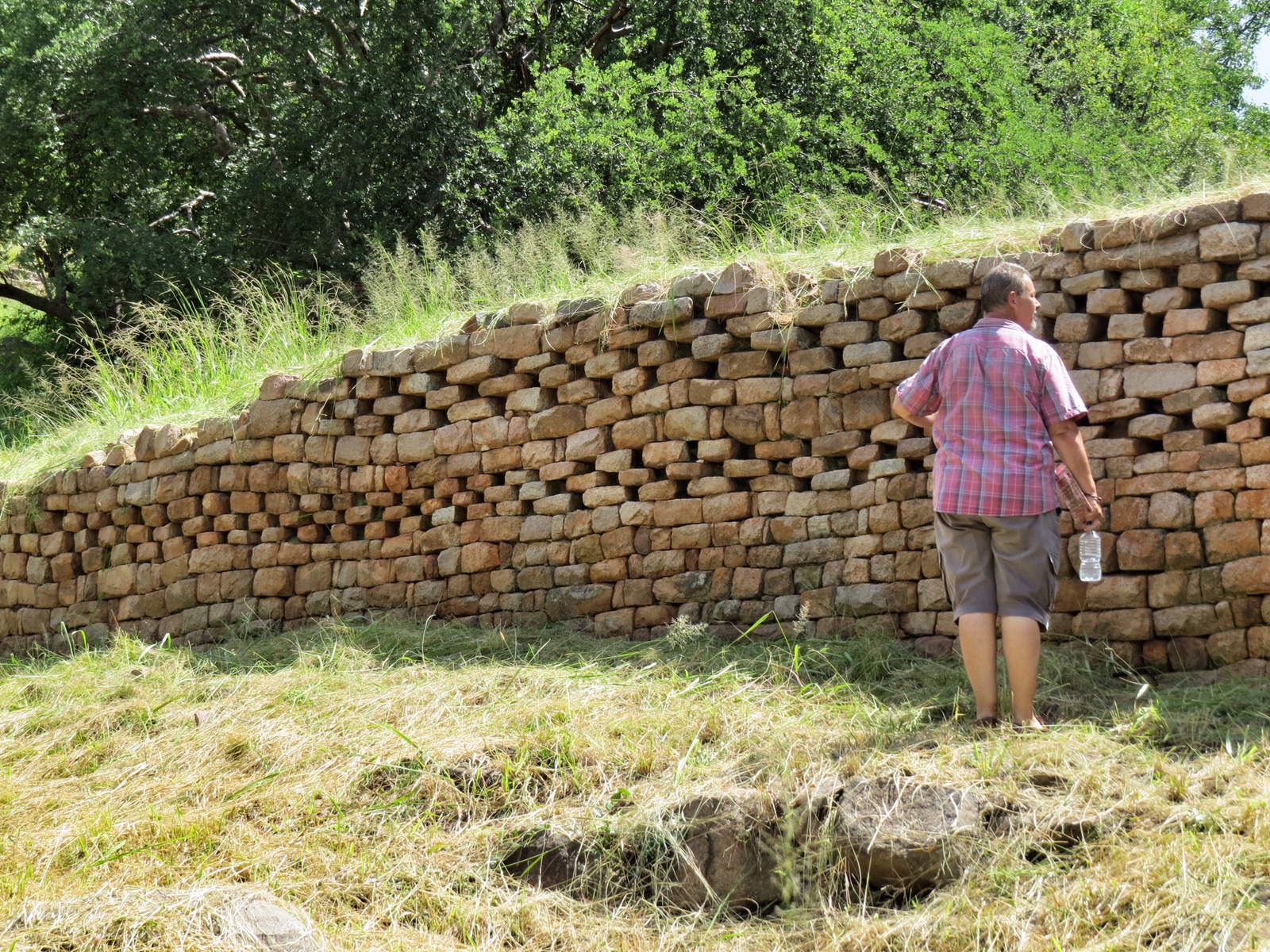 It's not Ephesus but it really is a beautiful location and you can see why the kings would have chosen to have their camps at the top, overseeing and defending their estates.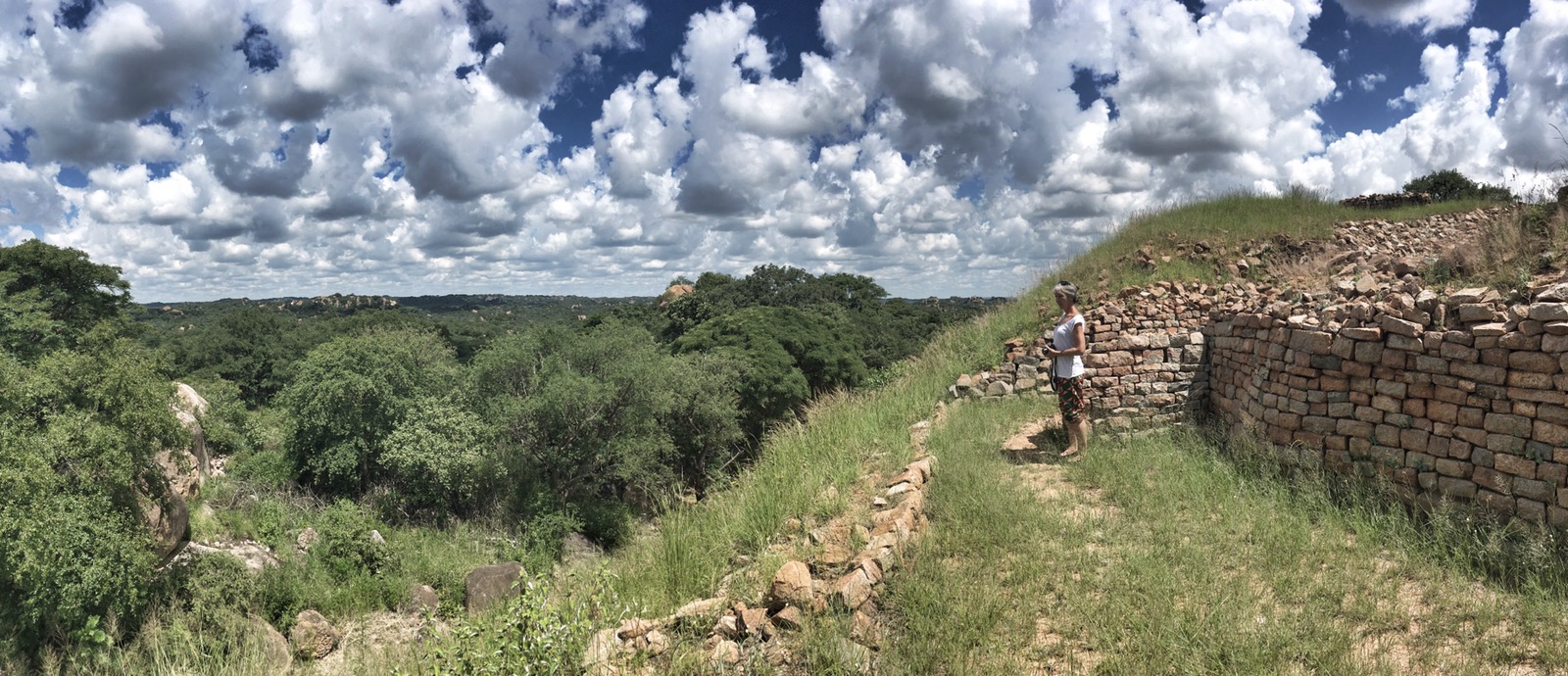 From Khami we took some pretty shambolic, rough tracks across to The Motobos National Park but eventually found the tar road again and got to Big Cave Lodge where we planned to base ourselves for a few days. A lovely campsite with a small bar, run by Brown (a very entertaining local) for the last 20 years, in the grounds of Big Cave Lodge. Quiet, chilled, little ground light and amazing star-watching.
The Lodge itself is set amongst the amazing, previously seabed, almost surreal granite plateaus and huge boulders that The Motopos are famous for.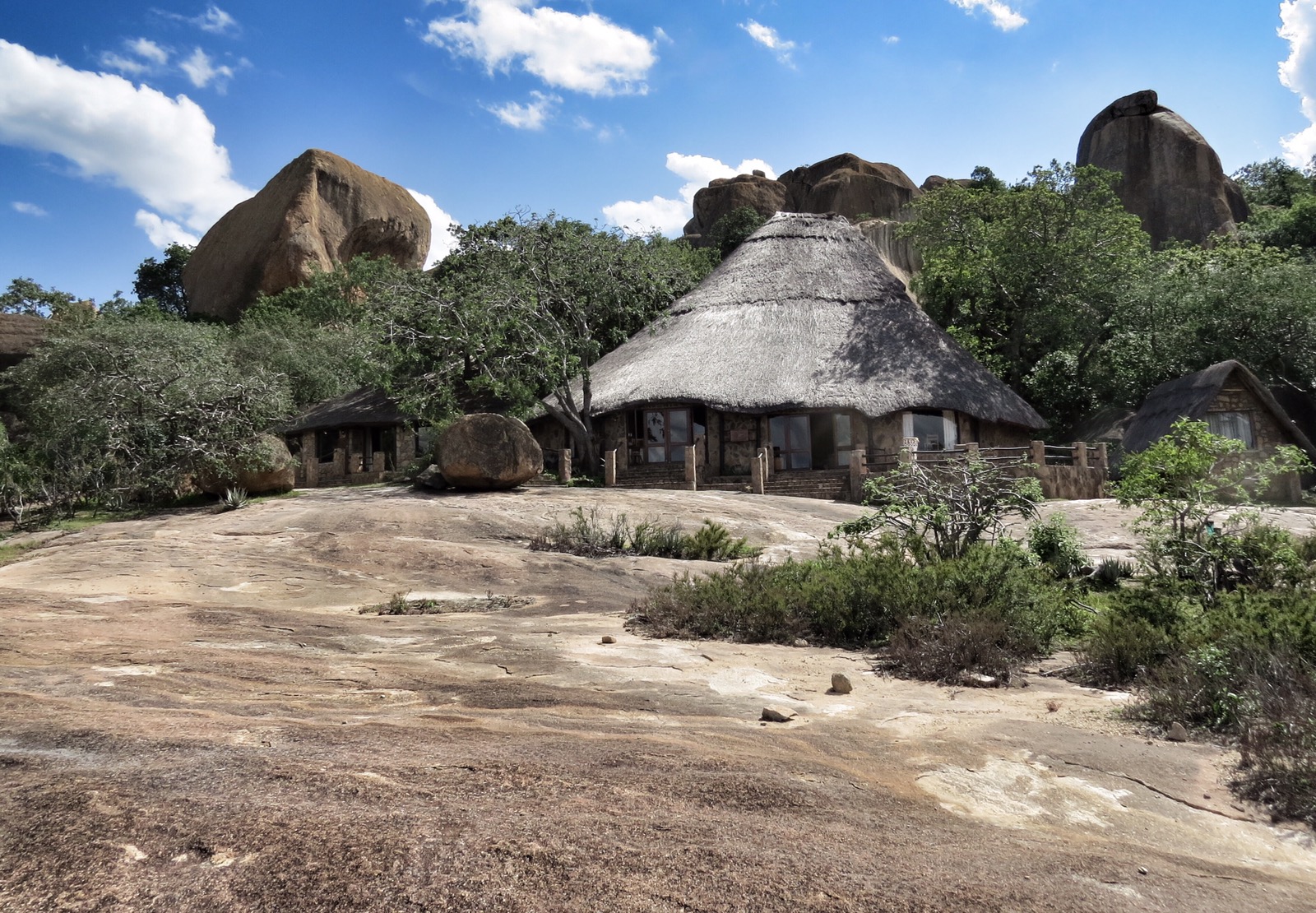 They've used the natural landscape to provide interior decoration for their restaurant…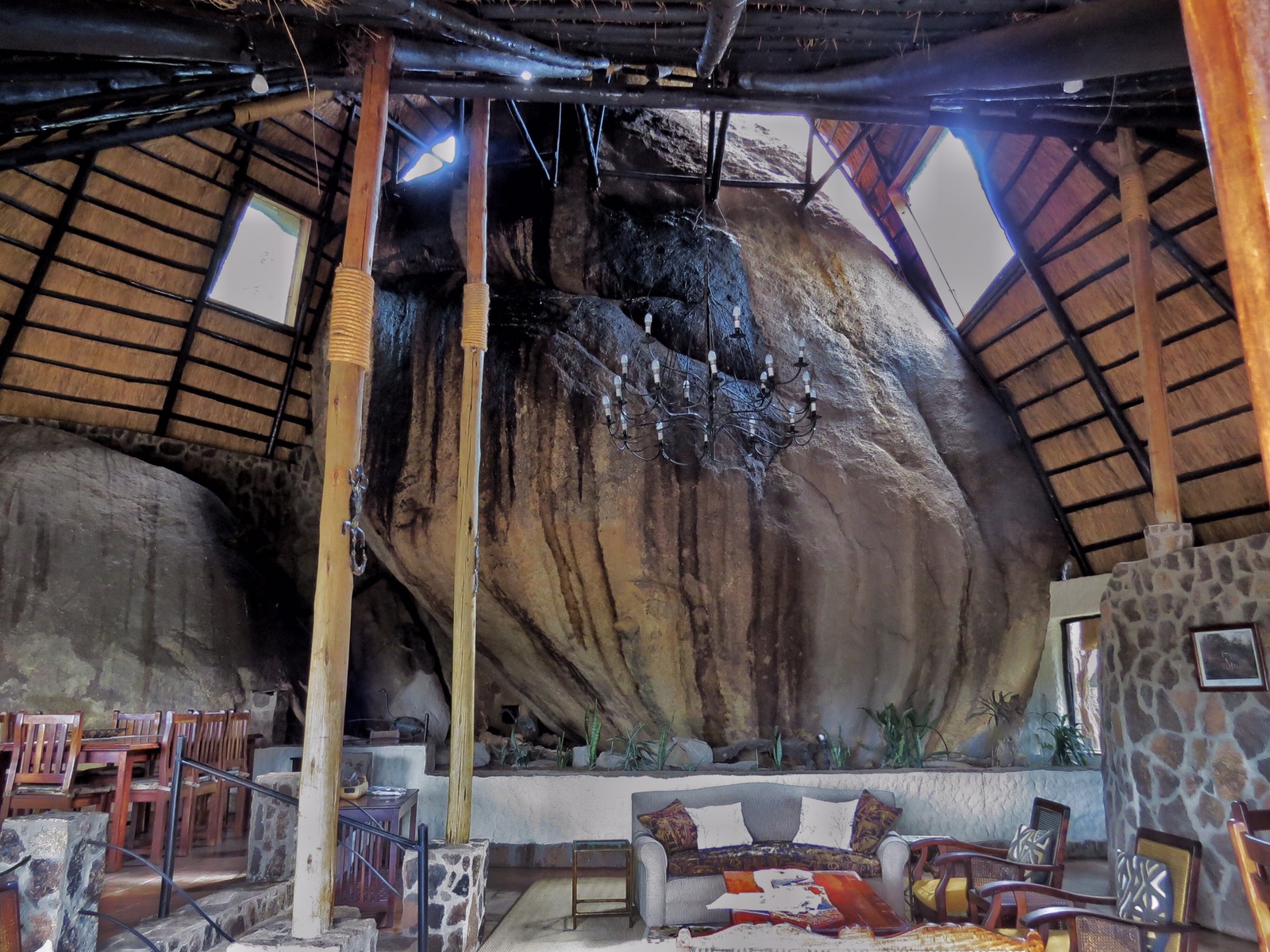 …and to landscape their front yard…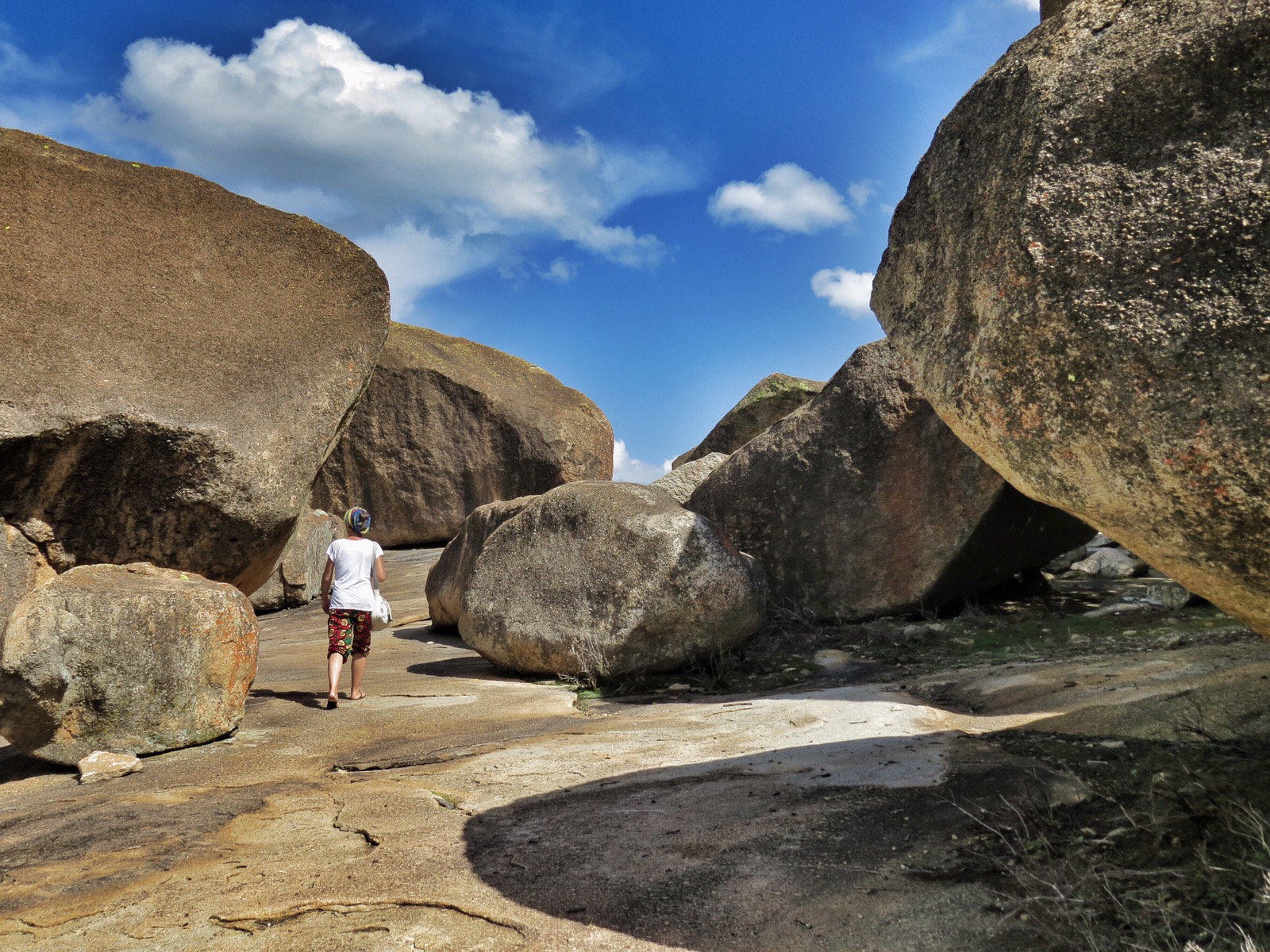 It's a beautiful place to walk around in the heat of the day and not too difficult to find shade…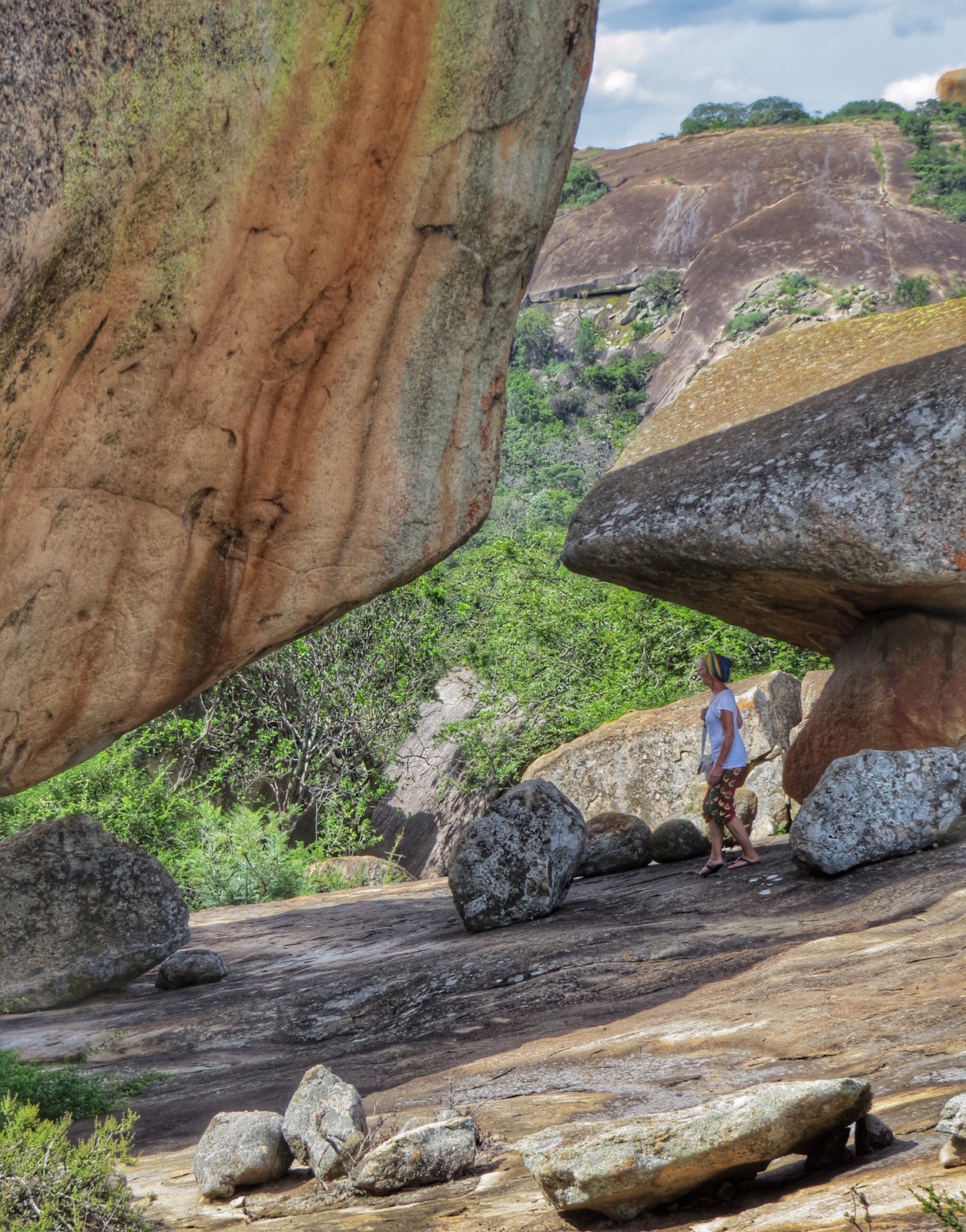 The landscape at this time of year is lush and green and the swathes of undulating granite are awash with beautiful lizards of many colours.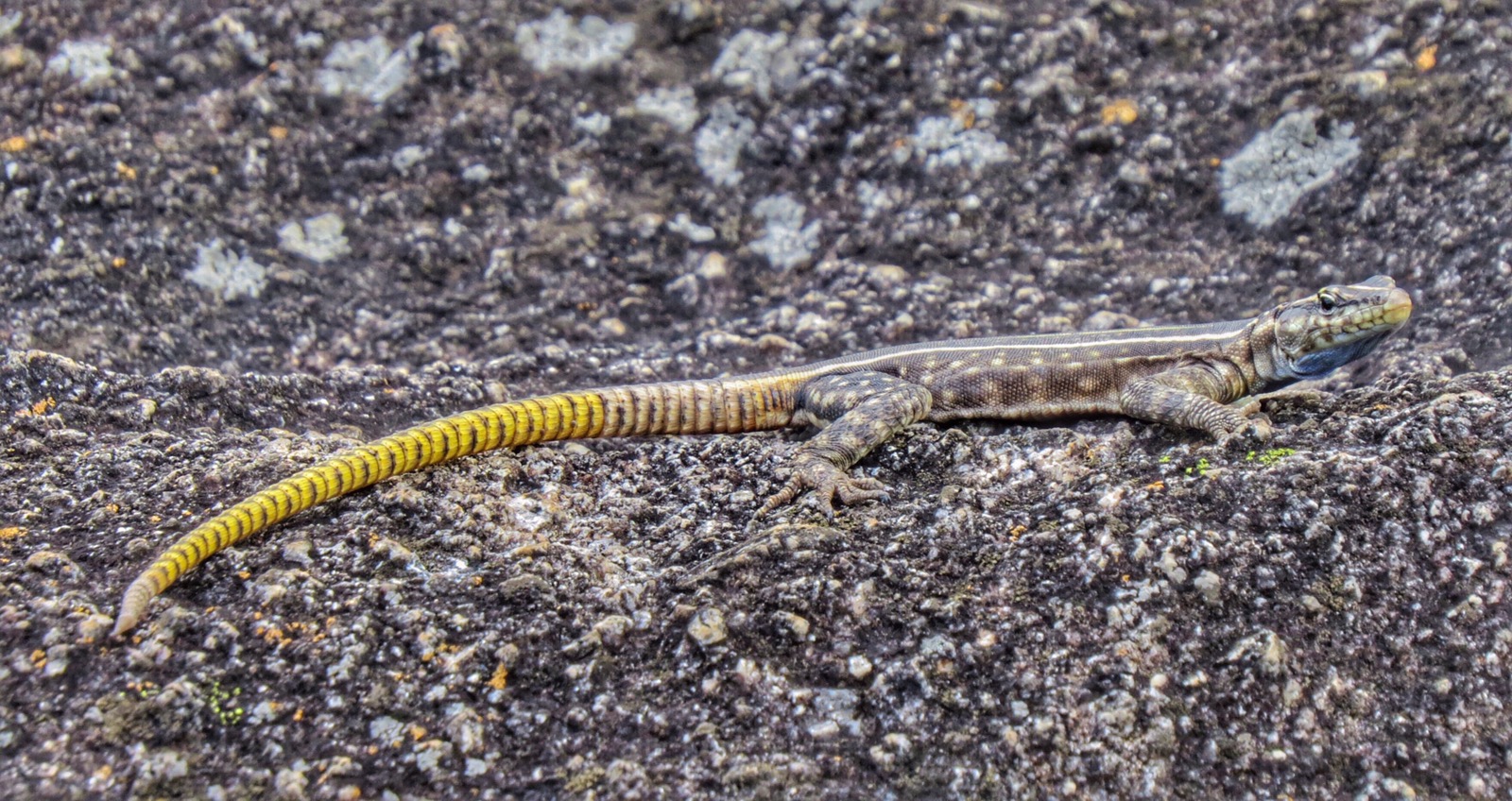 And birds like this lovely Beeater.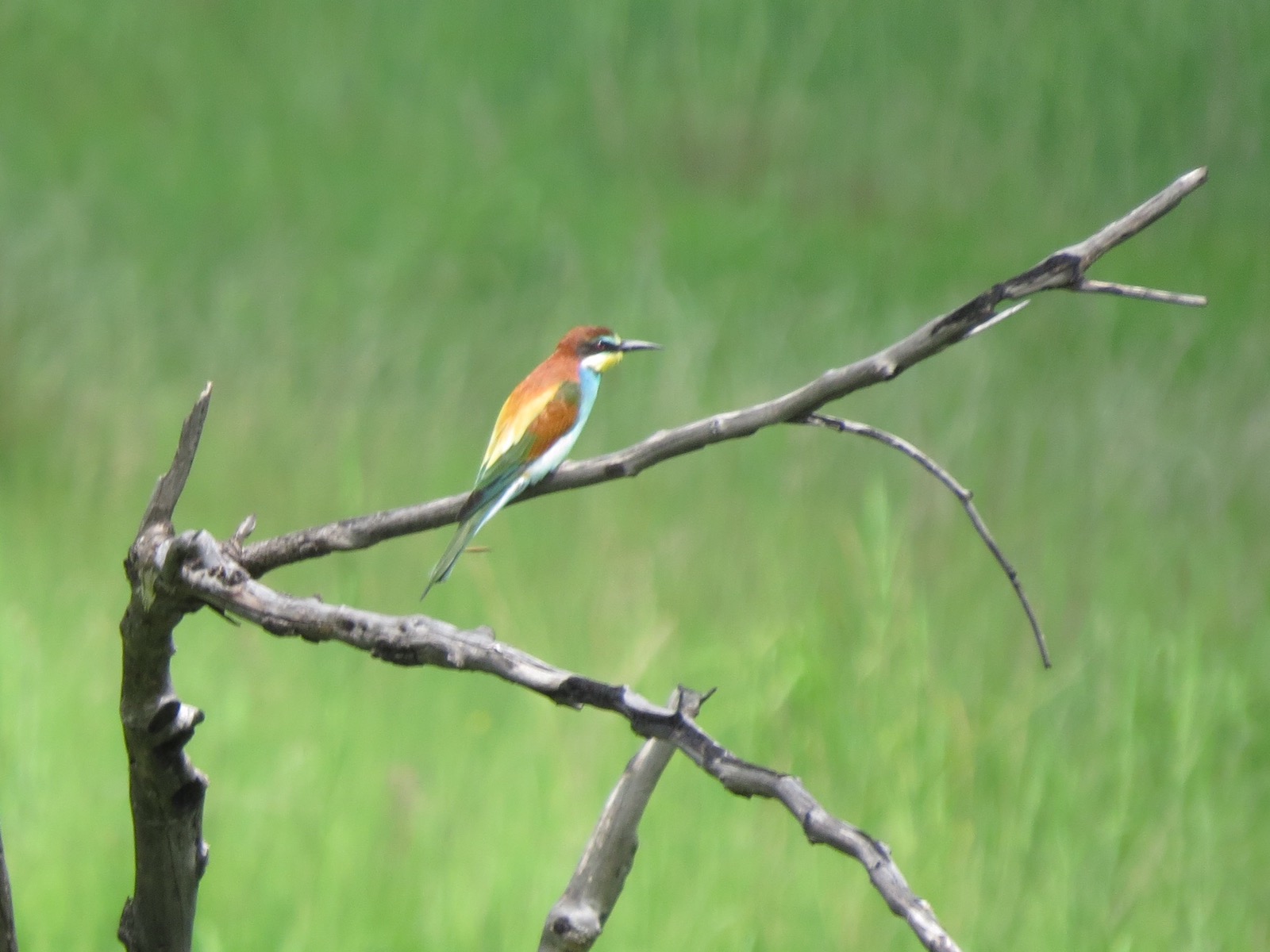 The Motobos National Park is great value (around $45 for 24-hour entry) and is essentially split into 2 sections. One side is a Game Park with a large number of black & white rhino (de-horned to prevent poaching) and a lot of leopards (unlikely to be seen due to the geography). The Game Park was pretty much inaccessible while we were there due to the heavy, prolonged rain and a number of bridges / tracks having been washed away.
The other part of the park though was what we had come all this way to see.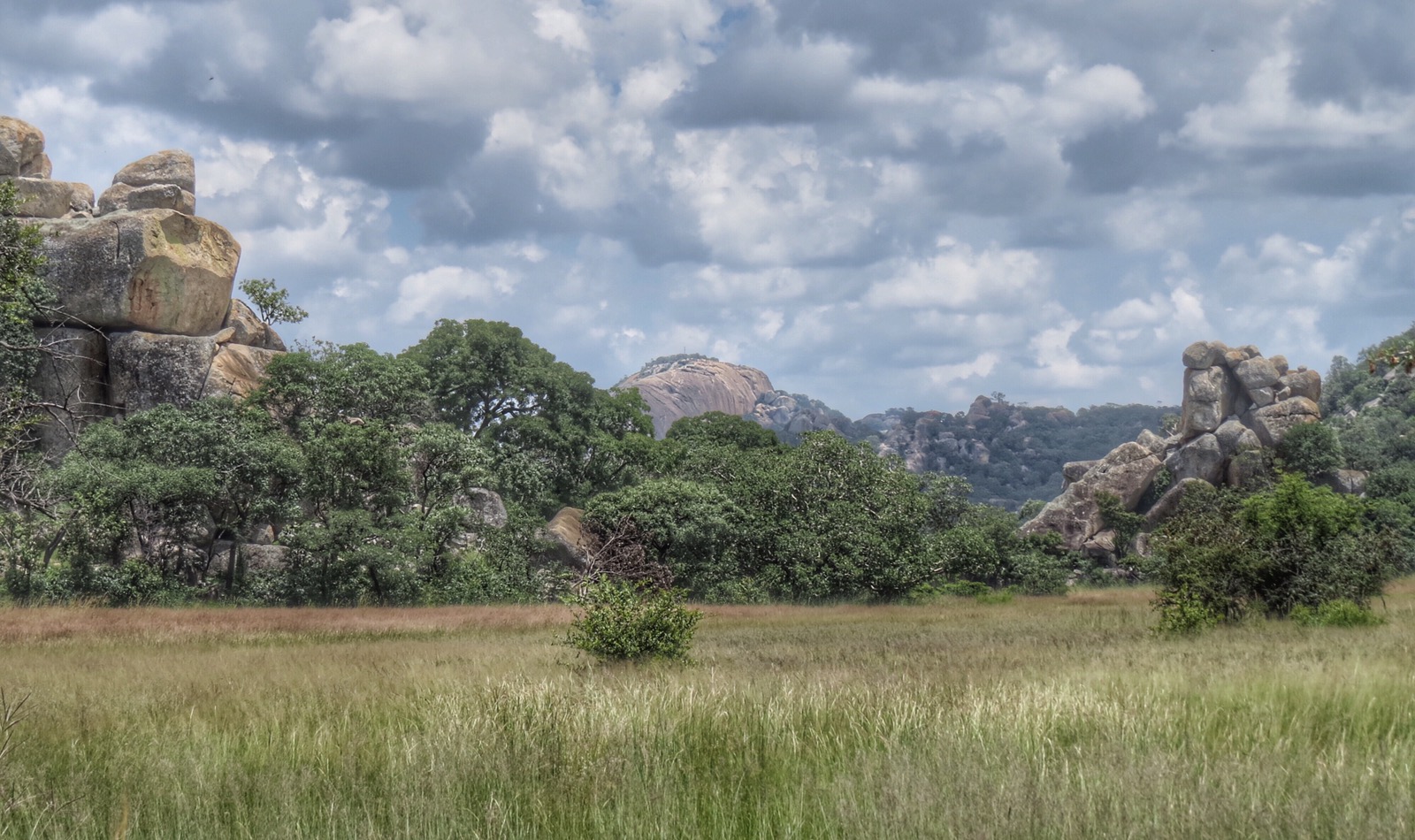 There is a tar road around about 30% of the park, but the western gate we chose to enter from meant diving through about 30km of wet, narrow, rutted, steep, sandy trails and then across the Malemi Dam wall…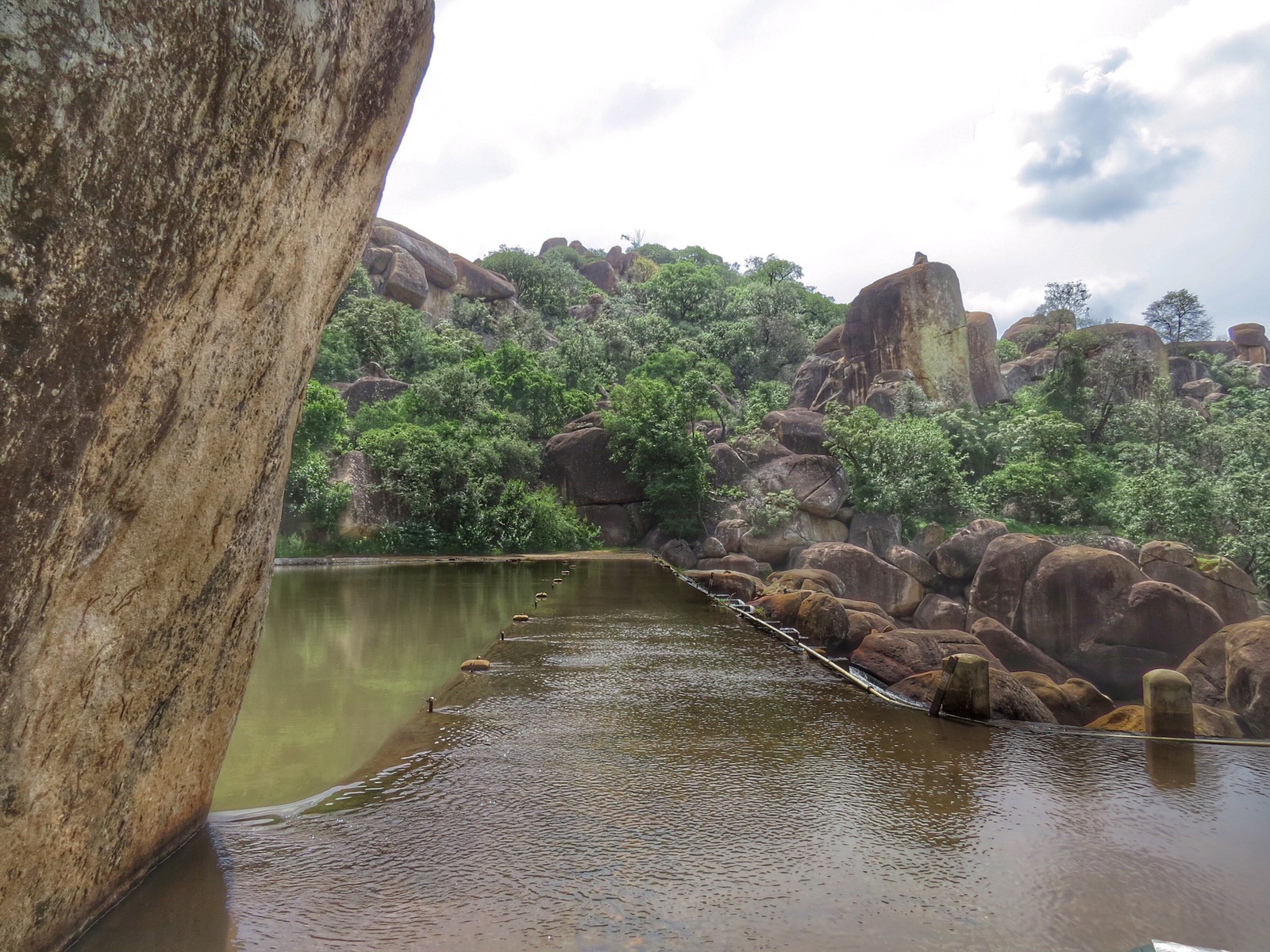 …before the tar tracks are reached.
Beautiful. Once again, we had the whole park to ourselves.


The Motopos is another World Heritage Site. A stunningly beautiful otherworldly landscape of balancing 'kopjes' – giant boulders unfeasibly teetering on top of one another. When you see it it's easy to understand why this region is considered the spiritual home of Zimbabwe.
Almost at the centre of the park is the World's View (Malindidzimu Hill). One of Zimbabwe's most breathtaking sites, it takes in 360-degree views of the entire park. It just can't be captured in one or two pictures – not by me at any rate.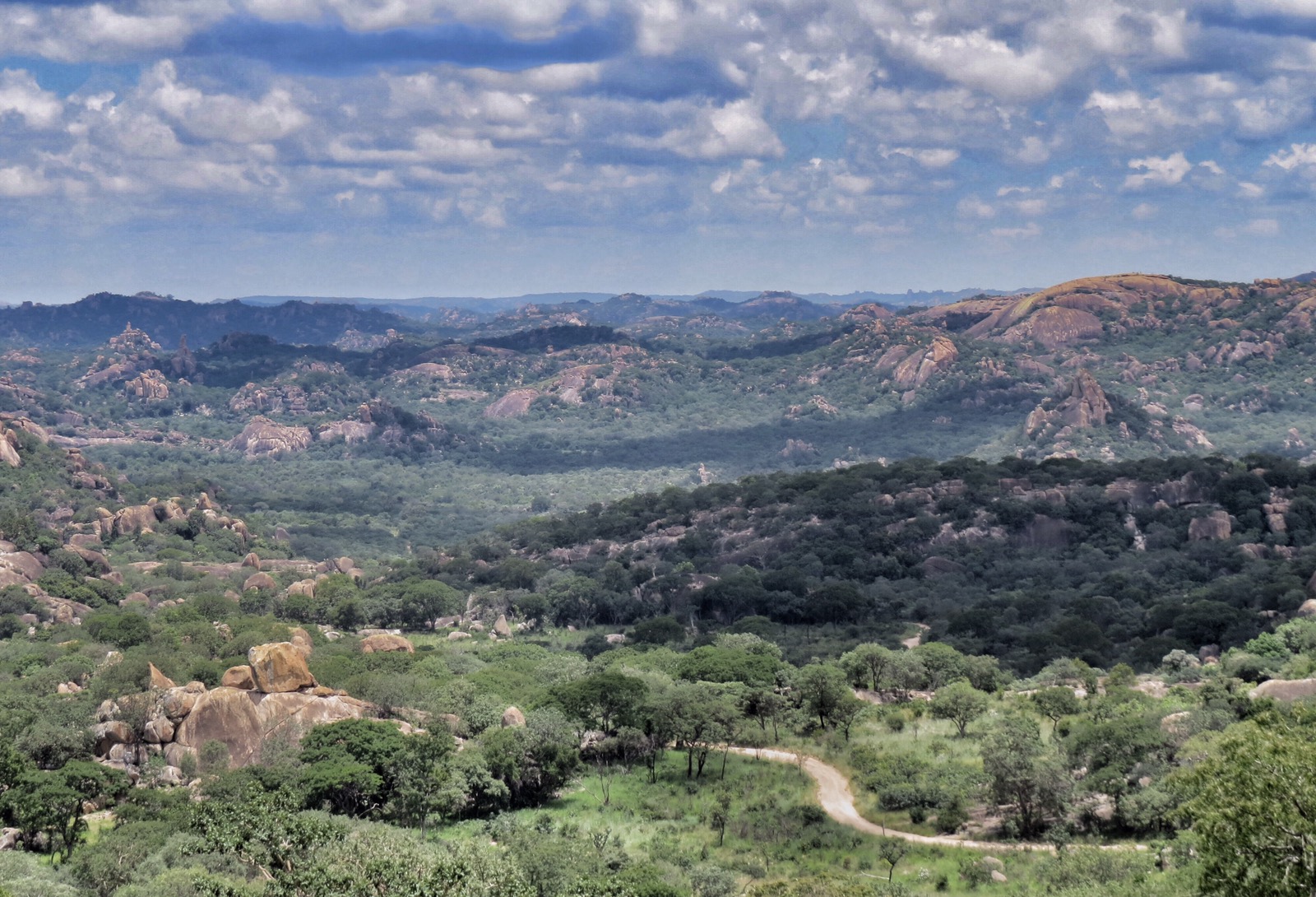 Wherever you look there are crazy rock formations. Like the cats eyes…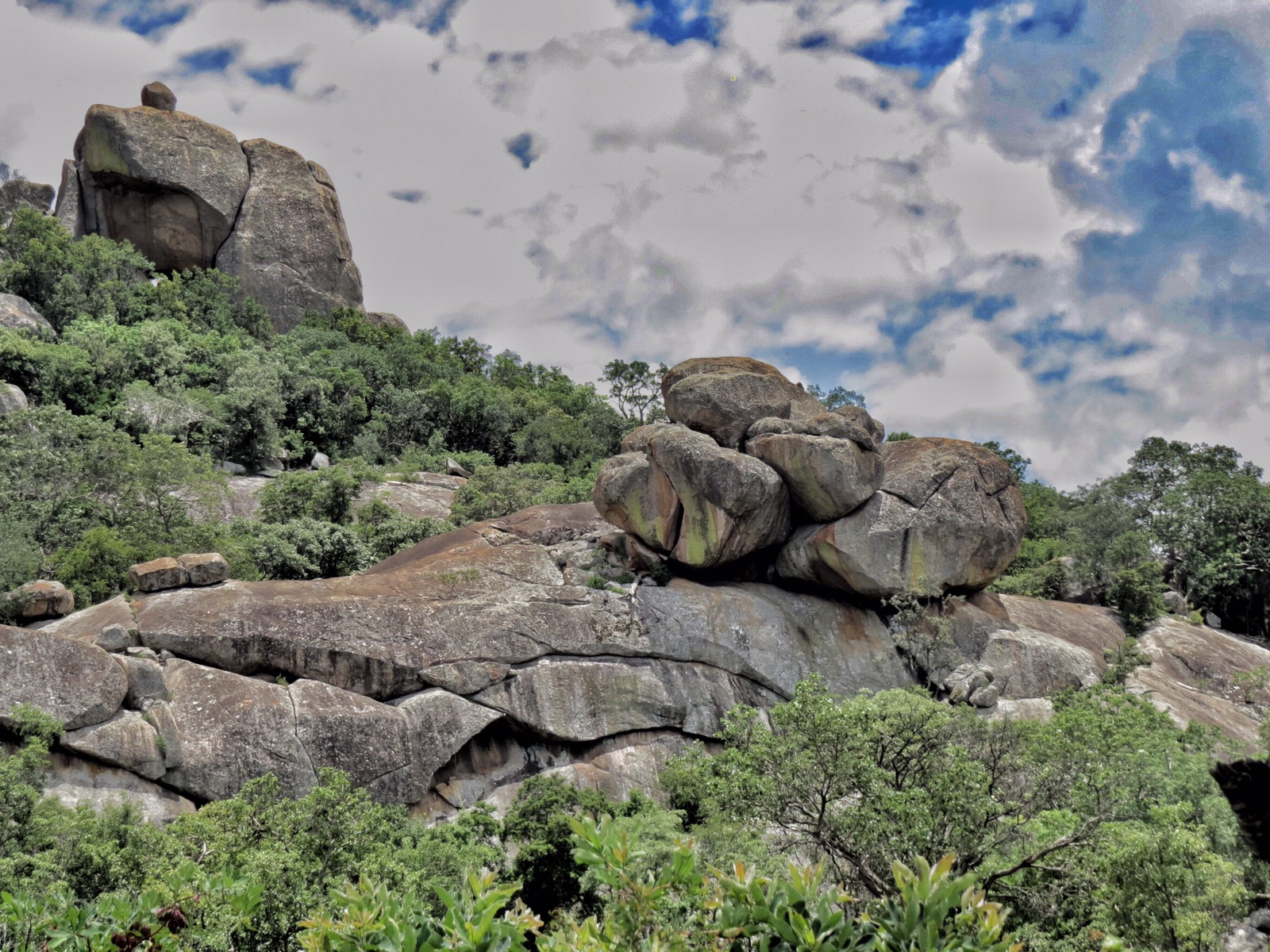 …and never ending boulder fields…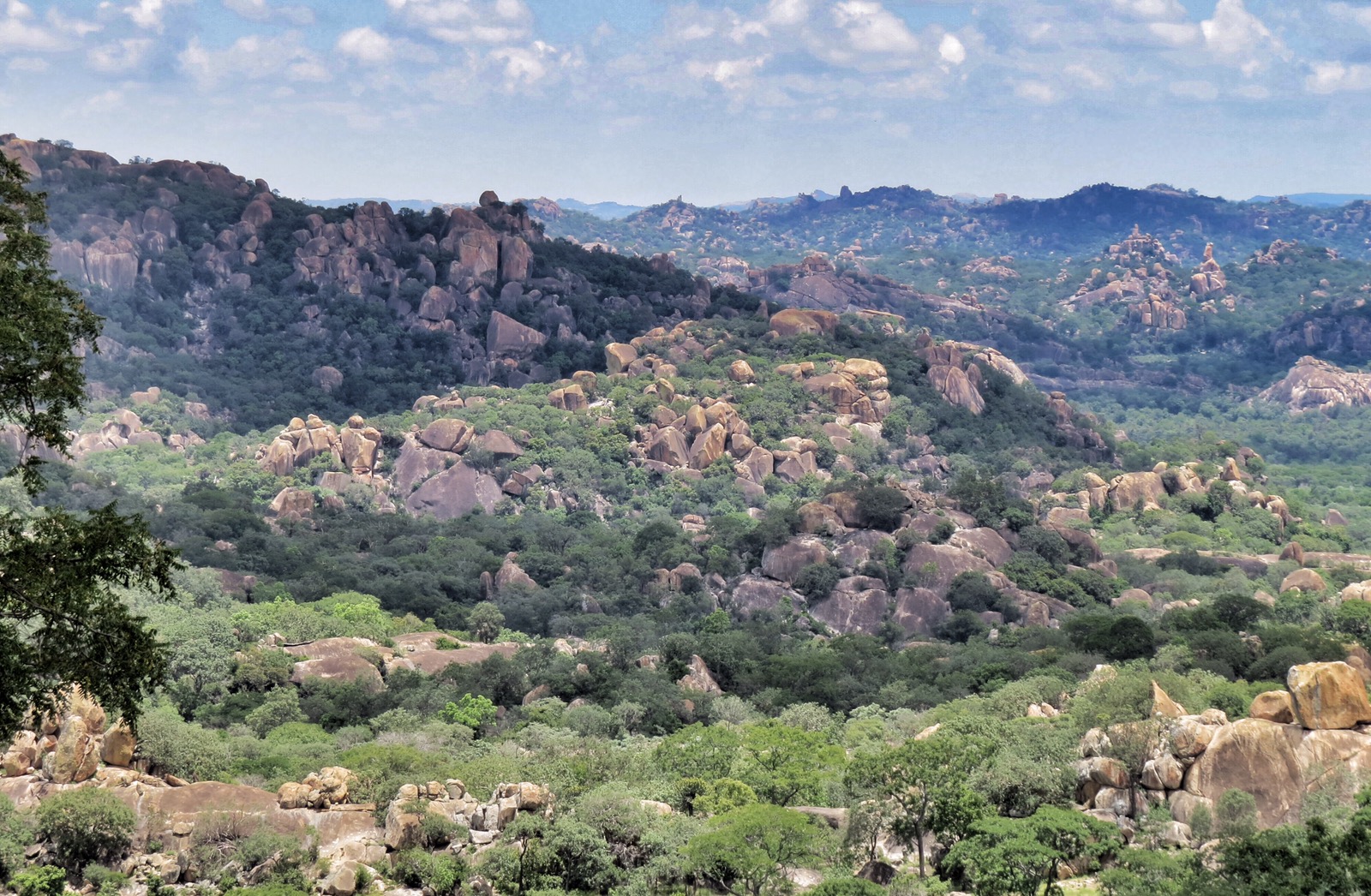 In the centre left of the picture above is a formation known as the Mother & Child. Beautiful and massive.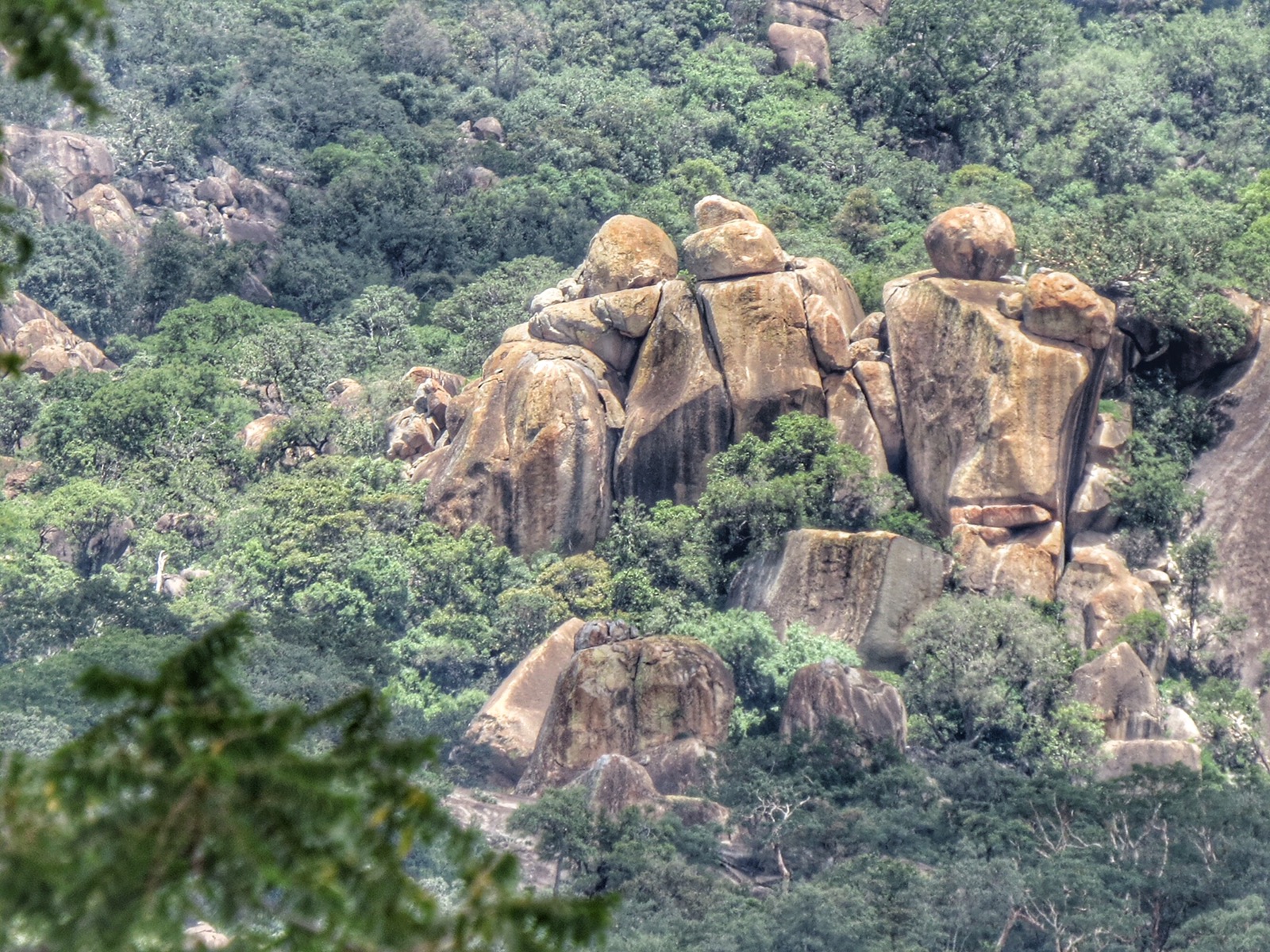 At the peak of World's View the boulder field is a highly spiritual, sacred place for the local, ancient Ndebele people.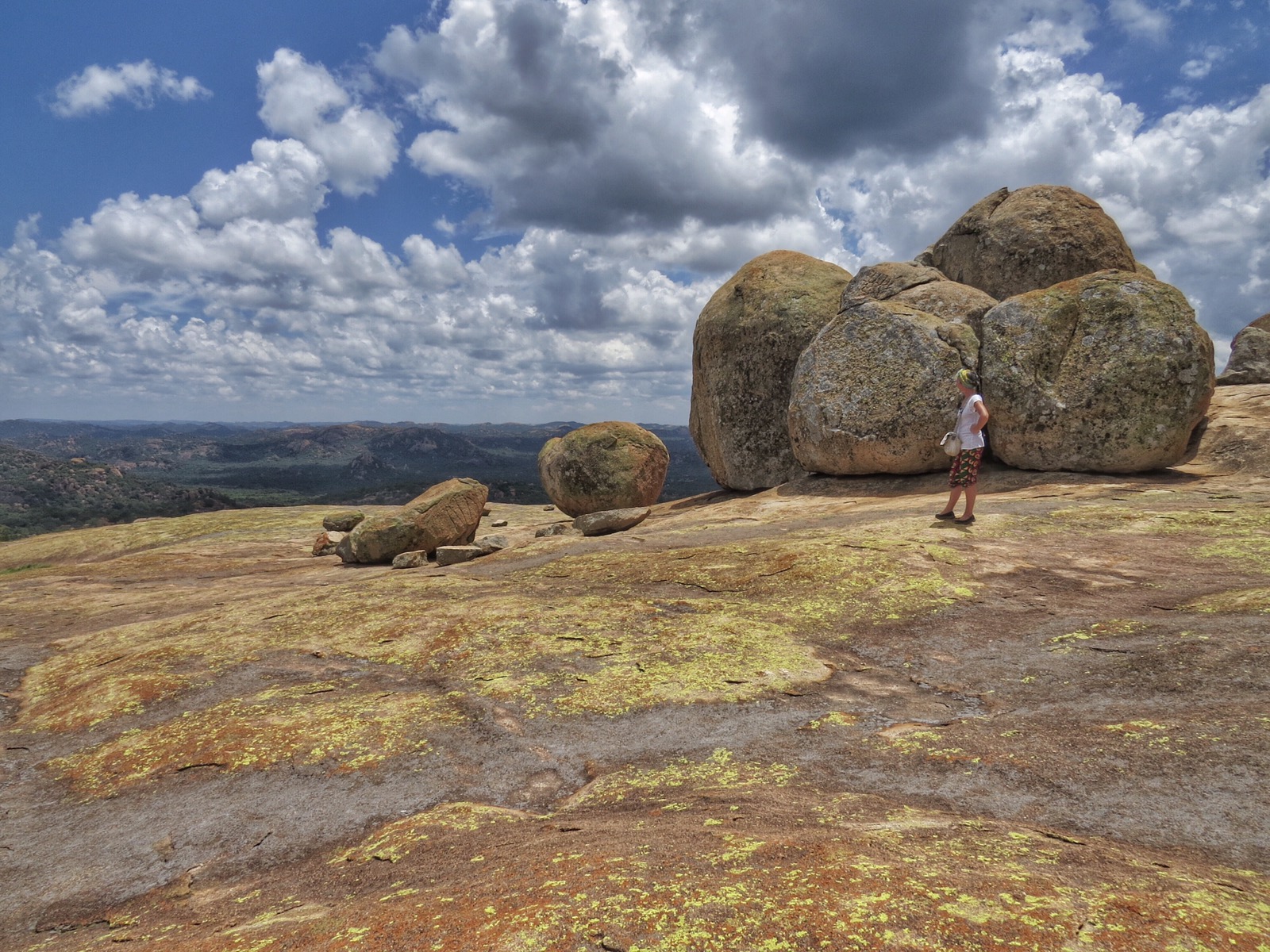 It's also (controversially) the burial spot of Rhodesia's founder, Cecil Rhodes.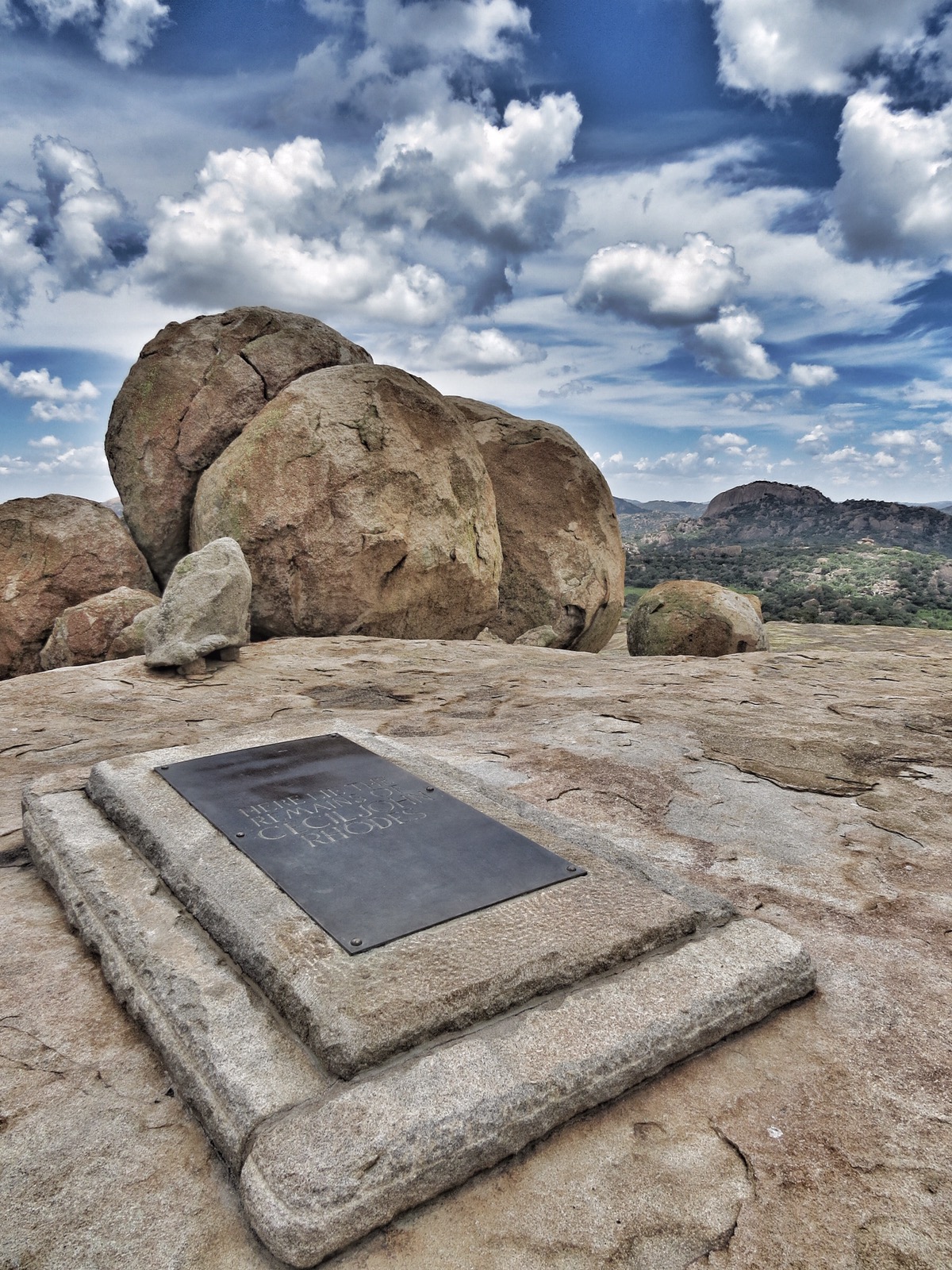 What a spot to rest your bones.
The landscape up here is surreal with giant boulders covered in gold, green, yellow black and red lichen…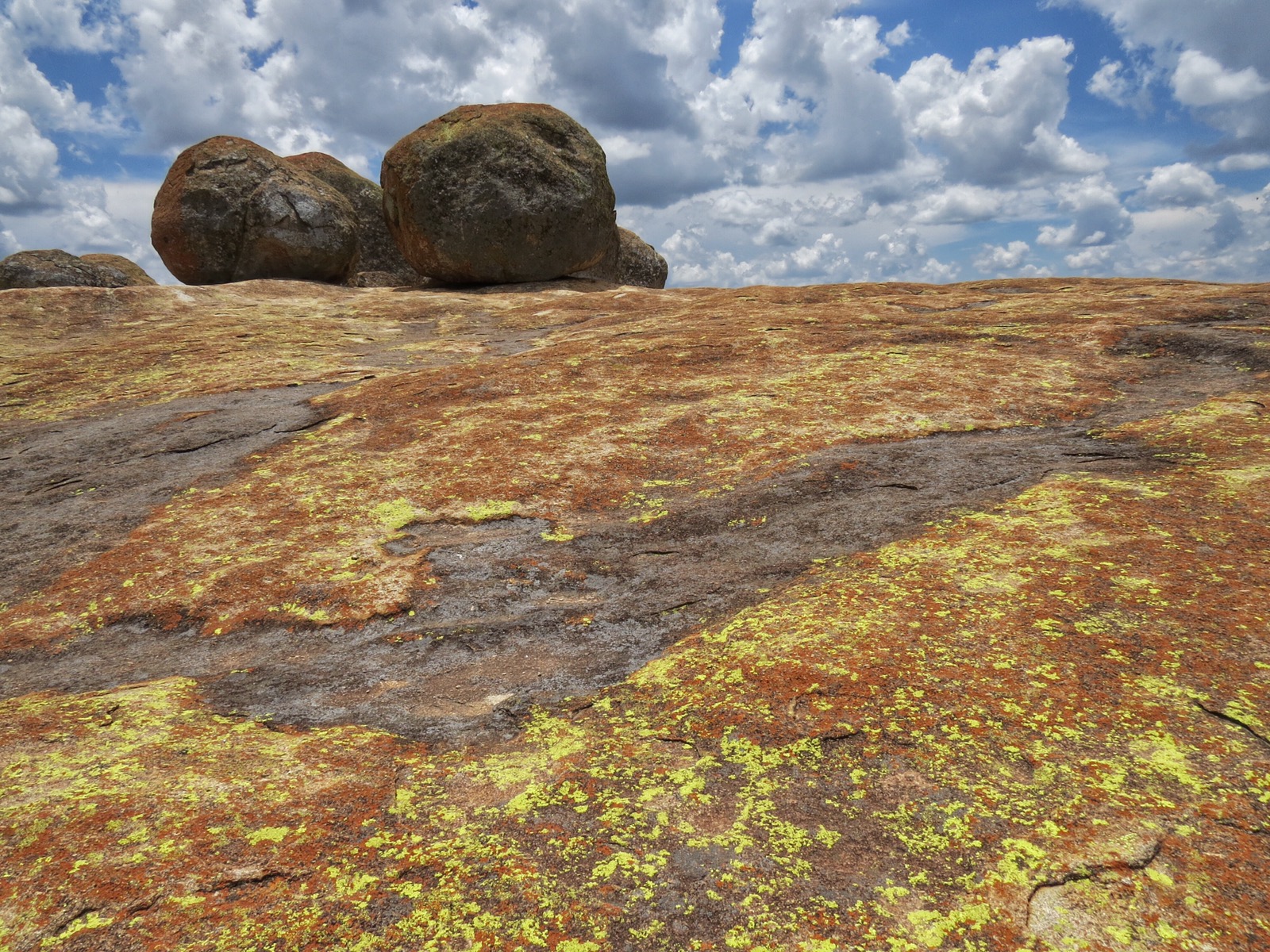 …and an amazing plant called Resurrection Grass, which can lay scorched and dormant for years and then suddenly spring back to lushness when (if, eventually) the rains come.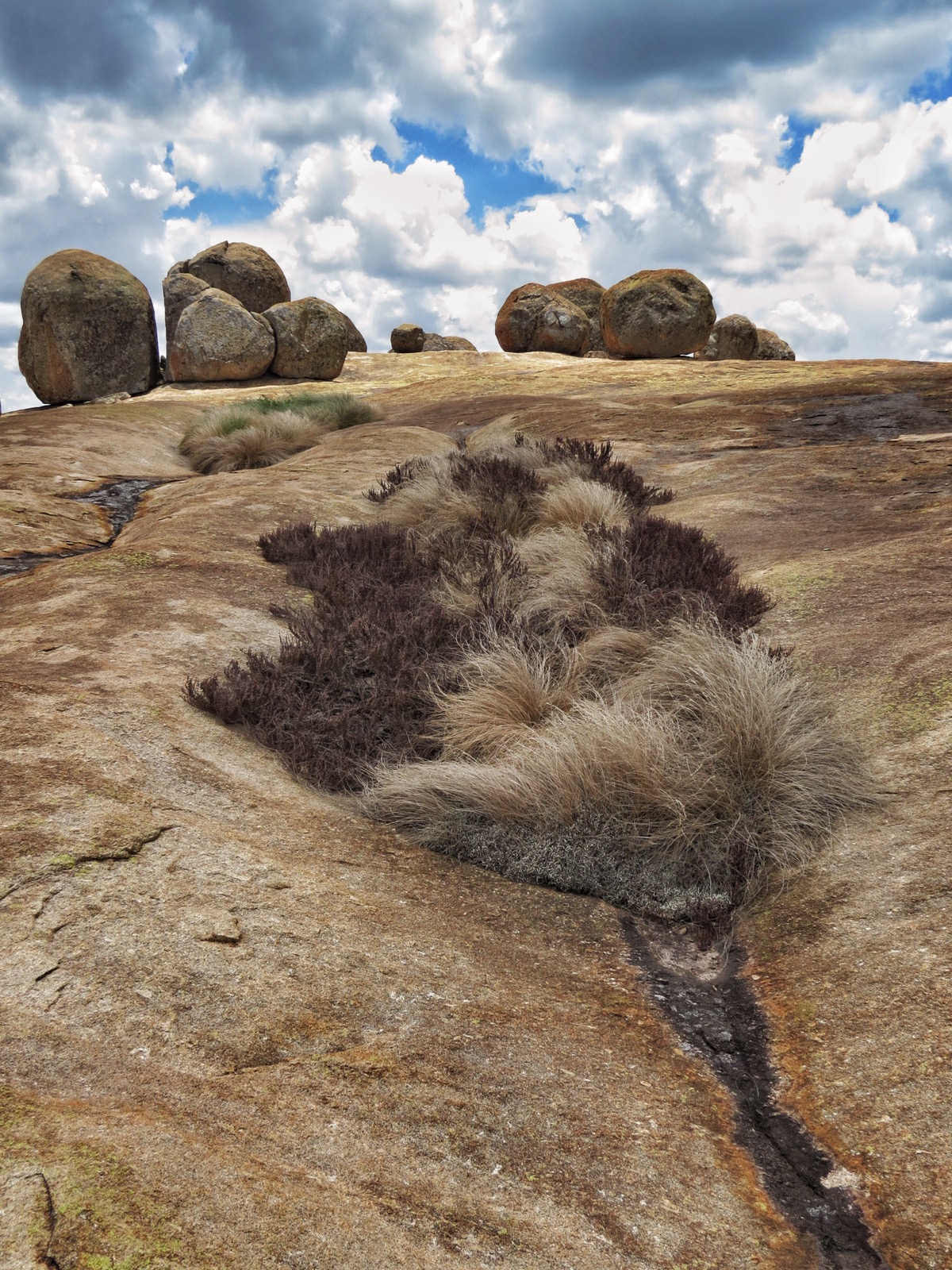 A truely wonderful place to walk around, rest and take in the views.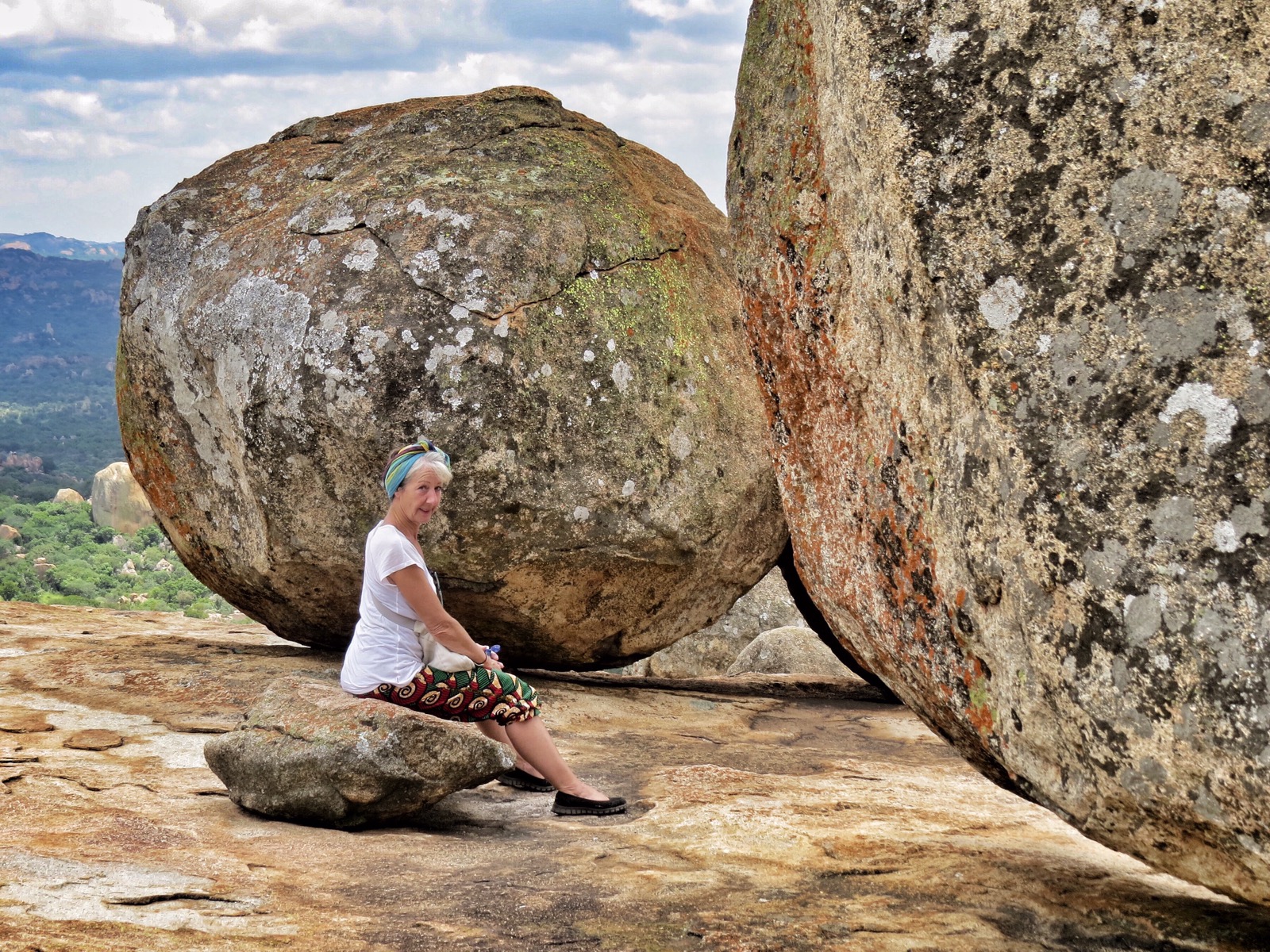 One thing you can't help but being awed by up here though are the huge skies (I guess that applies to most of wilderness Africa that we have seen). The skies are like fantasies. As we headed deeper into the park it was hard to decide whether the landscape dominated the sky or vice-versa?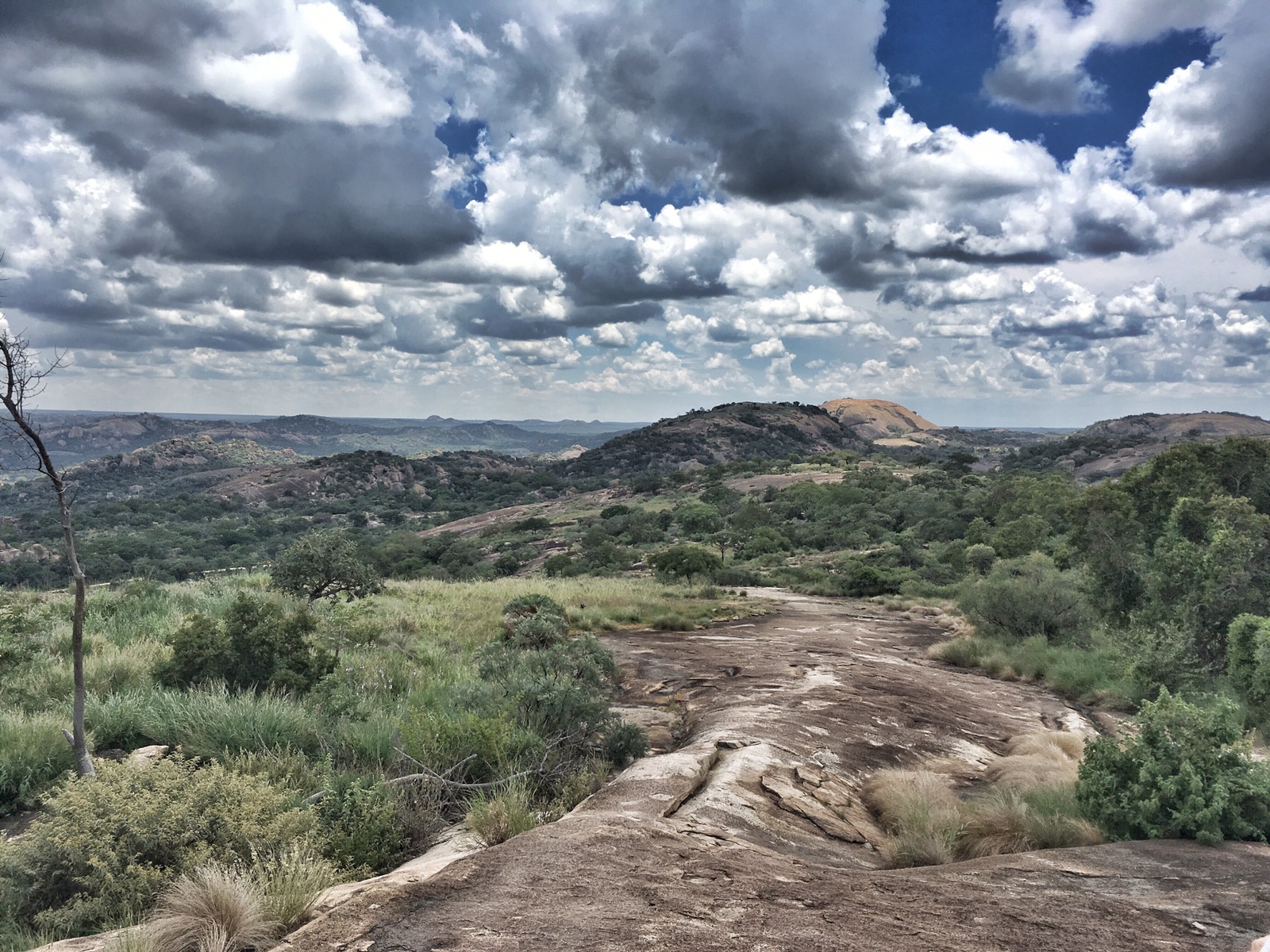 Dotted around the 425sq-km Motopos Park are 3,000 officially recognised rock-art sites including one of the best collections in the world of San paintings.
Some of the sites can be walked to easily. Unfortunately the plain to the White Rhino Cave site was flooded and we couldn't get there.


At Pomongwe Cave there is a small museum manned by a couple of really informative, friendly staff.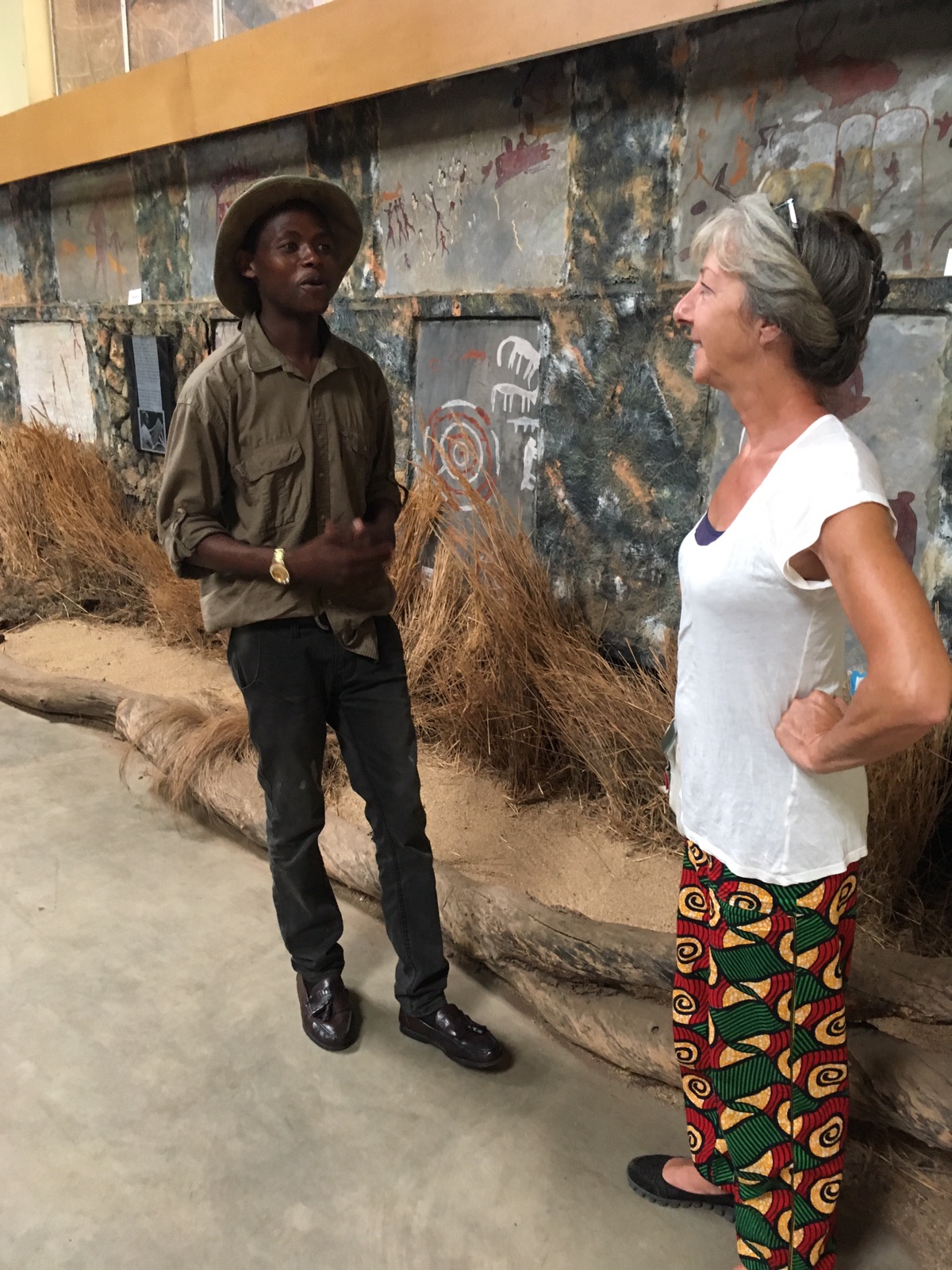 Some of the rock art here is estimated to date back 6,000 – 10,000 years, when the cave was occupied by 60-70 people.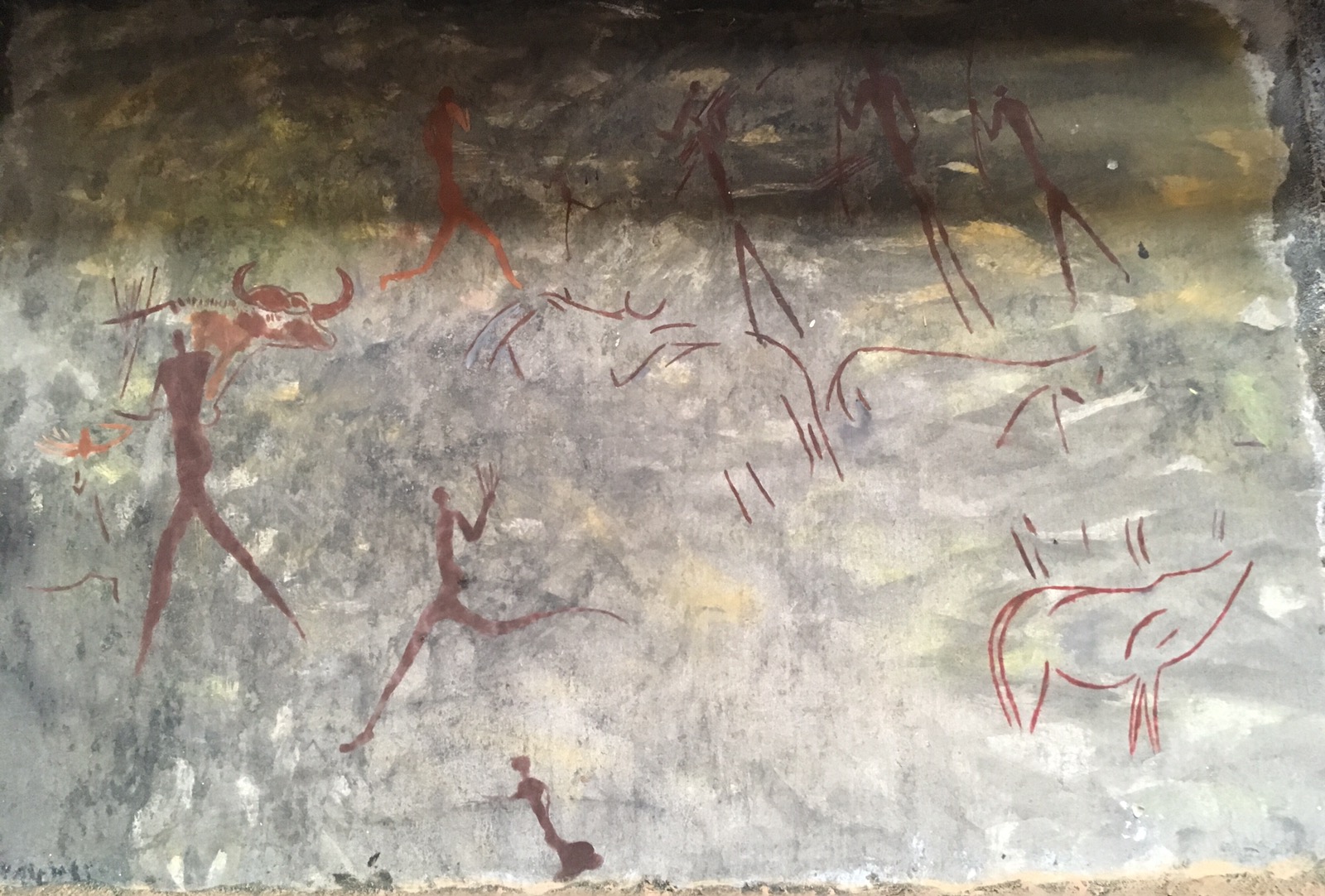 Once again though, the Zimbabwe Government prove that they can screw up anything. A few years ago, some clown in The Ministry of Monuments (probably a favourite 'neice' of good old Uncle Bob) decided the best way to preserve some of the paintings was to coat them in Linseed oil.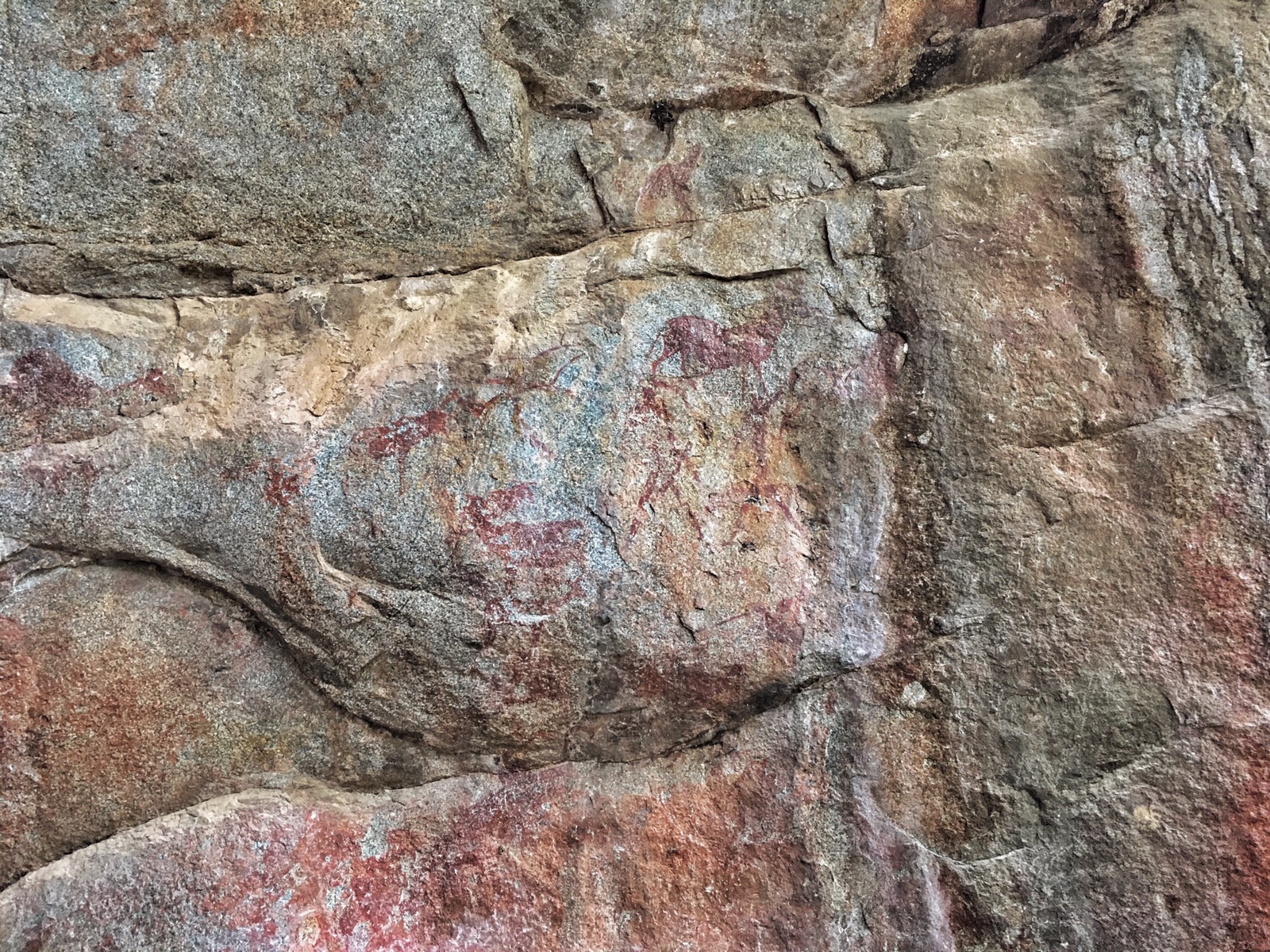 Criminal. They didn't even just try it on one though. They decided to 'protect' a large number of them at the same time. Almost 10,000 years without harm: 10 minutes under the responsibility of some idiot.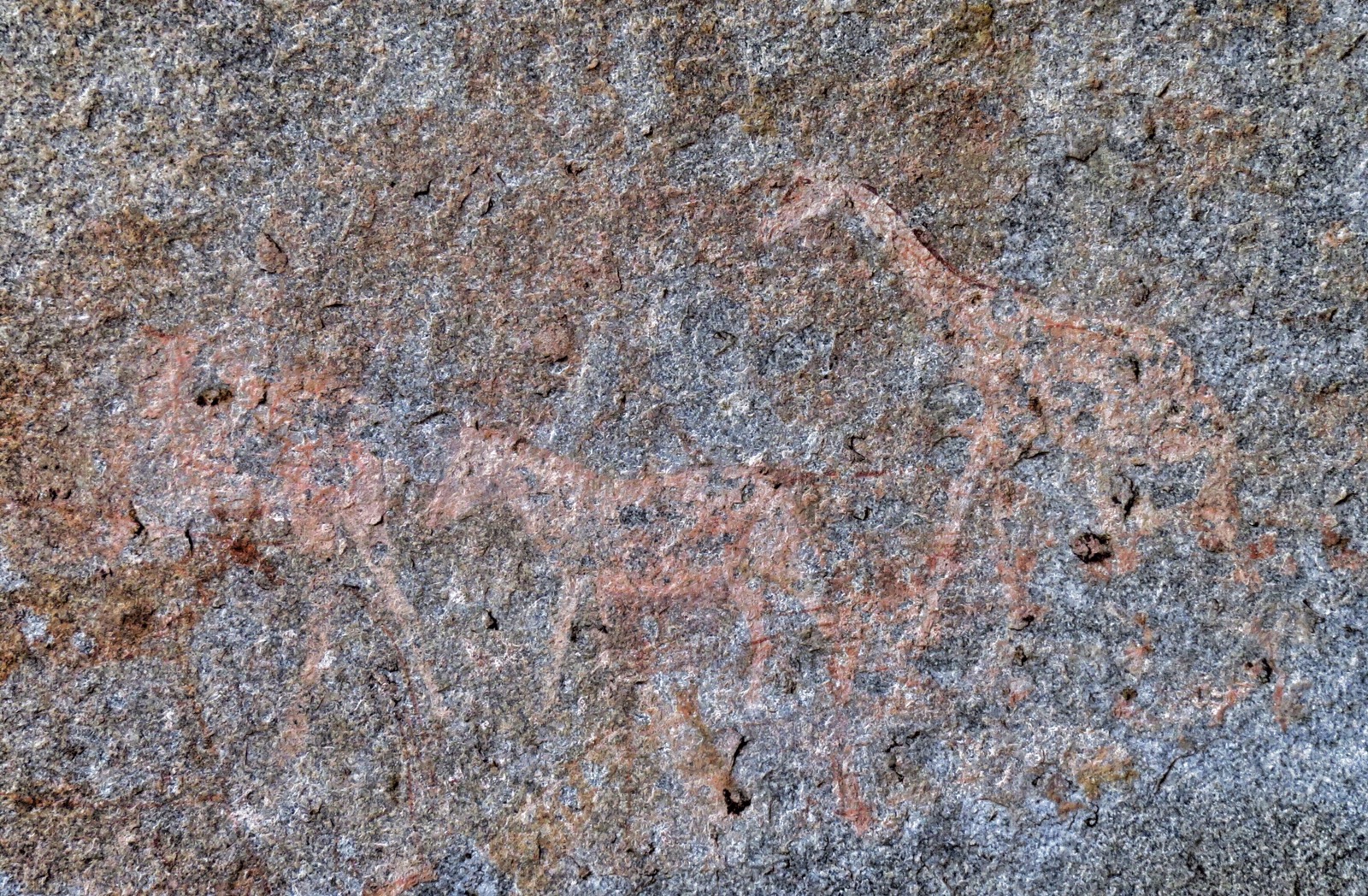 Still, even if all the rock art can't be viewed at its best, the caves themselves are stunning.