Back in Lilongwe, both Woodlands Lodge (where we camped, stranded, in front of their main entrance last year) and MA Motors both remembered us (more particularly they remembered Trigger's Broom) as we pulled up at their doors.
They must have been rubbing their hands with glee at the thought of being able to pay their kids school fees for yet another year by the time we'd got the car fixed this time.
MA Motors did another excellent job replacing the Brake Master Cylinder, windscreen wiper gear wheel and replacing our auxiliary battery. Hellish expensive parts cost (£470 for items that would have been £200 in U.K.) but ridiculously cheap labour for such a fancy workshop: £30. Maybe it's some sort of tax scam?
In the meantime we hung around the Woodlands Lodge eating tremendous Indian food, listening to the Bush Babies, lions and hyena overnight and to Dennis's woes during the day.
Dennis is a retired Brit who's daughter lives in Cape Town. He'd come up on his first visit to Malawi to check on progress with a small farm and taxi business his daughter and her ex-SAS husband have here and found that one of the staff had run off (across the border) with one of Dennis's son-in-law's $30,000 taxis. If it wasn't so serious, his employment of police and private detectives, daily treks out to the border posts and planning ambushes to try and catch the thief would have been pretty comical. I wouldn't want to be in the miscreant's shoes if Dennis's son in law catches up with him.
Other than that, while waiting for the car to be fixed, we spent our spare time at camp studying the ant colonies and smaller predators around the woodland area.
A very pleasant few hours were had watching a sand-wasp painstakingly trap and paralyse a caterpillar.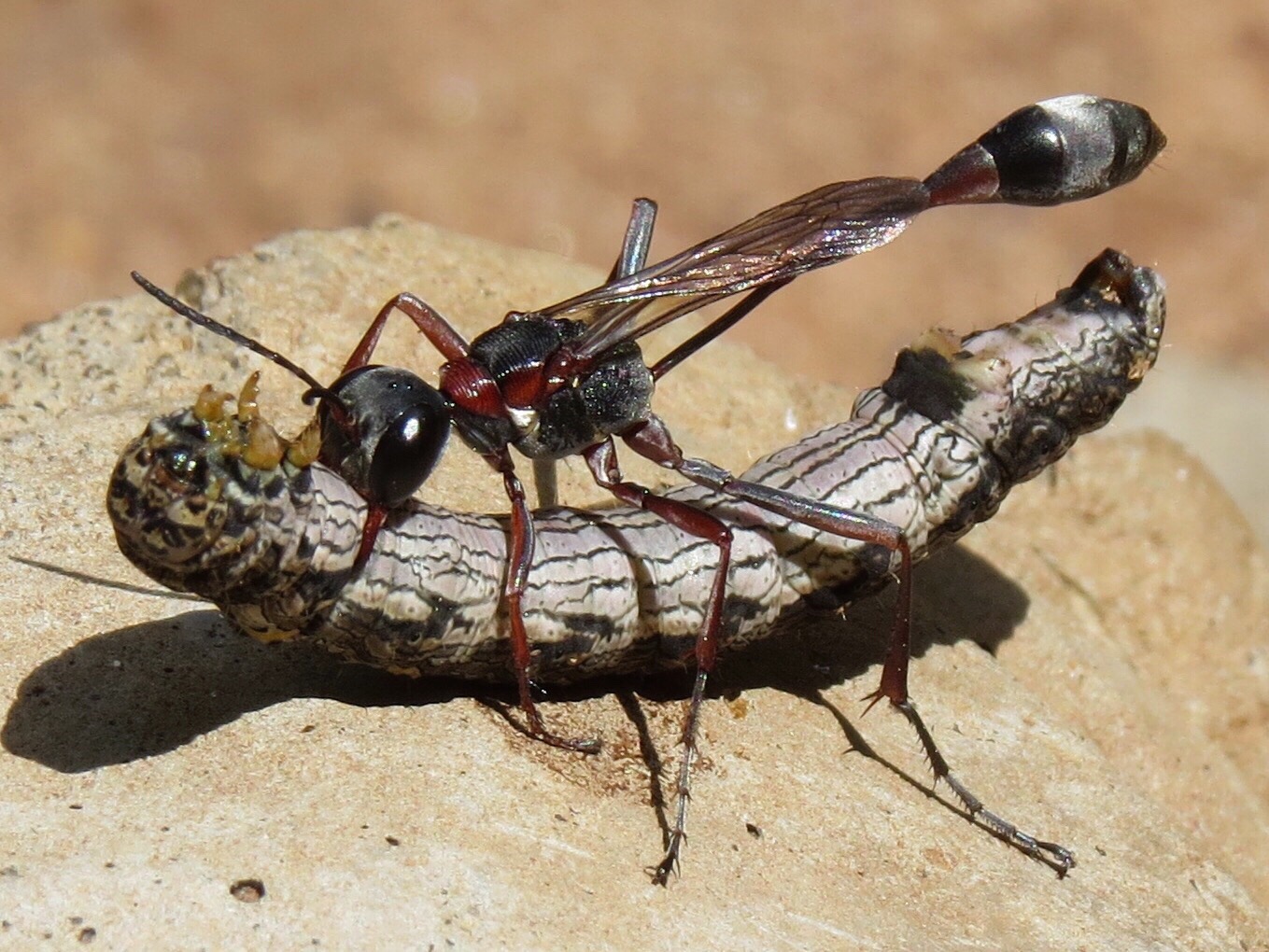 It then carried it off to a shady spot…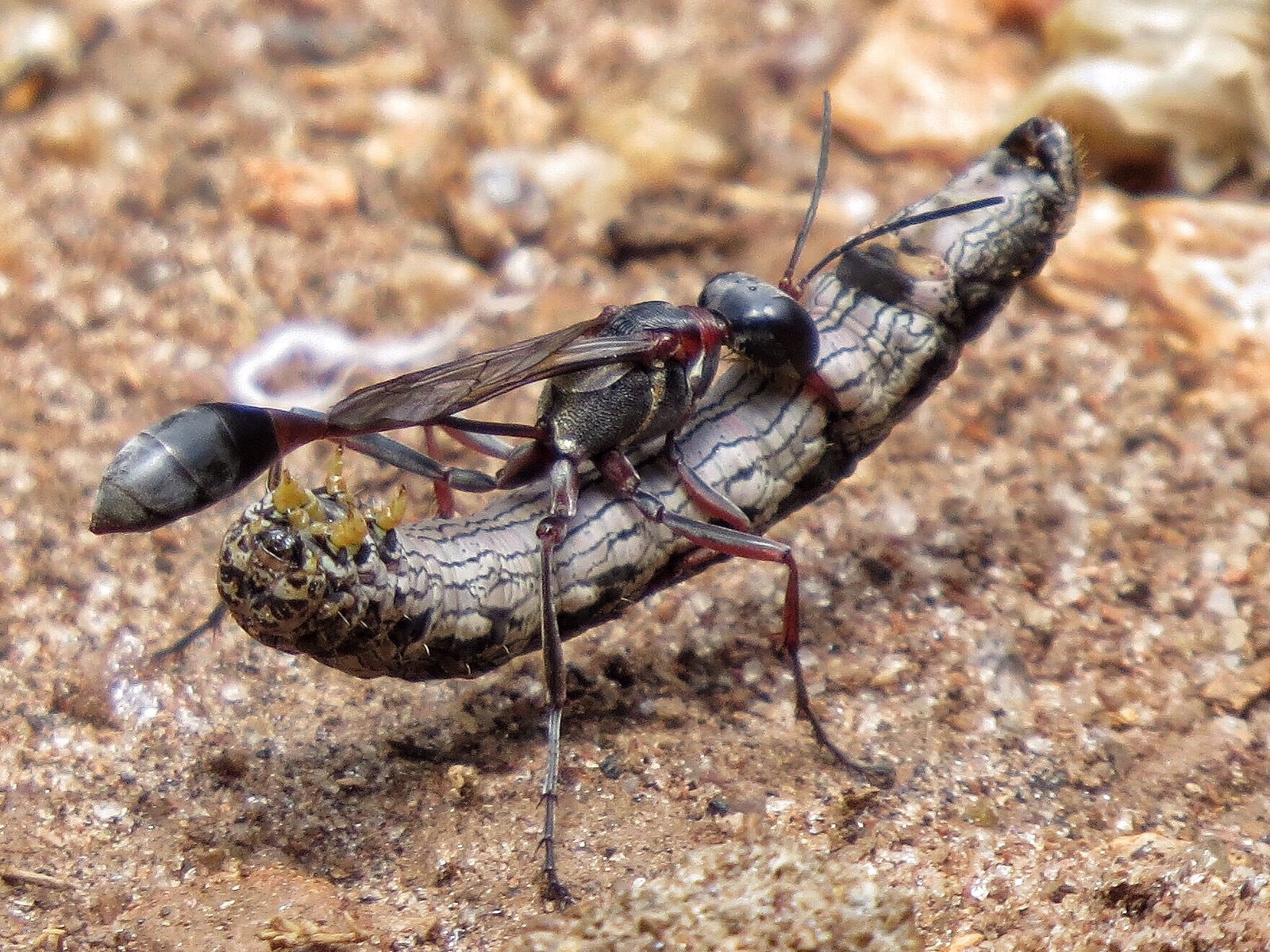 …to a point where it had previously dug a tubular hole (at the bottom of which it had laid its eggs).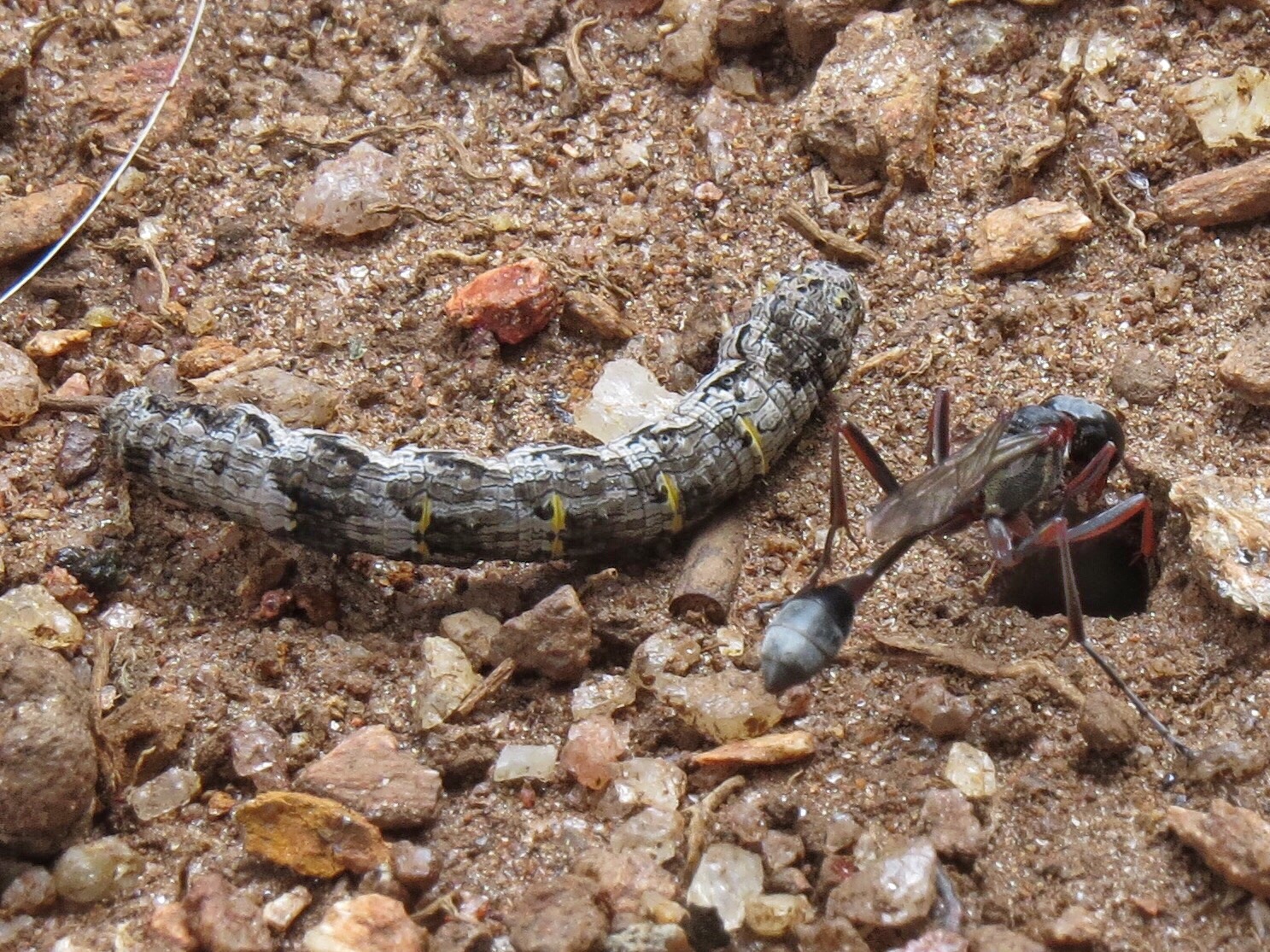 It then dragged the stunned caterpillar into the hole…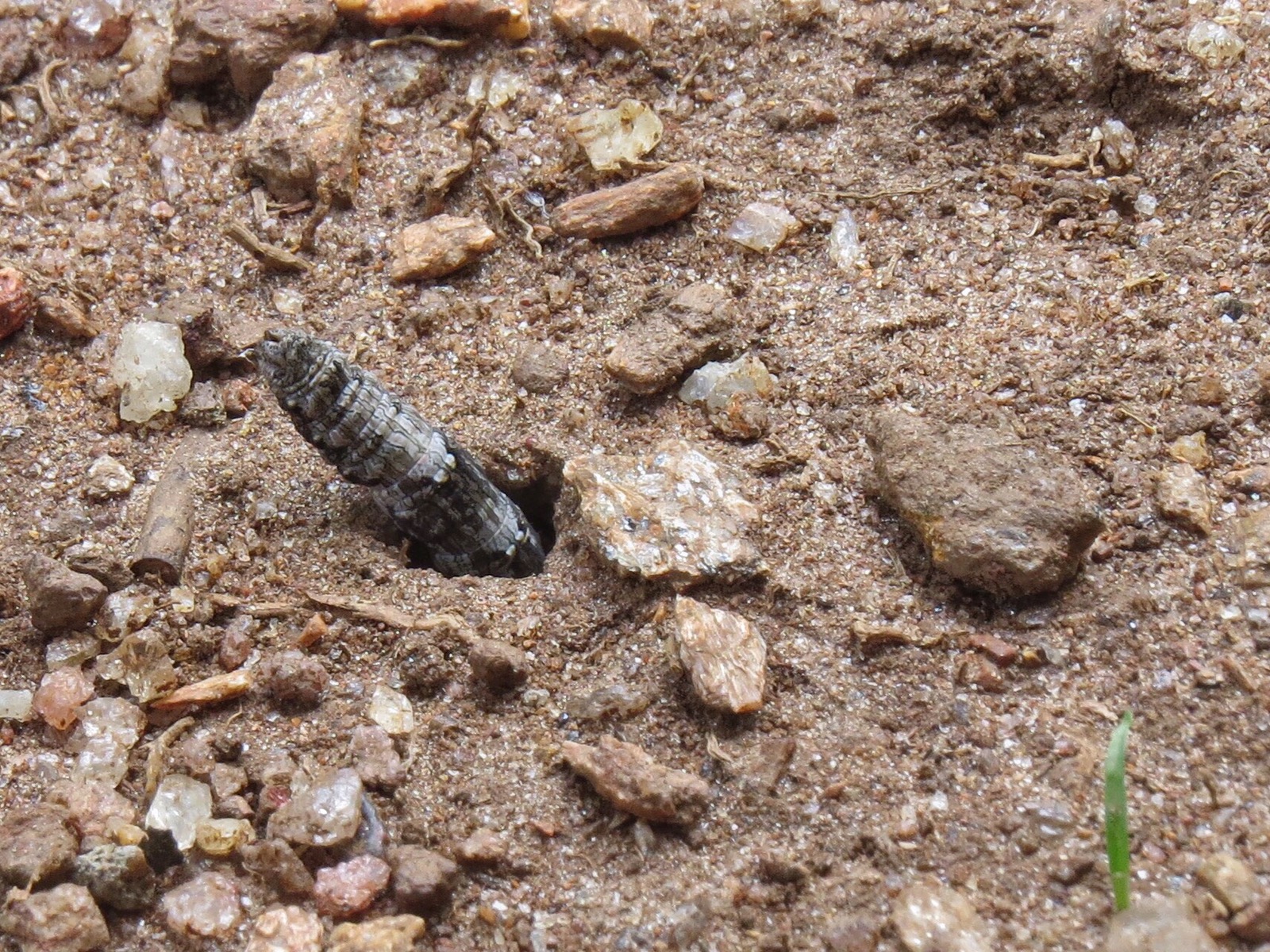 … then crawled out past it, filled in the hole and left its hatching eggs to enjoy the still living, but immobile, caterpillar at their leisure over the next 7 days or so.
Small, but brutal.
Still, all too soon the fun was over and we crossed the border at Chipata, back into Zambia. Since we didn't bother renewing our COMESA (multi country, 3rd Party Car Insurance) we had to buy a policy from the border Insurance Agents ($16 for 3 months – totally useless but a legal requirement).
They seemed to struggle getting the car details right. I guess 80% of cars in Africa are Toyotas and either they either don't see many Land Rovers or, knowing how much we've spent fixing Trigger's Broom, they made a Freudian slip…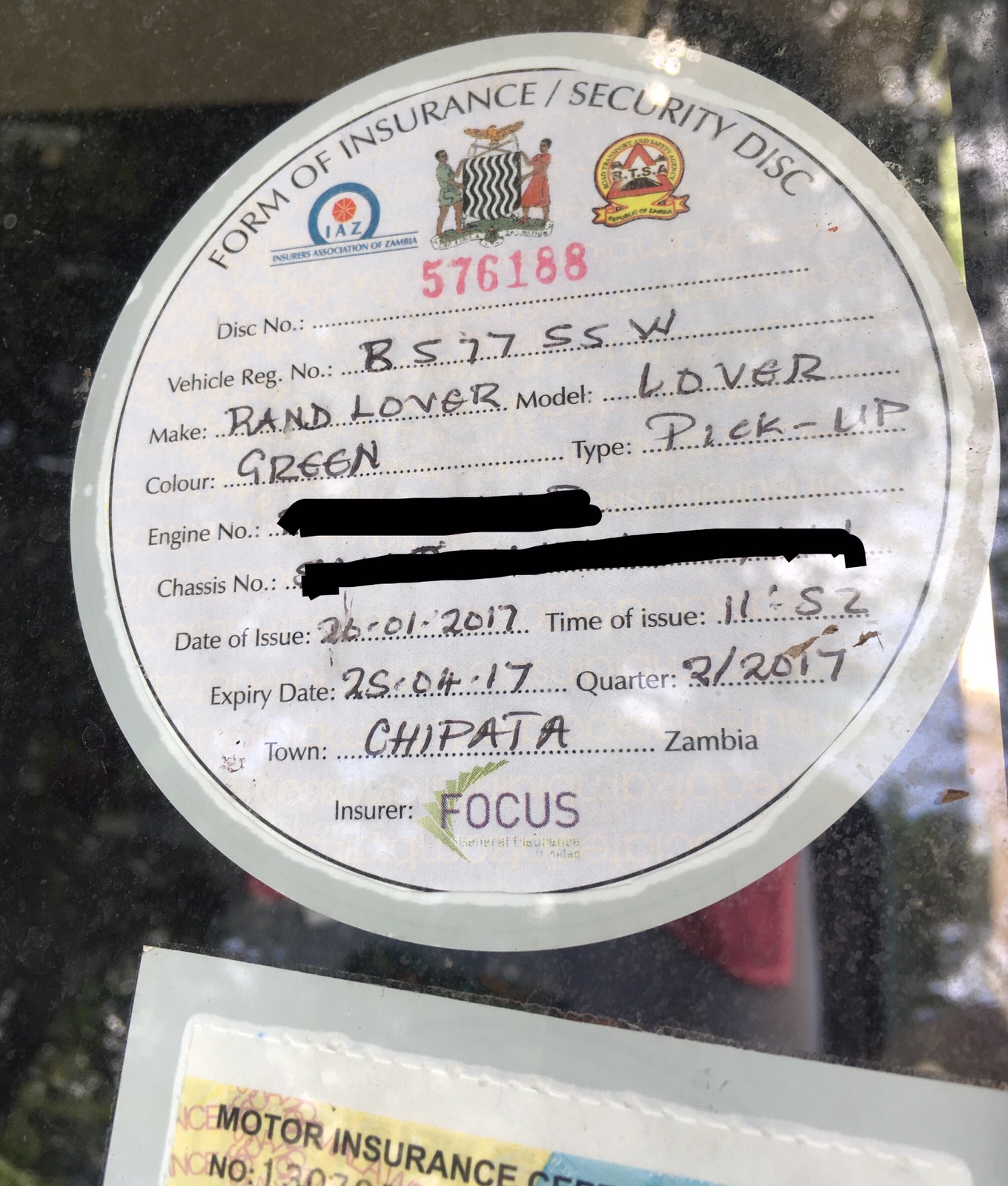 For some reason (a bit like the Chinese) the East Africans constantly mix up their 'L' and their 'R'.
From Deans Camp at Chipata it was only a 4 hour 'hop' along an excellent new tar road to Bridge Camp, where the rains have almost completely revived the Luangua River since our last visit.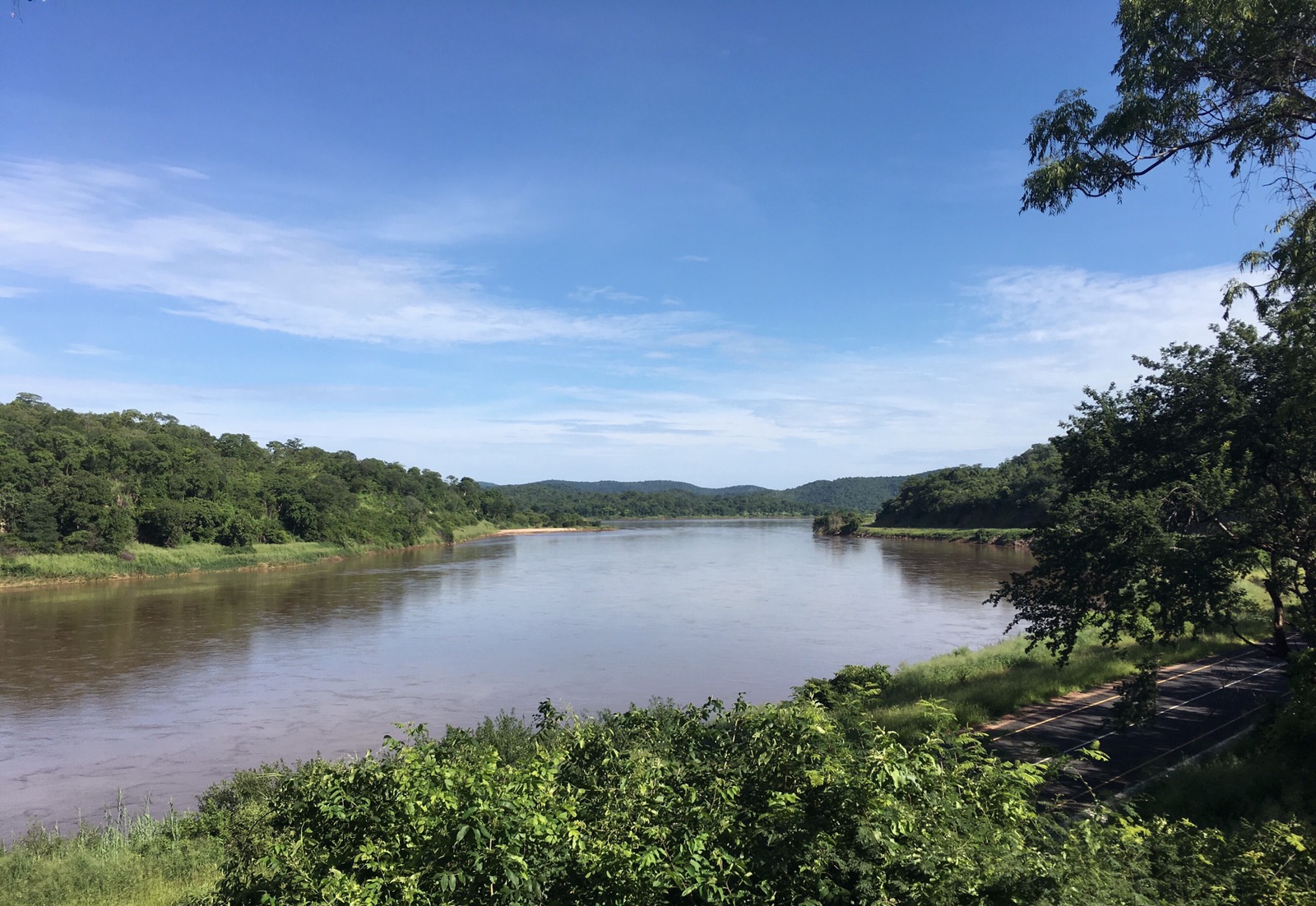 From there, another 4 hour hop the next day, back to Eureka Camp just south of Lusaka.
Despite being only 10km from the Lusaka City (a bit of a dump, but rapidly expanding as wealthy 'whites' and almost certainly corrupt local ministers make ever increasing fortunes charging wasteful USA and European NGO's outrageous rents) it's wonderful to be able to wake up to kudu, impala, giraffe and zebra wandering around the tent…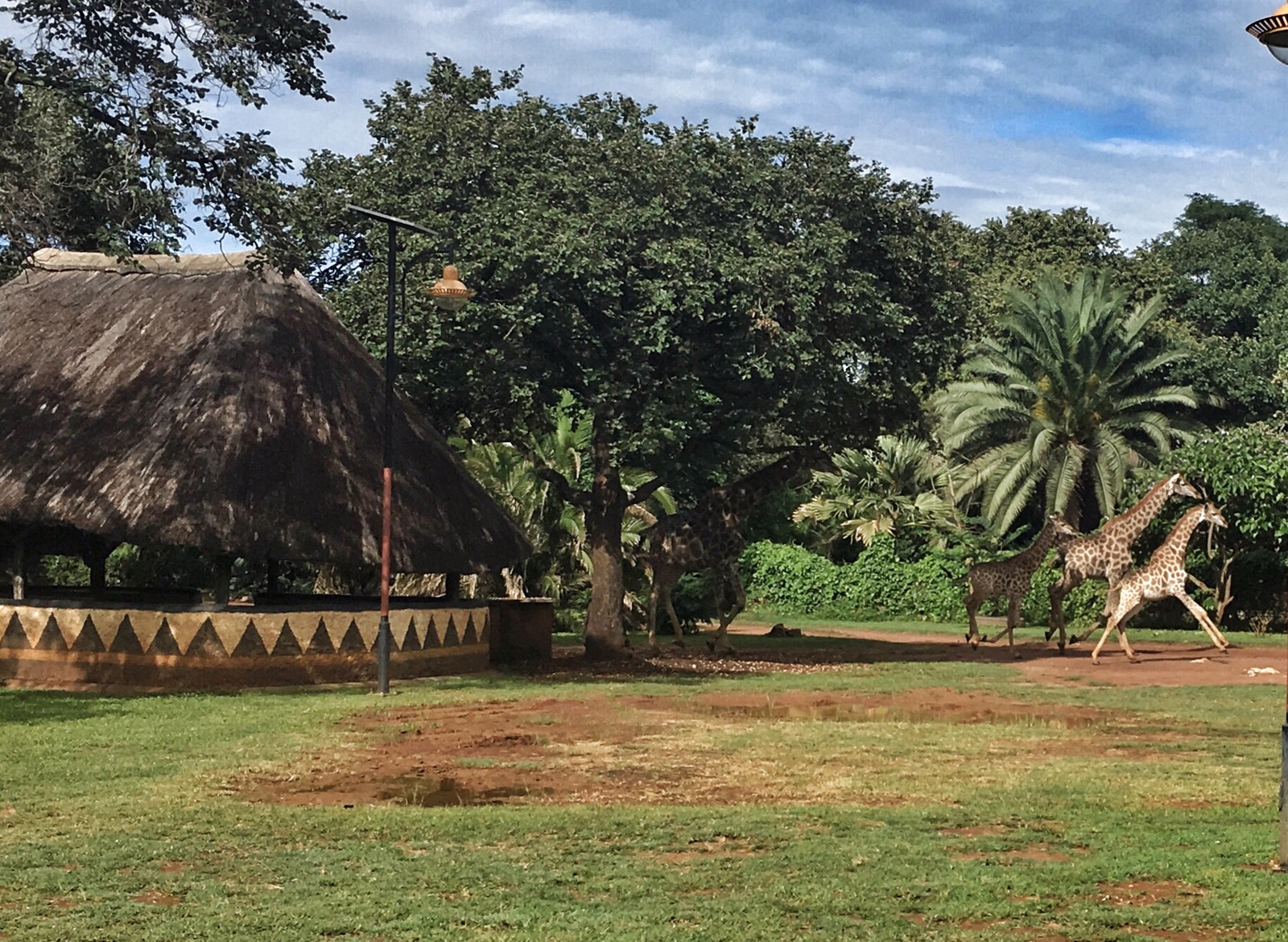 …or trying to hide whilst watching you as you eat breakfast.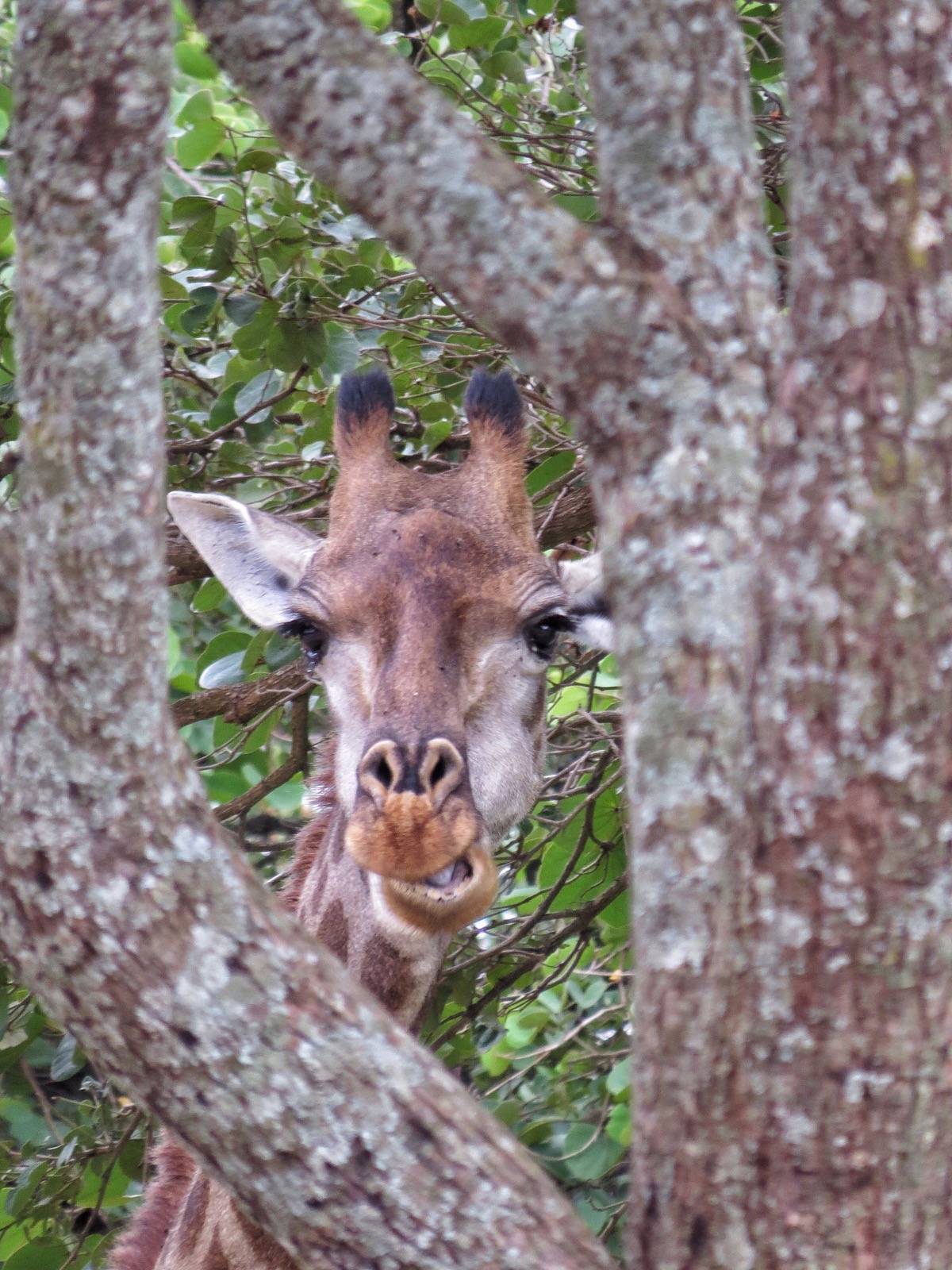 The Zebra actually wander around as if they own the place and appeared the moment we arrived. As soon as I started setting up the kitchen and stove to make dinner, one chap decided that he had an itch he couldn't scratch and the stone worktop would do the job nicely.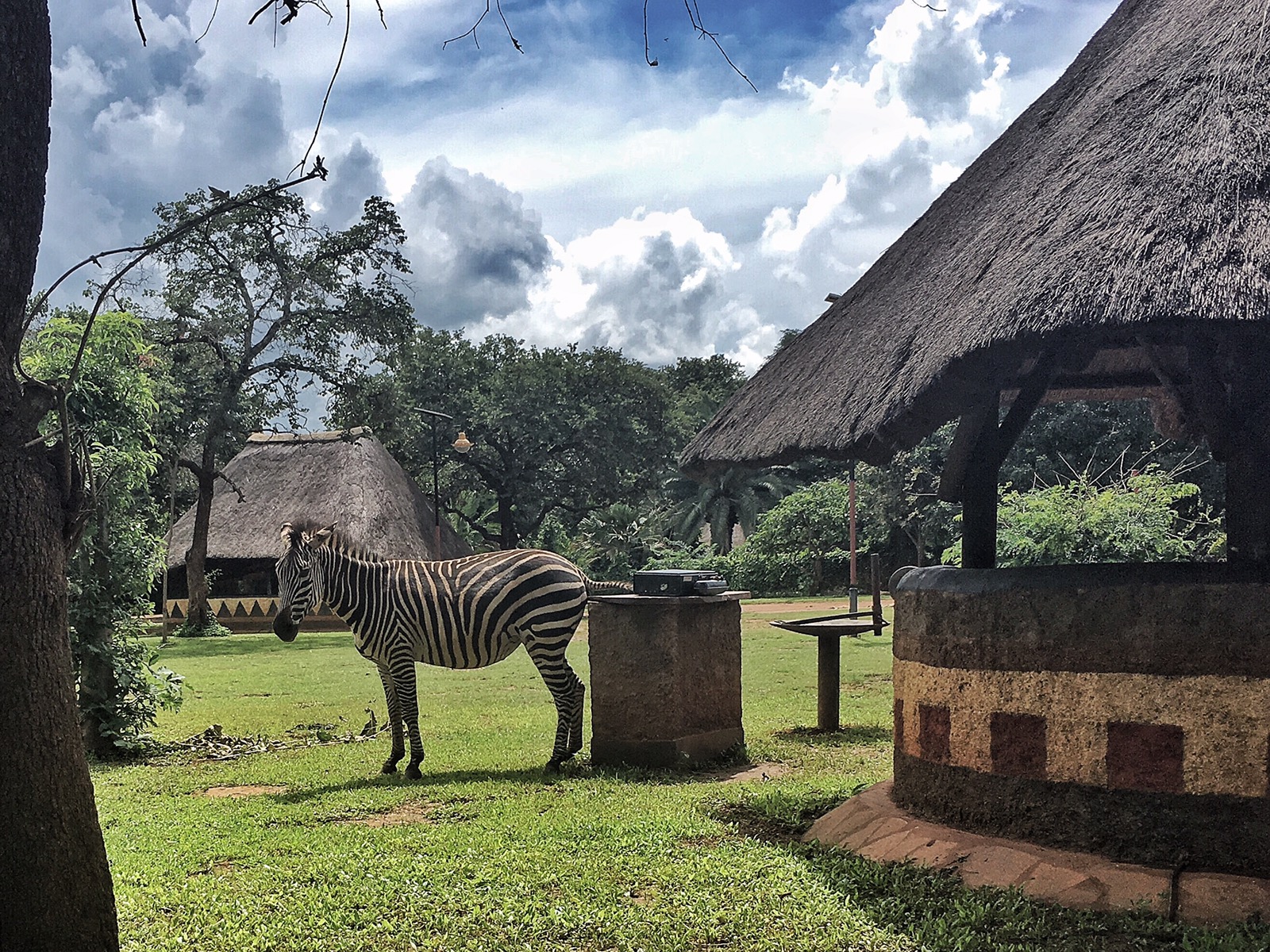 Having been in Africa now for over 3 years, we've pretty much become immune to flies and bugs buzzing around us, landing on our skin, clothes, cooking equipment, plates, etc. In fact it's almost an unwritten rule now that if something smaller than a finger nail lands on your plate, don't moan about it: man-up and just carry on eating.
You have to draw the line somewhere though. This zebra wasn't just scratching his backside – he seemed to be making some sort of comment about my camp-cooking skills.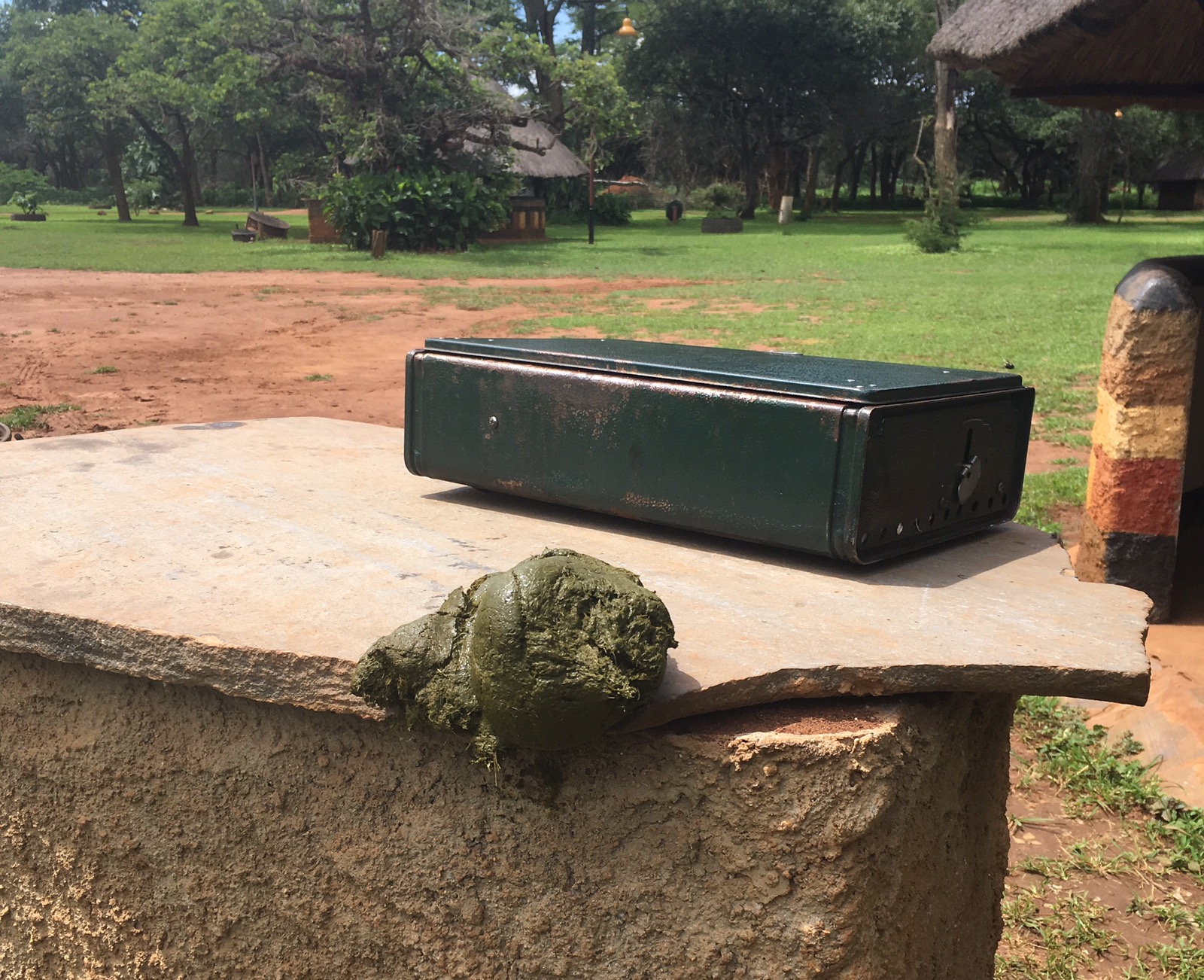 While at Eureka we also got a very welcome surprise visit from friends Ian and Solveig, who we last bumped into in Nairobi. At that time they were heading back home to S Africa to sort out some business issues, having curtailed their original plan to drive north and into Europe.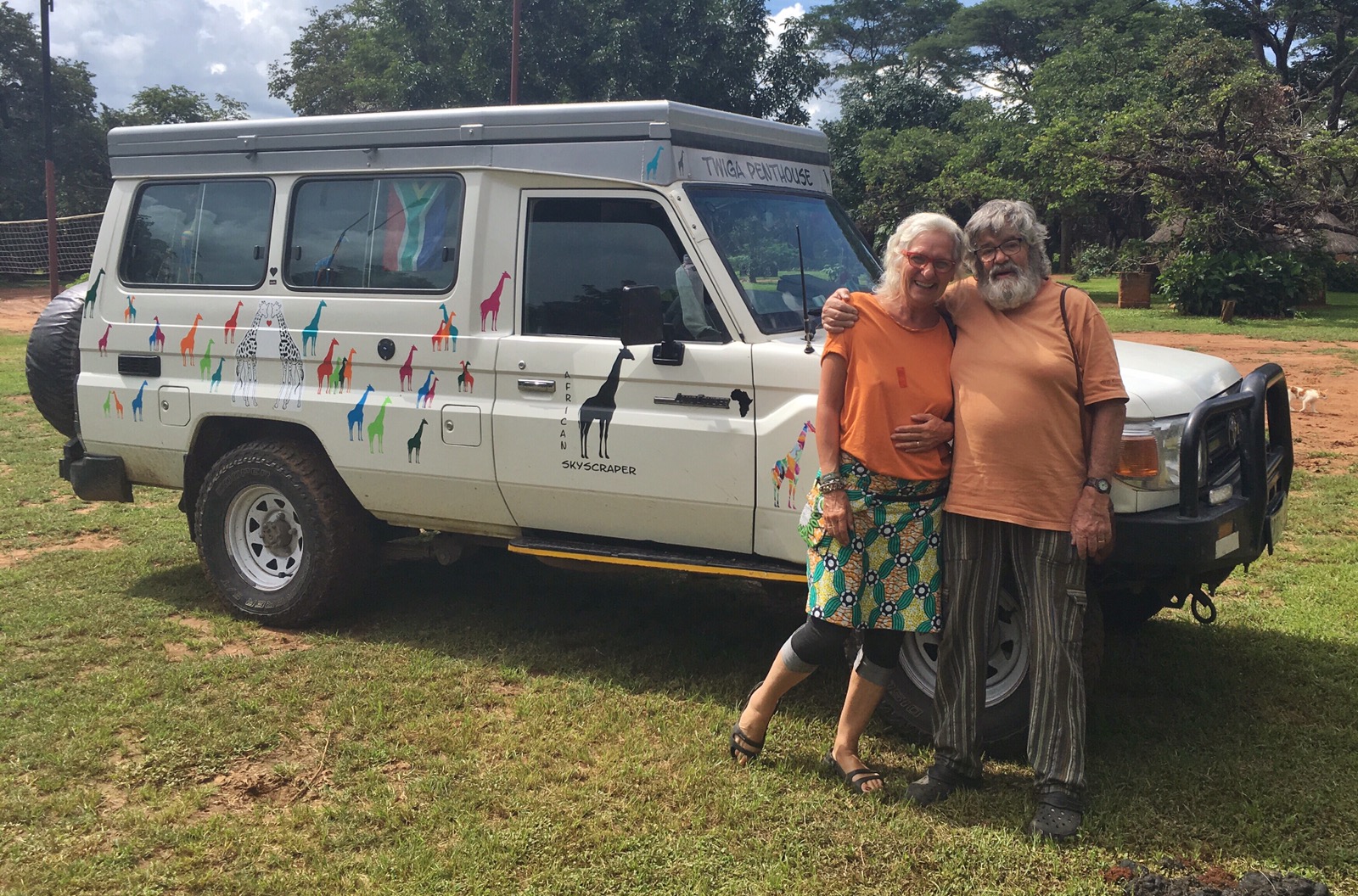 They're currently on a whistle-stop trip up to Rwanda / Uganda, heard we were in the area and just 'dropped by' to catch up with us over a cold beer. Great to see them again and hope to catch up again in SA later in the year.
From Lusaka we made a slow 2-day hop back to Livingstone. We stopped overnight at The Moorings and witnessed a sighting of what must surely be some of the rarest animals we have seen in Africa.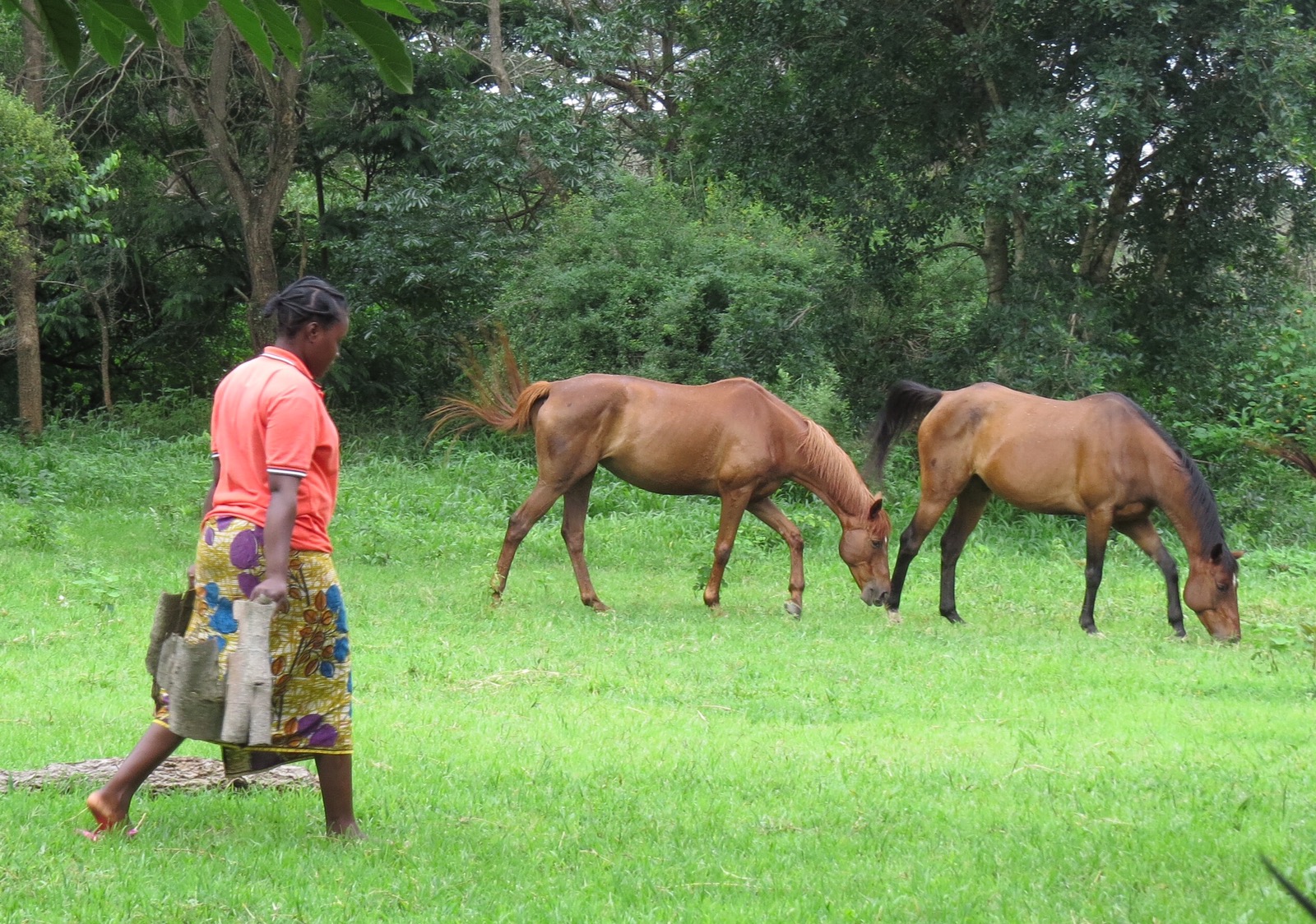 We've seen more leopards than horses!
Once again we ended up at Maramba River Lodge, in Livingstone. I'm not sure where actually qualifies as our second home in Africa – Maramba, Chitimba or Kasese? Whatever, it's a pleasure to be at any of them.
What a change in Zambia though since we left only 3 months ago. The place is so green and lush. They've had heavy rains, probably the heaviest for 7 years and the locals are really suffering now from their crops being flooded (rather than parched).
There has been so much rain that the water-hyacinth choked Maramba river has completely cleared and is full of water (one minute sparkling green / silver as the flood waters sweep down from their source 100km away and wash everything into the Zambezi, the next minute sluggish chocolate milk). One day alone, the river rose almost 1 metre with the flood waters.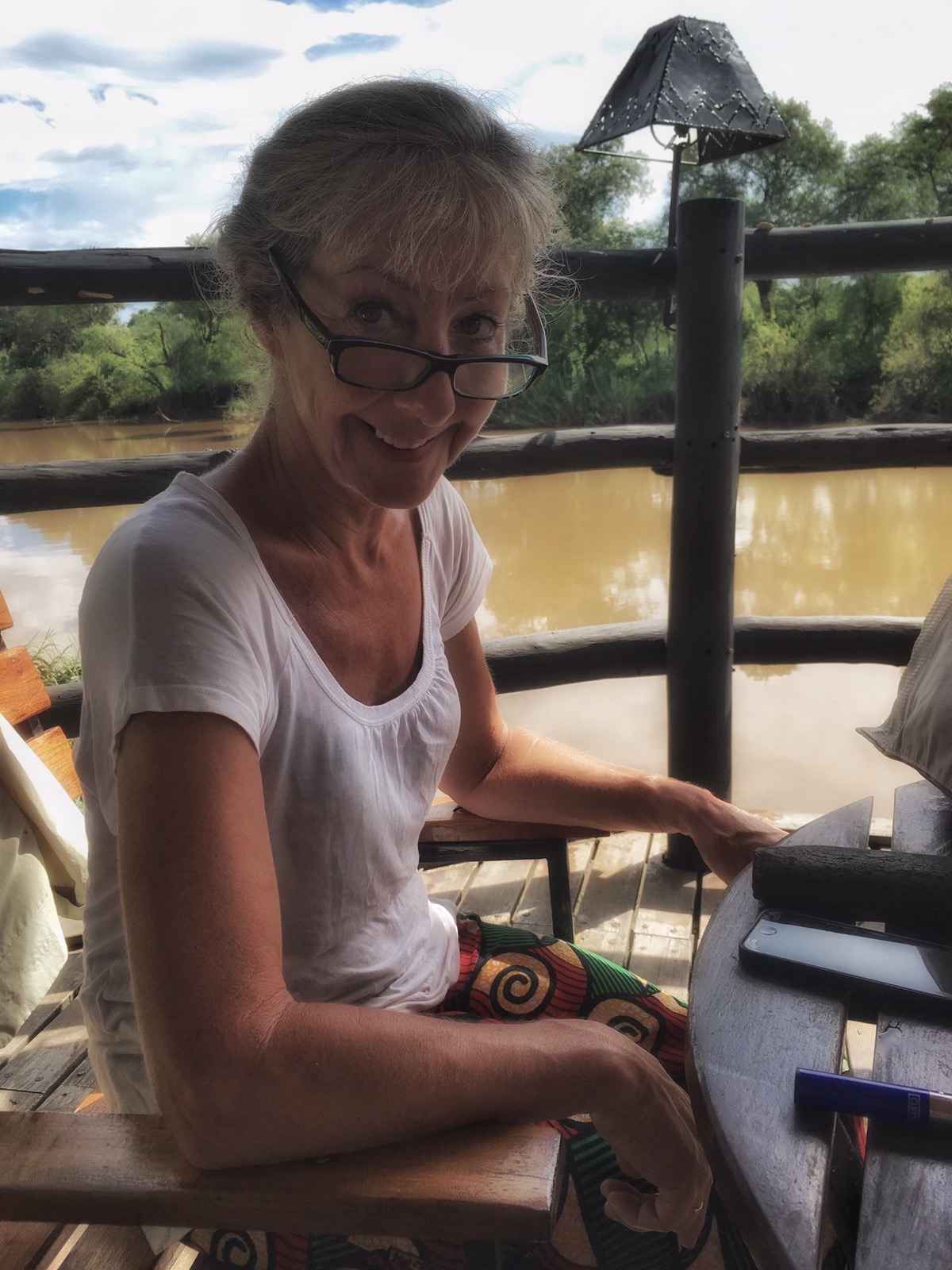 We spent a week at Maramba recharging our batteries after the long drive from Northern Malawi and enjoyed everything from scorching 40 degree sun soaked skies to huge storms.

View From The Penthouse: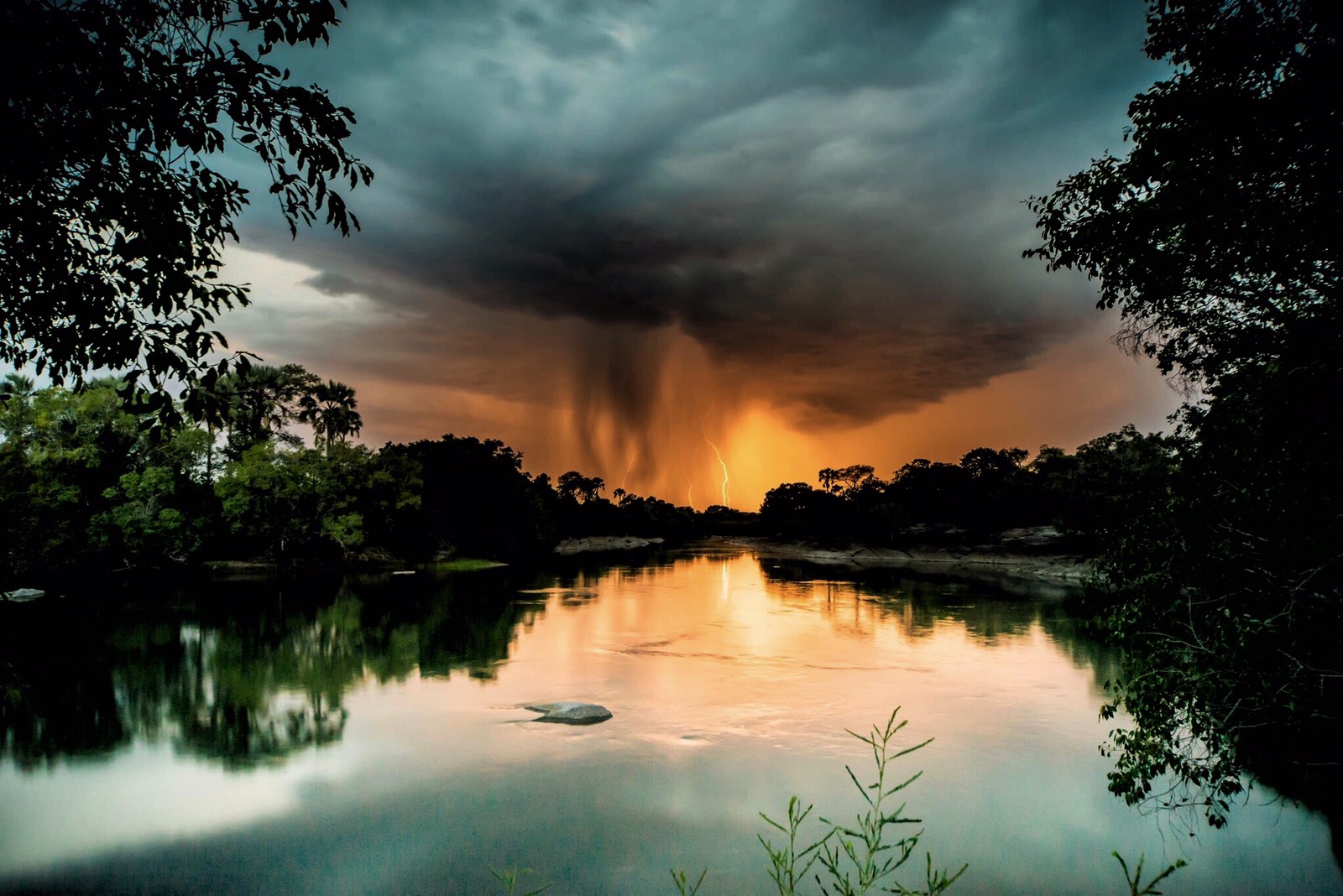 I love a good storm. Particularly if I'm sitting in a bar or under shelter at a camp. The storms we had over the 6-7 days we were in Livingstone were absolute belters. One in particular just crept up on us. It was mid afternoon. The sky darkened, but not considerably and there was no real sign of rain in the air. We'd heard thunder, which seemed to be 25-30 miles away and were expecting a pretty good lightening storm later, in the distance, once it got dark.
Without any warning there was a blinding flash of lightening and an instantaneous explosion of thunder. There was considerably less than a second's gap between the two and it was so deafeningly loud and brilliantly dazzling that I actually threw my telephone into the air and had to catch it again!
That got the old adrenaline going.
The following day we were catching up with Nick Selby at Foleys Africa when another storm hit. Actually, I swear it did HIT.
The three of us were standing on the threshold of his workshop doorway when there was a huge flash and crash. Even Nick flinched and he's famous for his 1,000 yard stare and implacable reaction to any disaster. I'm sure the lightening actually hit his wifi / satellite ariel directly above our heads. When we looked outside, the mains electrical cables were oscillating like sine waves between the power poles. He tramped off through the deluge to see if he could find any craters, smouldering Land Rovers or destroyed buildings in the yard.
Zambia is beautiful in the rain (albeit difficult to get around) and equally stunning in the dry season. No elephants in camp this time around but plenty of hippos, crocs, genet, monkeys, baboons, bird life, etc. A couple of the hippos had newborn calves as small as labradors. The mothers were fiercely protective…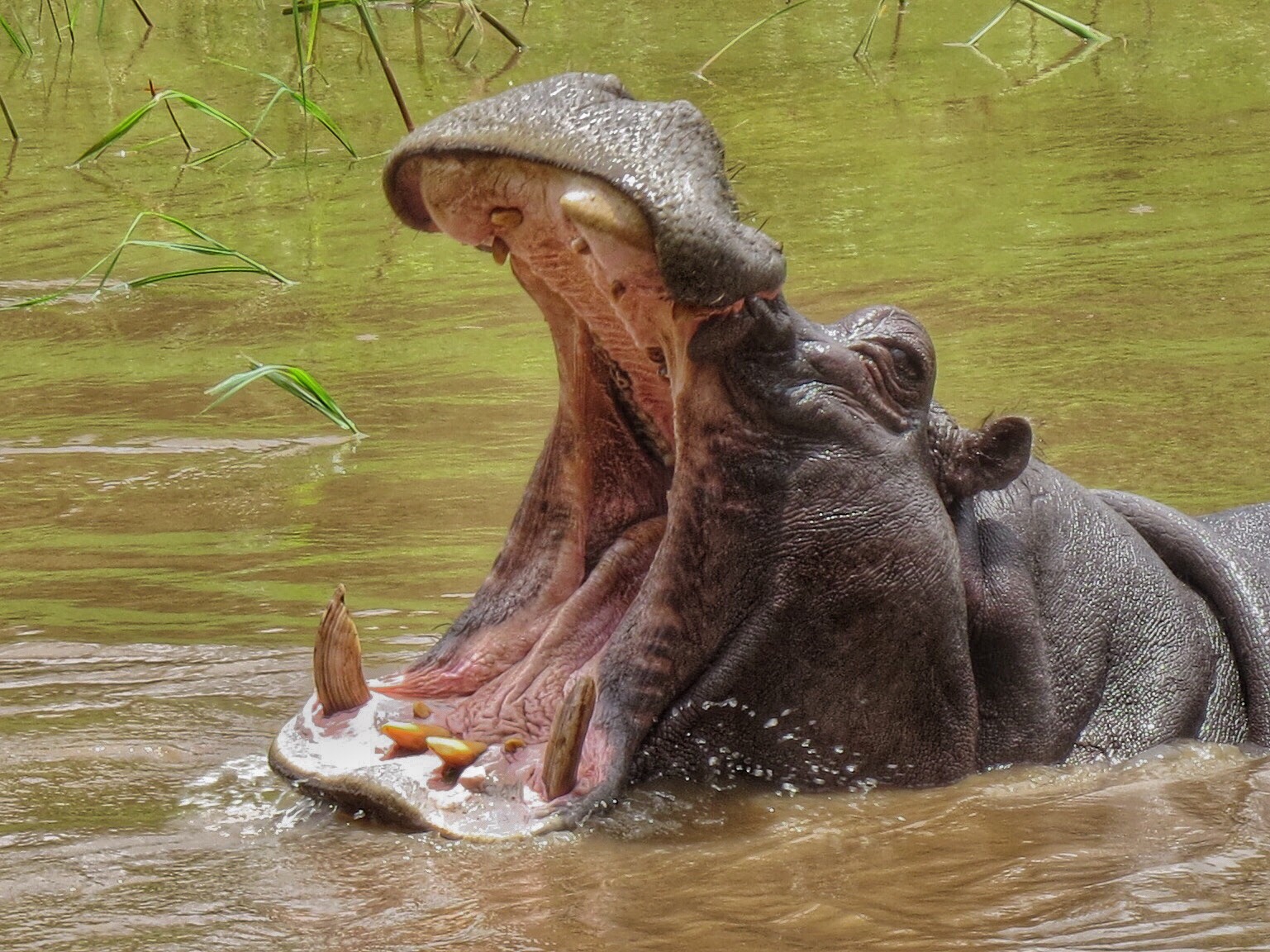 …while the calves just look as cute as suckling pigs waiting to be put on a barbecue spit.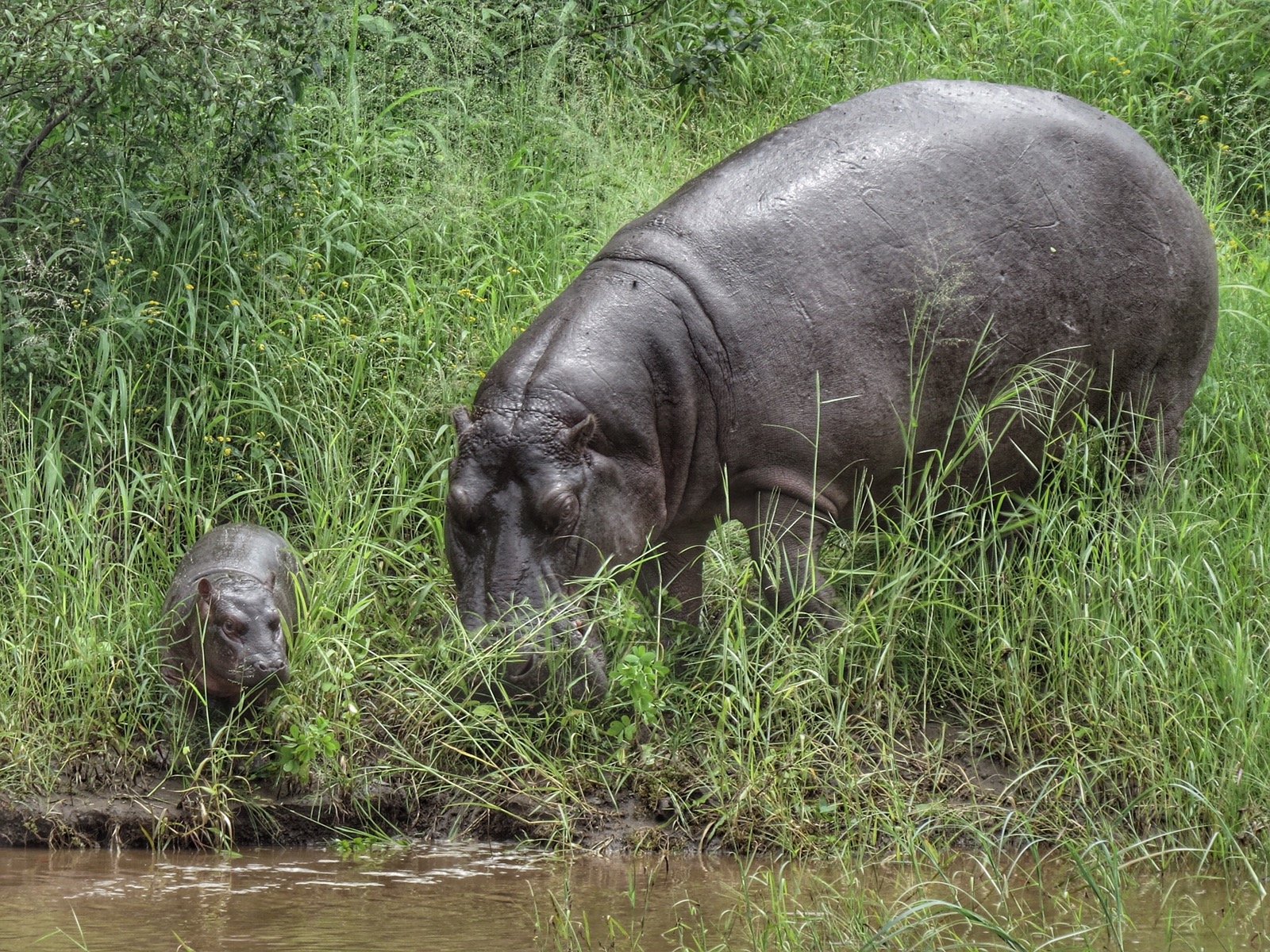 When the river waters are calm the crocs start cruising around. Beautiful in a sparkling twilight. This big 5 meter long guy (girl? – I don't now, or want to find out, how you sex a crocodile) cruised past our camp every afternoon around 5pm.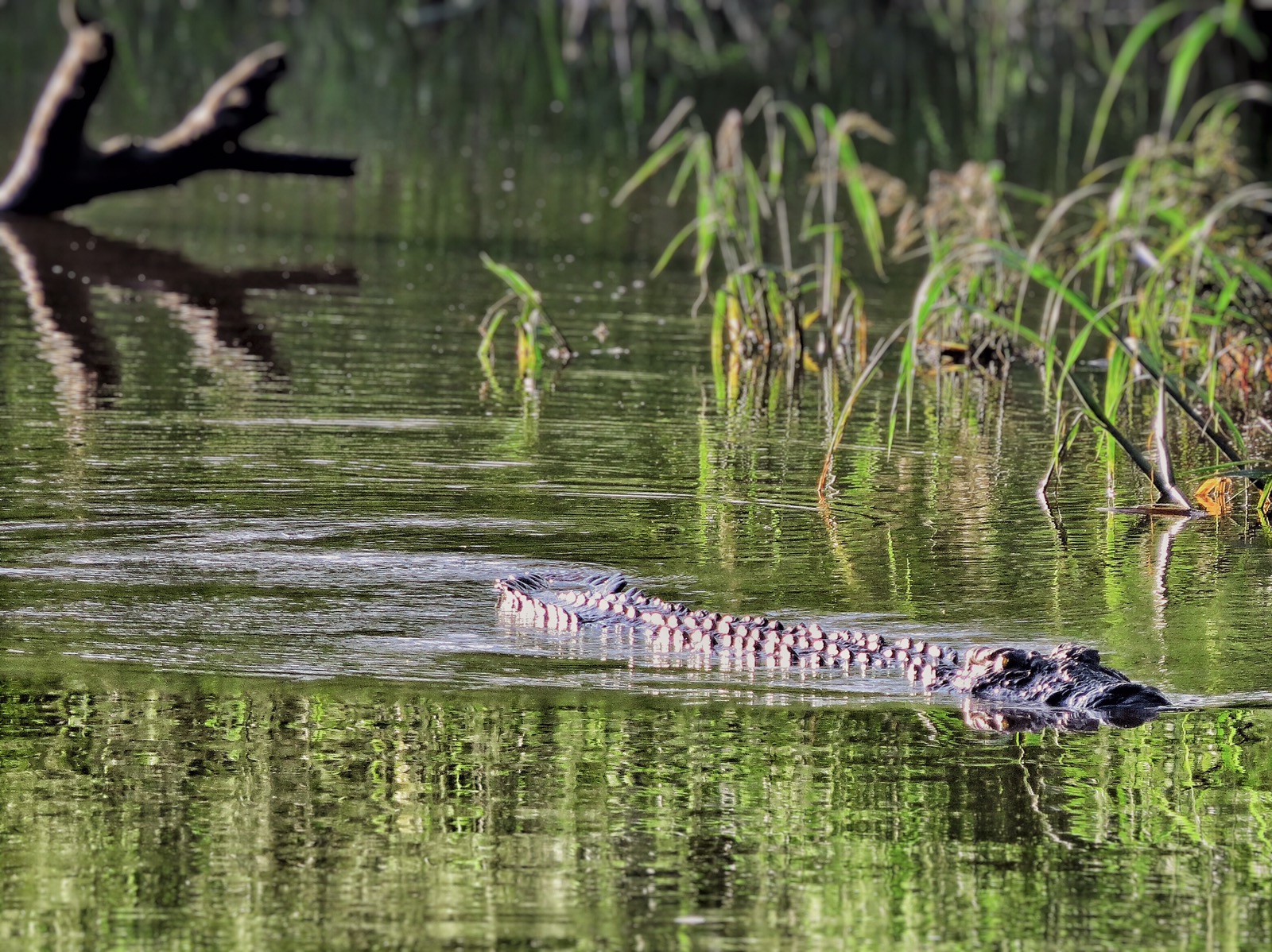 Guy or girl, I wouldn't want to tangle with it.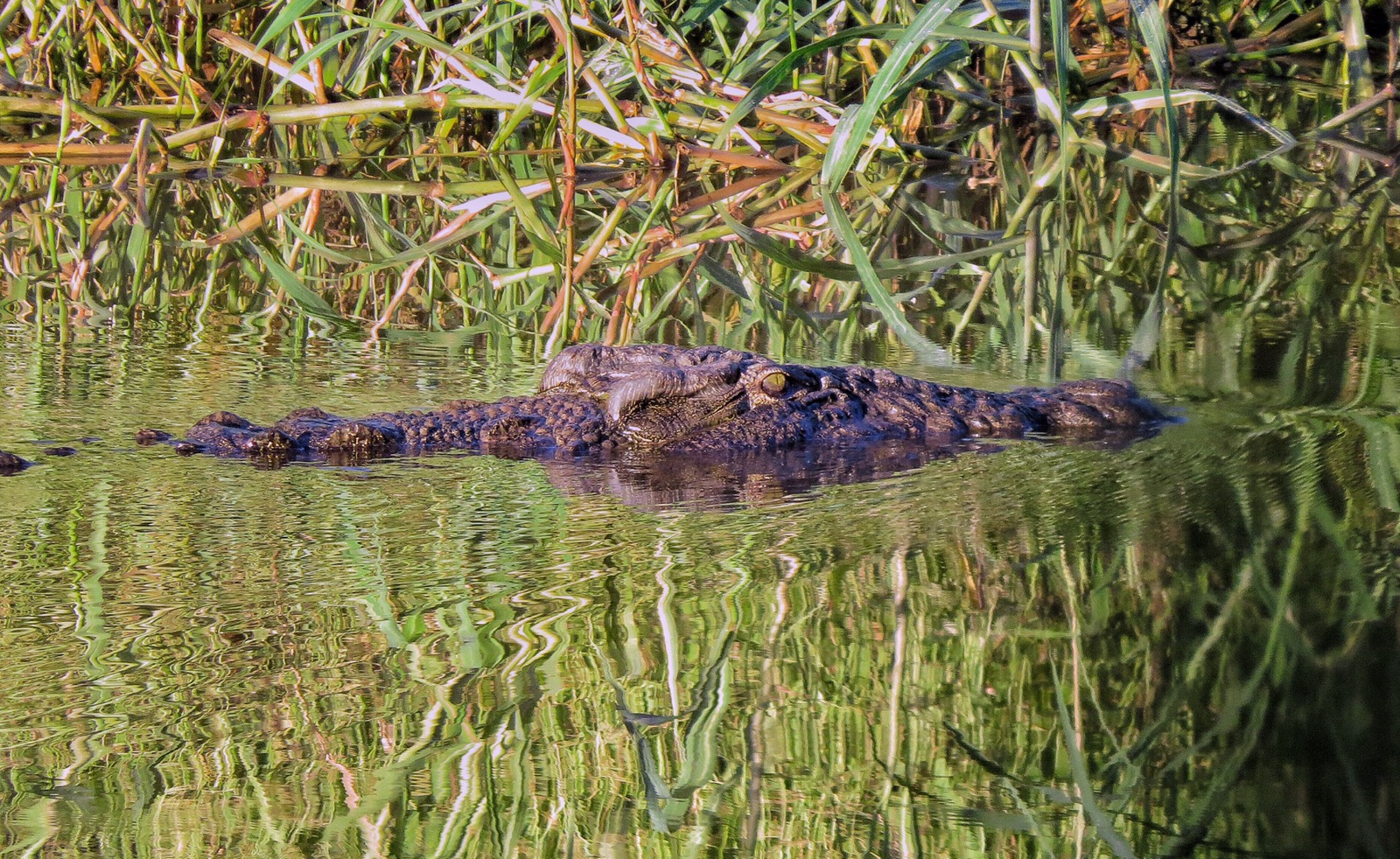 .
We were heading into Zimbabwe so, within a week we had to leave Livingstone and say goodbye to the staff at the lodge. They're a great team and a number of them were in tears (as was Helene) as we left. Adriada was probably the most difficult for Helene to say goodbye to.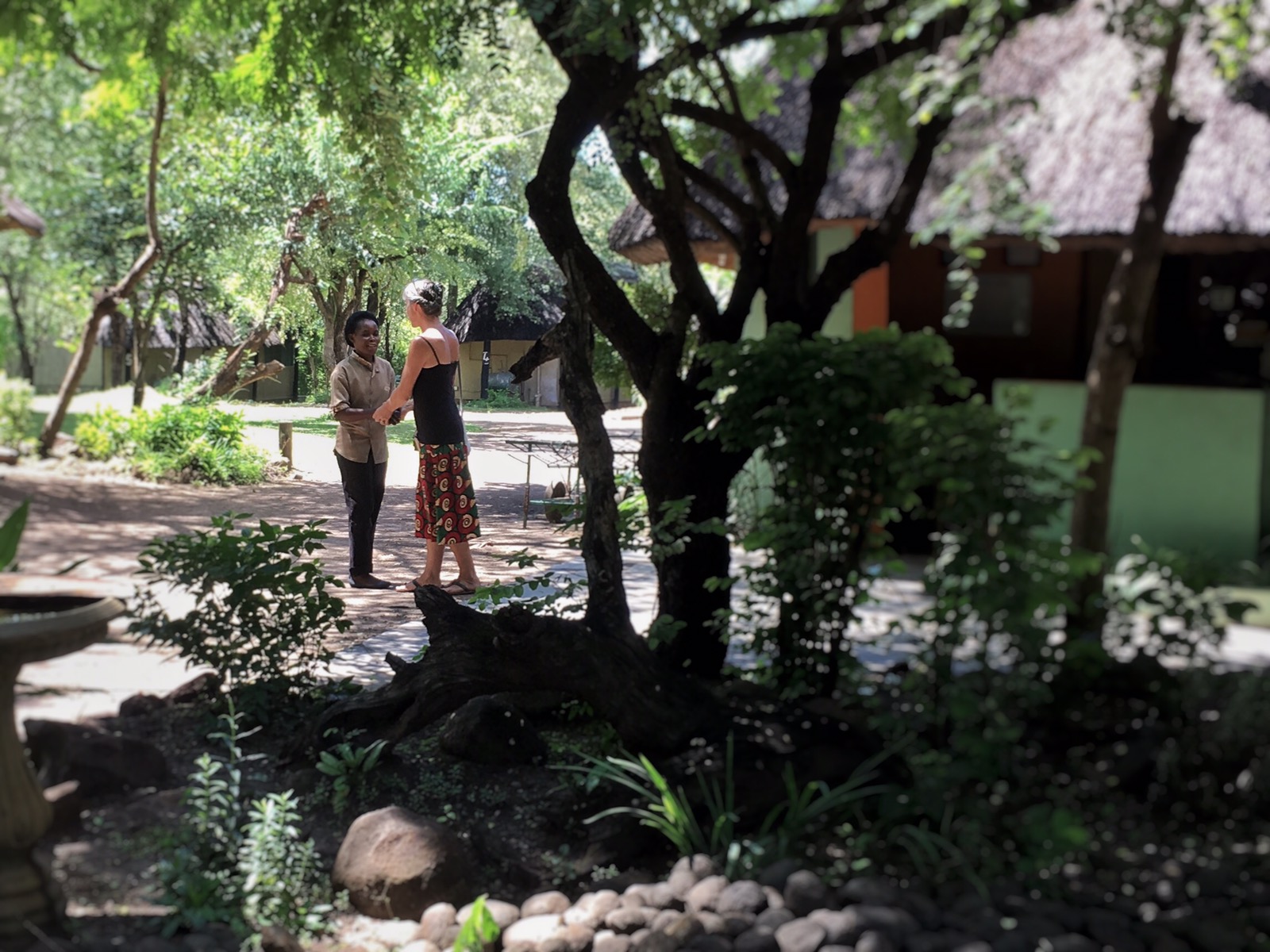 Adriada is just a humble housekeeper at the Lodge but has a wonderful, friendly way about her. She's as small as a doll, charming, cheerful and uncomplaining. Not an easy life: poorly paid, working long hours, 6 days a week. She supports her husband and 3 children. She's 31 years old and had her first child when she was 12.
I must admit, we worry for the staff at Maramba – Febby, Precious, Makafute, Kelvin, Titani, Gracious, Marlon, Dawa, and the others. There has been a marked change in the last 2-3 months. The Lodge has been sold (it's been on the market for a couple of years) and is now owned by a Zimbabwean businessman and Chief Mukumi.
The new owners have brought in a new manager and I fear for the atmosphere in the place as much as the staff seem to fear for their jobs these days. The place has always been peaceful, friendly and had a gentle, warm atmosphere. We've recommended it to many people.
The staff are still wonderful, the place is still beautiful. The change was perhaps most noticeable one Sunday lunchtime when we were sitting on the deck watching the swirling, roiling waters race by. There were a few adults and a couple of children around having a peaceful afternoon treat. One table (a very loud woman, her foul-mouthed husband and brother in law, and their mother) got steadily more heavily drunk and loud and foul-mouthed over a period of a an hour or so.
I'm no prude. I like to swear. I'm pretty good at it: I have been since I was a teenager. I consider myself both fluent and imaginative. But I think there are times when it's pretty inappropriate. Particularly when there are kids around.
It got to the point that I felt I should say something, but it's a delicate situation – the 'superior' Mzungu lecturing people about how they should behave? I thought perhaps the best way would be to have a word with the new manager and see if something could be quietly done about their behaviour.
Guess who the woman with the big mouth was? Yup, the new manager.