We got some cash from an ATM at dusty, lively Salima village and filled up with fuel (850 kwacha / $2 / £1.30 per litre) and headed north up the lake. Very scenic.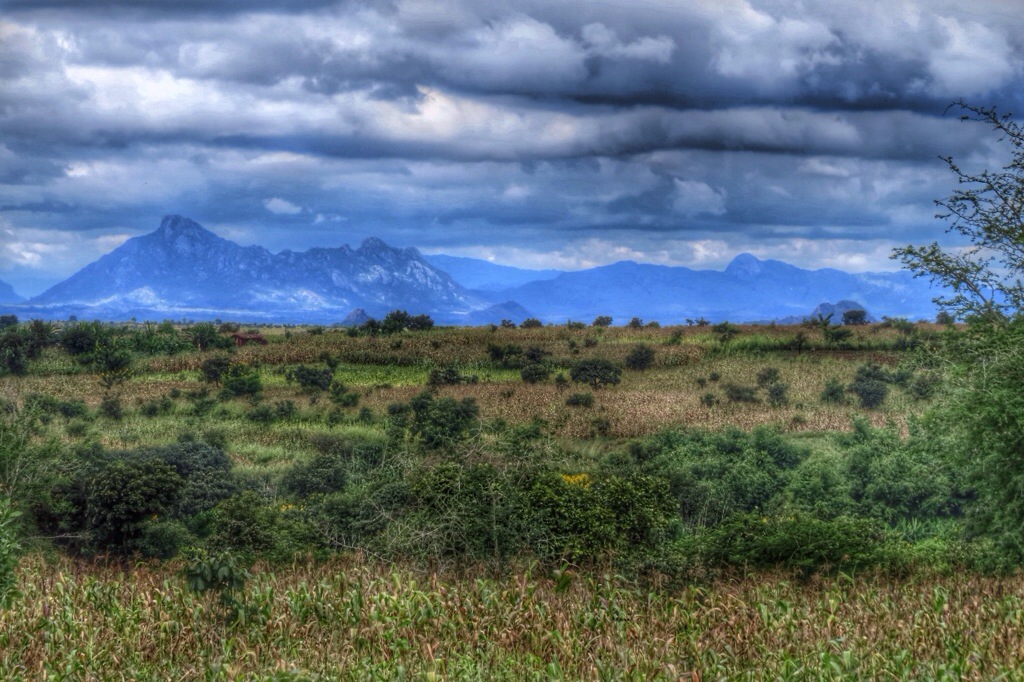 The road up the lake is single lane tar and in pretty good condition. Fortunately there's little traffic as, if one of the big trucks comes the other way, you get forced off the road across the ragged potholes and crumbling tar surface.
Some of the bridges look pretty fragile, but given that trucks do use the road, I guess they stand up pretty well to the thundering speed they travel at.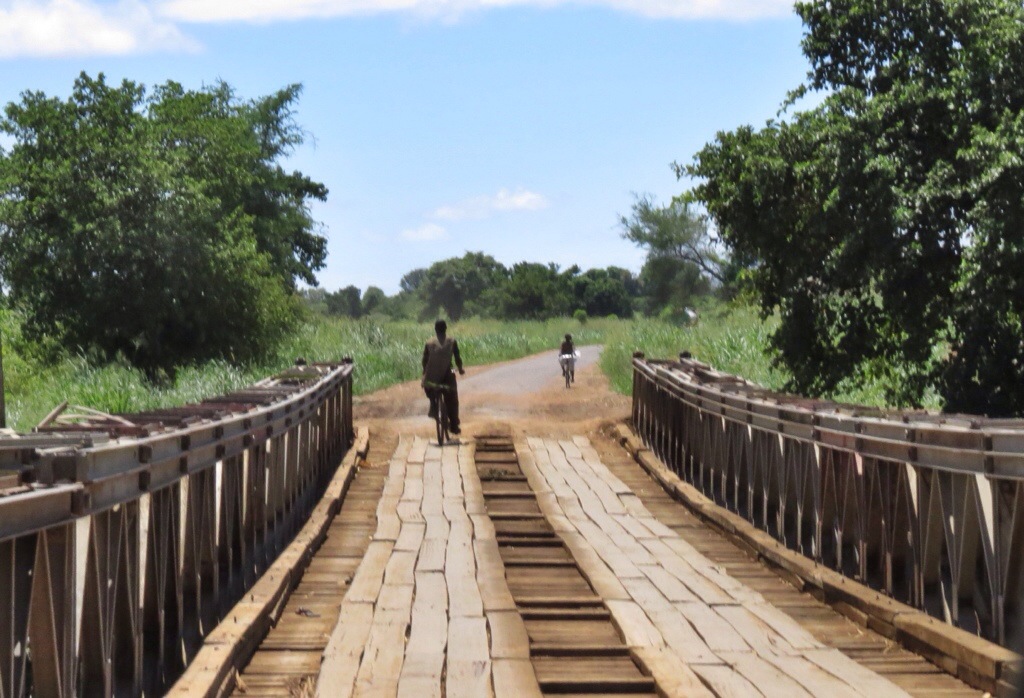 Still, there's little reason to drive quickly when the alternative is to travel at 'Landy' speed and enjoy the scenery.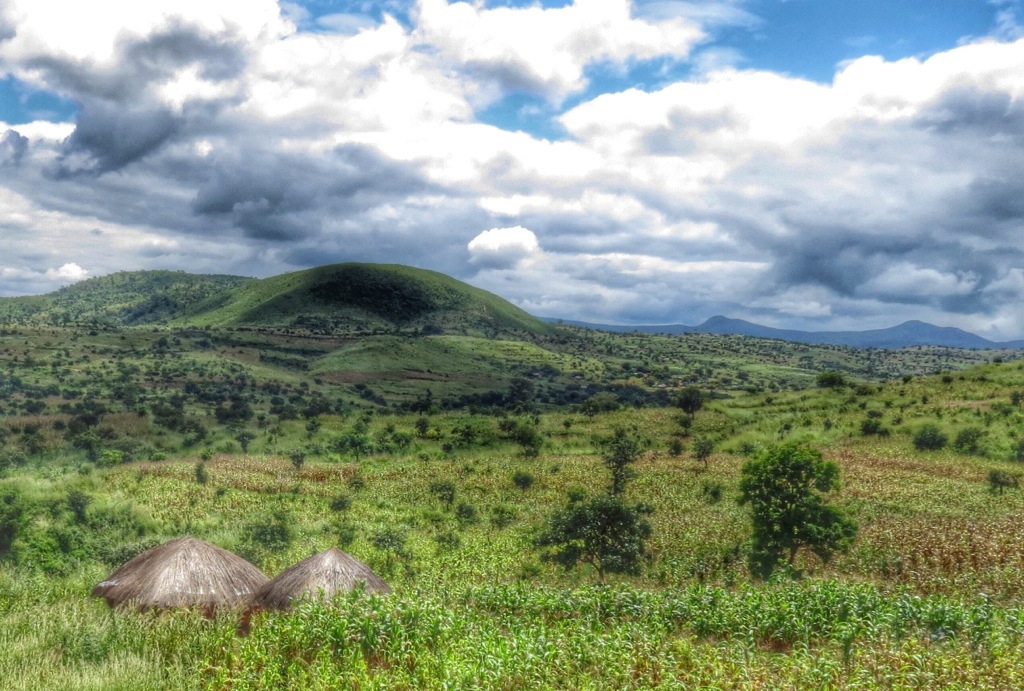 The biggest obstacles are the goats and people who walk the road between the villages, schools and farms that dot the lake shore. Many people have no choice but to walk 10-15km round trip every day. The lucky ones have bicycles – and they rarely cycle anywhere other than the middle of the road.
We weren't sure where we were heading but after 120km or so saw signs for Fish Eagle Lodge that had camping. The track from the tar to the lodge is about 12km of muddy sand, made tricky after days of rain, but the location on the lake shore was lovely. View from The Penthouse camped on the sand.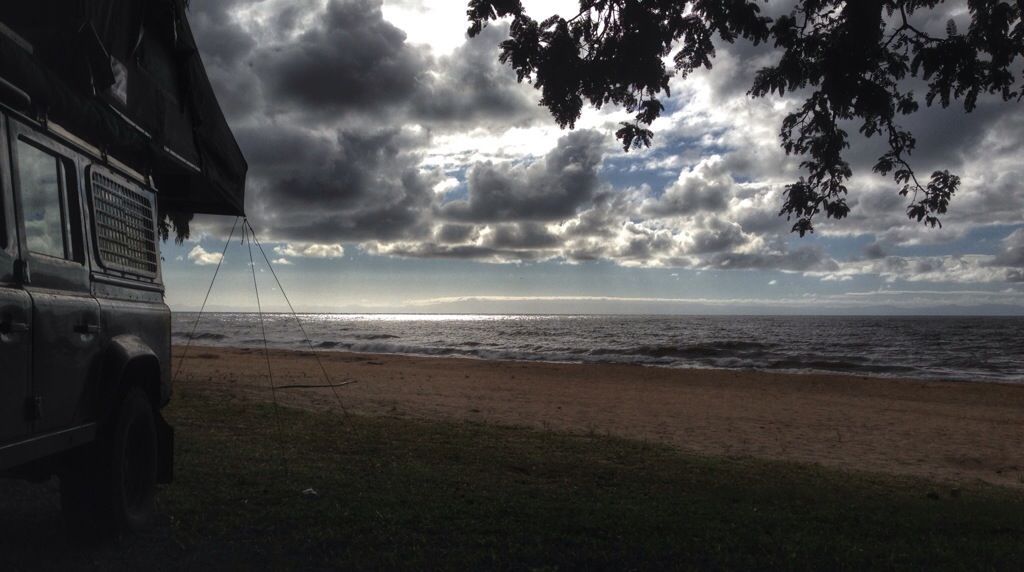 The lodge is run by friendly Camille from Congo and most of the hard work is done by Keeko a chatty, smiley local chap who seems to be everywhere at the same time and can't do enough for you.
I asked what beers they had and Keeko said "we only have green". Oh well, when in Rome, I'd decided to give it a try. It turned out to be Carlsberg, the same as you get everywhere but since there's rarely any choice of brands, the locals know them by their label colours – green or gold.
The lodge is set up for chalets rather than campers but there is shelter next to the beach, separate, clean (hot!) camper's showers & toilets. Camping at 4,500 kwacha ($11) is good value.
Even better, the food is excellent and cheap. Very good chicken curry, $11 for 2 including drinks. All prepared in their simple, but spotlessly clean kitchen.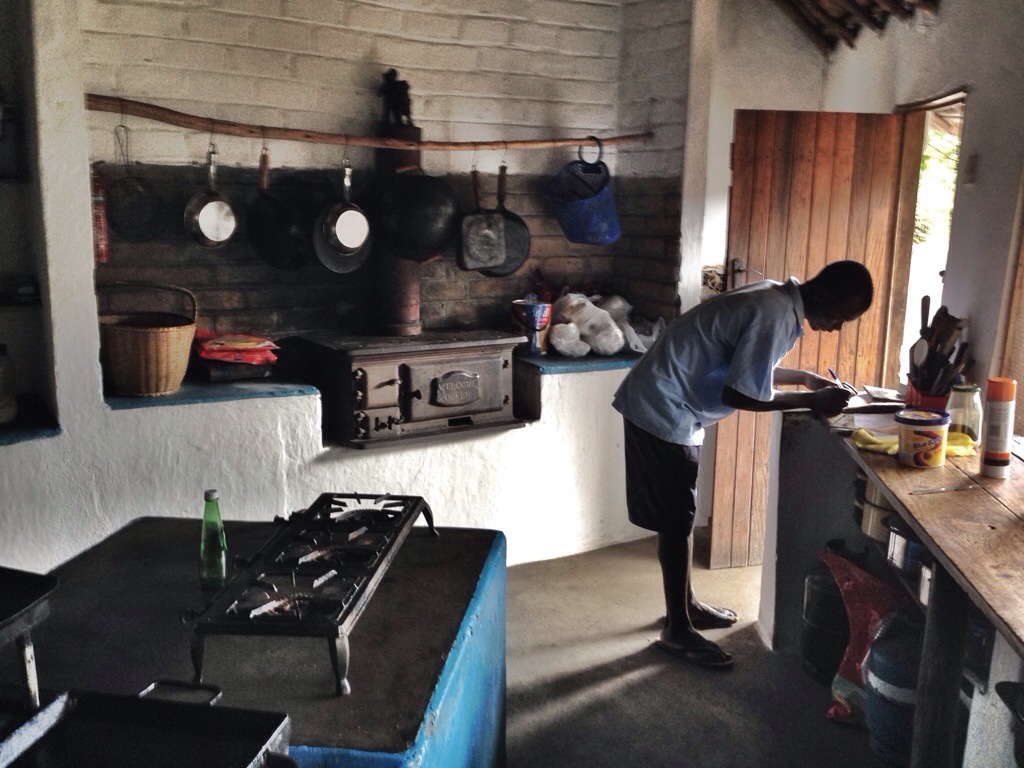 The beach is used as a thoroughfare for locals between villages and, although camping on it at first felt pretty exposed, there was no hassle or intrusion from anyone.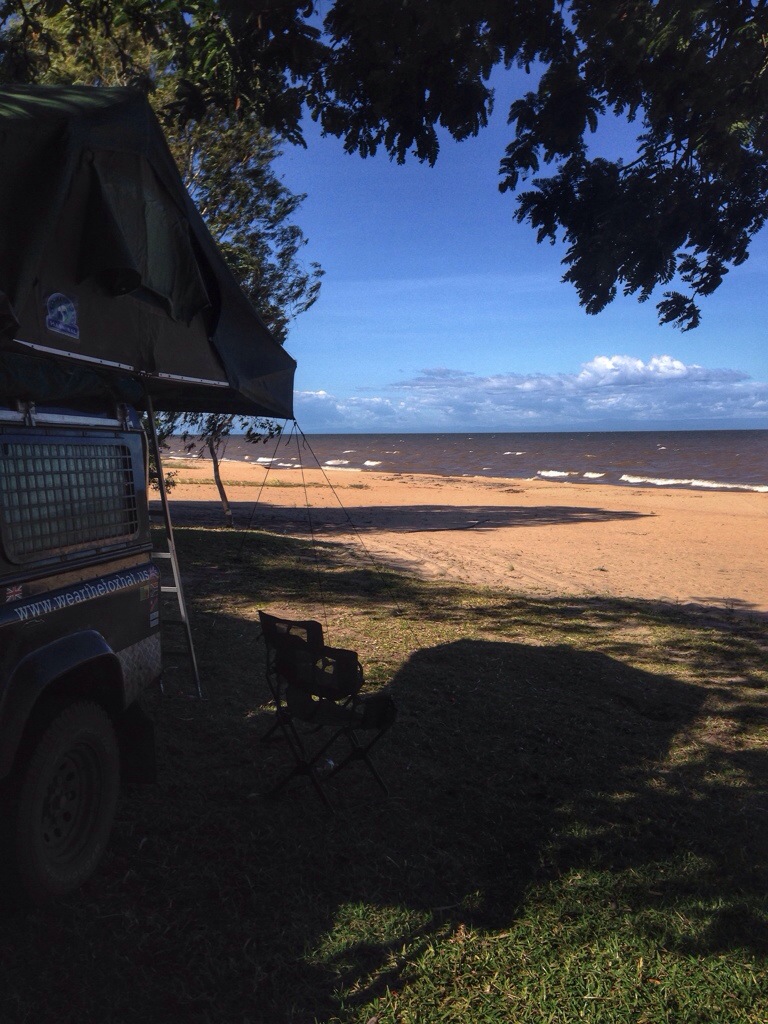 It was a bit of a wrench to leave, but a cup of tea always sets you up for the morning. This thing just simmers away all day – tea you could stand a spoon up in.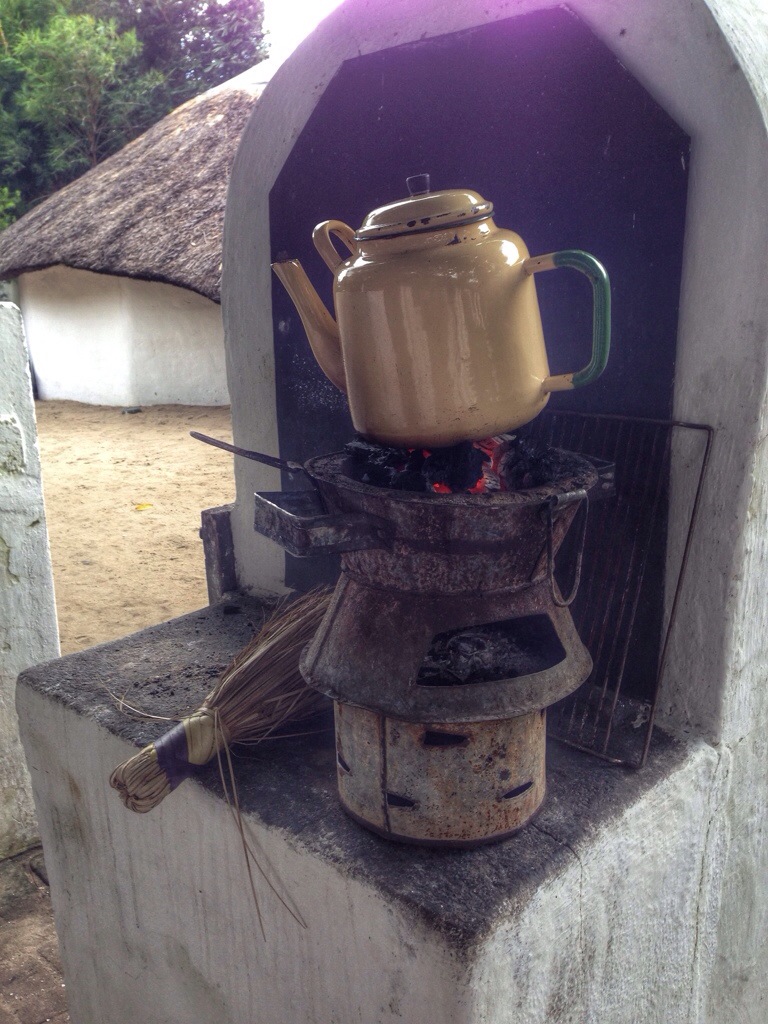 We headed north on the M5 another 160km and bought fresh samosas for breakfast at the roadside. Still warm, but unfortunately pretty tasteless – just rice and onion in a batter without seasoning or flavouring.
Once again the road was tar and very quiet.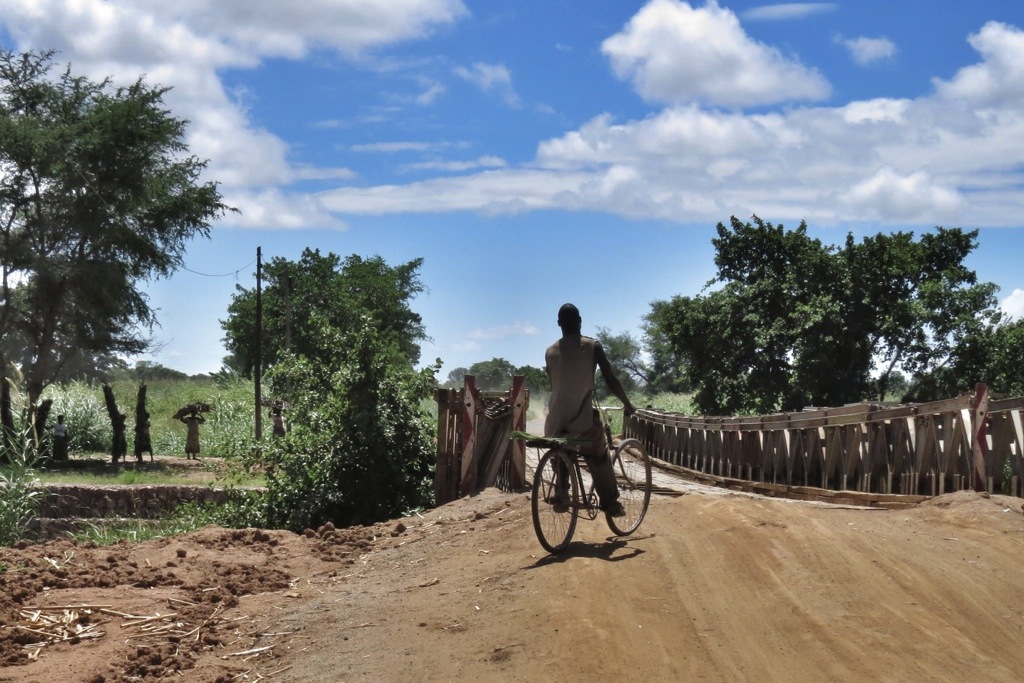 Another 7-8 rickety single lane bridges and 3 police road blocks. No hassle though and all friendly. The only time we had a bit of grief was when the main road was blocked with tree-trunks at either end of a village we passed through. A group of locals were 'guarding' it and wanted to sell us fish before we passed. The fish was at least a week old so we declined. When they realised we wouldn't buy, they asked us to give them a 'gift' of 2,000 kwacha ($3) but we told them (politely but firmly) we wouldn't pay and they eventually moved the trees for us to pass.
The countryside here is very green (it ought to be given the amount of rain we've experienced) and people live simply. They fish in the local streams…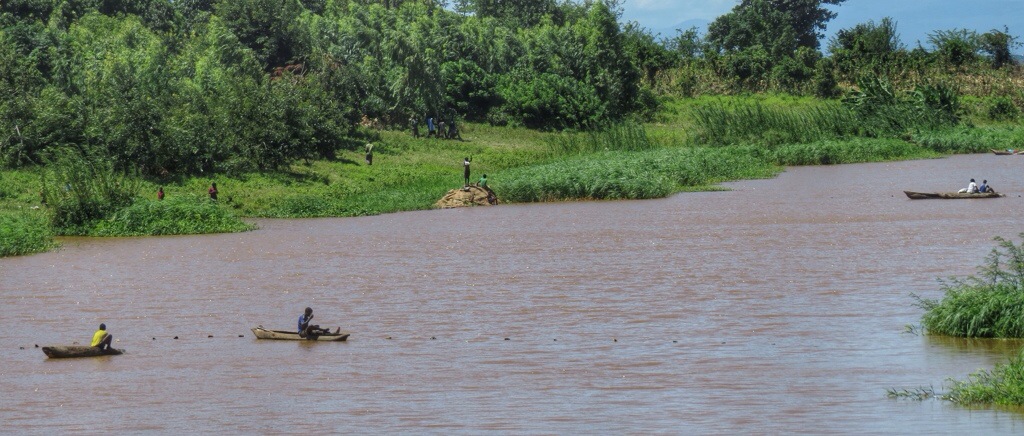 …and farm the small plots of land they have around their mud-brick cottages.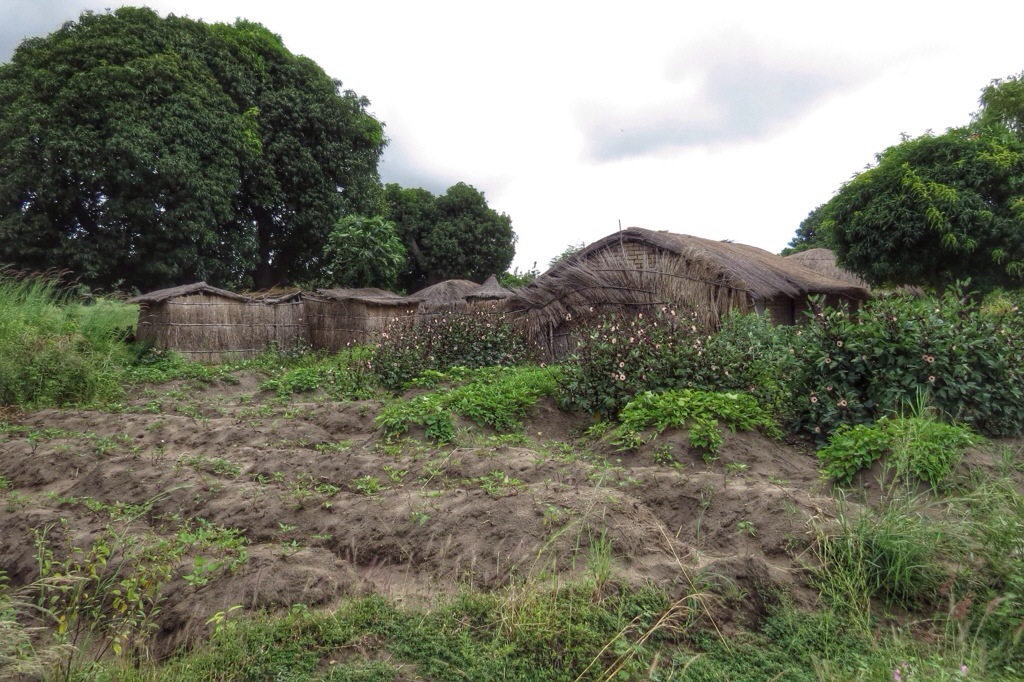 In order to make best use of the water they can get in the dry season (and to stop crops washing away in the wet season), they put a lot of effort into tilling the soil into dome-shaped mounds (mainly planted with Cassava, which is pounded up to make a food paste & tastes like wallpaper paste). They plant the mounds in the centres to allow them easy access and to keep the crops from rotting.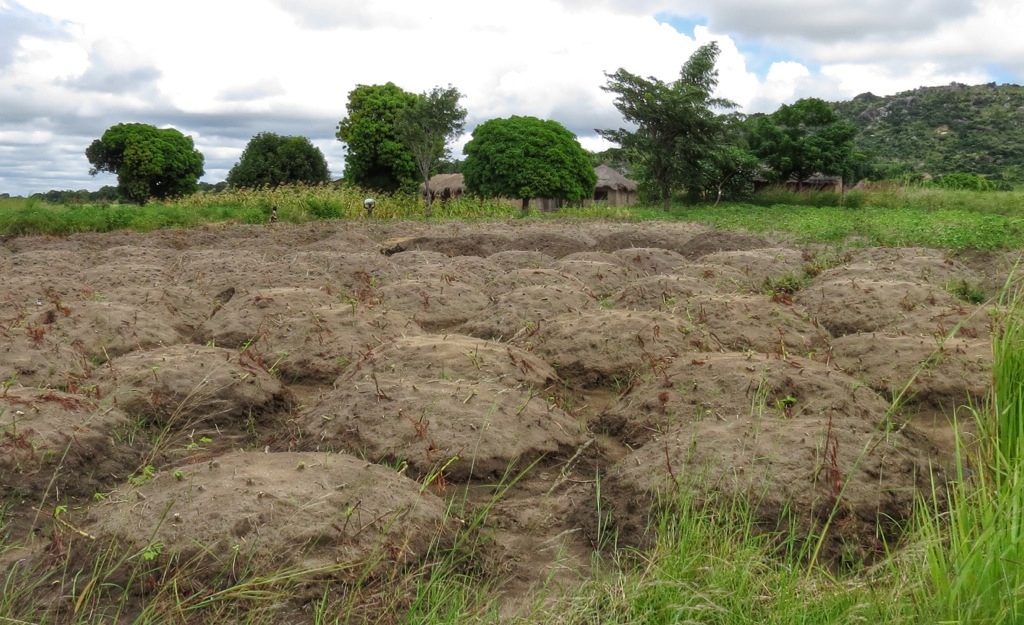 Other than in the wet season, the water for irrigation has to be transported by hand from the village pump – it's very rare that any accommodation will have a water supply, let alone electricity.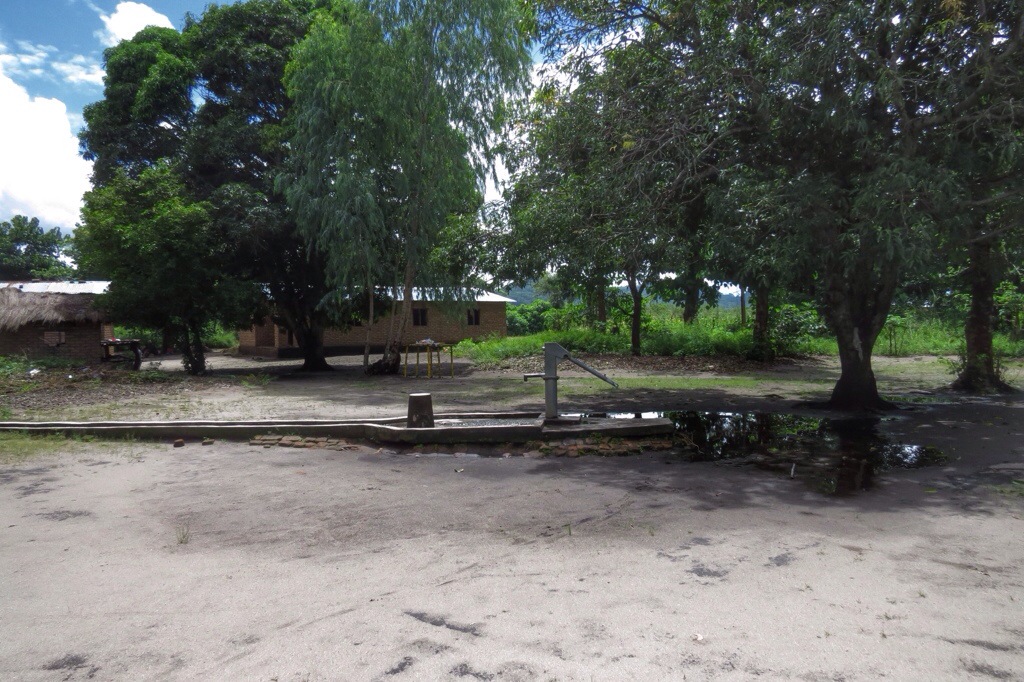 We camped at Makuzi Bay on the lakeshore. A really beautiful spot built 20 years ago by Brett and his wife. They have chalets and a simple bar on stilts built over a beach that looks like it's been transported from somewhere on a small Caribbean island. It's hard to believe it's an inland lake.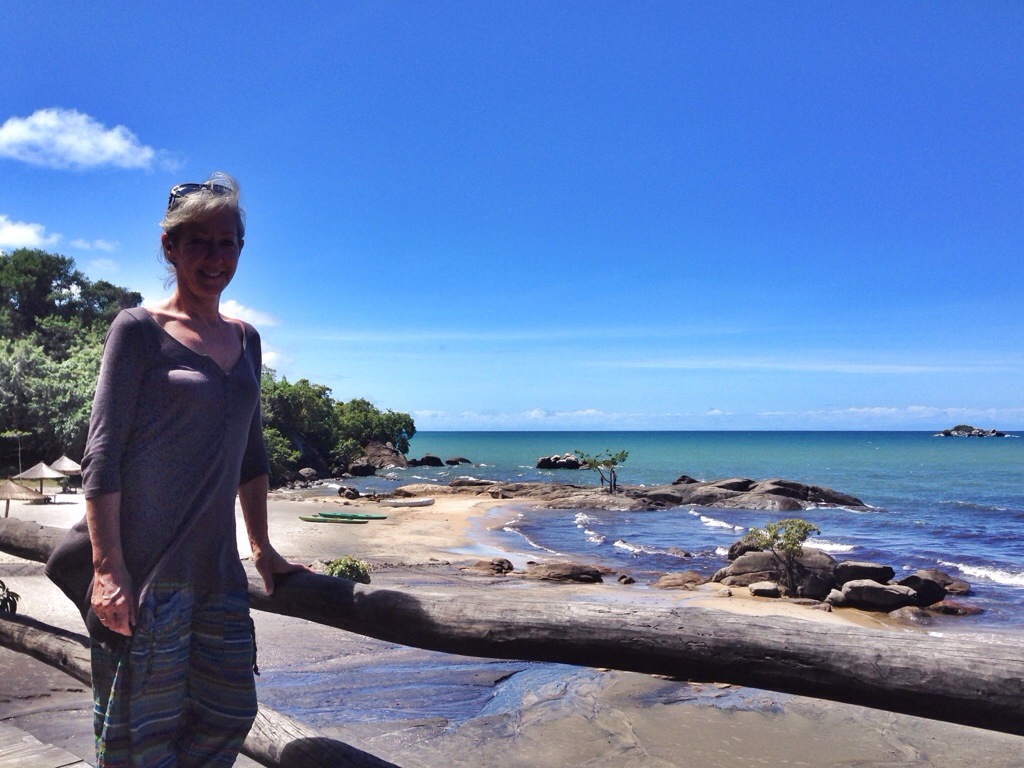 Makuzi is set up for chalets ($90 per night) but does have 4 camping pitches on a terrace overlooking the beach. Brett explained they were pretty boggy due to the amount of rain they'd had but we wanted to stay so he managed to find us a reasonably dry spot next to one of the chalets.
A beautiful evening watching the locals and the Cormorants fishing from the rocks just off the beach.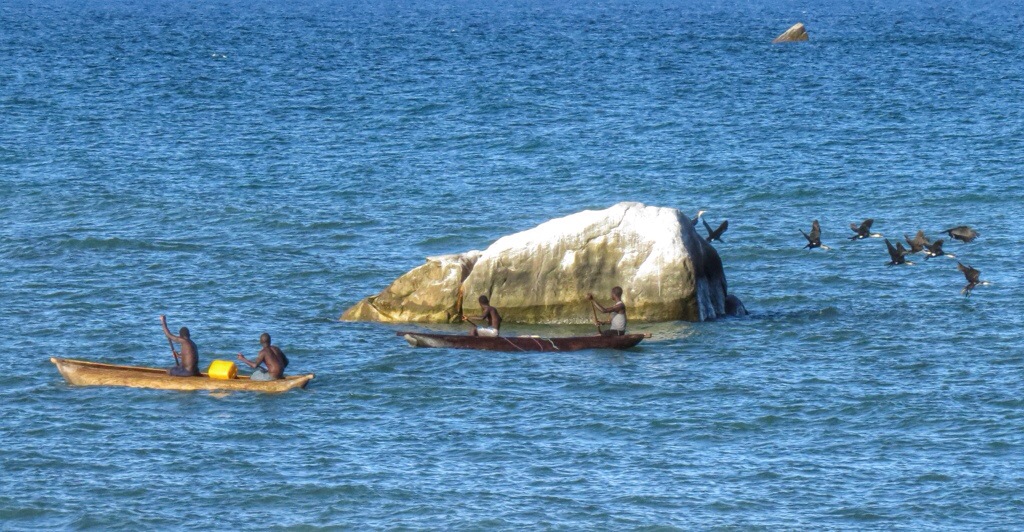 Unfortunately yet more heavy rain arrived overnight. Makuzi sits in a beautiful, hilly bay but unfortunately that means when it rains all the water is funneled down through the terraces to the beach. The camp pitches were pretty much under water the next morning and Brett said that he thought they'd probably have to call the people booked in for Easter and cancel their booking.
The only other campers at Makuzi were Kirsty and Gareth, a couple of Australian overlanders who came in from Durban and are driving to the UK.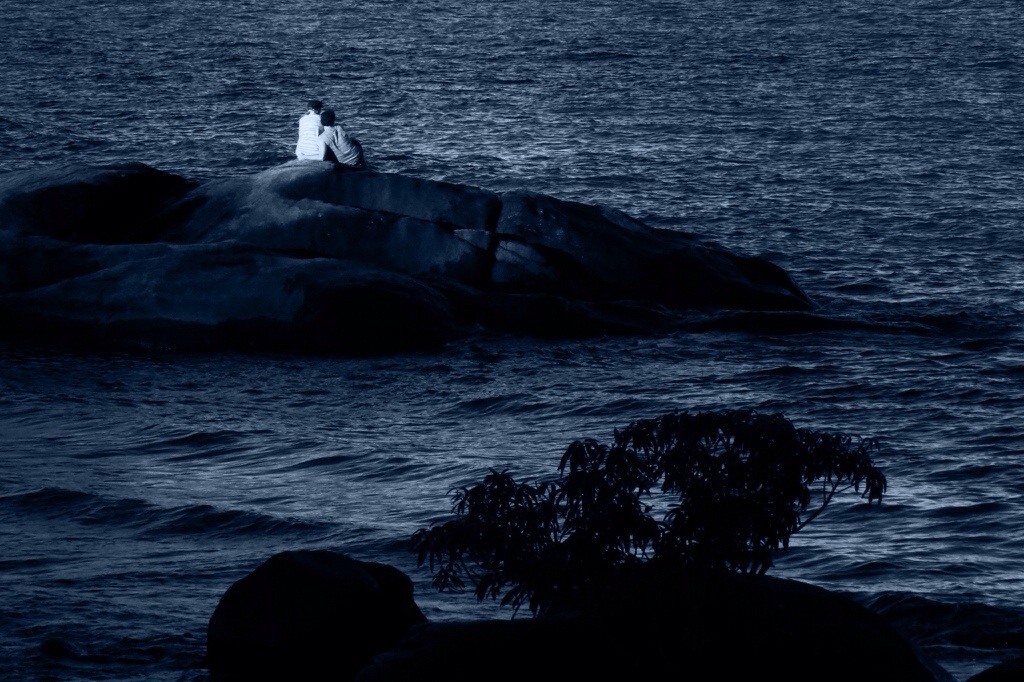 Because the campsite was out of action we had to move on and headed down to Kande Beach Camp with them, about 20km back the way we had come.