We left Will & Lindsey (still bickering) at Bridge Camp and drove about 250km east to Chipata (30km from the Malawi border). The first 100km or so was typical African wide sky, forested landscape.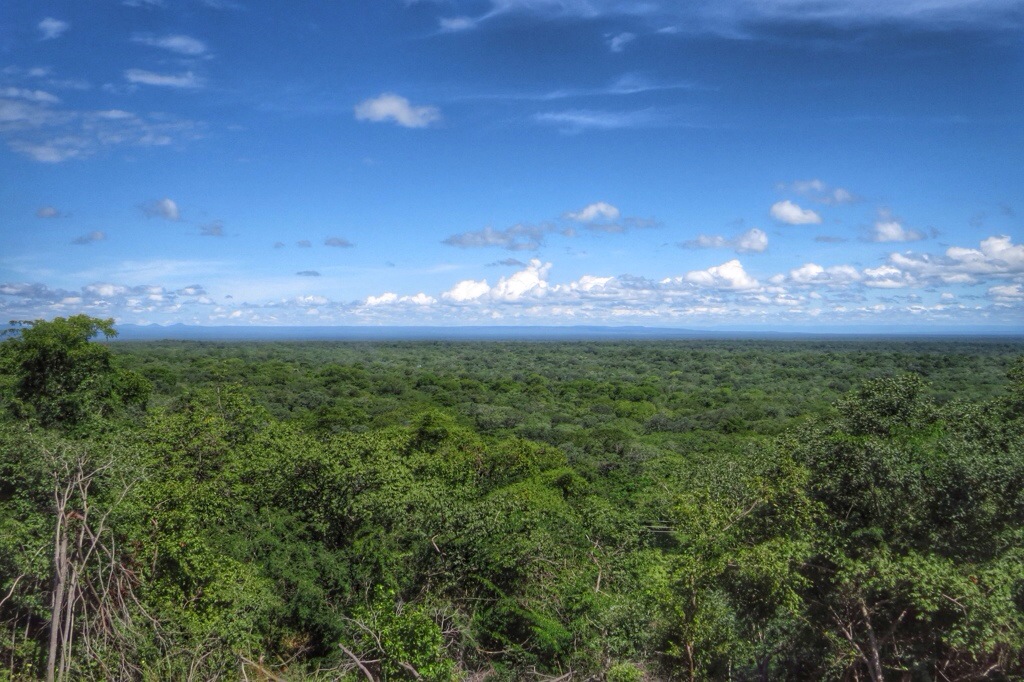 For the latter 150km the landscape changed to undulating hills with the occasional peak to the south east. Lovely. What makes it even more picturesque is the quality of the light and the cloud formations.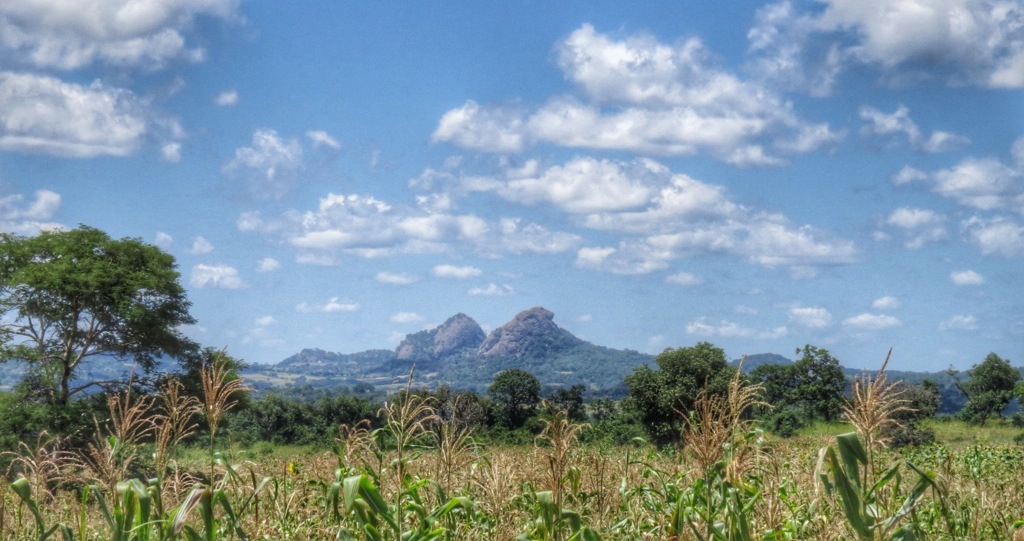 Even if the roads were good enough to travel at more than 50mph / 80kph, why on earth would you rush through a landscape like that?
The few small towns we pass are typical of the region. People just getting by – entrepreneurs wherever you look, making a living out of anything they can sell. Grateful that someone (usually a telecom company) will pay to paint their store in corporate, sponsored colours.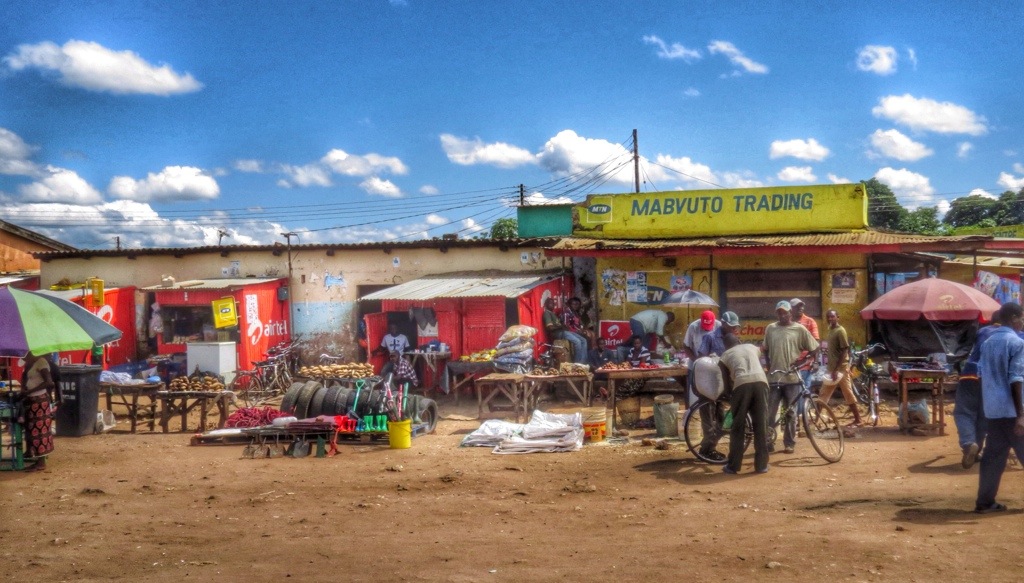 And still, everywhere at the roadside, bags of charcoal being sold as the only fuel available to the everyday man.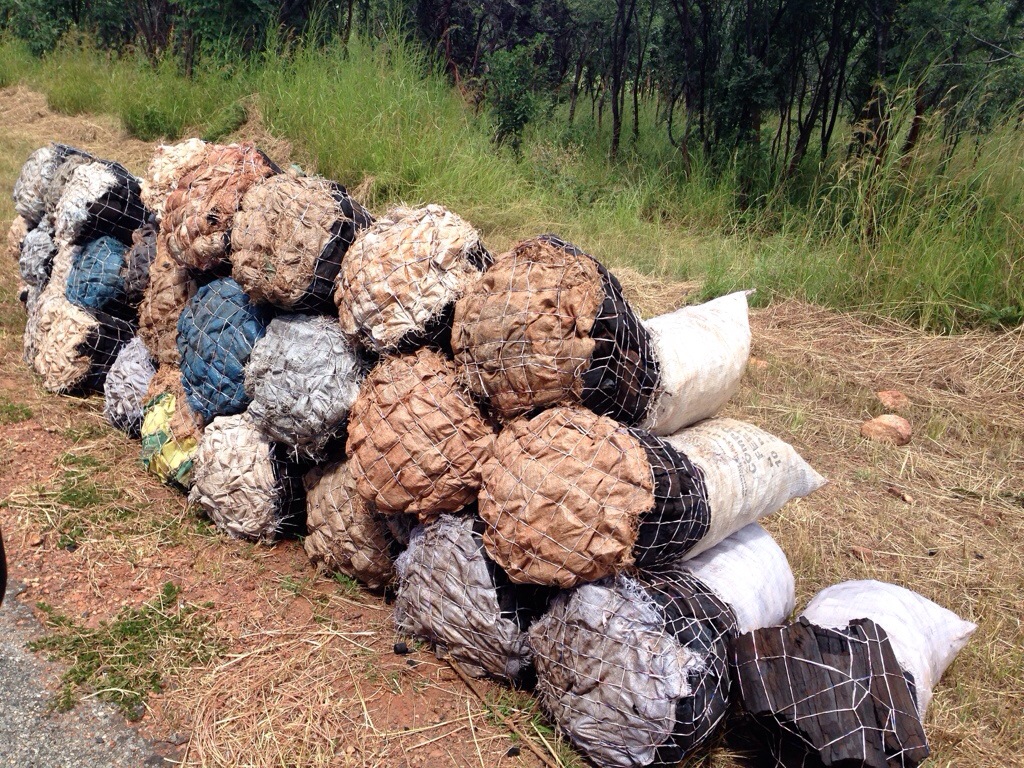 It's easy to say that it needs to be stopped, but it has provided a livelihood for generations of families and unless an alternative source of income is demonstrated, people aren't going to give it up for some do-gooder, sanctimonious, 'tourist' passing through.
There has to be a way of getting Fuel Briquettes to work here.
After 5 hours driving we stopped overnight at Mama Rulah's campsite in Chipata since South Luangwa (where we were headed) was another 120km on roads that we had heard were notoriously bad. The camp was cheap and clean enough, but nothing to write home about.
In fact, the next morning, the 120km road to the Park gate at South Luangwa was probably the best road we have traveled in Africa (12 months old, new tar, 10m wide).
The only marks on it are the discarded sugar-cane stalks from the school-kids who walk 6-10km each way to school every day with a 500mm stalk of sugar-cane for breakfast / lunch.
If it hadn't been for the fact we needed cash and fuel (and Chipata is the last place before Mfuwe to get either) we could have just continued the previous day.
South Luangwa was beautiful.
We intended to stay overnight and in the end stayed 4 days. We tried Flatdogs Camp (Flatdogs is a local term for the low-slung, ground-hugging crocodile around here) but they have gone up-market as a lodge and stopped camping a year or two ago.
Very welcoming though. We stopped there for a chat and a coffee and they recommended Wildlife Camp, a project where 60% of accommodation income goes to the local community.
We lucked-out. What a great spot.
Panorama view downriver from The Penthouse after sunset from our camp on the Luangwa River.

An equally fabulous view from the roof-tent up river…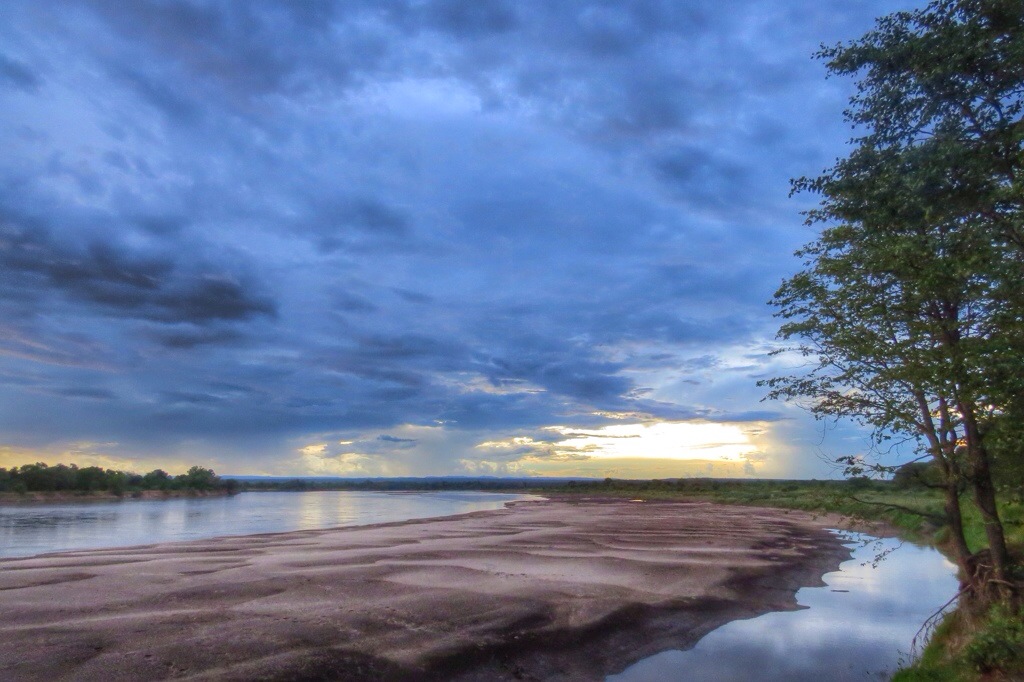 How could you not sleep peacefully nodding off to that?
Most of the tracks in the park are impassable at this time of the year (tail-end of the wet season ) but the all-weather roads are still ok and allow good sightings of waterbuck, hippo, elephant, springbok, occasional leopard, etc.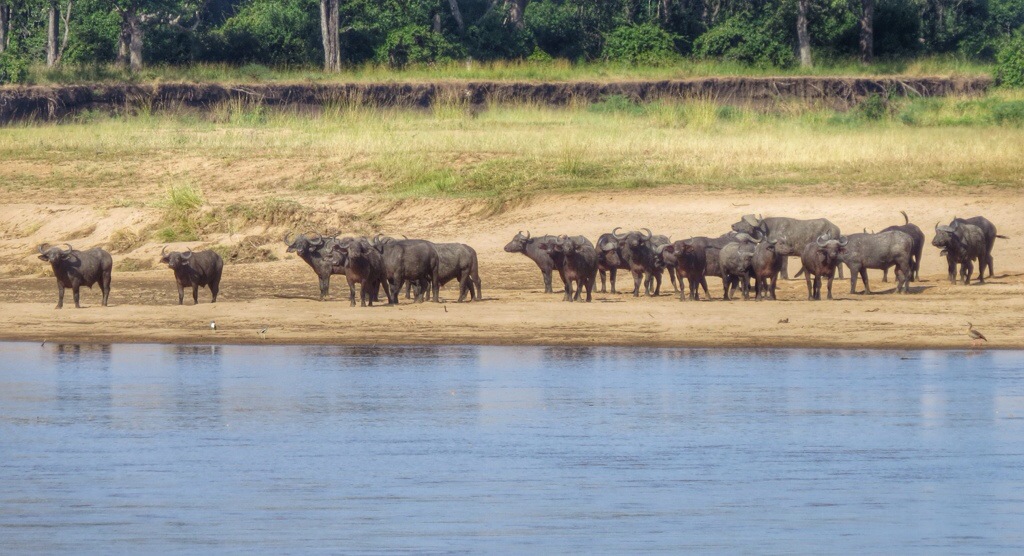 That said, from our pole-position camping pitch on the river we saw most of that without moving a muscle. Buffalo who set out across the river then turned back when they saw crocs…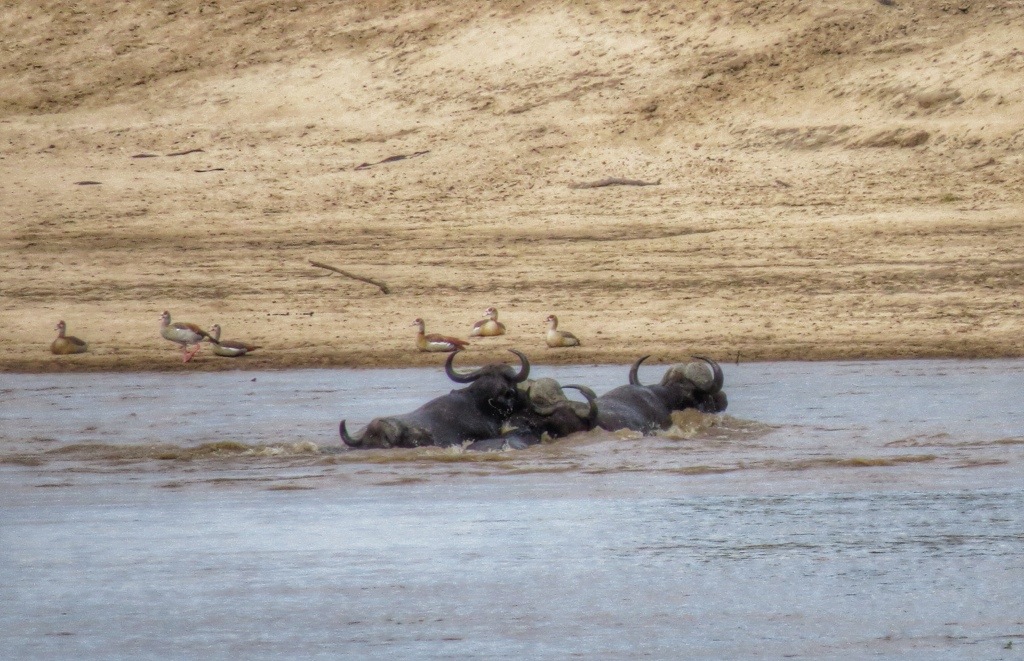 …and fishermen who use the most primitive of hollowed-out logs to fish (then take the catch to market on their bikes)…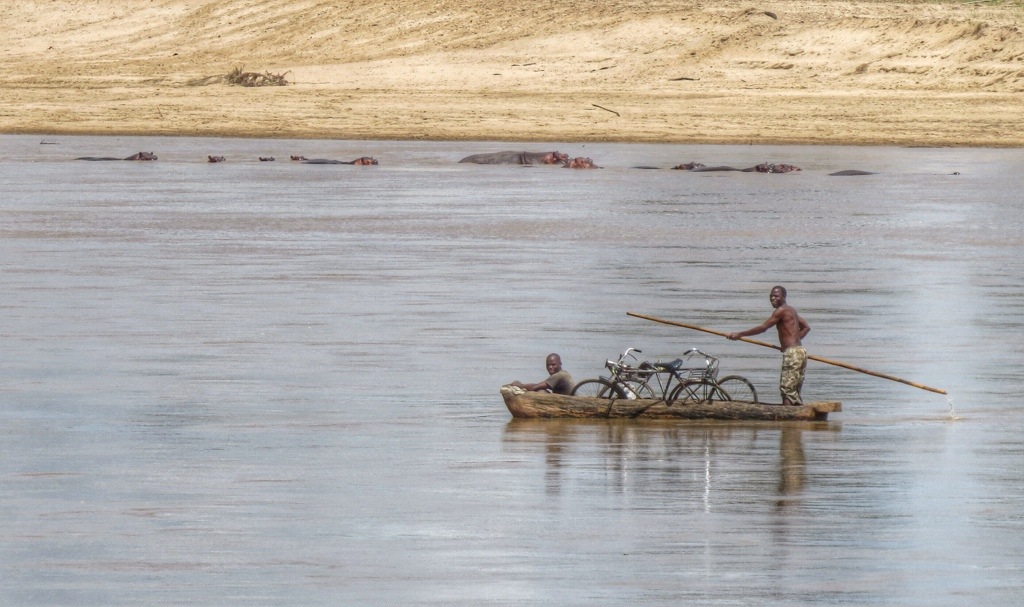 For a bit of added excitement, the quiet, traditional bar at the Lodge…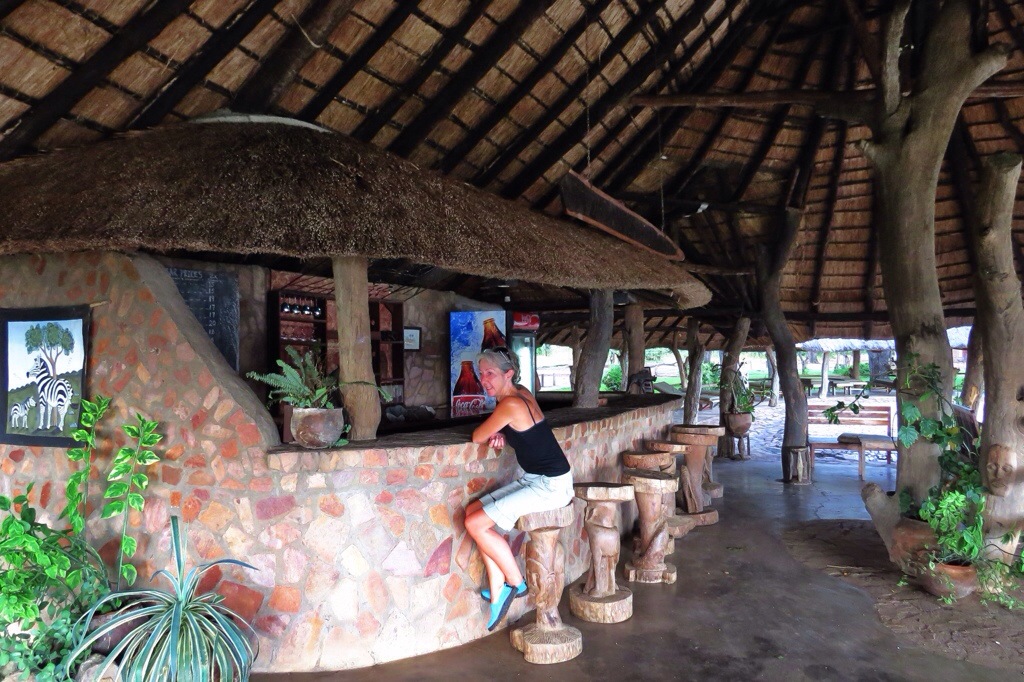 …is a 3/4 mile walk along the unfenced riverbank from the the campsite (far right of the picture below)…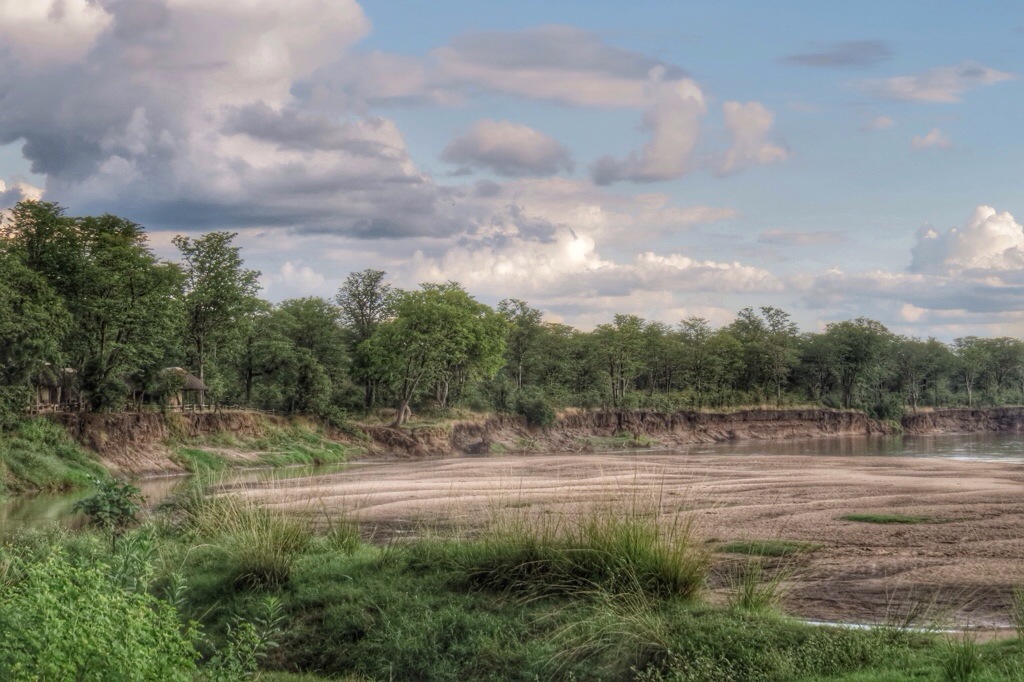 That means a walk along the same river-front that elephants walk daily, crocs sneak about, hippos spray shit, giraffe gallop and lions patrol.
You've got to really need a beer to consider walking it at dusk. In broad daylight it still keeps you on your toes.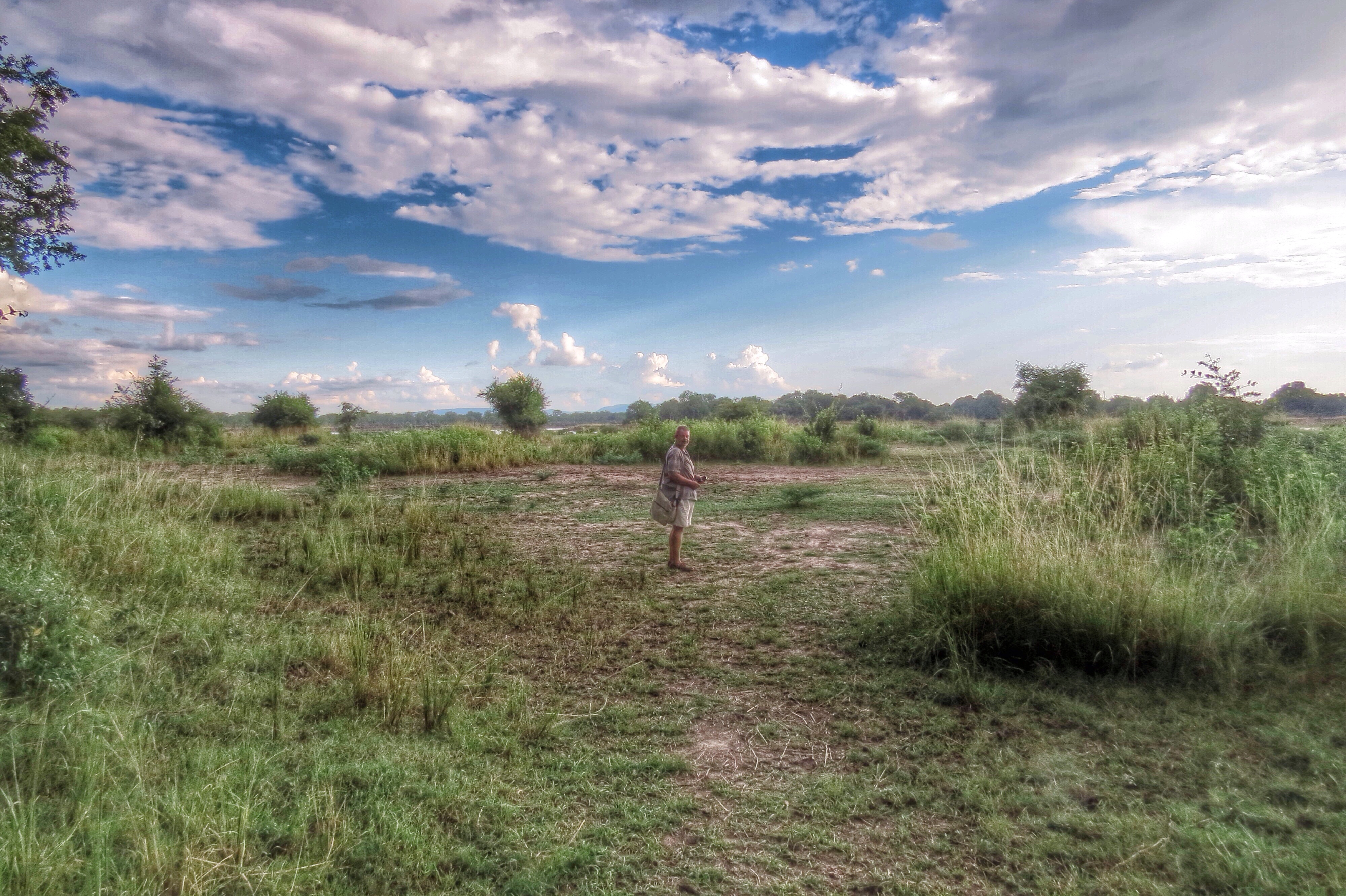 Actually, it's just as good to sit at camp and watch the world (and the weather) go by. The world may not change quickly round here, but the weather certainly does. In no time, good dirt / sand tracks can become impassible for weeks.
11am on our 3rd day…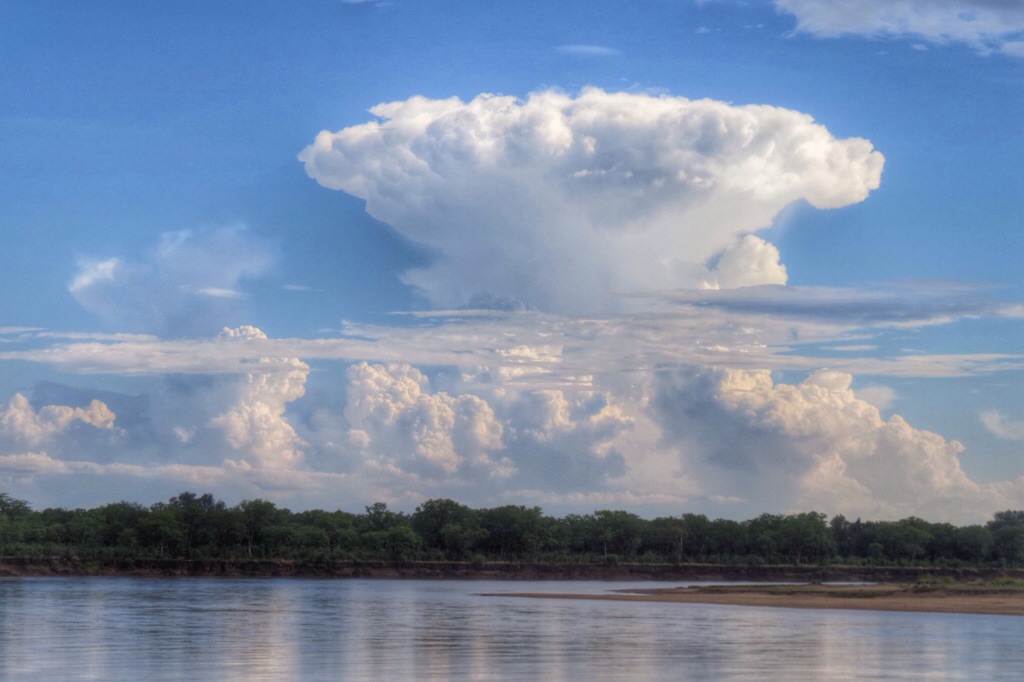 11.45 am…
Noon…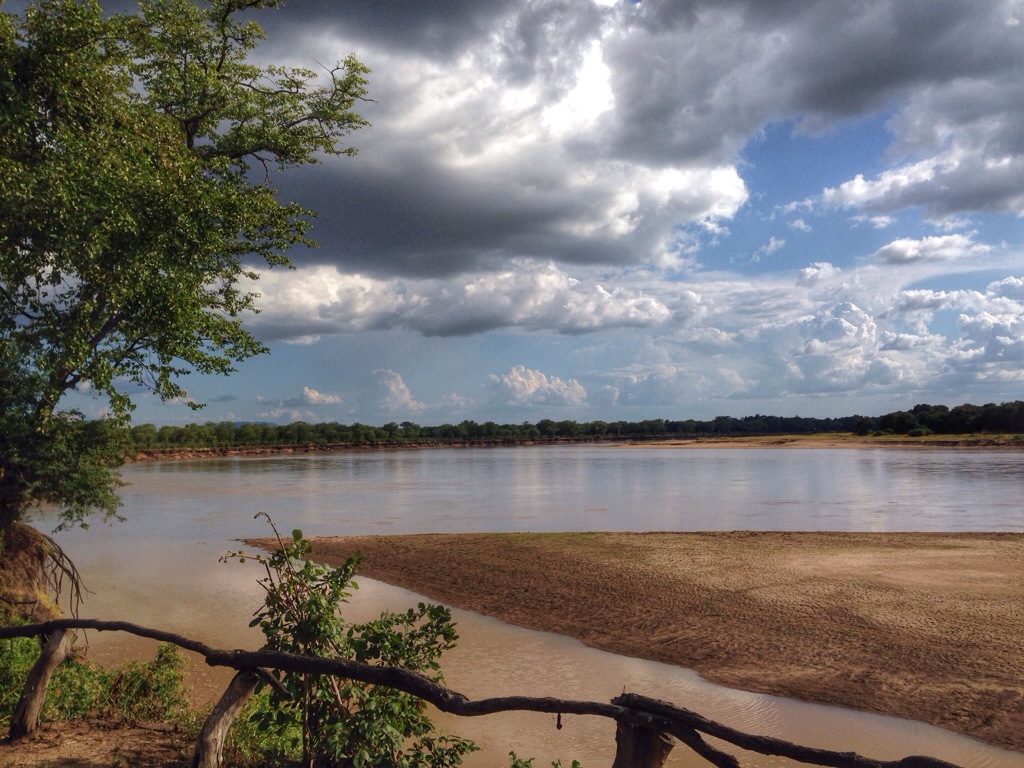 Eleven minutes later…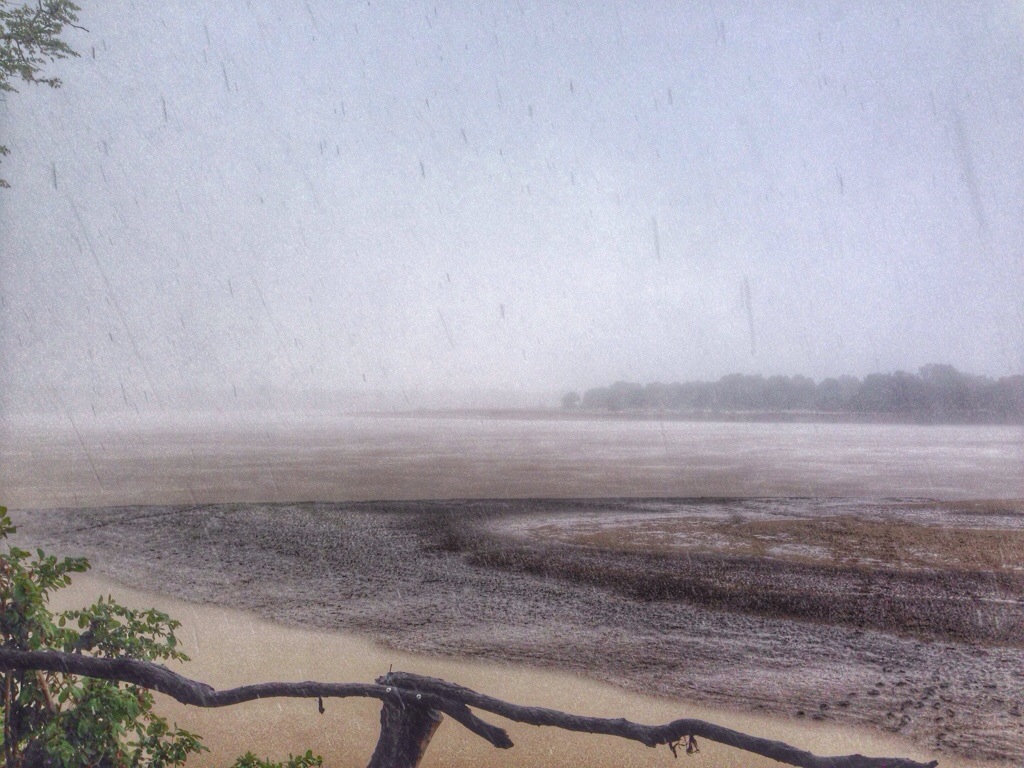 Since we'd had the car checked over by Foleys in Livingstone I'd noticed a whining noise, that appeared to be coming from the transmission (rather than the passenger seat).
Given my acknowledged mechanical expertise, I just hoped it would go away (or we'd get it sorted out once we got to Malawi). Helene convinced me to get a chap from the local workshop to look it over.
It turned out that the Universal Joints on the prop shaft were (technical term) 'buggered' according to Moffat.
We took Moffat and his pal in the car to his village at the back-end of Mfuwe (most of the way spent driving sideways in the mud after the rains), where the guys went to work removing the propshaft and replacing the UJ's.
Naturally, I supervised the delicate operation.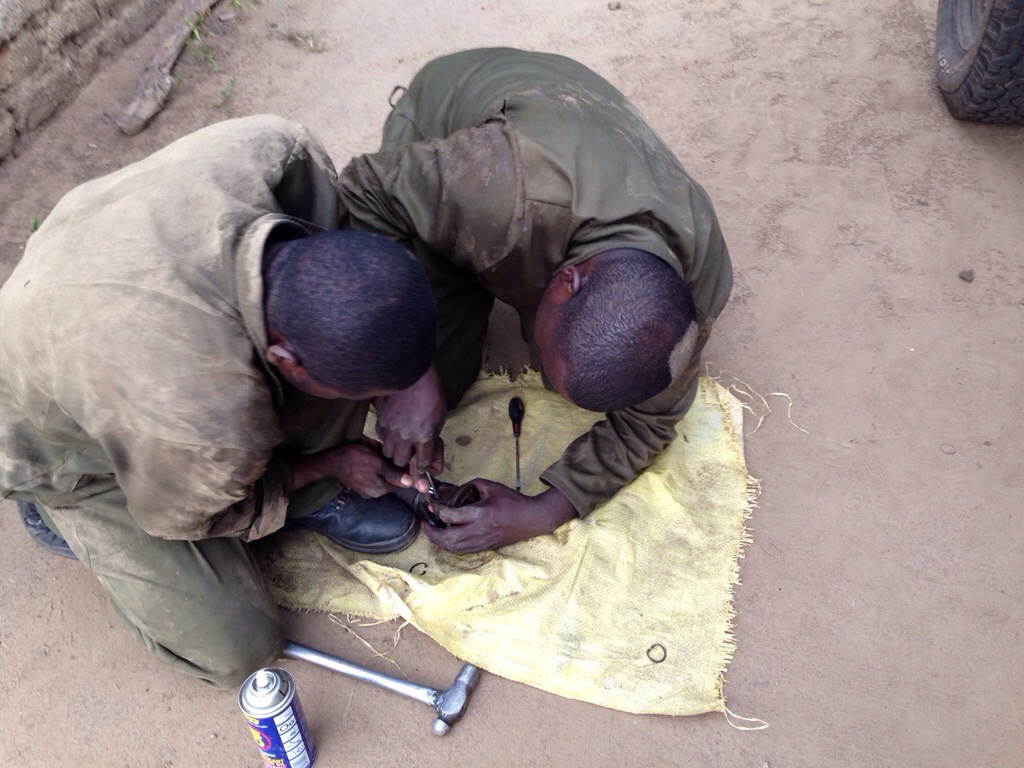 Helene did her normal amazing job of entertaining the village kids…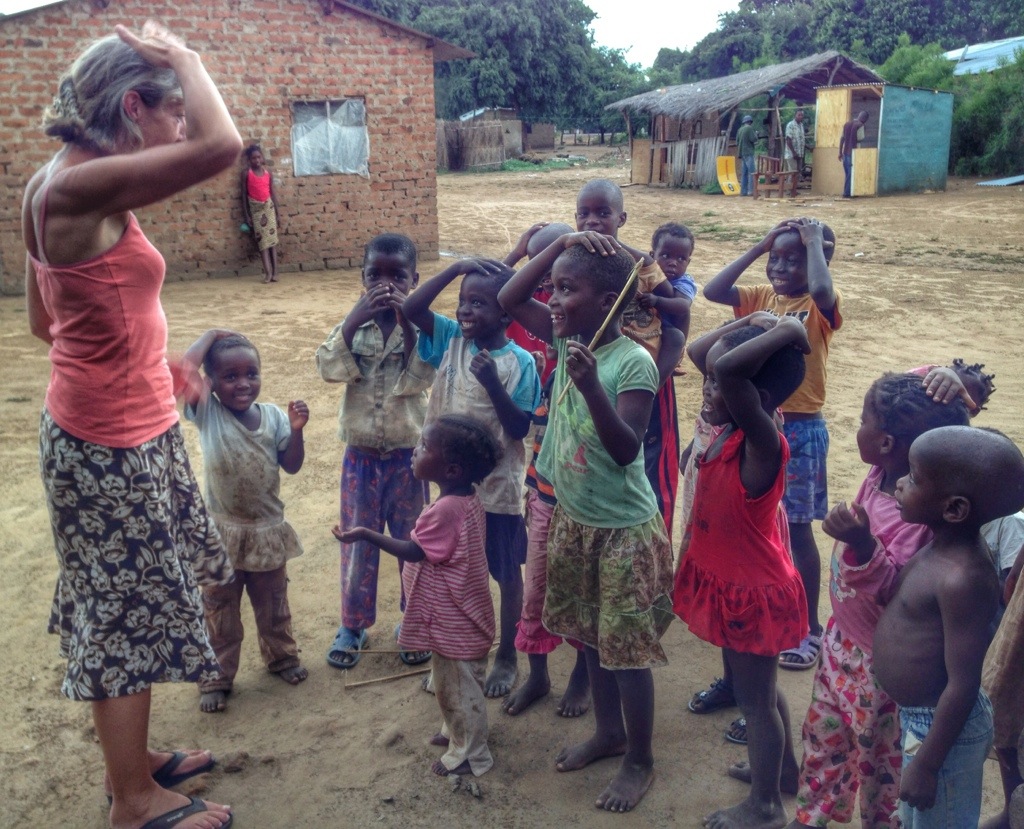 Ninety minutes of 'Old McDonald' and 'Hands, Knees & Toes'…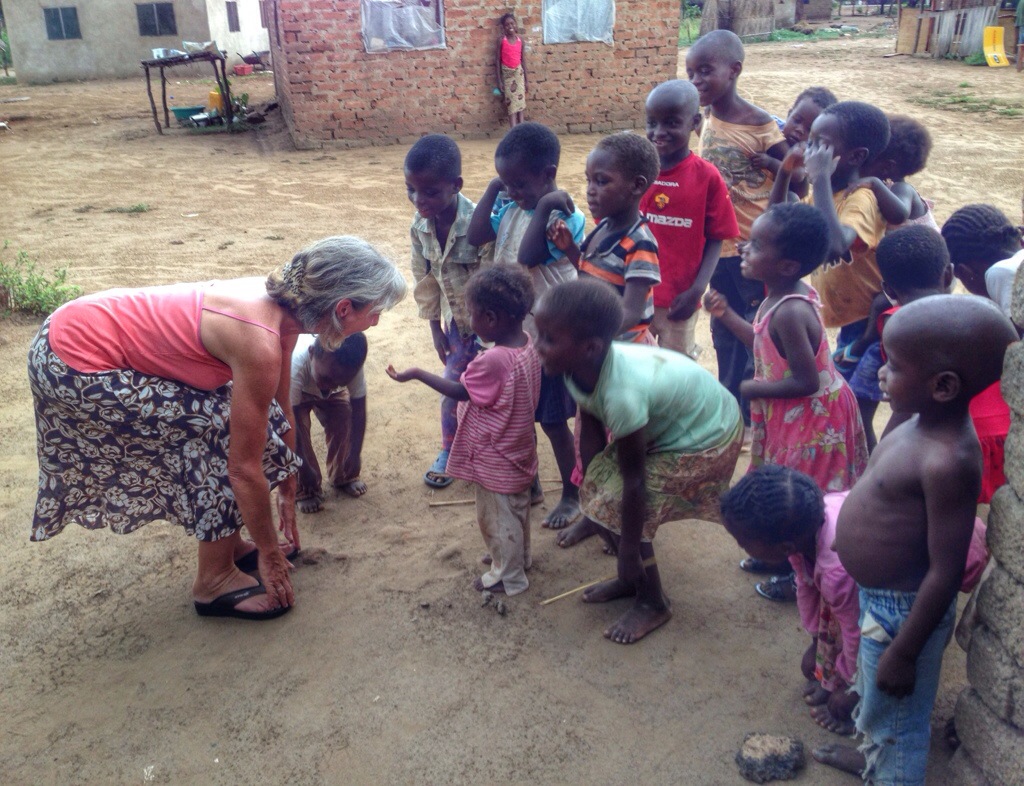 She really is exceptional with people (especially kids).
She was exhausted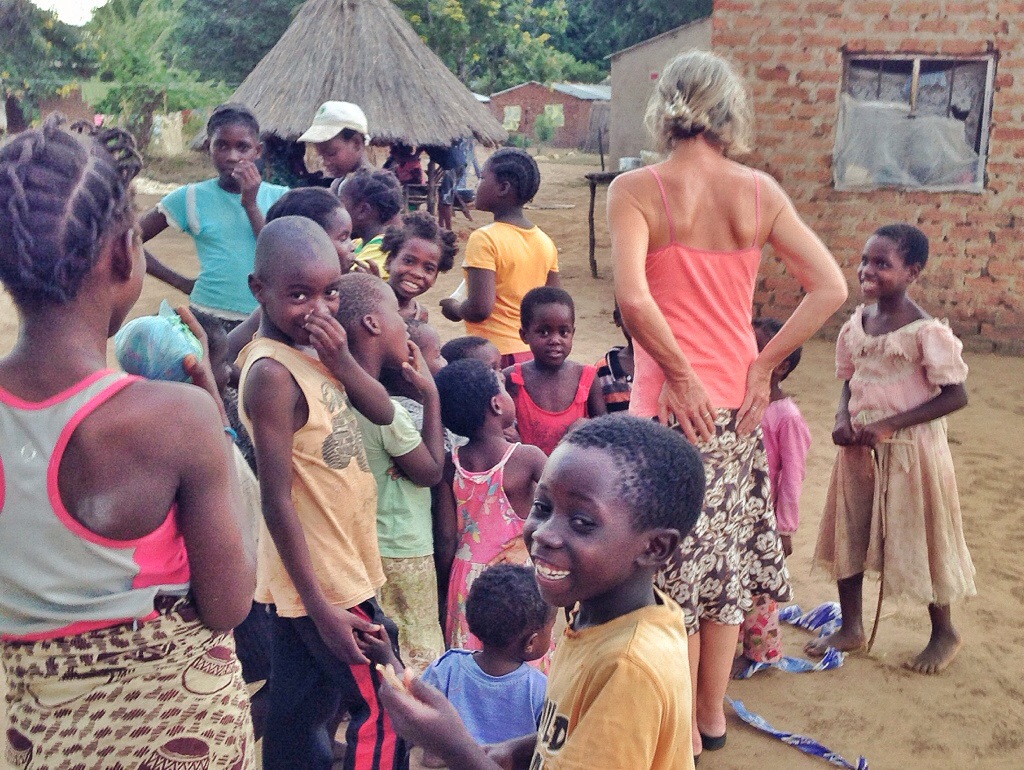 She has eyes they trust not to be cynical or patronising.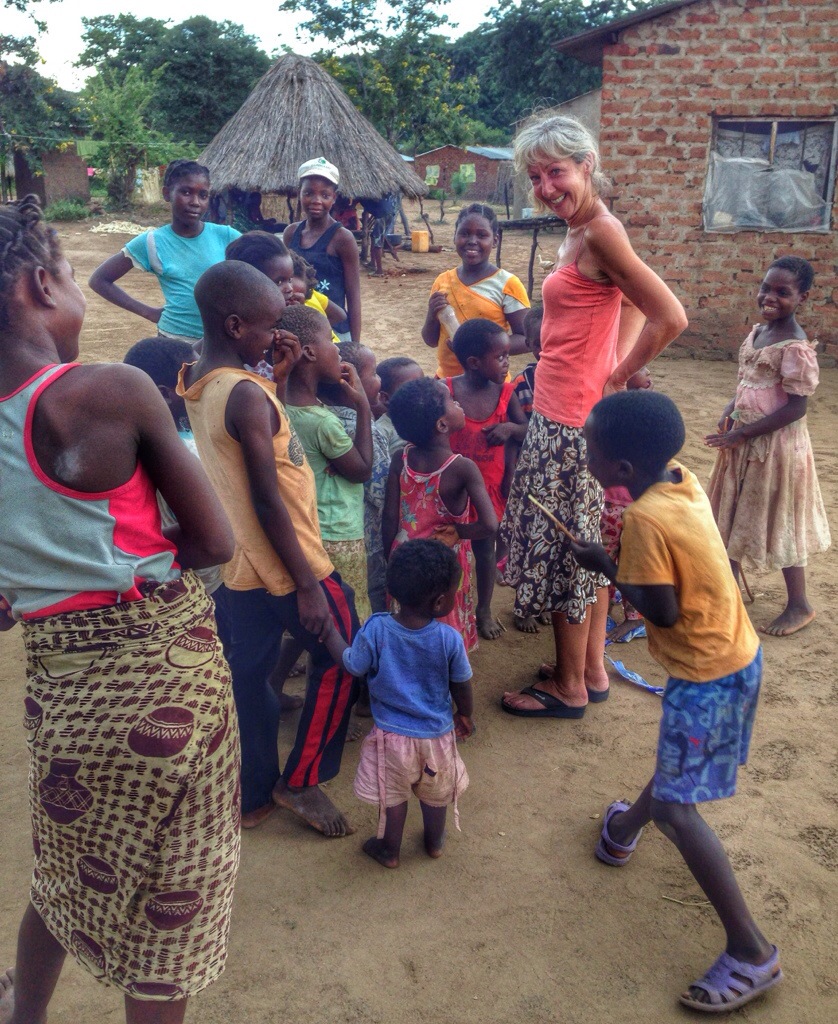 Worthwhile keeping them entertained though. As Moffat said, "If someone doesn't keep them amused they'll steal your tools – I should know, they're my kids".