Very disappointed to leave Wildlife Camp at South Luangwa. it probably rates in our Top 5 so far.
However, we were Malawi bound. 180km or so back to Chipata, on the best road we've driven in Africa (probably because it's the newest – lean your arm out of the window and it gets splashed with wet tar!).
We filled up with diesel in Chipata as we'd heard it's cheaper than in Malawi good job too – 9.20 Zambian Kwacha per litre in Zambia (£0.90 / $1.50) but turns out 840 Malawi Kwacha per litre in Malawi (£1.35 / $2).
The border is only 30km from Chipata and was very straightforward to negotiate.
The usual mix of touts and sharp-looking money changes mobbing the car but actually only 10 minutes to get passports and Carnet stamped 'out' on the Zambian side, and about 30 minutes to get stamped 'in' on the Malawi side.
No visas to be paid for if you're from Commonwealth countries (God bless Queen Victoria), no road-tax to pay for anything less than a 4-tonne truck (even with all the stuff we carry, that means we're exempt) and only 1,200 Malawi Kwacha for 3rd-party insurance (£20 / $32).
Bargain.
We didn't want to drive too far as Helene had been suffering from a heavy cold for a day or two so, 160km later, we turned up at Mabuya Backpackers in Lilongwe.
Cheap enough for camping (2,500 Kwacha / / $6) and a great curry for 3,000 Kwacha / $7. Secure, and cheap beer but nothing to write home about.
We met up with Bob from Australia who's come in from Mombassa and is waiting for his wife to fly in and join them for a 6 month tour before heading to the UK. He's driving a Defender 130 with a very unusual, folding rooftent that has a side compartment with a rigid floor.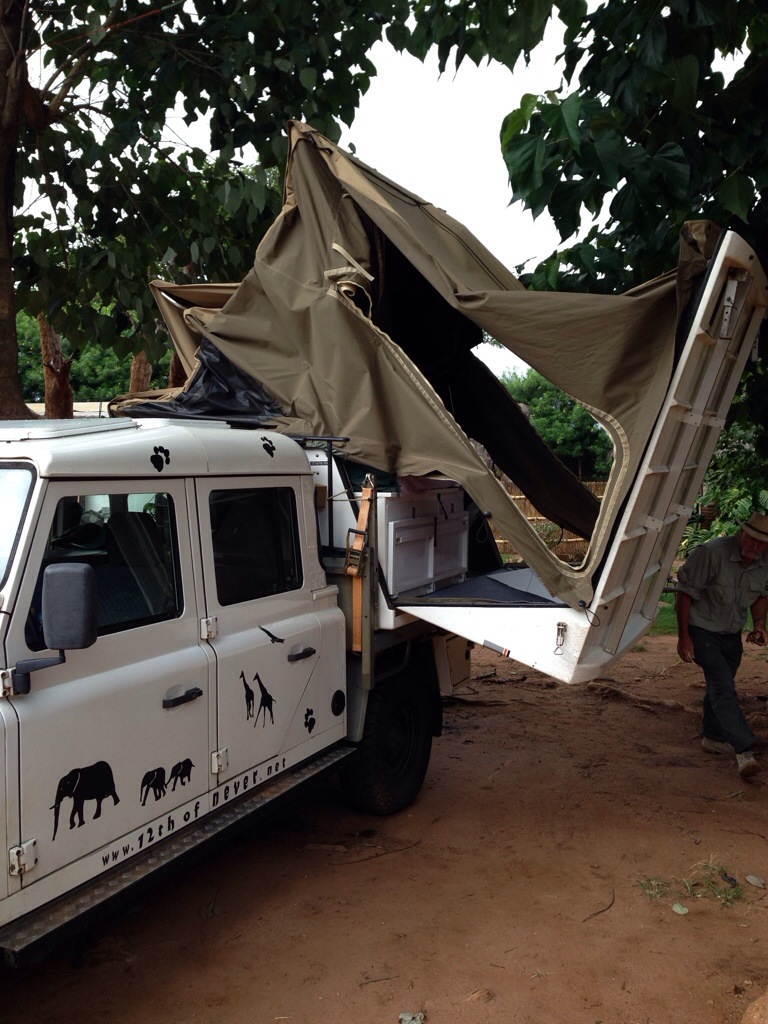 Yours for only AU$32,000. That's just the camper section, not the car etc.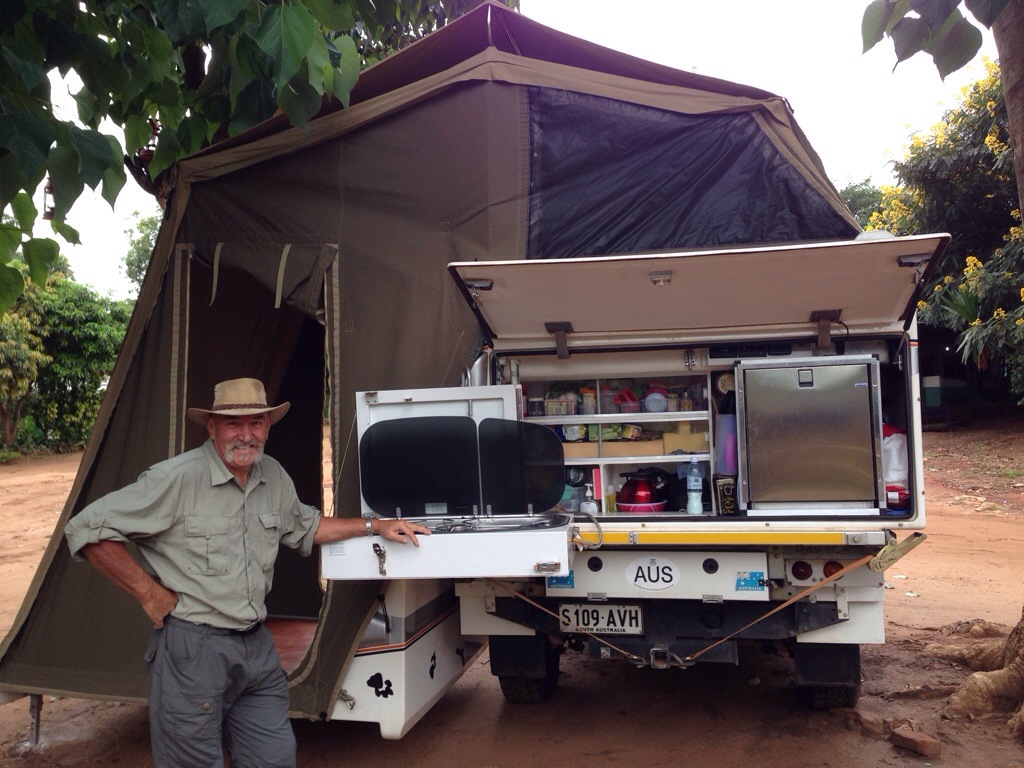 A month or so after we'd had the US$ and our back-up passports ruined in Botswana by being soaked for days in 3-inches of water, I though I'd check out how the drying out was going.
Having heard you can put a wet mobile phone in a bag with some dry rice to absorb the moisture, I'd done the same with the money.
Not a good idea.
Opening the bag, the smell was like the slops-barrel of a Chinese backstreet boot-legging den. The bag had turned into a fermented, rice -pudding.
Like wallpaper paste, or a '$50 bill-ripple' ice-cream.
No alternative other than to go into the money-laundering business for a couple of days.
All washed at the sink and dried (as unobtrusively as possible).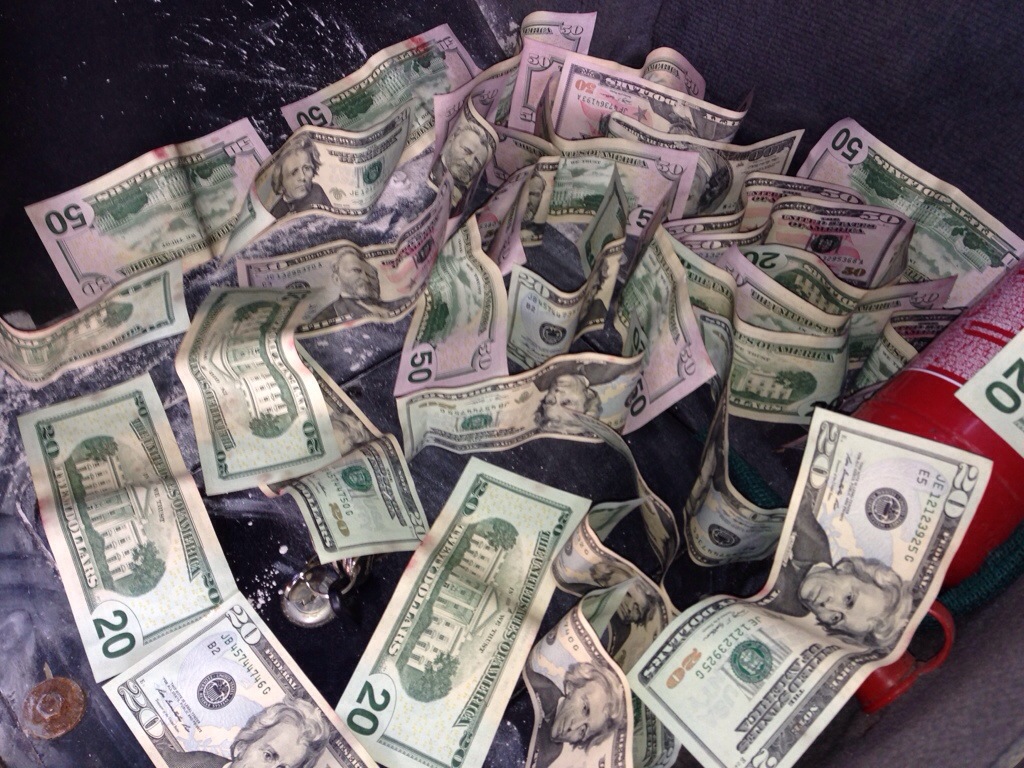 Judith sent us a plot of our general route so far on Google Earth. This one is a low-res version, but even that shows it's been pretty circuitous. That's deliberate, as we've tried to wait-out the rainy season in Central / Eastern Africa.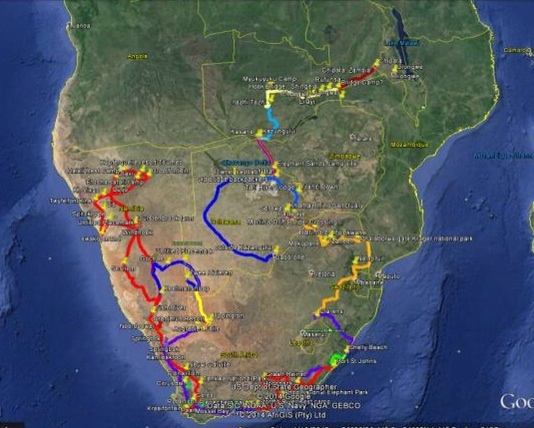 Waiting for the rains to pass is proving less and less successful as we head north.
We left Lilongwe for Lake Malawi – if we're going to get wet, we may as well do it in a beautiful setting, rather than a typical sprawling African town centre.
Top Tip: stock up with Malawi Kwacha as soon as you arrive. 4 out of 5 cash machines don't work or won't take International Visa Debit cards. Fuel, camping etc must be paid for in cash and most ATMs only give out the equivalent of £50 maximum (in 1,000 Kwacha notes).
I had to go round 7 ATMs in Lilongwe to get the 'wedge' below. Even that's only enough to fill the Land Rover tank 75%, and there are only 2 towns with (hopefully working) ATMs in the next 500km north.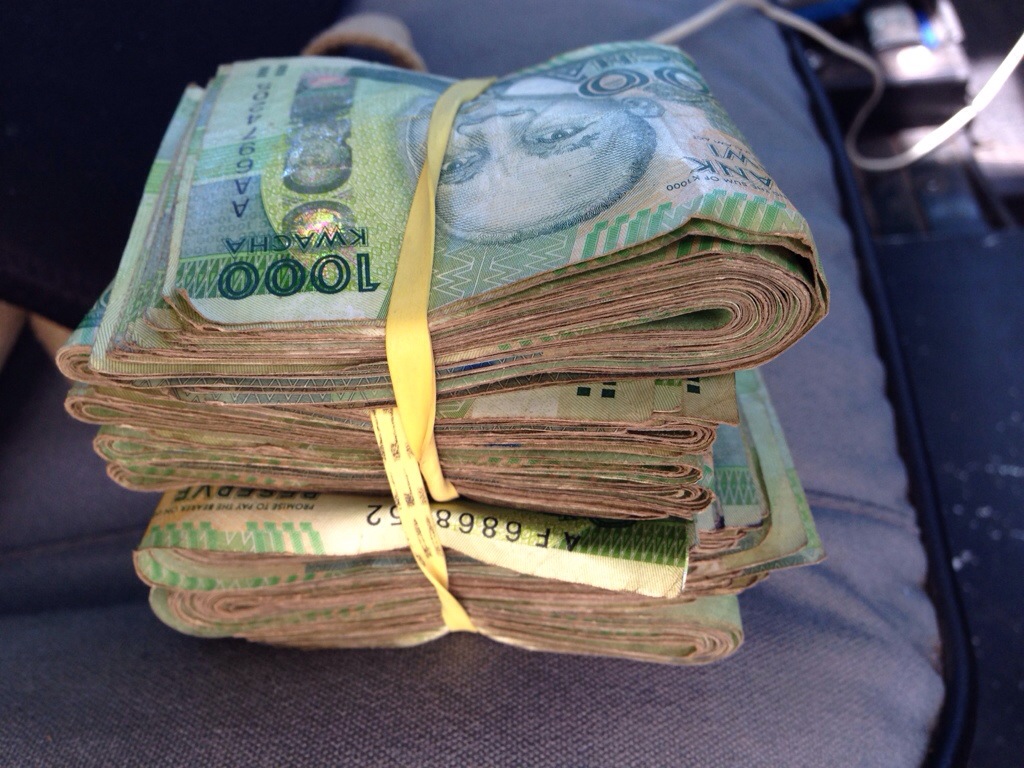 The drive 140km N-East to Lake Malawi was very scenic. Very rural.
At first, rolling hillsides.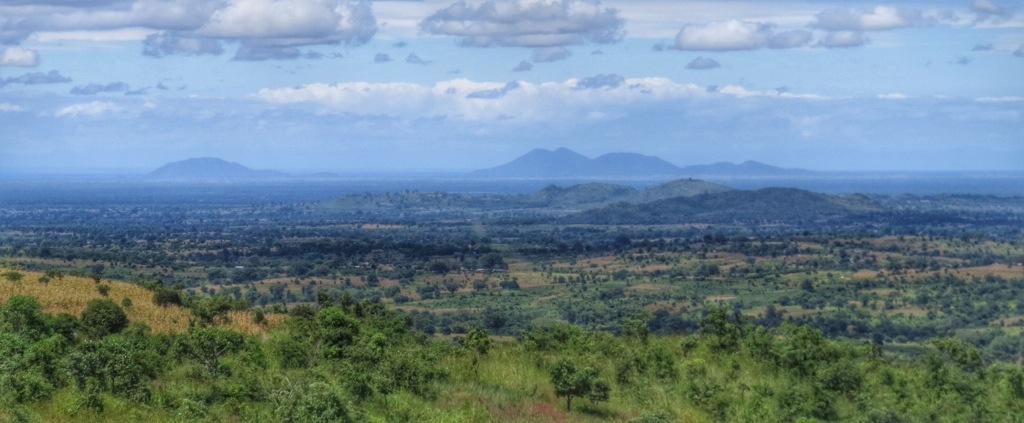 Then tobacco, rice and sugar-growing areas. Mostly small-scale share-cropping on a village-by-village basis rather than large commercial operations.
This is by some margin the most uniformly subsistence-economy country we've traveled through so far.
Very few towns. Many small rural villages. Beautiful countryside but the vast majority of people here live simply and on what they can grow.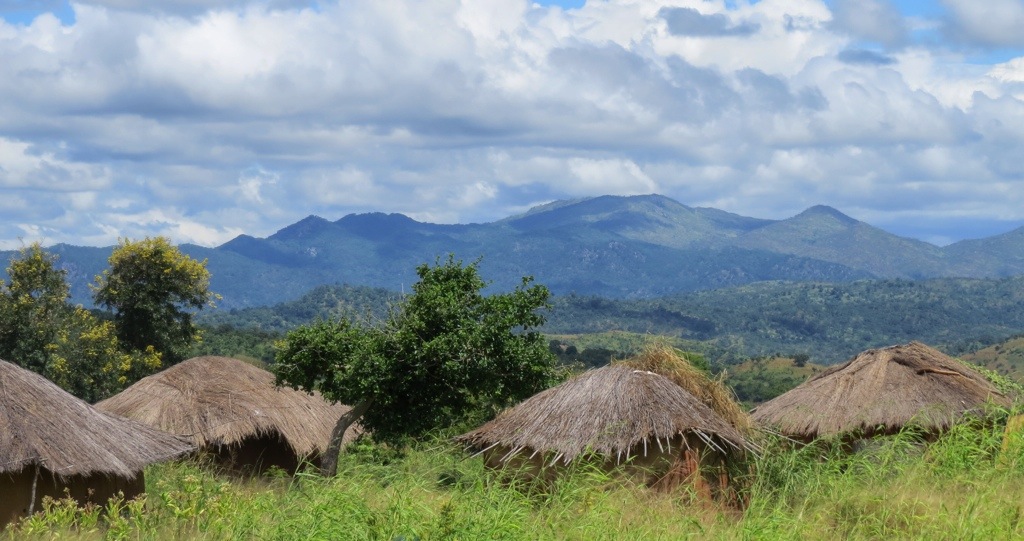 Most settlements don't have electricity to homes (although there may be a set of community buildings that do) and they get-by with a village water pump, rather than individual supplies. Buildings are typically mud-brick built. The fancier ones are rendered and painted.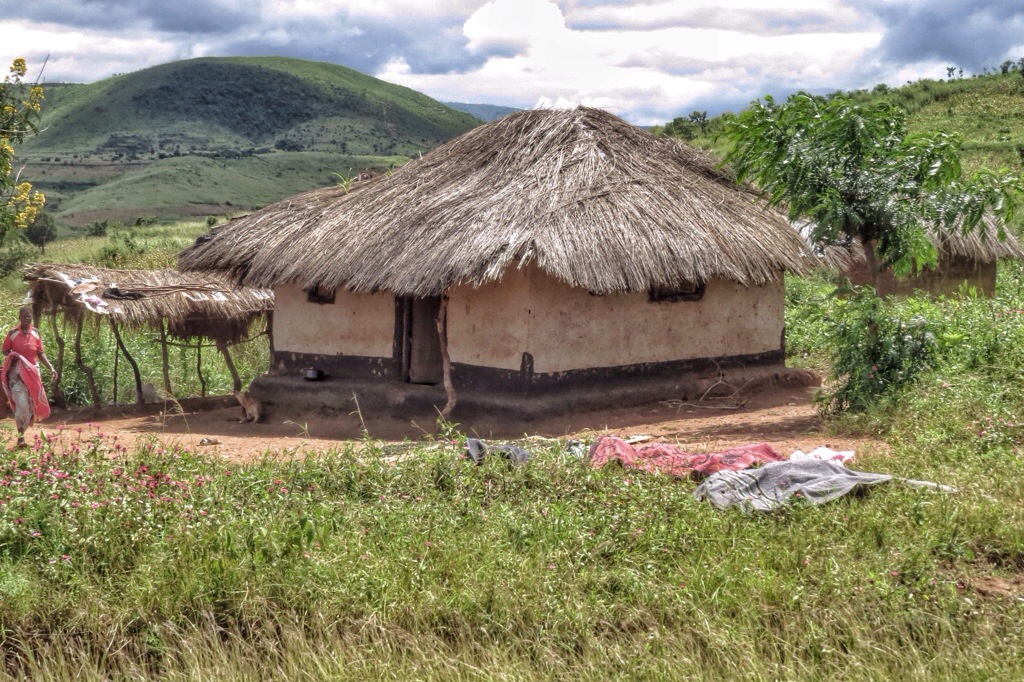 We arrived at Senga Bay on Lake Malawi and found the campsite of The Livingstonia Hotel.
I don't know what we expected of the lake, but I certainly didn't expect it to be so beautiful. More like a sea than a lake.
Heavy skies agin. There's been a lot of rain and any track off the tar road is fairly heavy going (there's only one tar road east and most 'destinations' are between 5-15km off the tar).
Worth it though. The view from The Penthouse as we camped right on the beach.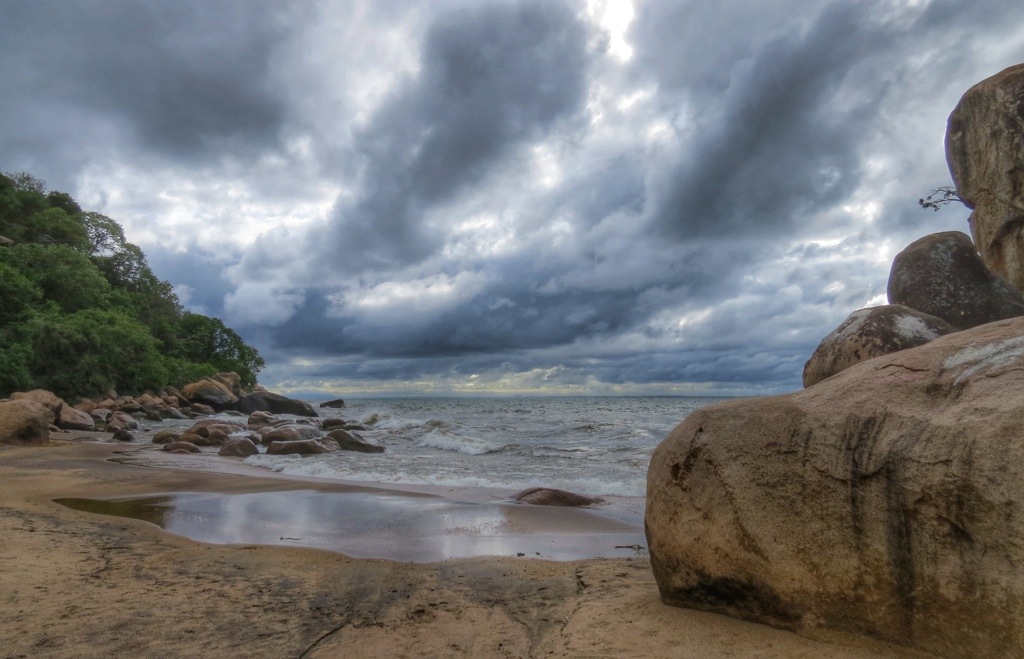 No matter what the weather, African skies are stunning.
We planned to spend one night, but ended up being there 4 days. 'Folding camper' Ausi-Bob turned up and we spent a very pleasant few days with him, his wife Cheryl and their pal Gail.
Local fishermen work their small canoes off-shore and we bought 4 Chambo from Chris for 5,000 Kwacha ($11). A little watery when we cooked 2 of them in foil, but we're looking forward to charcoal-cooking the others.
Below, in order to get the price up, he tells us how they fiercely they fight and what a massive struggle it was to land them at 5am that morning…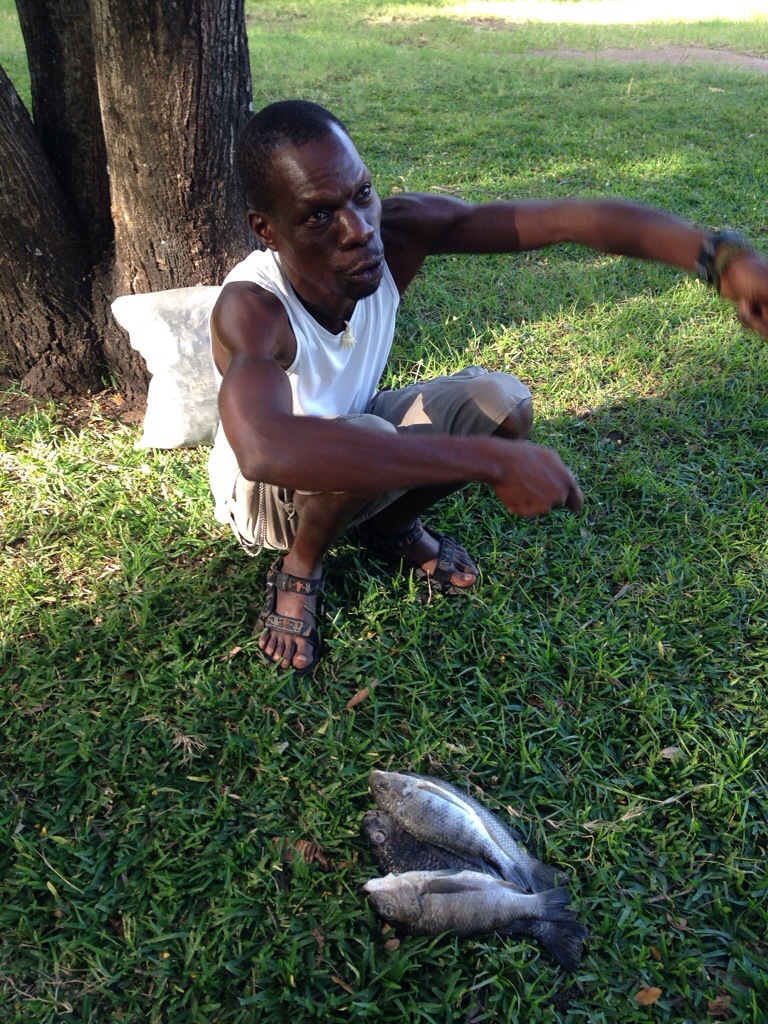 A really tranquil spot.
Until a family turned up Thursday night. Three adults and 6 kids in a small 4-seater saloon. How they managed it I don't know. How they all got into a single-room 3-person tent I have absolutely no idea.
They made quite a lot of racket for a couple of hours (mostly just excited kid-noises though) until Bob told them to keep quiet around 9.30pm
Bob left at 8.30 the following morning (Friday).
At 9am the 'sardine' family brought a 1.5m high speaker out of the car (I can't imagine where they had room for it) and played rap / drum and base music with the volume cranked up to '11' all day.
It was so loud they sat about 50m away from the speaker themselves.
Throughout the day, more local families turned up. Almost without exception they parked up their cars, turned up the stereo volume to ear-piercing levels, left the doors open and sat 30-50 metres away from the vehicles. Listening choices varied from beat-box to Party Political speeches for the elections due on 20th May.
By 7.30pm, aggravated by having caught Helene's cold (but much worse than she had it) I lost my cool and stomped around telling then to turn the damn stuff down. Ten hours was enough!
Maybe Bob knew what was coming. How can it be he managed to leave 15 minutes before the mayhem started?
A real shame. A beautiful spot, cheap ($3 per night), fabulous views, private camper's bar with cheap local beer (Kuche-Kuche $2 per 630ml bottle) and we'd recommend it to anyone visiting South/Central Lake Malawi.
But don't go at the weekend!