In Livingstone, Zambia (80km from the Botswana border) we went to Fawlty Towers Backpackers and had a late, fairly good breakfast (20Kwacha / $5 each). Unfortunately they've gone 'upmarket' and don't do camping any more.
Livingstone Backpackers was also pleasant, but the only camping they have for roof-tents is in the car park.
Fortunately they recommended we try Maramba River Lodge, 5km outside town and halfway to Victoria Falls (but not advertised as having camping in any of the books / Tracks 4 Africa, etc).
We definately lucked-out stumbling across Maramba. And were made very welcome by managers Brad & Ruth Keast.
A great place on the Maramba River, a slow-moving tributary of the Zambezi, with a shady, quiet campsite and the opportunity to use the pool, restaurant, bar, wifi, etc. Camping 100kwacha ($20) per night.
Plenty of big crocs, baboons and hippos around the camp. Also elephants in the dry season.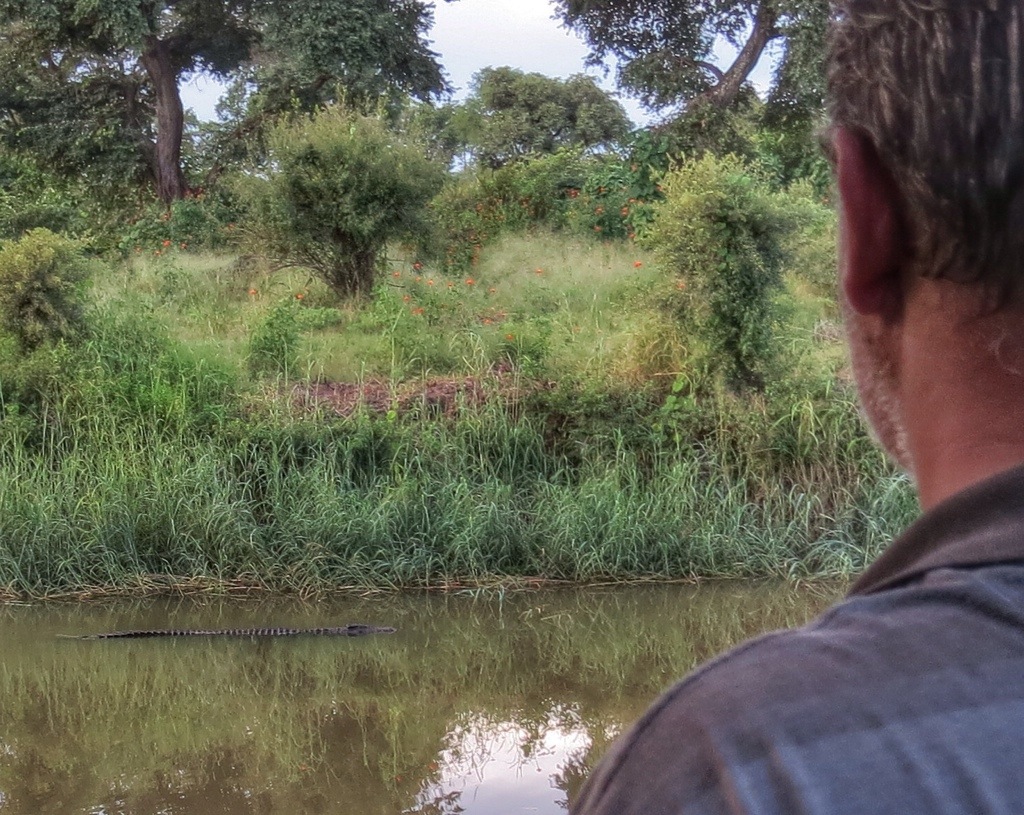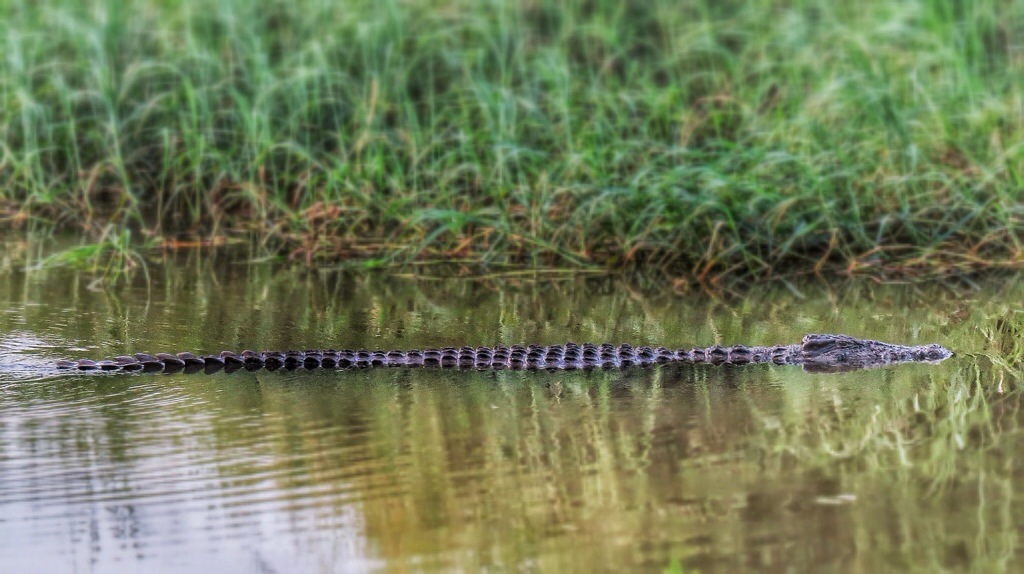 Mind you, I also spotted one of the rarest sights (either before or since we arrived in Africa). Helene cooking.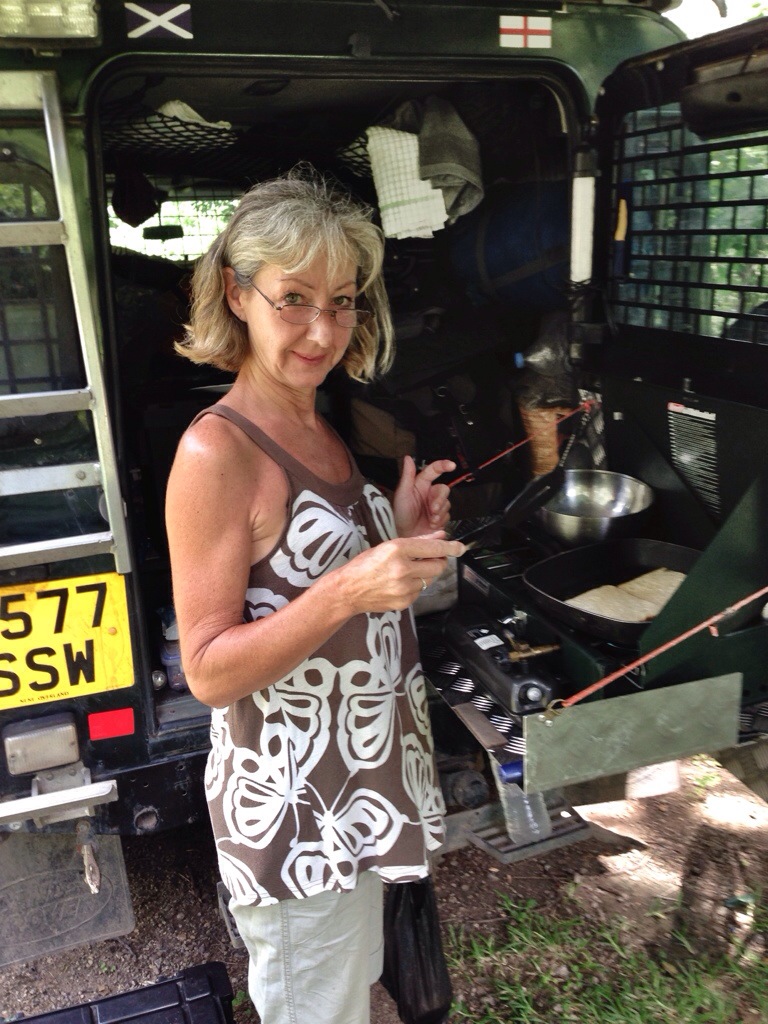 French Toast with ham & cheese. Very pleased with herself (and very tasty dear).
Although Maramba was very quiet (no more than a couple of other people there each night at this time of year) we also met some interesting people.
Rita and Evet (or 'this one' as she calls him) who come down each day from the casino they run in town and have a couple of Mosi beers as they chill out.
Also, Barrie & Sue (a pharmacist from Guernsey) who were travelling in their self-built camper truck. This year they were on a bit of a 'pilgrimage' to Livingstone Hospital where they both worked around 40 years ago, and haven't been back since.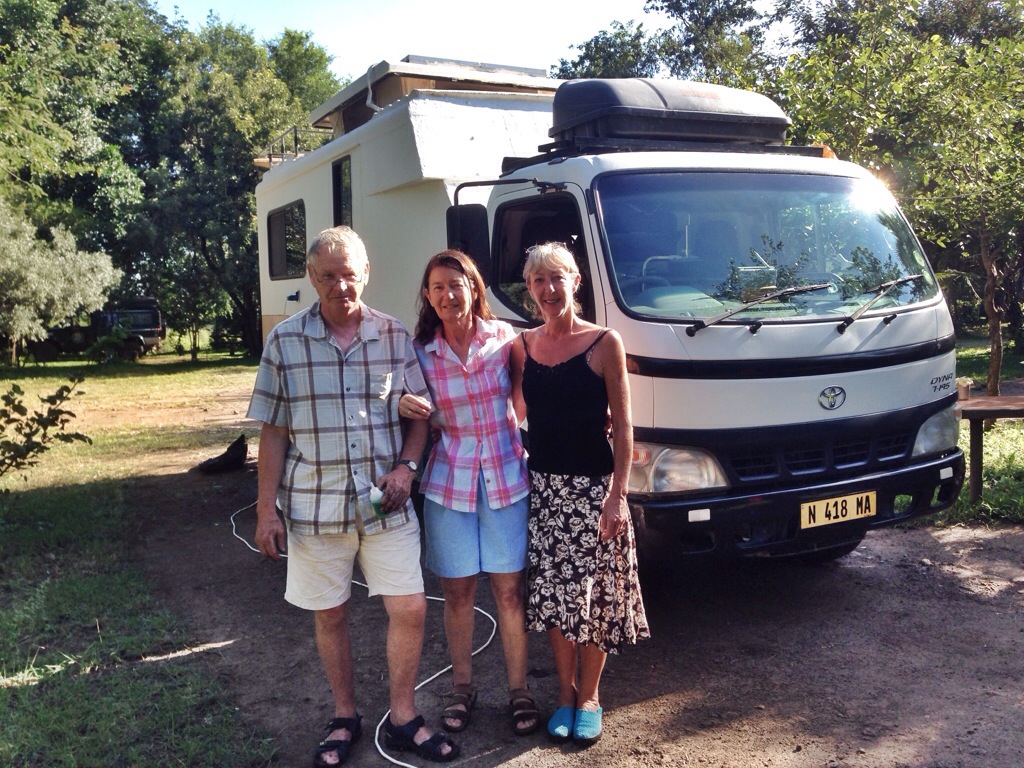 They've had their overland camper for 18 years and store it in Namibia – coming over from Guernsey every year to tour some of Southern Africa.
It was originally a Land Rover Forward Control but, after years of mechanical problems (and rolling it) they eventually had the original 'camper' section extended and fitted onto a Toyota truck.
Much more reliable. Very quirky.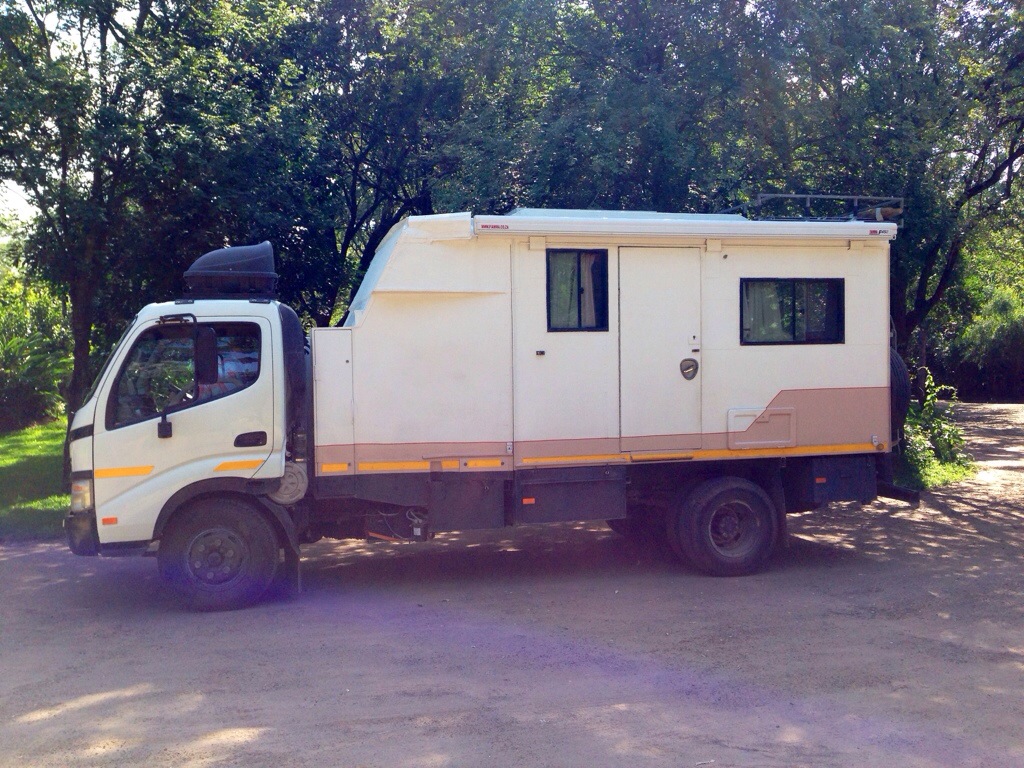 Alexandra and Geert are Danish and travelling up from Cape Town back to Nairobi where she works for as a TV journalist for the UN (United Nations High Commission for Refugees).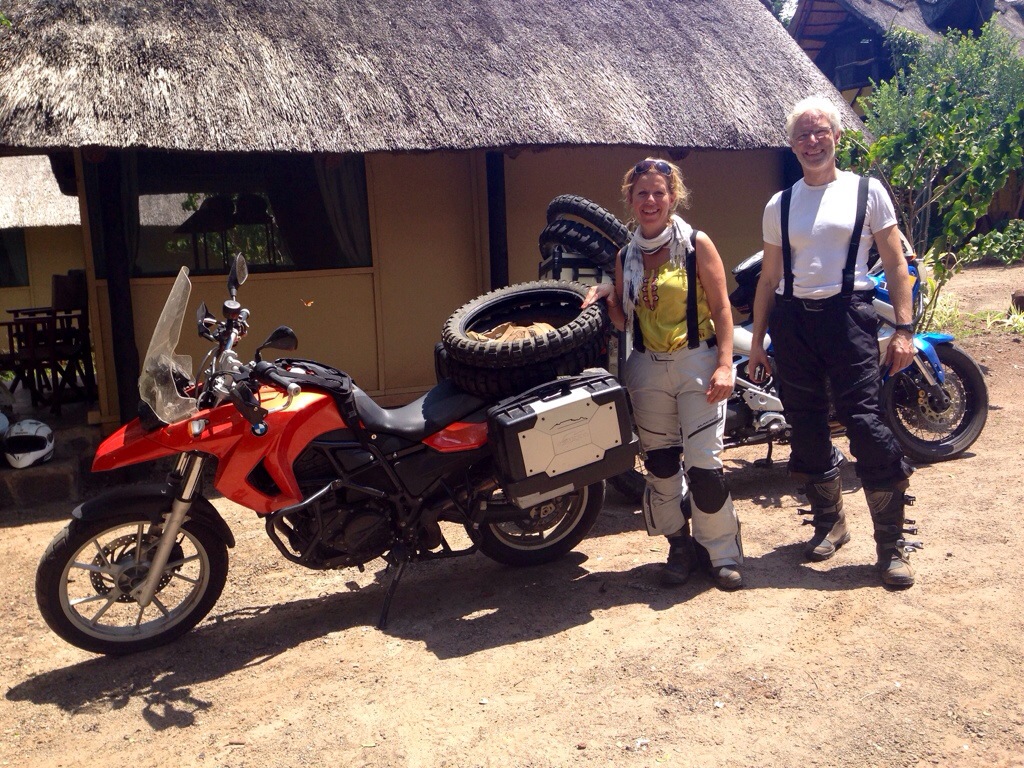 Alexandra deals specifically with Somalia at the moment but previously worked for 5 years in Afghanistan – which she thought was tremendous. They left with their GS & Tenere loaded with 2nd-hand replacement tyres Brad found from his workshop – left behind by Charlie Boorman who visits Maramba every year on one of his bike trips.
Our car was scheduled for another 'Spa Treatment' (as Philippa Hewitt puts it) at Foley's Africa workshop (run by Nick Selby) in Livingstone. We decided to have a couple of 'sharpeners' at The Royal Livingstone Hotel on the lip of The Falls before dropping it off.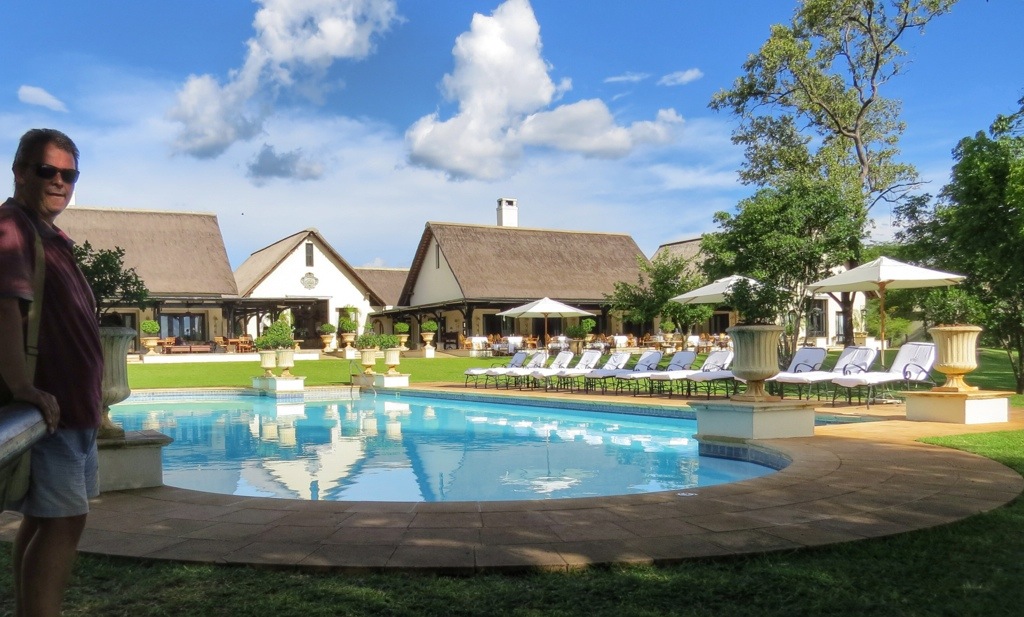 Very grand (it ought to be at $1,300 per night). The staff dress in white shirts & long socks, jade shorts & Colonial Pith (safari) helmets. Very dapper.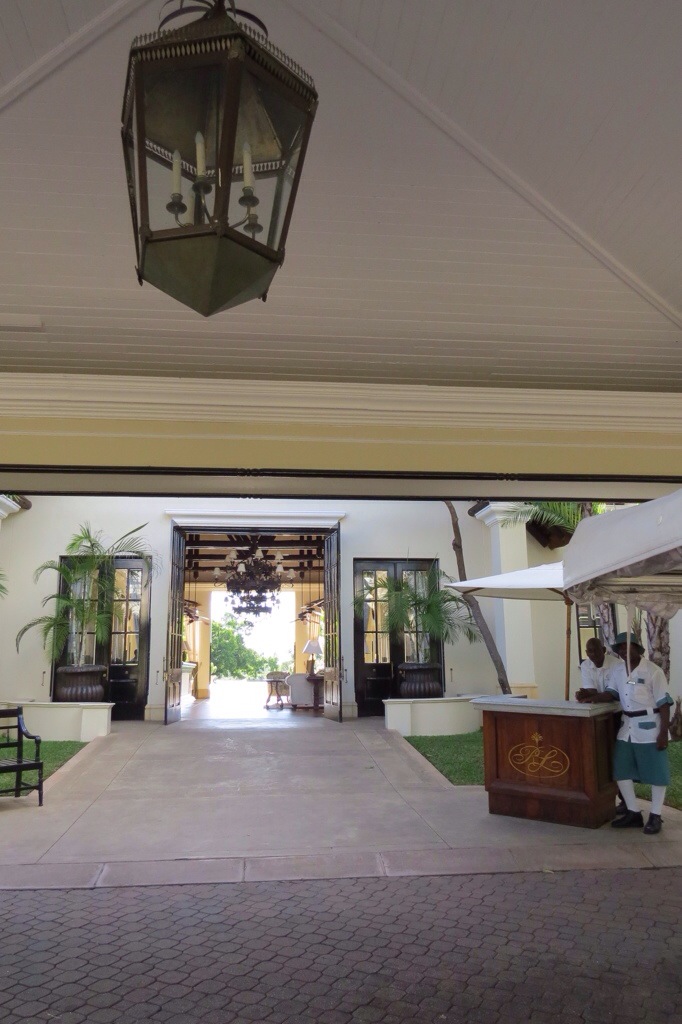 I think we lowered the tone just enough.
What a setting. The spray from the falls rises up to 400m and swirls around the lip like cigarette smoke in a breeze when the water level is so high at this time of year.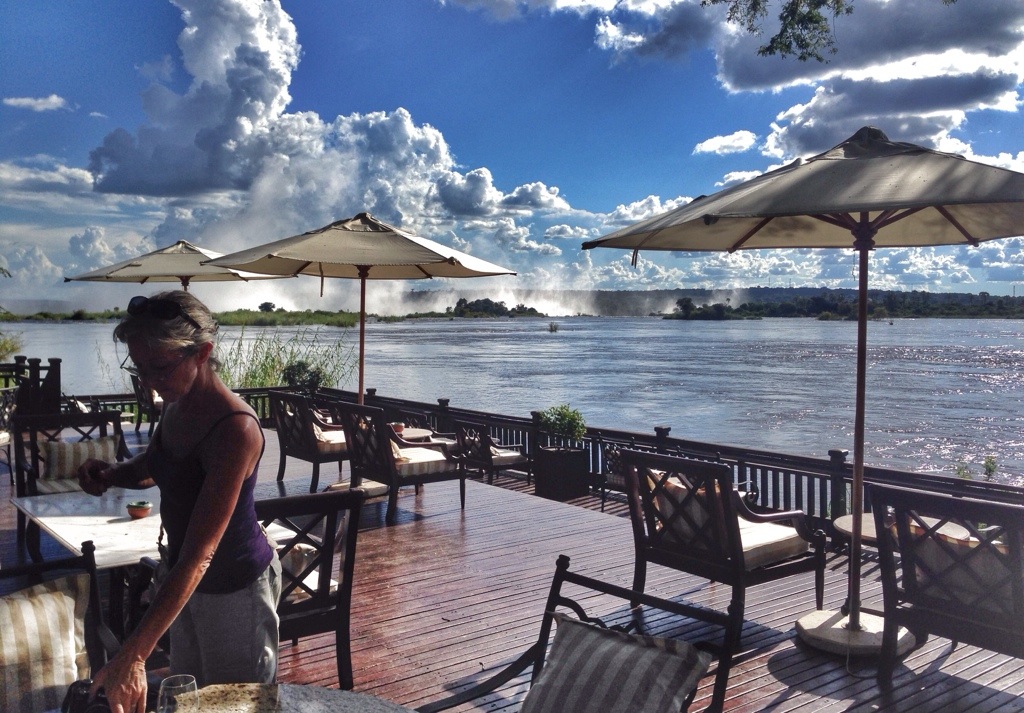 In the dry season, you can walk out to the lip of the falls and paddle in a couple of rock-pools on the edge.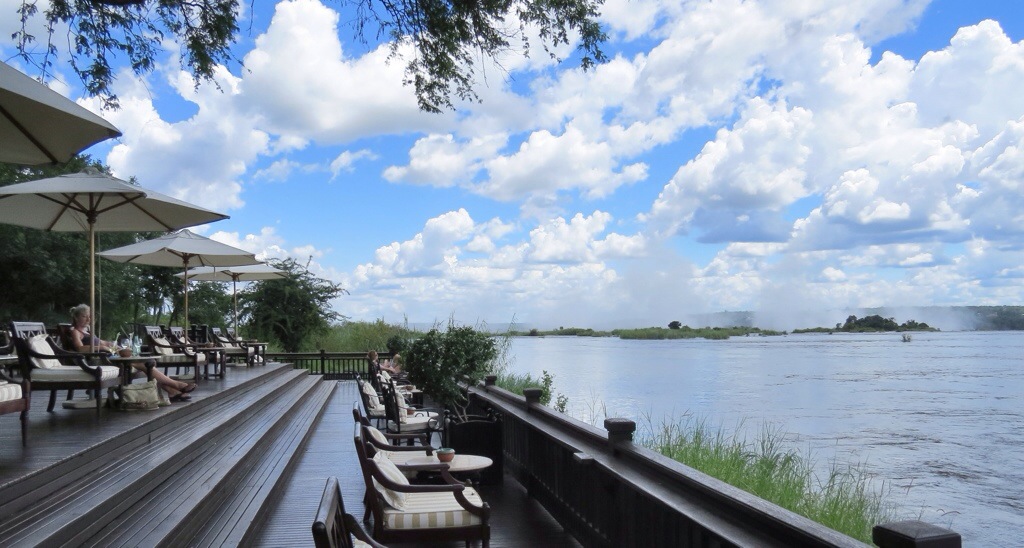 At this time of year, any boats that go out there have to take great care due to the volume and speed of the water.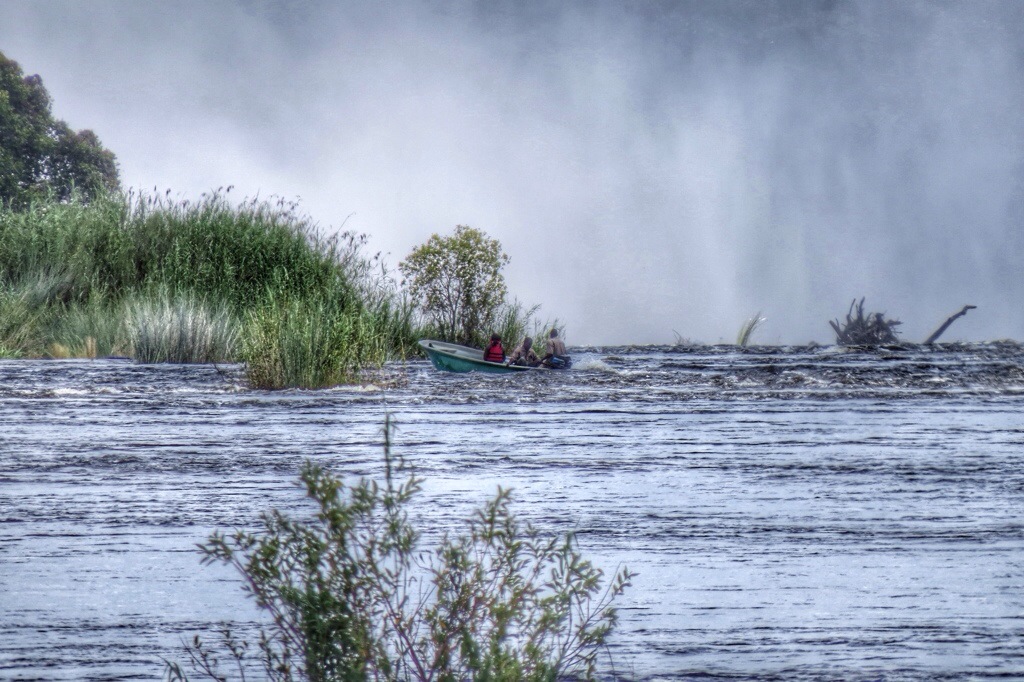 After paying our bit to keep The Royal Livingstone staff in fancy uniforms ie $12 for a weak Pimms ($12!!) we went down to The Falls to see the other side of the lip that the boat was cruising against.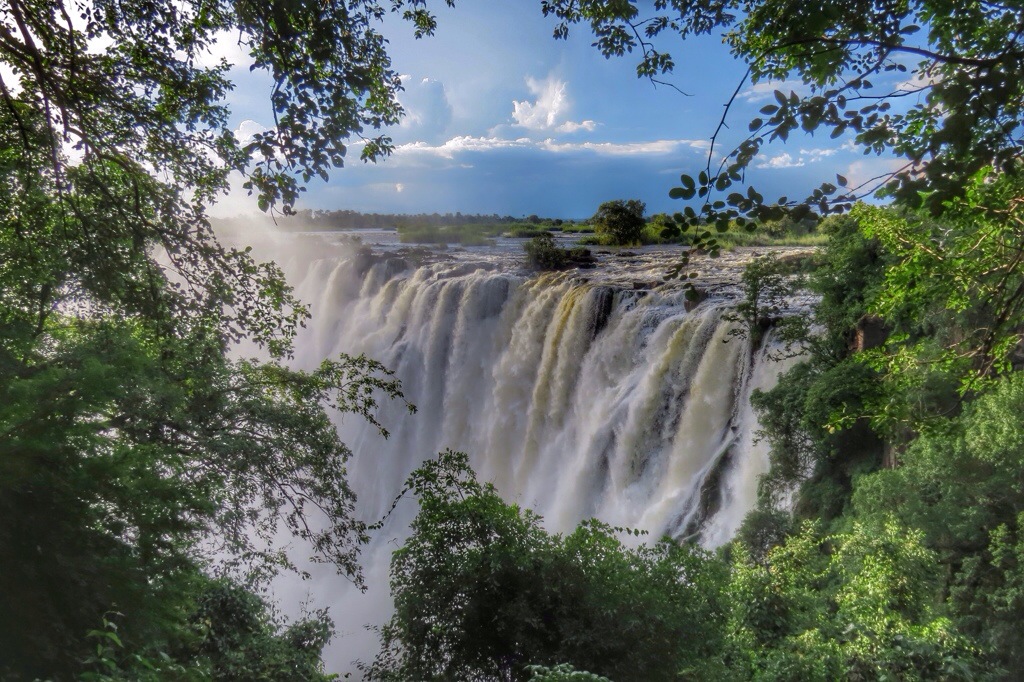 Incredible power and volume (both sound and quantity) of water.
There's a walk up to the lip that you can take where you don't get wet at all. We'd heard that there can be a lot of spray around on the walk that faces the falls, but went that way anyway.
At first the spray is refreshing in the heat and like standing in a light shower of rain. It's constant, but not consistent – swirling, and covering you in waves. Helene found it a bit bracing…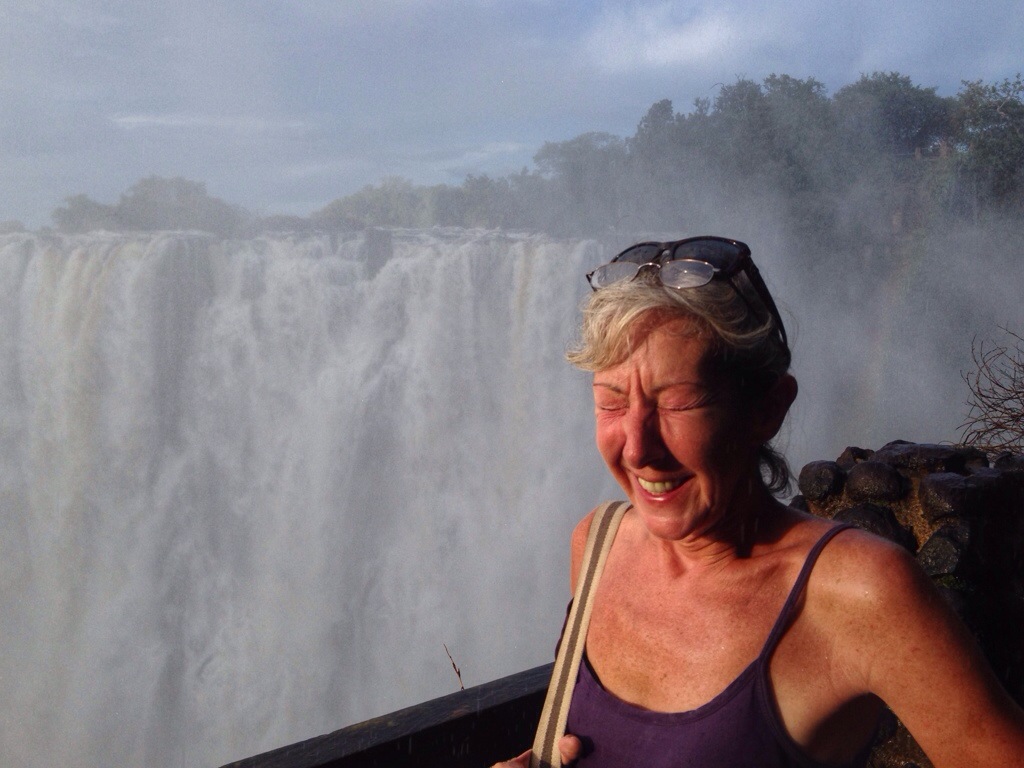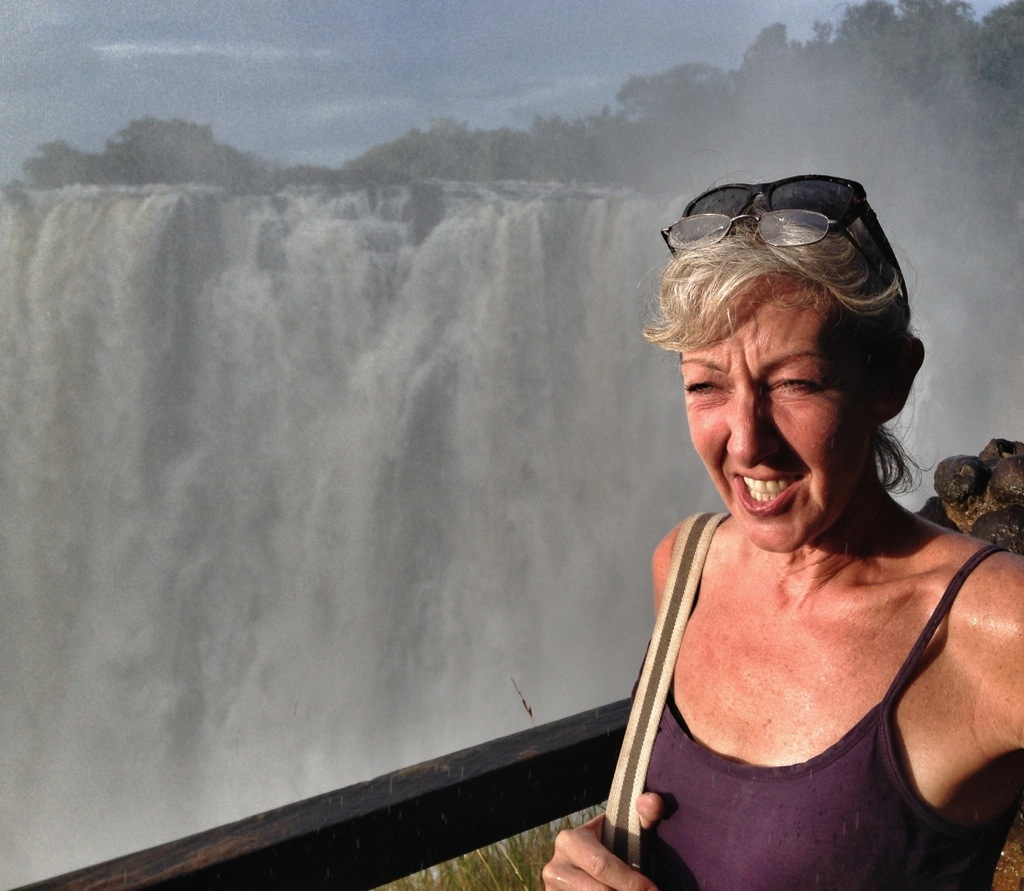 We walked out and crossed Knife Edge Bridge (far left of this pic)…
…where the spray hits the bottom of the falls (108 metres below) so hard it is actually forced back up and you're struck by spray from above and below simultaneously.
There was so much spray my shoes filled with water within 30 seconds of stepping onto the bridge. i've fallen out of boats and not been that wet!
At this location it's almost impossible to take a picture through the spray as the water plummets down only 50m from where you stand.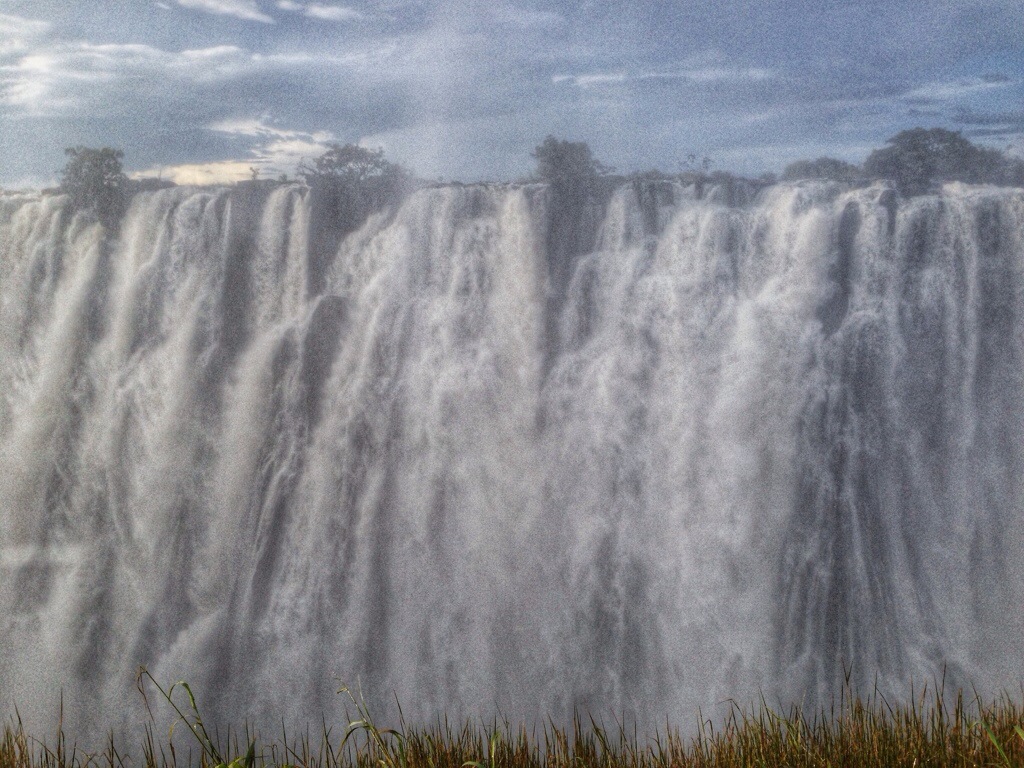 Once across the bridge taking photos is almost pot-luck.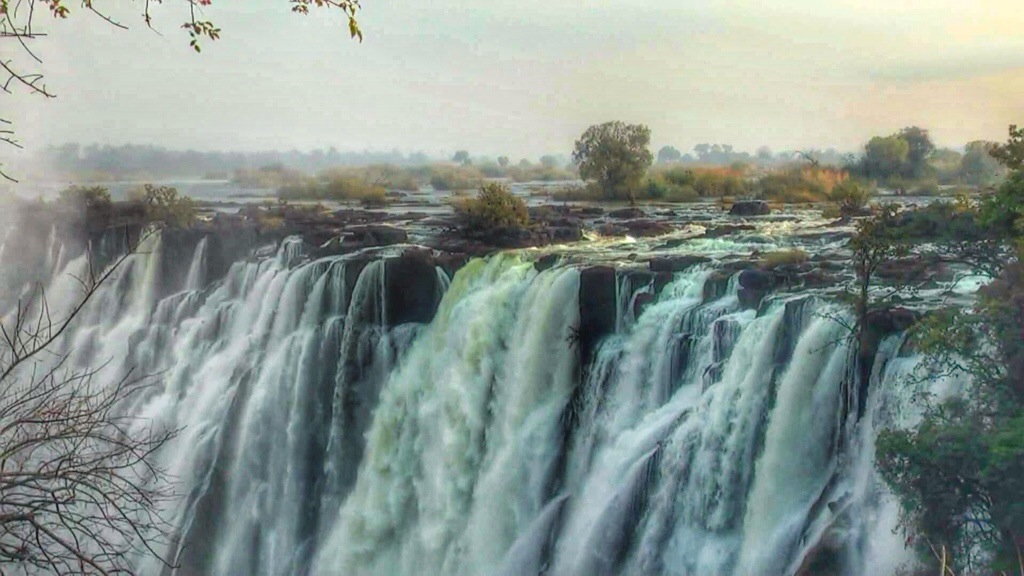 You have to snap as fast as possible or risk the camera being ruined.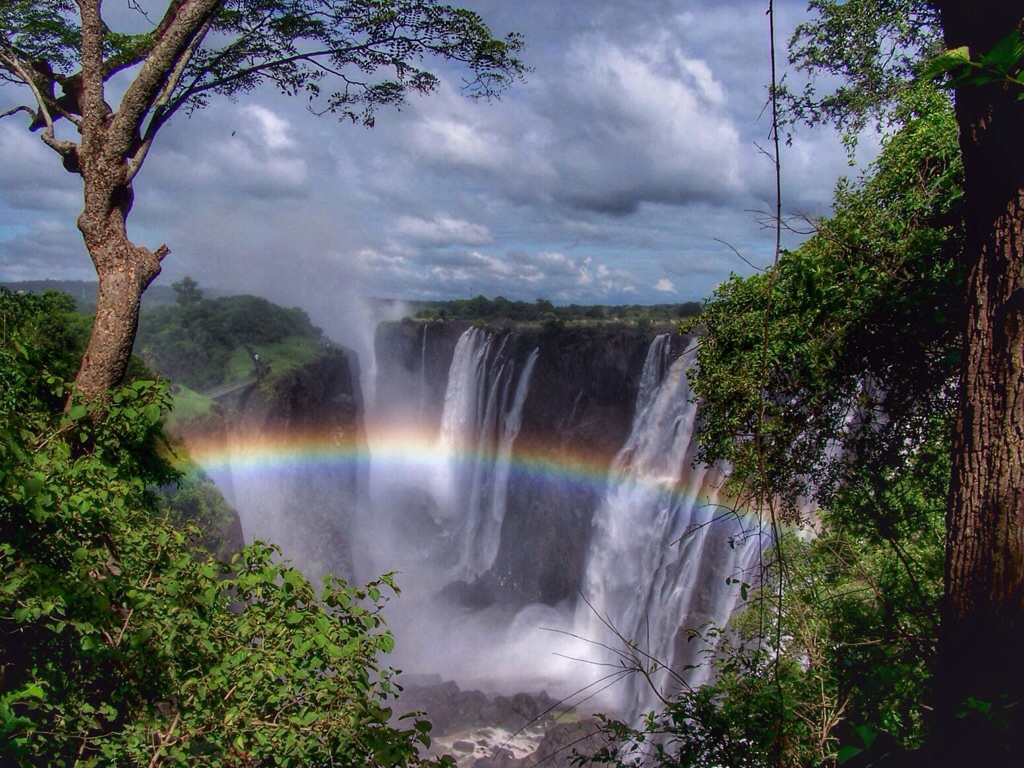 However, there are dramatic sights available in almost every direction at this time of year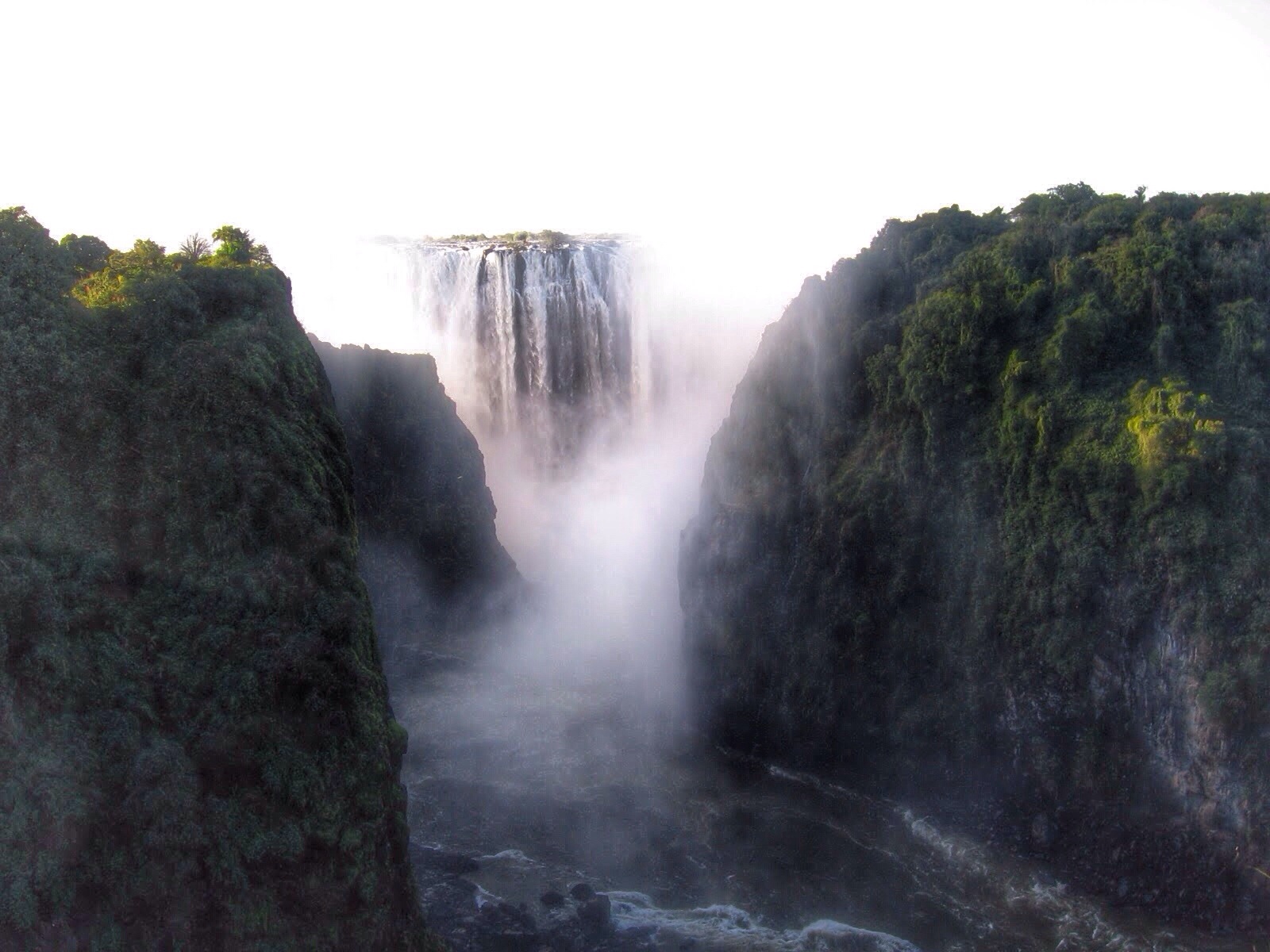 Heading back to the car via the top loop, more views are available…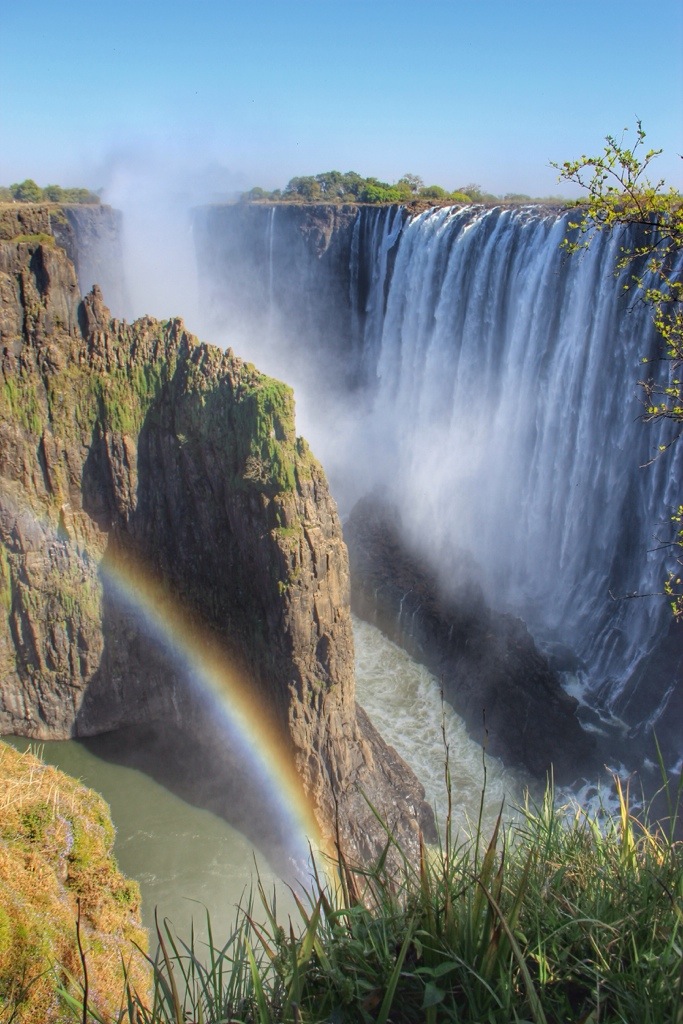 …until you look out towards the Livingstone Bridge at the Zambian border with Zimbabwe. There are bunji jumpers leaping head-first off the centre, but as the sun sets the bridge itself is dramatic enough for me.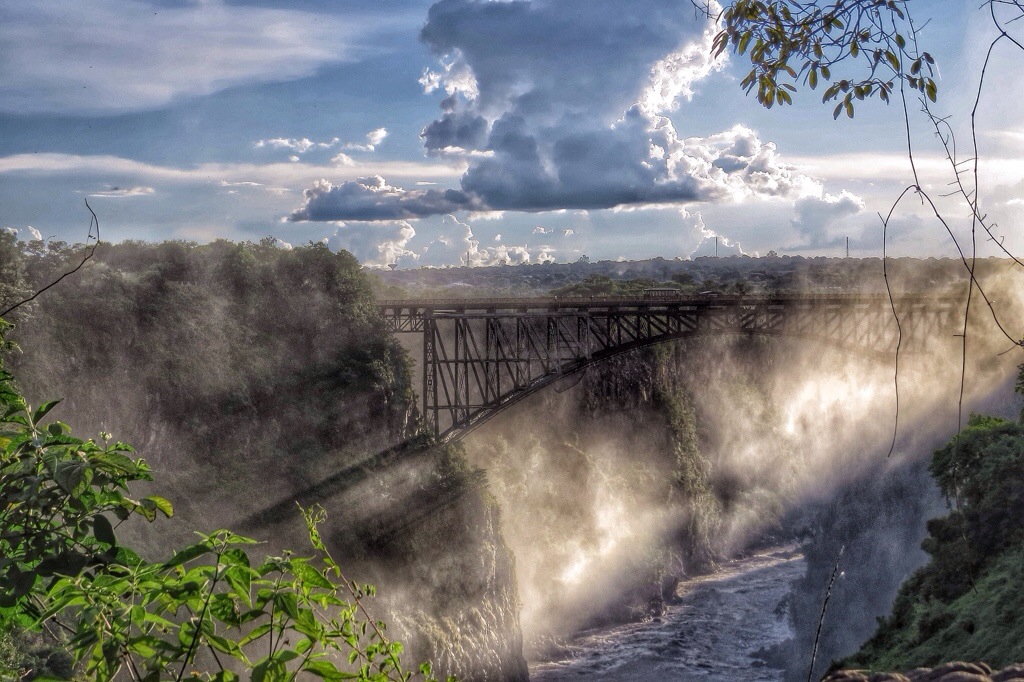 We were so wet that staff we passed and people who had walked up the 'dry' side just laughed at us on the way back.
The chap at the ticket office had let us in for free in the afternoon (normally $10 each) because we were planning to come back after sunset to see The Falls by moonlight ($13). As it turned out, we were so soaked we had to change in the car park / craft market and didn't feel like waiting 3 hours for another drenching.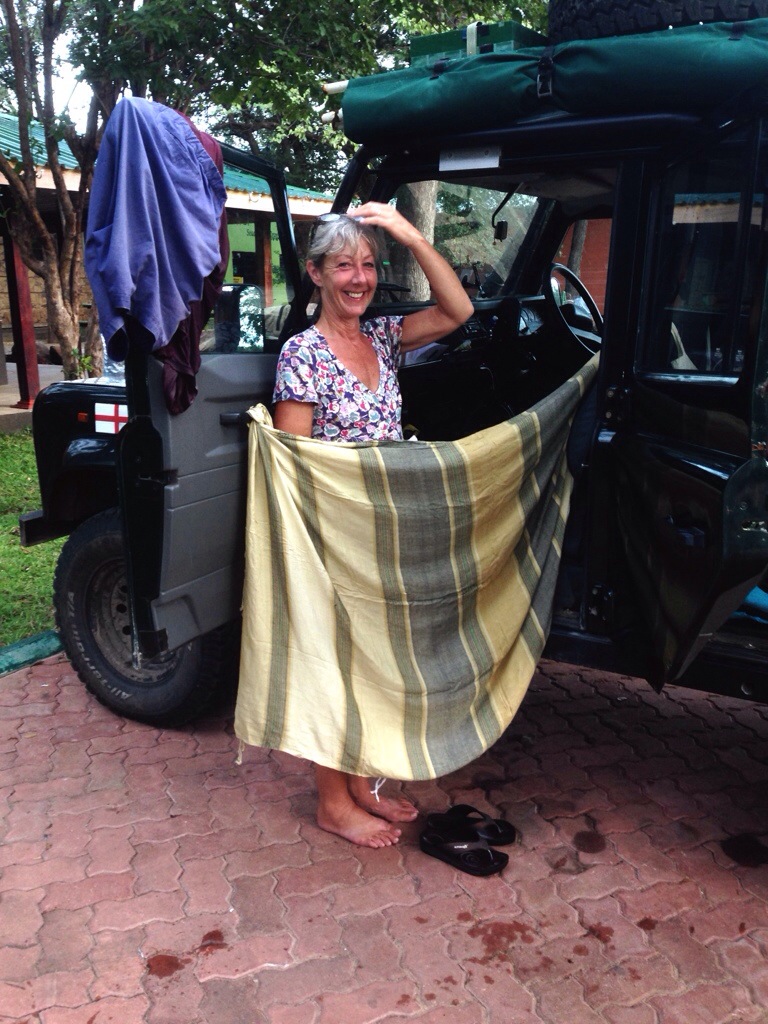 I'm glad we didn't. We would have missed the terrific sunset that we saw from a picnic spot on the river as we drove back to Maramba.
From a picnic spot beside the river, looking back, the spray from The Falls looked like candy-floss.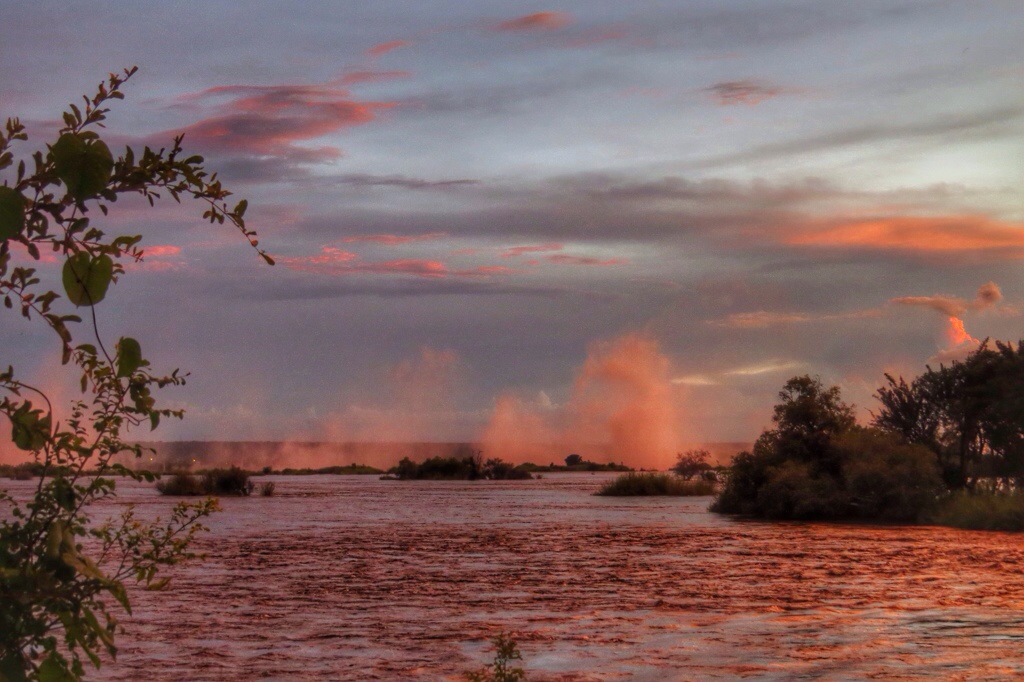 Looking upriver towards Maramba River Lodge, the sunset was even more dramatic.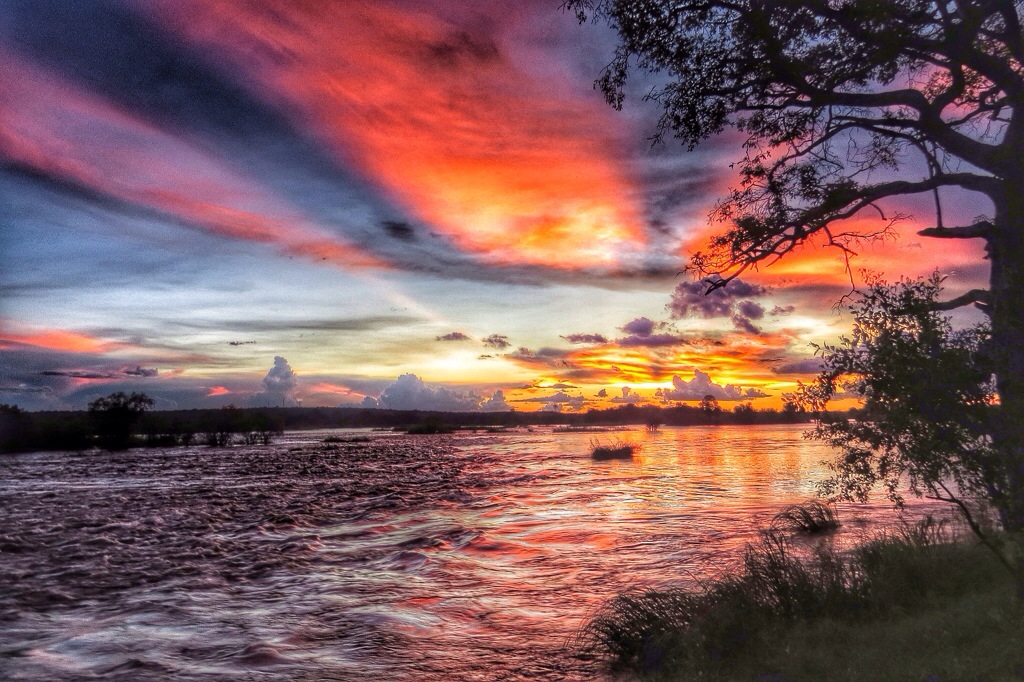 Hard to believe those colours are natural. View from The Penthouse…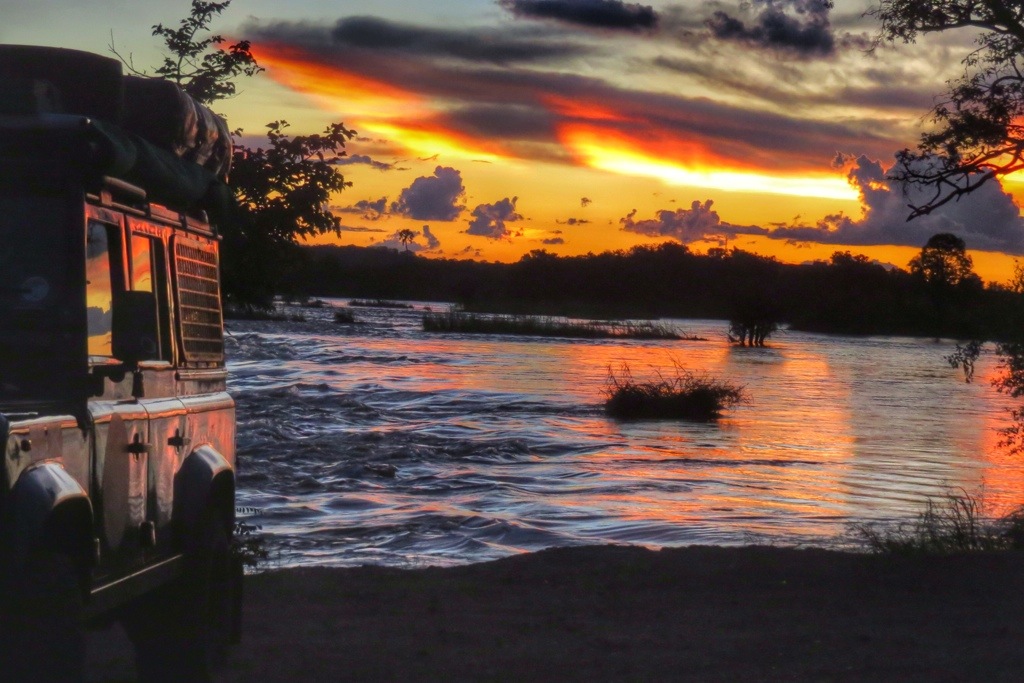 Not the 'biggest' waterfall in the world since in the 'dry' season the water volume drops to 4-10% of what it is just now – so the annual average puts it in the top-3.
However: 1,700m wide; 108m high; 1088 cubic metres of water per second, (ie 38,400 cubic feet / second); 2x the height of Niagara Falls; 2x the width of Horseshoe Falls.
Mosi-oa-Tunya.
Outstanding.