Our last night in Botswana was at Chobe Safari Lodge. The camp there has good shade, friendly staff and is next to the wide Chobe river.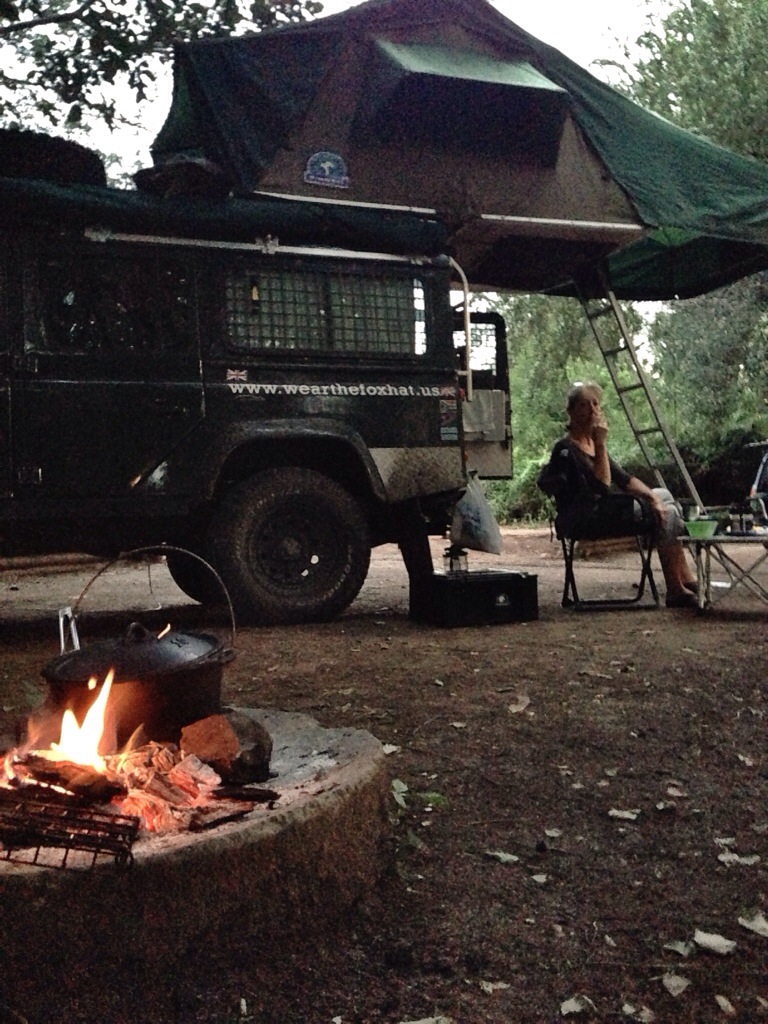 Uneventful, other than the normal Warthogs running through the undergrowth and a Baboon who stole the bag of flour I was making bread with while my back was turned at the campfire only a couple of feet away.
He left a trail as he ran off but I didn't intend to follow him up a tree.
I'd bought a cast iron pot in S Africa, having resisted for ages because I thought they were a bit gimmicky and too heavy.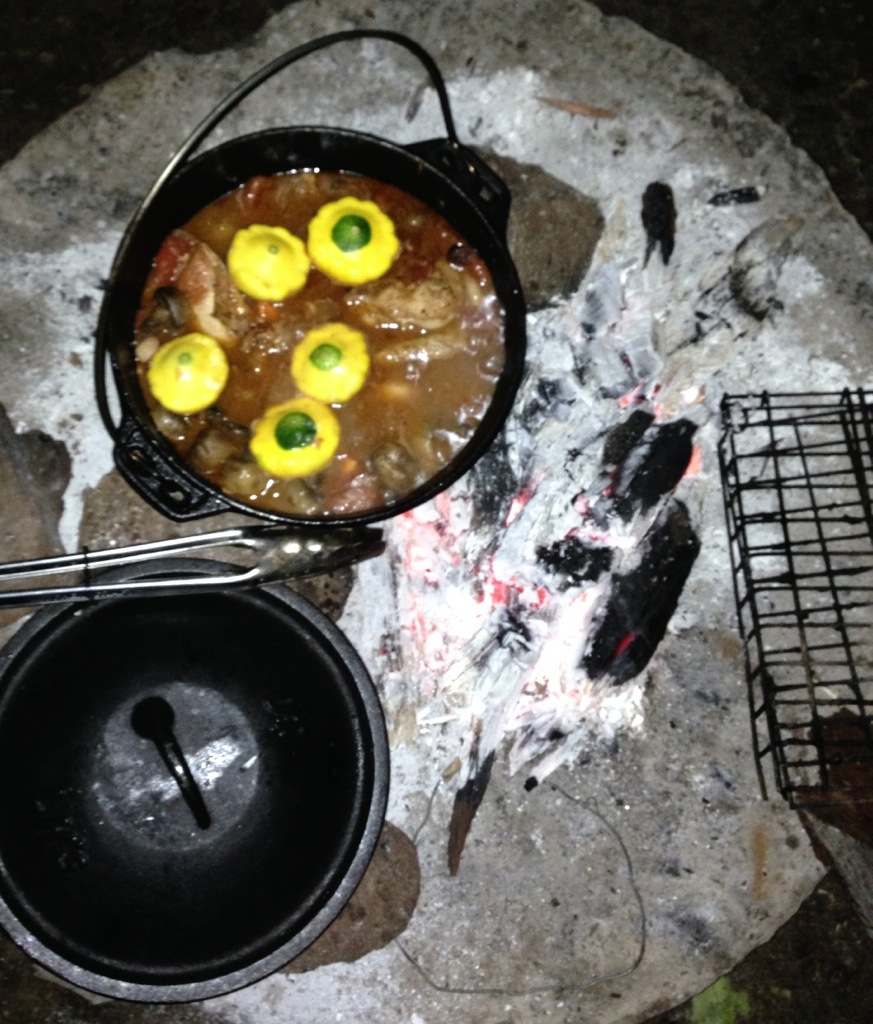 I wish I'd bought one years ago. They really are excellent for slow-cooked stews, bread, soups, frying, etc. By putting coals on the lid it almost becomes a small (inefficient) oven.
Everyone uses wood to Braai (BBQ) throughout Southern Africa. There must be a market for the Fuel Briquettes Helene has been implementing with Amaha we Uganda in Kasese, but Africans love to burn a whole bag (or 2) of wood when camping, so firewood is sold everywhere.
Helene made some 'adjustments' to my IDP, which had expired, and we left mid morning for Kazungula on the Botswana / Zambia border.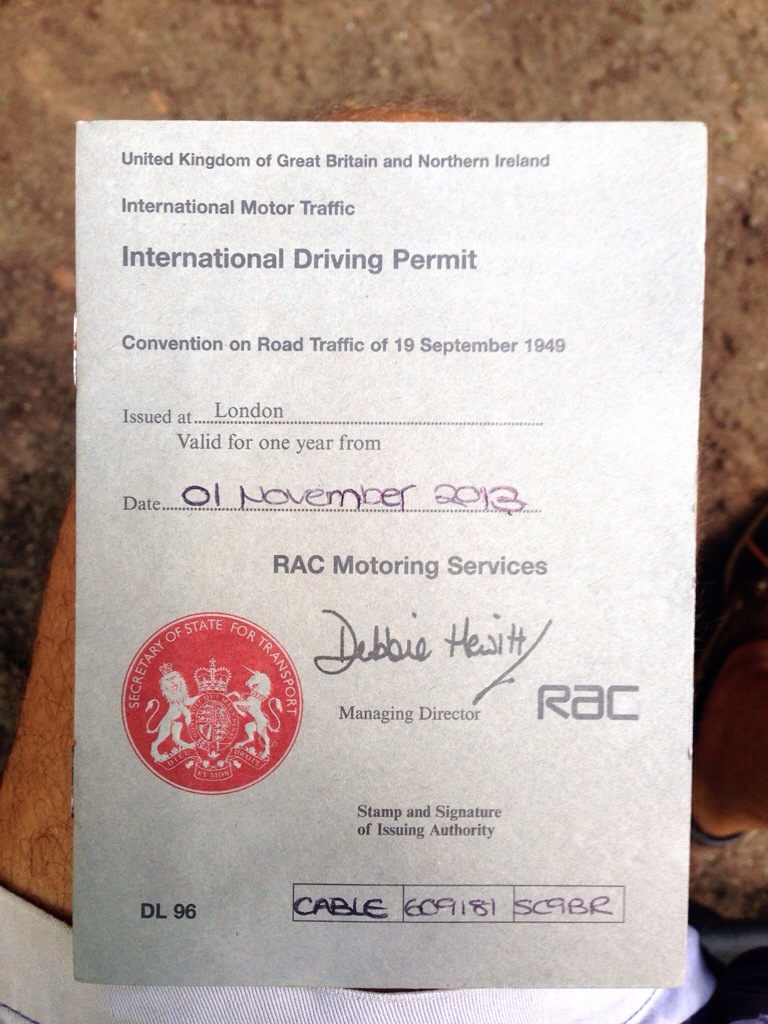 I filled up with fuel at Kasane (P9.88 / litre ie 988 'Raindrops' / $1) as I'd heard it was more expensive in Zambia (about 40% more as it turned out).
The border is almost triangular at the Zambezi River. You can cross between Botswana, Zambia and Zimbabwe within a radius of just 4-5km.
A 2km line of trucks lead up to the Botswana Customs point to exit. We drove to the front – where all was calm and friendly.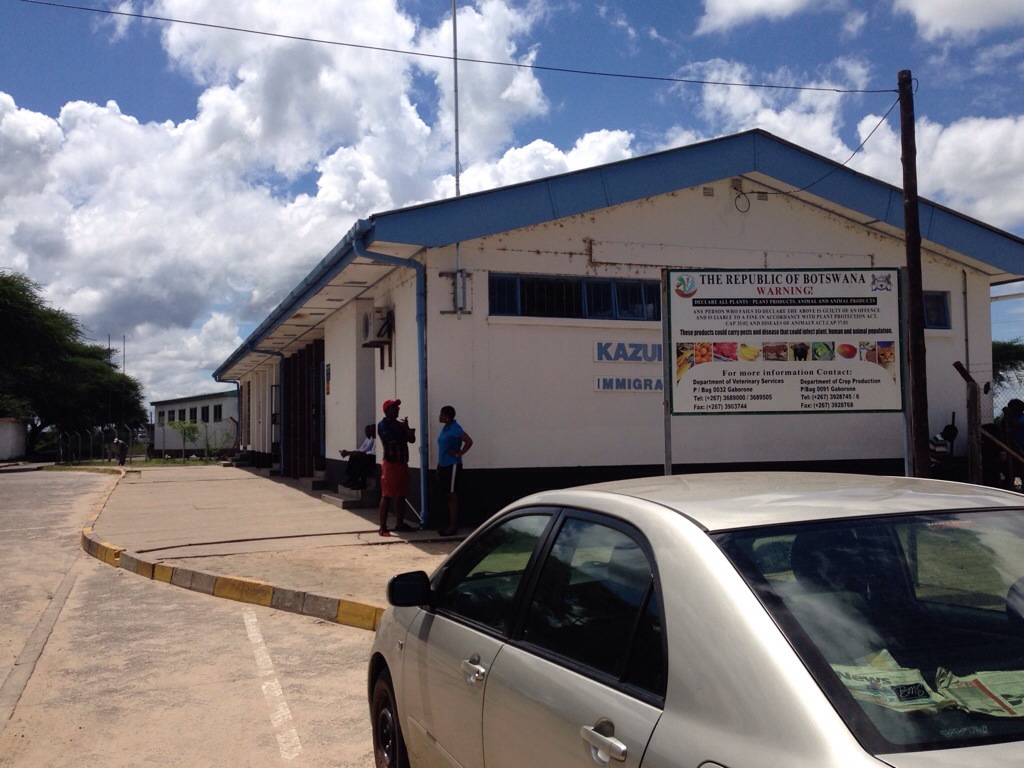 The trucks are not being delayed by Customs but by the small, deisel-powered, single-truck capacity ferry that is needed to cross the Zambezi to the Zambian border post (also called Kazungula).
We arrived at Botswana Immigration at 11.20am, got our visas checked, passports stamped and the Carnet exit-stamped.
By 11.35 we had driven through Botswana Customs and were waiting for the ferry.
Friendly, calm and simple.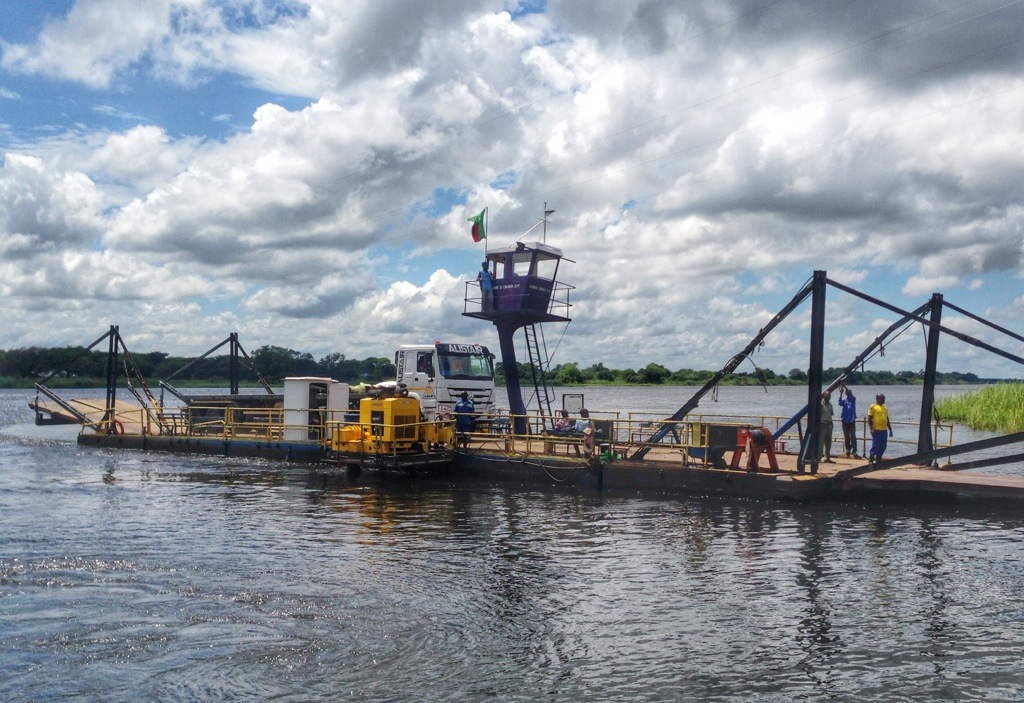 That's when the touts / guides / fixers / money-changers surrounded us. No hassle really, just persistant.
We weren't sure whether or not we needed assistance on the Zambian side or should just muddle through. But, in the end we decided to use Elvin (who looked the most respectable) and agreed a fee of ZAR50 (South African Rand) – about $6.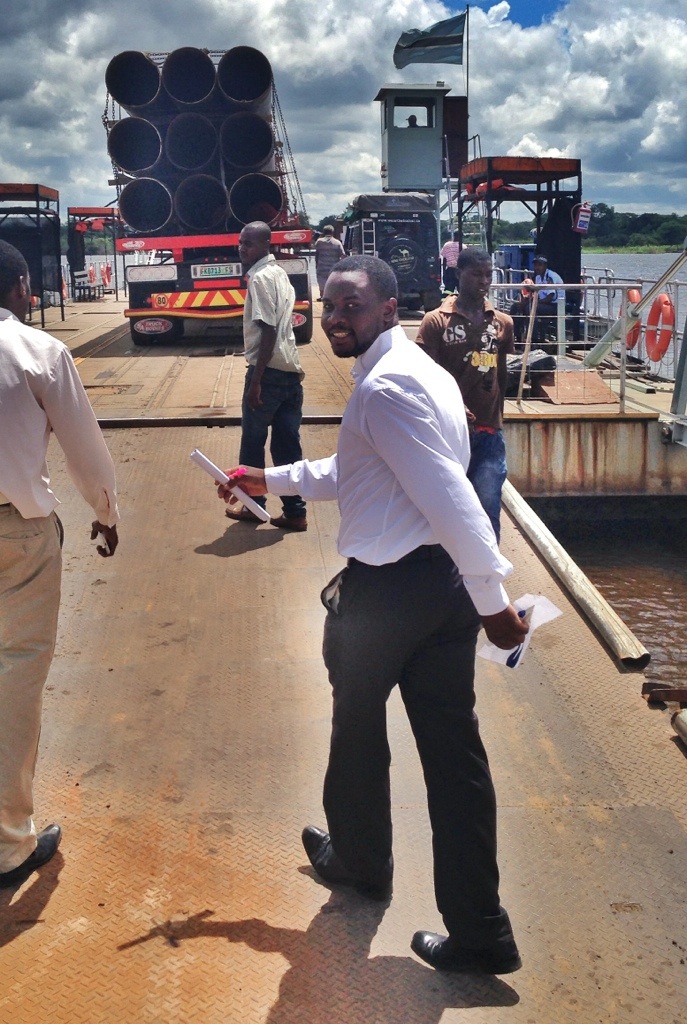 I was sceptical that his fee wouldn't escalate, but we gave it a shot.
There was just room for ourselves and one 2-trailer truck on the ferry, but that still meant there was a queue as the truck driver argued with the ticket clerk about the $ exchange rate. He makes this trip every week: the rate doesn't change; the argument doesn't change; and the fact that he always pays up doesn't change.
The ticket can be paid for in Pula (272), Kwacha (150, Zambian currency) or US$ (30). The figures are fixed. The exchange rate is terrible and Pula is the cheapest way to do it.
The ticket is bought on the 'boat'. Forms are filled in with car registration etc.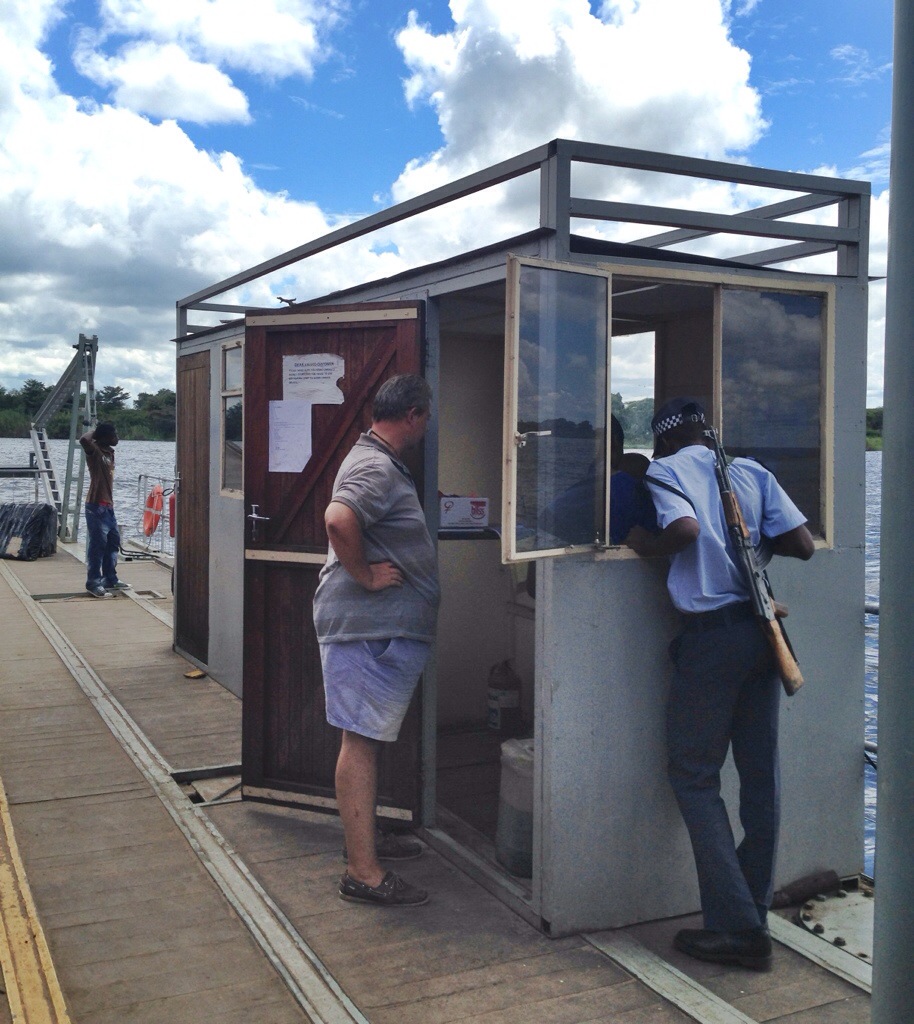 After that, the ticket is inspected by the Police guard (who stood next to me while I bought it), then by the assistant clerk (who stood next to the car – 2 metres away from the ticket booth and watched me buy it).
Finally a 4th clerk (who couldn't read my vehicle registration on the ticket) asked me to confirm my registration number. He didn't understand my English and refused to look at the number plate at the front on the vehicle (which he was leaning on the whole time). Oh well, it keeps the unemployment figures down I guess.
Getting off the ferry on the Zambian side, things are more chaotic.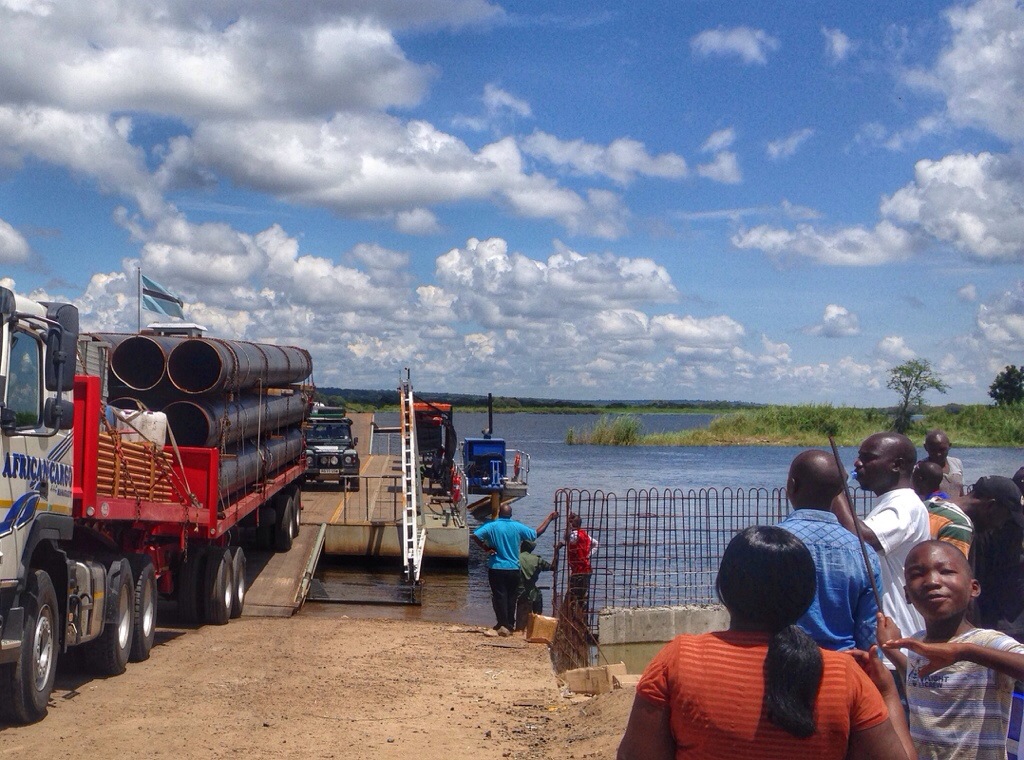 The car was immediately mobbed: guys and teenagers wanting to change money; guard the car; sell kerbside insurance; be our 'fixer'; sell us diamonds; wash the car; get fuel for us; etc.
'Our' fixer Elvin kept most of them at bay and guided us through the different government offices.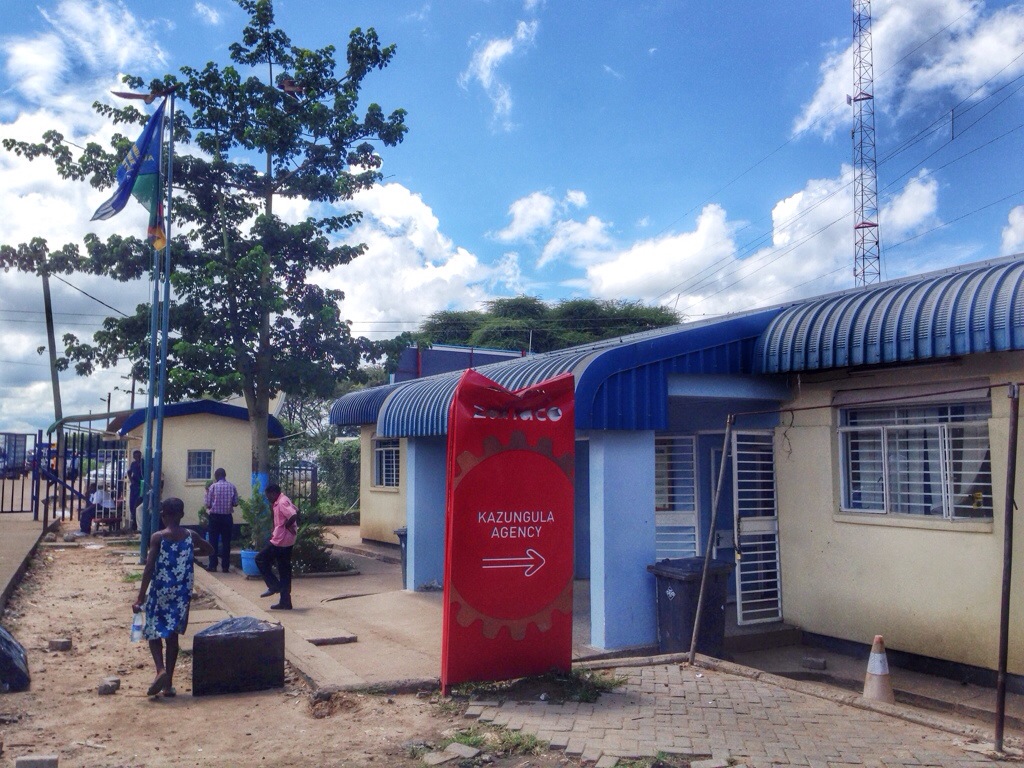 Top Tip: Take US$ and local currency. Certain fees must be paid in US$.
Ferry Ticket: $30
Immigration Visas: $100 ($50 each – single entry). Fairly quick. Must be US$
Customs Office: Carnet stamped (free)
Road Toll (Tax): $20 (long queues). Must be US$
Car Insurance: 390 Kwacha (approx $78). Long queues.
Carbon Tax: 150 Kwacha (approx $30). Based on engine size.
Police Port Fee: 40 Kwacha (approx $8)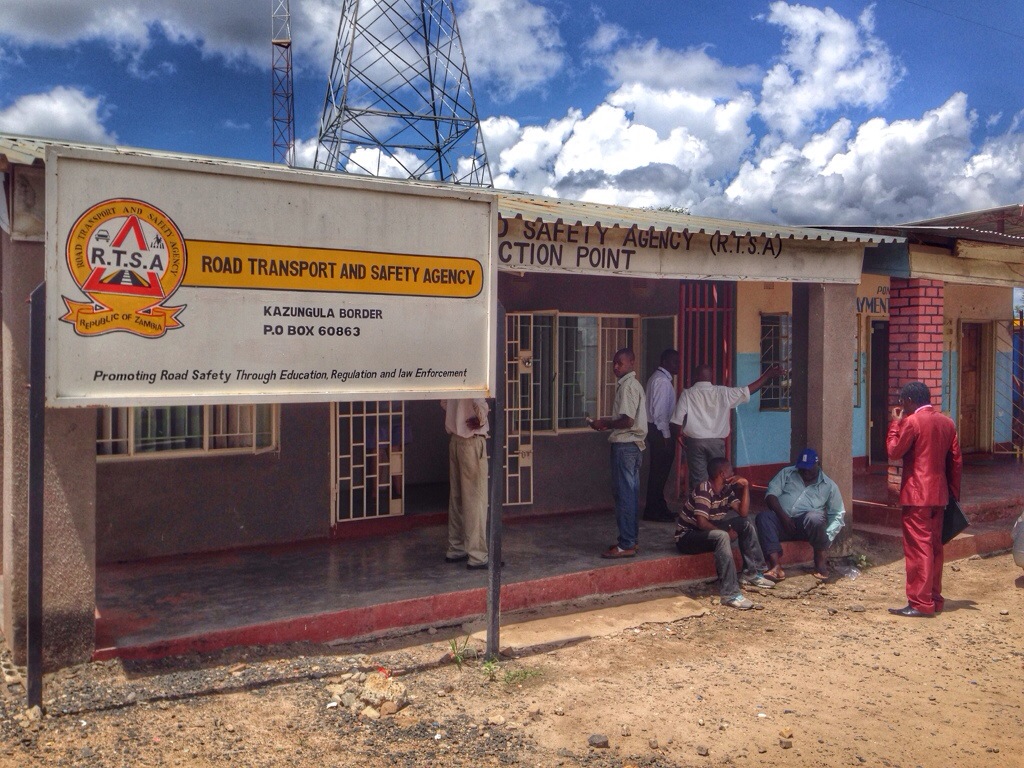 Total cost: Approx US$266 (if all paid in US$)
Top Tip: There are no ATMs at the border. We bought Kwacha for the non-US$ fees before entering Zambia as the rate is >20% better. Total cost if using Kwacha where possible would be reduced to approx US$220.
It was a bit disconcerting when Elvin disappeared a couple of times with our Carnet and Vehicle Registration papers for the Insurance and Carbon Tax (while I queued for the Road Toll) but it saved us about an hour.
Timing:
10 minutes Botswana side (friendly & organised)
10 minutes on ferry
1hr 40 minutes Zambian side (friendly but long queues and much pushier)
Total: exactly 2 hours – pretty good.
We could have done it ourselves but Elvin saved us a lot of running around and queueing – especially in that heat.
Elvin's fee stayed at $7. I gave him $10.
Top Tip: Get receipts for everything. Don't hand over cash for anything the fixer pays for until you get them and dont pay his fee till you get ALL your documents in your hand.
When we got back to the car, 'reflective' stickers had been put on the front and rear (compulsory in Zambia and a great excuse for police fines at roadblocks if you don't have them).
The guys who put them on demanded $30. I told them to take them off (they'd just used coloured sticky tape) and eventually paid them 20Pula ($1.50) to get lost.
We later saw that all the local cars also seem to just use coloured sticky tape – so maybe that will work.
Over a dozen clamouring teenagers all claimed they'd acted as security and watched the car for us. After 10 minutes of fairly pushy arguing I eventually paid one of them $1 and we left them to argue amongst themselves who had 'earned' it.
As we left the border, the line of trucks on the Zambian side waiting for the small ferry was over 5km long.
I had spoken to one of the drivers about the length of the wait. He said it was okay at this quiet time. No more than 4-5 days. At peak times it can be up to 2 weeks. There are no facilities for the them (showers etc) and they spend their time cooking at the roadside, boozing and selling their diesel to pay for hookers.
We drove 70km to Livingstone (mostly poor, potholed tar road) and had chicken pittas & wings at a small cafe (pretty good, 38 Kwacha / $5). While we were in the cafe a street-kid with a bucket cleaned our car. I didn't ask him too, but it certainly needed it as it was still covered in the Chobe mud from when we had been stuck.
I asked a local couple in the cafe what I should pay him. They thought 5Kwacha ($1) was sufficient. He asked for $20 because he said he was starving. I gave him $2, a handful of Pula I had left from Botswana, a couple of apples and a bag of raisins.
Now to find somewhere to camp.