A lineup of some of the best looking overland vehicles in Africa… and our donkey.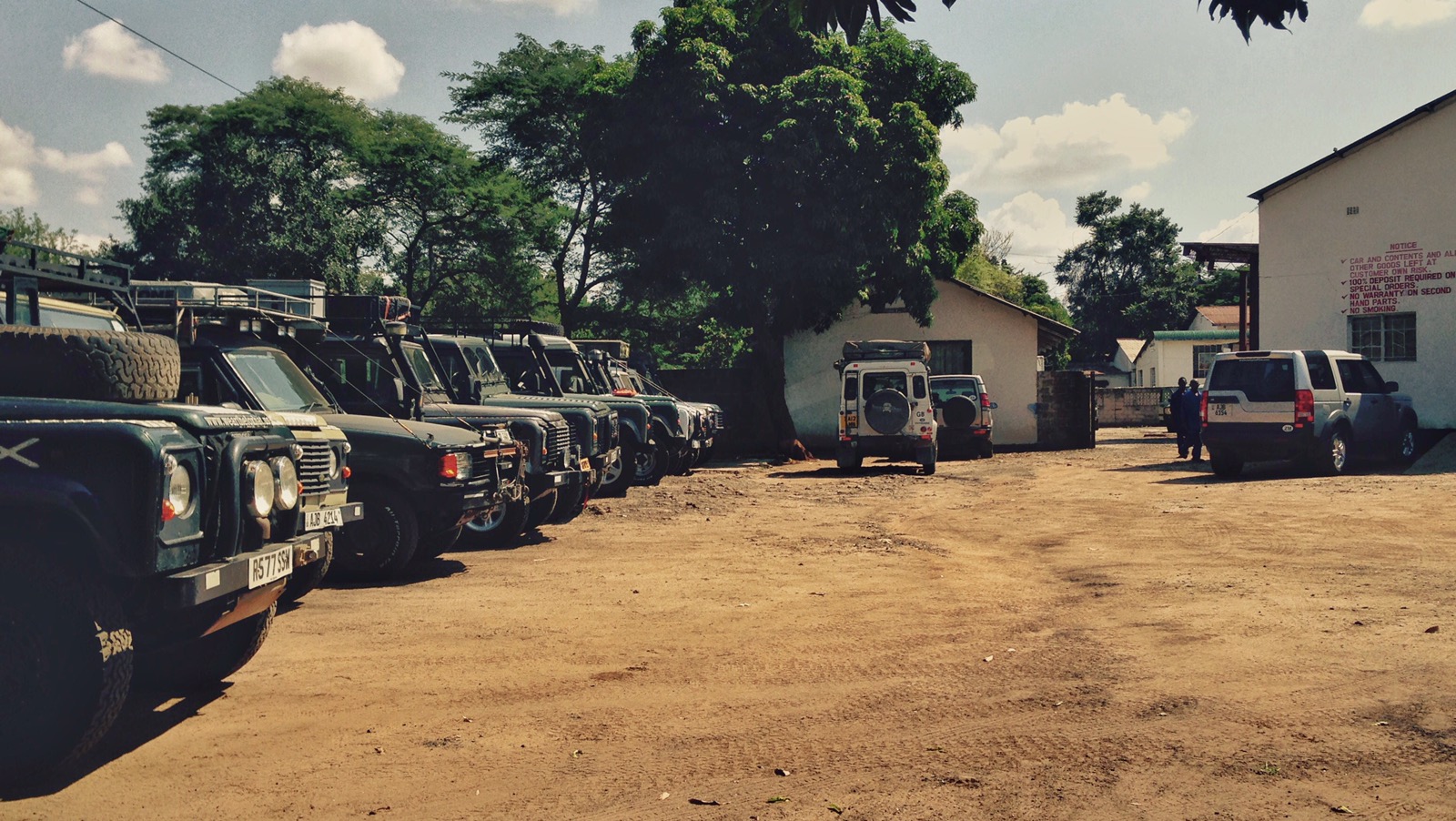 We've temporarily left our (t)rusty steed with Nick Selby of Foley's Africa in Livingstone.
It's amazing how much stuff we had crammed into nooks and crannies; tucked under seats; wedged into cargo nets; and shoe-horned into storage boxes – and that was after we had given away at least a cubic metre of the least essential items.
It took us 2 days to empty the car, load everything into some dustbins we bought for storage at Nick's workshop and get it tucked away for a few months under lock and key.
This is just half of it…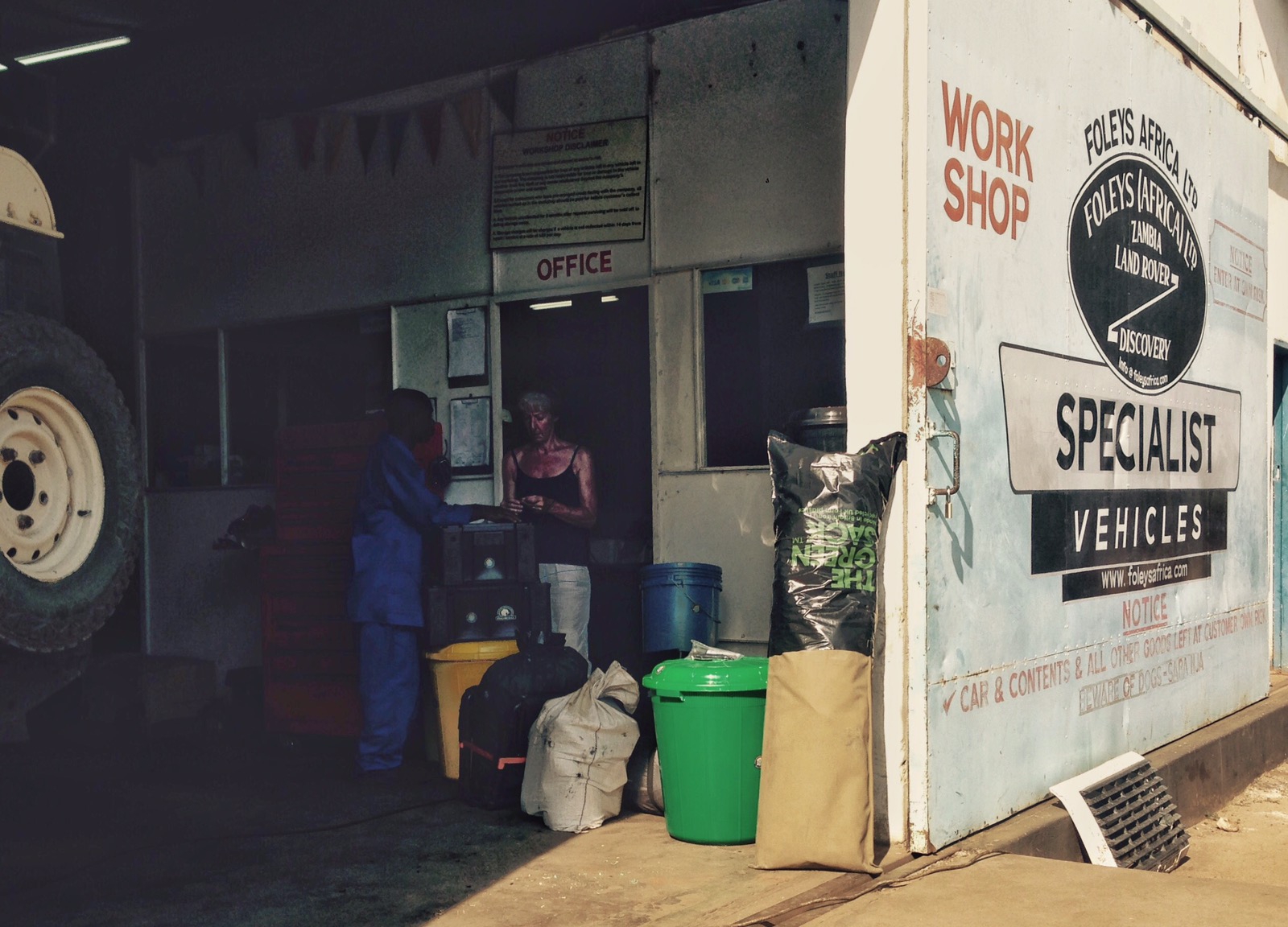 Four hours after we had dropped off all of our worldly possessions for the last 3 years, we were on a flight back to the UK via Johannesburg.
It was the first time we'd flown with South African Airways and the 2 hour hop from Livingstone was outstanding. Like being in a limo: almost unlimited legroom, great food, comfortable seats, a sparklingly clean, modern plane. "Wow, we've got to this more often" I said to Helene.
I should have kept my big mouth shut.
The connecting overnight flight from Jo'burg to London with South African was something Peter Kay could have made a whole TV series from.
The seats must surely have been Victorian deckchairs salvaged from Blackpool beach. I was wedged in tighter than a leg of lamb in a shoplifter's pocket. There was so little legroom that even Helene spent the night with her knees round her ears (easy Liz, say nothing!).
The food looked like it had been eaten before it was served to us and the inflight entertainment system's latest releases included Mary Poppins, Superman and The Godfather (mind you, you can't watch The Godfather too many times I guess).
I can't wait for the return trip. I may have to buy myself a sack of polystyrene packaging beads, a packet of garibaldi biscuits, make a thermos of tea, then build myself a crate and see if I can travel in the hold.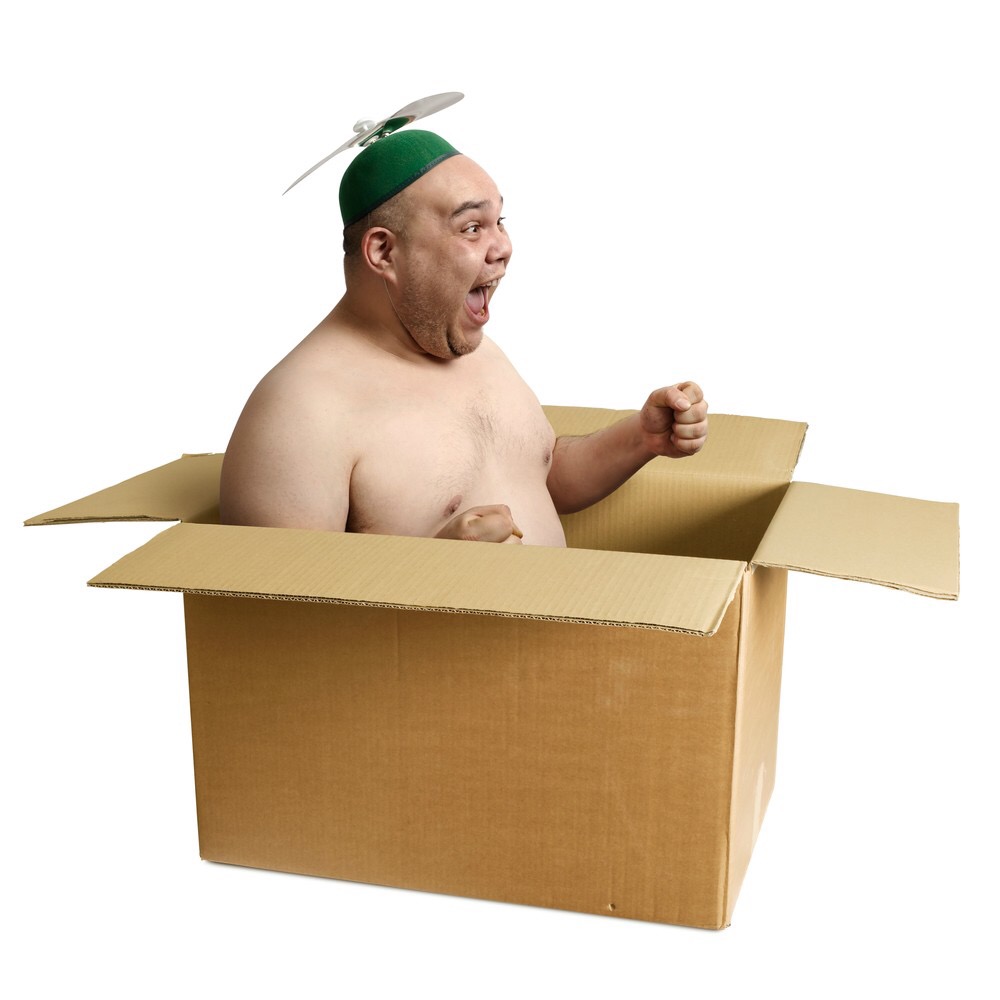 So, what's all this got to do with Folly, you ask?
Folly: noun
(plural) –follies
Pronunciation: fol.i (British) or faa.li (USA)
Meaning:
1. The state or quality of being foolish or rash
2. A popular name for any costly structure considered to have shown folly in the builder
3. So extravagant that it transcends its originally intended use
Derivation: Ancient French (c13th Century) , 'folie' meaning silliness or madness (from 'fou' meaning mad). Modern meaning, 'delight' or 'favourite abode'
Although I didn't know as much 5 years ago when Nene Overland sold us this particular dog of a car, having now pretty much uncovered everything they so painstakingly covered up before they sold it, I think our car qualifies pretty well as a 'folly' on all counts.
Don't get me wrong, we've grown very attached to Trigger's Broom (more attached than most of the body was to the chassis, or the paint was to the bodyfiller beneath it at any rate).
For that reason, we really don't want to be parted from it and would hate to have to give up on it. So, we decided to ask Nick Selby of Foley's Africa to give it a proper once-over for us while we're temporarily back in the UK.
"Apply a bit of thorough spit and polish, and give it a couple of tweeks here and there…that ought to do it" I said to Nick "I know Nene really covered up a lot of crap before we bought it, so maybe see if you could strip it back to the good bits and then fix it up from there?"
I knew that many of the panels were a bit rusty. The doors were falling apart…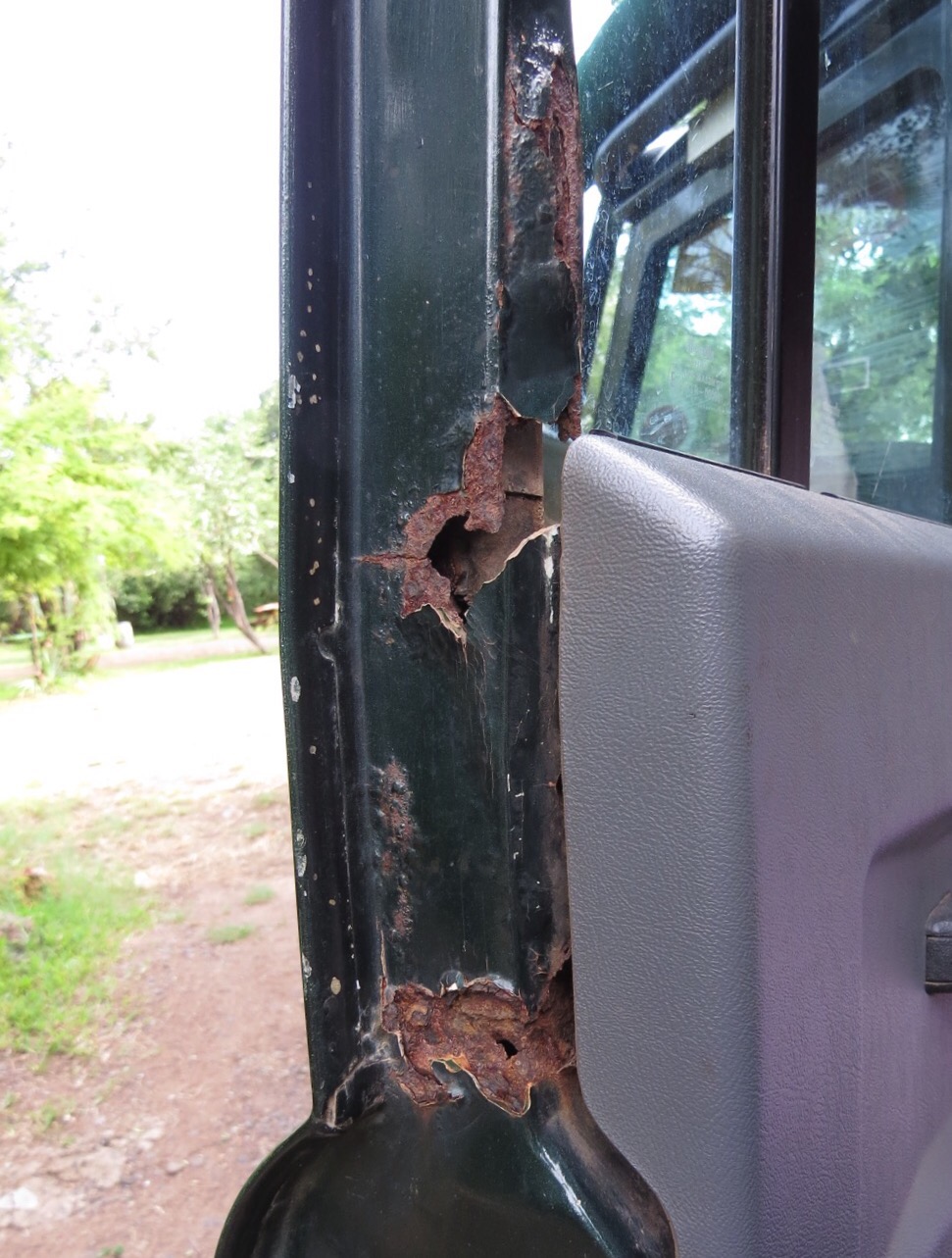 …the B-posts had buckled, after the paint holding the rust together finally decided that it wasn't really it's job to try and hold the car in one piece structurally…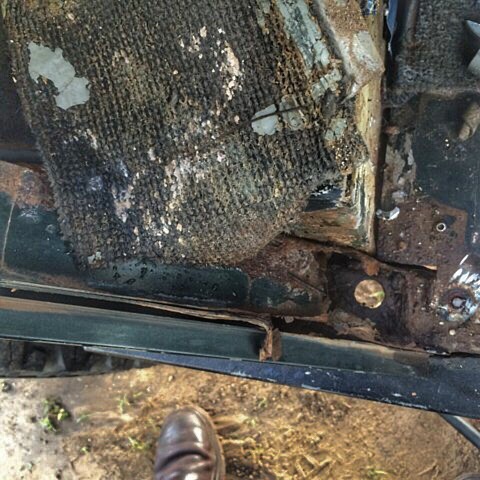 …and the structural bulkhead (fire barrier between the engine bay and the passenger compartment) was as fragile a Gordon Ramsey Brandy Snap…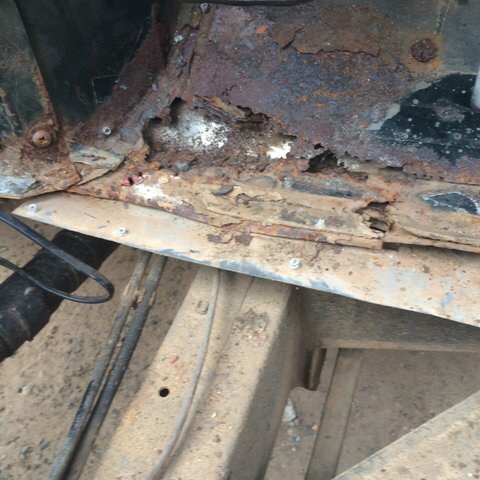 Well, the first thing to go was those rotten doors…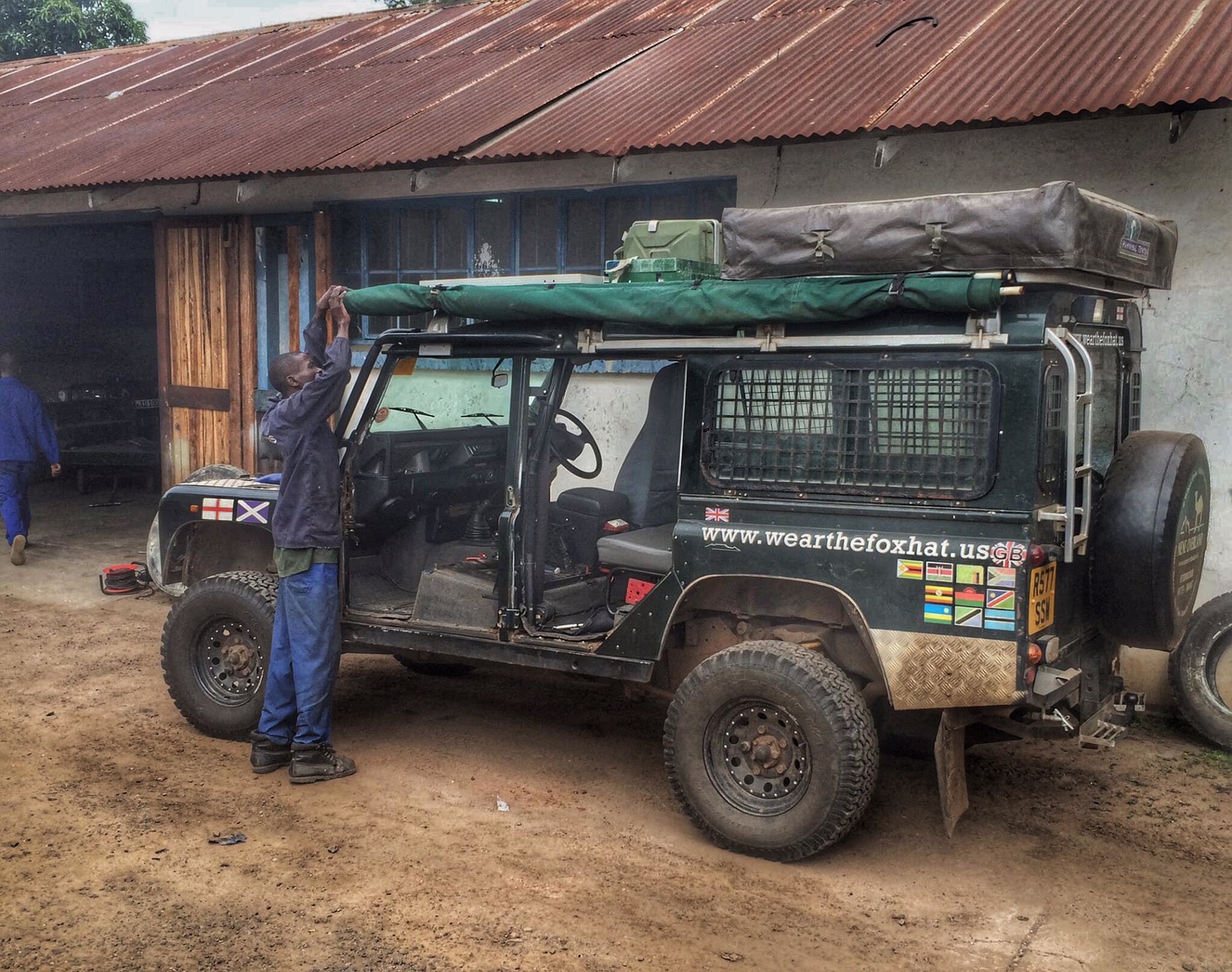 Then, one or two of the most rotten body panels…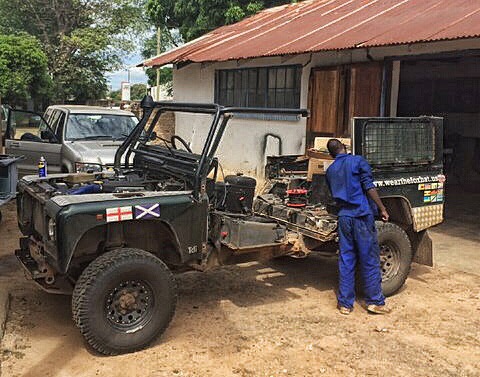 "It's a real wind-in-the-hair Safari drive now Scott" was the text Nick sent us with this picture.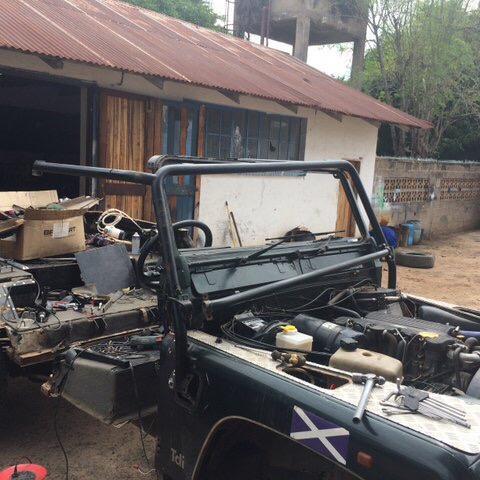 Finally he managed to get rid of the worst body panels, and get it down to just the good stuff…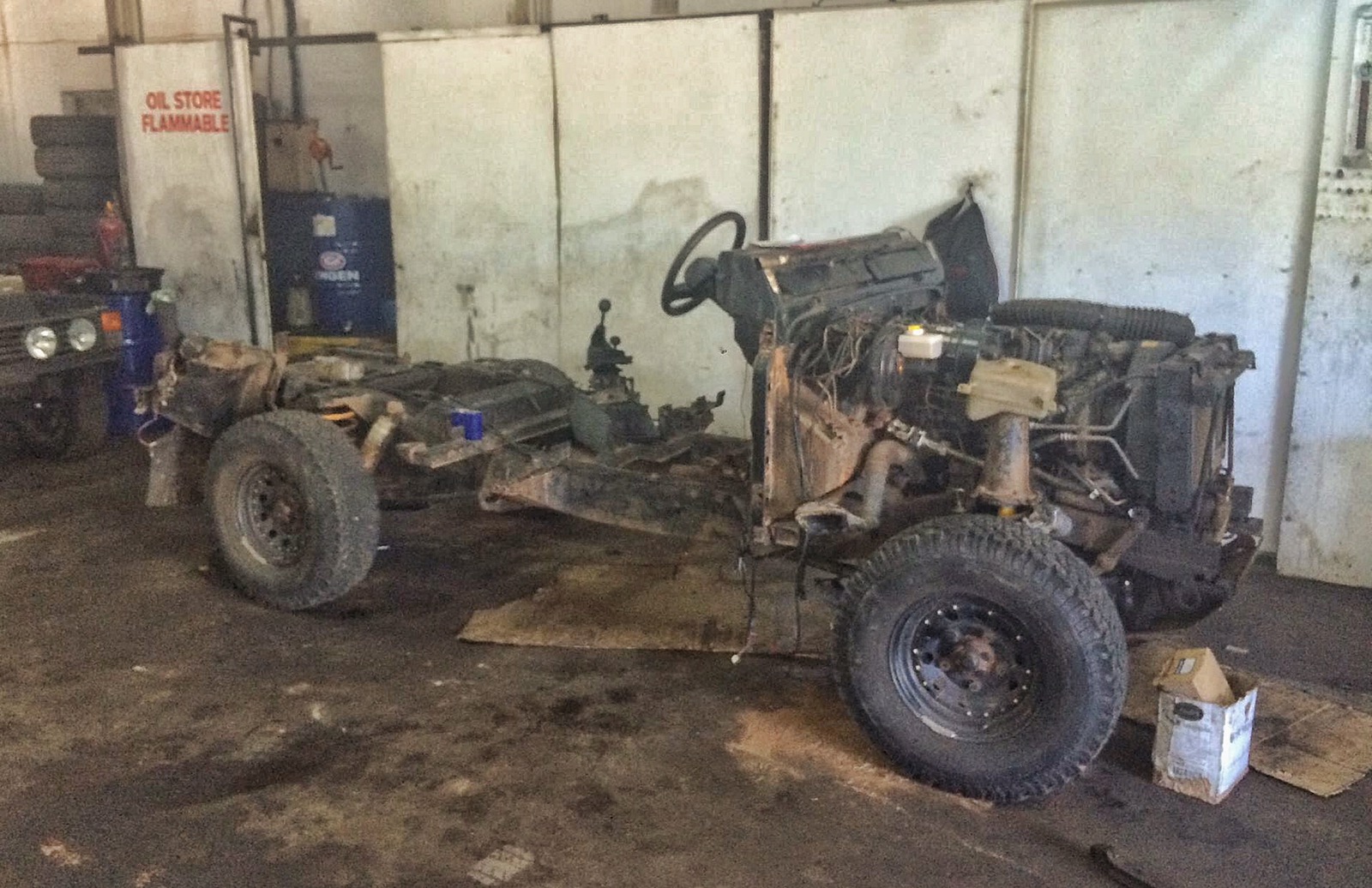 Actually, that's not wholly accurate. The only remaining panel in the above picture is the structural bulkhead and that's the rustiest (Brandy-snap) panel of the lot. Once the steering is removed and the engine separated, Nick will be able to get rid of that panel as well and we will (hopefully) have got Trigger's Broom down to the bits we can actually save.
It may have taken us nearly 5 years, but we're finally graduating from folly to Foley's.