We limped the car 30km from Ilariak camp into Narok town where Moses had found us a small workshop that could look at the chassis and the brakes.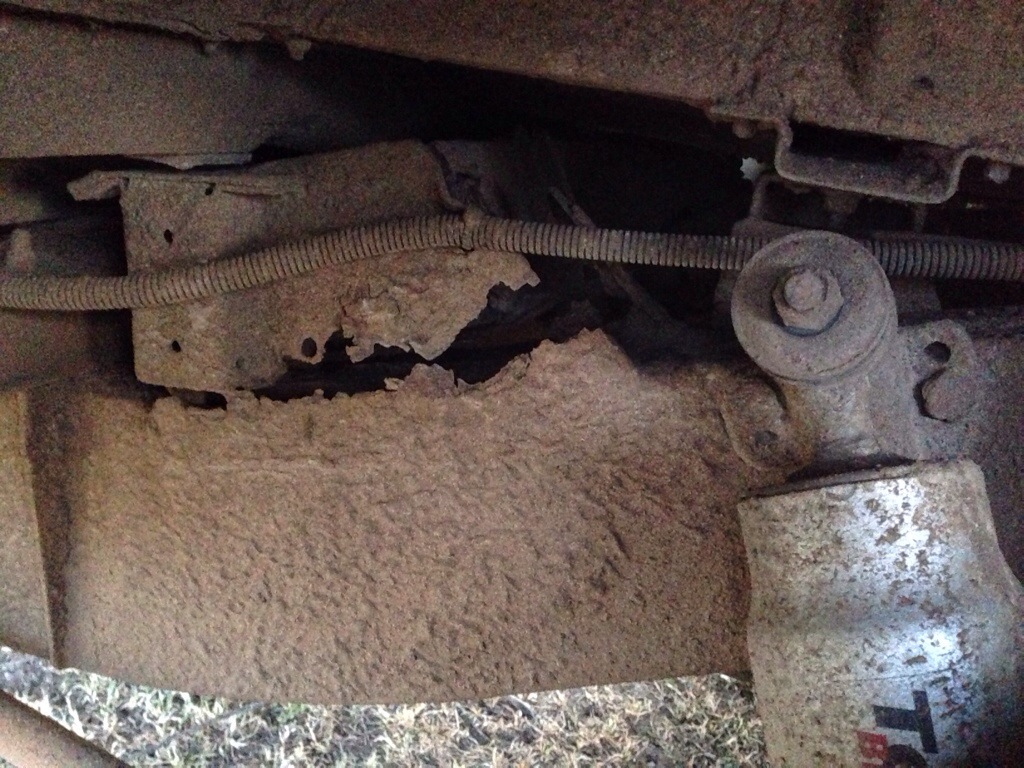 It was pretty basic but the owner / mechanic Paulo seemed confident he could deal with it and had enough Land Rovers around to give us some confidence that he knew his way round Defenders.
He would need the car overnight and I was a bit concerned about security (everything we have is in the vehicle and there's nowhere to unload it to).
"Don't worry" Paulo said in pigeon English, "I have security".
He took us to an old, abandoned Series 1 Land Rover where his security guard sleeps. "He will be here over night" he explained "He has a bow – and many arrows" he added, proudly showing us the arrows.
We checked into The Park Villa hotel, one of the best in town. Rooms were 20,000KES per night ($20) and I would say they weren't worth much more than that. Dinner turned out to be $30 for 2 people, and unfortunately I would say it was only worth a fraction of that!
The following day we ate in the public canteen at the bus station up the road. Simple fare, chaotic atmosphere, cheap as chips, much more fun.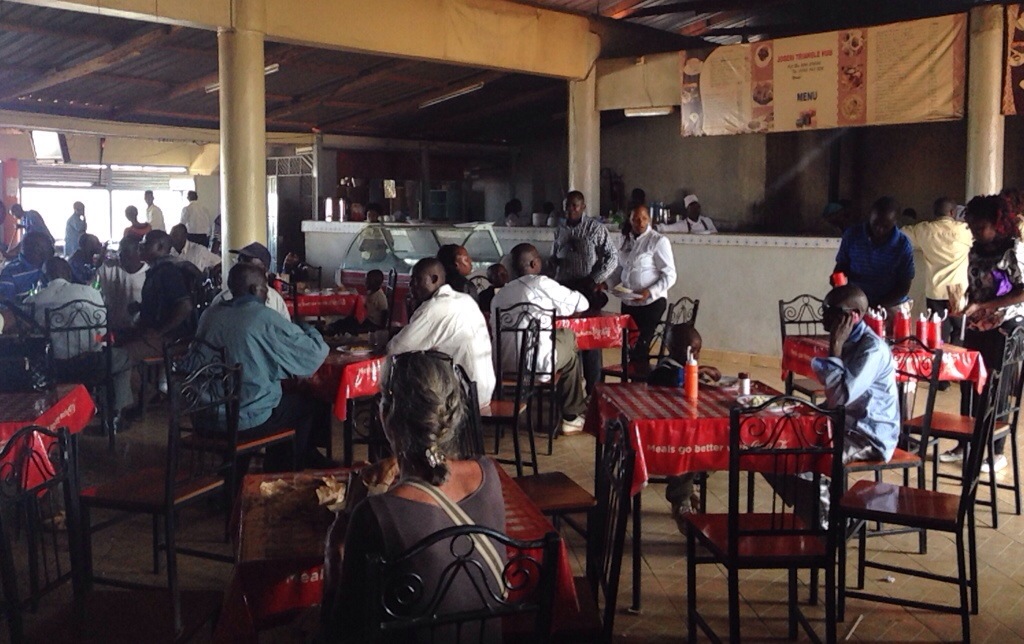 By mid afternoon, Paulo had finished his welding to the chassis and managed to straighten the nipple on the rear brakes so that they at least worked to some extent.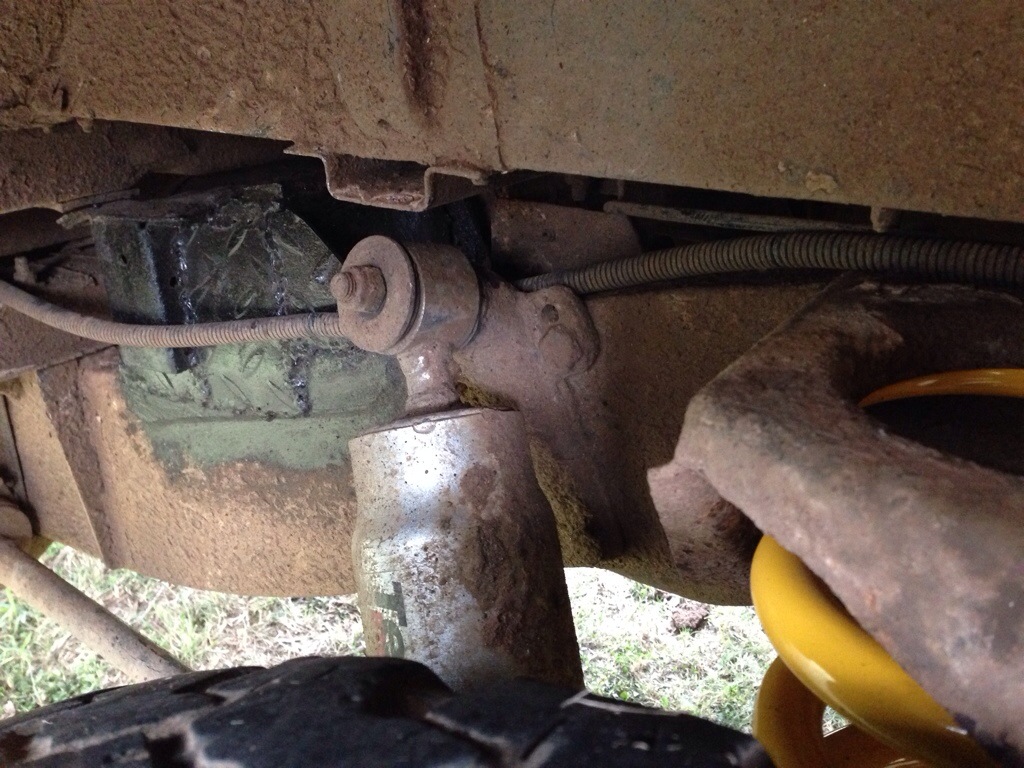 We had to say some hurried goodbyes, but still had just enough time before dark to get to Nairobi (rather than stay another night at The Park Villa). We paid Paulo $50 for his work (a bargain) and gave Moses a sizeable donation towards his son's school fees as a thank you. He hadn't asked for a $ at any time, other than for the taxi fares to & fro, and for accommodation overnight in Narok. Once again, we had been pulled out of a hole by the generosity of a stranger.
Paulo (at the workshop) in his overalls, Moses in the green shirt…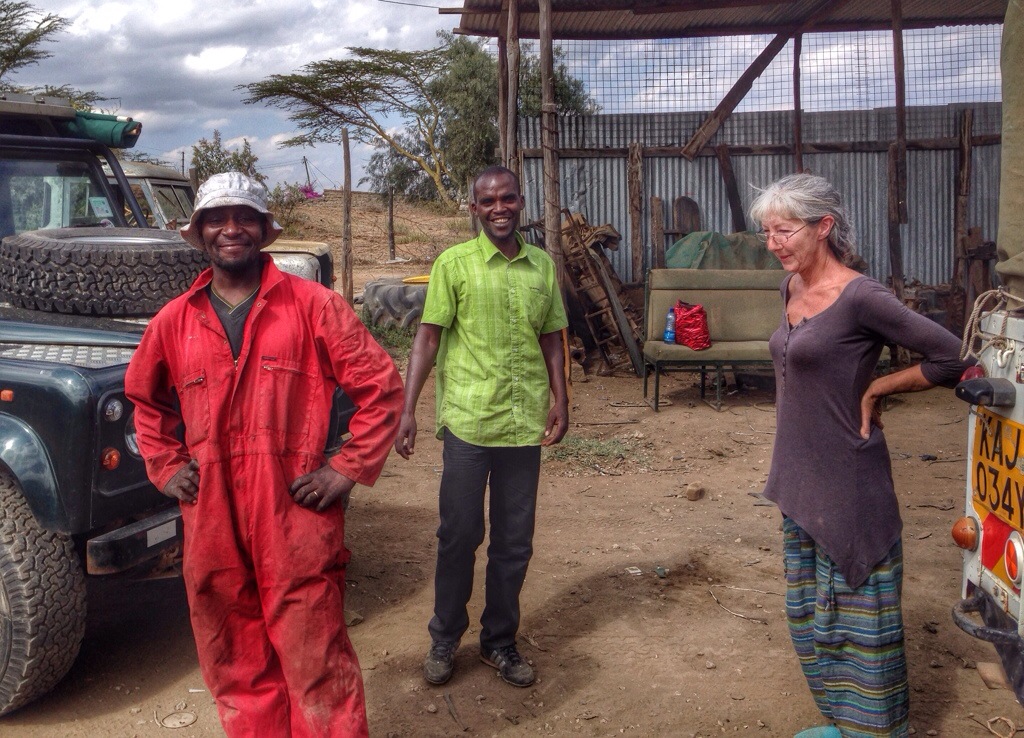 We made it to Karibuni Karen Camp in the Karen district of Nairobi just before dark. Given the recent bombings in Mombassa and Nairobi we were a little nervous about the area but security at the camp seemed good and we felt that we had to find a Land Rover specialist to check over the bush-repairs we'd had done recently.
It was a really nice surprise to bump into Solveig & Ian at camp.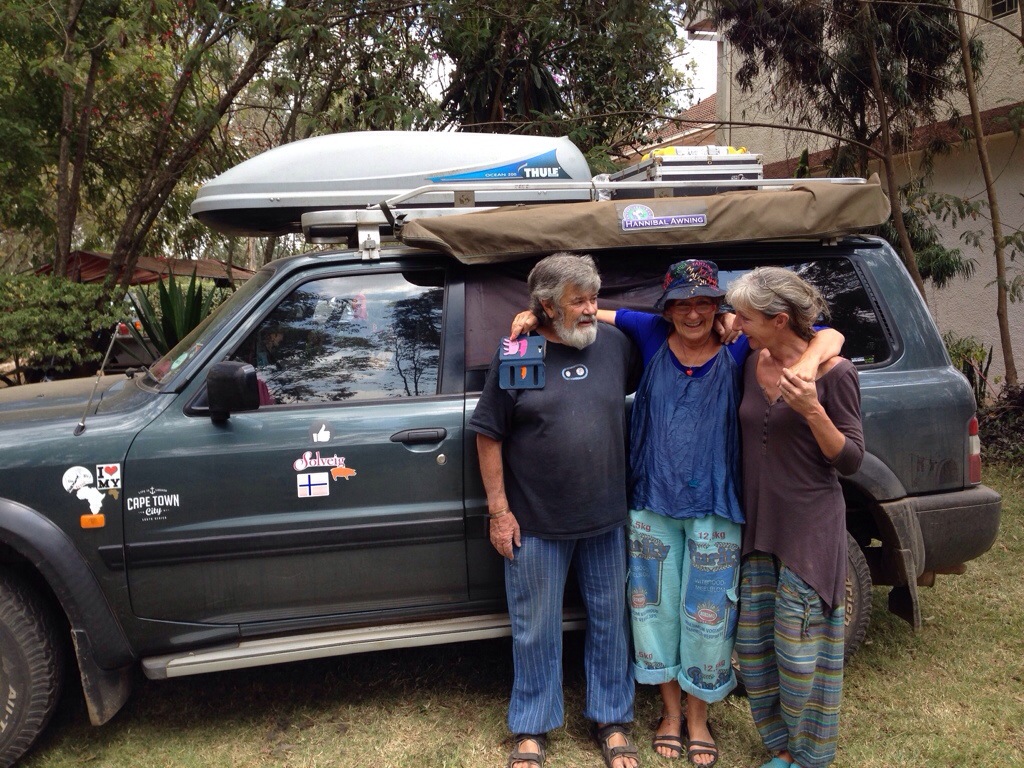 We had met them at Peponi in Tanzania, on their drive from their home in Cape Town to Norway. They're great company and it would have been good to spend more time with them, but they've also been having some car / document troubles and now can't find a way through or round Egypt. Unfortunately, exasperated, they left the next morning to drive back to Cape Town, having called off the rest of their trip.
A number of locals, tour drivers and people at camp had recommended a local workshop as 4×4 specialists. We took the car the next day to Jas Cars, just up the road, and immediately felt comfortable that they would be able to thoroughly check over the temporary works.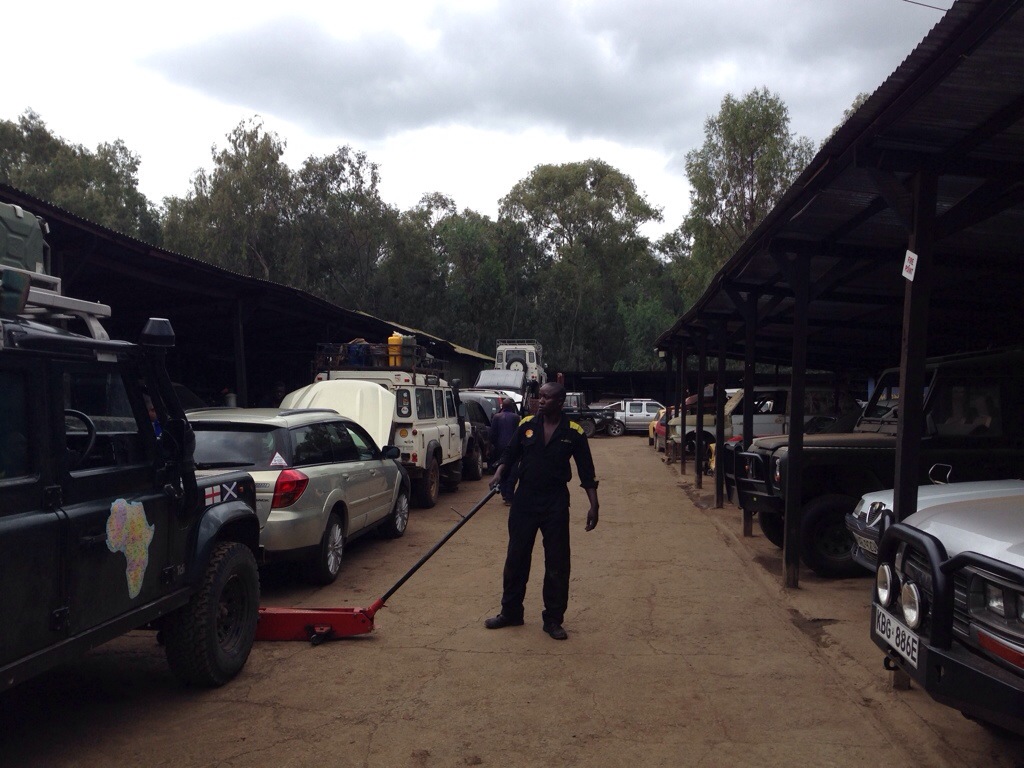 A huge selection of customers' 4x4s and at least a dozen vintage Alfa's, Porsches, Mercedes and Jags that Jessie owns and restores for himself.
The following evening, Jaz returned the car to us. He pronounced the chasis weld as a pretty thorough job, sorted out the electrical problems we had since Paulo disconnected a bunch of things and attended to the list we'd given him.
…2x new heavy-duty rear springs (broken when the chassis collapsed) $200
…rewiring where the electrics were messed up $30
…drill-out and re-tap the sheared axel hub bolts, grease under the car, fix the reversing light, new rear light assembly, new oil filler cap & all labour: $85.
A good job. A good price. A good excuse to buy Jaz a beer at Karen Camp.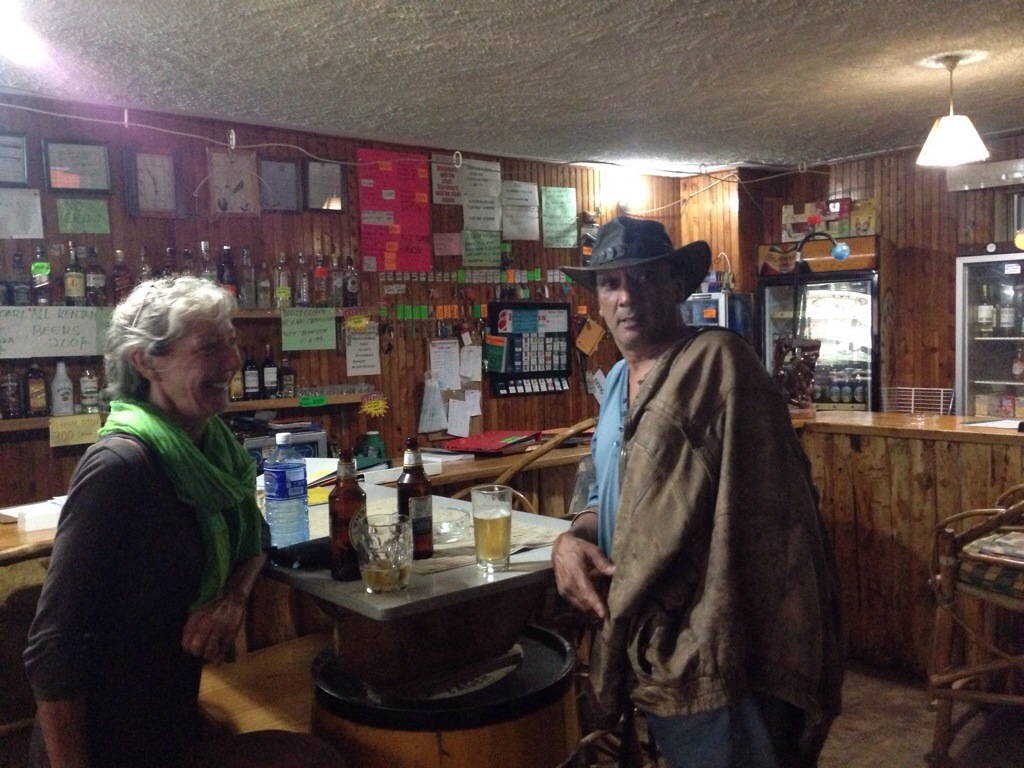 We had planned to leave Nairobi the following morning and head west towards Uganda. But, as so often on this trip, our plans changed. We met Laura and Moses (a different Moses) a British / Kenyan couple who own 'Explorers Camp' on the edge of the Maasai Mara.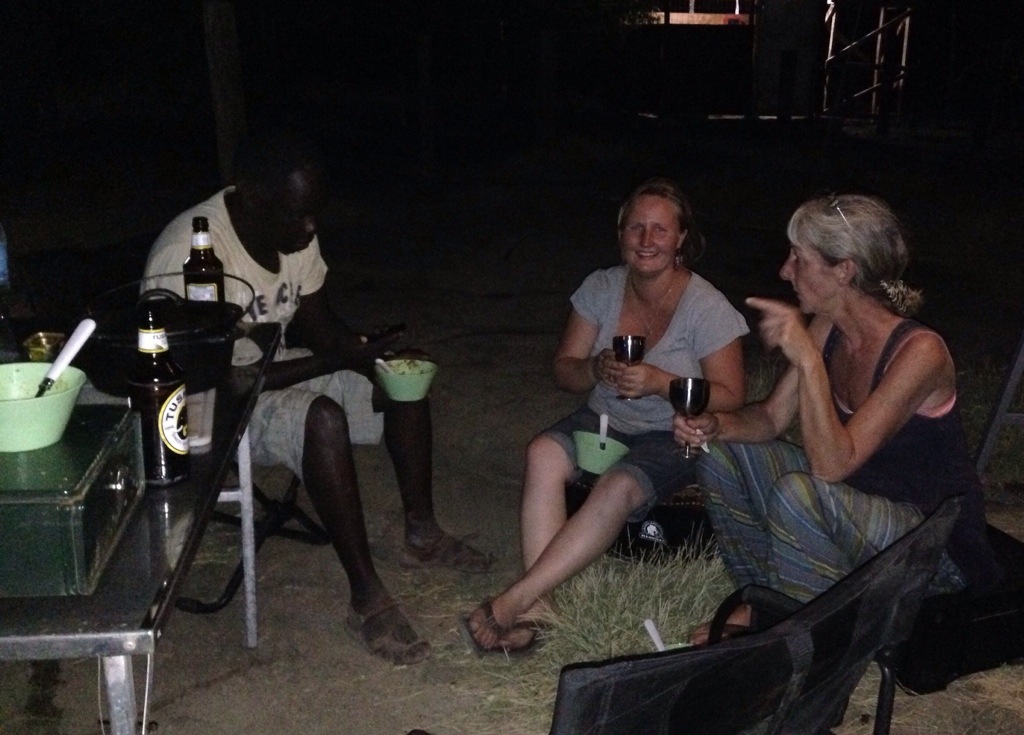 They were in Karen to buy a Safari vehicle for the camp and their friends Francis & Tracy (who own OTA, a bespoke Safari-tour company) had offered them a free ride up to Lake Turkana with Beverley one of Tracy's clients from Australia, on a tour to an annual tribal gathering at Loiyangalani on Lake Turkana.
Lake Turkana is a 1,400km hell of a tough drive. Two days to get there, 2 days there and 3 days to get back: a remote, extreme environment with long, challenging tracks, inter-tribal security issues and little help for hundreds of kilometers. They asked if we wanted to tag along and follow them in our car and (feeling a bit more confident now that it was fixed) we jumped at the chance.
Two days later, having stocked up with 'essentials' (wine, meat, snacks, tobacco) from the well-provisioned but hugely expensive Karen Provisions Store, we set off following Francis driving OTA's Toyota minibus.
"How tough could it be" we thought "if Francis & Tracy are taking their client in a standard minibus?"
The first day started easy. 140km on tar to Ol Kalou, Nyahururu and Rumuruti where, at 2,378m we had a picnic lunch as we crossed The Equator for the first time.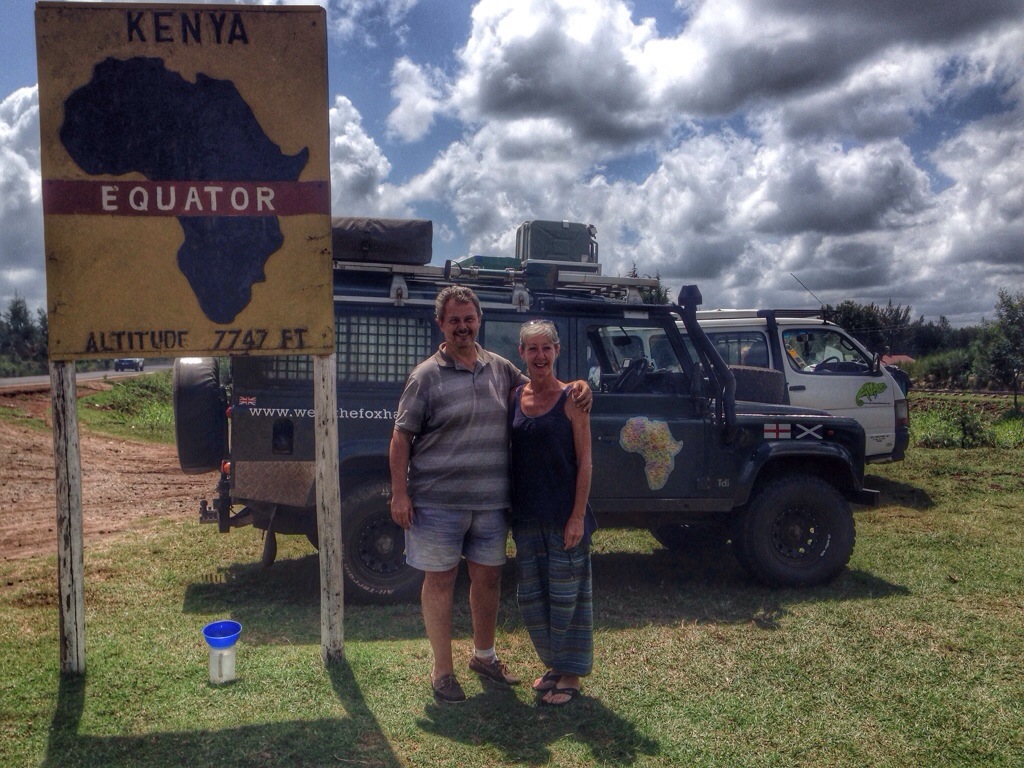 As we left the tar the 'picnic' was definitely over. The following 140km to Malaral was through rocky scrub where elephants, giraffe zebra, etc roamed wild as we drove on combination of rough gravel tracks and rutted, steep muddy slopes.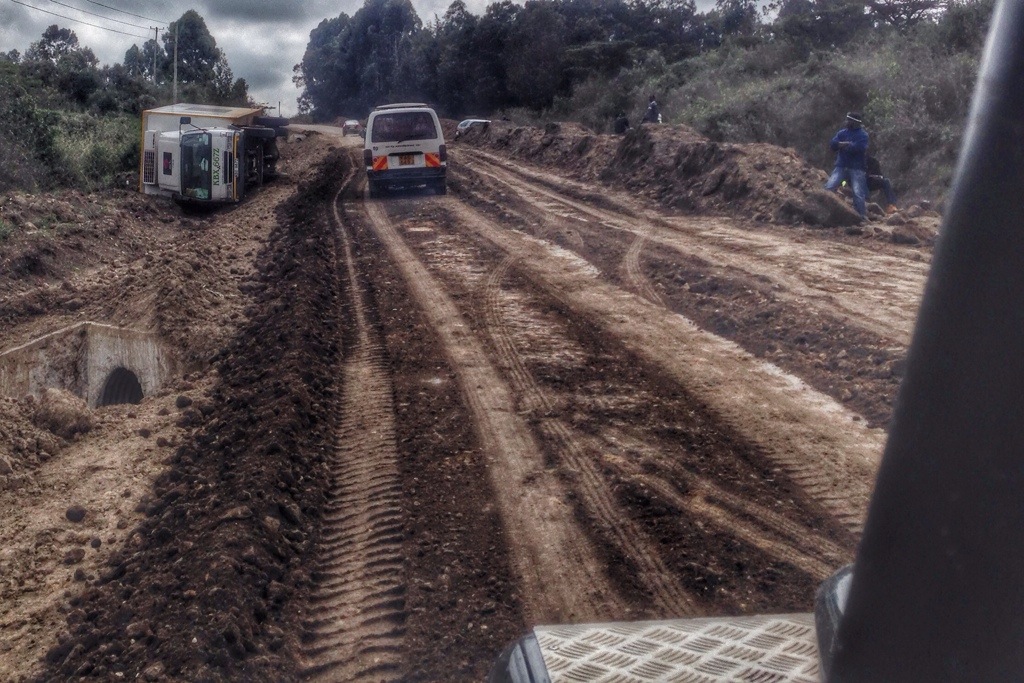 Just to make it more fun – it rained.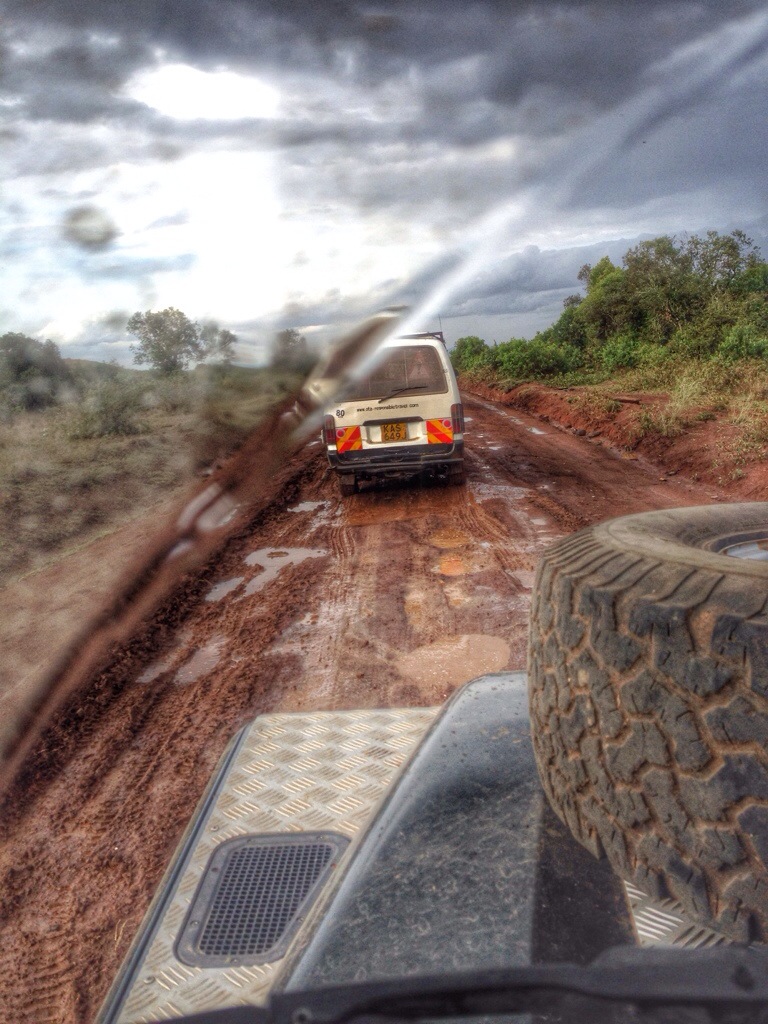 Then it also got dark. We finally arrived at Malaral and eventually found our camp (Nguri Hill Lodge) which, funnily enough, was also up a muddy hill (although no one was actually finding it funny by this point).
A long day. Total 290km. The first 140 on good, fast tar. The balance on poor tracks. 8.00am to 7.30pm, averaging 25kph / 16mph.
We had a good (but unnecessarily expensive, $50) dinner at the lodge and an early night before picking up our armed guards in Maleral and preparing ourselves for the next long, 250km day to the lake.