We left our muddy hill camp at Maralal just after sunrise to pick up our Ascari (armed escort) ahead of another long, hard day's drive.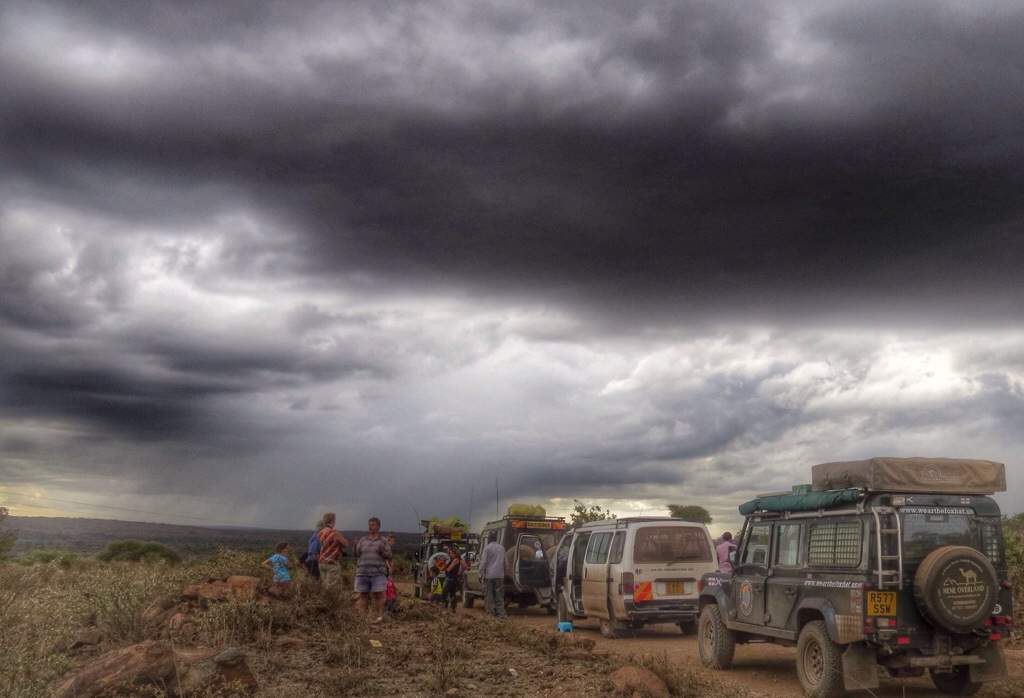 Unfortunately when we got to the Police HQ the Chief of Police was having his breakfast.
He must be quite an eater. It was 10.30 by the time he surfaced and we squeezed our Ascari into the vehicle with their Semi-Automatic rifles, spare ammunition and kit for the 5 days they would be with our 2 cars (the other two vehicles we met had their own 2 Ascari and soon sped off, leaving us in their dust).
The fee for the escort was negotiated (cash) with the Police Chief and excluded the food and lodging that our convoy must provide.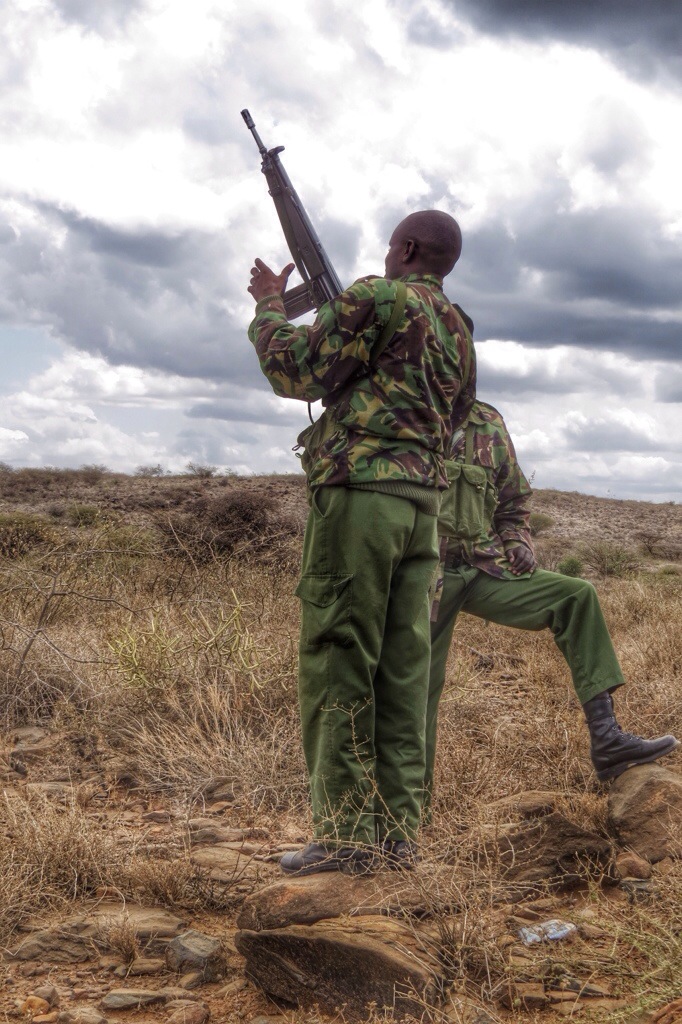 It's compulsory to travel this route with armed guards since, only 2 years ago, 42 police were ambushed by one of the Lake Turkana tribes and all the Police were killed. There is a great deal of inter-tribal tension here and the tribe in question believed the police were aggressively supporting other tribes in their rivalry.
The tension still exists (and the police continue to search for the remaining ambushers) but the tribal festival we were heading for is being used to promote peaceful coexistence between the 10 Lake Turkana tribes who attend.
It's a chance for remote peoples to come together, communicate, discuss political issues, intermingle, dance, party, flirt and promote common goals to the local politicians, senators and the Kenyan Vice-President – who flies in by chopper while the rest of us drive for 2 days and some of the tribespeople walk for a week.
The final leg of our route to the Turkana Festival at Loiyangalani was another rough 240km. It was slow and varied terrain, alternating between rocky gravel…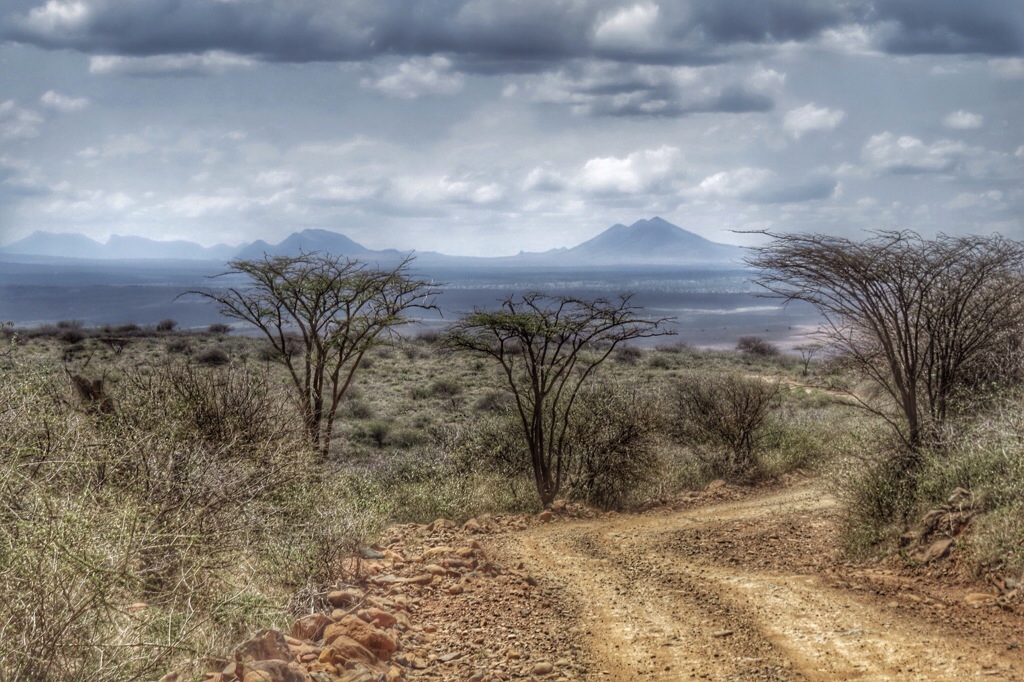 …good sand tracks…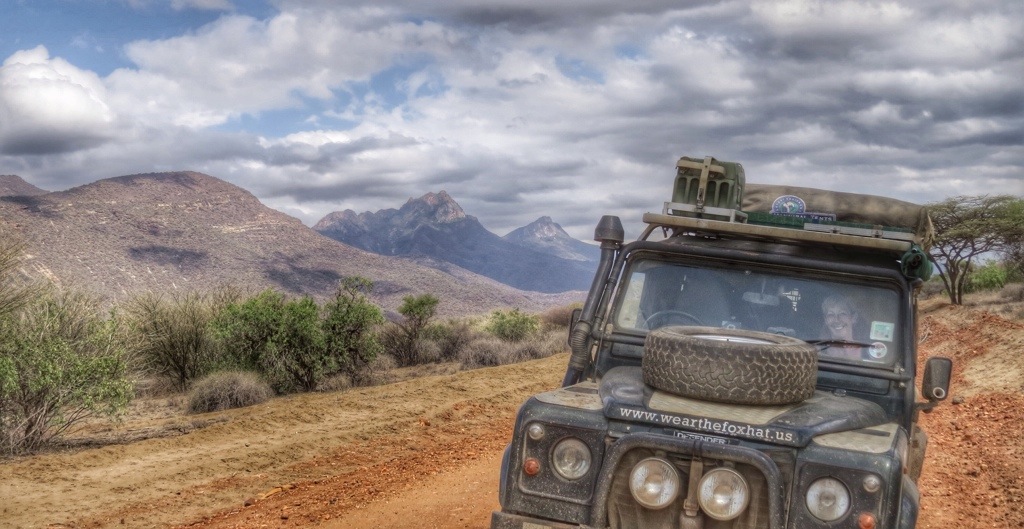 …kamikaze camels…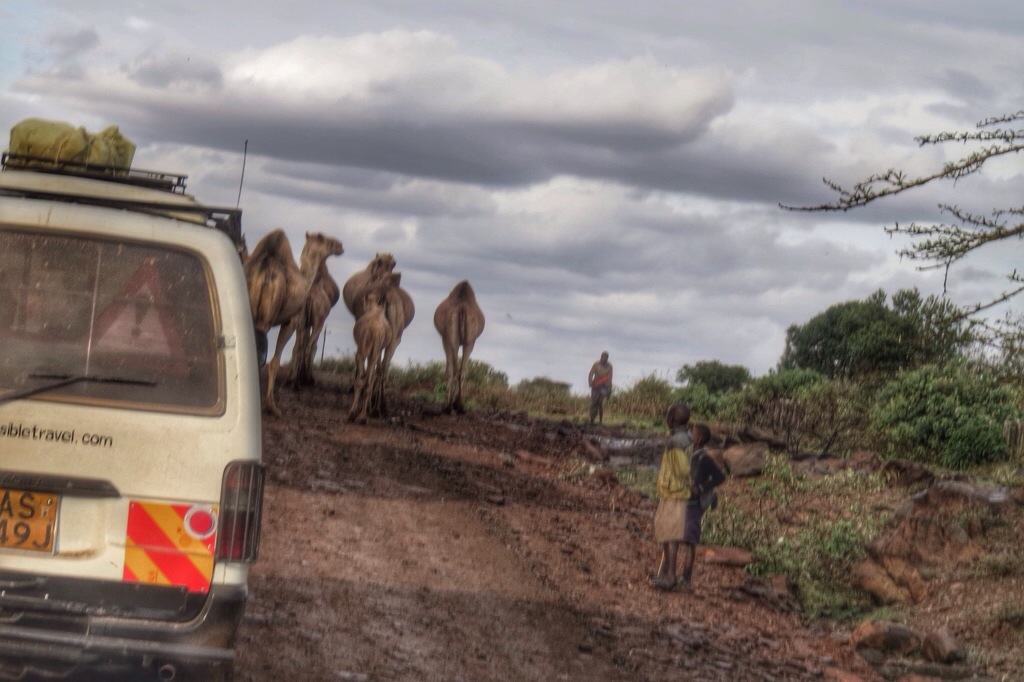 …rutted corrugations, deep sand and many loose, dry river-bed crossings. But at least this section was dry.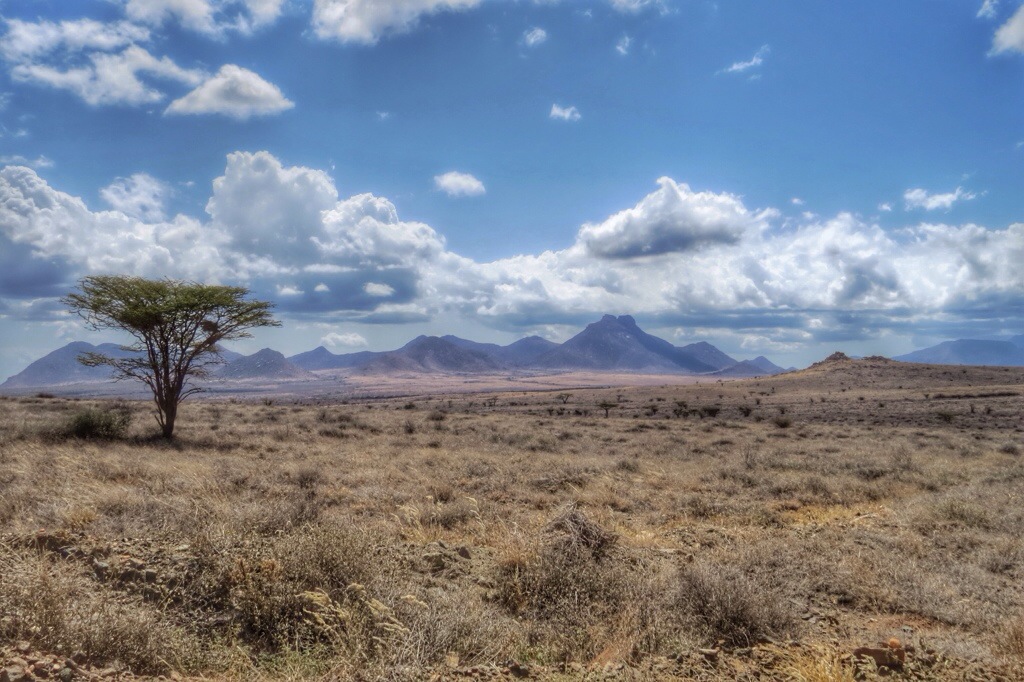 We came down from the mountains at 2,550m altitude to around 350m at Lake Turkana: from cold, damp mountain camps to blistering, pumice-strewn desert plains: from scrappy villages of mud-brick buildings to isolated communities of thorn-bush, stick & cloth-covered huts.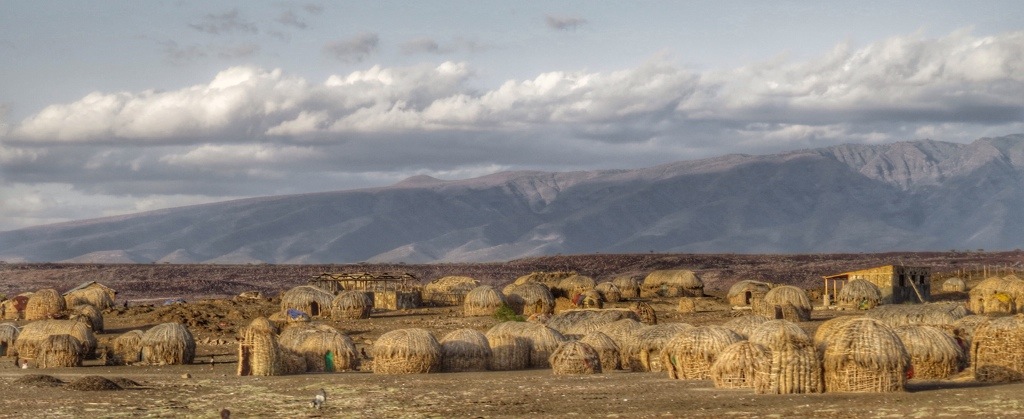 The landscape is bleak, barren of vegetation, baked dry, blanketed in dust & sand, hostile…and beautiful.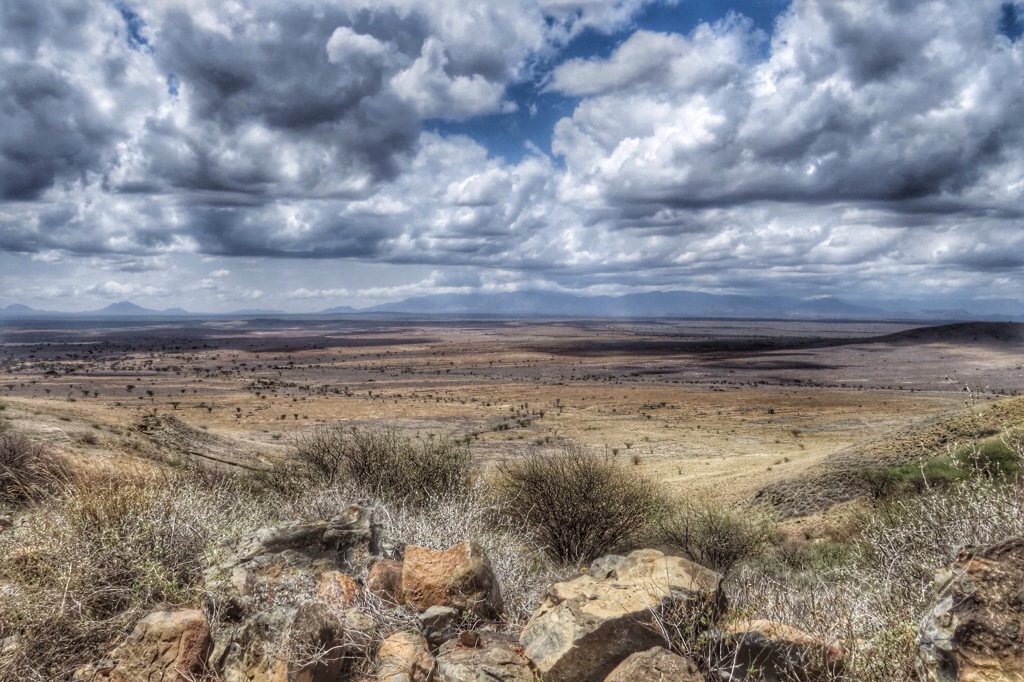 It's almost unbelievable that people can survive out here.
It's almost equally unbelievable that Francis got his 2-wheel drive minibus here when every other vehicle attending the festival is an up-rated, rugged 4×4. Is he the best off-road driver in Africa? He must be a candidate. There were many fancy 4x4s around but the vehicle that drew most attention was a white, 8-seater Toyota minibus operated by Tracy & Francis who own OTA Responsible Travel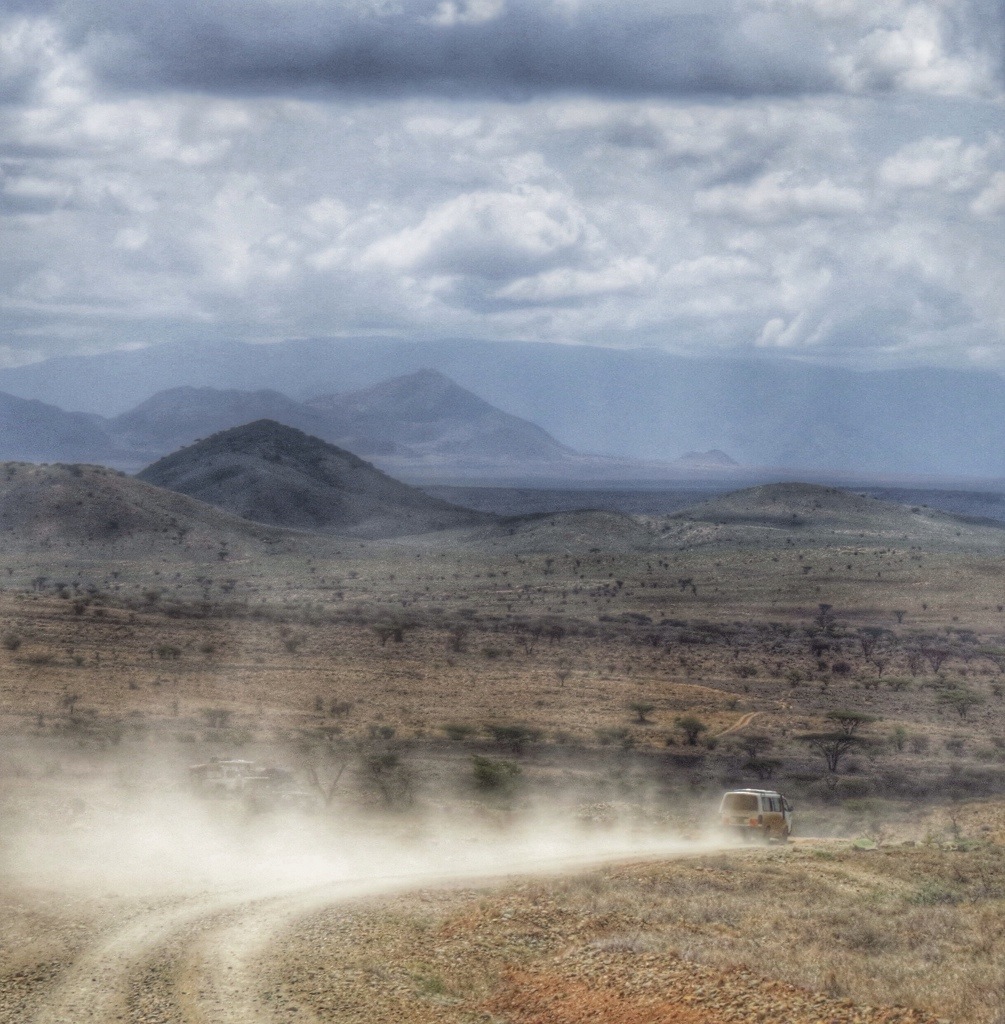 We finally got our first sight of the Lake Turkana as sunset approached.

Known as 'The Jade Sea' it was like a pool of mercury as we came down the boulder-strewn pumice slopes of the surrounding hills and stopped for a team photo.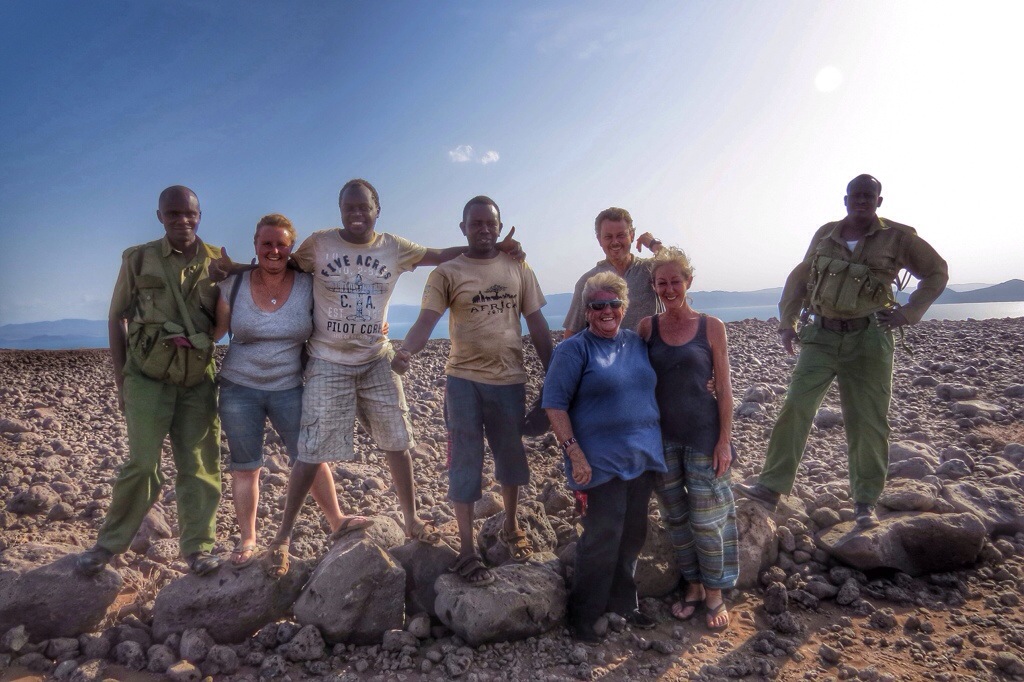 Lake Turkana is 290km long, averaging 30m deep (109m at most) and is the world's largest permanent desert lake. It's also an alkaline lake, (the world's largest) making the water potable but not palatable.
Almost uniquely, it has some rivers flowing into it, but none flowing out – reducing its volume solely through evaporation. That gives you some idea how damn hot this landscape is.
Another long day (240km taking us 11 hours). The last 14km to the dusty, wind-blown small village of Loiyangalani took us over an hour and a half.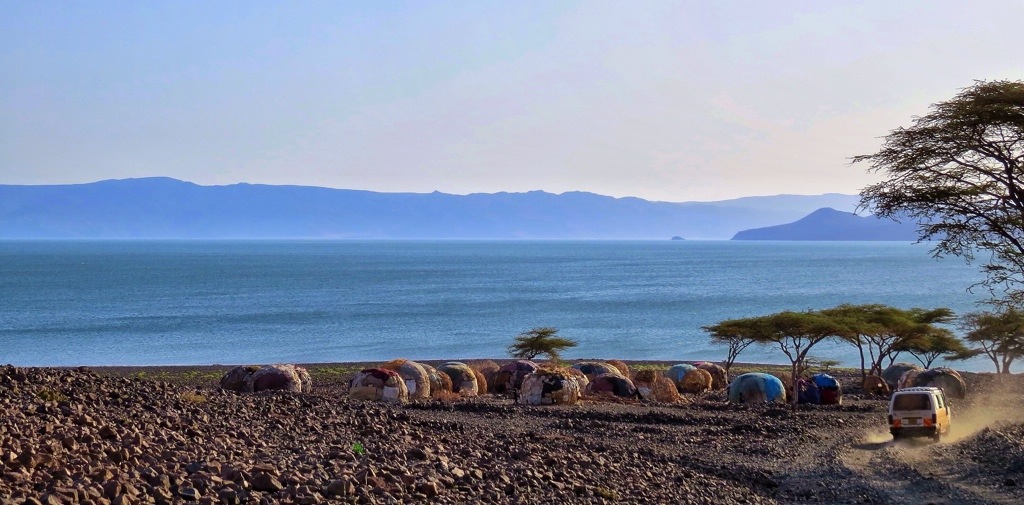 A surreal way to live.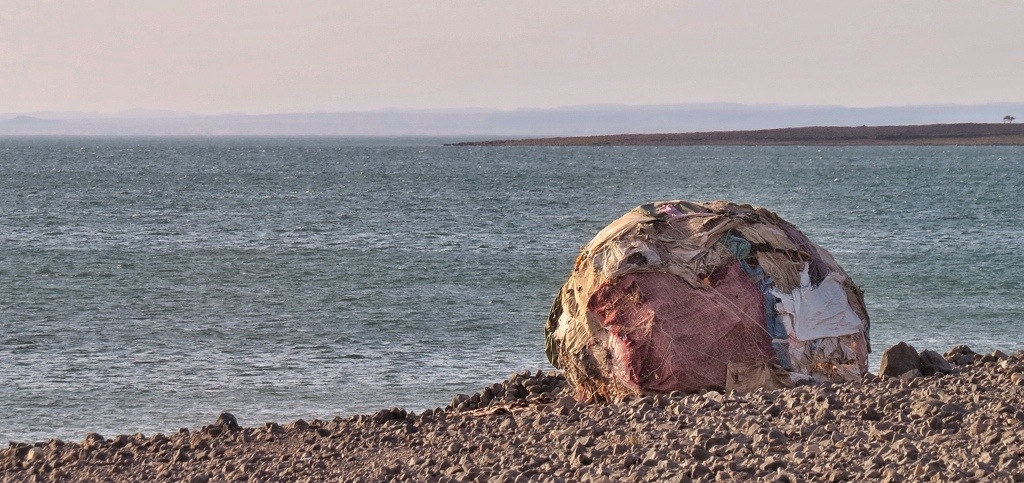 Although there's little at Loiyangalani, the campsite turned out to be a bit of an oasis. Camping at Malabo Camp was cheap ($11) given it's remote location; the showers warm (water warmed in the pipes by the ground temperature being so high); and the beer was slightly cooler than the showers.
That'll do for me.
Pretty tired, we all had an early night – looking forward to the festival kicking off the following day.
A taster pic of what's to come…