The Turkana tribal dancing went on past dusk and late into the night.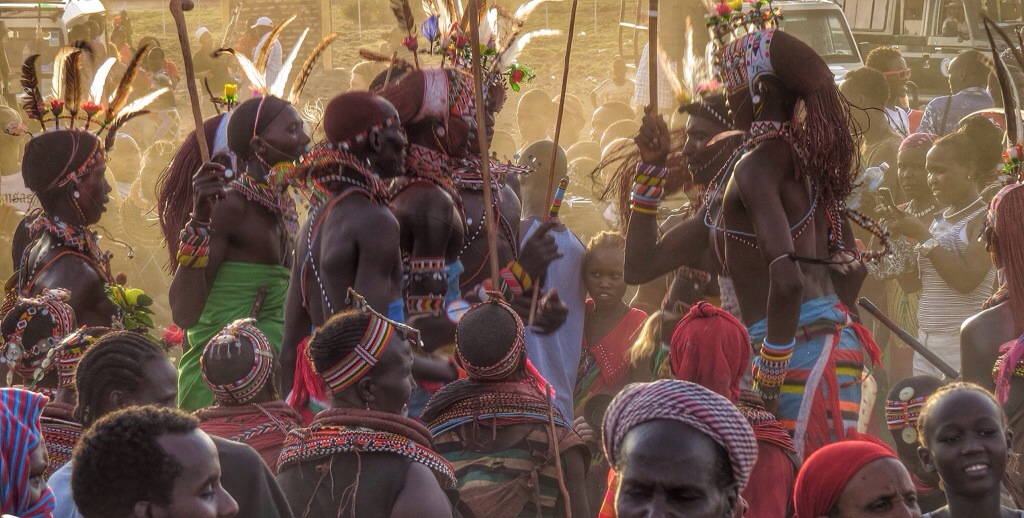 It's not so much 'dance' as foot-stamping, springing into the air and chanting.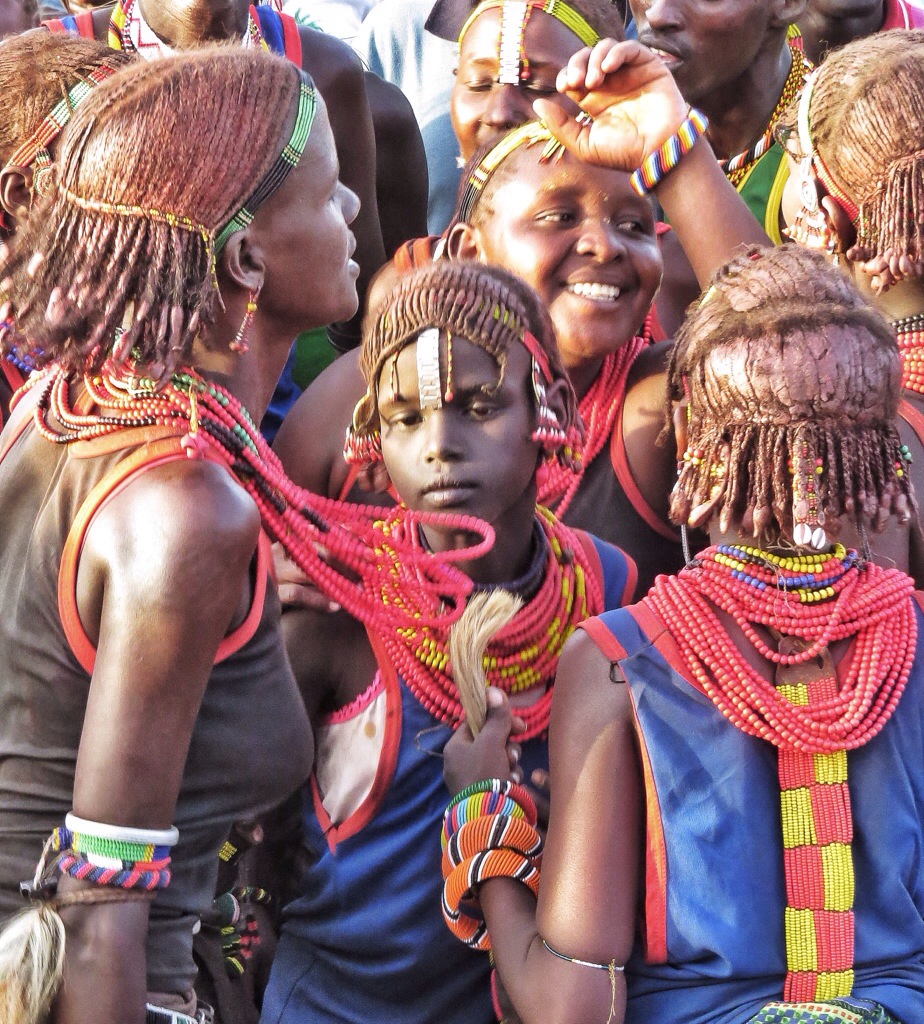 Is this where the Punk Rock craze got their inspiration? Probably not, or Punk would have been more entertaining.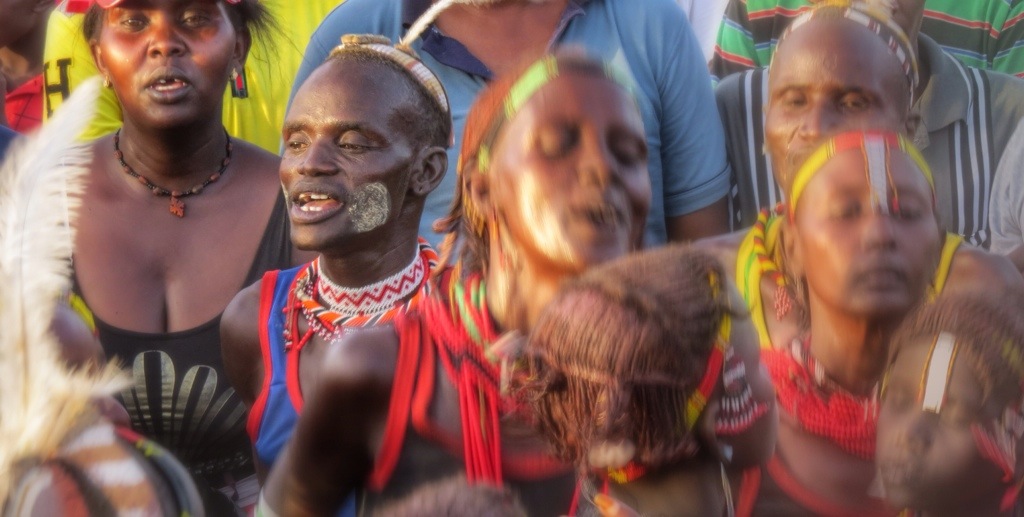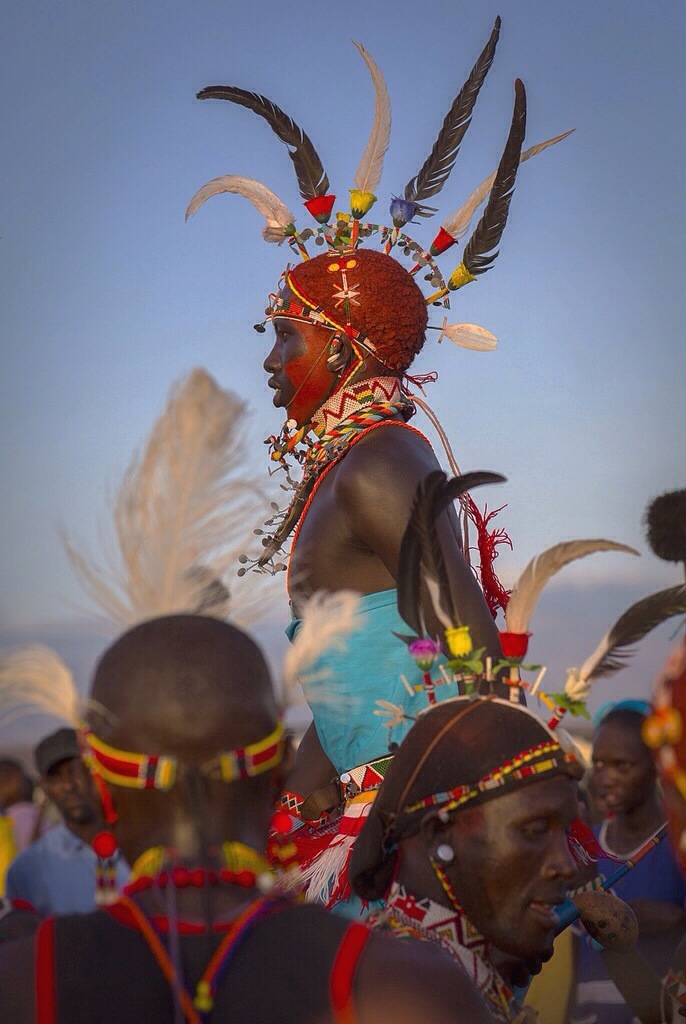 The next morning was a more subdued atmosphere. All about repairs to make-up and costumes after the dancing exertions…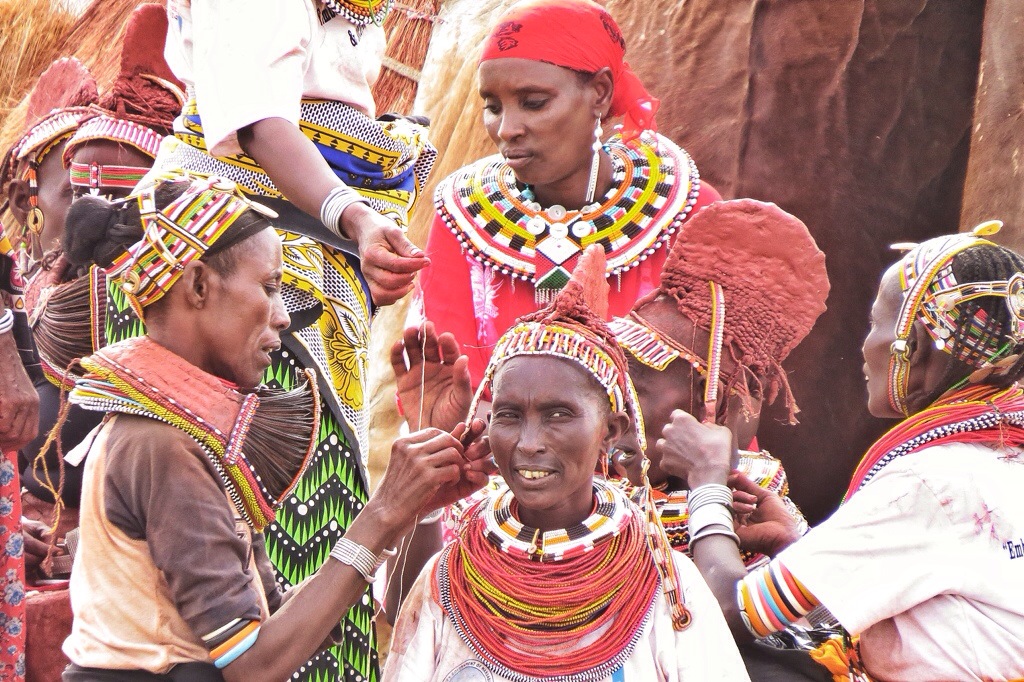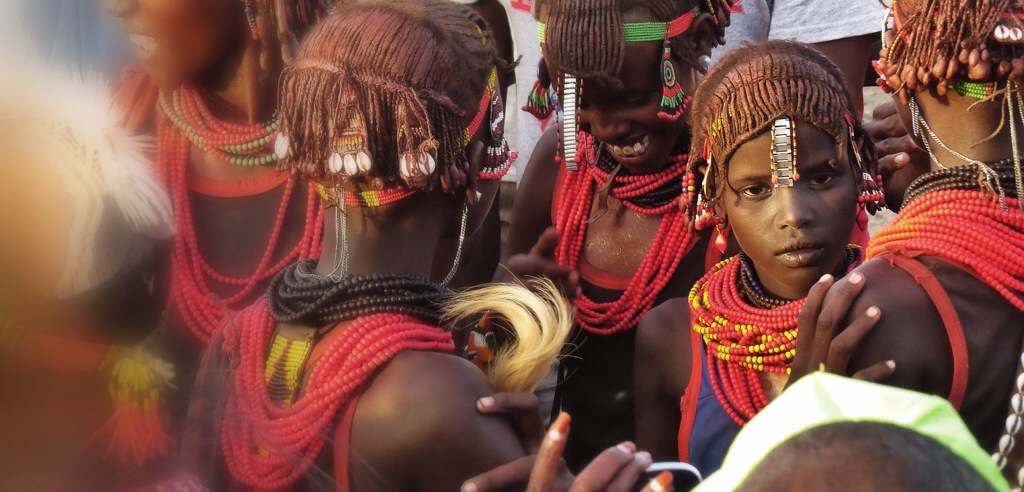 …and packing up to leave – which is a lot easier in a Land Rover than it is when trying to load everything onto a stroppy camel.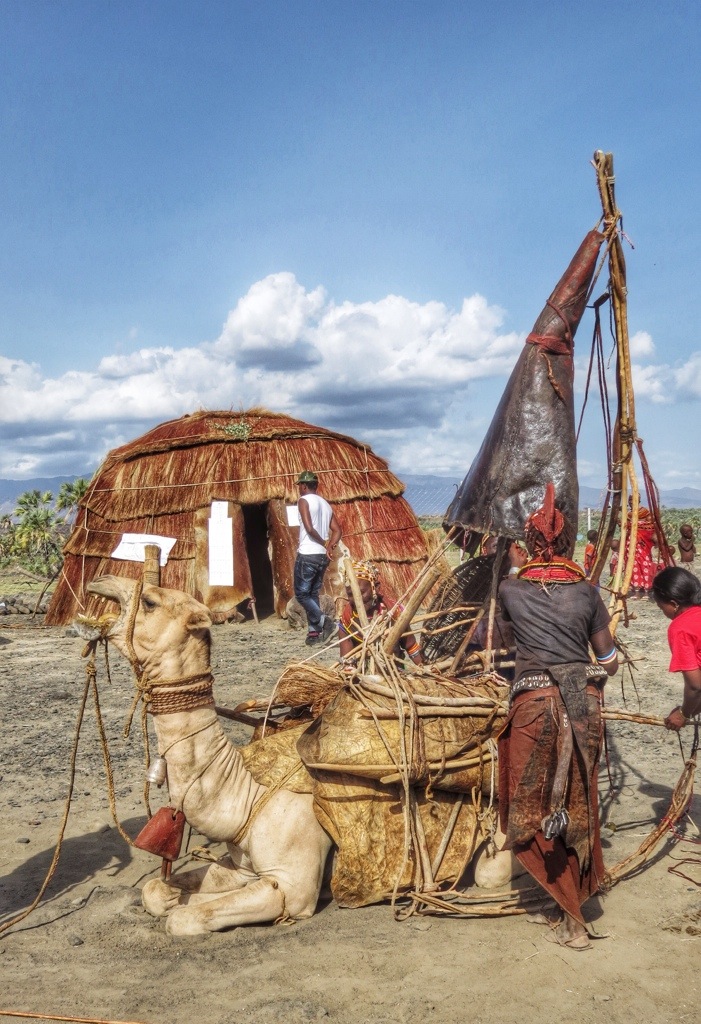 The girls decided they wanted one quick walk up to the ancient rock-art site (by the time they got there it was mid-day and sweltering hot).
The rock art was a disappointment but the view of the lake and desert was pretty special.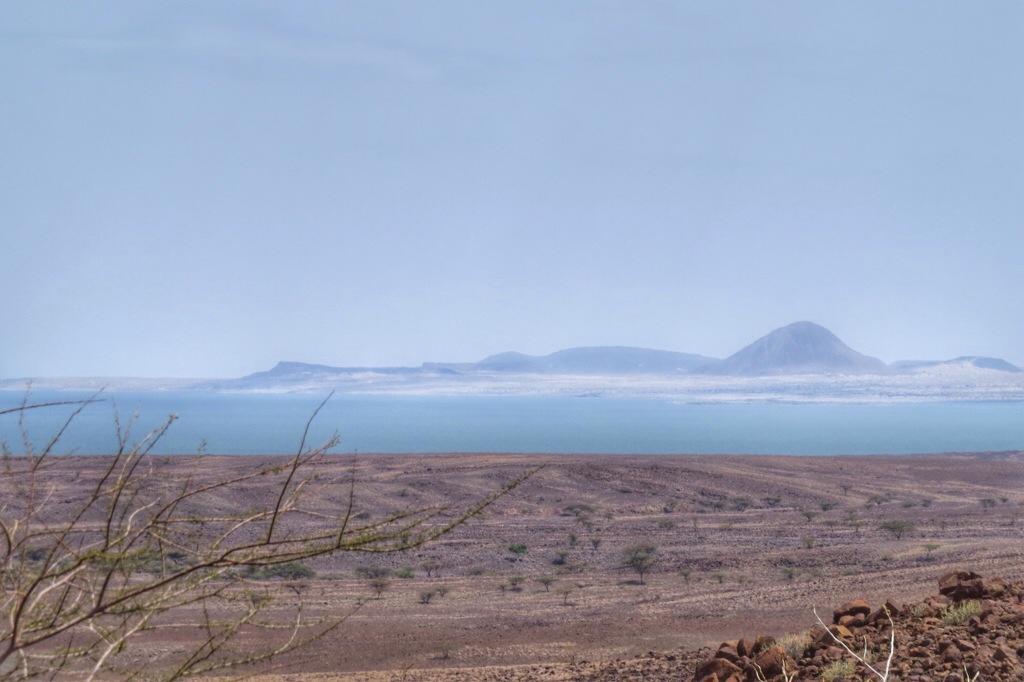 We were planning to head back the way we had come…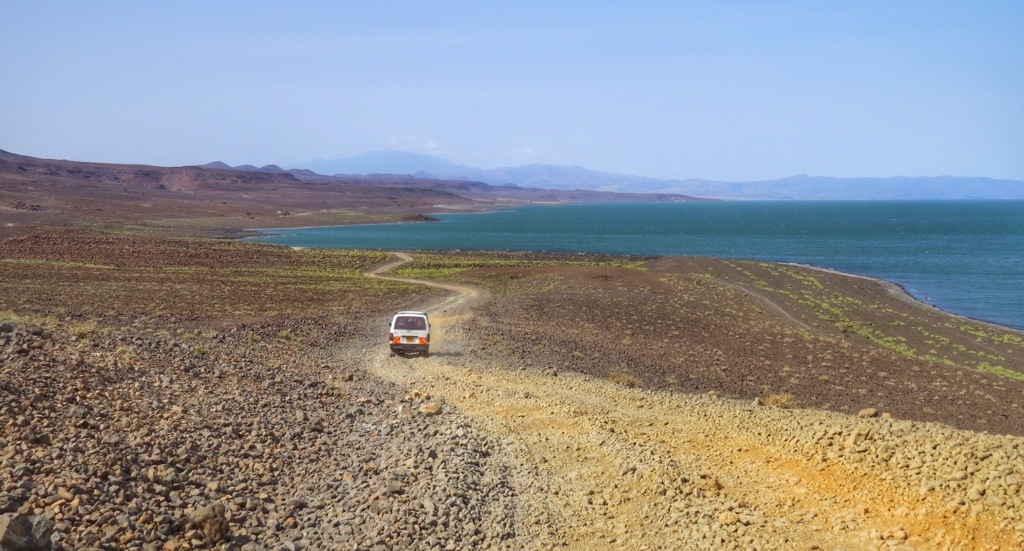 …but Francis & Tracy were concerned about us travelling alone, so suggested we tag along with them, across the desert to Matsabit.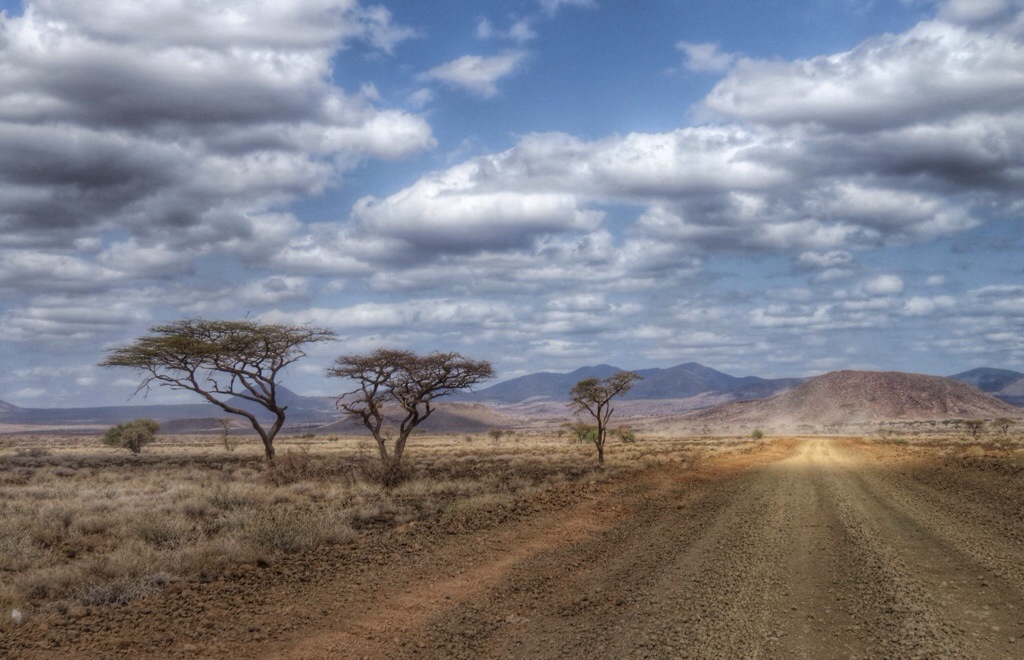 This would take us 3 days to get back to Nairobi, but would be an opportunity to take a route that we'd be unlikely to do without a convoy or military escort.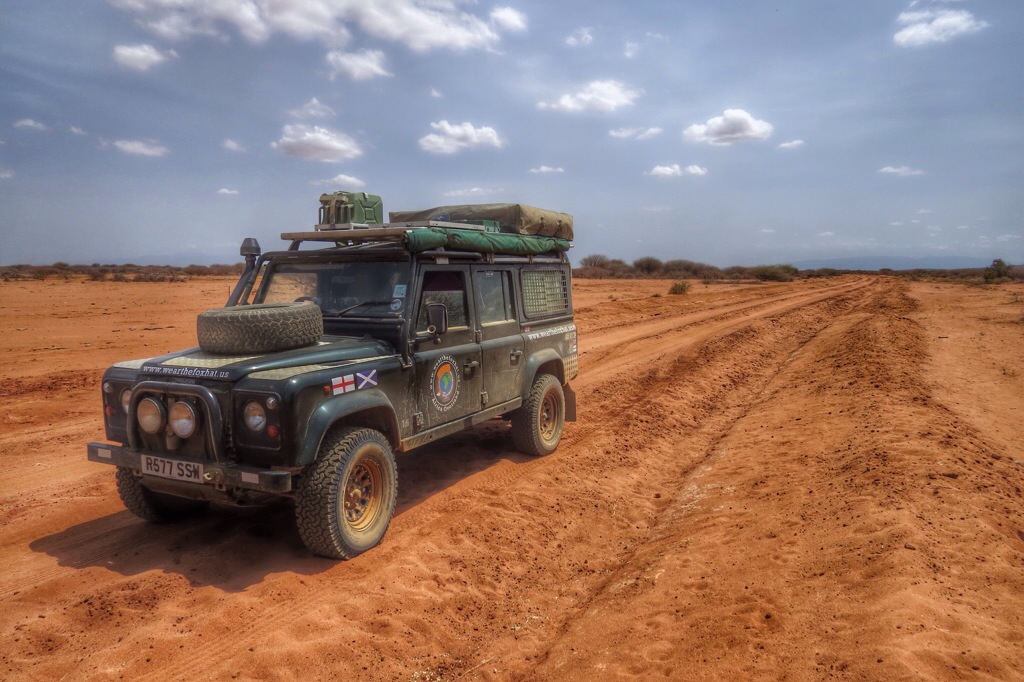 As it turned out, it was very good news that Beverly, Tracy, Francis, Laura & Moses didn't mind us gate-crashing their private tour.
Not only were we travelling in good company, but Francis & Moses were excellent 'bush-mechanics'.
The route we took to Marsabit wasn't on either our paper maps or Tracks 4 Africa GPS.
It was 240km of remote tracks, beautiful boulder fields, heavy sand, rutted dry river-crossings, wilderness plains, being chased by sand-storms…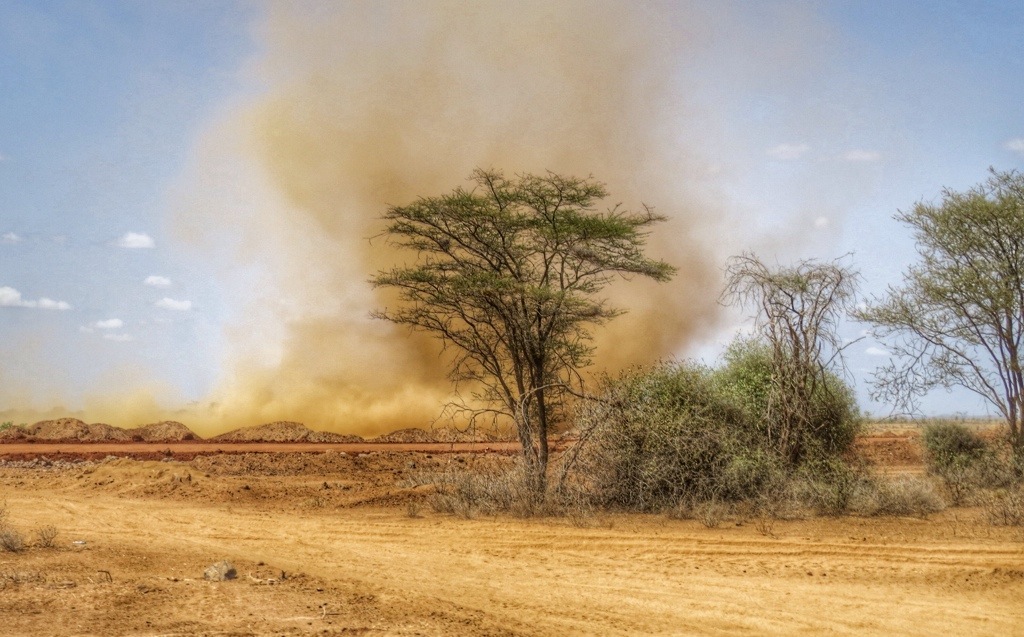 …and (unfortunately) more remote Land Rover breakdowns.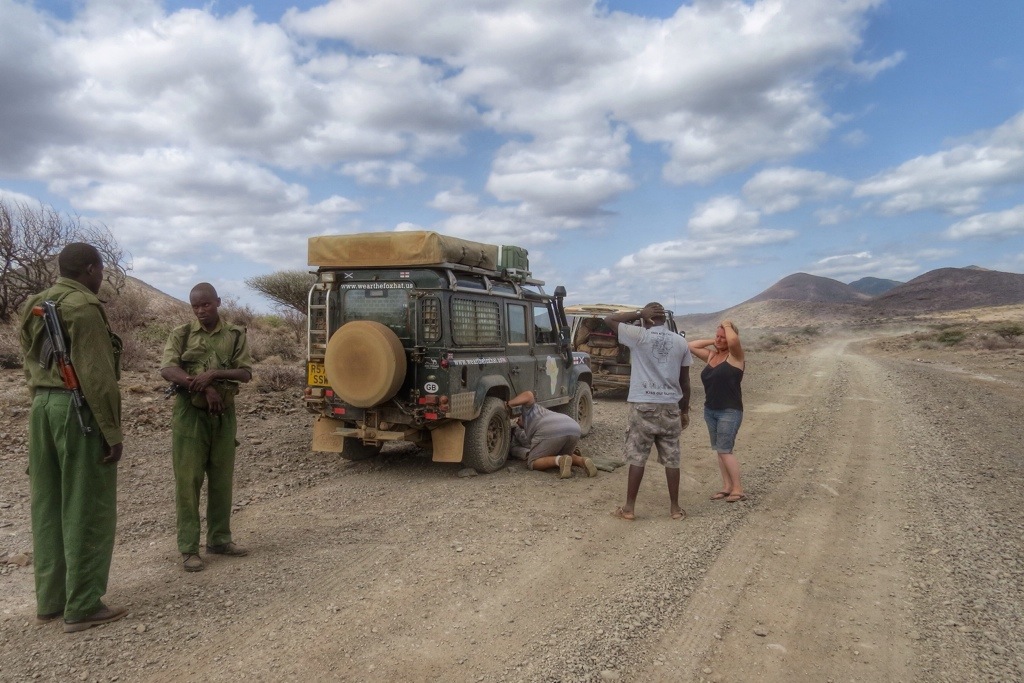 This time, the rear A-frame sheared off the rear chassis. There are 6 bolts that hold it in place at 2 fixing points. Five had sheared off and taken most of the structural cross-member with them.
The car was floating around like a boat and every undulation in the terrain (about every 3metres of this 240km desert route) resulted in loud grinding and grating metal noises. The A-frame had also dropped onto the prop shaft and was grinding a groove into it.
Bush-mechanic geniuses Francis & Moses found a couple of thin bolts and, jacking the A-frame up in order to take the strain off the chassis, managed to get one through a fixing, to hold it off the prop.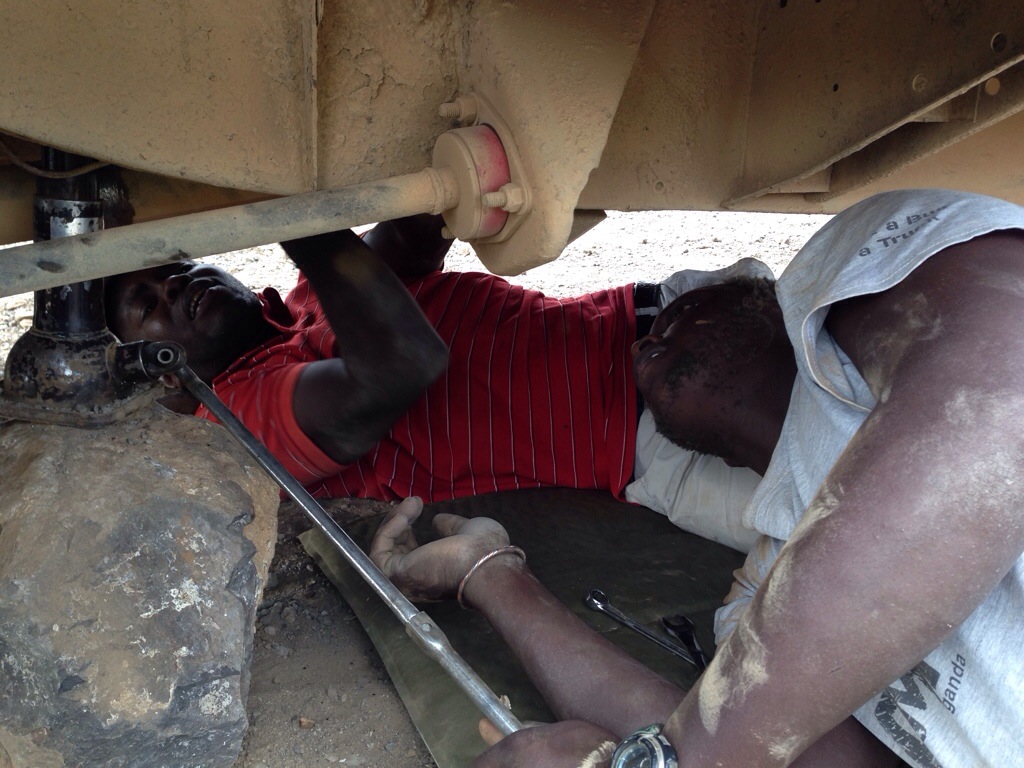 We'd had so much help with the car from the guys that it was almost a pleasure (!) when on one particularly long, steep section they broke down and we were able to help them.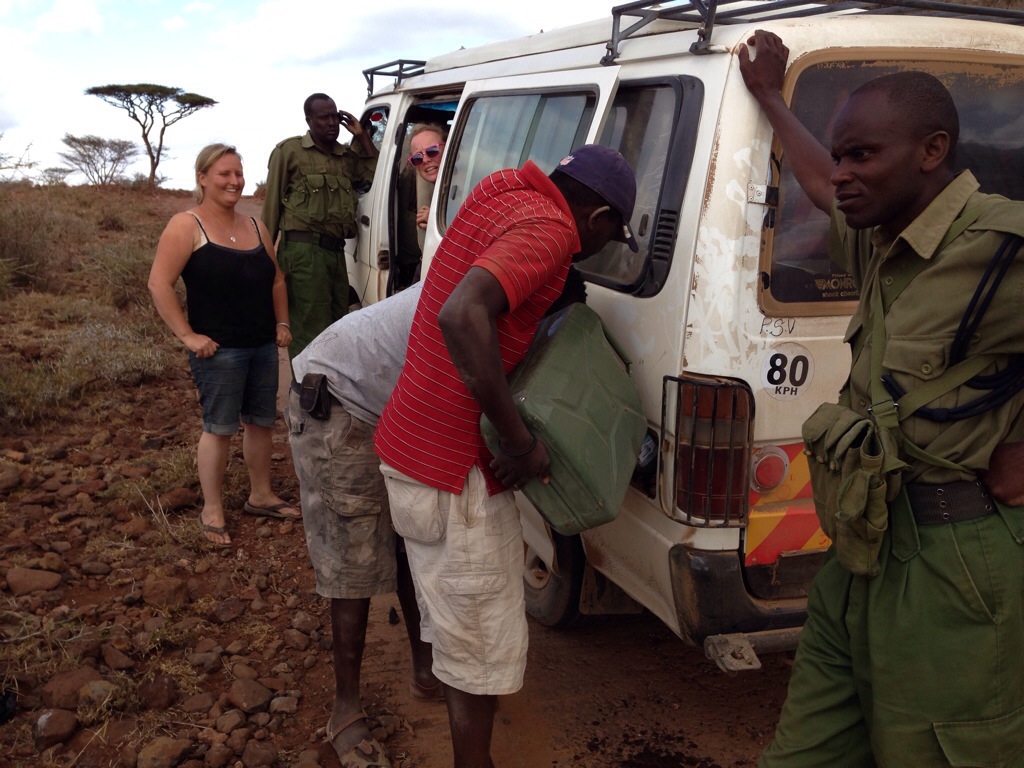 Fuel starvation, in the middle of nowhere, due to the long, steep gradient. We were able to reciprocate their assistance: albeit only by giving them a Jerry-can of fuel to get them to the top.
How does he get that minibus through places where we've seen the tracks littered with broken 4x4s?
In total it took us 10 hours to cross the desert…

…to the scrappy town of Marsabit where we camped at Henry's Camp: very simple, but it had a flush toilet (!) and Henry put some beers in a fridge for us.
Beverley, Tracy & Francis were booked into the best hotel in town but arrived back at Henry's camp an hour later as the hotel proved to be a dump.
We had nothing to feed the Askari guards other than the pasta and sauce we had made for ourselves. I don't know what they really thought of this 'Mazungu' food but they were polite enough to pronounce it 'edible'. In this case I guess it was literally better-than-nothing.
The next morning, we topped up with fuel and saw the news in town that 65 people had been shot & killed in an Al-Shabab terrorist attack only a few hundred kilometers east of us.
Francis & Moses tightened the temporary bolt they'd got through our A-frame and cross-member…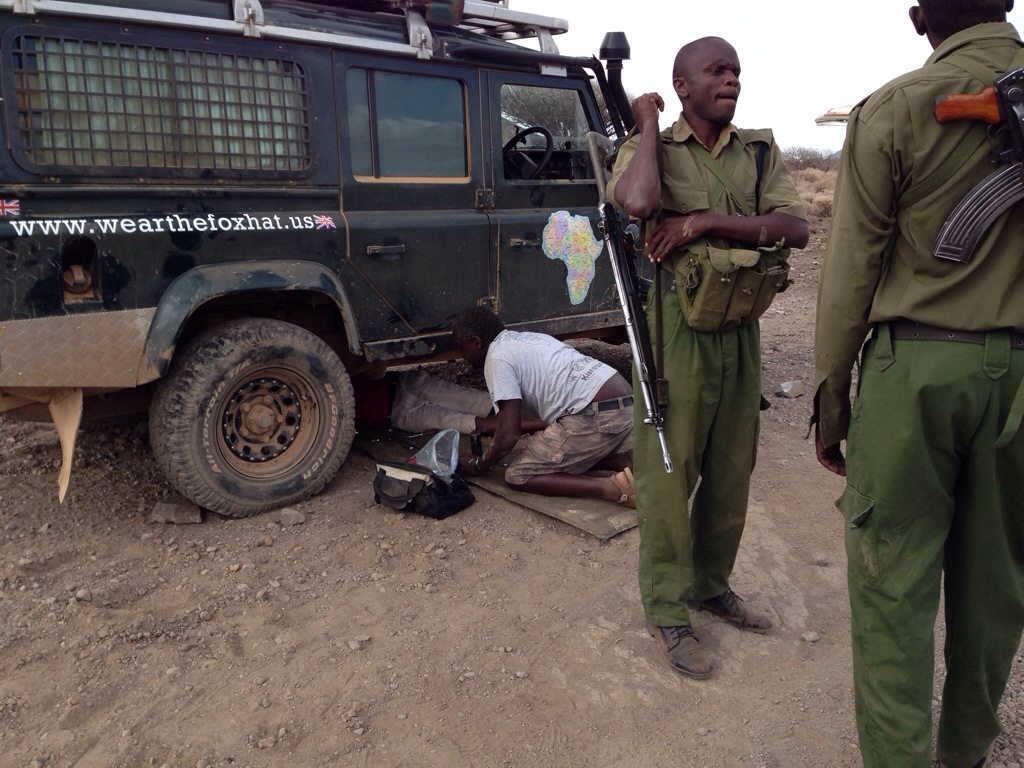 …and we headed south down the notorious Marsabit road.
Unbelievable.
UNBELIEVABLE!
With our structural problems, I don't know how we made it.
The first 60km must surely be the worst road in Africa: steep, rutted, crowned, breached, crumbling, cratered, potholed, washed-away, corrugated…all at the same time!
The car was handling like a hovercraft in a marsh; Helene winced every time the chassis ground together; the spare wheel carrier vibrated itself off the back door (fortunately somehow we spotted it through the dust cloud behind us)…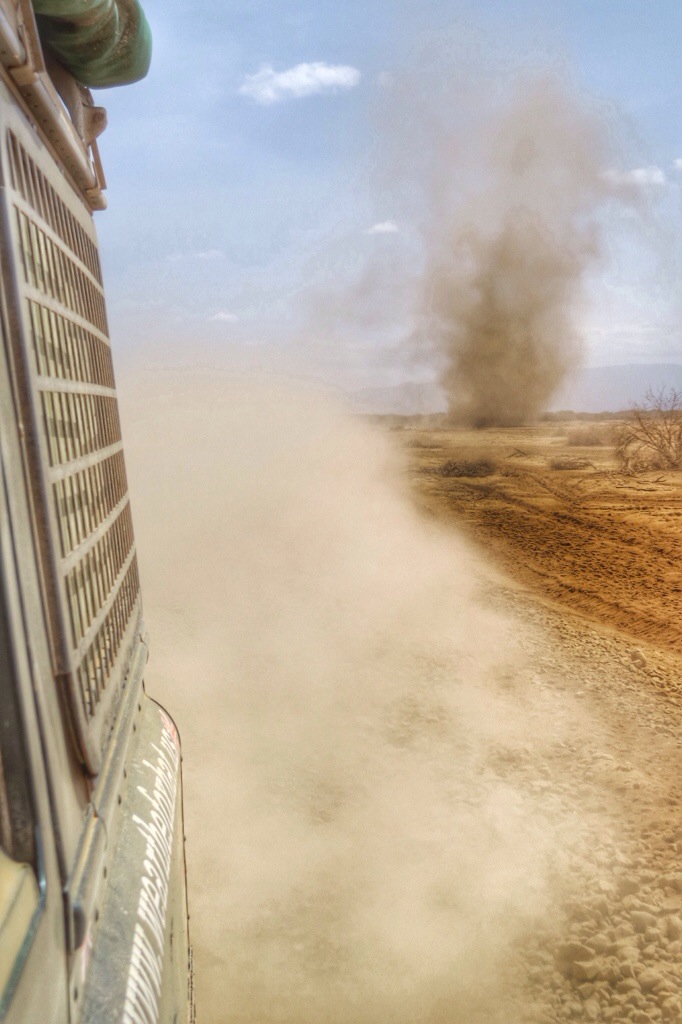 …but Francis' temporary A-frame repair held.
After 60km (3 hours) we reached a temporary gravel road, used by construction traffic for the new highway the Chinese are building 10 metres to one side of this main Nairobi – Ethiopia road.
It may take another year to complete, but wow – what a difference it will make.
In the meantime, even the 'temporary' road was a 160km dream in comparison to the morning's nightmare – all the way to the 'Women's Community Camp' at Archer's Post.
We were exhausted when we got there but what a stunning spot to grab a cold beer and watch the sun go down.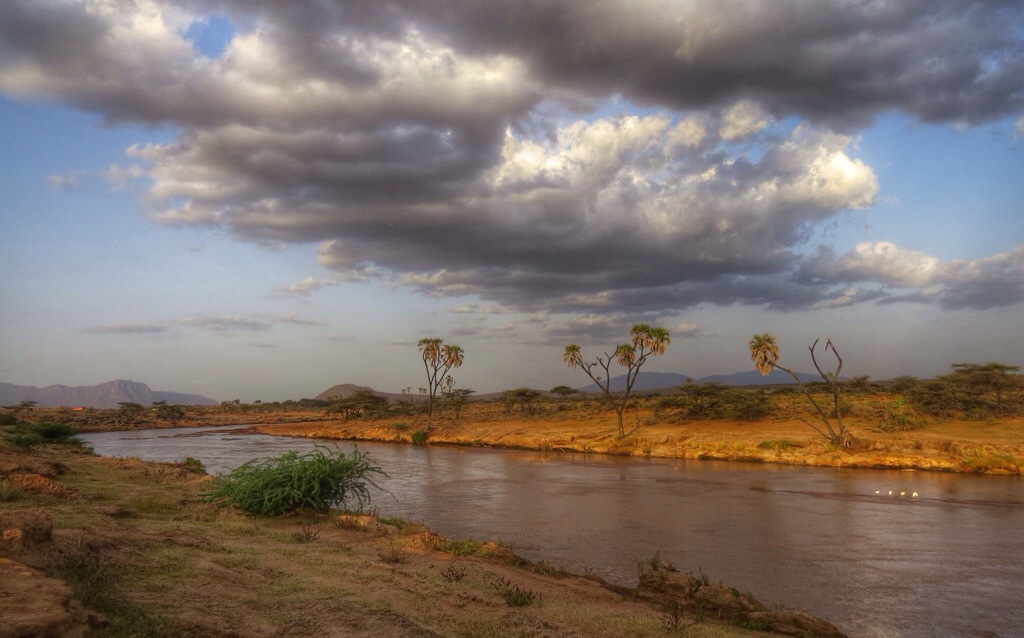 We voted ourselves some time off. I fixed the rear-wheel carrier & Francis spent his time under our car…
… Helene commented how nice camp-owner Rebecca's dress was and, 3 hours later, one arrived for her by motorbike from the local village.
As a surprise, Rebecca had had one made for Helene…and it fitted perfectly.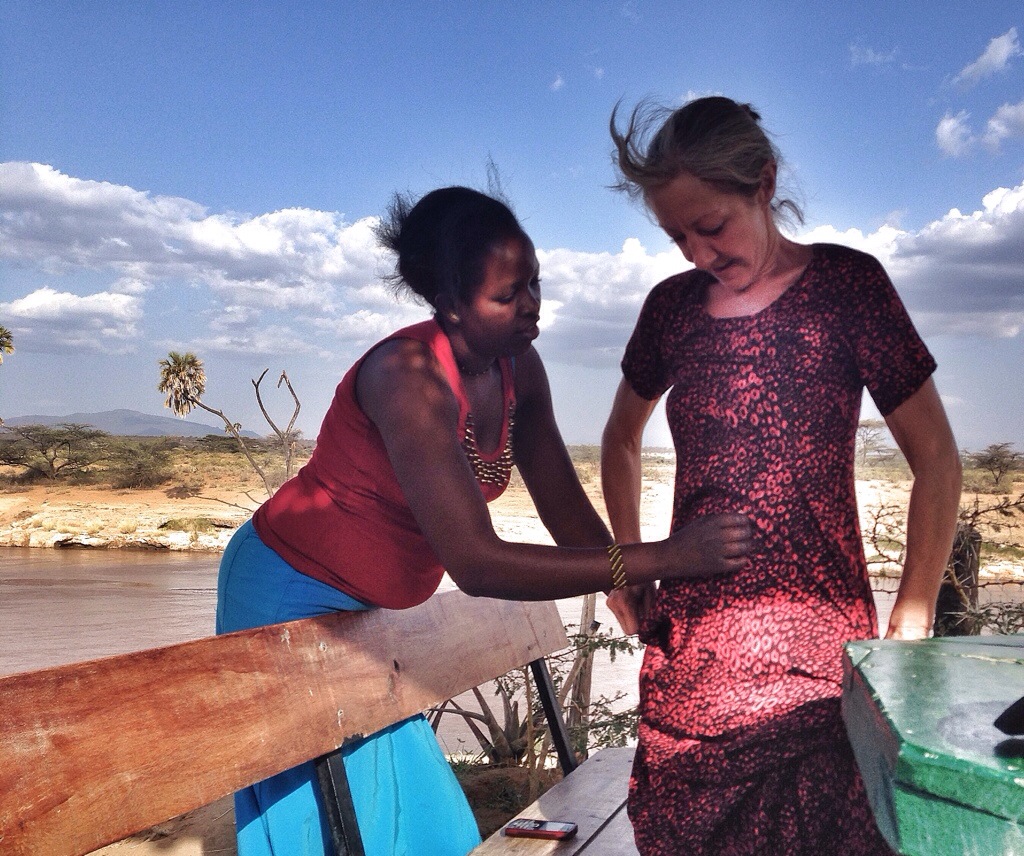 Helene was overwhelmed by rebecca's generosity. "Thank you so much. That's lovely. I don't know what to say." she gushed.
"You're welcome" came the reply. "That will be 15,000 Kenyan Shillings." (about $20).
At camp we celebrated Bev's birthday and our 26th wedding anniversary. Then Beverley went to the local school and taught some science classes…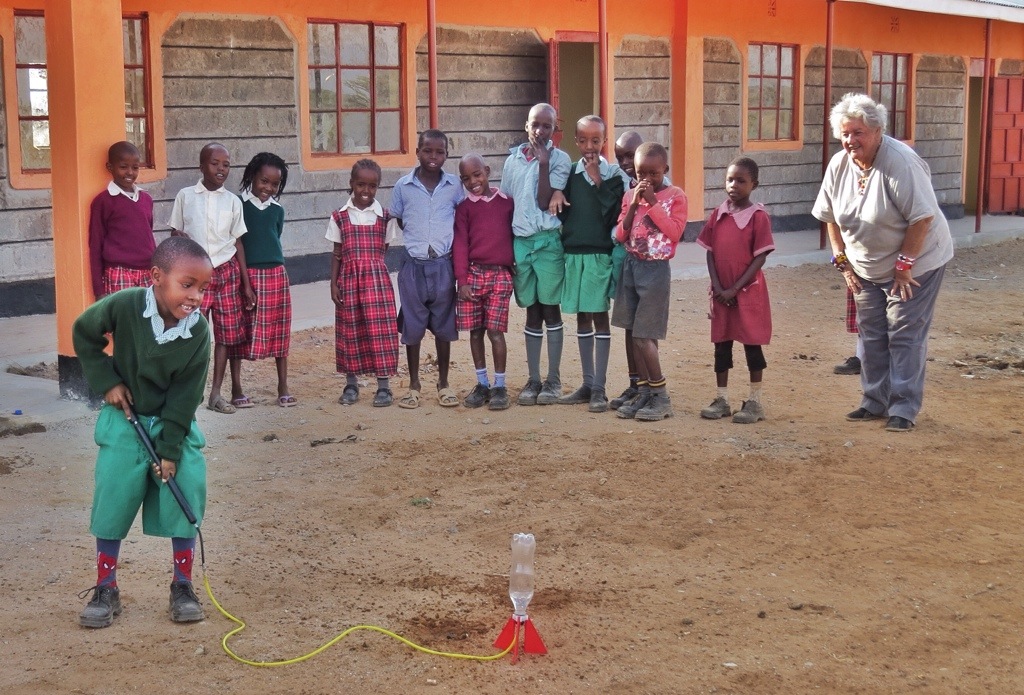 …before the final leg of our trip back to Nairobi.
Tar road all the way.
TAR!
ALL THE WAY!
TAR!
Good tar…no, GREAT TAR…WONDERFUL TAR.
Woohoo.
Back in Nairobi we dropped the car off at Jas Cruisers (again) to get the A-frame fixed, give it a full service and check it over properly.
Jessie did another sterling job. We got it back 4 days later and counted the cost of going up to the 'free' festival at Turkana:
…1,500km of fuel (averaging 8km per litre)
…8 days camping fees & supplies
…Car repairs $730 (a bargain); engine out to replace clutch fork; new clutch slave cylinder; bleed brakes; remove the self-levelling mechanism; replace engine, gearbox, transfer box & axel oils; new oil, fuel & air filters; new fan-belt tensioner; new driver's door mirror (shattered by a stone from our own wheels freakishly ricochetting off our roof-rack); new rear-diff cover plate; new rear arm bushes & pan-hard bushes; all labour for the above, plus MiG-welding to fix A-frame and all new bolts.
Not a cheap trip for a 'free' festival.
But one we won't forget in a hurry.
A rare privilege to be there and we wouldn't have missed it for anything.