All too soon we had to leave Hwange and head back to Victoria Falls. Just time for 1 last sundowner at the Ivory Lodge elephant hide.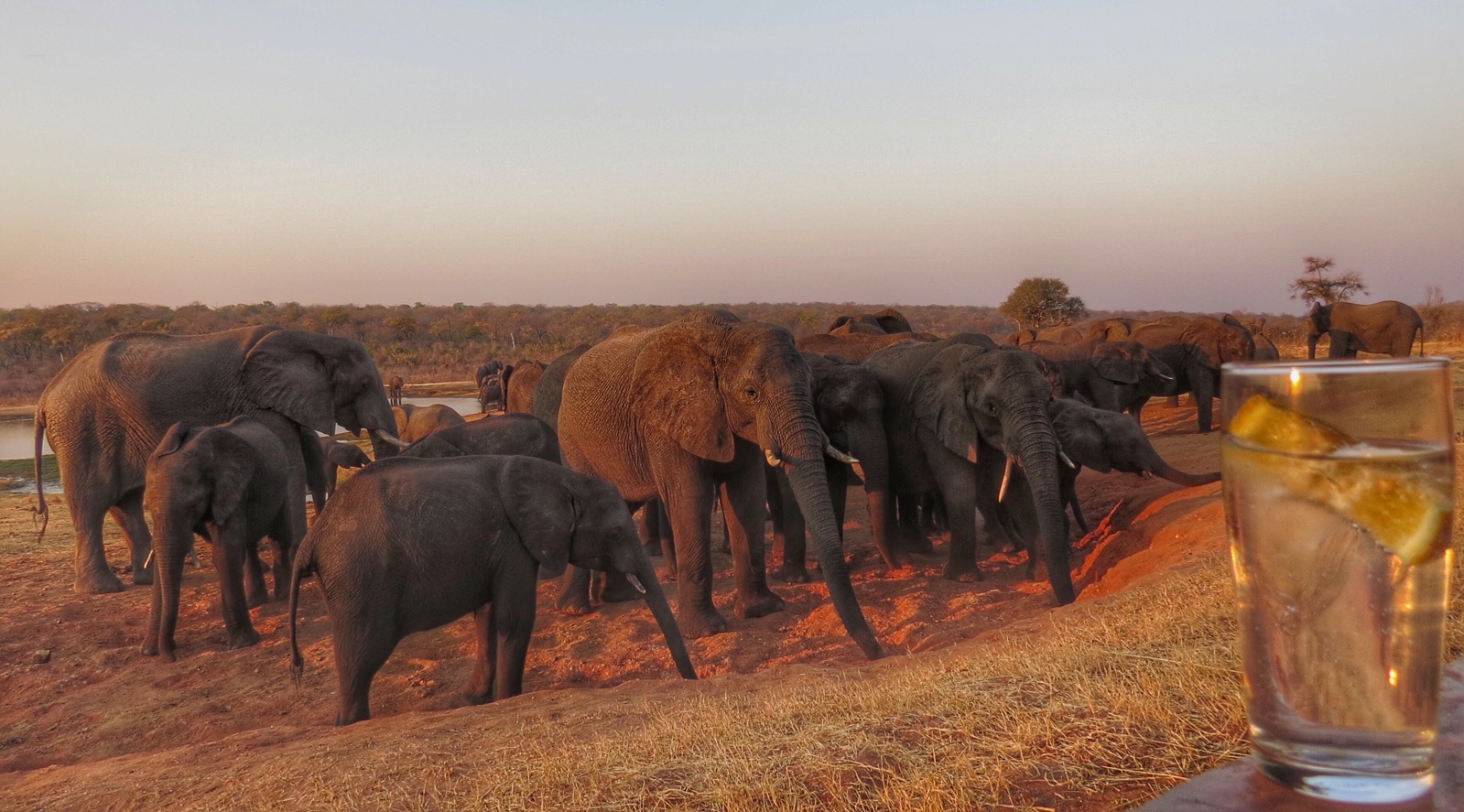 It's pretty easy to lose a whole day there, watching the elephants, occasional giraffe, jackals, duiker, kudu etc.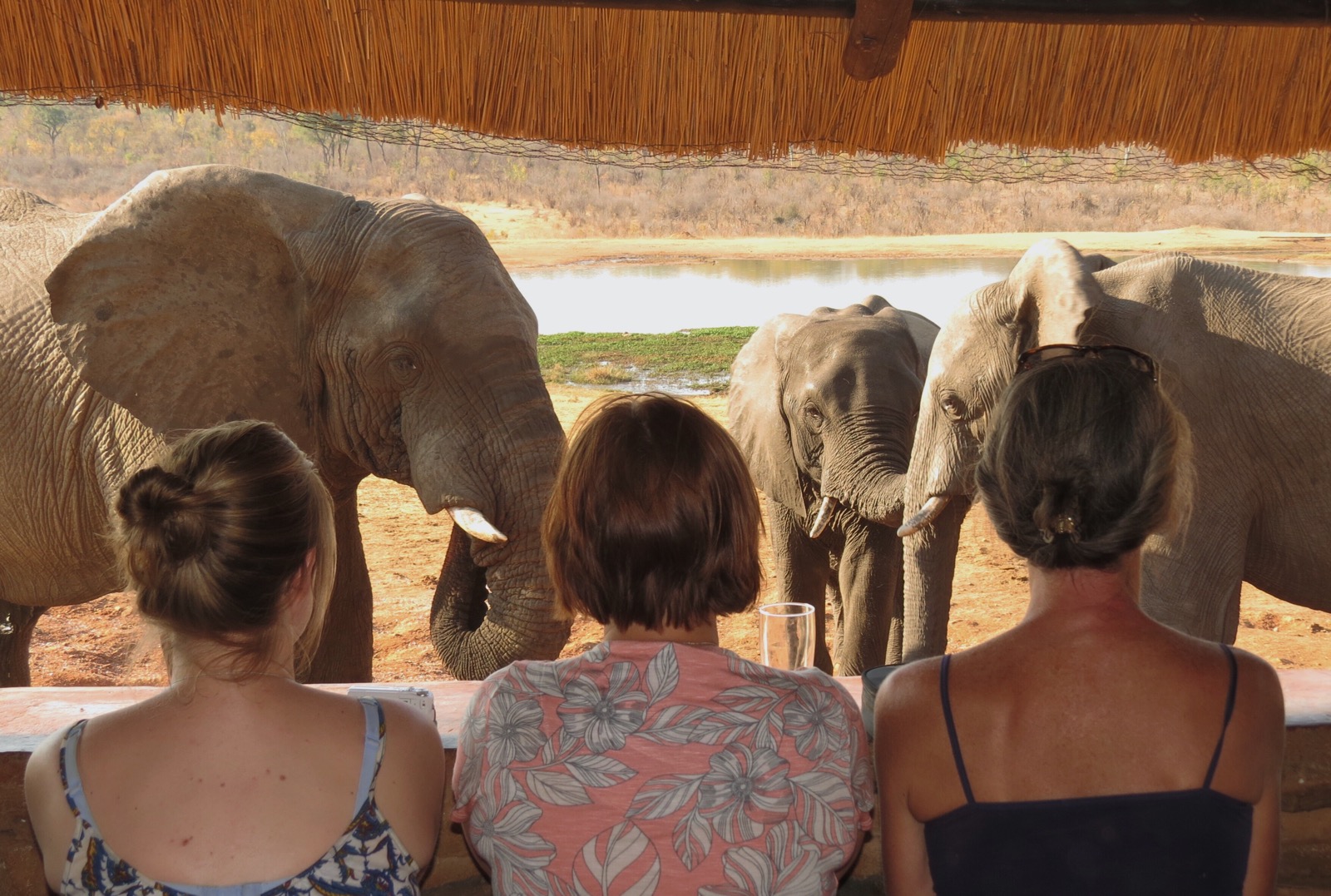 Victoria Falls is the main town on the Zimbabwe side of the Falls. It's quite a sophisticated (although expensive) little place, certainly by Zimbabwe standards and, unlike most, is set up for tourists.
I guess most people fly in and stay in lodges / hotels for their holidays as there's little camping available. One place looked friendly and shabby chic, but there was no space for roof tents, another was clearly 'party central' with the overland tour busses, so that was also out.
That left us with Vic Falls Rest Camp, a big setup, conveniently located in the centre of town. Loads of space, even though there were a lot of people there, but no atmosphere or style unfortunately. I guess they know they're the main show in town since they are able to charge $16 per person to camp, PLUS $9 per day to take your car to your camping pitch. That's extortionate.
On the upside, it is a 2 minute walk to the town centre and the restaurant in camp serves some unusual local food. For around $10 a head we treated ourselves to kudu burgers, kudu steaks, crocodile tagliatelle and warthog schnitzel. All good.
We were keen to see The Falls from the Zimbabwe side, but that will have to wait. At $30 a head to get through the gate, we left Tamsin & Judith to take the walk along the promontory (we'll being going back in about a month and will see it then). Instead Helene & I spent a couple of hours at The Lookout cafe the other side of the railway.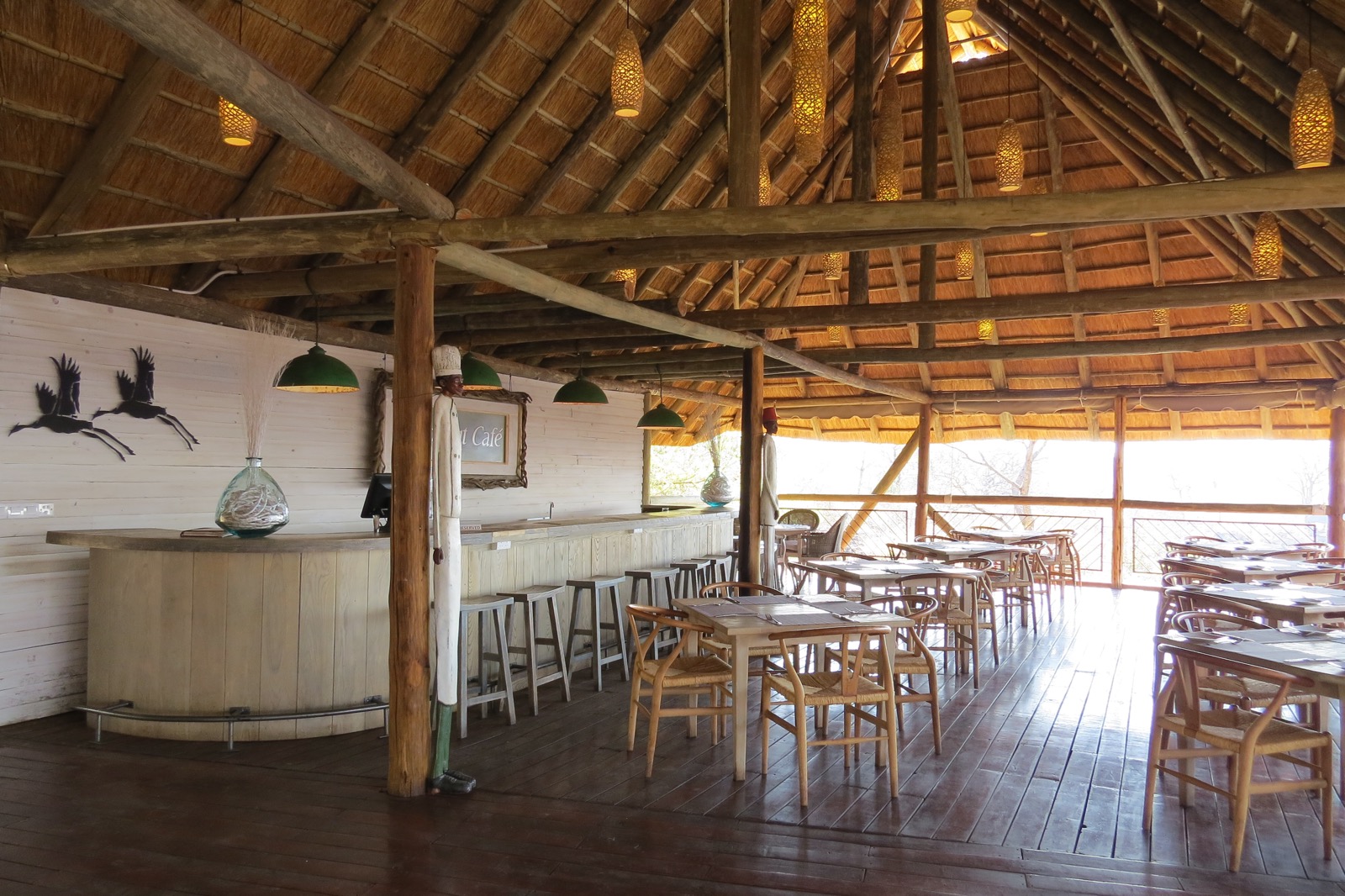 Good coffee, a pleasant place to sit in the shade and great views of the white-water rafters, bungee-jumpers, zip-wire riders and gorge-swing lunatics.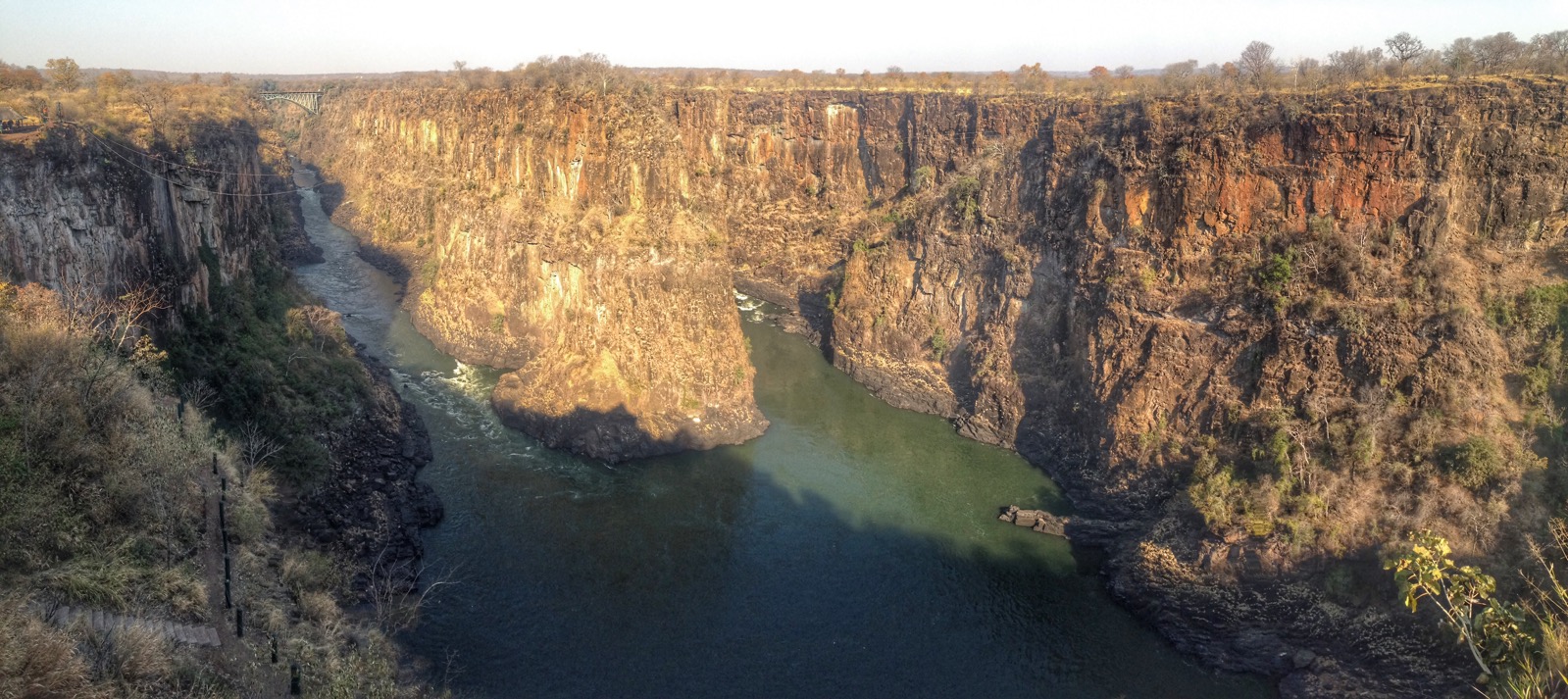 Crossing back to Zambia the following day was as easy as coming into Zimbabwe a week earlier. Until, that is, we tried to get out of the Customs gate. The guard wouldn't let us out until we'd paid for our road tax. I showed him the note from the road Tax HQ at Chipata that we got when we came in from Malawi saying that they believed we didn't need it, but he'd have none of that nonsense. Thirty minutes later we were still in the Customs Office, with the RTSA representative insisting that we definitely needed to pay Road Tax (in addition to the Carbon Tax we already had, and the Council Tax we'd paid for previously). They were pretty grumpy that we'd previously been in Zambia for a month and hadn't paid when we entered but, eventually we managed to talk them out of fining us for that transgression. One way or the other though, they weren't going to let us out of the 'No-Man's-Land' between the Zim and Zambian borders until we had paid the tax.
Given how serious they were about it, I guess it must be legitimate (?). They informed us that the tax will need to be paid every month, if we plan to stay. That would be $360 a year for Road Tax! That's surely nuts.
They certainly weren't concerned about us going to Livingstone HQ and complaining that we'd been told we were exempt, and we weren't going to be going anywhere until we paid. So, we handed over our $20 for 1 month's tax and were let out – with a smile and a wave.
Back in Livingstone we settled in to a lazy last couple of days with Judith & Tamsin at Maramba River Lodge and then finally dropped them back at the airport for their long flight home via Johannesburg.
Since then, everything has returned to normal.
Normal being…….
We're used to being wakened by the Dawn Chorus – a cacophony of different bird calls. On day one, at 5.30am the dawn chorus was of splintering wood. Elephants in the camp.
During the day, it's not so much of a problem – they can be seen and avoided pretty easily. View from The Penthouse…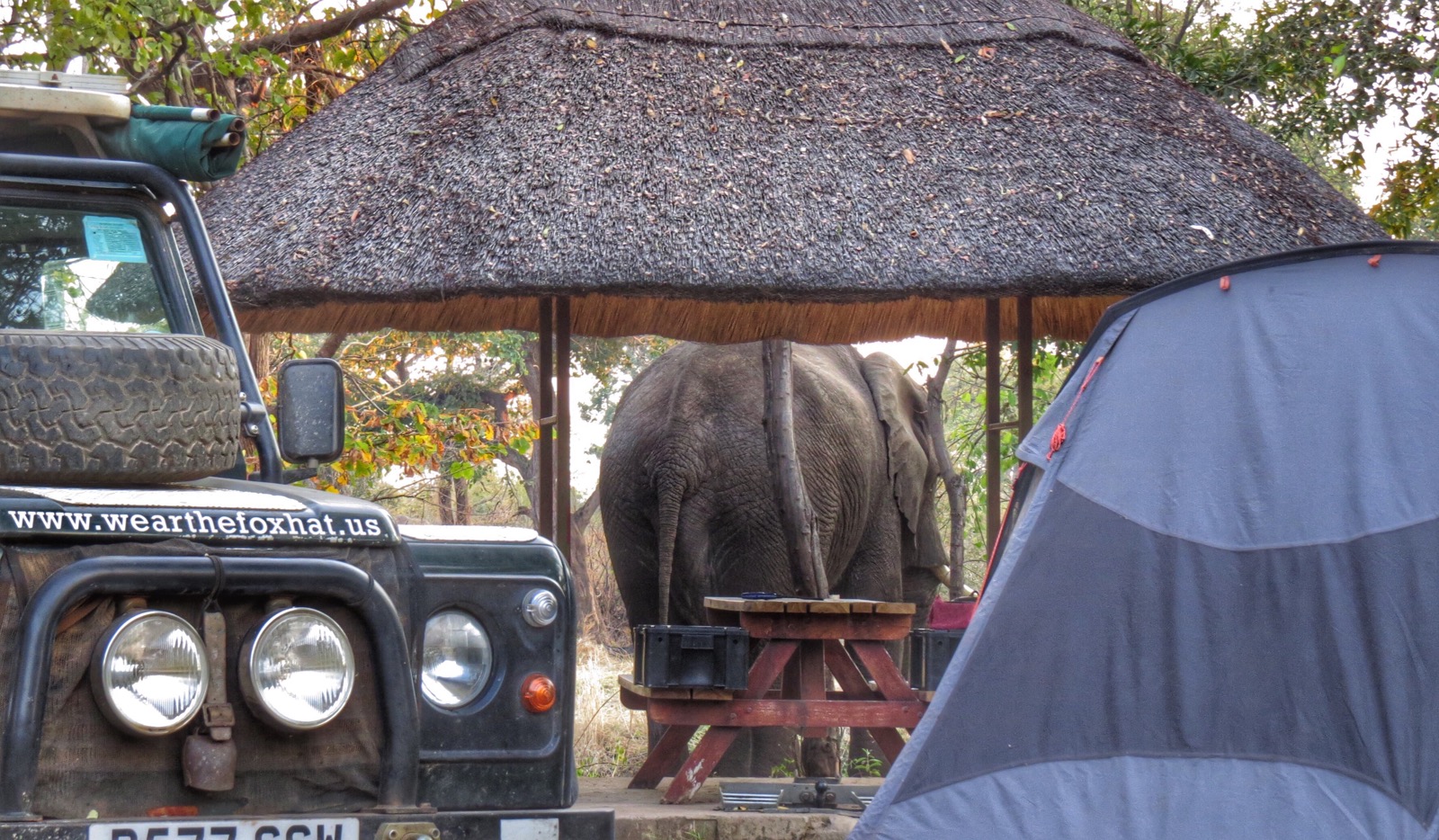 Like silent assassins though, sometimes they can take you by surprise (this picture is a bit shaky – it was taken on the phone and I was walking backwards pretty rapidly)…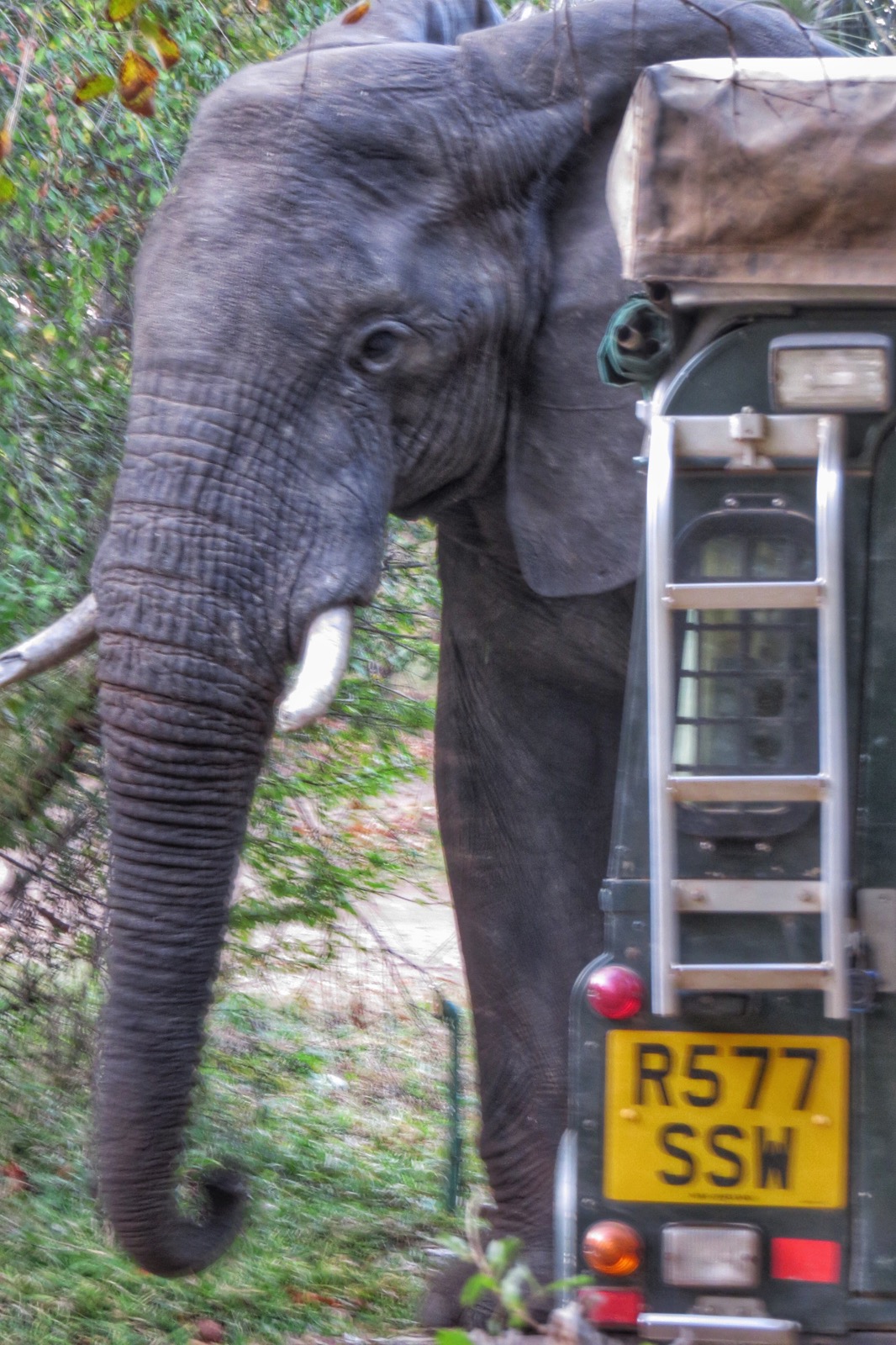 Unfortunately, since Judith & Tamsin had left, we were still in the ground tent (taking the opportunity to clean the car & kit). That meant that on day 2, when the elephants came in overnight, we were a bit more vulnerable than normal and it's pretty difficult to keep track of them in the dark. It was the same 3 bulls that came in and bull elephants can be a bit touchy. Although it's unlikely they'd step on the tent, given its size and shape, it's possible they'd try to hump it!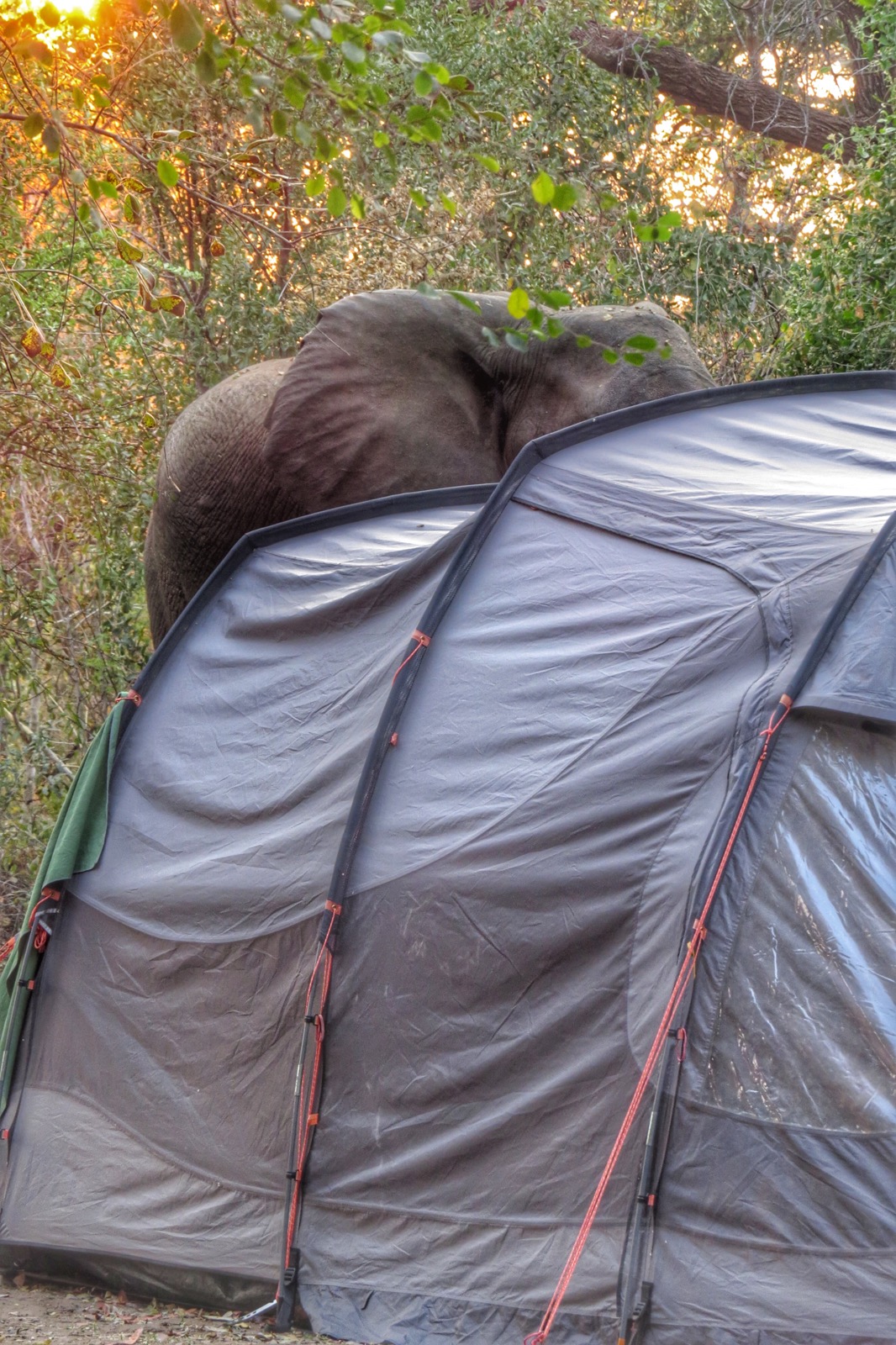 Overnight they were tearing trees down around the tent. I'm pretty happy in a ground tent when they're wandering around peacefully, but when they're hungry, they just snap small trees like toothpicks…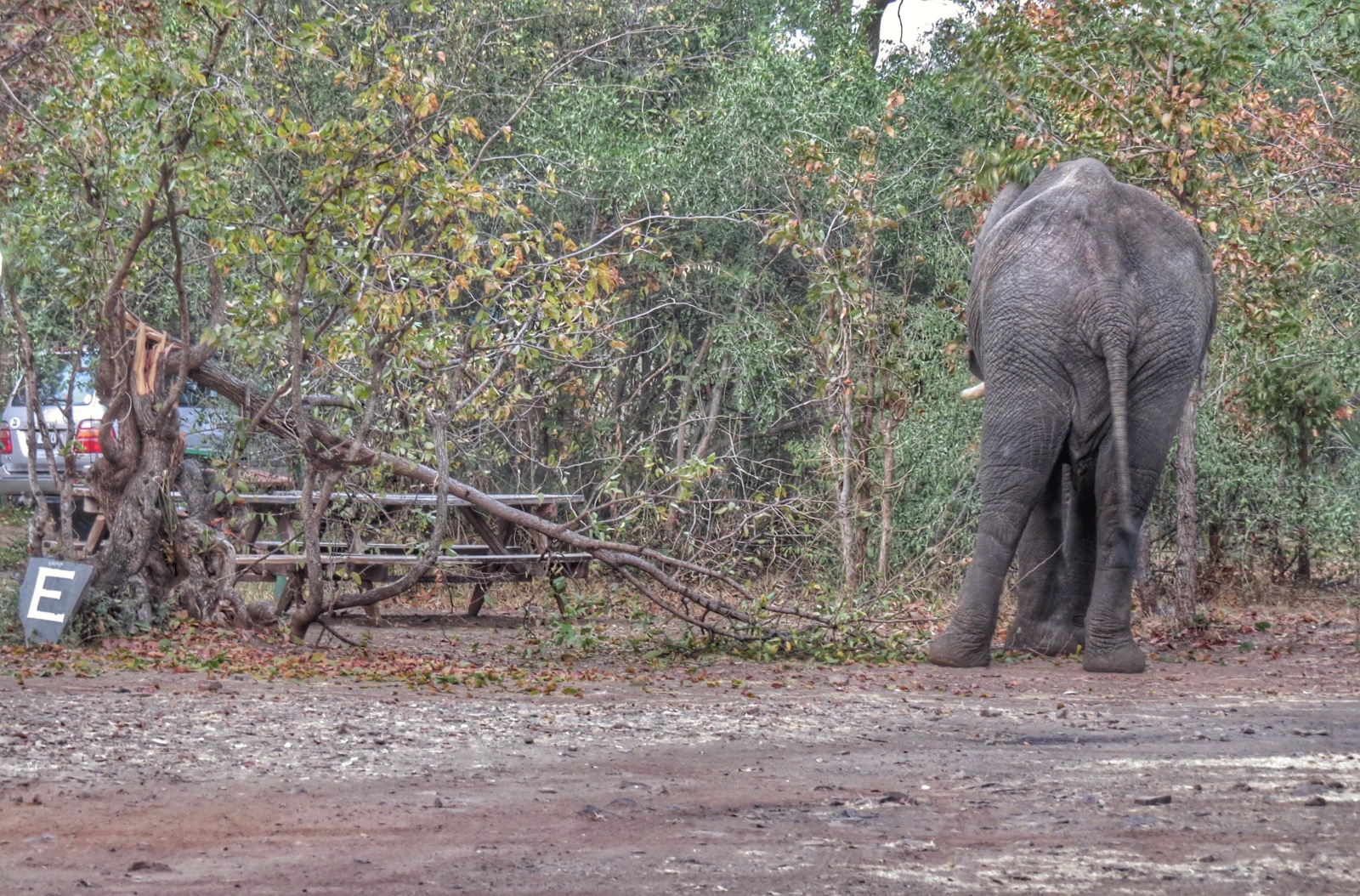 Worse, trees like this one (that came down next to us) would make a bit of a mess of a tent, or a head sleeping in it…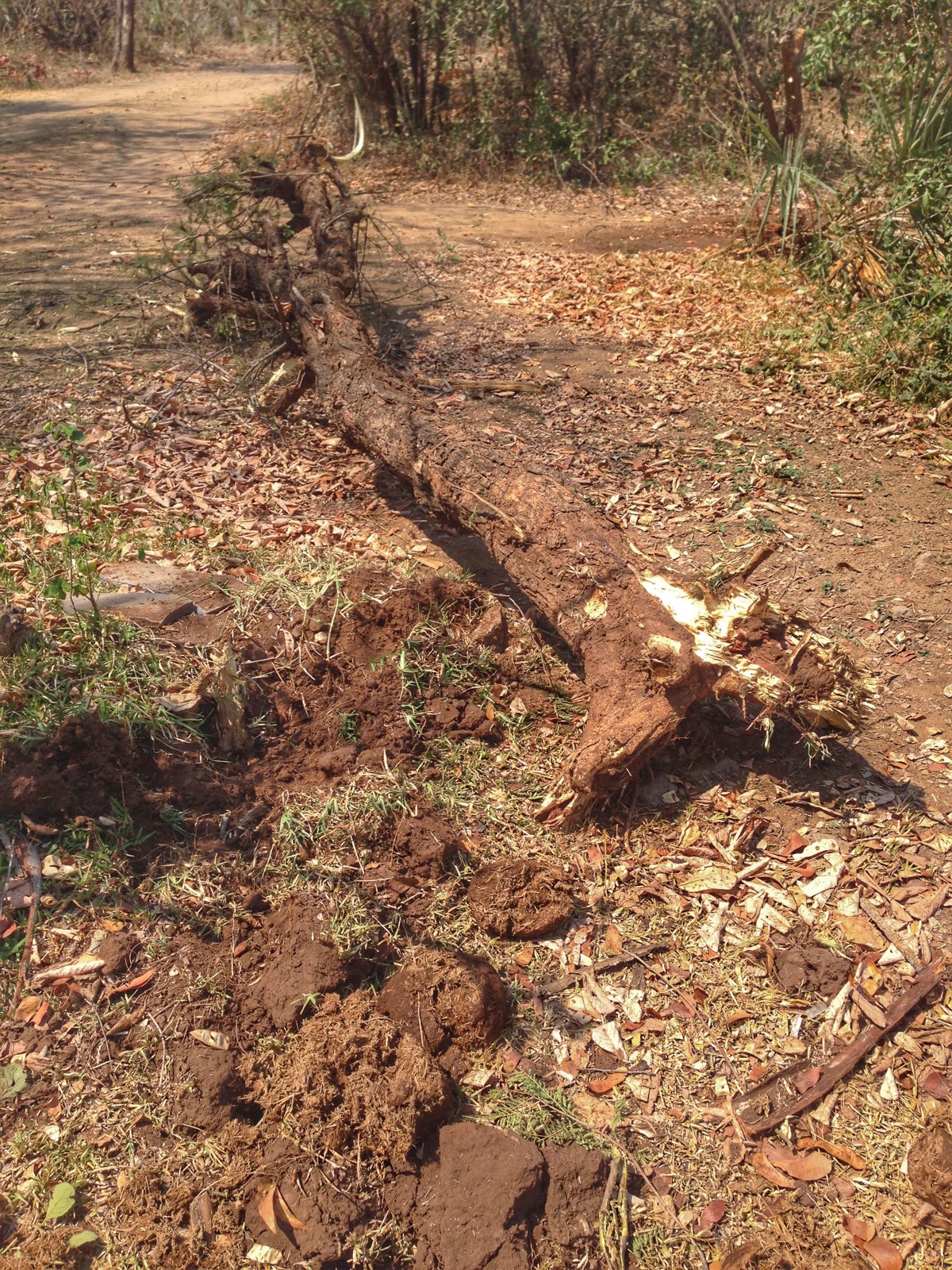 That night, when this tree came down, we stood outside the tent for an hour at 1am trying to keep an eye on where the elephants were. They had us cornered, with each of the 3 bulls within 20 yards on 3 sides of us, and the river 20 yards behind us. That was fun.
By 2am we spotted a blind spot they'd left and managed to escape towards the lodge reception. We were happy enough to just sit there and wait till daylight, but the staff found us some keys and kindly gave us a chalet for us to get some sleep. They were happy to escort us to the chalet, but none of them would go near the campsite to try and scare off the elephants.
ZAWA (Zambian Wildlife Authority) were called for to try and get them away from the lodge (elephants will quickly make a mess of planting, paving, swimming pools, etc) but they didn't bother to show up until about 11am.
Once it was daylight, we were up and about again to survey any damage, and try to keep a careful eye on which way they were heading at any time…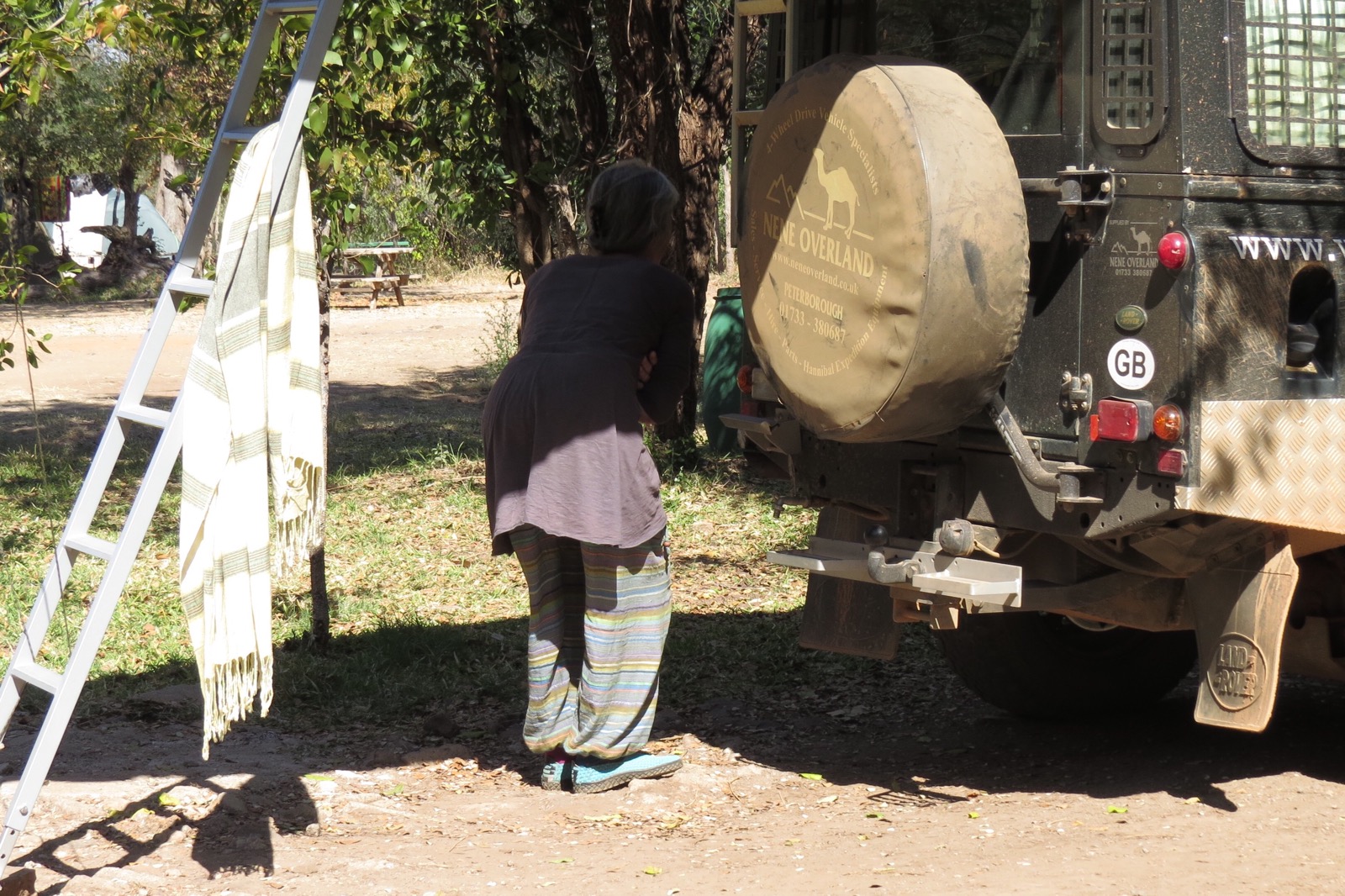 ZAWA scared them off with flash-bangs and a few rifle volleys into the air, confidently proclaiming that they'd be out of our hair for a week or so at least. We weren't taking any chances, so we put away the ground tent and put up the rooftent – much less chance of that being hit by falling branches.
On day 3, overnight, the same 3 bad-boy bulls were back again. This time we didn't bother getting up, but they certainly kept Helene awake all night, pulling branches down around us, even nudging the car at one point. When she woke and looked out the rooftent window she said it was like a scene from Jurassic Park – eye to eye with the beast standing only a foot or two away.
The Lodge security guards had been issued with flash-bangs to scare away any more raiding parties. During the day they're cautious, but prepared to try and chase them off. At night, the only sign we saw of the guards was them running in the opposite direction. They really are terrified of them.
So everything's back to normal. Of course, 'normal' in our case means a mechanical issue. We went up to Lusaka for a week's change of scenery. After 5 hours driving, as we entered Kafue, we suddenly had no brakes (a fairly familiar feeling I'm afraid to say). One pothole or stoney road too many had once again severed our brake pipes at the rear. We limped into the village and found a small workshop behind a fuel station run by a young guy called Anton, and his even younger apprentice.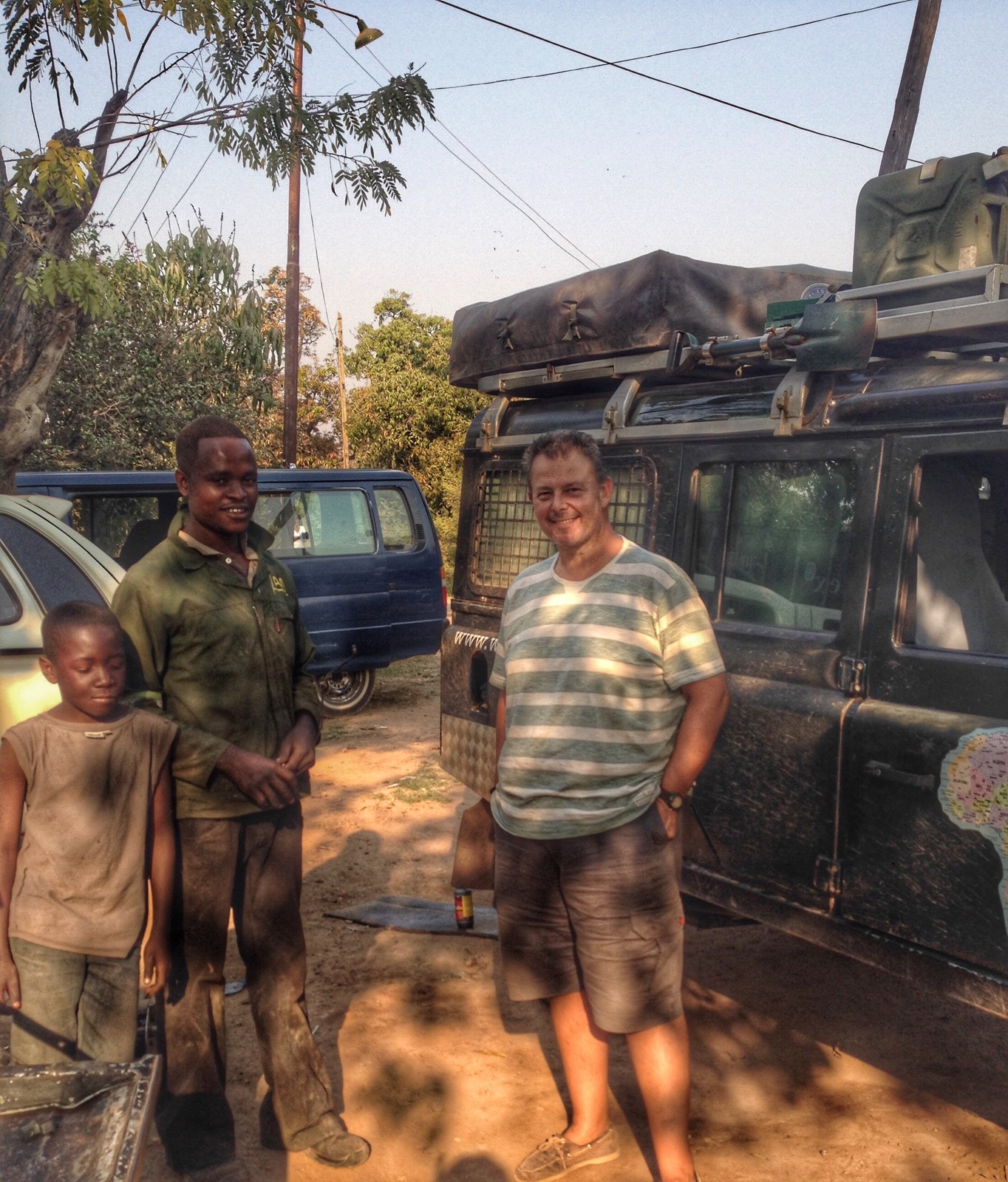 Within two hours they'd braised the pipe, connected a new nipple, bled the system and the brakes worked better than they had in years. Great job: $15 plus a large tip!
Back to normal…Camping at Eureka, just outside Lusaka, we were too late to bother cooking and decided to eat at the bar. There was a birthday brai (BBQ) going on for a local family, catered by the birthday girls' sister and aunts. Within 20 minutes we had huge plates of chicken and beef forced on us (they wouldn't take no for an answer) and the 9-inch wide slabs of birthday cake. Caroline, one of the chefs, spent ages trying to find out how many single nephews we had – she's 25 and looking for a man: she doesn't want to live anywhere but Zambia but she wants a British man "They're the BEST. They're so kind, loving, generous, polite and faithful".
Normally, Helene just does any washing up or laundry at the car, in a bucket. She broke with tradition the following day and used the camp sinks. Or at least she tried to. She spotted a cute frog hopping around the sink, then spotted the not-so-cute snake that was chasing it: presumably to invite it to lunch. She shouted for some help as it chased her away from the sinks and the poor old cleaning lady who came had nothing to throw at it other than her mop and bucket. It was a Black Mamba, so unfortunately couldn't just be left to wander. Eventually a couple of labourers came and dealt with it using a (long handled) garden hoe.
The following day we picked up 2 new tyres we had ordered following our puncture. I specifically wanted BFGoodrich as the ones we've had so far since leaving the UK have been superb. Here though, most of the tyres are Chinese rubbish. The 'normal' price for BFGoodrich would be $470 each in Zambia / Zimbabwe, but I managed to find Kal-Tire(a mining-supply company) who would fit them for $390 each. About double the normal UK price. Still they're worth it.
Back at camp, once again everything was normal…The baboons had been in. There was no fresh stuff left out, but they found our box of dried goods.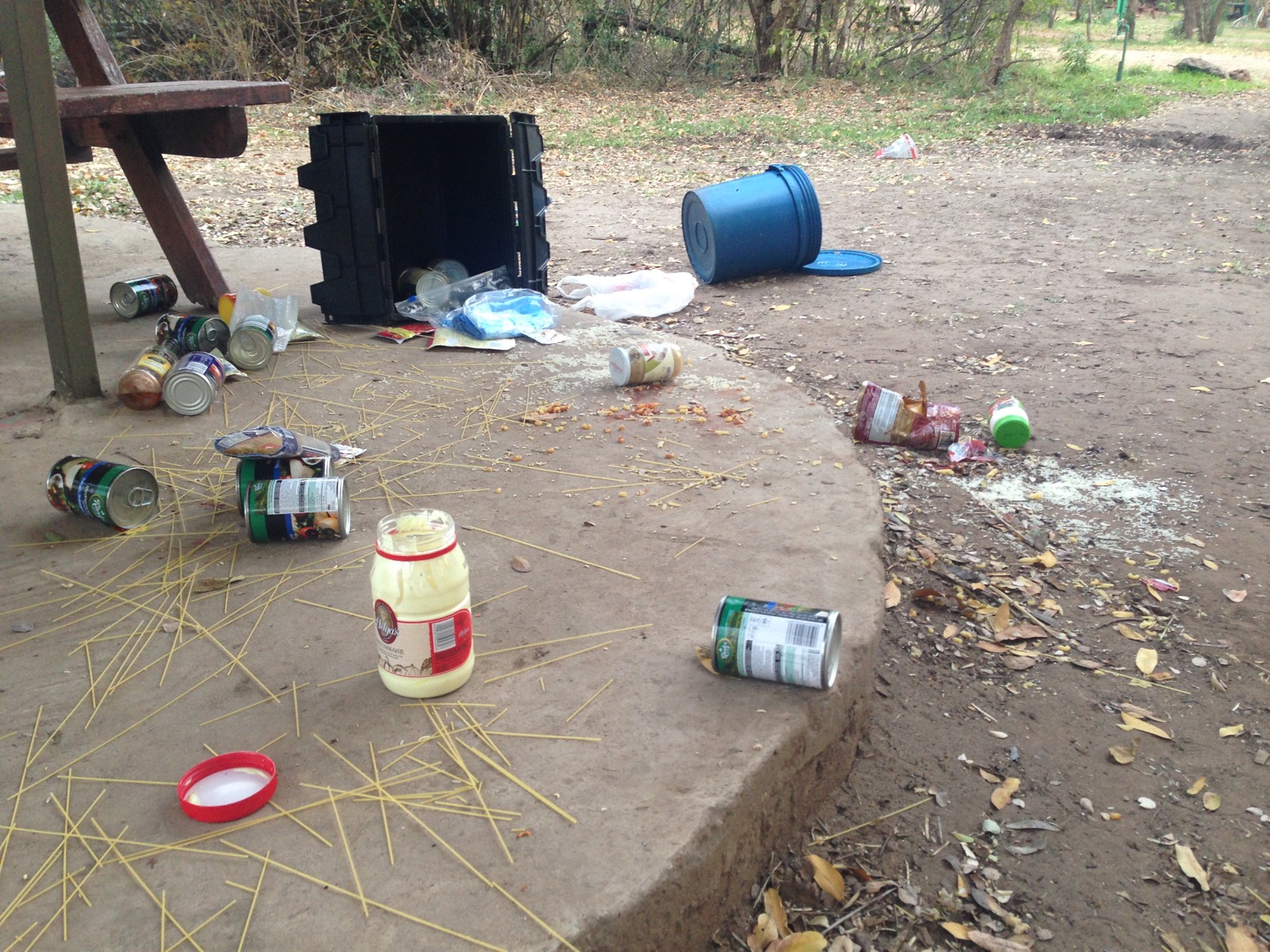 I can confirm that baboons won't touch dried spaghetti, don't like dried pasta much, but love dried noodles. They don't like garlic, but like tomato and onion sauce. They can't open tins yet, but have no problem with screw-top jars of mayonnaise. They like mayonnaise but, judging by the amount of baboon crap around, it goes straight through them!
Since then we've had Dassies, the occasional hippo and a beautiful Genet in camp overnight.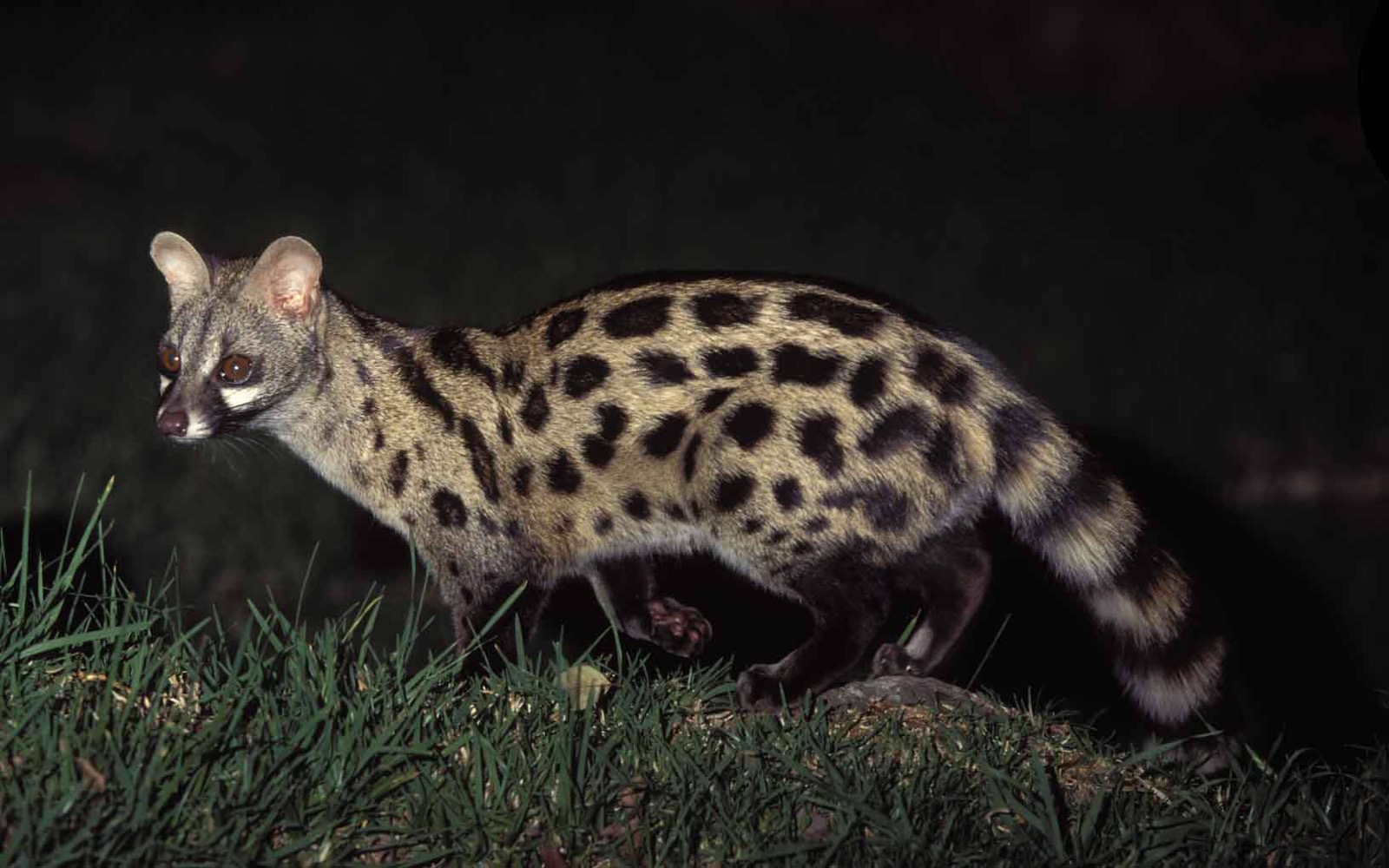 I'm starting to get a little concerned about what I regard as 'normal' these days.