Blistering hot at Bridge Camp. So hot that we actually had to sleep half out the rooftent, with our heads on the roof-rack just to stop ourselves melting.
Back to normal form, we had the place to ourselves, other than a missionary group who stopped in for a late lunch on their way from Blantyre to Lusaka to pick up a donated overland truck (that's really motoring!). The only other guests were a group of soldier ants off on a raiding party. They always seem to know exactly where they want to go, and allow very little to divert them from their course.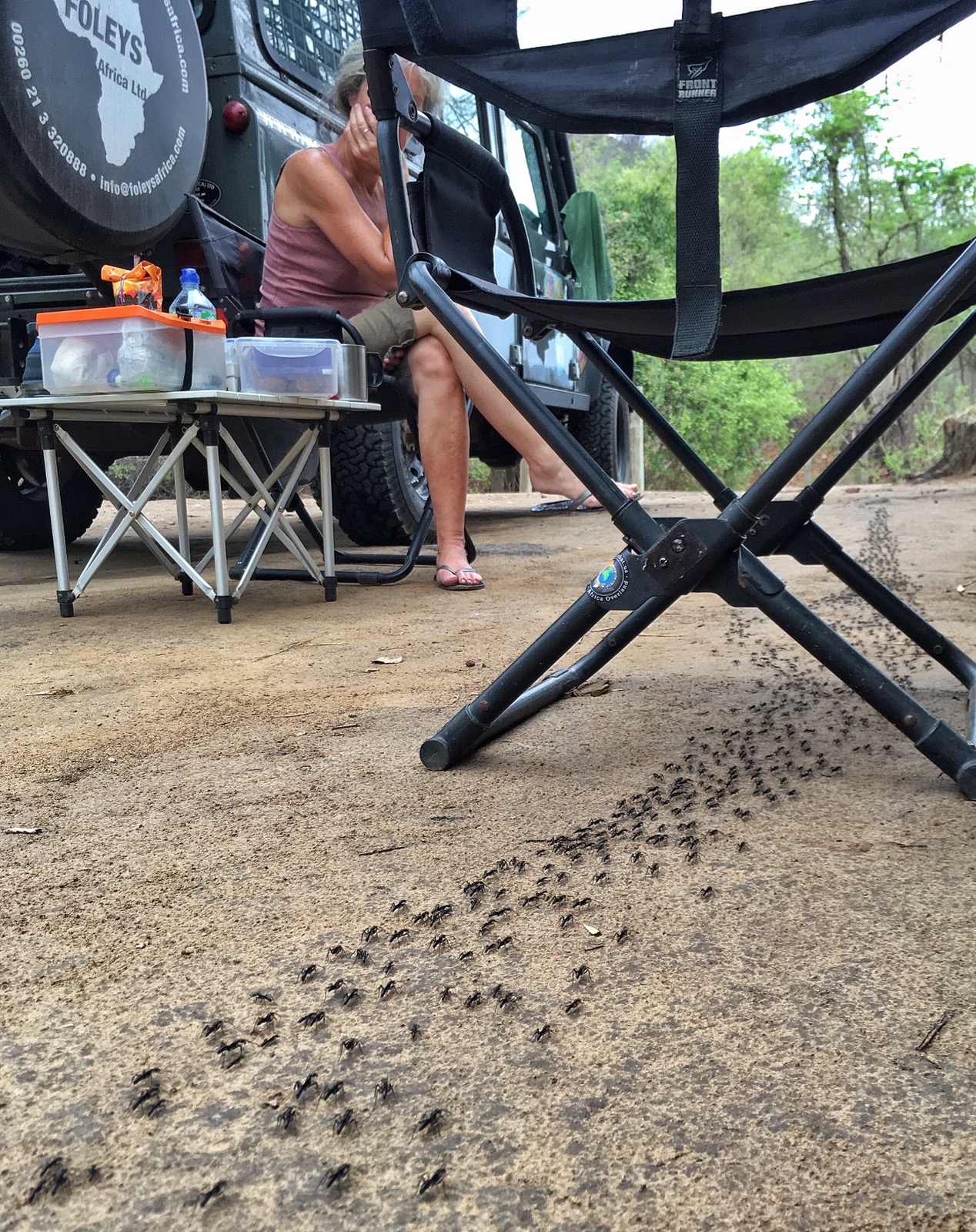 Bridge Camp has changed. Owner Lindsey died just after we left last year and her husband Will seems to have got a new local manageress in. Push-up bra, lacy top, short shorts and one of the fiercest scowls I've encountered for a good few years. She seems to have perfected the technique of registering customers, serving behind the bar and settling bills without actually saying a single word, registering any form of facial expression or even putting her beer down.
Still, on a happier note, the road to Chipata at the Malawi border has now been tarred and, what took us 10 hours on a rutted, dusty, roller-coaster track the first time we came this way, took us only 4 1/2 hours this time round.
The road is so good that, since its single lane, they've put speed bumps in to slow drivers down around the (infrequent) villages. Most of these are just rumble-strips and gentle humps. Occasionally though they throw in a 'Uganda Standard' hump, just to catch out the unwary. We were about 100m outside one village, behind a S African Toyota towing a fully loaded overland trailer, when he decided to put his foot down. He crested the 'Uganda' style speed hump, his trailer didn't. The trailer reared like a boat trying to break out of the surf on a beach and the tow bar dug into the tar bringing it to an immediate stop. Had we been in anything other than a Land Rover (no acceleration) we'd have ploughed into the back of it.
The Toyota roared off into the distance – no doubt congratulating himself on his vastly superior torque and towing power – leaving the trailer, upright, in the middle of the road. I did my best to catch him, sounding the horn, flashing all lights, accelerating as hard as possible (!). If the road out of the village hadn't been dead flat, dead straight and deserted, he probably never would have seen us. As it was, he eventually slowed down and stopped about 3 miles outside the village and we pulled alongside him. As we drew level with his car, he stepped out. Helene wound her window down and he asked her if there was a problem. "I think so' she replied 'you seem to have lost your trailer.' "What, where?" 'About 3 miles back, at the last speed bump.' If he hadn't actually looked behind his car, I don't think he would have believed her.
At Chipata we decided to stay somewhere different to Mama Rullas (most of the place has now been sold / leased of to Cargill Investments for long-term staff accommodation so went to Dean's Hill View Camp which is now owned / run by Andrea and Mata a young Italian couple who met in the middle of nowhere, Zambia.
Deans Camp was empty when we arrived, but within 24 hours there were 5 other overlanders camping on the terraces just outside town.
We were back up at 1,200m altitude so it's a lot cooler here (no need for Helene to shower in her nightie before getting into bed) and the storms come in pretty fast.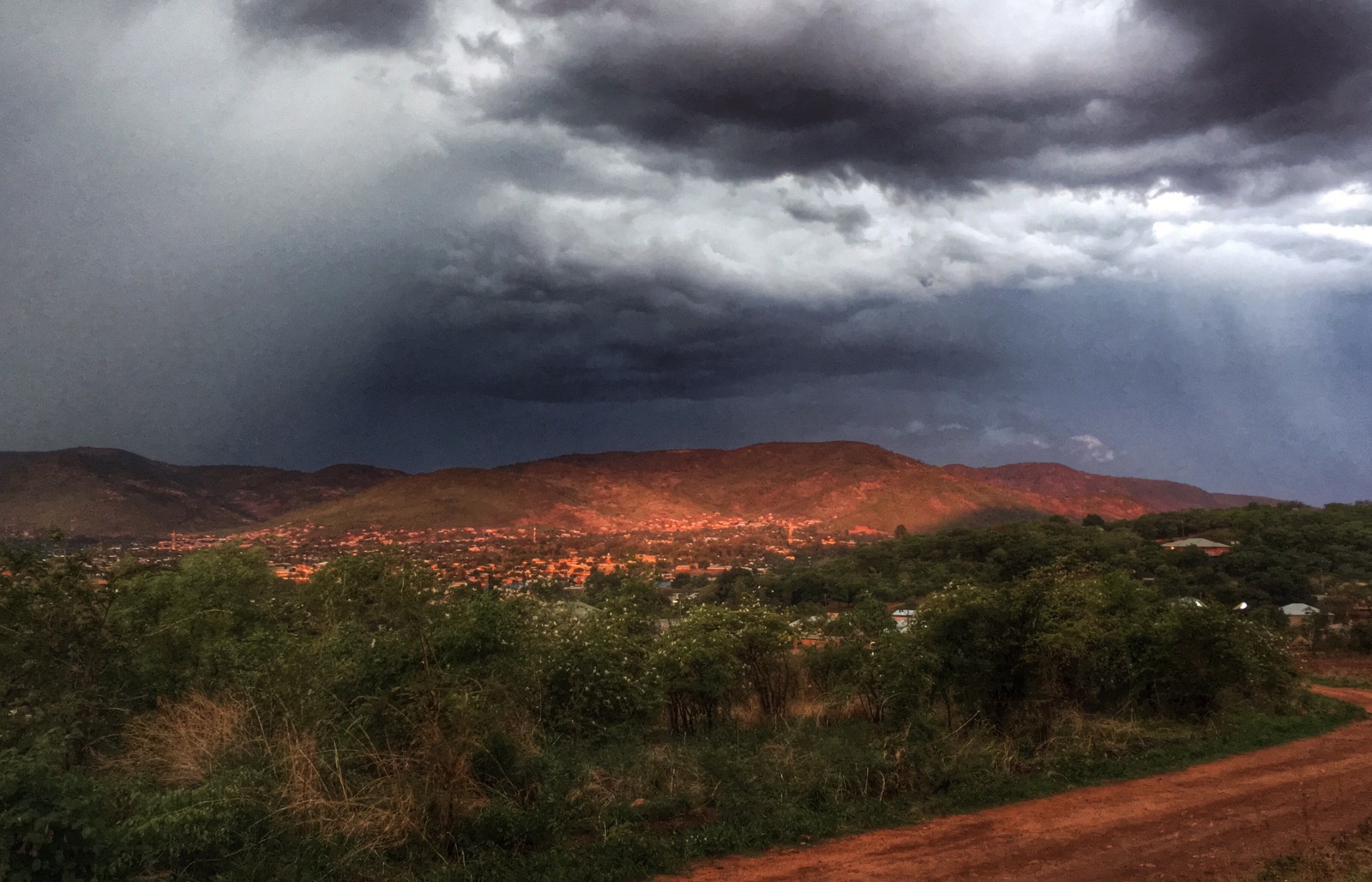 Andrea mentioned that Mata made her own pasta. When it's chucking it down with rain and you find an Italian woman who's husband brags that his wife makes her own pasta, forget about campfire cooking. We headed for the bar with Kers & Simone (a Dutch couple, also brave enough to overland in a Land Rover, rather than a Toyota) and feasted on home made lasagne. Ace.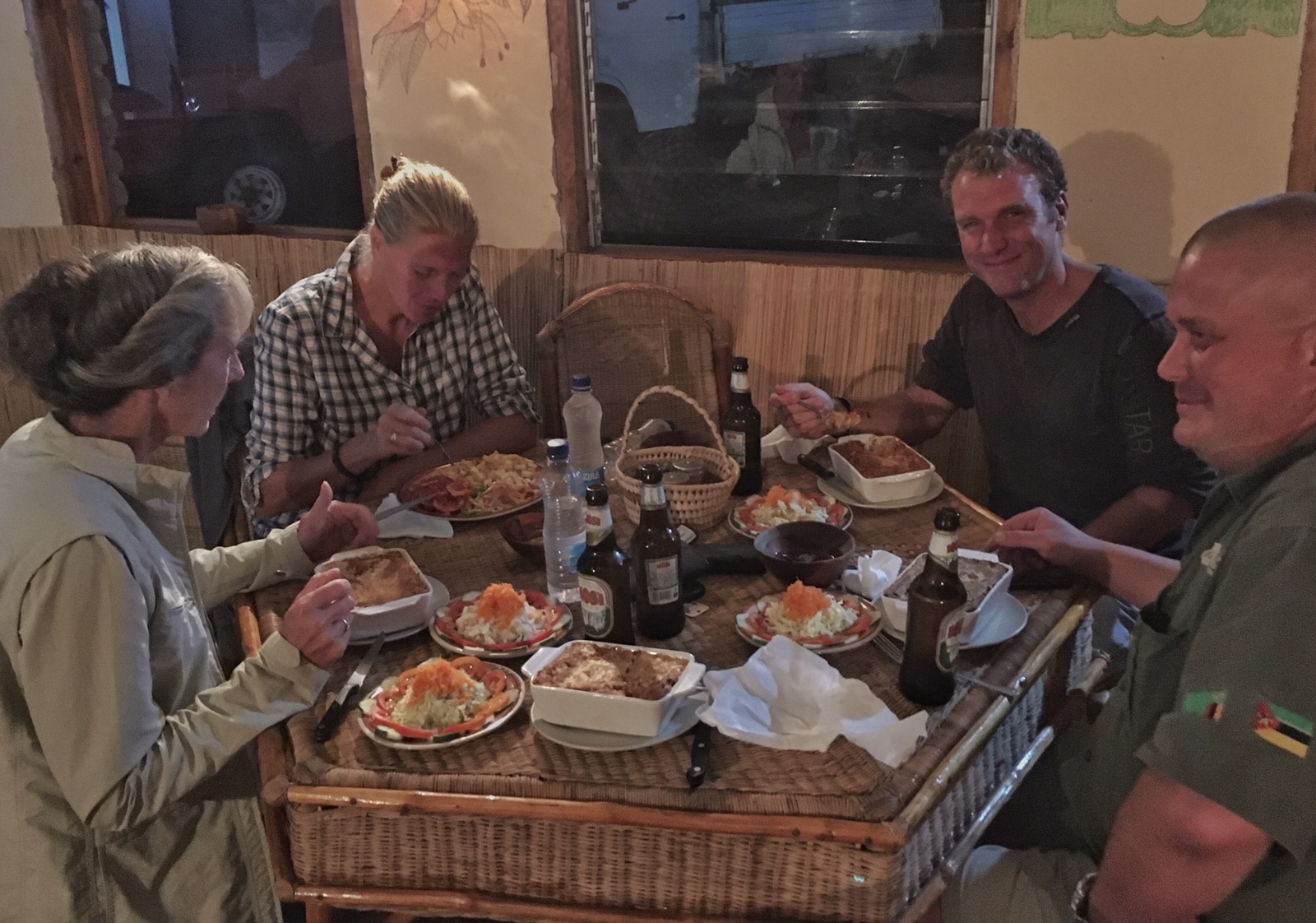 The next morning a bright yellow Land Cruiser pulled into the camp and we recognised Florence & Frans, another Dutch couple we'd met previously watching clouds of termites (over a beer) outside Lusaka. They had just cut short their stay at Croc Camp, just outside South Luangwa National Park (where the baboons mercilessly robbed us of our meat for dinner while we were there) after they'd been sitting next to their car and 4 elephants strolled up. They weren't too concerned at first, just moved away slightly and gave them some room.
One of the elephants either took exception to something about their car, or decided he wanted a new iPhone, so he stuck his trunk through the drivers window, demolishing it entirely, and his tusk through the windscreen in front of the drivers seat.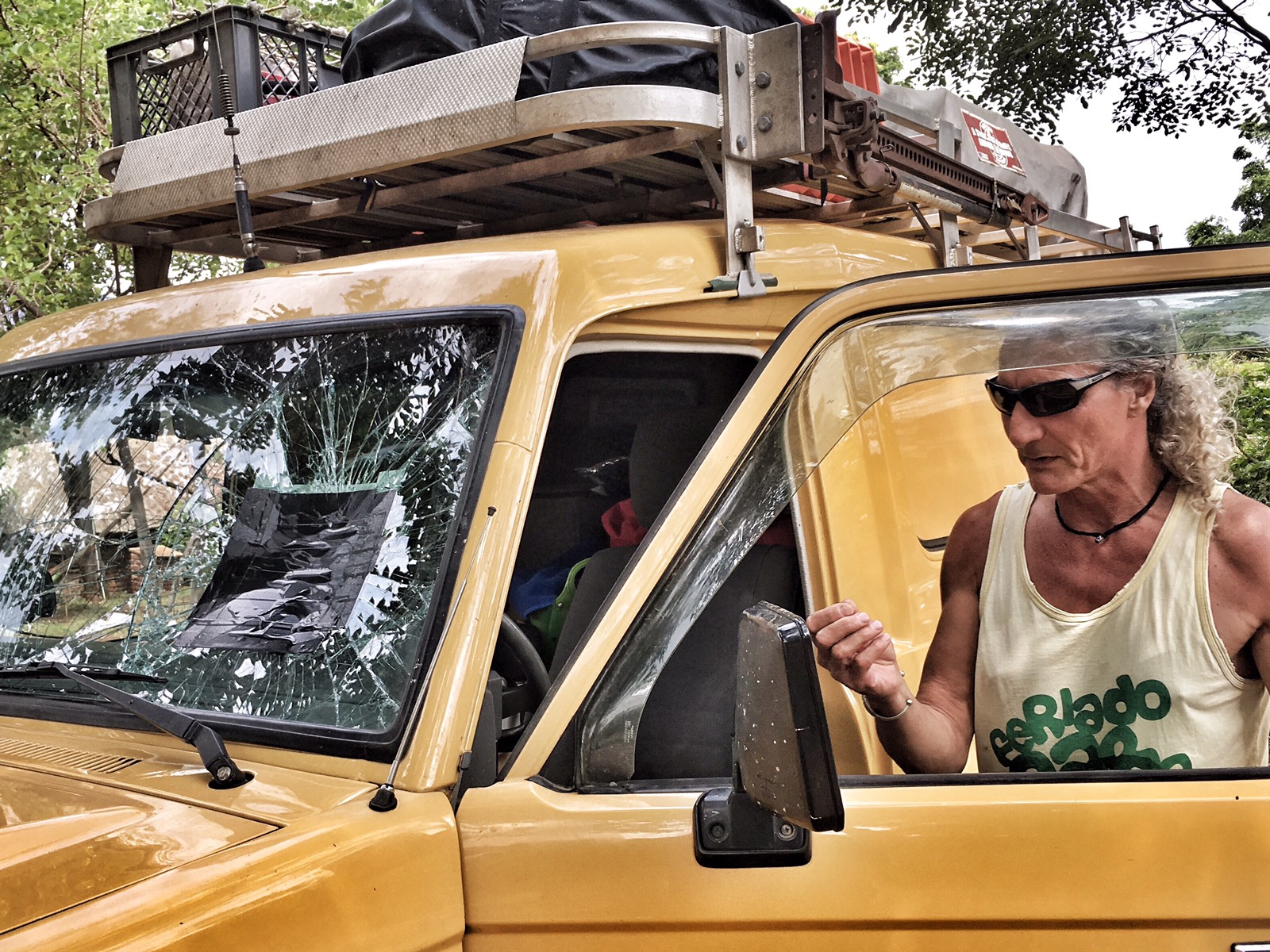 A couple of relaxing, stress free days for all concerned were on the menu at Deans Camp, then we headed out to Lilongwe, Malawi.
As previously, the border was pretty straightforward, although the $75 per person visa fee hurts since it was introduced last year (it was previously free for most Europeans) and we had to pay 30,000 Malawi Kwacha ($40) for 3 moths 3-Rd party insurance as we haven't bothered to renew our COMESSA for this part of the trip. We drove 159km to the Immigration Office in Lilongwe and (painlessly & quickly) extended our visas for a further 30 days for only 5,000 Kwacha (around $5) each then found our way to Woodlands Lodge & Campsite, near the Wildlife Reserve and the Embassies.
It was nice to be back and the management & staff remembered us from our last visit. Hardly surprising really – the last time we were here we were camping directly in front of the main entrance to the lodge with our fuel tank and whole fuel system in bits in the car park for 7 days after being towed in from 150km away and dropped off at 2am.
Still, it's nice to be remembered.
Anyway, embarrassed or not, I wasn't going to miss the chance to once again get stuck into their Indian Menu at the Lodge restaurant. The owners are Indian / English and they brought the chefs over with them. Without doubt one of the best Indian menus in Africa and better food than most Indian restaurants in the UK.
One of the biggest issues in Malawi is that the highest denomination note they produce is 1,000 Kwacha (about $1.30 / £1) and the largest amount that can be withdrawn from an ATM is 40,000 Kwacha.
In most cases, the locals rarely need larger notes (average wages are around $1 per day), but unfortunately fuel costs about $1.50 per litre and camping costs $10 each per night. Credit cards are only very rarely accepted (never for fuel or shopping, occasionally for up-market lodges).
Therefore you need a lot of cash. Queues at ATMs (if you can find one with cash) can make opening day lines outside London's Apple Store the night of an iPhone launch look like a Macdonalds drive-through at 4am on a snowy Wednesday in Watford.
This little lot is the result of 7 maximum withdrawals from the ATM (my bank charges $2 per withdrawal) and will just about allow us to fill the Trigger's Broom's tank with diesel and camp for 3 nights.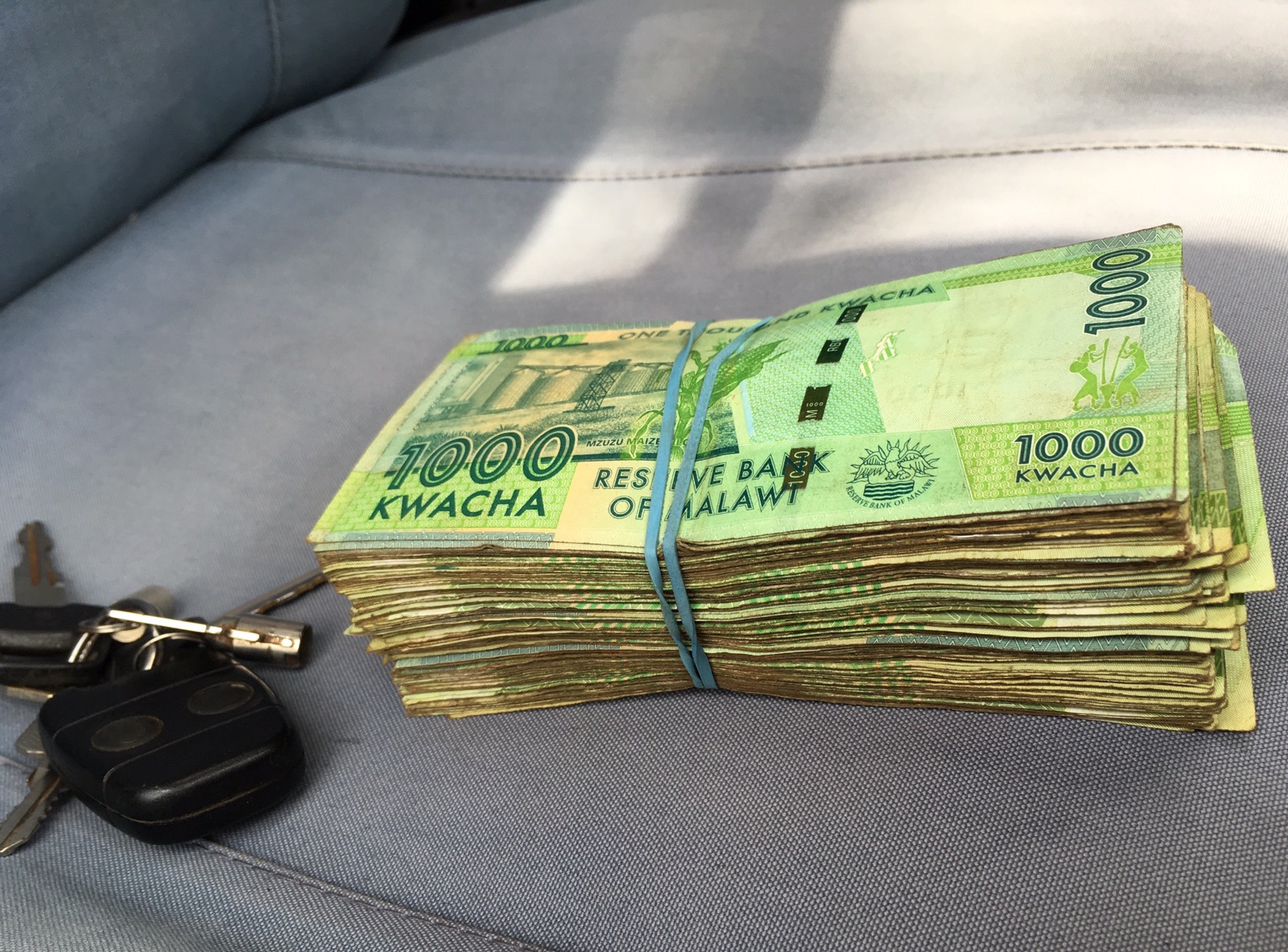 I thought we were hard done by, scouring Lilongwe for cash. Imagine how Frans & Florence felt. They turned up at Woodlands Lodge having got their windscreen and window replaced at MA Motors (who fixed our car last time we were here) for only $1,250.
That's almost 25 maximum withdrawals over a period of 2 days. Could have been worse, Toyota Lilongwe quoted the same price for the windscreen alone, excluding fitting and the drivers window, but (fortunately) didn't have any in stock.