Lake Malawi is sometimes know as The Calendar Lake'. It's huge: around 356 miles long and 52 miles wide. From up on the Nyika Plateau you can see across to the mountains of Tanzania and Mozambique. At the lake shore there are beautiful beaches – it's like an inland sea.Kande Beach camp has a lovely setting on the lake shore and is a pretty good camp site.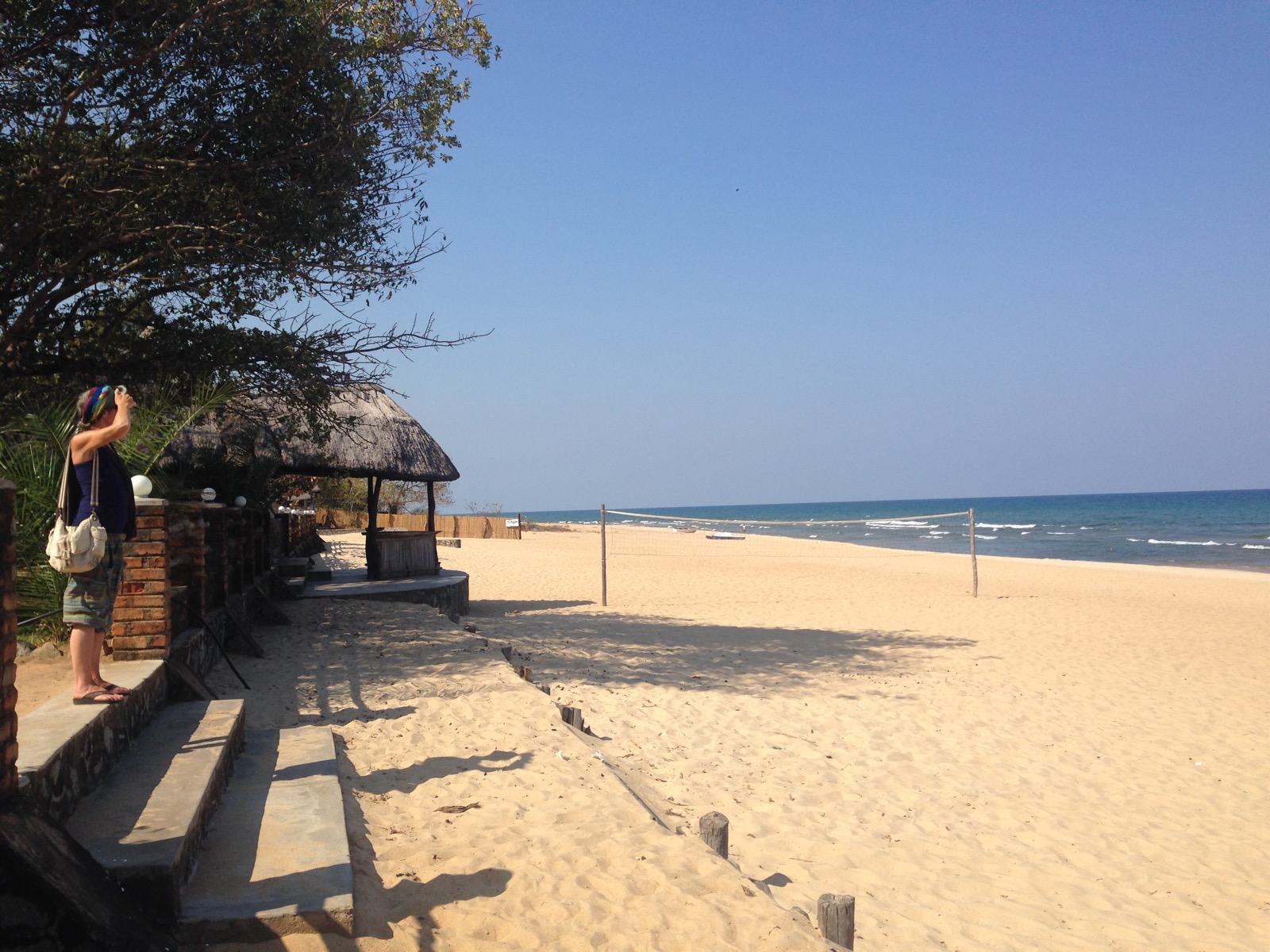 The staff are friendly, but the management are almost surly, certainly not particularly welcoming. I guess it's more of a party camp than most of the others and it gets pretty lively with the overland tour-truck crowd. Par for the course is a hog-roast, lots of beer, and loud partying in the bar till well past midnight.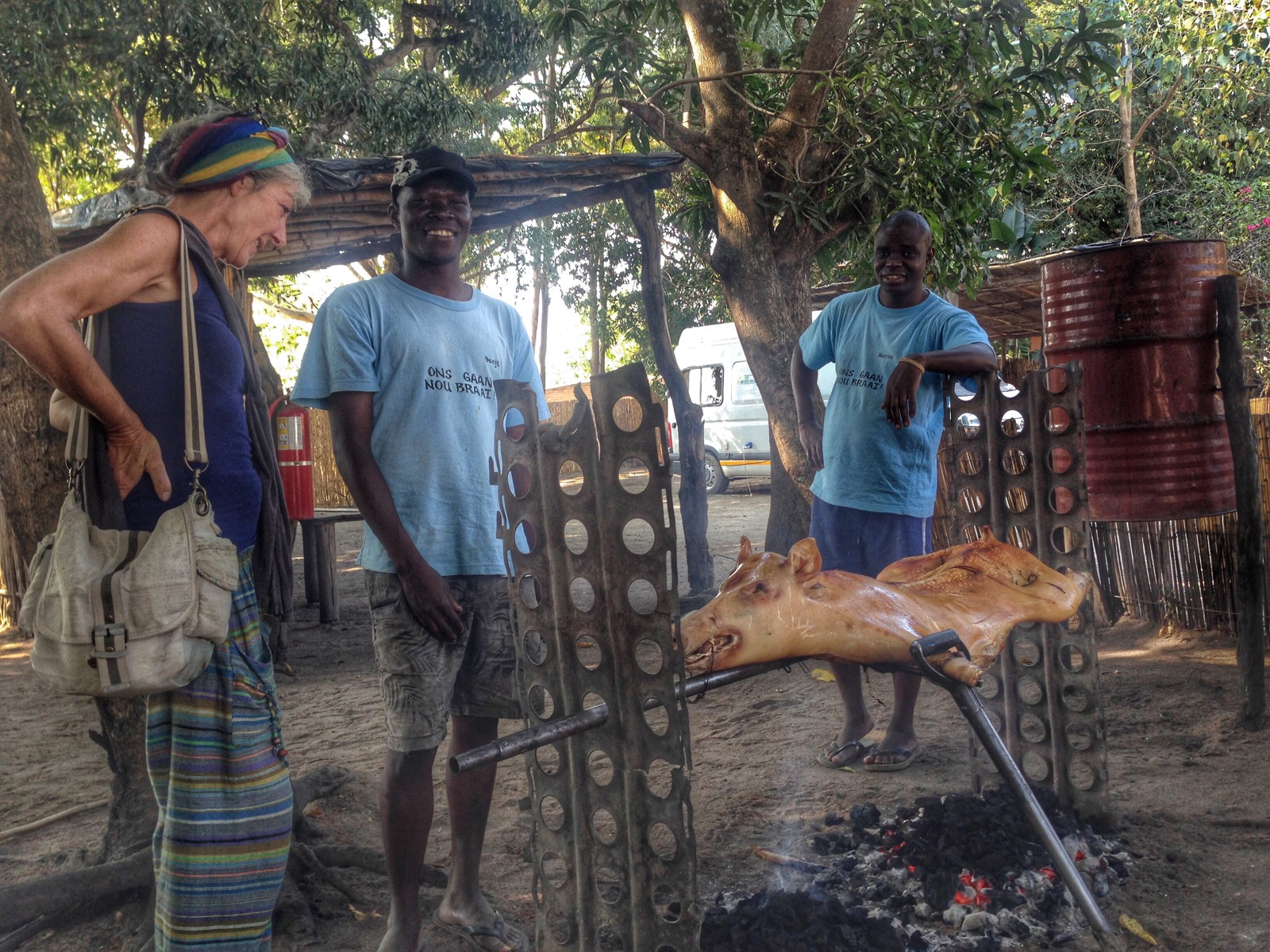 Not really our sort of place, so we only stopped 1 night on our way down to the Malawi / Zambia border at Chipata.
Having stayed at Barefoot Safaris just west of Lilongwe (nice, clean, peaceful, hot showers etc: camping, $10 each) we were only a short hop from the border and looking forward to a stress-free day.
That didn't happen. The border itself is typically chaotic, nothing fancy, and generally friendly.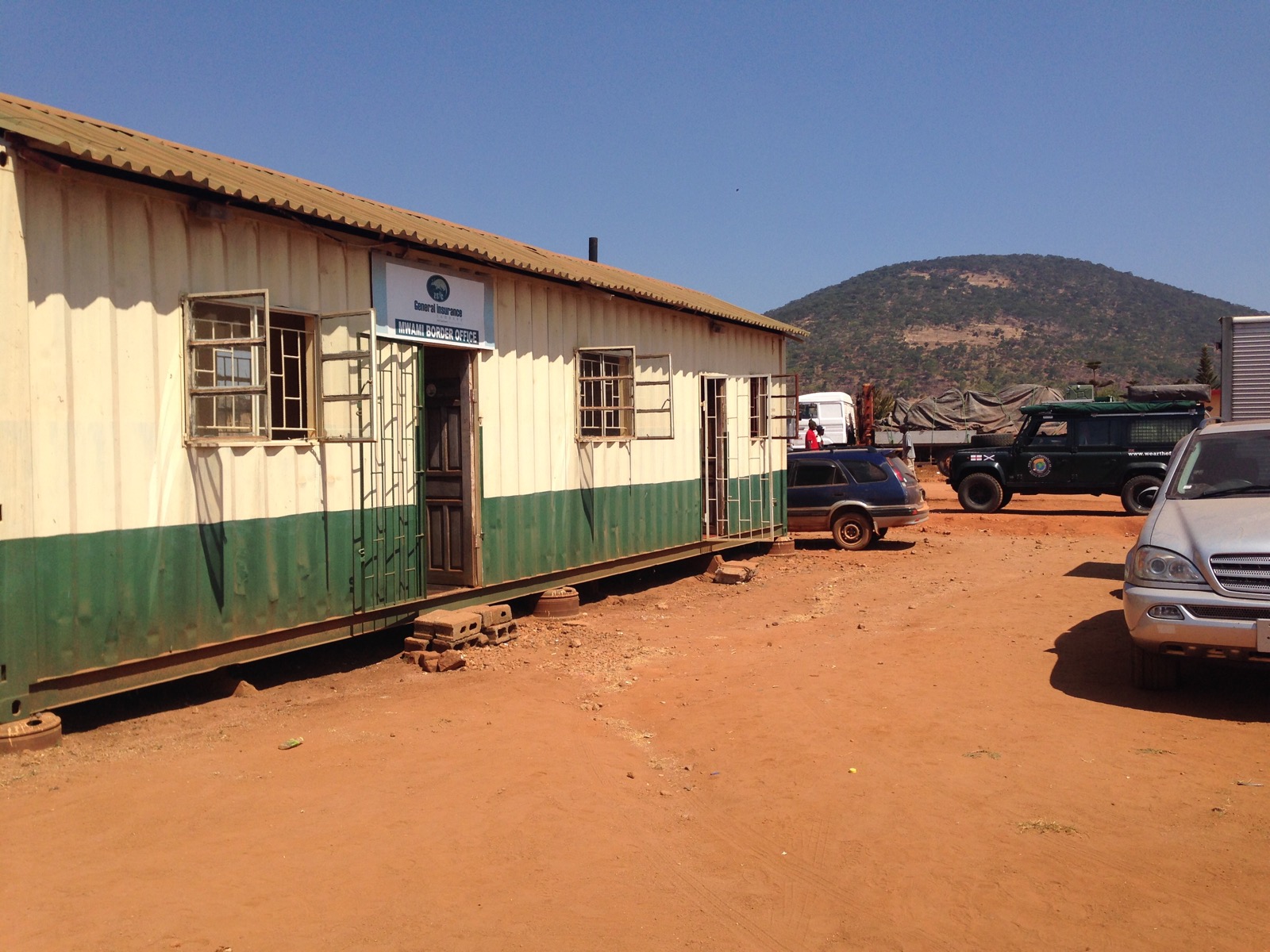 There's even a restaurant…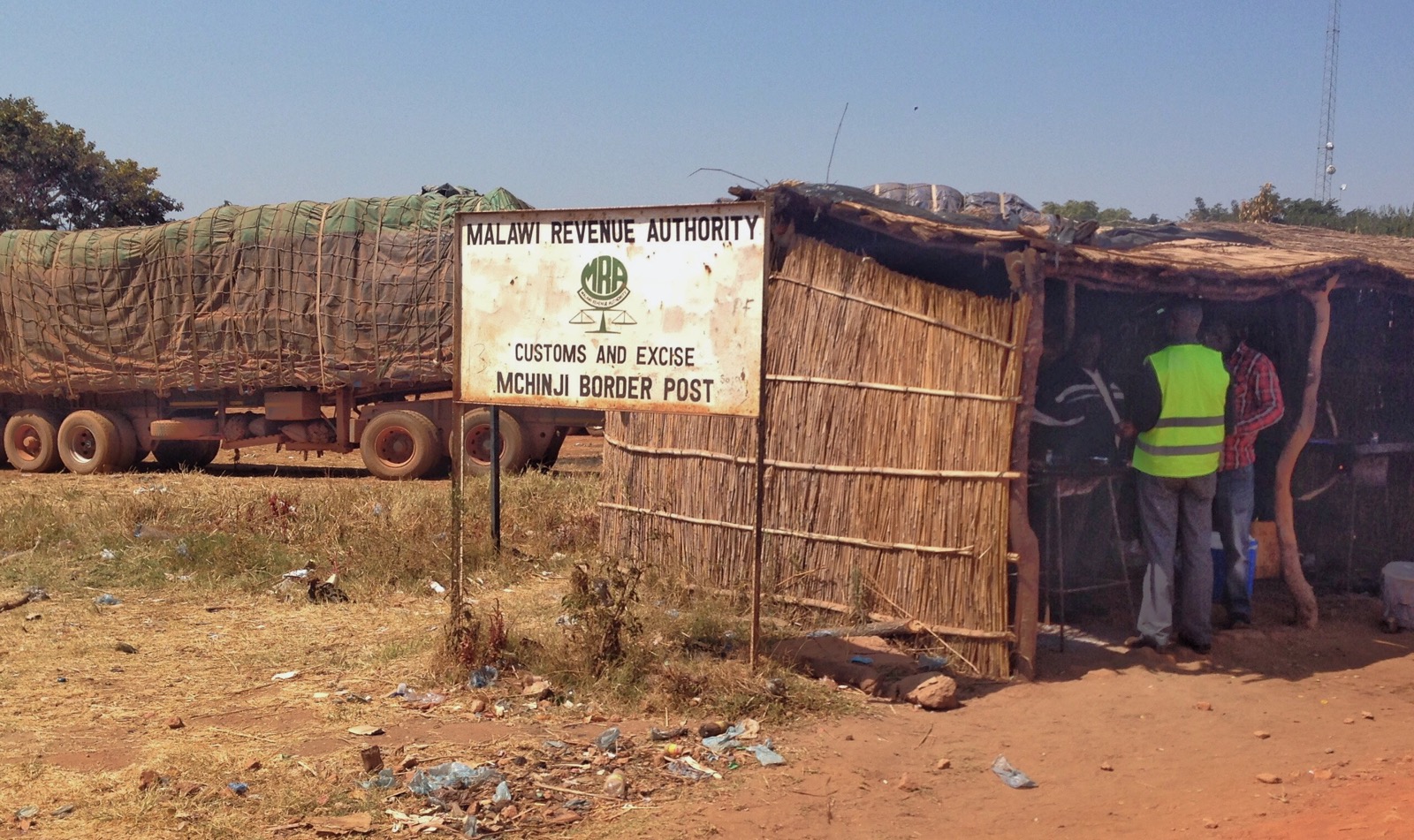 Remarkably, it took us only 10 minutes on the Malawi side to get our passports & Carnet stamped for exit, and only 20 minutes on the Zambia side to get Visas ($80 each, 1 month, double entry), Carbon Tax for the car (150 Zambian Kwacha ie around $20) and Council Tax (ZK 50).
That's some sort of speed record in our experience. That's where it all ground to a halt though. The officials from the Road Tax & Safety Authority (RTSA) loiter around the Customs buildings and insisted that we needed to pay Road Tax of $20. I hadn't heard of that one before, but they were adamant. Unfortunately, all the power had just gone out (scheduled 'Load-Shedding' due to the lack of water and, therefore Hydro-electric distribution right across Zambia). This was around 11am and the power wasn't due back on 'till 3pm – that's Zambia time remember, so 3pm could easily become 5pm.
No way I wanted to hang around that long, so the manager at the RTSA office gave me a hand written note (to show to police at any roadblocks if we were stopped) allowing us to travel the 30km into Chapata, pick up supplies and return to the border at 3pm to process our road tax.
The road into Chapata turned out to be a dusty, rutted, temporary surface while the main road is rebuilt. The 30km took us almost 90 minutes and filled the car with dust & sand. I certainly wasn't looking forward to driving back out there later in the day, and then back to town again (probably in the dark).
In Chapata we stumbled across the RTSA Head Office and pulled in to ask them if we could pay the tax there instead. The security guards said yes, no problem, except the power was also off till 3pm. We hung around 30 minutes, until a very helpful Official from RTSA came over to ask if he could help us. When we told him we were waiting to pay Road Tax he was surprised. "You don't need it" he said "It's for Zambian vehicles and Goods Vehicles, not visitors. You've paid your Carbon Tax, you don't need anything else." We explained the situation at the border, he phoned the regional manager to double-check, then told us "100% certain. You don't need it."
That's a result. The hassle would have been worse than the $20 fee. However, one final twist: while we were camped at Mama Rula's in Chapata, 5 other over landing couples came in late in the afternoon (we haven't seen that many people in months!). They'd had the same Road Tax issue at the border and the power was still out. They'd each paid the border RTSA manager the $20 Road Tax and an extra $5 for him to deliver the certificates to them in Chapata later that evening.
Top Tip: read through the entry regulations carefully before paying up (or avoiding payment). Either we've messed up, or overlanders are paying Road Tax unnecessarily.
I don't know. Either it's some sort of border scam (that we've avoided) or we're supposed to have it and will be liable for fines at any road block.
We'll cross that bridge when we come to it. In the meantime after a hellish 300km, 8-hour drive on temporary roads from South Luangwa, we stayed overnight at Bridge Camp on the Luangwa River. It's a lovely spot…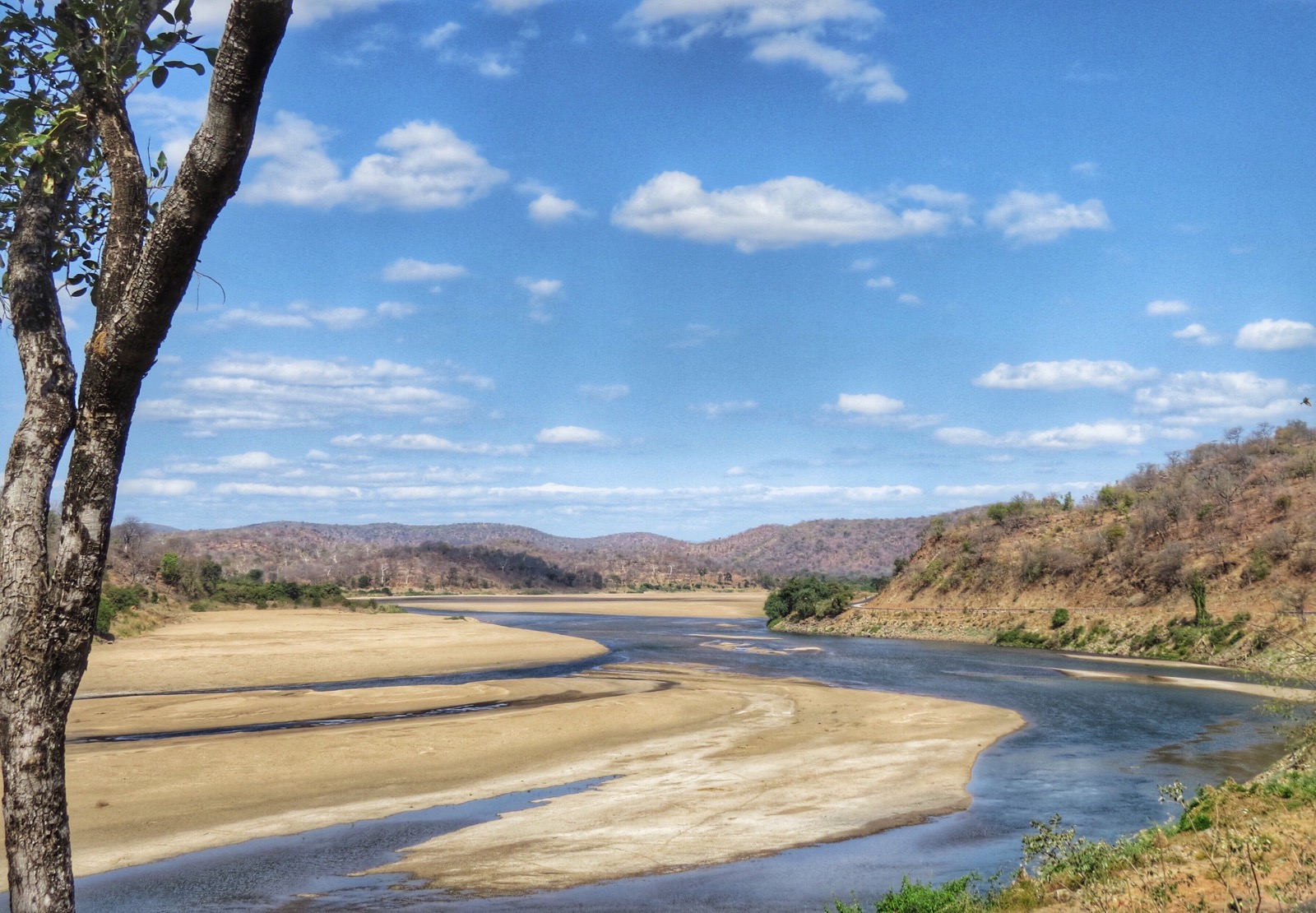 …and spent a lazy afternoon watching the kids fishing (with mosquito nets).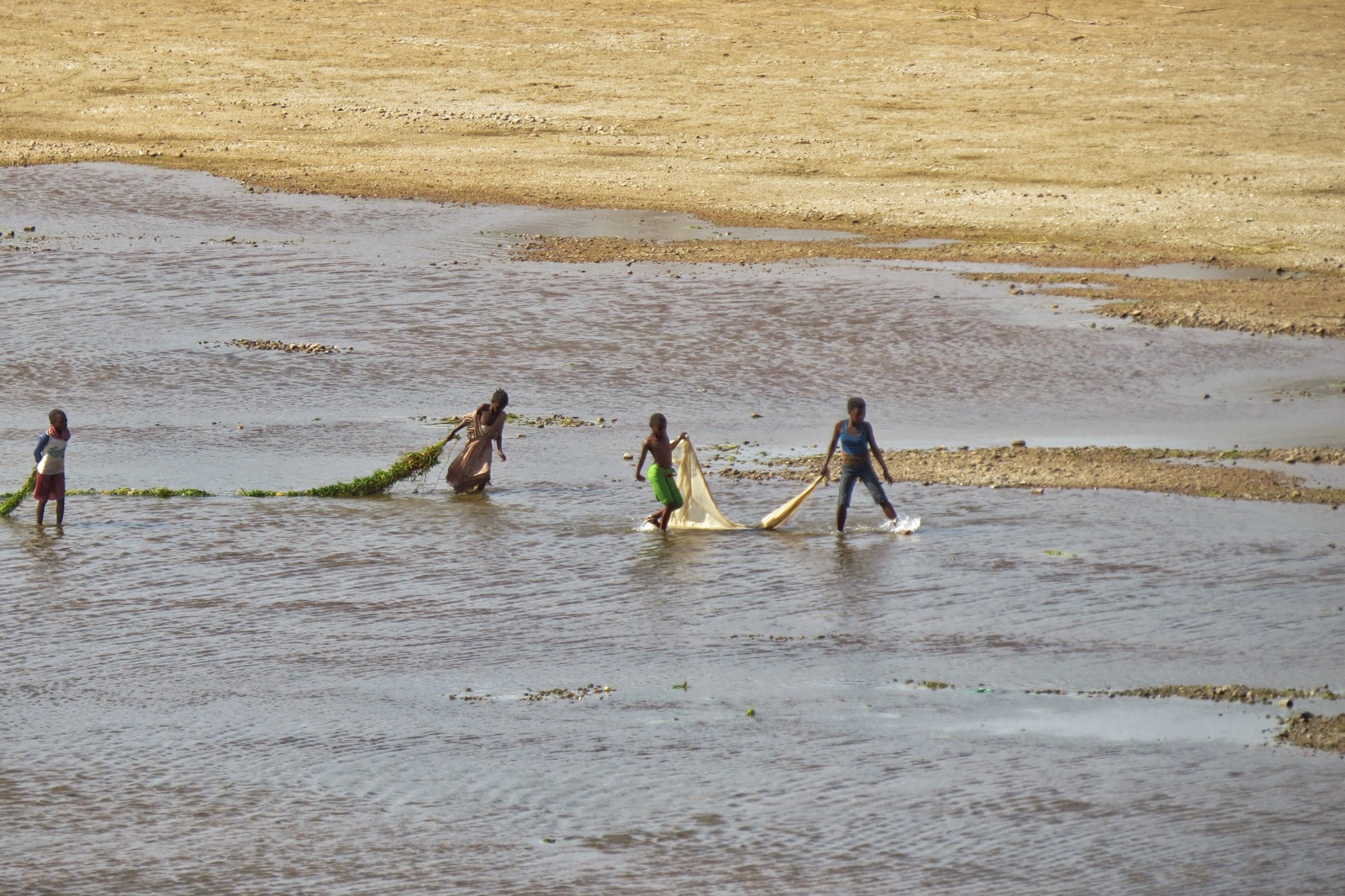 Owners Will & Lindsay haven't changed. They're very friendly but still bicker with each other like a vicious Fawlty Towers. They're also still trying to sell the camp to everyone who comes to the bar, although the price has come down now to $550k.
With a deadline to meet in Livingstone, we had no time to hang about. We stayed at Pioneer camp (nice, good bar, friendly people, pool and good restaurant) in Lusaka while we carried out a quick search for new BFGoodrich All-Terrain tyres (rare as rocking-horse dodo) and then an overnighter at The Moorings camp (no idea why it's called that, there no water around for a hundred kilometres) before we arrived back at Maramba River Lodge, about 4km upriver from Victoria Falls outside Livingstone.
It's nice to be back. It's nice not to be moving. It's nice to once again be in an area with wildlife around (I'd forgotten how much I'd missed it over the last 9 months).
View from The Penthouse yesterday morning: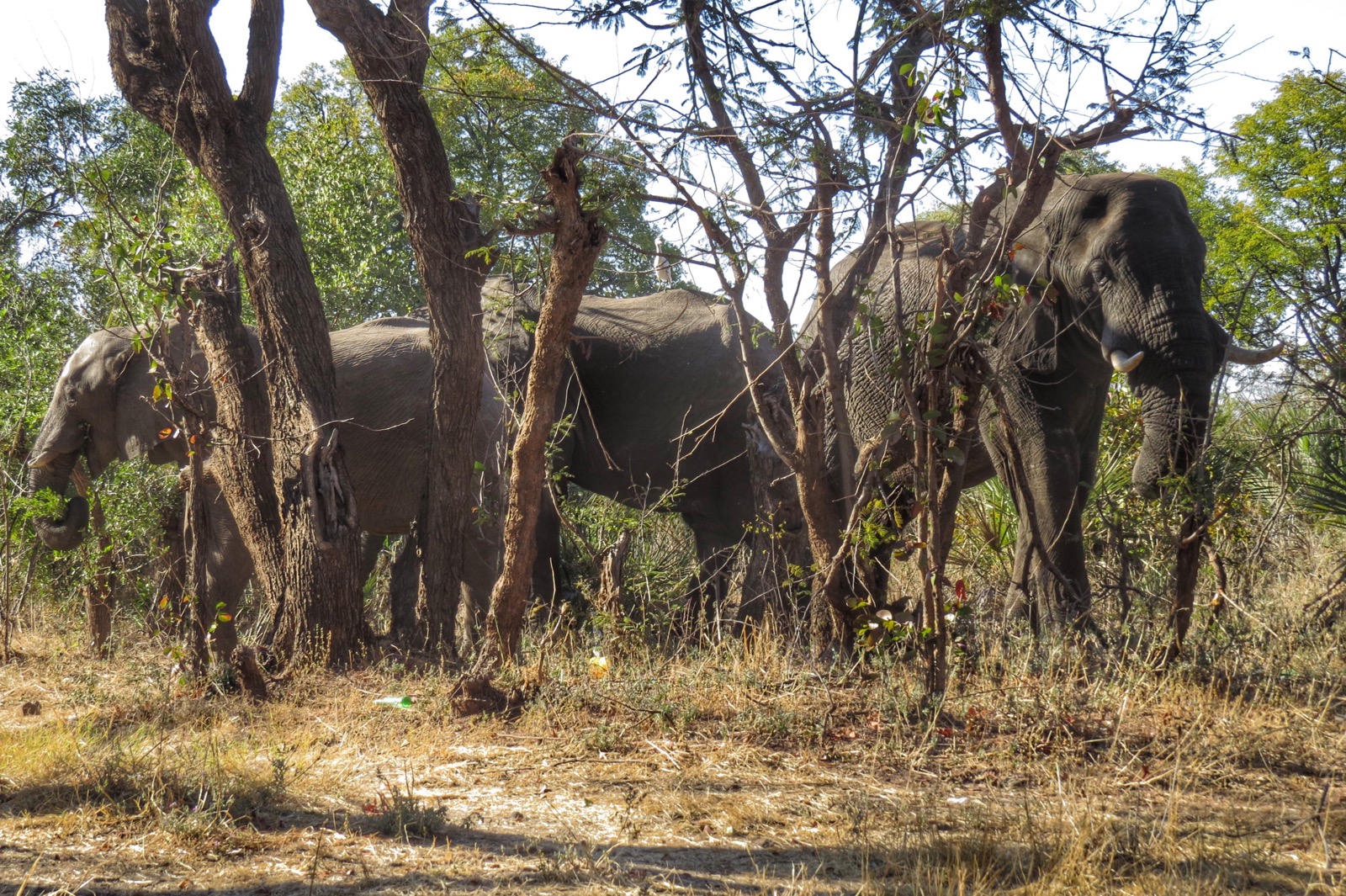 These girls just wandered up to the camp perimeter and started pulling the small trees apart to get to some juicy leaves. There's plenty of 'evidence' of them having walked through the tents recently but this time they thankfully weren't so intent on coming through.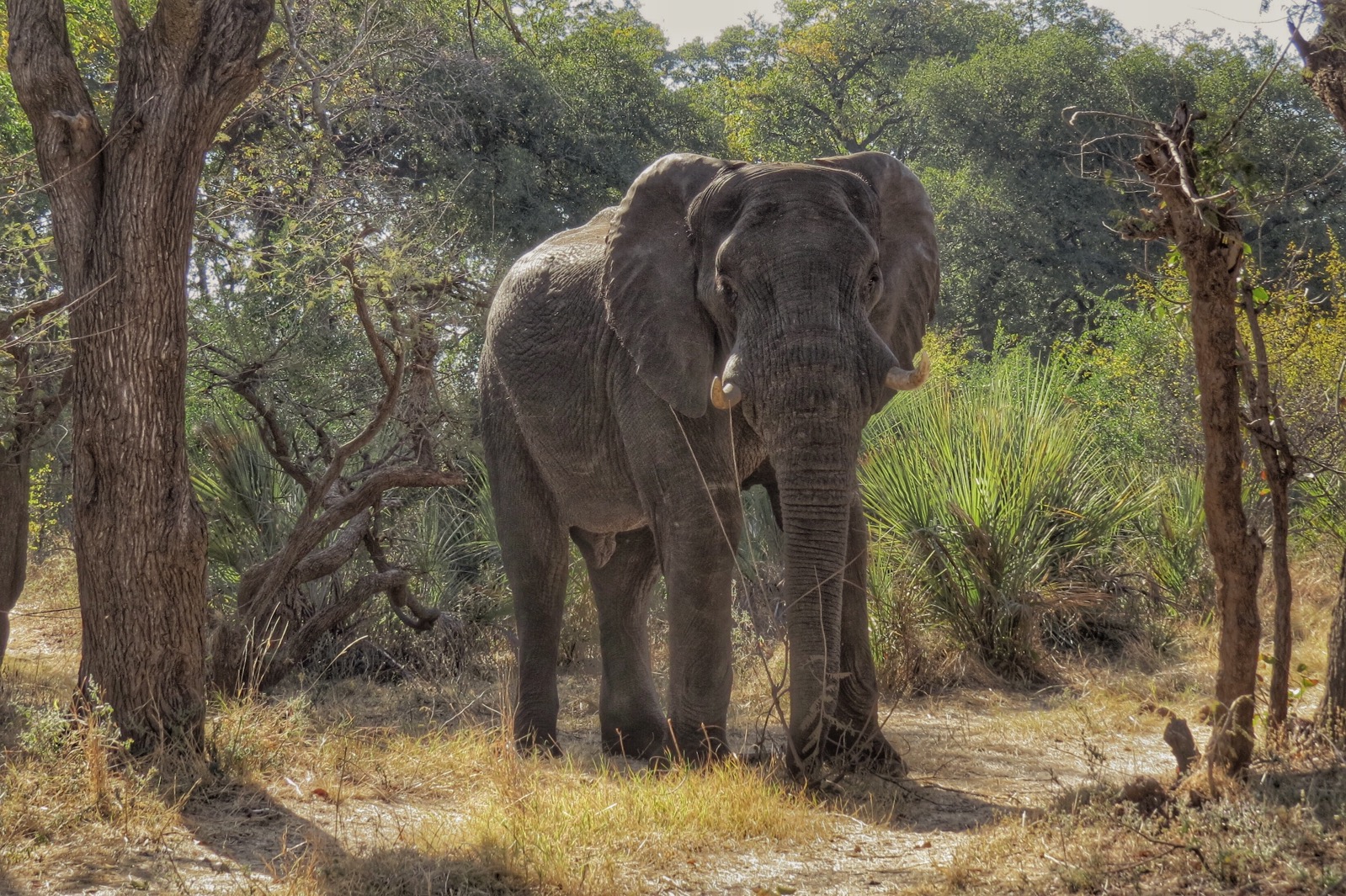 Other visitors are certainly entertaining, but when they come through the camp in a large group you need eyes in the back of your head to make sure they don't leave with half your kit…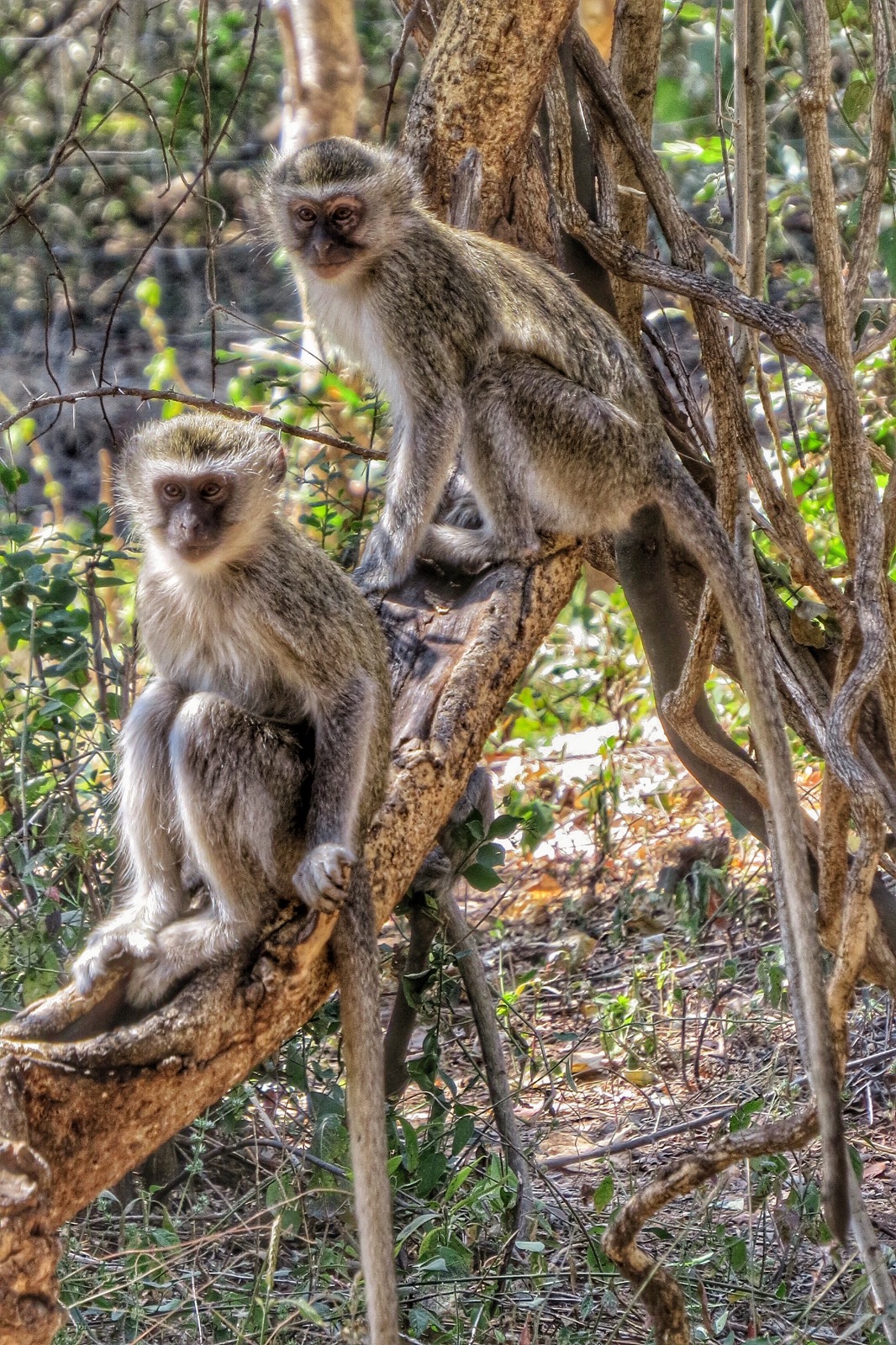 The only downside to Maramba River Lodge is that it's on the flight path for the microlights that do scenic trips over Victoria Falls (starting at 7am sharp!) but otherwise it's so nice to just chill, watching the crocs, hippos, vervet monkeys and elephants around the camp and when it's really quiet, going to sleep listening to the thunder of The Falls only 4km away. That's Safari Tinitus.