Preparing to head back to Zambia, we had started to get our frame of mind out of the cosy lifestyle of the UK and back into the flexible, patient, tolerant, frustration-proof, complex but simpler mindset we would need for living 'on the road' in Africa.
We didn't expect the hassle to start as early as Heathrow Airport.
Like many airlines, South African Airways allow you to check in online 24 hours before your flight. Which we did.
At the airport there are a series of self-service machines for completing the checkin process, printing boarding cards and attaching luggage labels to bags.
Once that's all done, the idea is that you avoid the queues by simply taking your bags to the 'Bag Drop' desks and load them onto the conveyor.
Unfortunately, this well thought out, time-saving innovation has been 'thought out' even further by some clown in the SAA management team who insists that everyone who has been through this process must then join the same meandering 'Disneyworld' style queue with everyone else, including those who haven't checked in or been to the time-saving self-service machines.
After 45 minutes of painstakingly snaking our way towards the only one of 5 SAA check-in desks that seemed to have a queue that was diminishing, we made it to the front, handed our passports & preprinted boarding cards to the attendant and put our bags on the scales.
We were so close. I could almost smell the chilled glass of Sancerre and a nice plate of smoked salmon I had planned at the airside bar.
The attendant asked to see our return tickets and I explained to him that this was in fact the return leg of our journey, since we had originally flown back to London on the first leg.
"So how will you be coming back from Africa?" he asked.
"Essentially we're driving back, or shipping from Namibia / South Africa, after we've done some touring." I told him.
"I'm sorry sir, you can't travel to South Africa without a return ticket."
"Unfortunately, because we're touring, we don't yet know which country we're returning from"
"But you can't go to South Africa without a return ticket."
"We're not heading to South Africa. We're only in Jo'burg airport for 50 minutes. We stay airside and you can see from our speedily-issued, automated check-in, personally-printed luggage labels that our bags are already checked in straight through to Livingstone in Zambia."
"I'm sorry sir, I can't let you travel to South Africa without a return ticket, showing when you're leaving South Africa."
"We will be leaving it, for an onward flight to Zambia (which is part of our ticket) 50 minutes after our flight lands in Jo'burg."
"But you must have a return ticket for South Africa."
"Look: I've used our tickets and passport details to check in online; then (just over there) we've printed our boarding passes at your amazing machines that scanned our passports and tickets; those highly efficient machines printed those ridiculously sticky luggage labels that leave adhesive all over our bag handles; we've had our boarding passes and labels inspected at the start of your amazing queueing system; we've queued for 45 minutes to meet you; you've weighed our bags and stuck even more bar-coded labels on them; and now you tell us we can't fly to South Africa. But I'm not even entering the country. I'm flying to Zambia. At no point will I use my passport to enter South Africa."
"The computer says no, sir. You'll have to buy a ticket for a return leg to your journey. If you go to the queue over the other side of the concourse, you'll find an SAA ticket desk and you'll be able to purchase your additional tickets there."
"Right. Then what. Do we come back here? Can we leave our bags with you since the bag checkin is completed?"
"No sir. You'll have to take them with you, then check in again at the end of the queue."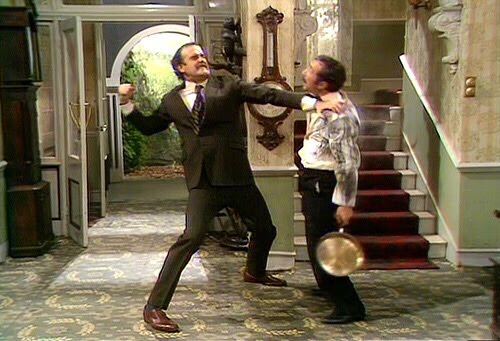 Twenty minutes later we were at the front of the ticket sales queue and explained our predicament to Eve, the very helpful SAA ticket clerk.
She sympathised but said there was no way round it. We would need a ticket to prove that we planned to leave South Africa – even tough we weren't entering it.
At this point I knew my hoped for smoked salmon supper was a thing of the past.
Eve explained that if we each bought a fully flexible, one way ticket back from J'burg back to London, we would be able to cancel them once the transaction had gone through, before the planned travel date, and should be able to get a full refund. Yes, she knew that this made a mockery of the regulation, but she was doing everything she could to help. She even sent an email there and then to the SAA Ticketing Manager confirming that she had advised us we could cancel the ticket for a refund before its expiry date.
"Excellent" I said "Thanks for all your help Eve."
"You're welcome. Sorry for the hassle. One way, fully flexible, J'oburg to London. That will be £1,360. Each."
"How much! American Express?"
"That'll do nicely."
Smoked salmon was definitely off the menu.
Feeling pretty shabby, 15 hours later, we poured our cramped, rumpled bodies off the steps of the Johannesburg-Livingstone flight into the sweltering 37 degree Celsius air in Zambia and across the 71 Celsius runway temperature to the Immigration / Customs hall.
All proceeded smoothly. We got our $50 single entry visas (no one asked to see our £2,720 return tickets!) and wheeled our trolleys full of surplus shirts, T-shirts, dresses and baseball caps (gifts for the staff at Maramba River Lodge, donated by Caroline, Charlotte & Luke) through the Green Customs channel.
Fortunately no one asked to inspect our luggage as we would never have got the vacuum / compression bags back into our jumbo hold-alls. Nor would we have got away without a fine for bringing in all the additional rolling-tobacco we were 'importing' since amongst the luggage since we can't buy it here.
Only 20 minutes later we were checked into Maramba River Lodge, sitting on the deck with a cold Windhoek Draft beer and a soda, drinking in the pleasure of being back. The car would not be ready to pick up for another 4 days as Nick Selby of Foley's Africa had to fit a couple of bits we had brought out with us and it was also Independence Day Holiday weekend.
View From The Penthouse:
Fortunately Peter, the manager at Maramba, gave us the use of one of the dome-tents adjacent to the chalets for the same price as camping. That meant that there was nothing to do except sit around the pool, watching the elephants, crocs, hippos and numerous bird life for a week.
Nick called to say the car was complete. I think he's done a great job! It's amazing what a skilled mechanic and local tradesmen can do in Africa…
.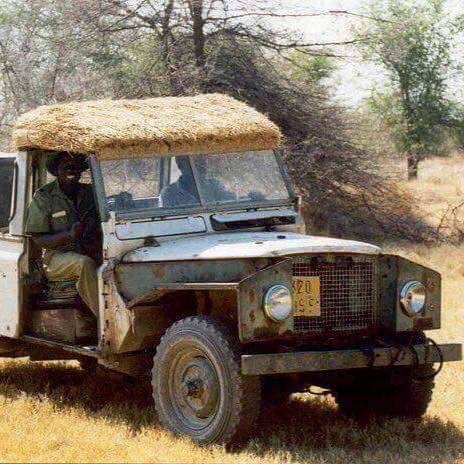 We were looking forward to getting hold of Trigger's Broom again.
We weren't sure exactly what to expect when we came back, given the state we left it in…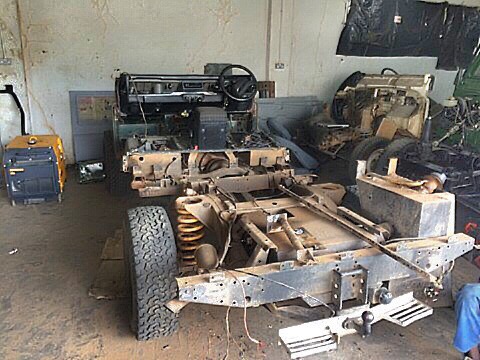 Nick had sent us a couple of progress photos as he prepared the new body. He had the entire inner rear rubberised to reduce dust, noise and leaks…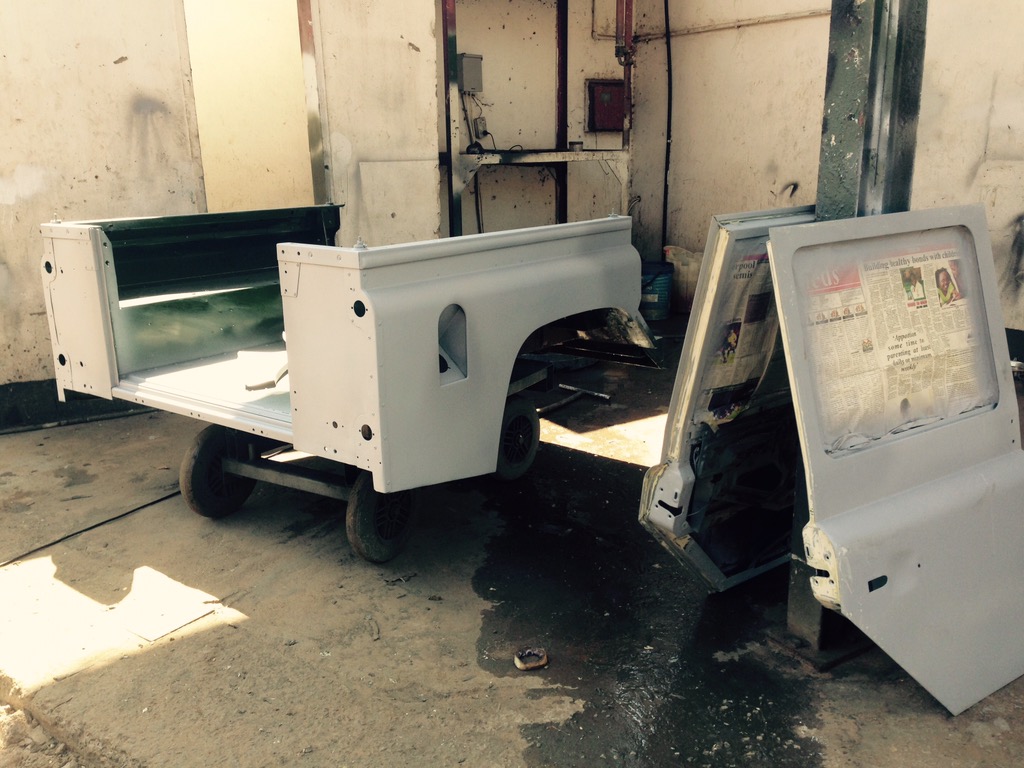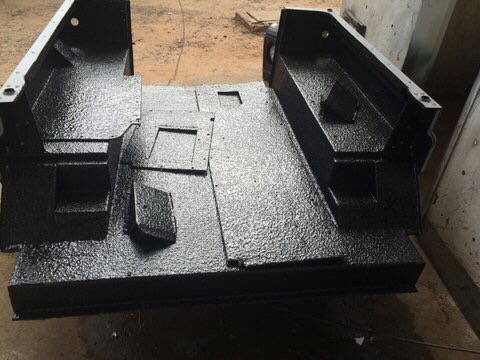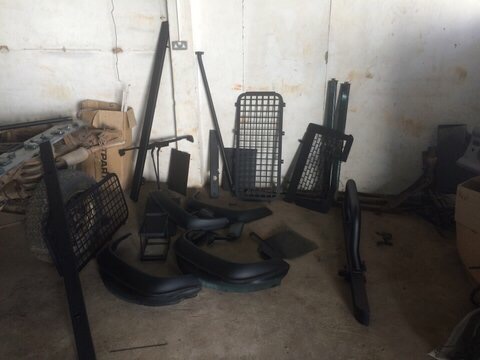 …had replaced the 'Brandy-Snap' bulkhead completely…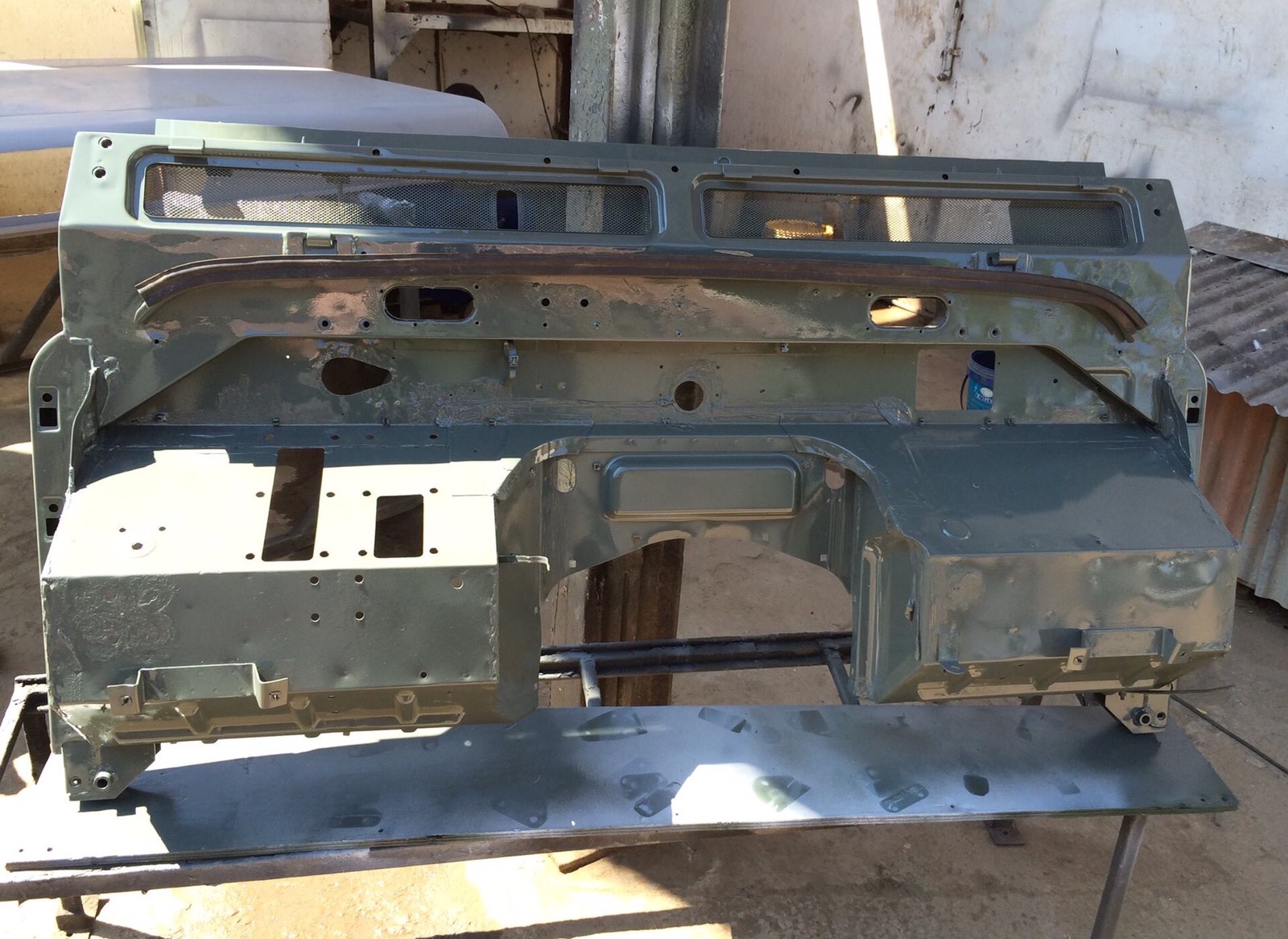 …and, after a thorough overhaul of everything mechanical, fitted additional electrics…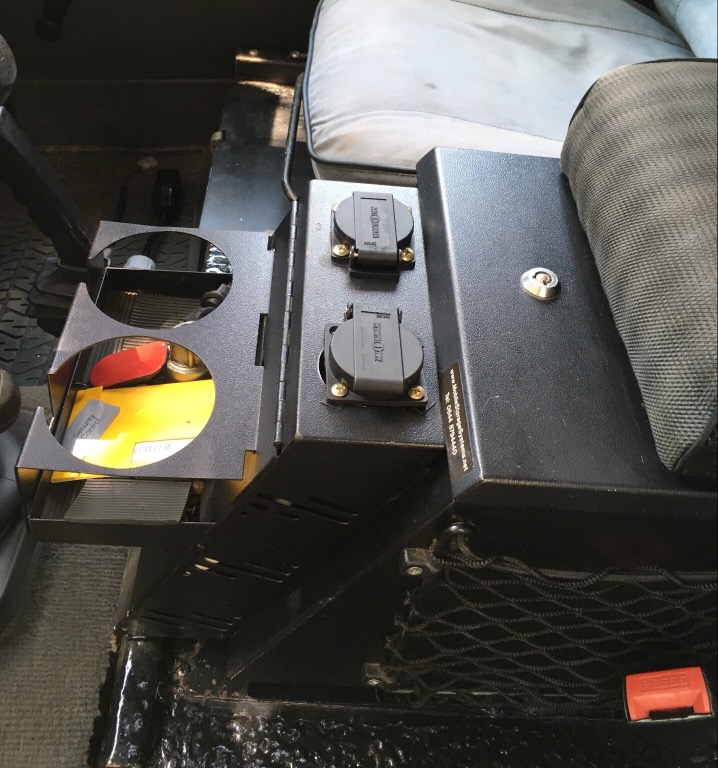 …plus LED lighting and an external electrical hookup for us…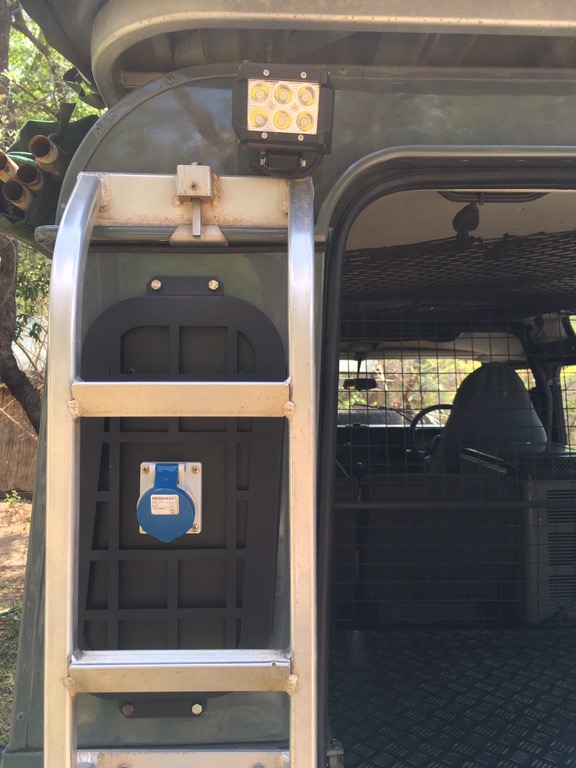 …and a new body, doors, etc.
Now that Trigger's Broom is back on the road, she's looking pretty damn good again.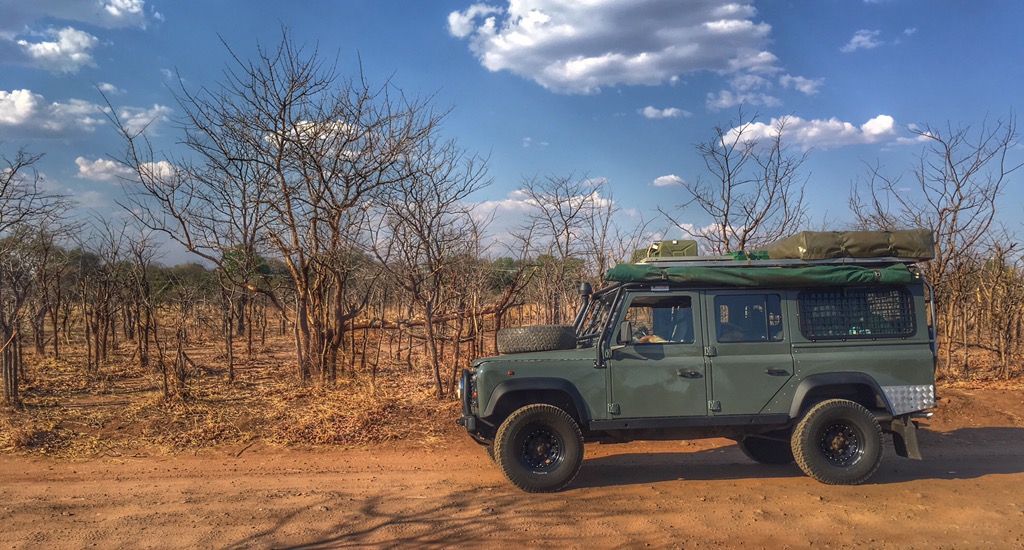 Nice job, Foley's Africa.