Just outside Iringa we stayed at Kisolanza – The Old Farmhouse. There's no dramatic scenery around, but the campsite itself is a great place for a couple of days stopover. Setup on a farm, it's based around a mud-built dwelling that they discovered in the undergrowth around 70 years ago and have converted to a beautiful, character restaurant.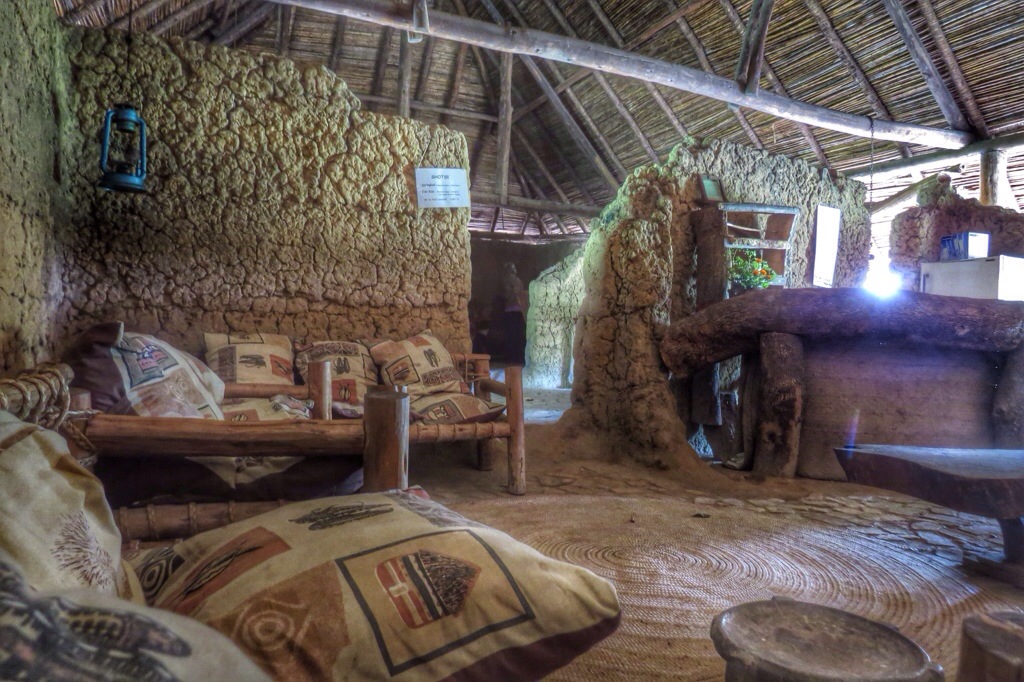 There is no electricity. In the evening the bar & restaurant are lit by beautiful candles and lanterns.
It doesn't just have character, it has superb food. A set, 3-course menu for $18 each evening. Not cheap but worth every penny. Everything made fresh from the farm produce: Carrot & Cardamon soup, Succulent fried chicken with perfumed farm veg and herb-coated pasta, Rhubarb sponge with a crumble topping & cinnamon custard.
The camping spots are secluded & quiet, showers are spotless and hot, and they even have a hairdressing salon.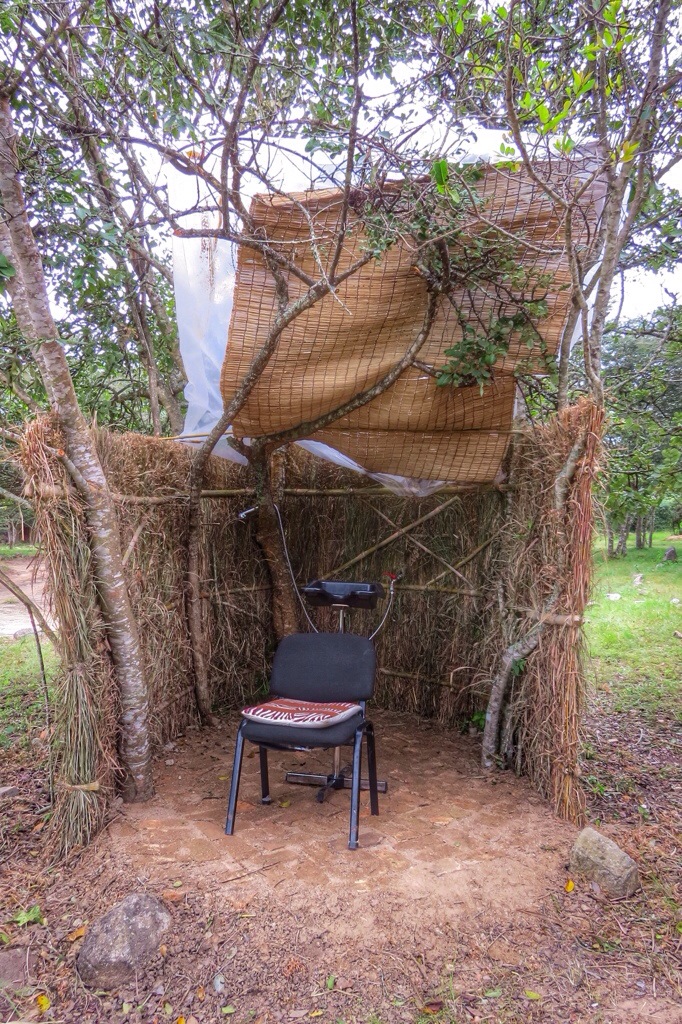 Outstanding. In the end we stayed 2 days – couldn't resist another dinner the following night (roasted beef!).
We had planned to head north up through Dodoma but had heard that the park at Ruaha was flooded (subsequently found out this was not true and we could have gone in on all-weather tracks). However, the bite on my leg was getting more painful, swollen and ugly so we decided to head for Dar Es Salaam to get it checked out at a 'western' standard hospital.
What a miserable trip. We did a 5-hour day to a simple campsite near Mikumi called Tan-Swiss (clean, hot showers, expensive bar) and then a 300km day east to Bagamoyo, just north of Dar.
That 300 km took us through typical, busy little Tanzanian towns…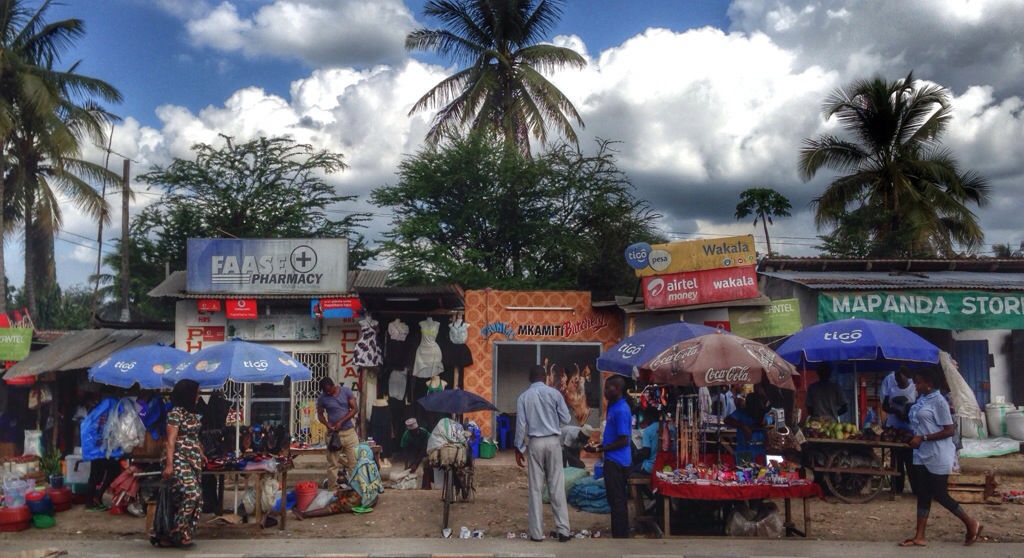 …and through the mayhem of Dar Es Salaam roadworks. I think they're putting in some sort of public tram system – 280km to Dar took about 5 hours, then 20km through the roadworks to Mbweni took another 2 1/2 hours! Quite scenic until we got to Dar, then blistering hot, dusty, noisy, dirty, aggressive, lunatic bus drivers, manic traffic.
The only campsite north, but close to Dar, is The Silver Sands at Mbweni which is very dilapidated. Camping $6 each, dinner $11 each. However, the view is not too bad.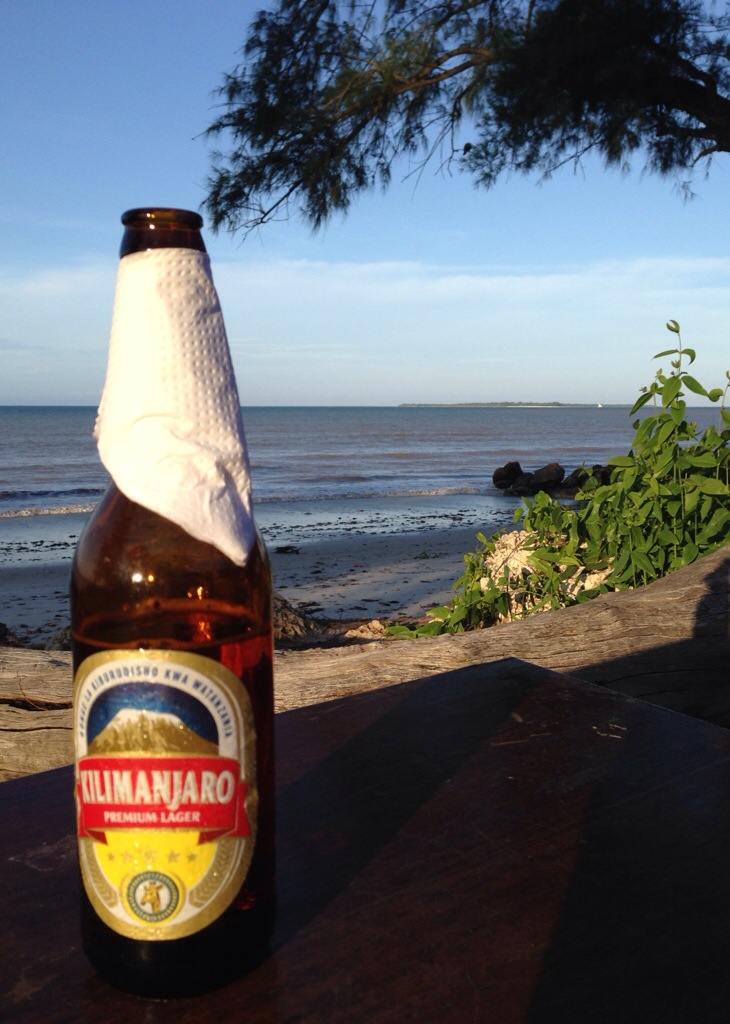 We camped right next to the beach and just watched the world go by for 24 hours.
View of the Indian Ocean from The Penthouse at sunrise.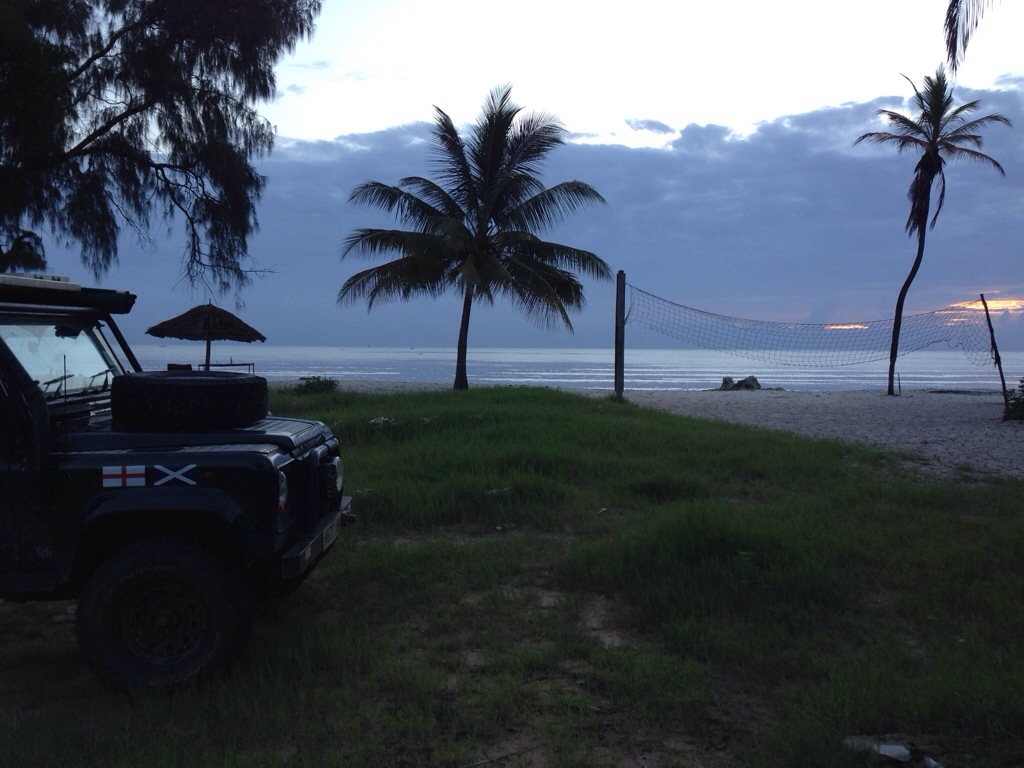 On Sunday morning we headed into Dar to get my leg looked at. However, we couldn't face 3-5 hours of traffic jams again, so pulled into a small teaching hospital we'd spotted the day before while stuck in traffic. It was pretty run-down looking but the staff were friendly and the doctor seemed to know his stuff (even though it was necessary to pay 15,000 TSH ($10) up front before being seen).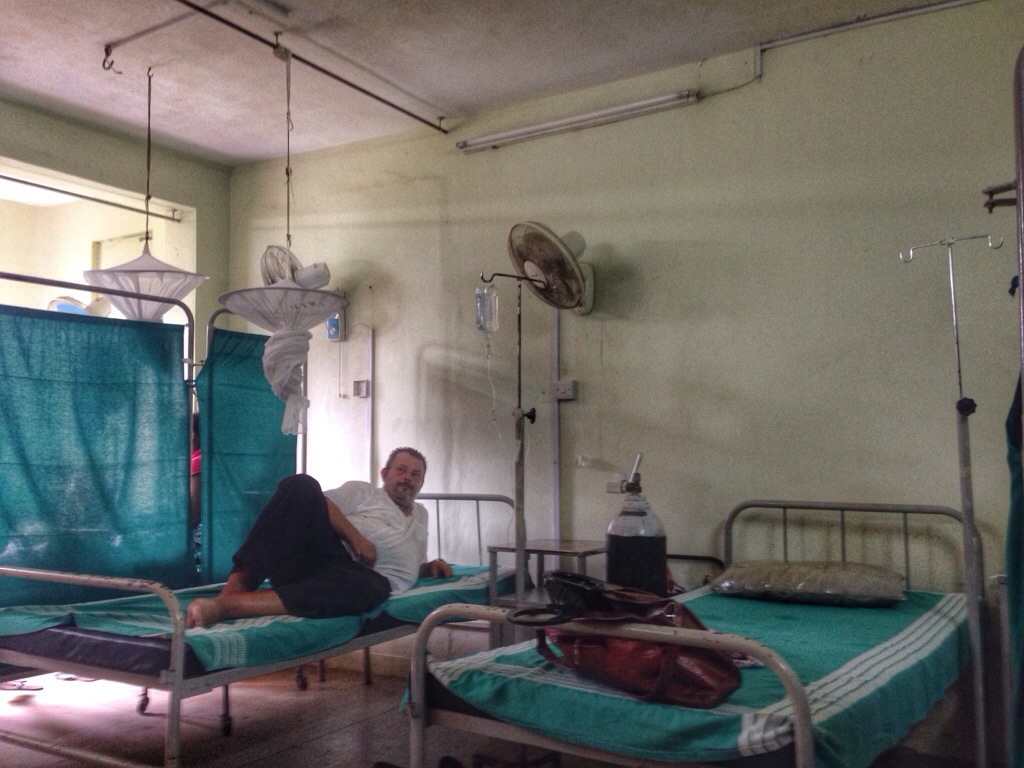 This is the point where if you're a little squeemish (or perhaps eating as you read this) you may…
…want to…
…scroll past…
…the next few pictures…
I didn't even notice being bitten in Malawi (probably when we were out with the 'Wells For Zoe' team).
Overnight, on our second day at Chitimba camp a weeping blister came up…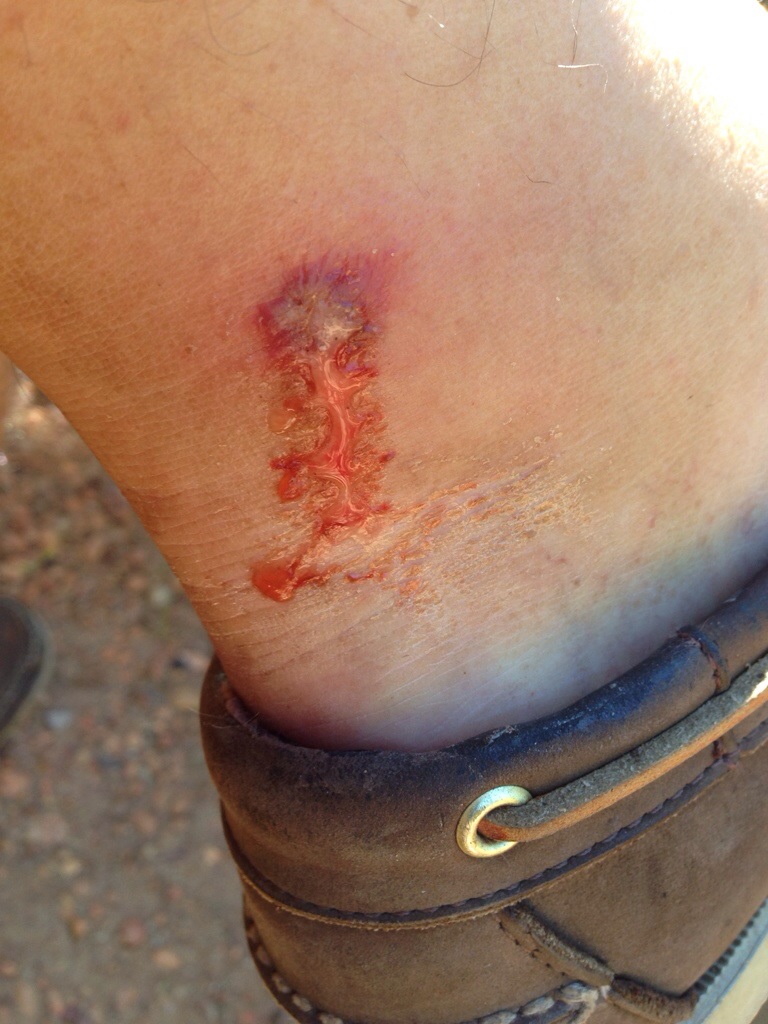 We went up to Lukwe, near Livingstonia at the Nyika Plateau. After 36 hours, when the bite had gotten worse, we saw the 'western' doctor at the Livingstonia Mission Hospital…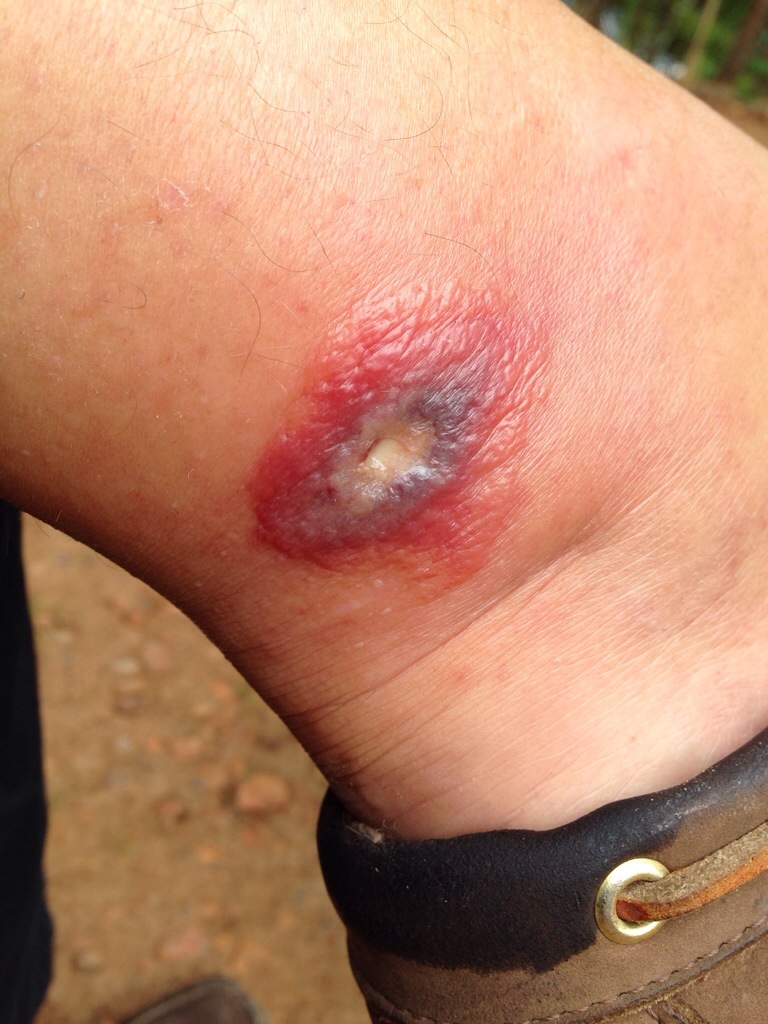 A week later, after finishing the antibiotic course, we revisited the hospital and the doctor gave me the all-clear to travel. Probably a mistake.
By the time we got to Iringa in Tanzania (4 days later) the bite was extremely painful and a real mess.
No option other than to get to a hospital in Dar…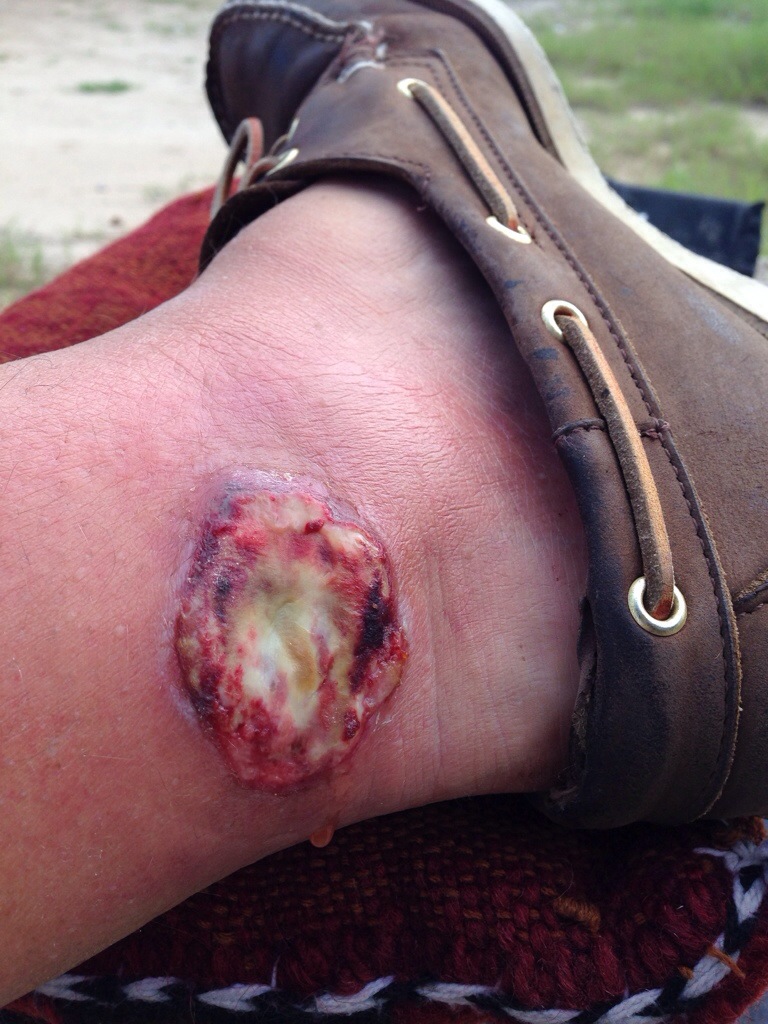 At the teaching hospital, Dr Fatihe took one look at it and said "That has to be cut out. Now."
Probably, we should have pressed on into the centre of Dar itself and gone to the International Hospital, but my leg was so sore I couldn't stand the thought of sitting in all that traffic again.
He told me I had to pre-agree the cost of treatment (250,000 TSH / $160) and I said let's just get on with it.
The treatment room wasn't quite up to the standard I'd hoped, but they injected a sedative into a vein on my hand, then injected a local anaesthetic around the bite. The first 4-5 injections hurt like hell, but the other dozen or so were painless.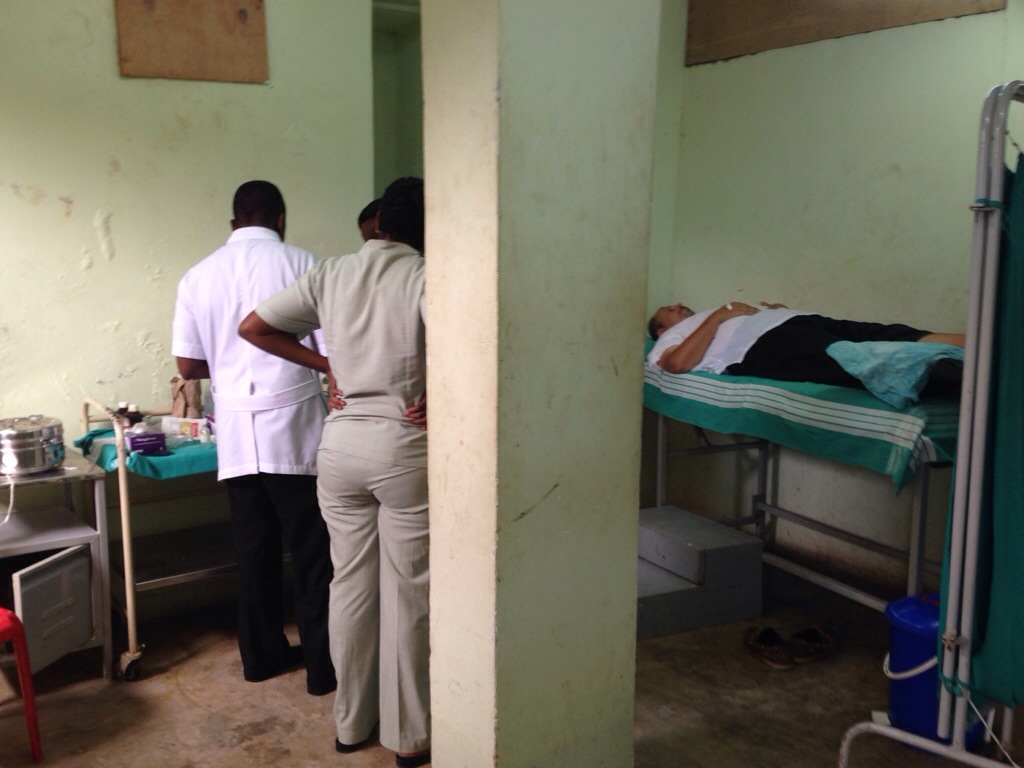 As the doctor started cutting it became a little painful.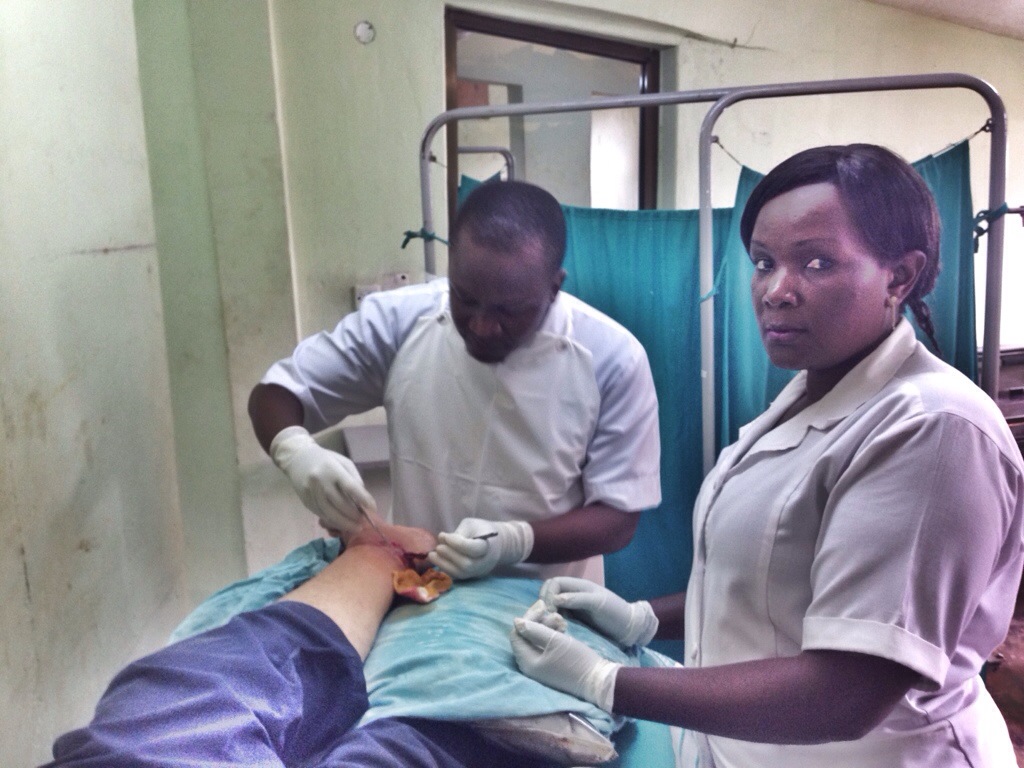 Helene held my hand. Really sweet of her, I thought, until she told me afterwards that it was mainly because I was waving my arms around and continually asking "where are the dancing girls?" under the influence of the drugs.
That's when they said they thought it better to put me right out and pumped another shot into the vein.
That's the last thing I remember for an hour as they cut out the dead skin and poisoned tissue.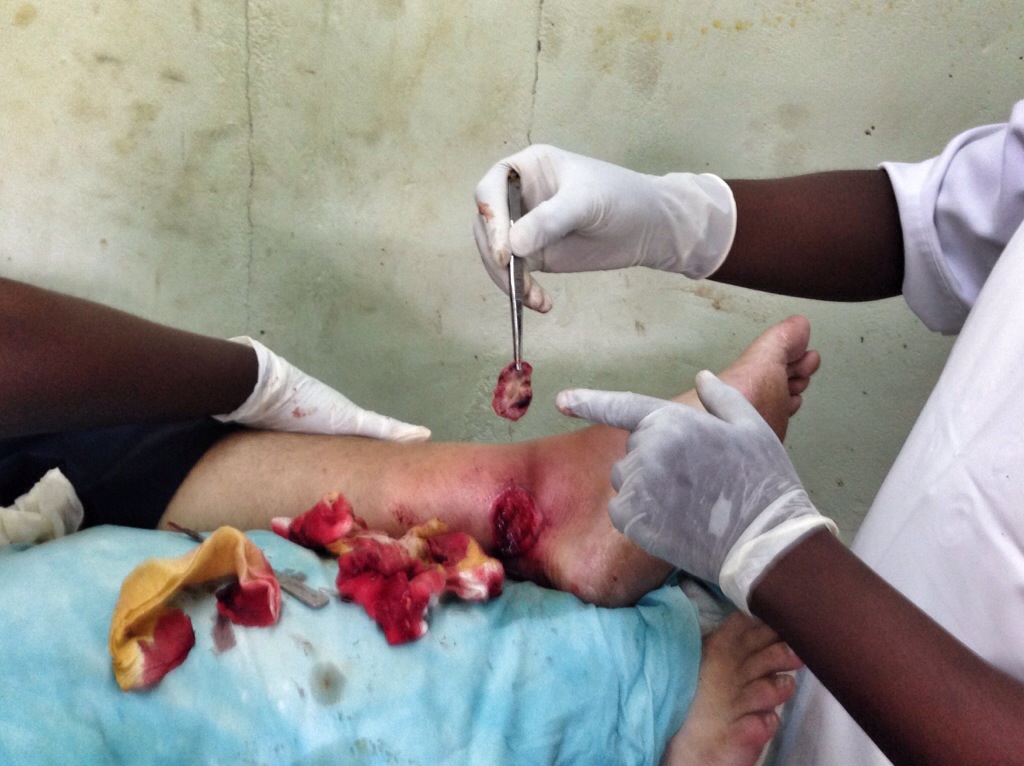 When I surfaced everything was bandaged up, and we paid the cashier.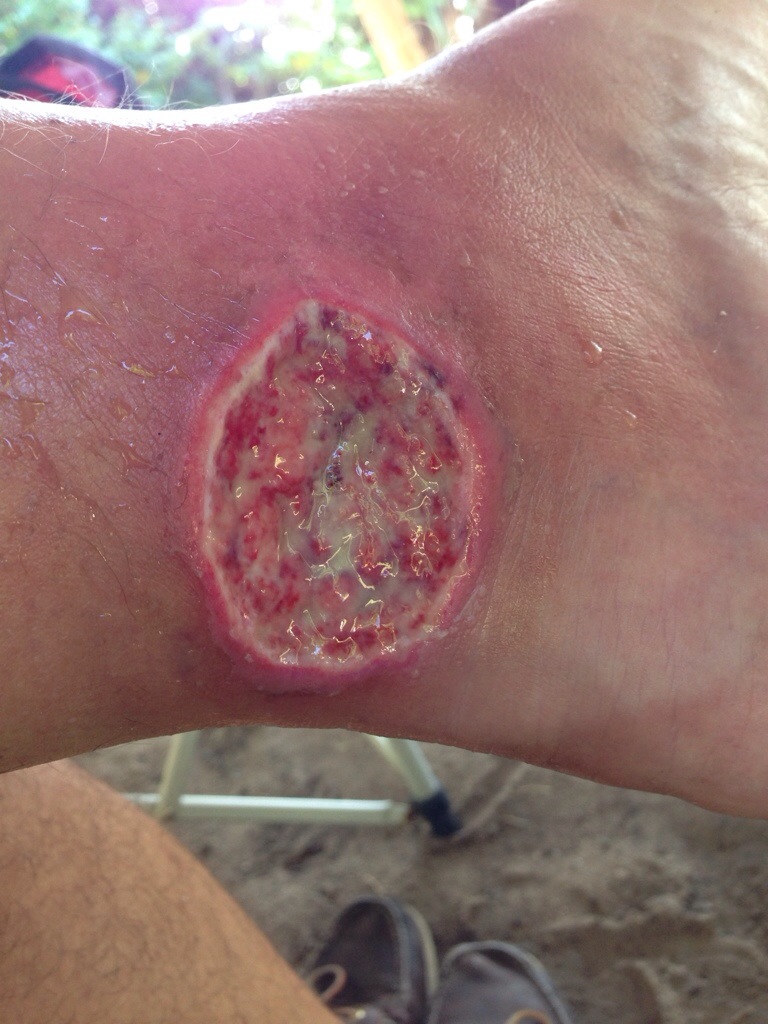 The Doc said I should come back daily for the next 5 days for antibiotic injections but I said we were heading north and couldn't hang around Dar. They gave me a bag of painkillers and antibiotics etc and Helene drove us to a small lodge at Bagamoyo (expensive, but comfortable) where we rested for 48 hours (in the rain).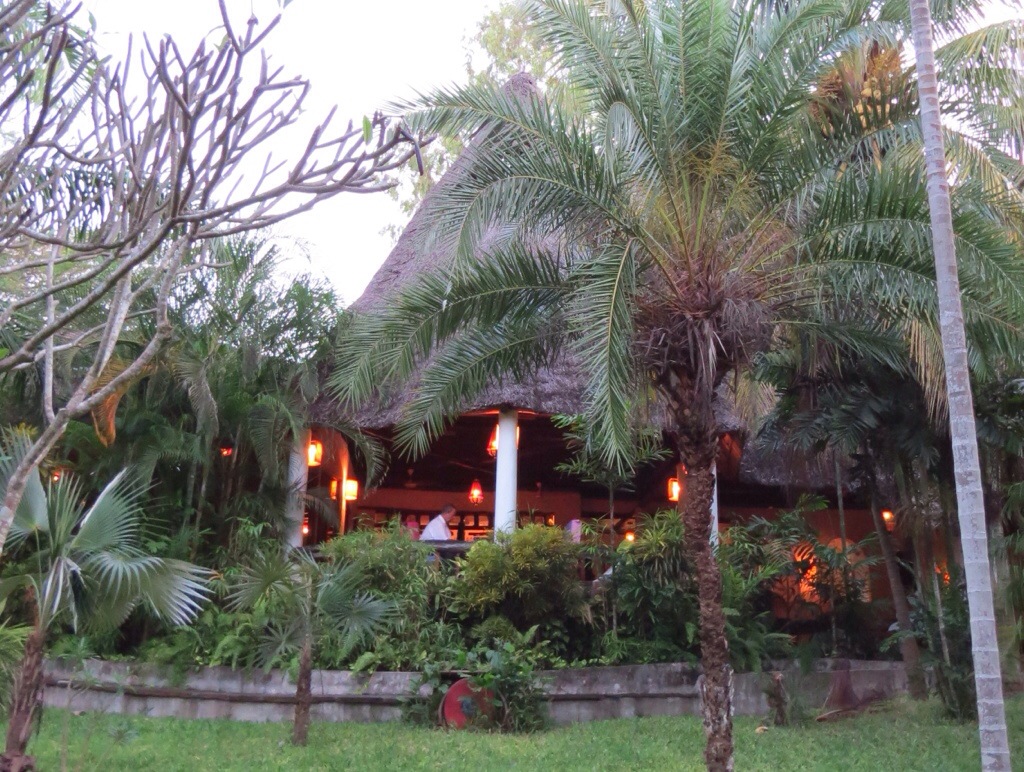 A couple of days doing nothing…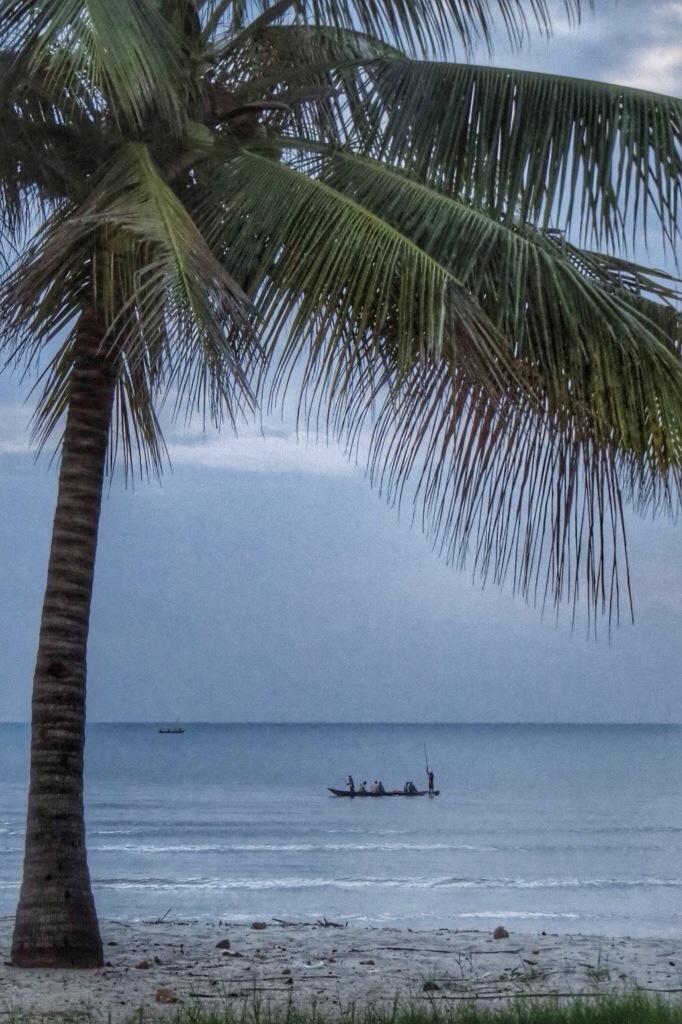 ..until we felt up to heading north, to a hopefully warmer ocean climate.