'….and now, The Shipping Forecast.'
There seems to be some light at the end of the tunnel.
As mentioned previously, although the Cypriot Customs in Nicosia issued us with Temporary Import paperwork for the car, what those papers actually mean is 'you can drive the car around a bit for a few months but after that, you can jolly well bugger off back the way you came'.
As a result all (but one!) of the shipping companies here said that we won't be able to ship the car anywhere from Cyprus because we brought it over via Turkey.
Helpfully, now most of the Turkish shipping companies we've approached have also effectively told us to 'bugger off' because we've been in Cyprus.
So, we will be taking the car to the guys here who say they can do it on Monday afternoon and (after removing the rooftent and other equipment up top) squeezing it into a container for shipping on Wednesday.
Fingers crossed that these guys have got it right.
The car will go to Cape Town (apparently via Beirut) and take about 40 days to get to South Africa. We chose South Africa over Walvis Bay, Namibia as we've found a shipping agent there who comes recommended regarding temporarily importing cars. The travel time is also about 10 days less than Namibia, so we will get back on the road sooner.
The other 6 main options we looked at had come down to:
a) Ship to Sudan: That would mean flying back to the UK for 4-6 weeks before we could get Sudanese visas (or flying to Aswan in Egypt to get them quicker), then getting the car back to Turkey while we organise the container.
b) Ship to Israel: Ditto above re visas, but then get boat to Israel, drive through to Jordan, get ferry to Sinai Peninsular in Egypt then drive through Egypt to Aswan for barge to Wadi Haifa, Sudan.
c) Ship to Mombassa: Not heard too many good reports about East Coast ports in Africa. Would still mean getting the car back to Turkey.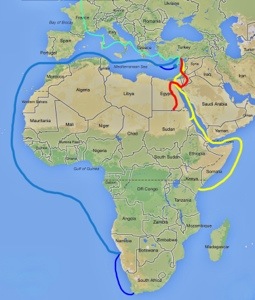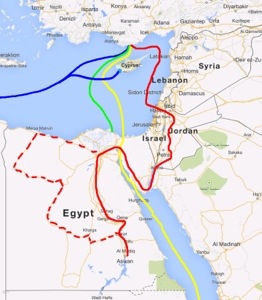 So, by the time we did all the number crunching and, given that Egypt may be feasible to get through but it's unlikely to be fun due to the violence & disruption becoming more widespread, it turns out that the shipping option to Cape Town is actually about 10% cheaper than the others and (hopefully) a lot less hassle.
All we've got to do now it turn the last 4 months of route planning on it's head and see how we can get around S Africa, Namibia, Botswana, Zambia, Zimbabwe, Malawi, Tanzania, and Kenya to Uganda whilst avoiding the rains that make a number of the routes tricky to some of the areas we really want to see.
That should keep us occupied whilst the car's relaxing on it's cruise.