The best way to see Kruger is to drive round the dirt tracks, river courses and waterholes. Here, you have to look for the animals, they don't often come to you.
Once you get into the rhythm though you start to spot things that camouflage would otherwise perhaps prevent you from seeing.
"Are you lookin' at me….Are you lookin' at ME..?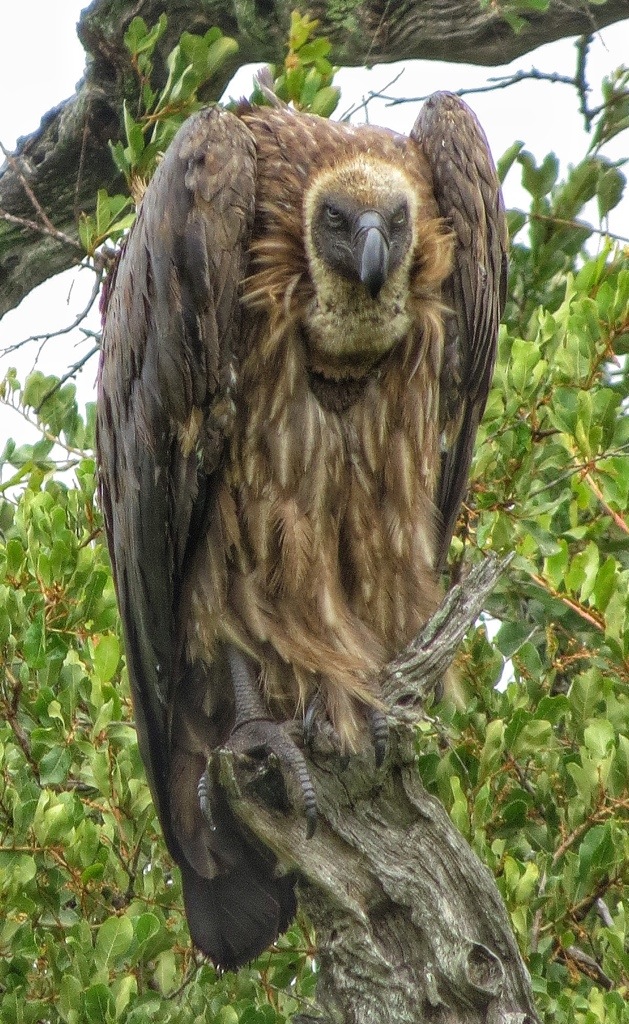 There's a real pleasure in just sitting in the car and just watching an animal for a while, with no one else around.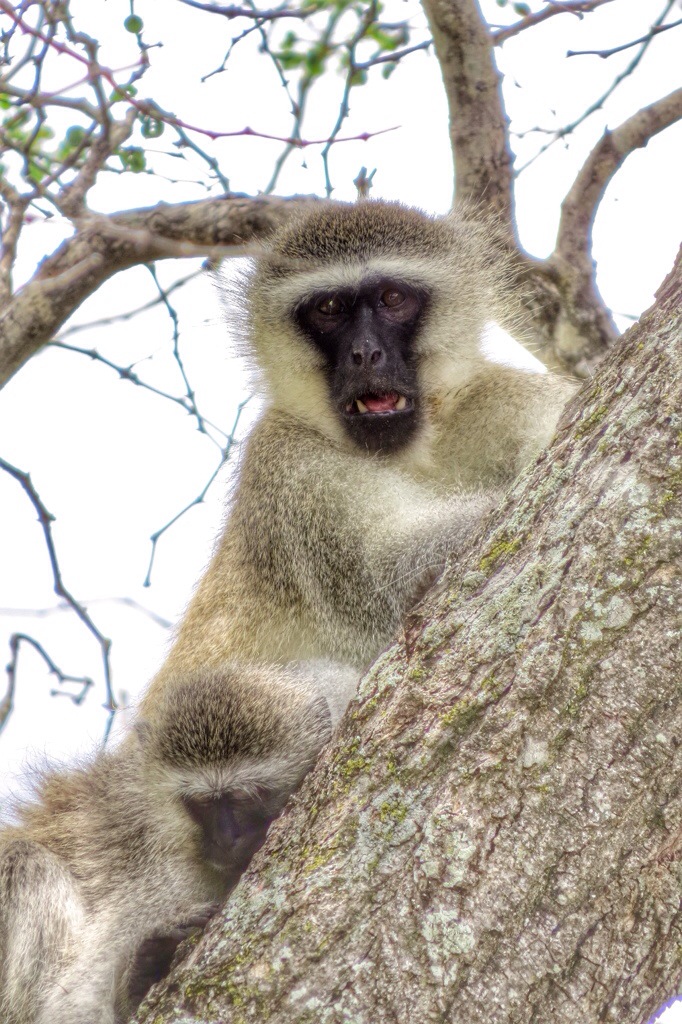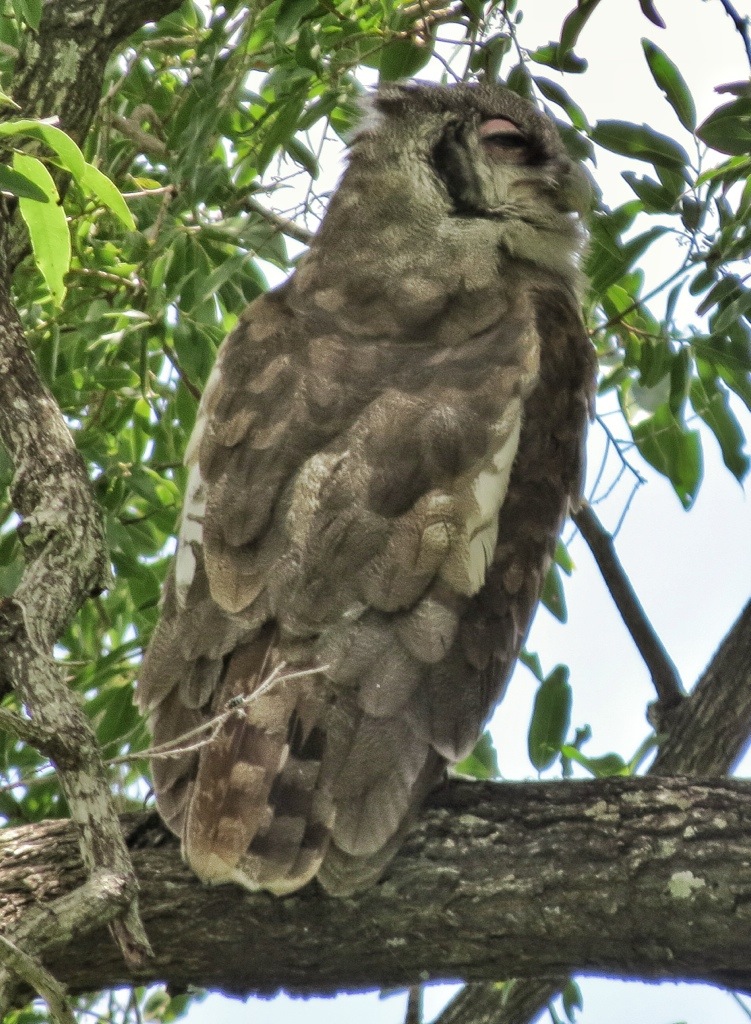 And the more you sit, the more you see that otherwise you would miss just flying from one waterhole to the next.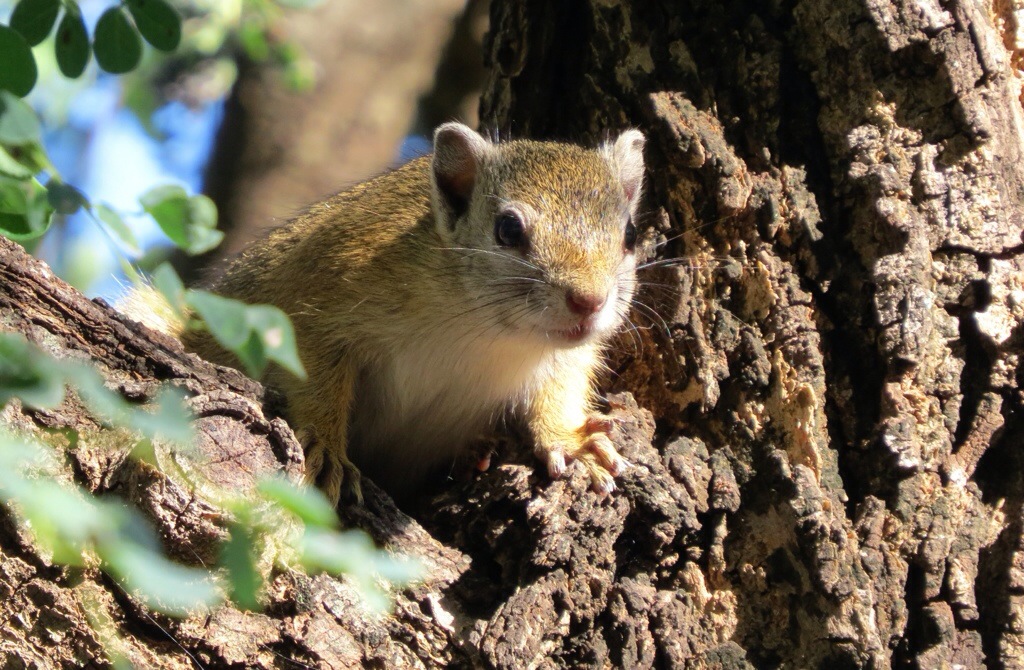 Most of the waterholes we've been to in the park have actually been rather unproductive. Unlike Etosha where water is very scarce and attracts game from miles around, in Kruger there are many rivers and tributaries so the wildlife is spoilt for choice.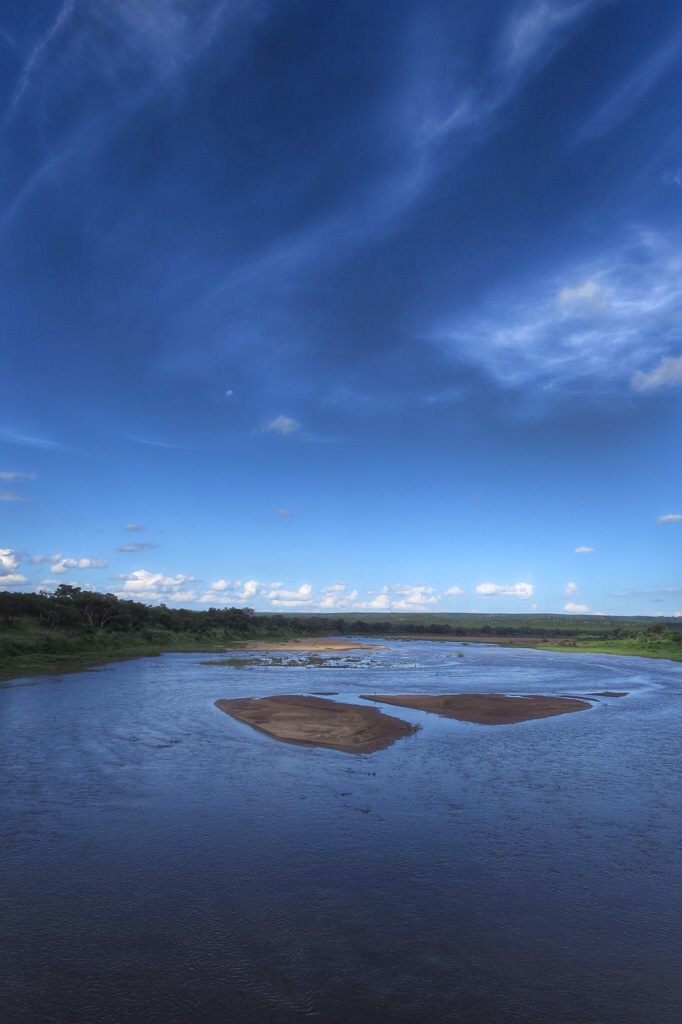 I'm still not convinced who's watching who though…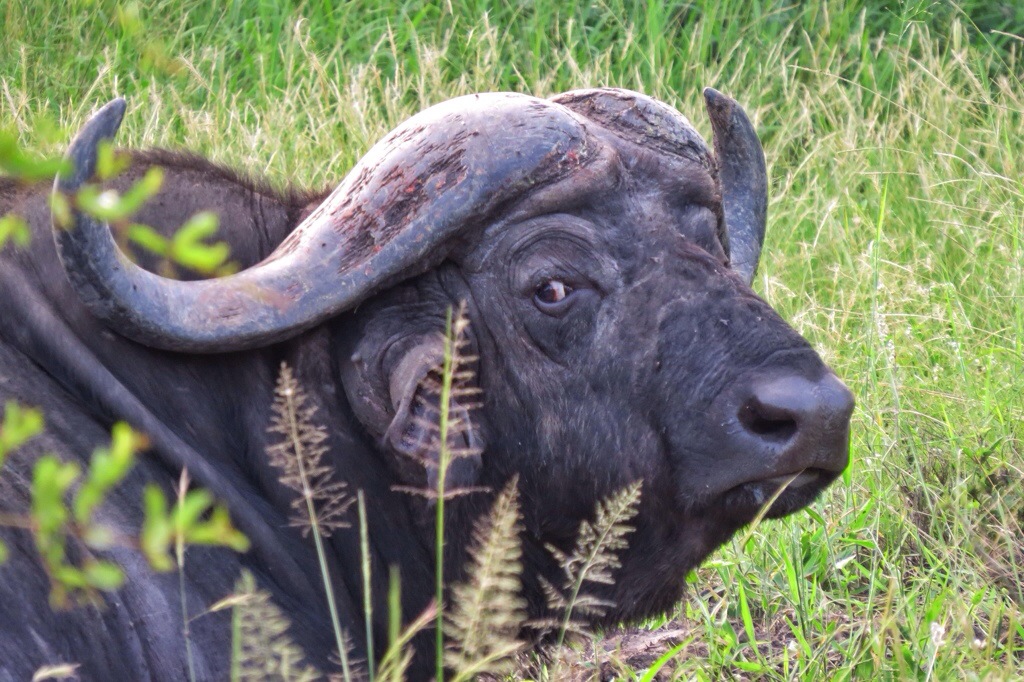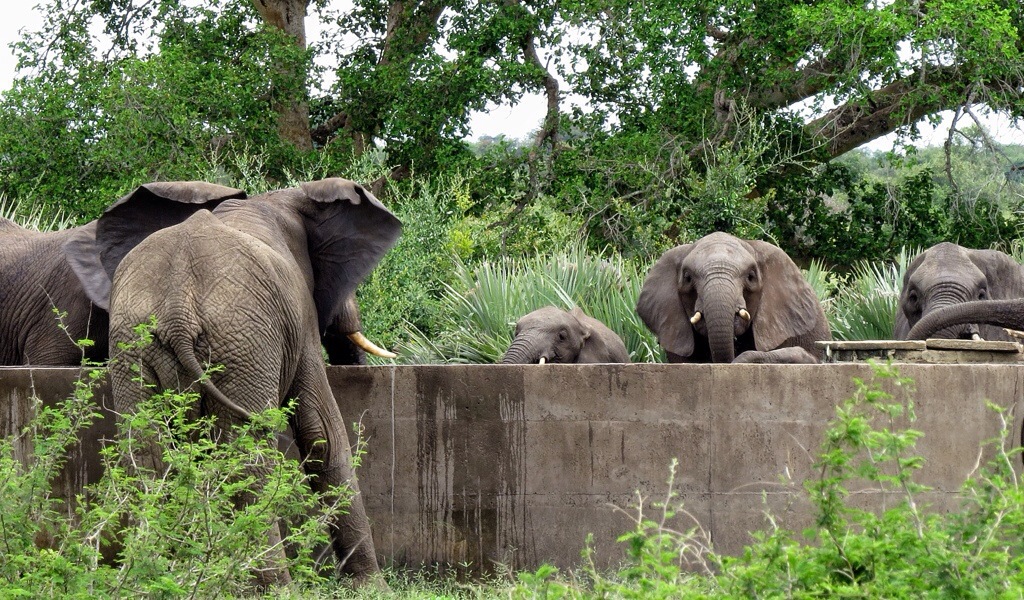 Even the 'harmless' game can stop you in your tracks and make you think twice about proceeding if they've got young around…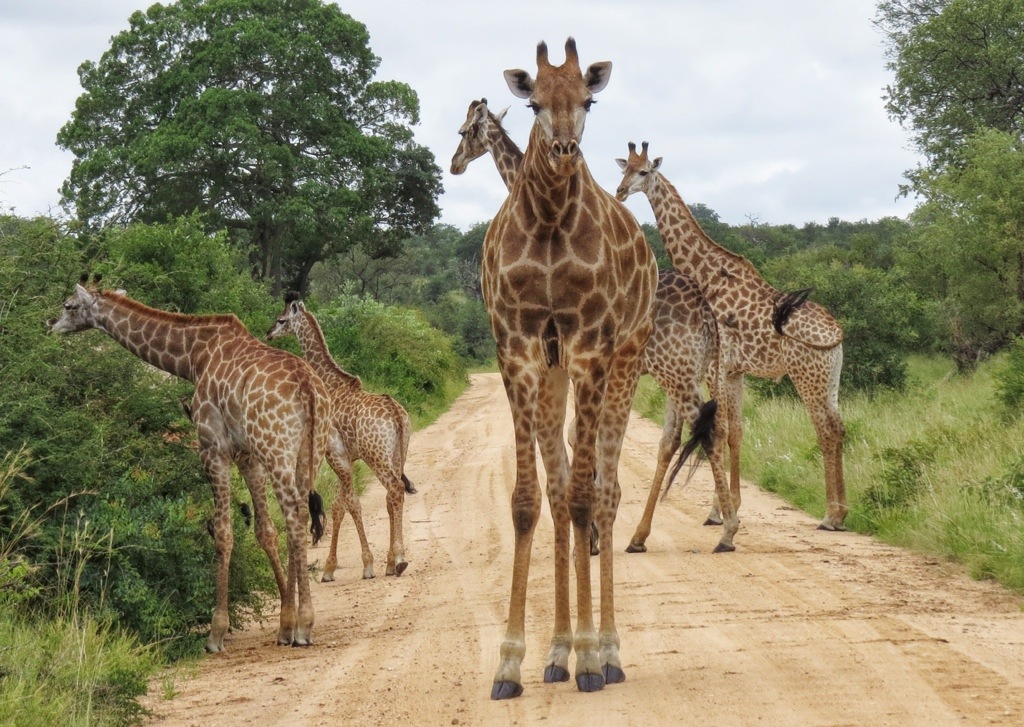 We've moved around quite a lot in the park, (Crocodile Bridge, Lower Sabie, Skakuza, Oliphants, Mopani & Shingwedzi) in order to see as much of the changing landscape as possible.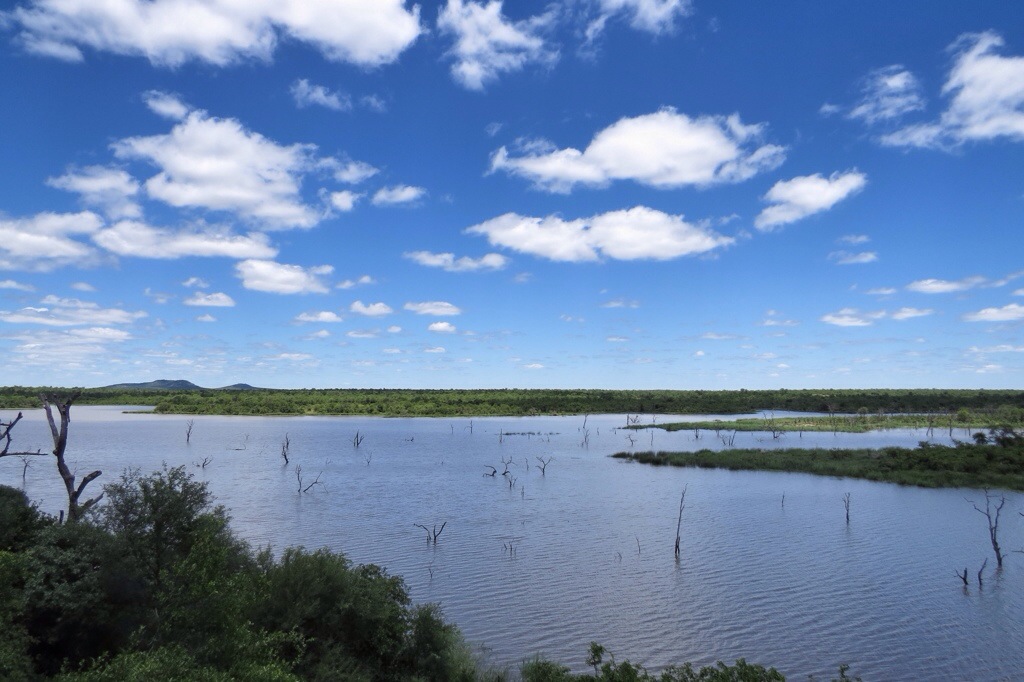 There are a couple of places where you can get out of your car and have a picnic ("…at your own risk" as the signs constantly warn you).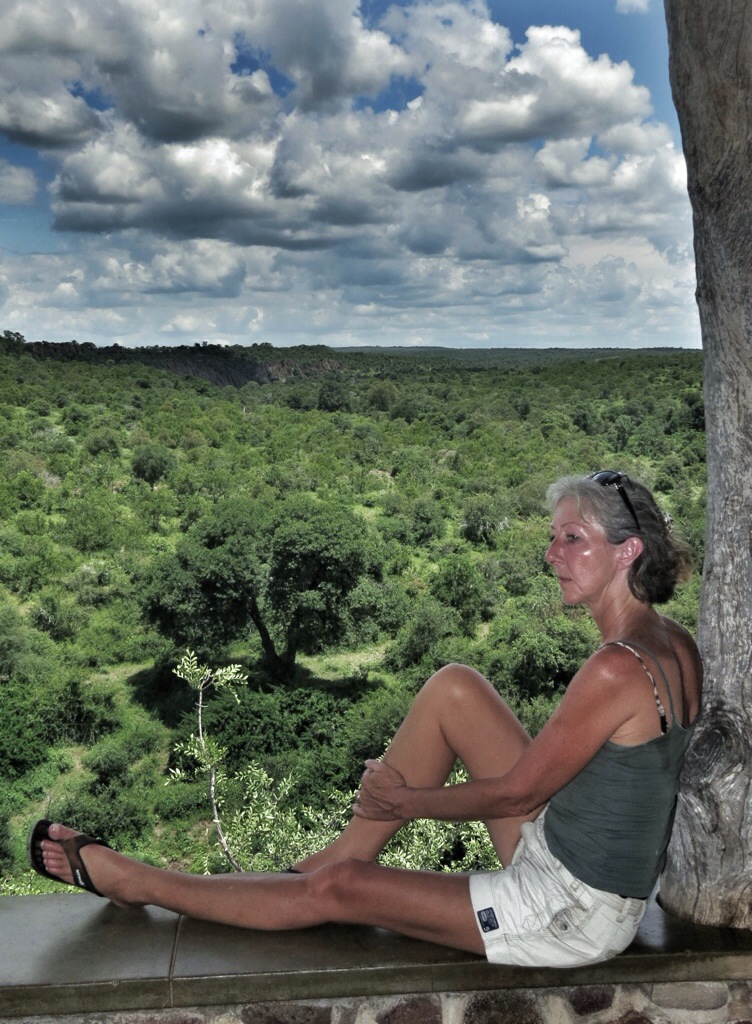 As a treat we also stayed overnight in a 'rustic camp' in Tambotti on the Timbavati river and at Letaba. Permanently erected tents on stilts with real beds, fans and a fridge.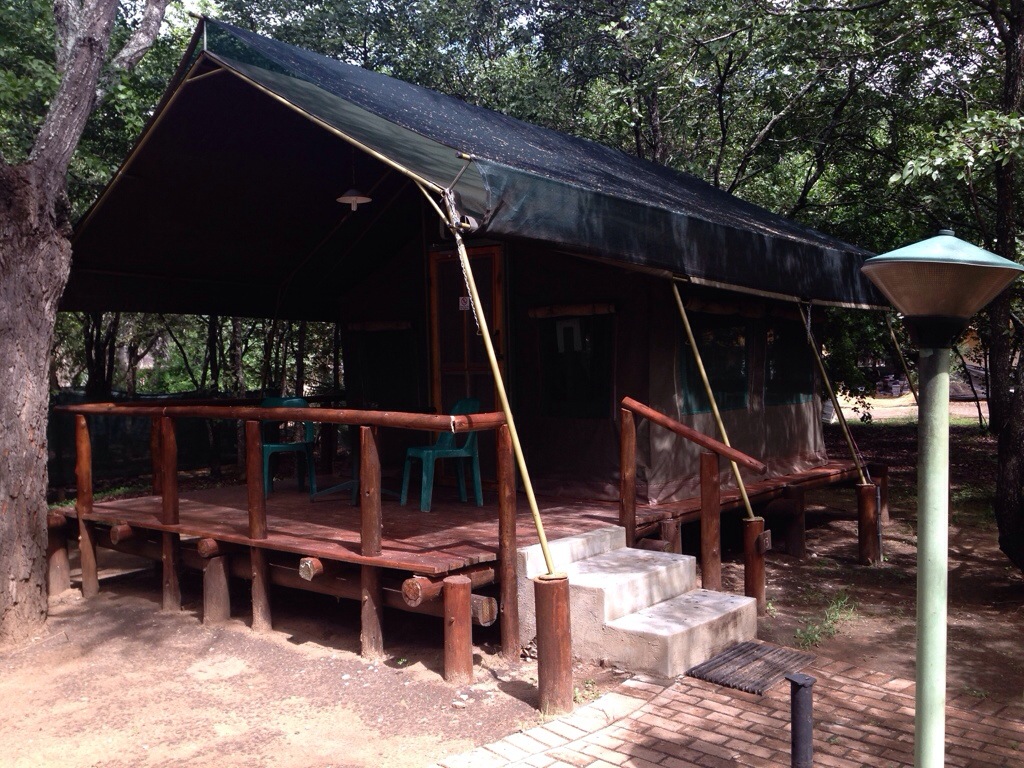 Luxury, but only 2x the price of camping and 30% of the cost of the chalets.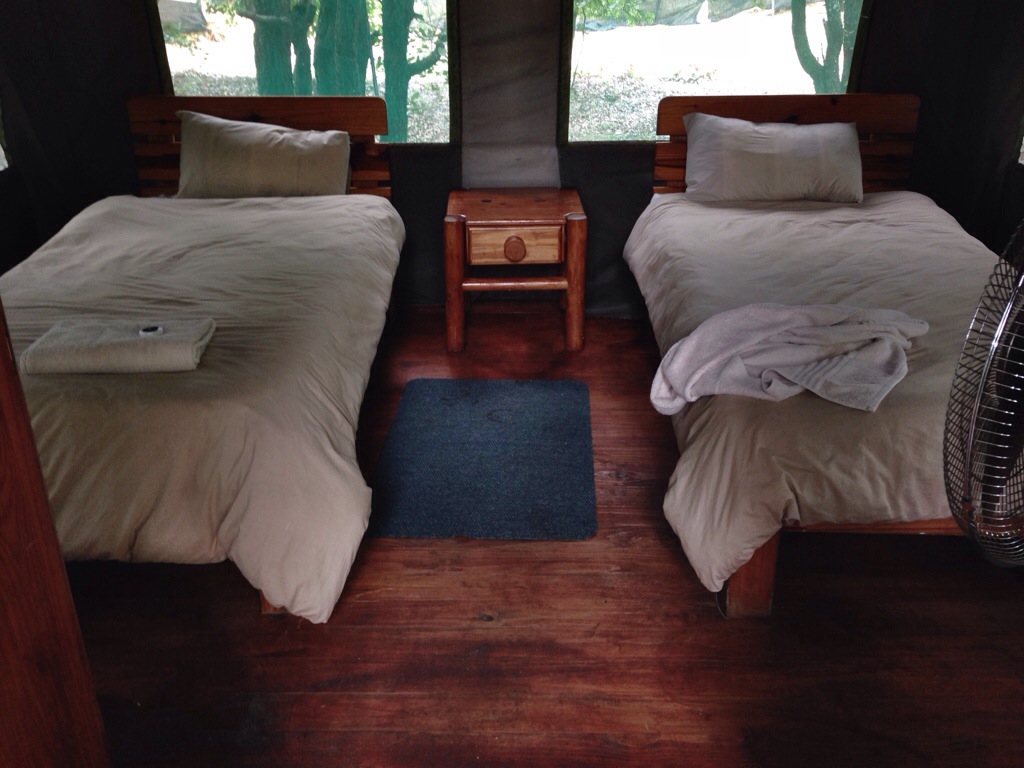 Every camp we've stayed at, two things have been constant:
1) Very few people around (often most of the chalets have been unoccupied and there's been no more than 3-4 of us camping),
2) The 'jungle' sounds of wildlife at night and as we sleep – lion roaring; elephant grumbling; hippo grunting; ardwolf baying; monkeys howling; bird song like the brass-section of a band.
It's become our 'Safari Tinnitus' and it's tremendous.
We've also had wildlife in the camp.
Honey Badgers have worked out how to get into the Baboon-proof bins…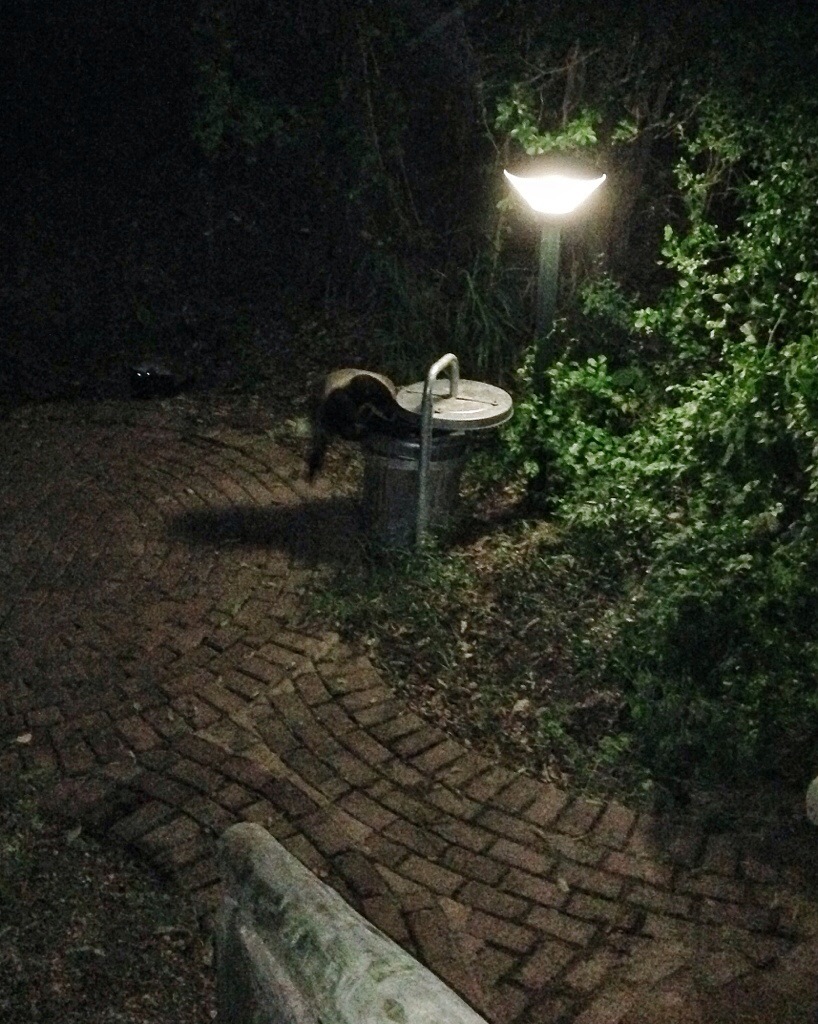 … Bush Babys silently skulk around the car looking for scraps…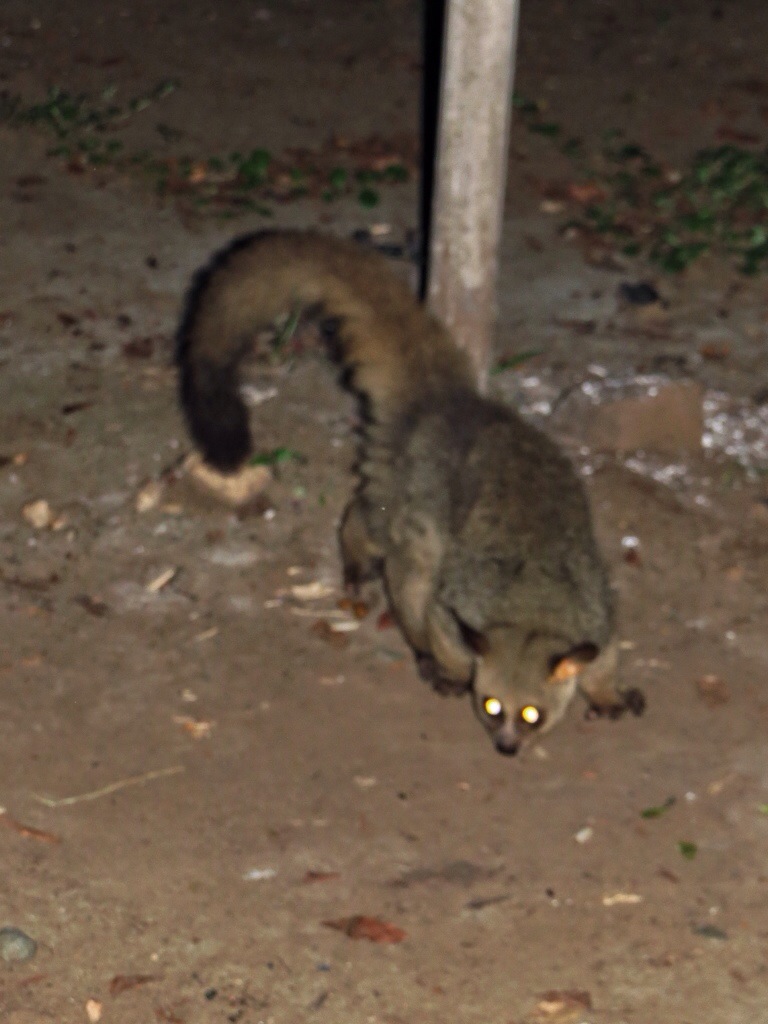 … Monkeys hung around our tented camp scouting for things to steal…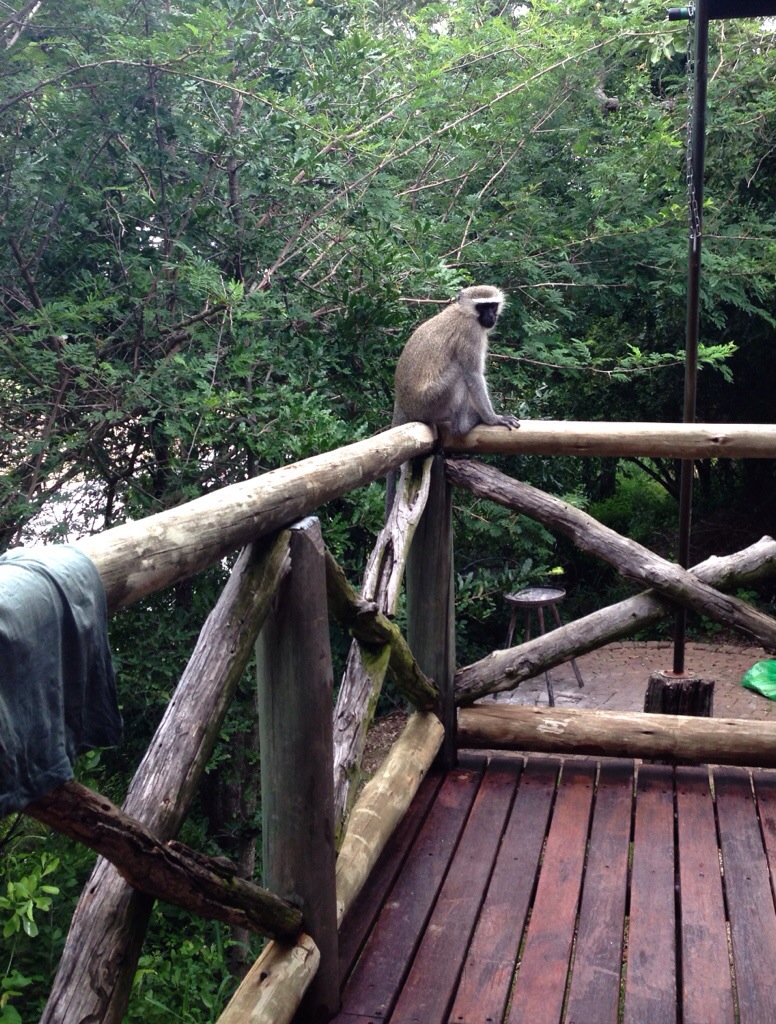 … and Buck wander out of the shadows like ghosts…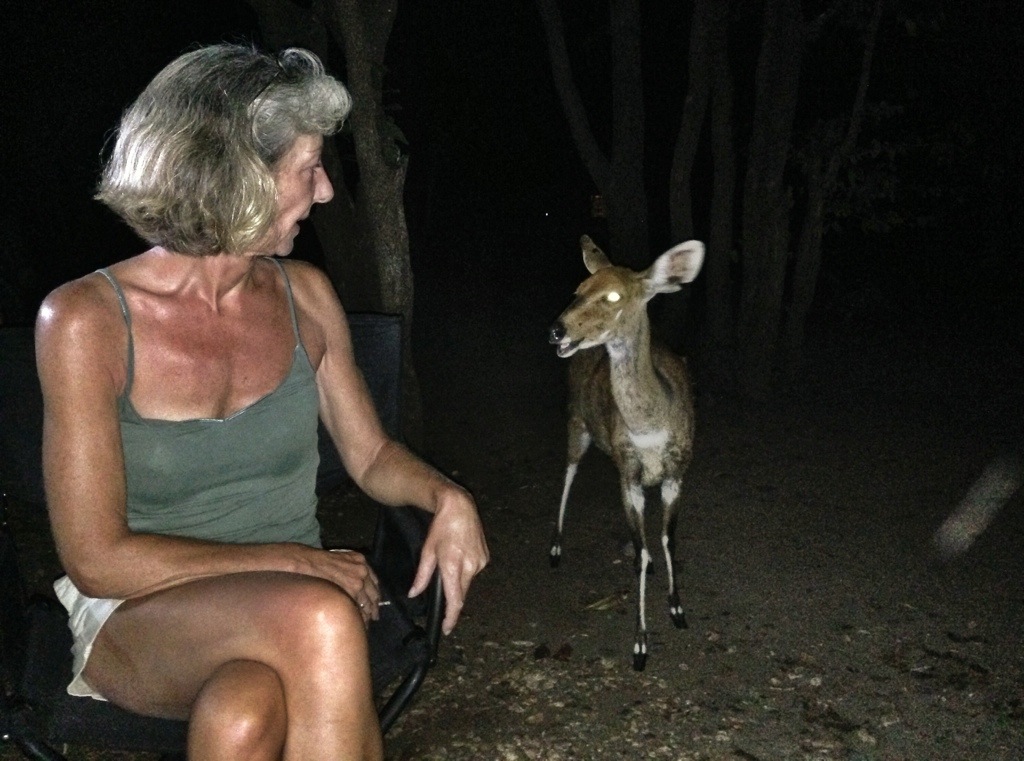 There's been little to disturb the peace and the 'Safari Tinnitus' – other than 3 Dutch couples that turned up one night in 2 pieces of 'Tupperware' (motorhomes) and an overland truck. They arranged themselves into a corral and then, seated around a small table, shouted at each other and partied for hours.
By 10.30 pm (given that anyone else camping is in bed by 9pm and up between 5am and 7am) I'd had enough.
"Please Be Quiet!" I shouted from our tent.
No response, no change in volume.
"PLEASE BE QUIET!"
That seemed to get their attention. They lowered their voices to their version of a Stage-Whisper and eventually went to bed.
I might have made my point too well though – that night, not a peep from the elephants, hippo, monkeys, birds, etc.
It seems everyone got the message.
Thankfully, the following night the Safari Tinnitus was turned back on again.
The view from The Penthouse at Letaba camp…