Christmas was spent camped at a water-sports resort but, since we've not had Internet for a couple of weeks, I'll back-track a little.
We had left the Kalahari (Kgalagadi, as it's been locally known for many generations) looking for a bit of respite from the searing heat.
The desert areas of the Kgalagadi had been great but the campsite itself was a bit of a let-down – we met a couple of very friendly people but most of the camp was full of 'Action-Man' off-road types with their 'G.I. Joe' off-road caravans.
They had more kit than Inspector Gadget, but every bit of it was polished so that it gleamed. Clearly it looks good on the driveway at home but most of it had never been taken further off-road than the campsite car park.
As my pal Dana from Texas would say "Big hat, No cattle."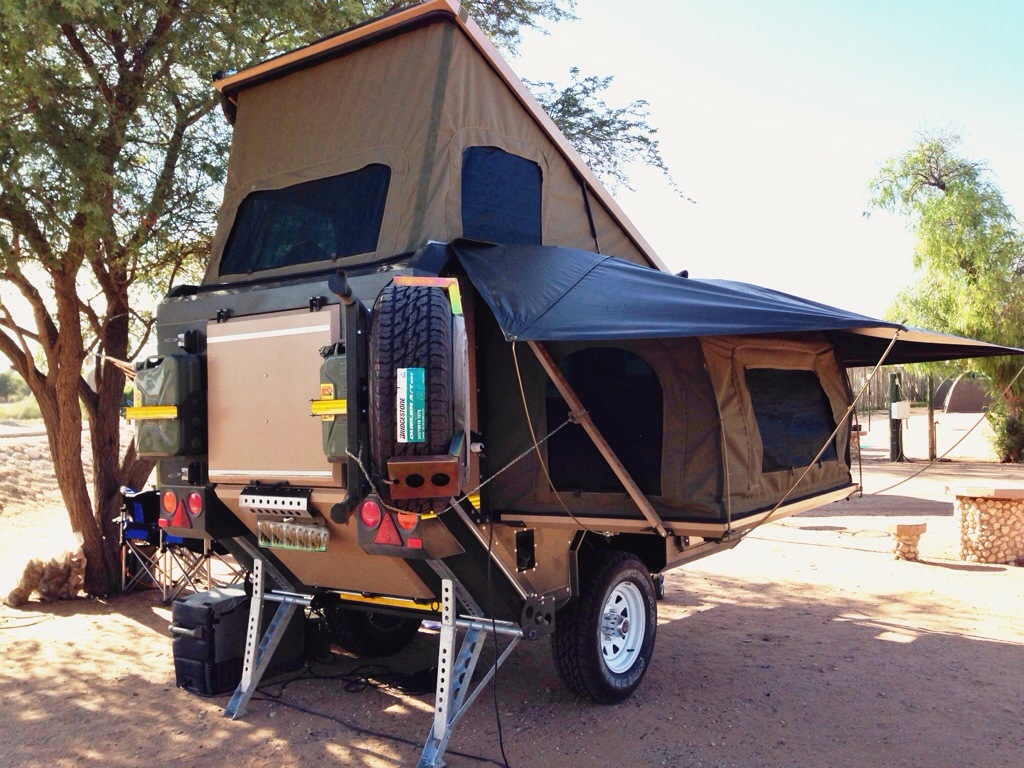 It's a tar road all the way to Uppington, but bleak desert and very poor communities most of the way.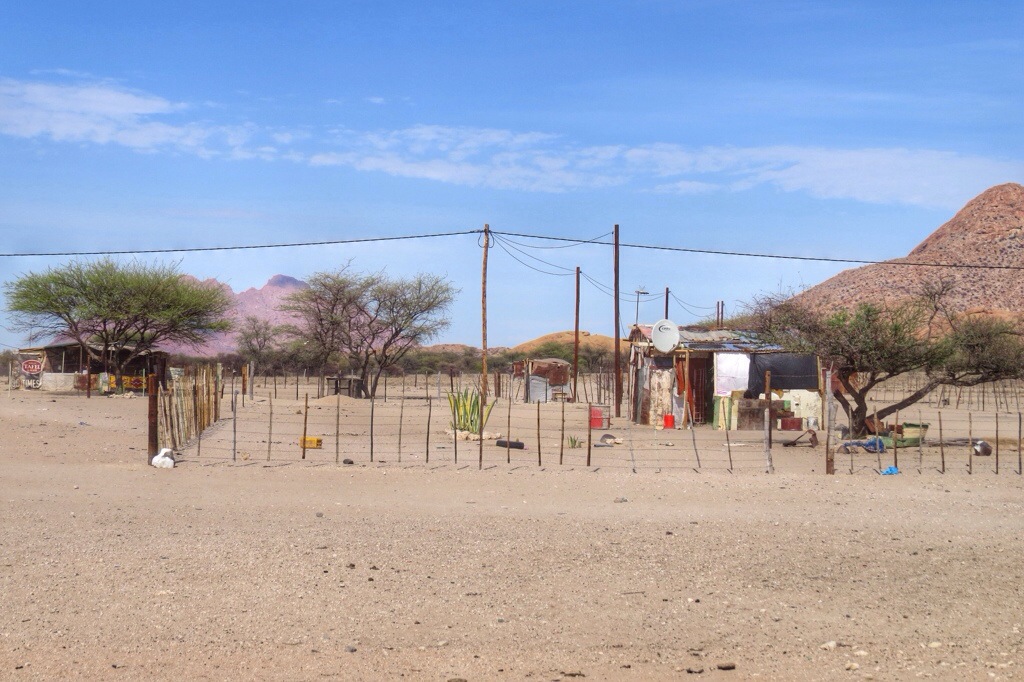 After about 20 minutes driving I was a bit concerned that although we were hurtling along at 50mph, the car seemed underpowered somehow.
It suddenly dawned on me that I was still in 3rd gear and had forgotten completely about 4th and 5th gear!
By the time I got the car into 5th gear it was like driving in a sound-proofed box: no rattling, no dust, no fingers vibrating like a concert pianist trying to break some sort of speed-playing record.
We headed for the Orange River about 40km west of Uppington and took the opportunity to go into the local Department of Home Affairs and apply to renew our S African visas.
Given that the DHA have a reputation for turning down visa extensions, they turned out to be a really helpful bunch.
In fact, the woman running the Applications Counter said she would renew our Visas there and then, but would we mind writing a simple begging-letter for her to put in the file attached to the application form.
No problem.
Handed over the 425 Rand ($50) extension fee and 20 minutes later walked out with our visas extended (and our letter firmly fixed to the Application Form for later consideration and to keep the records straight).
We spent a couple of nights at the Oranangerus campsite on the banks of the Orange River, amongst vineyards, pistachio plantations and a swathe of greenery that extends, like the Nile, for about half a mile either side of the river into the desert.
We intended to spend a couple of lazy days there, but in the end had 1 lazy day: and one day where it took us 6 hours to clean (most of) the Namibian dust out of the car, before we moved on to Agrabies Falls National Park.
Again it was searingly hot: 46 Celsius in the shade (76 ground temperature on the rocks) and unfortunately the falls were quite low due to the late rains in this part of Africa this year.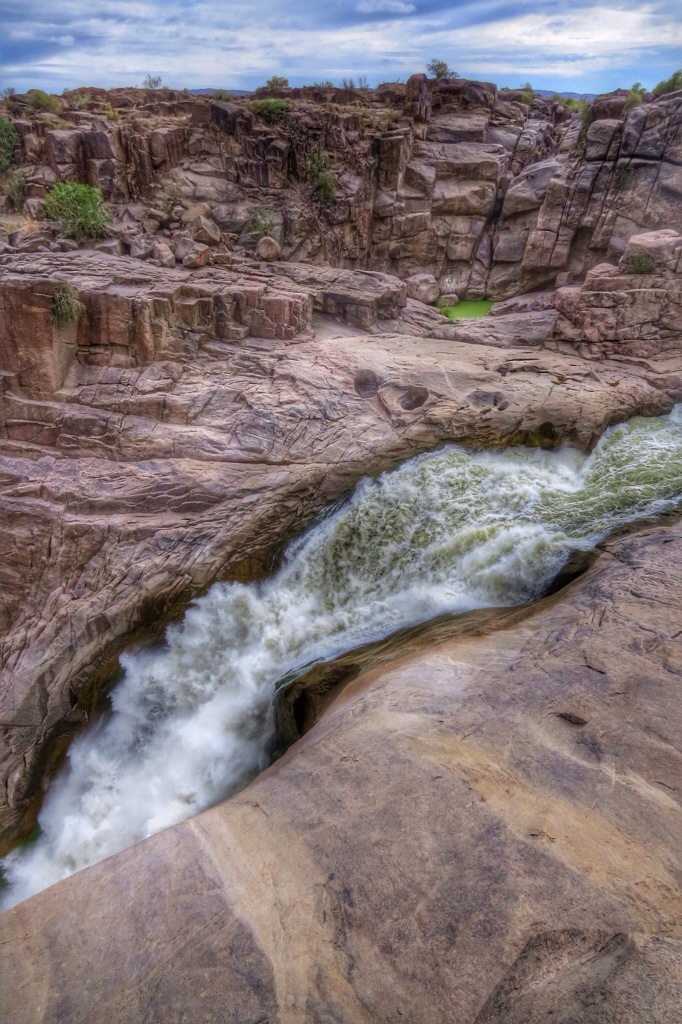 The flow rate while we were there was approx 122,000 litres per second.
In flood, the rate increases 12-fold and the floods of 2008 and 2011 actually washed away the boardwalk and viewing points.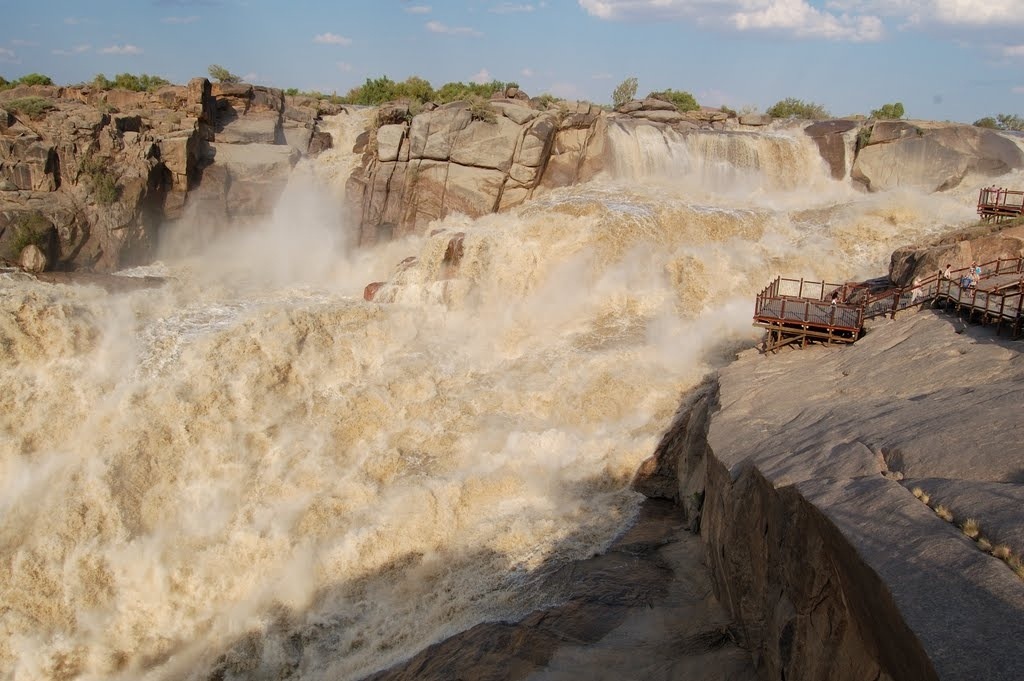 After a couple of days we thought we'd seek somewhere slightly cooler for Xmas and headed first west to Springbok (nice 'desert-mountain' scenery and scrub land, but nothing to write home about as a town) then south to Clanwilliam and Citrusdal (a very scenic route alongside the N7 and the source of about 20% of S Africa's table grapes / wine).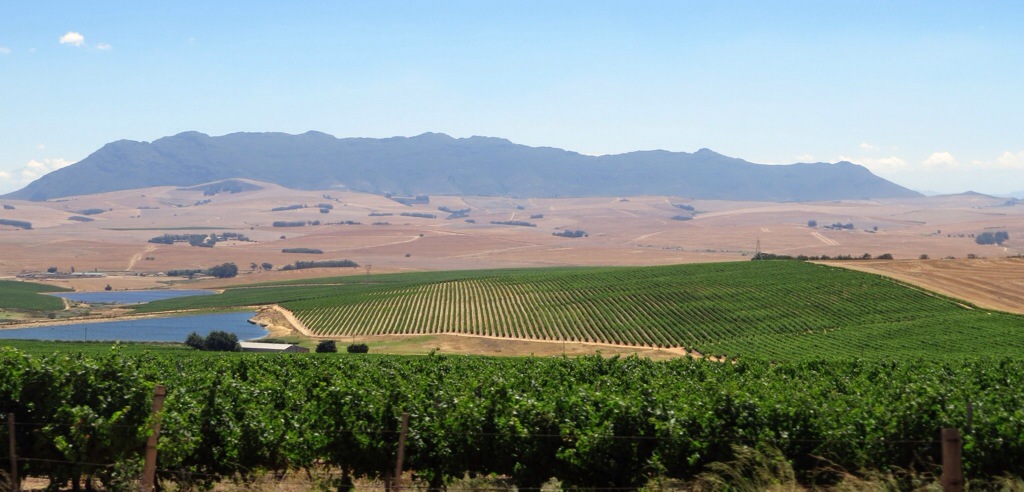 The contrast of desert hills and cultivated valleys is an impressive feat of engineering and water management.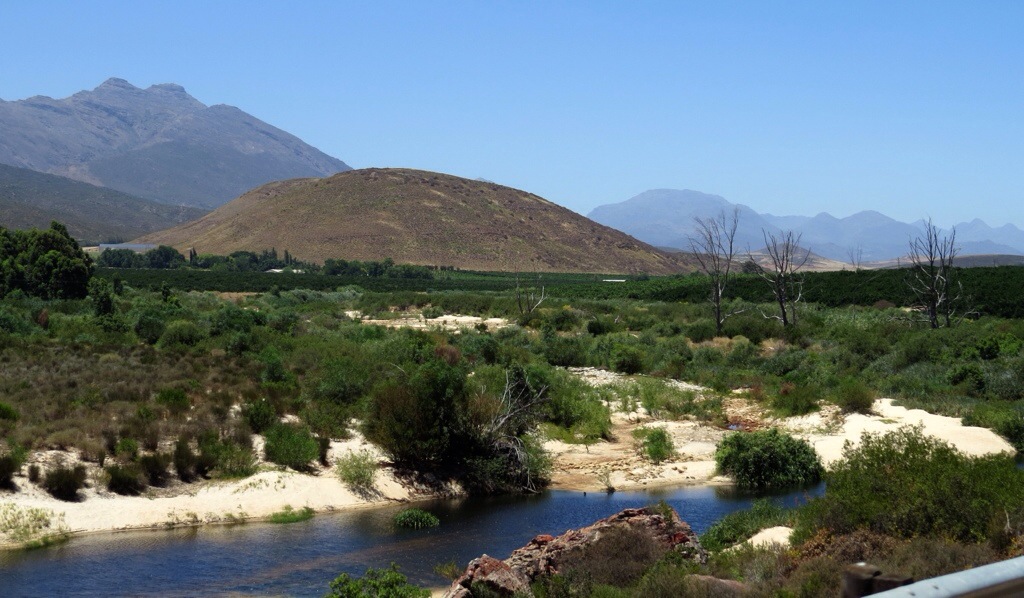 It was Christmas Eve and we tried to get into the camp at 'The Baths' campsite, but it was full (I'm sure that story / theme rings a bell from somewhere) so we had to drive on and ended up at the Elani Resort (the waterski centre).
I guess it was nice enough, but not really what we were looking for – full of the 'Boys Toys' brigade again but this time also with jet-skis, quad bikes, ice-making machines, home-stereo systems, chest freezers (those are large, domestic freezers – not machines to keep your nipples cold, although if someone invented one, I'm sure some of these people would have brought one camping with them).
A strange mix of people. On one hand large tight-knit groups that wouldn't even acknowledge the people camped next to them: on the other, people who would walk half way round the lake just to say Hi.
Expensive too $50 (R480) per night just to camp – at least twice as much as we're used to paying.
We moved on and I wasn't that disappointed to do so.
The N7 south and R60 south west runs through the Robertson and McGregor districts – attractive countryside, mountain ranges and large vineyards, making up the western section of The Garden Route.
We spent a very pleasant night camping at Swellendam Backpackers – although we were the only ones camping. Everyone else (the 'Backpackers?') seemed to arrive in hire-cars and stayed in very nice chalets.
Swellendam is a pleasant town, with a 'cafe-culture' style. We had breakfast at the lovely Oppi Stoep Cafe.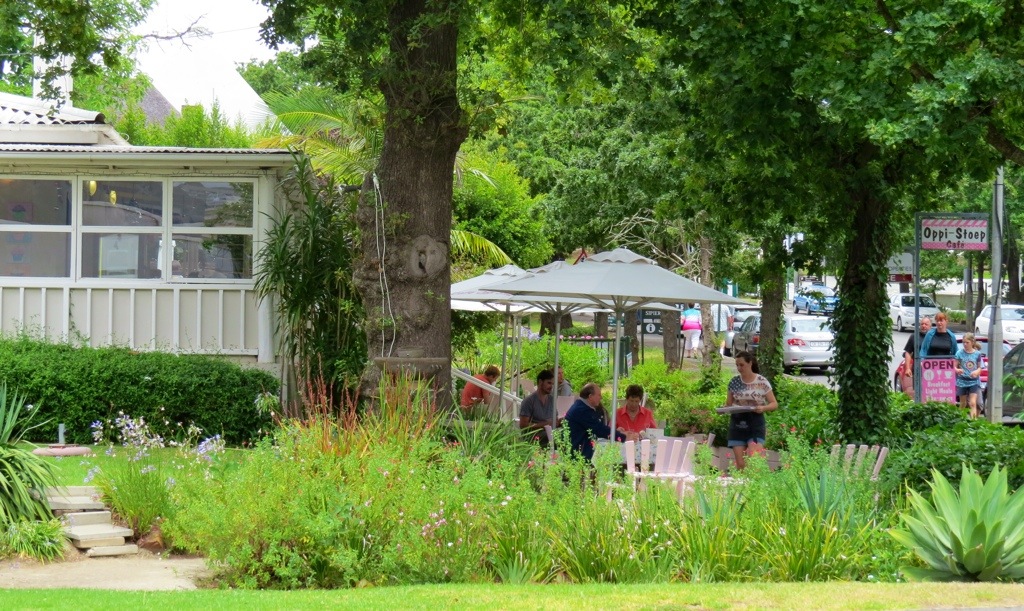 At least, we went in for breakfast around 9am and left around 2.30pm.
Despite them being very busy, the owner Dirk and his daughter were great hosts and kept plying us with free cake & coffee while they grilled us about our impressions of S Africa and the differences between the European / African lifestyles.
It was a good job our next planned stop (Bontebok National Park) was only a short drive away and if we hadn't had somewhere to go, I'm sure Dirk would have made up beds for us.
The Bontebok was almost extinct (less than 30) in 1931 when the park was created to protect it, but now they are thriving.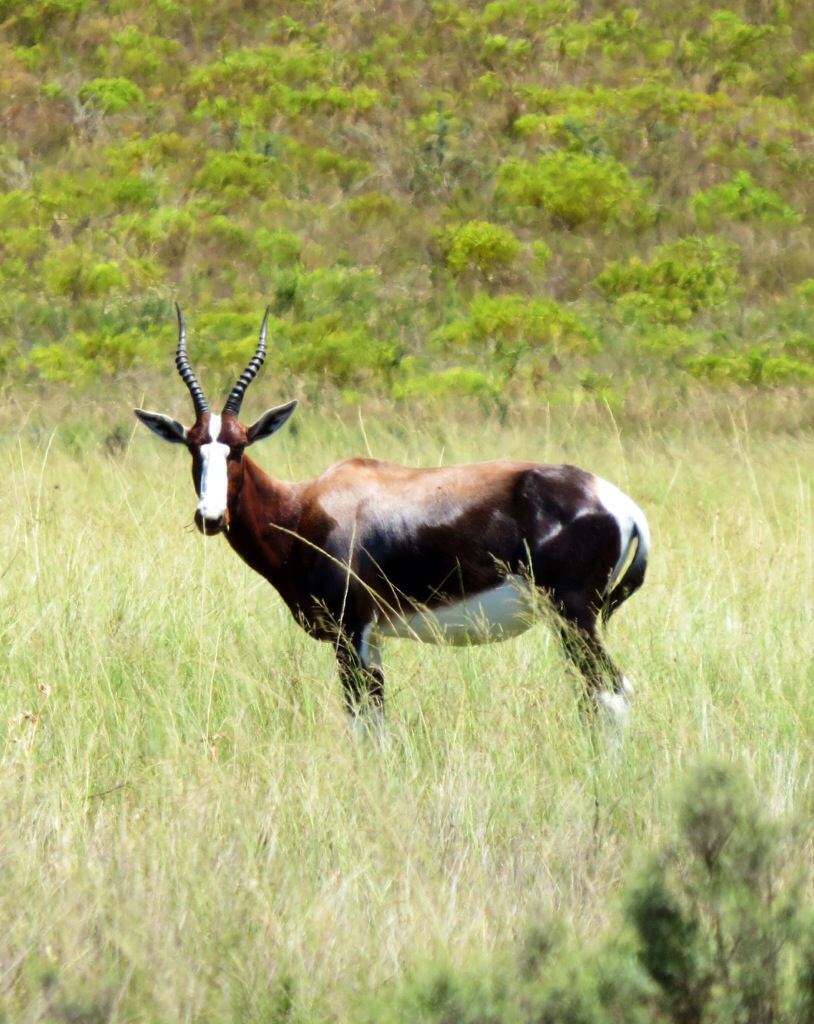 Bontebok Park itself isn't much to look at, but the campsite on the Breede River is lovely.
The view from The Penthouse…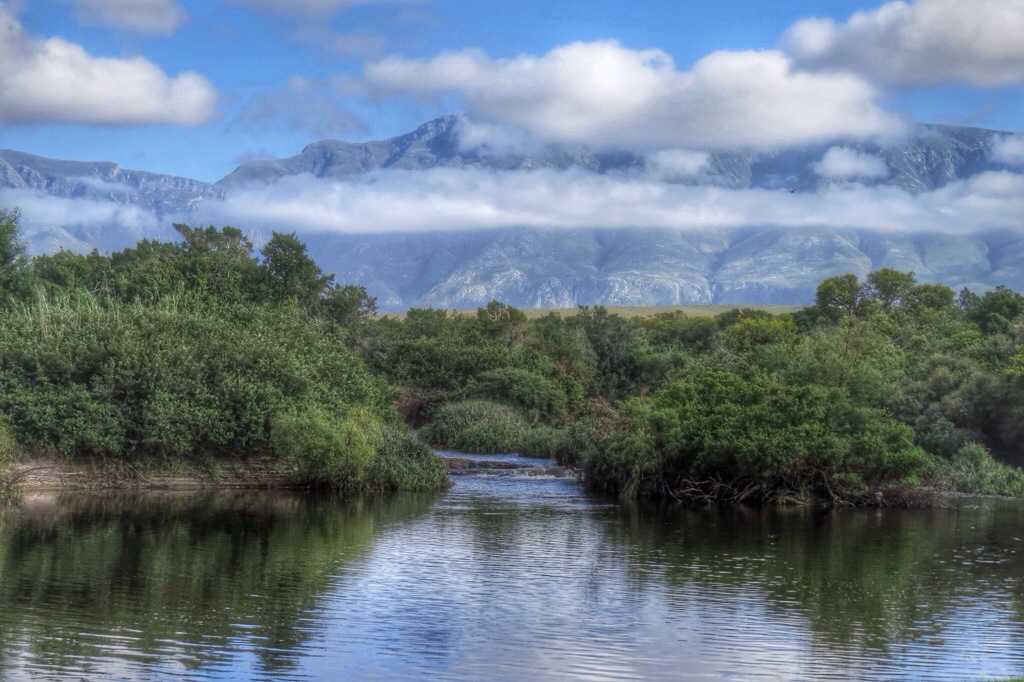 More importantly, not an ice-maker, inflatable pool or nipple-cooler in sight.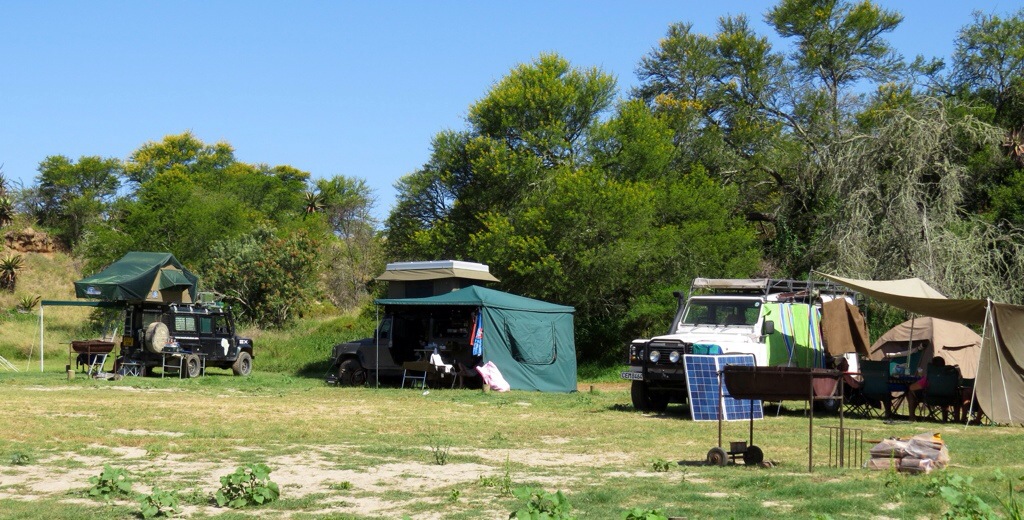 We spent 4 days there and were lucky to camp next to Richard and his family from the Jo'Burg area, who had the most organised Land Rover I have ever seen (including an electric rooftent!)…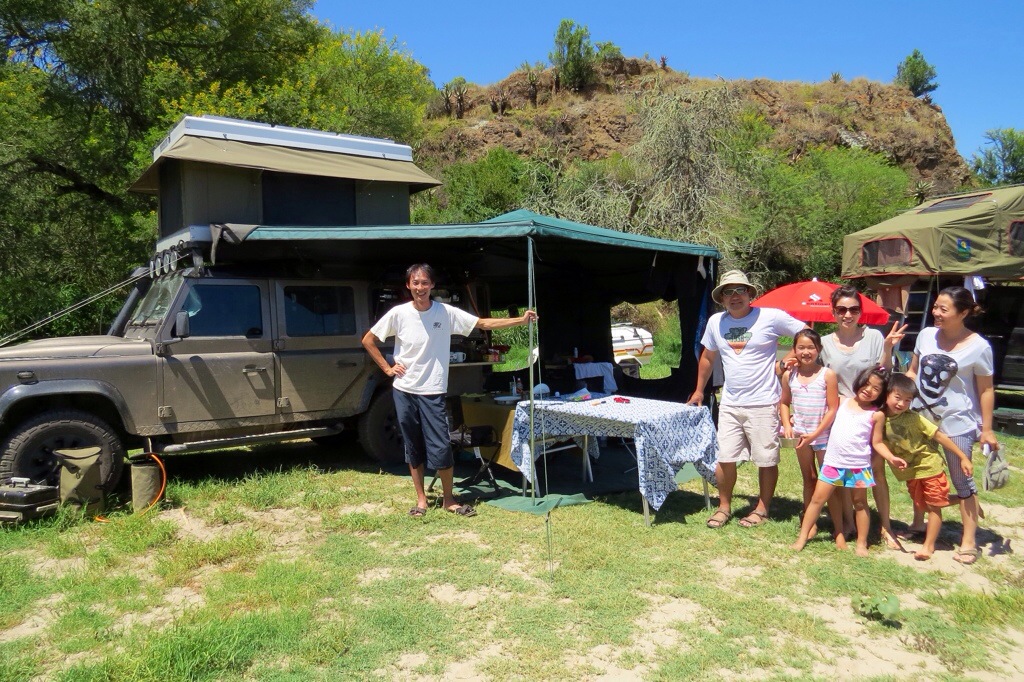 …and Mark & Jeni with their family, who gave us some great information about travel routes in Botswana and helped me understand where the problem might be that we're having with our solar panel (which doesn't seem to be fully charging our 2nd battery).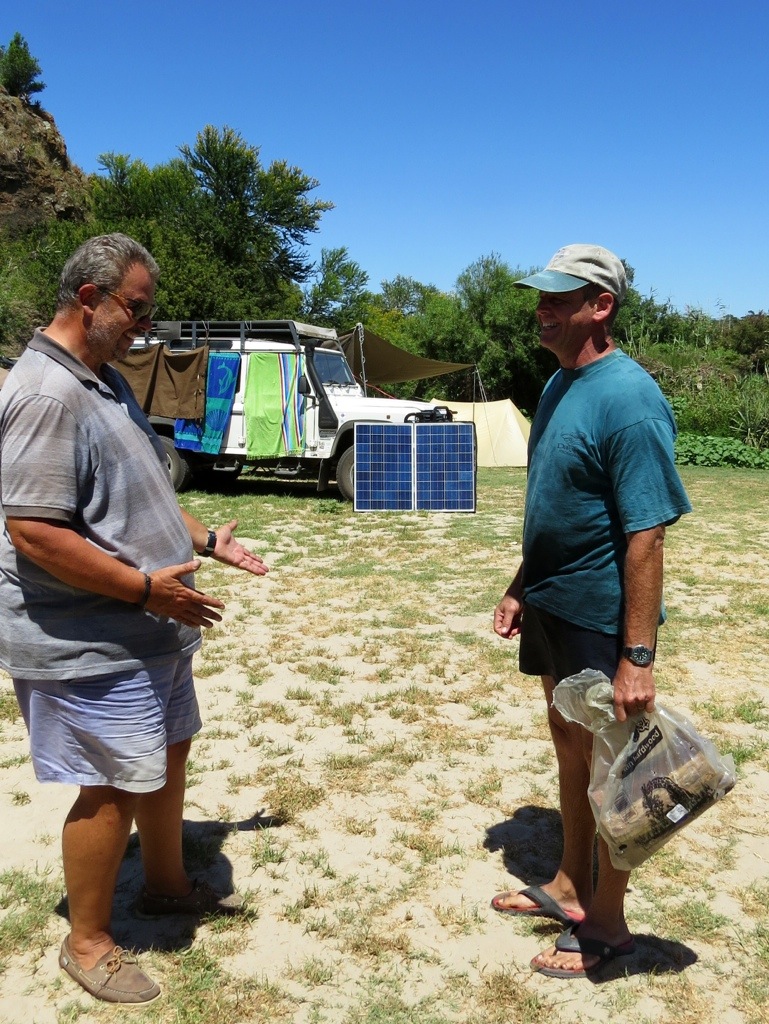 One of the nicest and friendliest campsites we've been to in South Africa and we were disappointed to have to move on.
But, the coastal area of The Garden Route beckons.