The Botswana currency is the Pula (meaning 'rain') and it's divided into 100 Thebe (meaning 'raindrops').
Cool huh?
Appropriate too as we've had plenty of rain since arriving.
The bar at 'The Old Bridge' is a busy mix of back-packers, campers, tour guides and bush-pilots. With a 'bar-at-the-end-of-the-world' feel, it's difficult to tell whether the residents are propping up the bar, or the other way around.
By no means the worst place to sit and watch the storms in the frequent power cuts.
After a relaxing 24 hours we got a surprise visit from Simon & Lore – a Belgian couple we've been in touch with since we both originally tried to get into Egypt. They eventually shipped from Jordan to Sudan and avoided it altogether.
By coincidence they were camped the other end of town and had heard we were at The Old Bridge.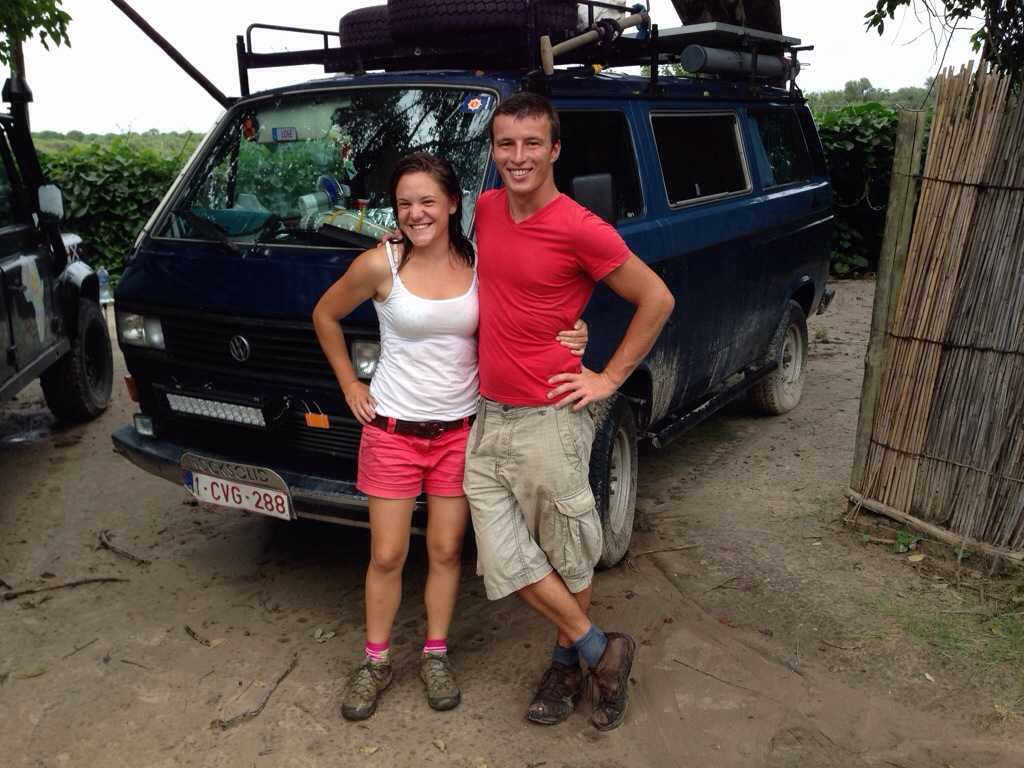 We've been following Simon & Lore's Facebook posts etc as we plan to go north on a similar route to theirs coming south.
It was good to finally meet up with them.
They're travelling in a 4×4 VW Camper that Simon converted to a regular home-from-home. Unfortunately they've had starter motor problems and although they had planned to leave the next day, that plan came to an abrupt end.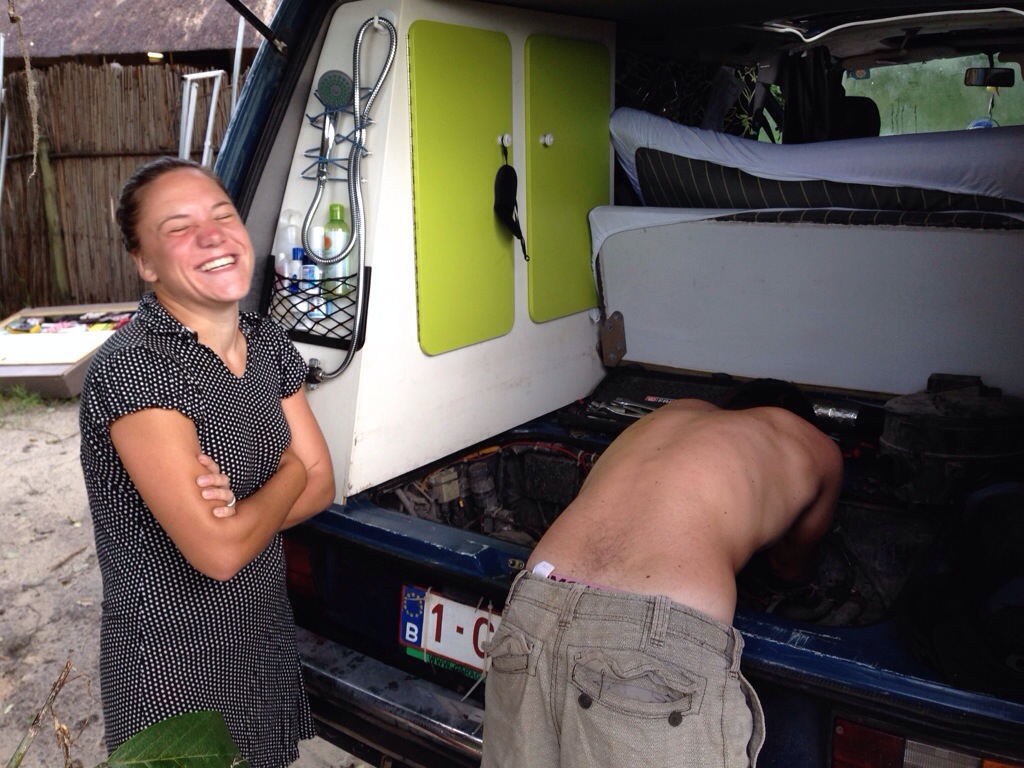 I took Simon into Maun and we spent the morning trawling spares shops & mechanics until we found a chap who said he ought to be able to fix the solenoid by the end of the day.
Helene & I had wanted to visit Moremi National Park but the recent heavy rains had made that impractical. The best way to see it would either be on a mokoro boat trip or from the air.
With time on our hands, the four of us decided to take a scenic flight across the Okavango. The 5-seater Cessna is a fixed price regardless of the number of passengers but for four of us it was a not-unreasonable P825 ($90) or 82,500 'raindrops' each.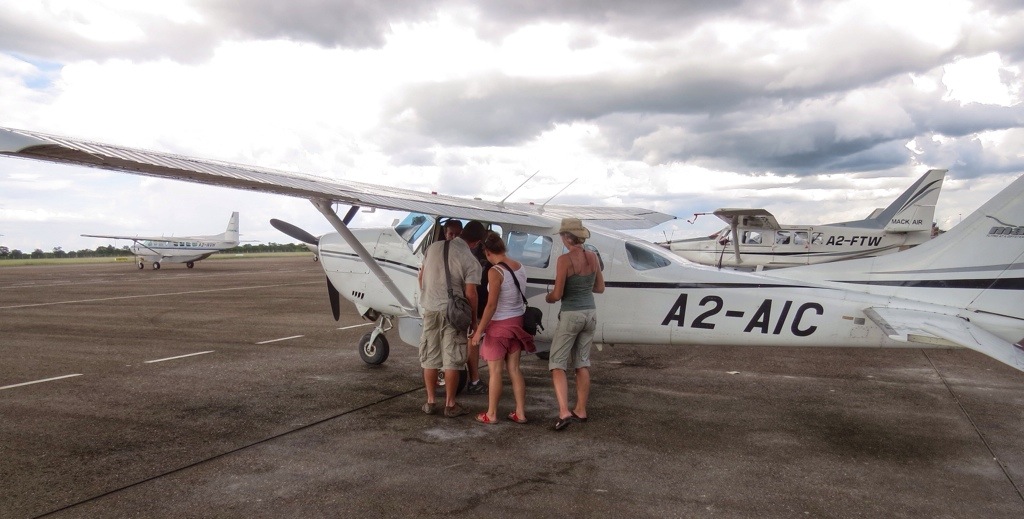 The 1470km long Okavango River rises in central Angola and flows south-east through Namibia's Caprivi Strip, where it meets the northern Kalahari.
Annually it spreads over 18 billion cubic meters of water across the 16,000 sq-km Okavango Delta of swamps, marshes, reed beds and papyrus-choked lagoons that include Moremi National Park.
It is stunning.
Top Tip: at some point see at least part of Africa from the air.
I doubt any photo I could take would do it justice – but I'll try.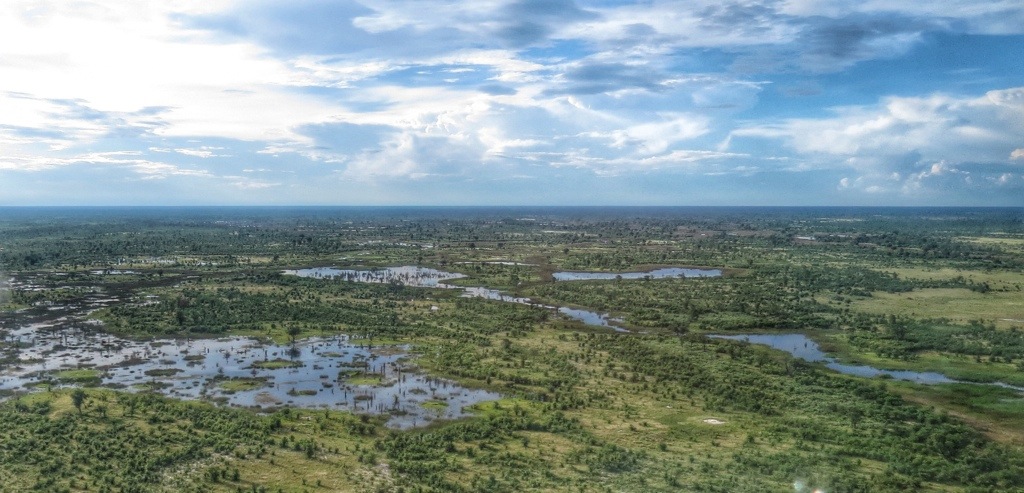 It can be so wet that getting around or game spotting from a ground vehicle would not be practical. From 500ft (170m) though you get a totally different perspective.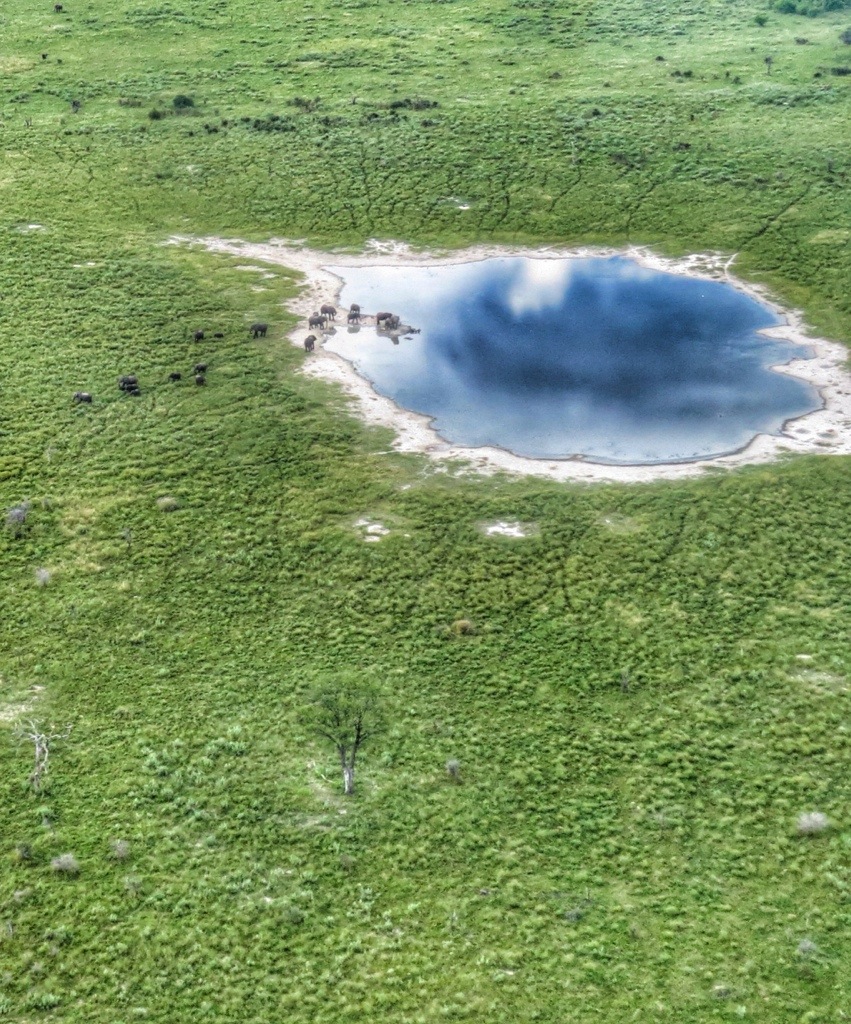 The landscape is vast. It's hard to imagine that there are actually almost 100,000 people that live there: hand-to-mouth, fishing and hunting.
There are some remote lodges in the heart of the delta, but they're real hot-shot stuff. You can only fly in and they cost from $400- $1,700 per person per night.
Too rich for my blood. We'll settle for a fly-by rather than a fly-in.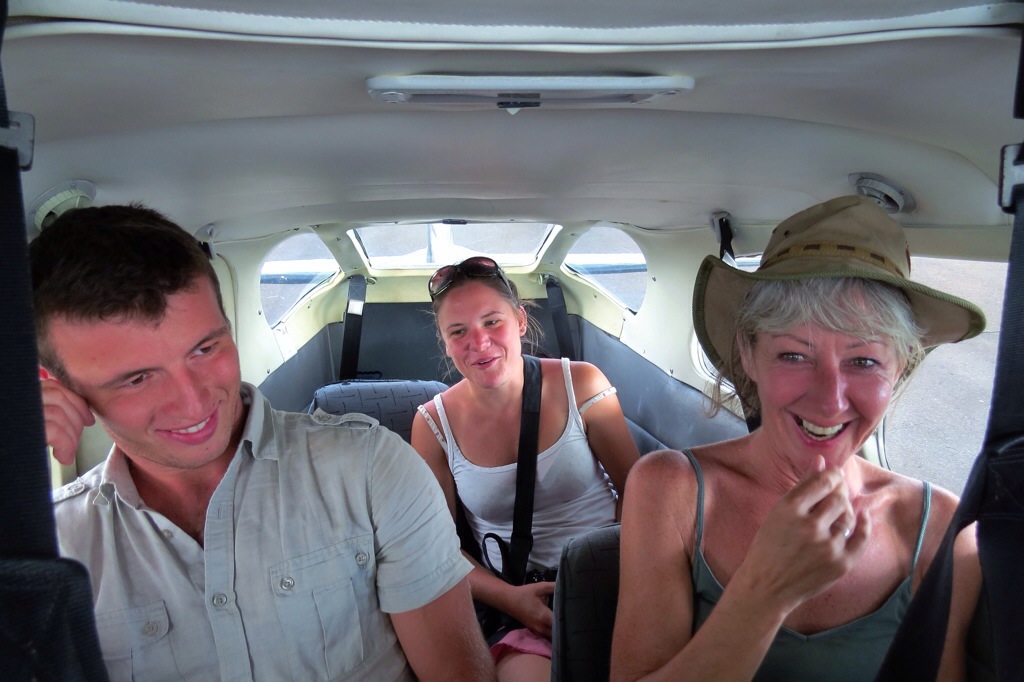 To date we've only seen Africa from ground level. From 500ft though the colours appear much more pronounced and the landscape can be almost abstract.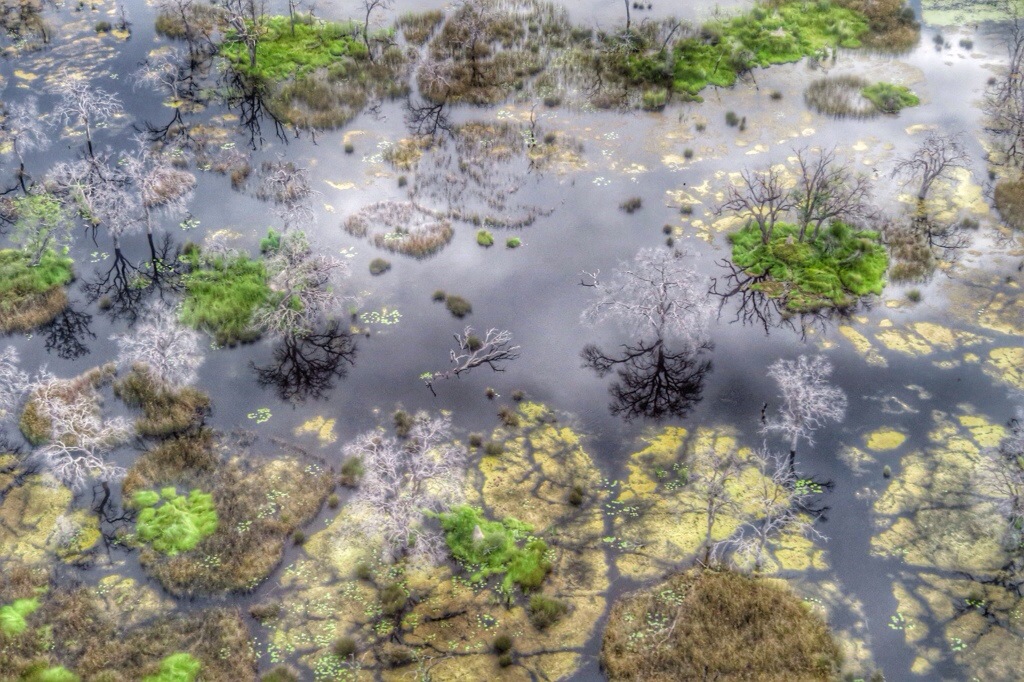 It's hard to imagine what it must look like in the dry season, when there's only 50% of the water around.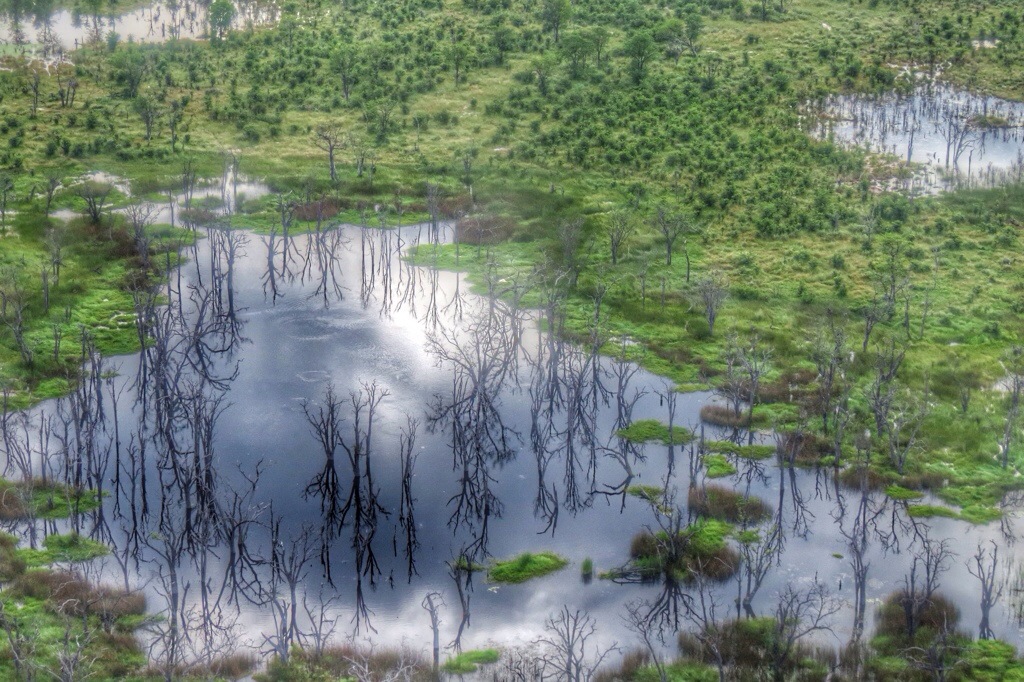 The southeast / southwest of the Delta is a maze of rivers, tributaries, pools and swampy wetland animal trails.
The north-eastern part of the park / delta is drier, but equally beautiful. As we've seen so often in Africa, the skys are broad and dramatic.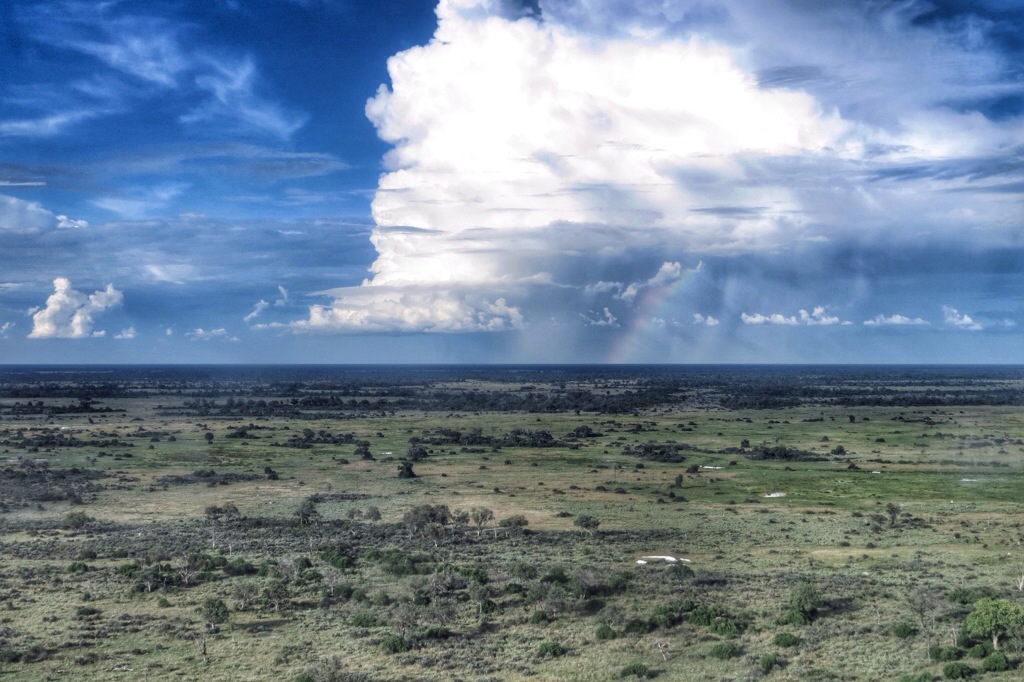 In a small plane dramatic skys mean turbulence. Guaranteed to heighten the tension a little.
As we headed back towards the airport the sky darkened considerably.
Eventually we hit a squall that produced a huge rainbow across us and a handful of lightening strikes either side of us as we came in to land.
No pictures of that – too dark, too bumpy and we all had other things on our minds.
We raced back to the campsite as Lore had left the VW sunroof open. I took Simon back to town to pick up his starter-motor and we finally got back around 8pm.
Lore had made dinner in their camper but, since all of our stuff was with me in our car, I couldn't be bothered preparing anything that late and we ate in the bar.
The next morning, the VW was running sweetly. Over breakfast Simon & Lore gave us some excellent tips on places to go further north (& some to avoid) before they headed out.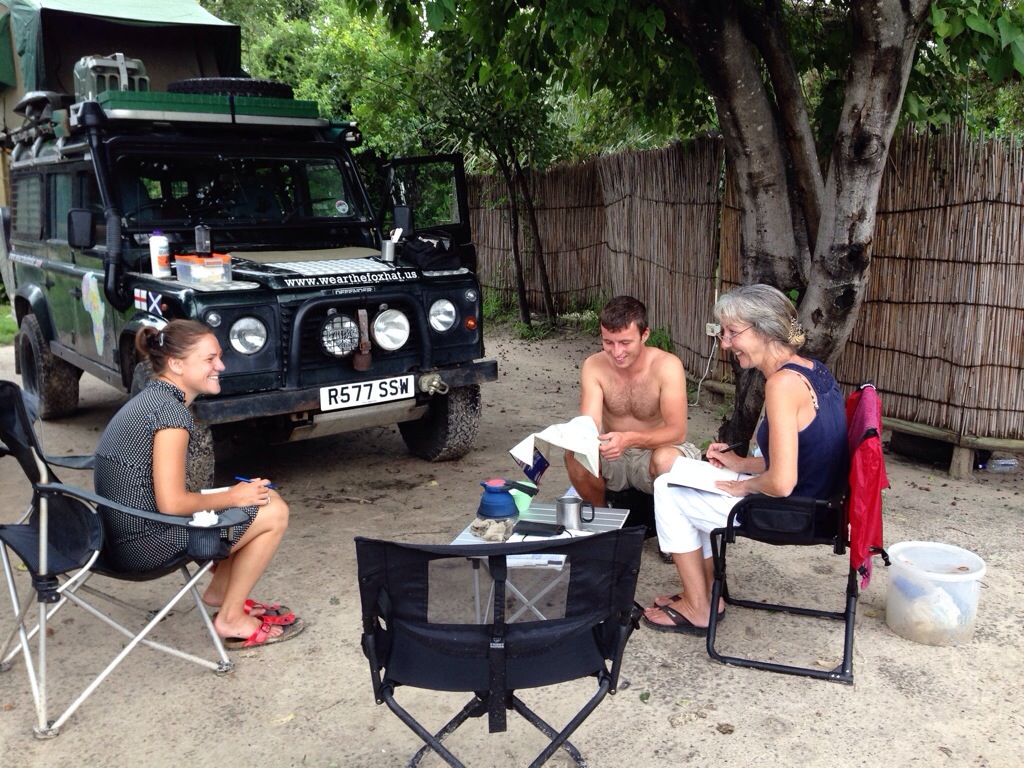 I spent the rest of the day looking like I knew what I was doing around the car – checking bolts, oil levels, filters etc.
There was something bothering me about the look of the engine bay though. I couldn't put my finger on what it was – it almost looked too tidy, not as cluttered as usual.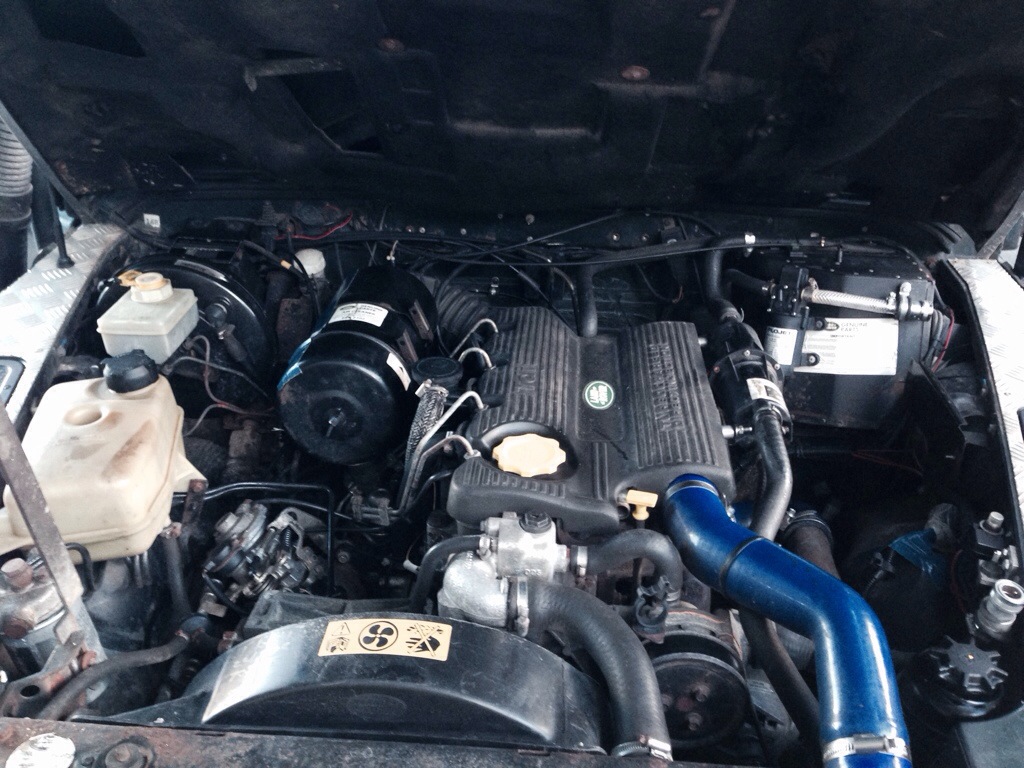 It finally clicked.
The big space top right of the picture should have contained a huge windscreen washer tank and pump.
It couldn't have fallen out – I guess Whitey forgot to re-fit it when he removed the turbo etc.
Whitey's repair job to the injectors / filters was very welcome: but over the week or two since, seems to be costing us more and more.
Oh well, something else on the list for Foley's to do when we get to Zambia.
Good news though: that night we got a rare chance to Skype Charlie. She and Luke have now set the date for their wedding next March.