It was time to move on from Kasese. Either side of flying home for Charlie's wedding, we had been in Kasese District for about 5 months and leaving was a bit of a wrench.

Having had so much warm hospitality here (from Amos & Lavinia in particular) made it feel like we were leaving home – although these days it feels like our home could be any one of a number of places: Charlie & Luke's, Judith & Paul's, Caroline & Philip's. The Land Rover may be where we live, but where is home these days?
We spent a couple of days preparing the car, making a couple of minor repairs to the rooftent…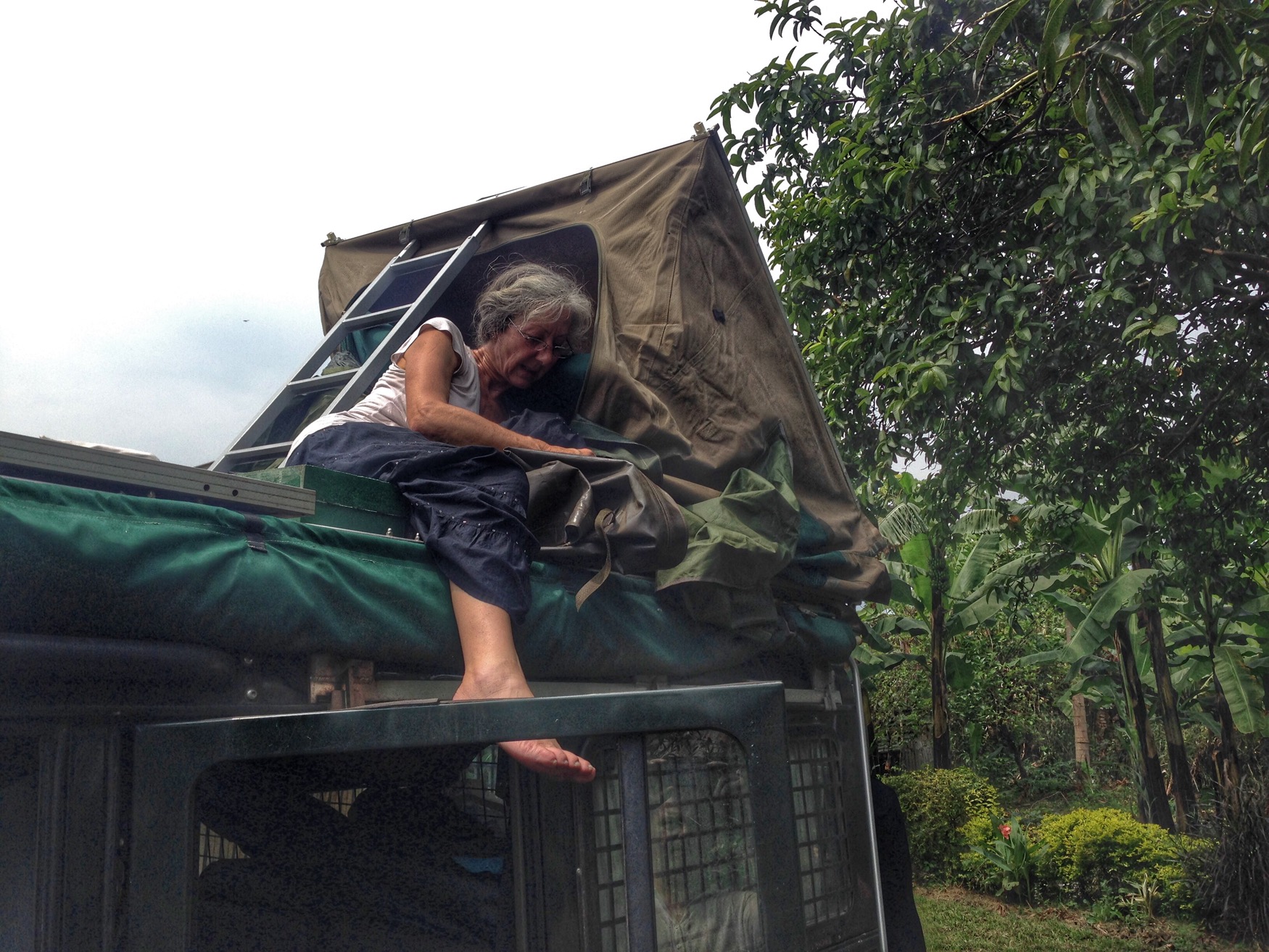 …having a final picnic in Lavinia's garden with Kevin, Blessing, Ronette & Rosette, the girls that she has fostered…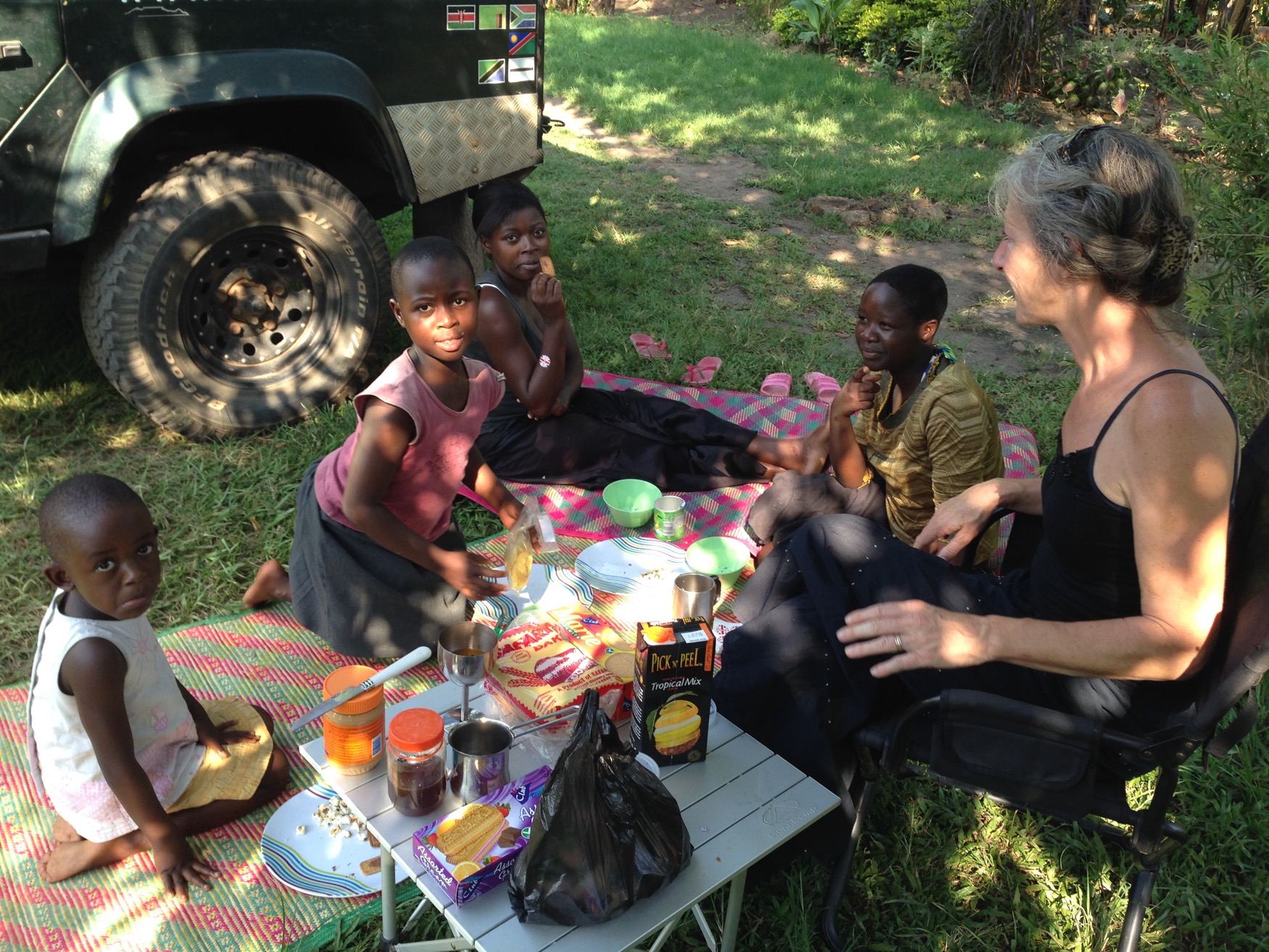 …and getting some final alterations / repairs to clothes from Rose. Rose is one of the original tailoring students that AWU trained some years ago and Helene has become like an aunt to her.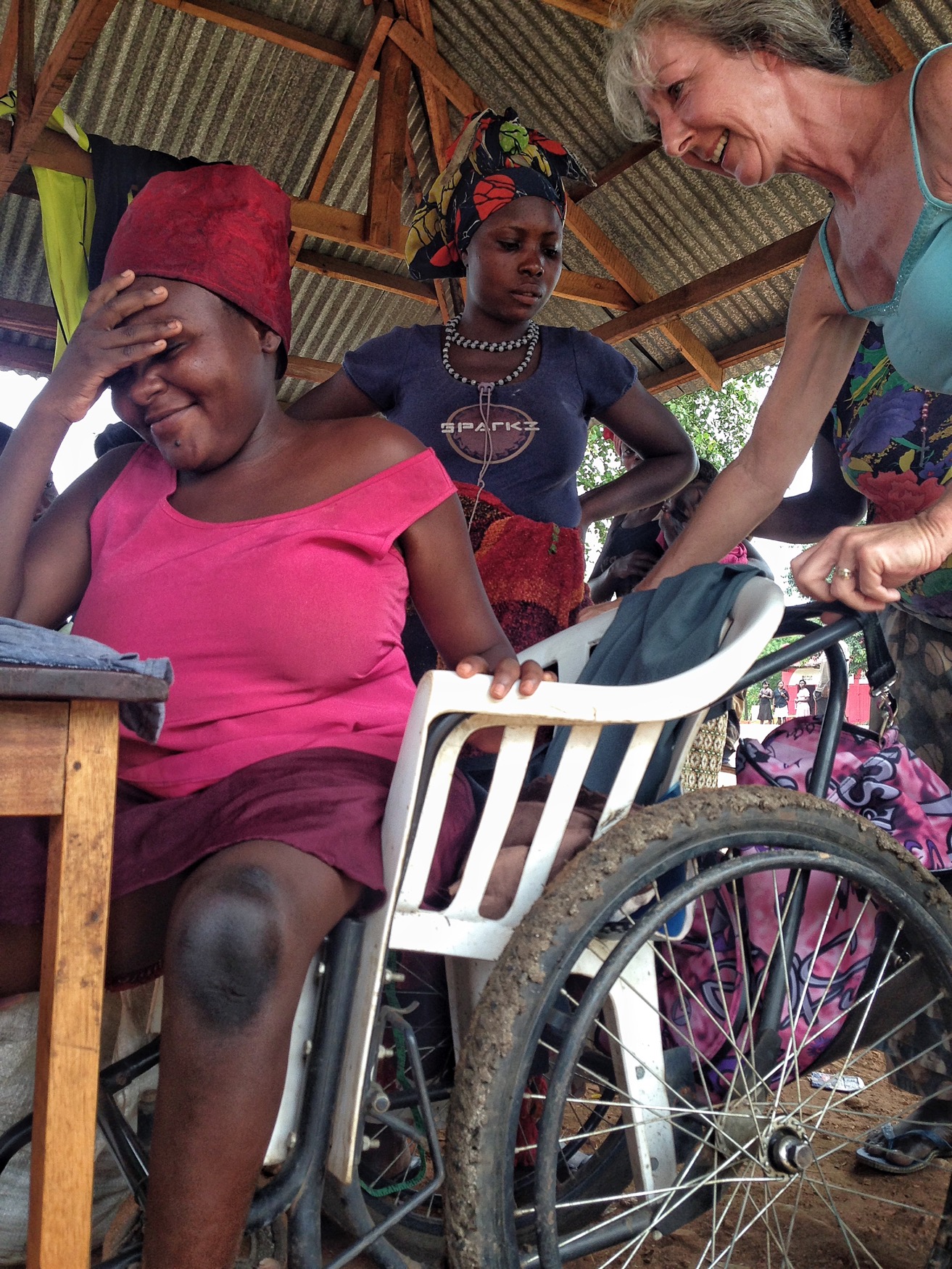 She's spent most of her life getting around on her knees. Finally she got a 2nd hand (22nd hand?) wheelchair about 6 months ago – but it's broken. Hopefully her wheelchair will be fixed soon. It's not easy to find the necessary parts here but we've made arrangements to have the axel repaired and a proper seat made for her. Being wheelchair bound must be difficult at the best of times in this heat – can you imagine how uncomfortable spending day after day on a plastic garden chair must be?
We headed towards Rwanda, a little concerned about what we'd find since the recently failed military coup in neighbouring Burundi has caused problems there and there have been a lot of refugees making for Congo and Rwanda.
The road south from Kasese is pretty good, with the exception of the 30km section through Queen Elizabeth National Park. Whatever UWA spend their extortionate National Park Fees on in Uganda, it certainly isn't maintenance.
Surprisingly though, the 100km we had been warned about south of Ishaka to Kabale was great. A new road is actually being put in, winding through the increasingly hilly valleys cultivated with sugar, tea and coffee (no sign of milk).
The sub-surface that has been put down has made for one of the best roads we've driven in Uganda. We actually did the 250km to Lake Bunyonyi (about 40km north of the Rwandan border) in 5 hours rather than the expected 6-7.
Rwanda has a reputation for being expensive (by African standards) and everything this close to the border seems to reflect that – fuel is 20% more than Kasese at 3,200 Ugandan Shillings a litre (£0.65 / $1). Even that's difficult to complain about though since Sterling is strong at the moment and there are now 5,200 UGX to the Pound, compared to 4,300 when we first arrived.
We camped at Bunyonyi Overland Resort, on the lake shore. View from The Penthouse…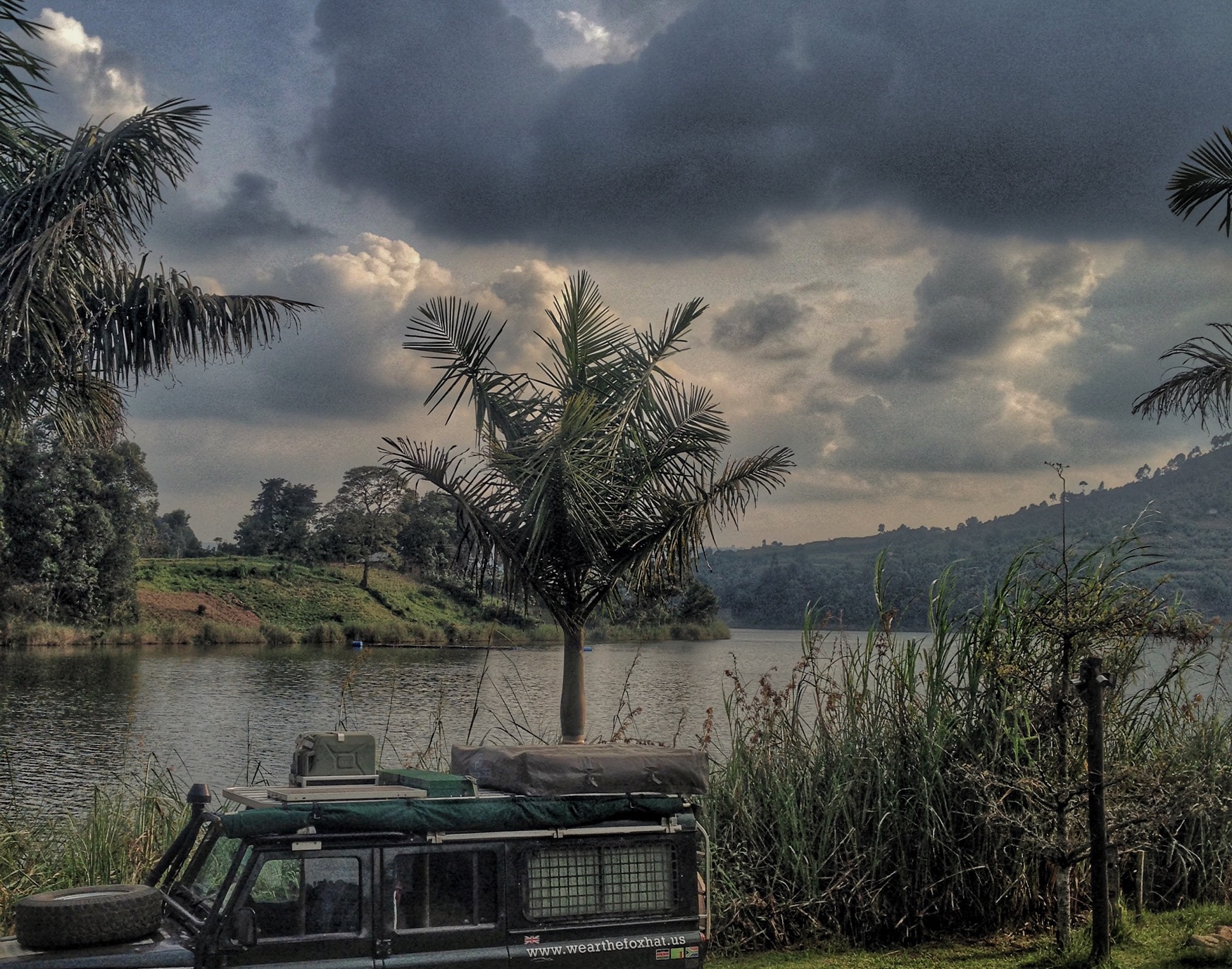 It's a beautiful setting in a very well set up camp, amongst the terraced hillsides and simple villages. Pretty steep terrain here though. Even the safari tents have taken quite a bit of work to get a level sleeping surface…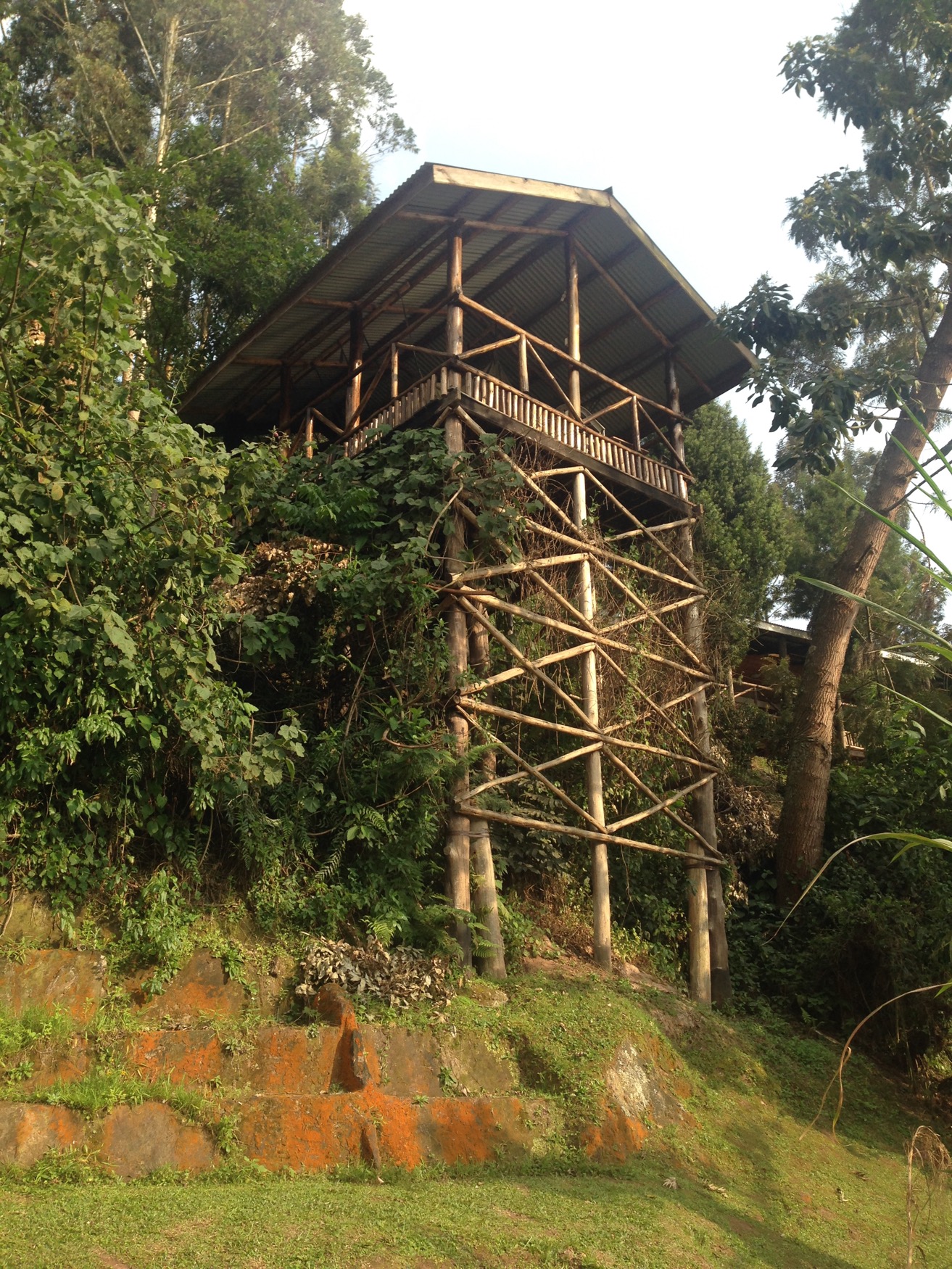 It's colder here. Almost sleeping-bag weather. The lake is at almost exactly 2,000 metres elevation (higher than some Alpine ski resorts).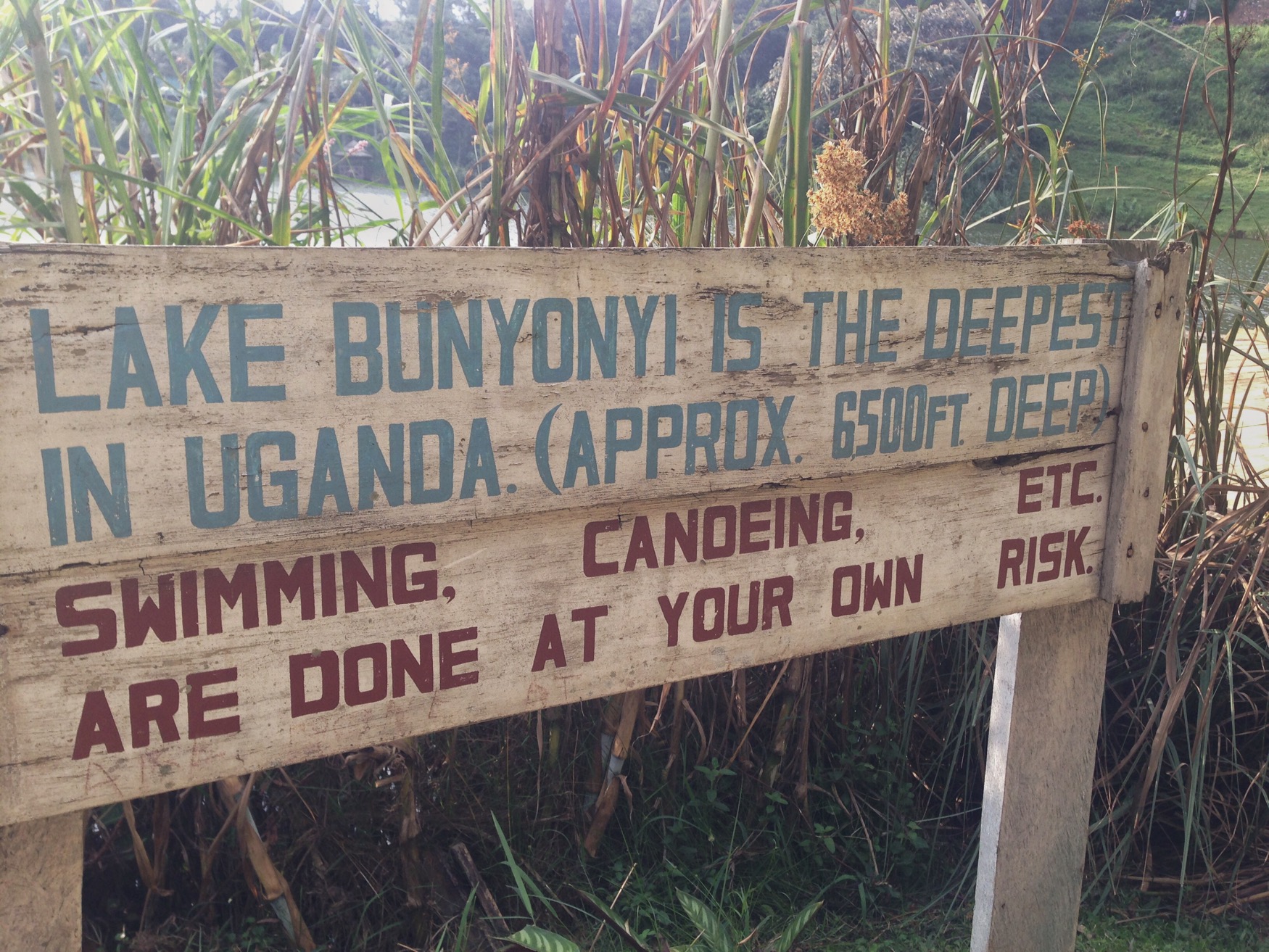 At 6,500ft depth that means that the bottom is marginally below sea level (2,500 miles away)! Pretty cold for swimming but at least there aren't any crocs (supposedly). Only the occasional wildlife sighting in camp…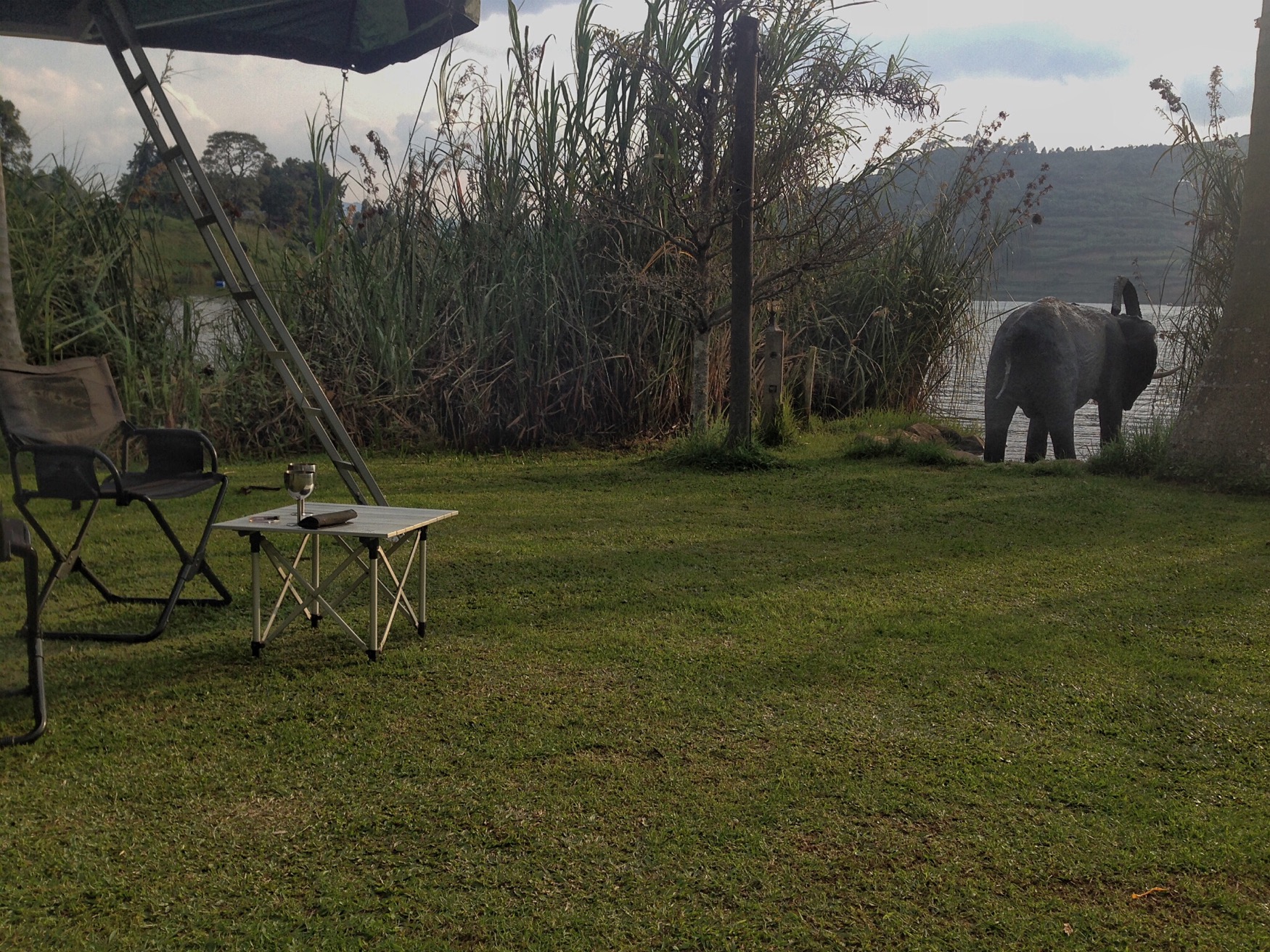 …but plenty of birdlife around…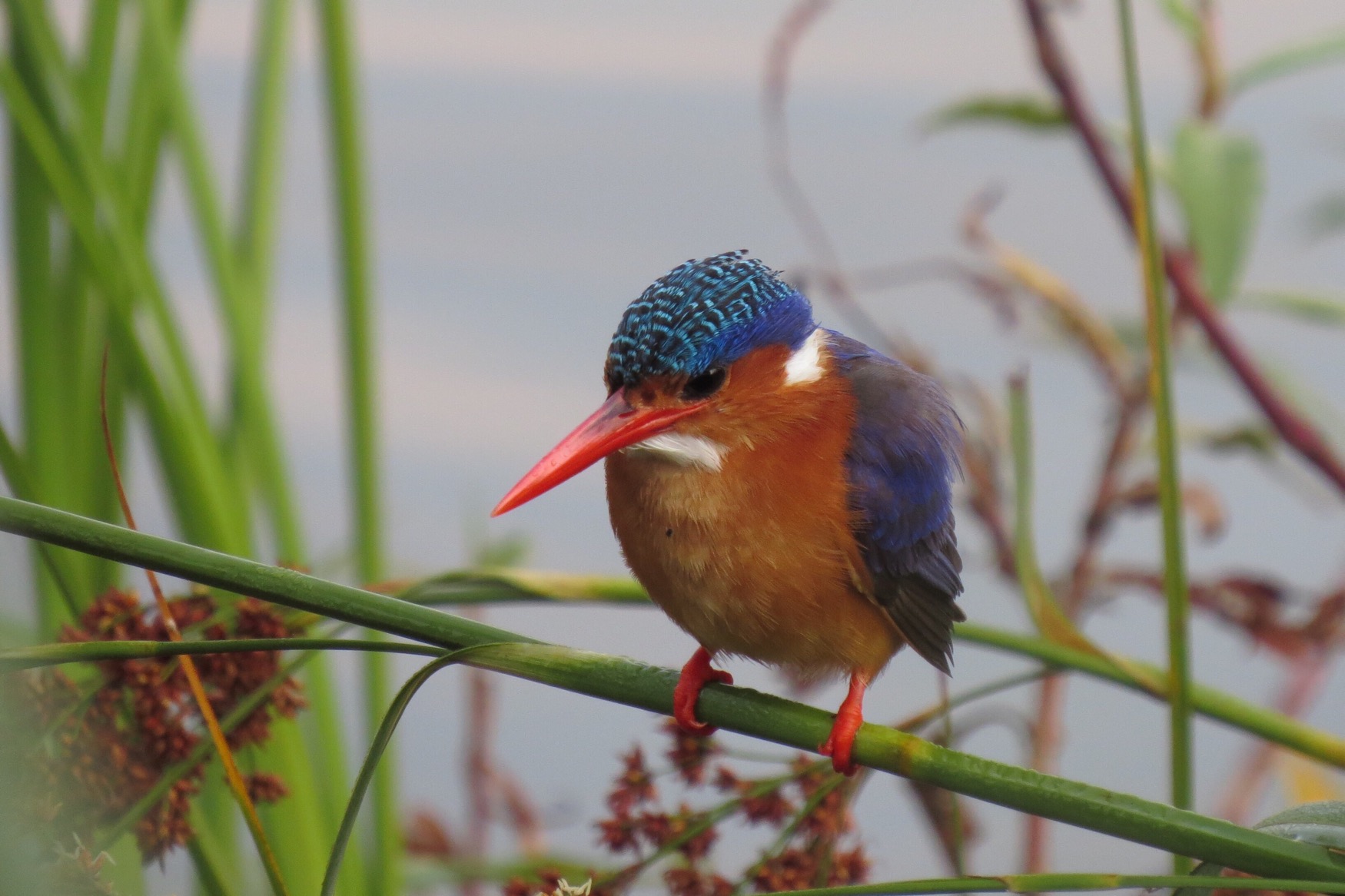 We spent a couple of days there, chilling out and revelling in the good, cheap food and beer. A great spot to relax. Camping only $8 each but, at least while we stayed, no power for the water heaters – still no hot shower for the last 2 months!
As we left, I wasn't looking forward to the border crossing at Katuna. Our renewed Carnet for the car was dated wrongly by the RAC and I was worried that the authorities would get pretty arsey about the discrepancy with our car being in Uganda for over 8 months.
As it turned out, it was a breeze. Only 15 minutes to get the expired documents stamped out for the Uganda exit then 45 minutes to get the new ones stamped in for Rwanda. Now that we've got the new Carnet started with one stamp in it, hopefully there'll be no issues at future borders.
All in all, a painless process. After a quick (and useless?) temperature check for Ebola at a medical checkpoint, we paid our $30 each for Rwandan visas (unlike most nationalities, UK citizens don't need to apply in advance online or take printed copies of the approval to the border), and changed our Ugandan Shillings for Rwanda Francs with the touts. The exchange rate was excellent – at least 10% better than the banks.
It took us no time to get to Kigali, only about 80km away. Rwanda is such a small country (22,000 sq km) and so different to Uganda. Beautiful terraced hillsides and volcanic mountains covered in rice paddies, sugar, papyrus and huge tea plantations. Mind you, at 2,000m of tropical altitude it's not often easy to get good pictures of the landscape – they didn't call the film 'Gorillas in the Mist' for nothing.