For our last week in Livingstone the temperature continued to climb and the Mosquitos continued to swarm. It was slightly cooler to be in the roof tent, than in the dome tents, but it was still typically 24-27 Centigrade overnight. Helene even got into the habit of having a final evening shower in her night clothes then climbing into the tent sopping wet.
Like most of the game around the camp, during the day we spent pretty much all our time either seeking shade, or quenching our thirsts. The important thing is to drink as often as you can, as much as you can…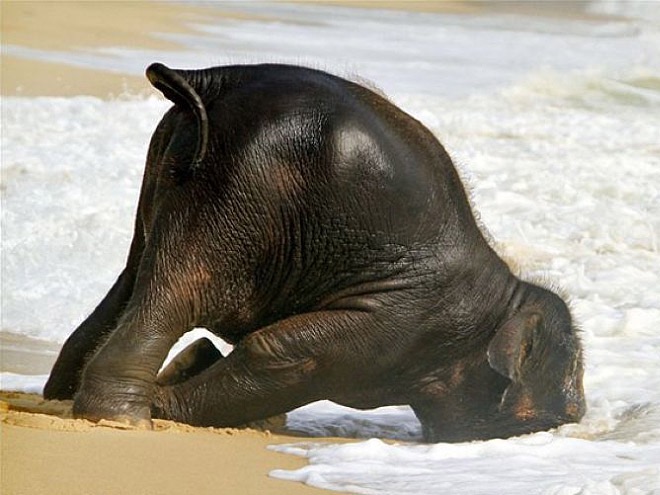 There has been no slackening of the animal activity in the camp. Fortunately the crocs seem content to stay 20 metres away on the riverbank, rather than wander around the camp itself.
They are powerful looking beasts and it's easy to take them for granted when they just lie about looking dozy…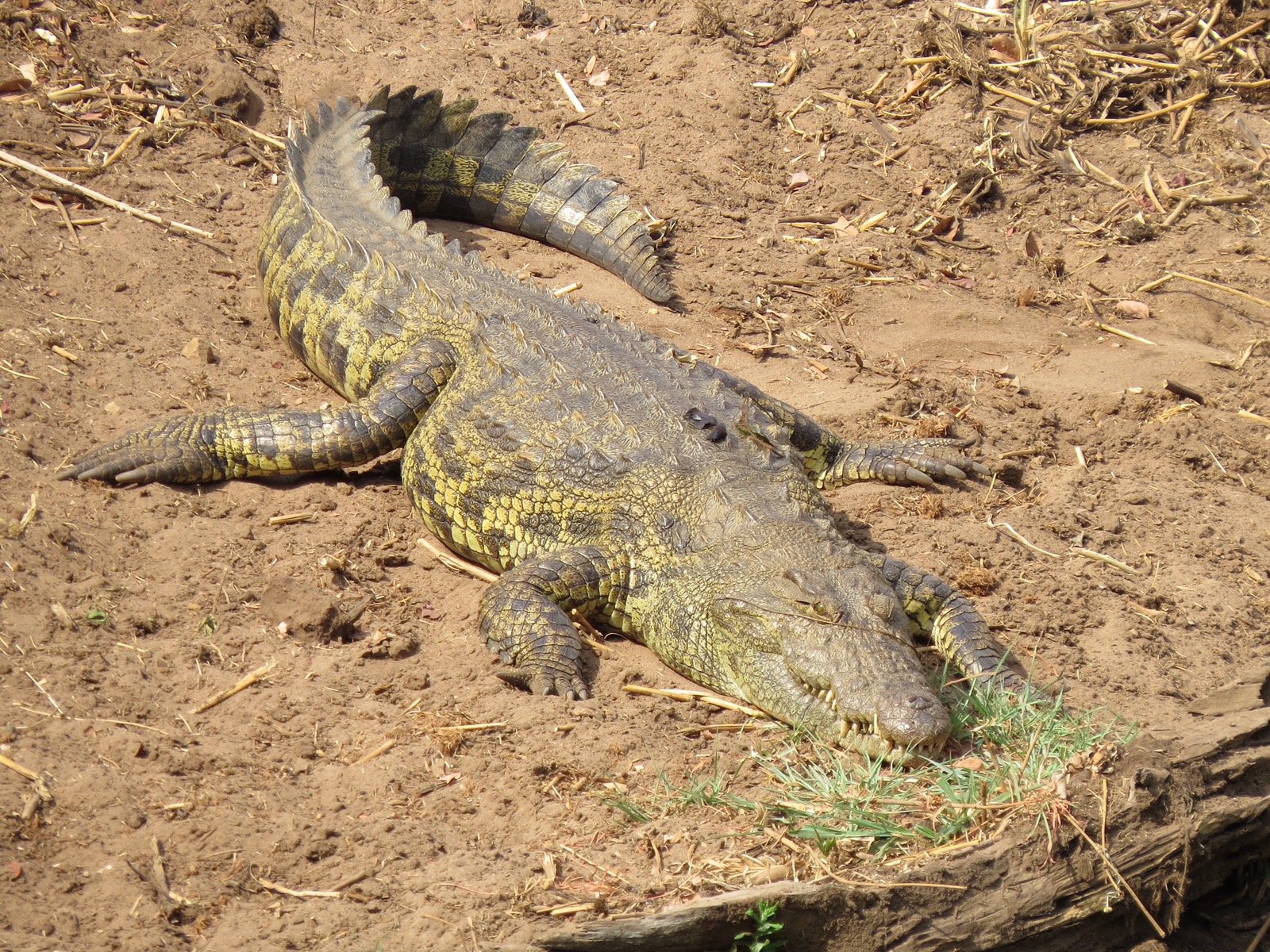 … but it doesn't take much activity in the water or some scent in the air to wake them pretty quickly and for us to be reminded just how formidable 4 metre long, 20-year old predators like this one are.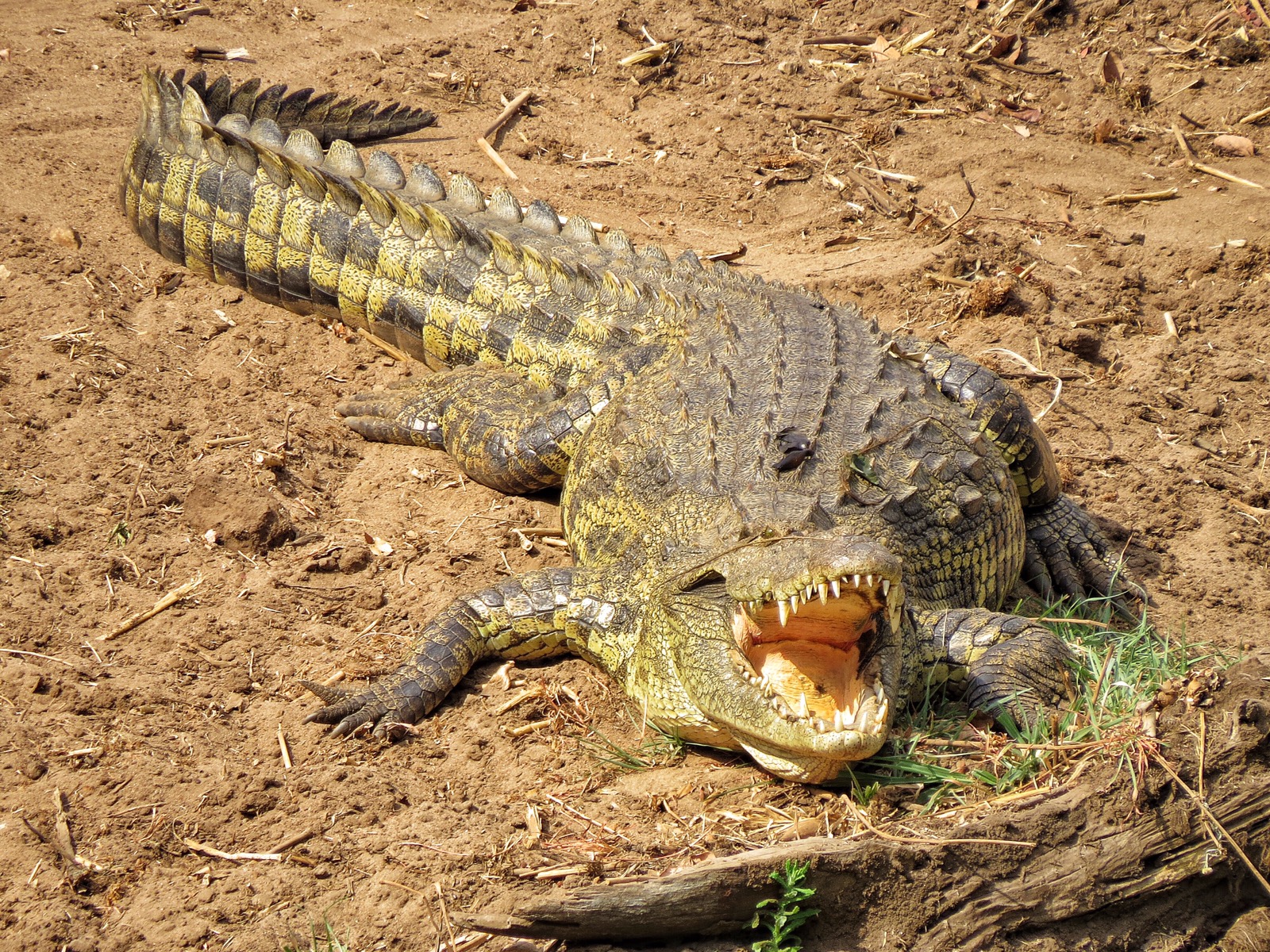 Elephant activity in camp has kept up at quite a high pitch. More often than not we are still awoken in the rooftent by the cracking of branches and lie awake for a while watching them in the moonlight or the dim glow of the camp lights.
Mind you, there are less camp lights than there were. We watched one large bull trying to pull an obviously tasty looking branch from a tree, then, startled by the bright flash and loud bang as he snapped the lighting cable to his supper-tree, race past our tent in a pretty grumpy mood.
Undeterred, only a couple of nights later we could do little other than watch as one particularly determined big guy pushed a 25metre high palm one way then the other until he fractured the root-ball. Once he'd got it sufficiently loosened, he sized it up like some professional logger, to decide which way he thought it best to fell it. Unfortunately he chose the direction towards 'Triggers Broom' and we watched from The Penthouse as it toppled towards us.
Closer for comfort than I would have liked, but fortunately Foleys' lovely new Keswick-Green paintwork on the car remained unscratched.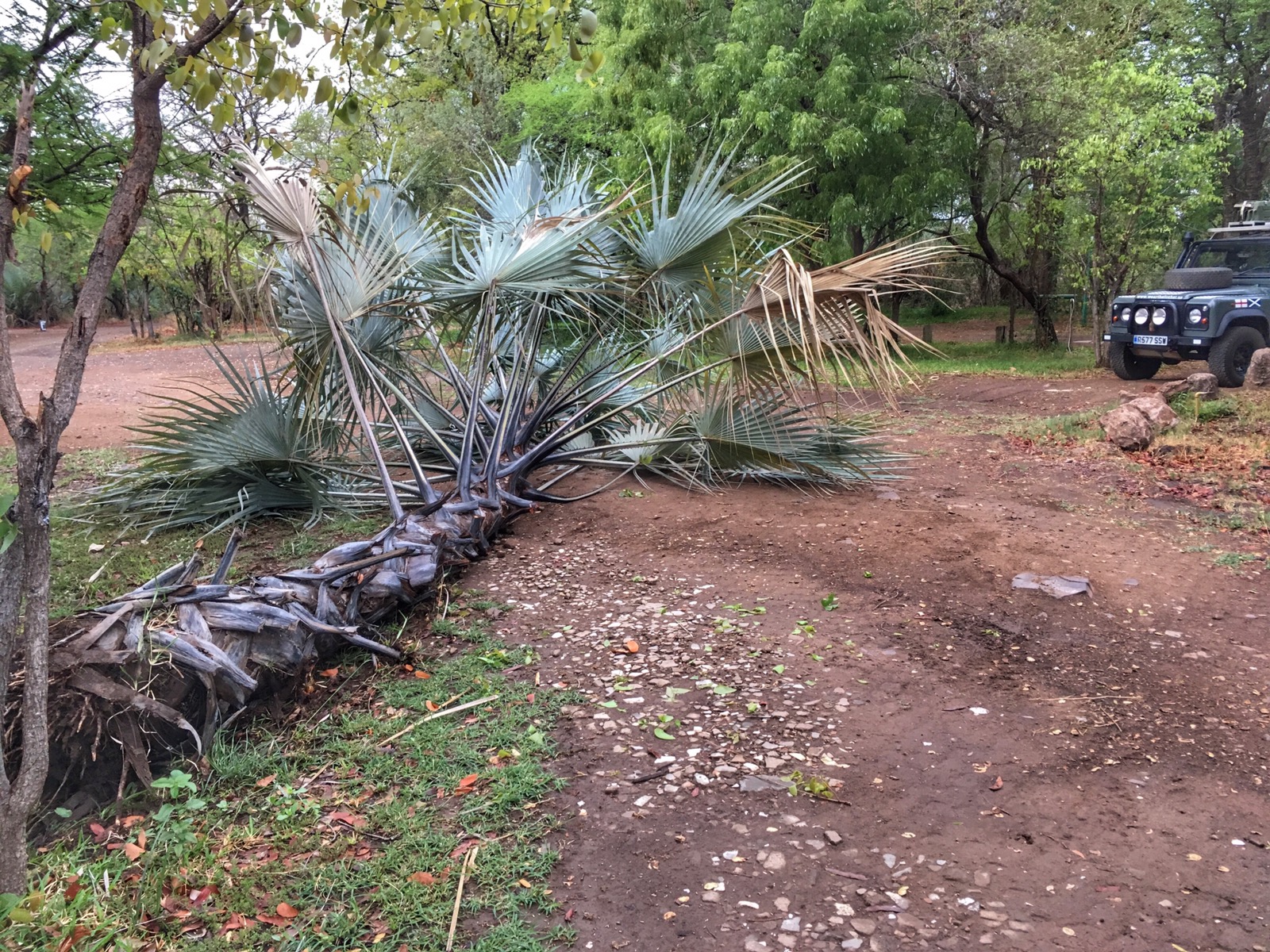 The only other incident of note really was a nighttime trip to the toilets I had one evening. I'd had a bit of an upset stomach and, although I knew there were hippos wandering around the camp, my need was greater than my sense of caution. We'd been watching 2 hippos munching the camp grass and I skirted around the back of them, walking briskly (urgently!) but trying not to take large strides, if you get my meaning. As I arrived at the ablutions, another hippo was about 4 metres in front of the doors, but just starting to walk away with its back to me. I nipped in behind it, confident that it was heading in the opposite direction to the path I would take back to the camp. I walked back to camp through the trees towards where Jackie & Vince (British Overlanders we had met) were camped and when I got half way to their truck a hippo thundered out of the bush towards me, stopping about 8 meters away, stamping its feet and giving me a pretty good view down its throat.
Fortunately, I think it was a 'mock' charge – just threatening me, rather than any serious intent. I jumped behind a large tree, putting it between us and backing away directly in line with it until I got into the relative safety (and light) of Jackie & Vince's camp and fire.
It's a good job this happened on the way back from the toilets. I wouldn't have made a very attractive guest for Jackie if it had been on my outward trip.
Still, that pretty much broke the ice with Vince & Jackie and we stayed at Maramba an extra couple of days to hear about their trip down the West Coast from Morocco to Namibia in their overland truck.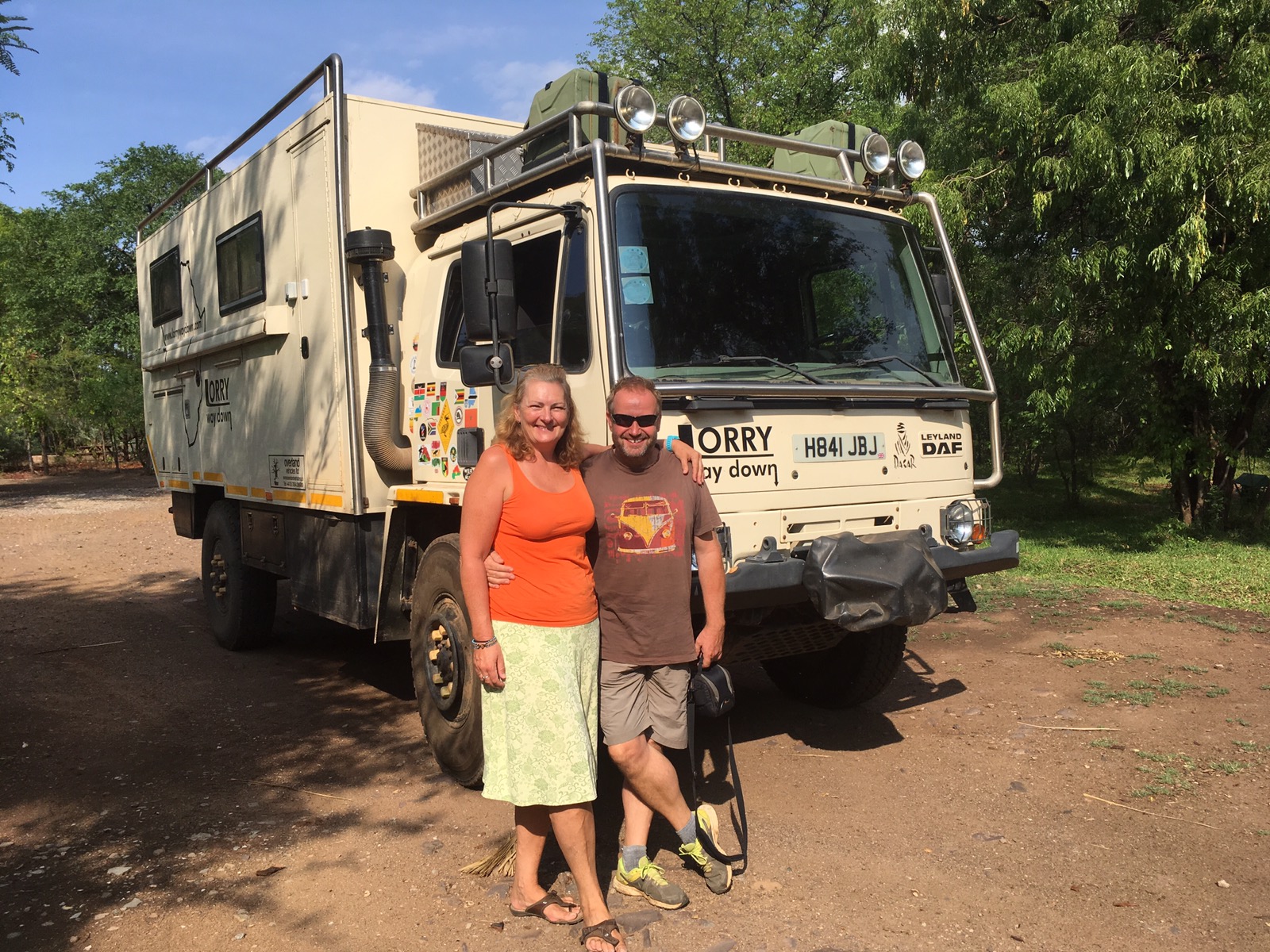 However, it was all too soon time to leave. We had already been into the Immigration Office in Livingstone and extended our Zambian visas for another month (simplest process yet – no charge, and only took 4 minutes from entering the front door of the building!). Having shopped & stocked up the freezer we headed back up to Lusaka since we wanted to be in Northern Malawi, back at Chitimba Camp with Ed & Carmen, for Xmas.
Most people would get to Lusaka in a day. It's only about 550km and the road is actually pretty good tar all the way. But since we're a couple of old farts in an old (but recently rejuvenated) Land Rover, we had a relaxing couple of nights about 2/3 of the way there at The Moorings camp outside Monze. Unusually, there was someone else at the camp (we see so few other Overlanders these days) and we celebrated by having a few beers with Florence & Francis, a Dutch couple in their bright yellow Land Cruiser. Another few hours of swapping stories, and hearing some pretty old-school tales from their days of when they were Overland Truck Drivers & Crew for a Dutch tour company operating the African west coast routes from Amsterdam down to Windhoek. They were also heading north towards Malawi / Mozambique and set off the day before us for Pioneer Camp. We left the next day, heading for Eureka Camp, just south of Lusaka City.
Eureka Camp has always been quite pleasant, but it's one of those places that's way too noisy with a heavy-drinking crowd at the weekends. During the week however, it's usually pretty quiet and the camping is civilised, with Kudu, Impala, Zebra and Giraffe wandering and grazing through the camp.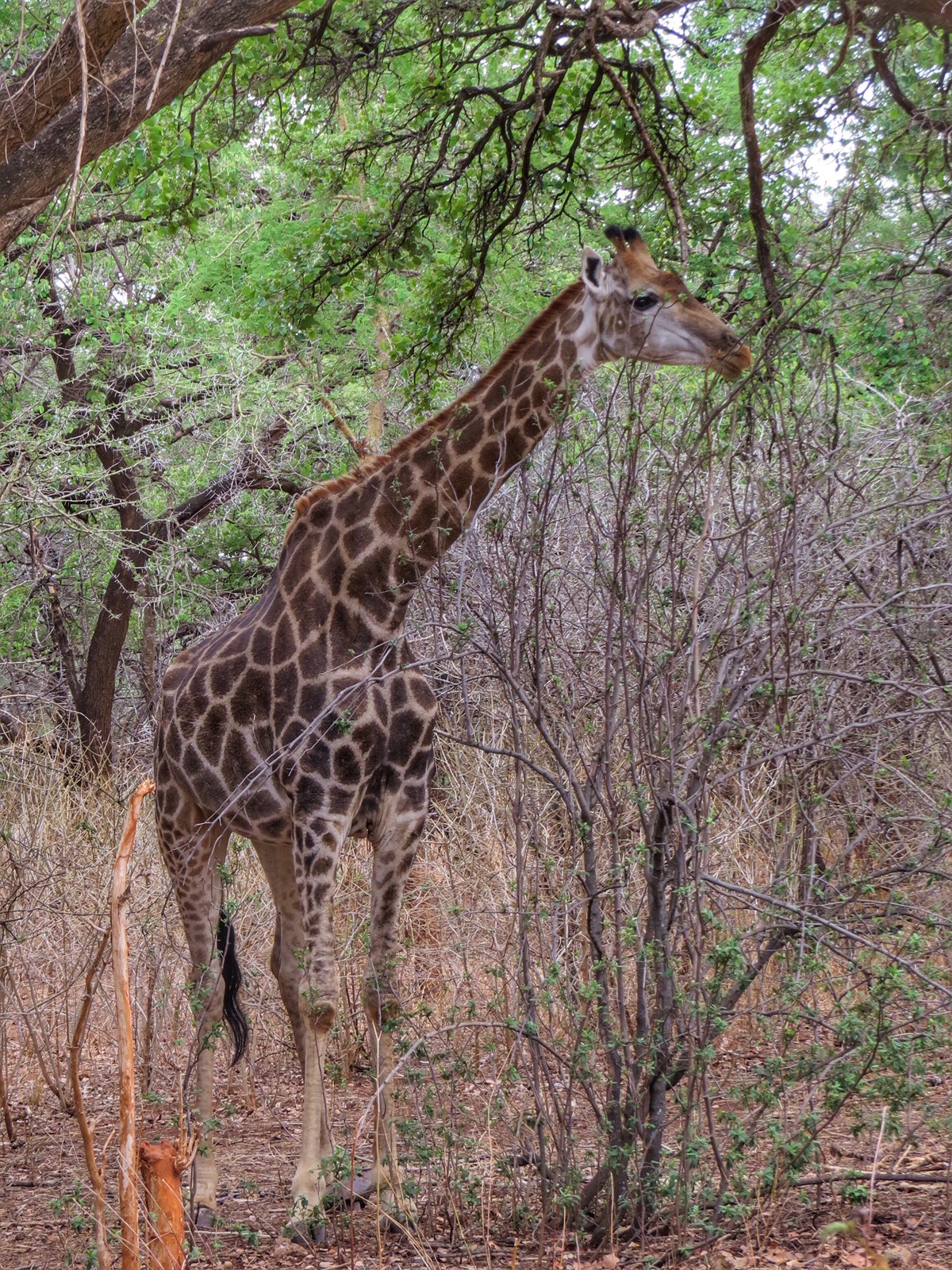 For some reason though, Eureka have raised their camping prices to $15 per person recently, whilst even some of the fanciest lodges we've stayed at typically charge only around $10. Lusaka is becoming an extremely expensive city in which to live. Housing costs for expats (occasionally business people but most often fat, bloated NGOs and Aid Charities) are regularly paying between $3,500 – $7,000 per month.
Either way, Eureka doesn't warrant 50% higher camping fees than anywhere else, so we moved on after one night to Pioneer Camp on the east side of town – from where we would also get a quick exit east towards Malawi without having to face Lusaka' notorious traffic congestion.
Finally, it seems, the rains have come. We had a couple of stormy nights around Lusaka and spent our evening watching the clouds of termites and flying ants that pour out of the ground like plumes from volcanoes and fill the air like blankets of bubbles from a special effects machine outside a hippy tent at Glastonbury. Within 20 minutes of them launching, they shed their wings, leaving a silvery carpet covering the ground that oscillates in the lightest breeze like moonlight on an almost flat-calm sea.
Keen to get out of Lusaka (we just have little or no interest in any cities, however lively, sophisticated, strategic or well-stocked they may be) and took of on The Great East Road to Bridge Camp about 260km west. The camp is simple but clean and conveniently breaks the journey to Chipata. It's situated on the Luangua River (almost completely dry at this time of year) and the centre of the riverbed is the border between eastern Zambia and Mozambique.
View From The Penthouse: