We've been pretty much stranded at Mwanza Yacht Club. The view may look like an expensive, shabby-chic area of the South of France…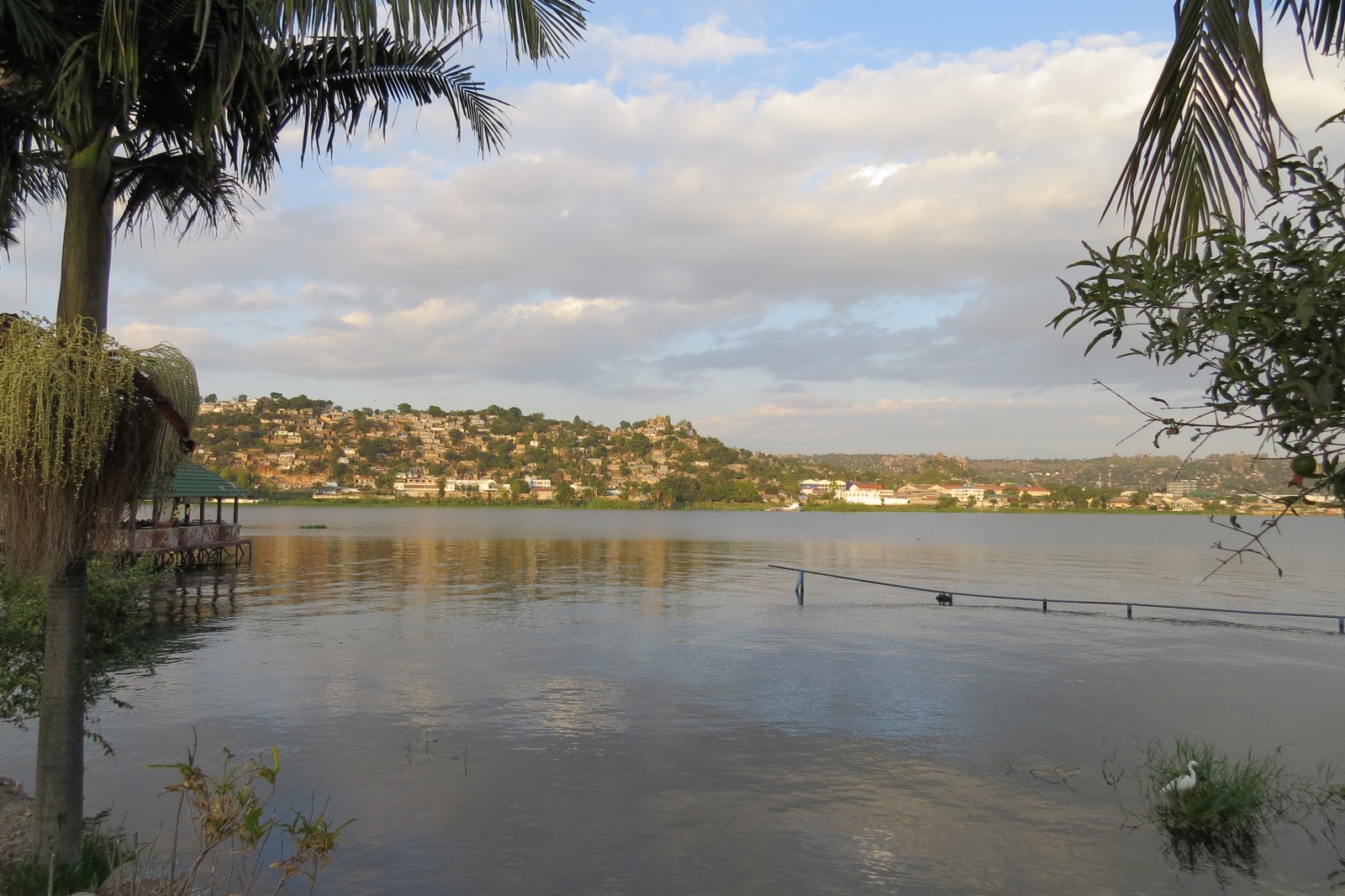 …but when you look closely, these guys aren't paying $2m+ for some trendy old hillside cottage…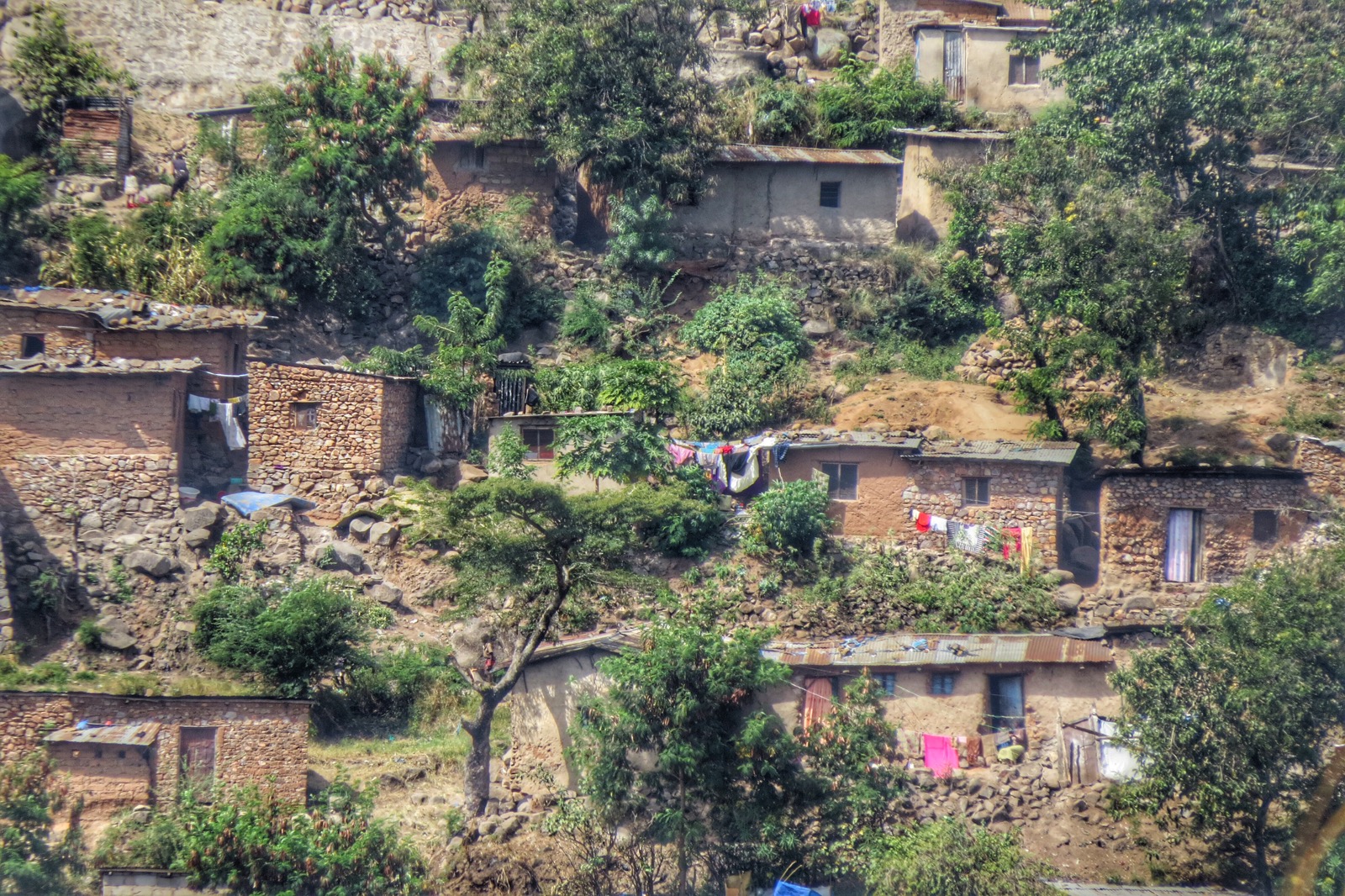 Had it not been for the few other travellers who turned up over the last 3 weeks, we'd have gone stir-crazy with the car stuck in Schumann's (the official Land Rover & Ford workshop) conveniently only a mile or so up the road from camp.
Most of the people we've met have come out of Serengeti and needed car repairs (as we did on the way north over a year ago). Those must surely be amongst the worst maintained tracks in the most expensive park in Africa.
A year ago in Serengeti our chassis collapsed and our brakes had sheared. This time, over the three weeks we were in Mwanza, Wayne (a South African lawyer) has needed new shocks, Hendrich & Caroline (German Doctor & Swedish music teacher) needed wheel hubs and bushes, Steven & Caroline (a German journalist & part organiser) had busted leaf springs, Naas & Zon (S African travellers) had their immobiliser rattle to destruction and strand them in the centre of Serengeti.
The only guys who've bucked the trend are Rob & Gail (Aussies currently living in S Africa). Rob is pretty switched on with mechanics and, being a Toyota driver has taken every opportunity to rub salt into the wounds inflicted on us Land Rover martyrs. Still, since we're in our ground-tent and (typical of an Aussie) he pitched in the only shade in the camp, we had no option other than to invade Rob & Gail's privacy and steal their bacon & egg sandwiches for a couple of days.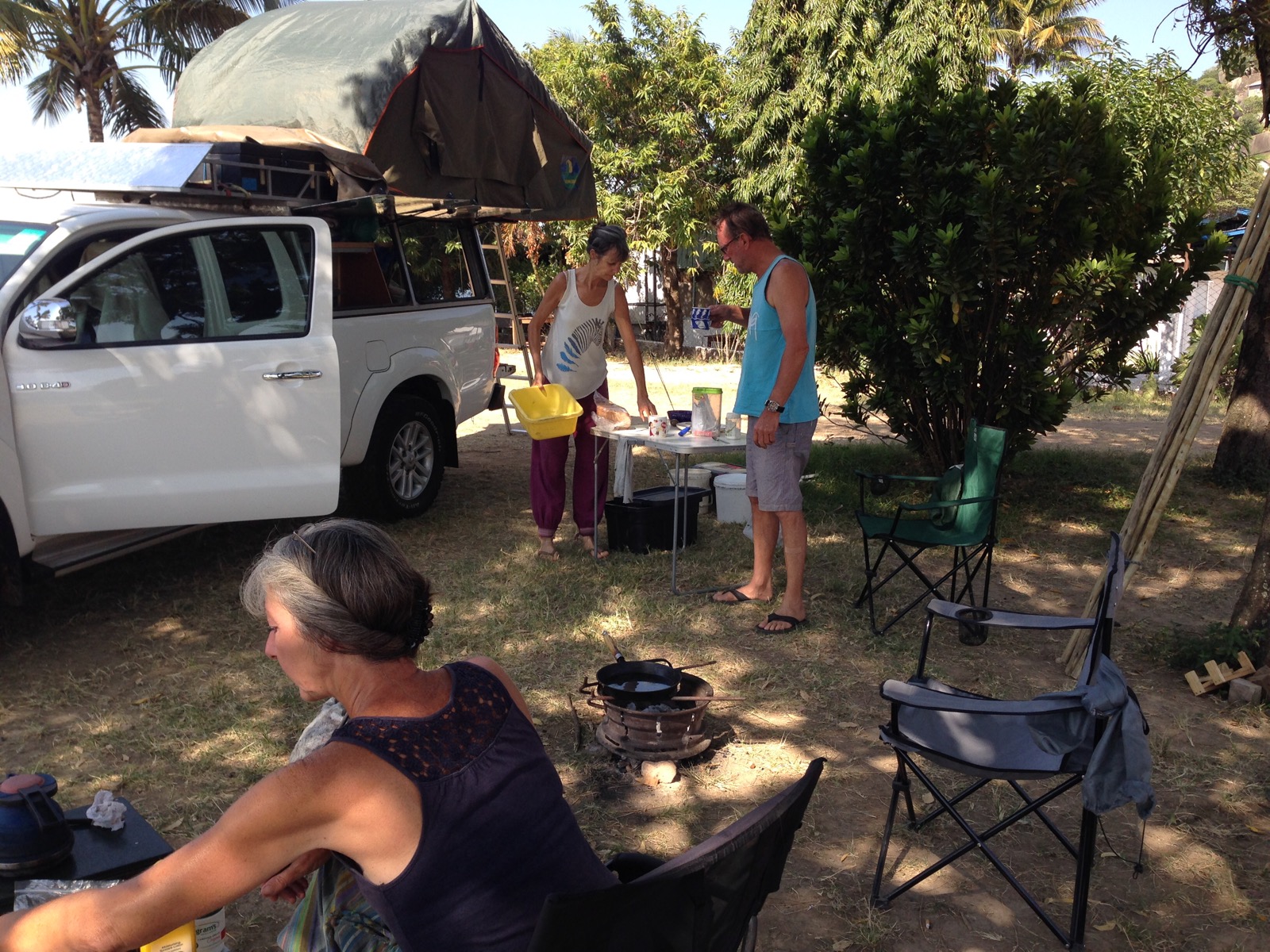 When it comes to catering though, all of us overlanders have been put to shame. Brit backpackers Fay & James arrived at Mwanza with a little 'festival' tent they bought for peanuts in Uganda a month ago. Over a 3-day period Fay fed us all with chocolate crispy cakes, a fresh pineapple crumble and a lemon-drizzle birthday cake for Helene!
Outstanding work.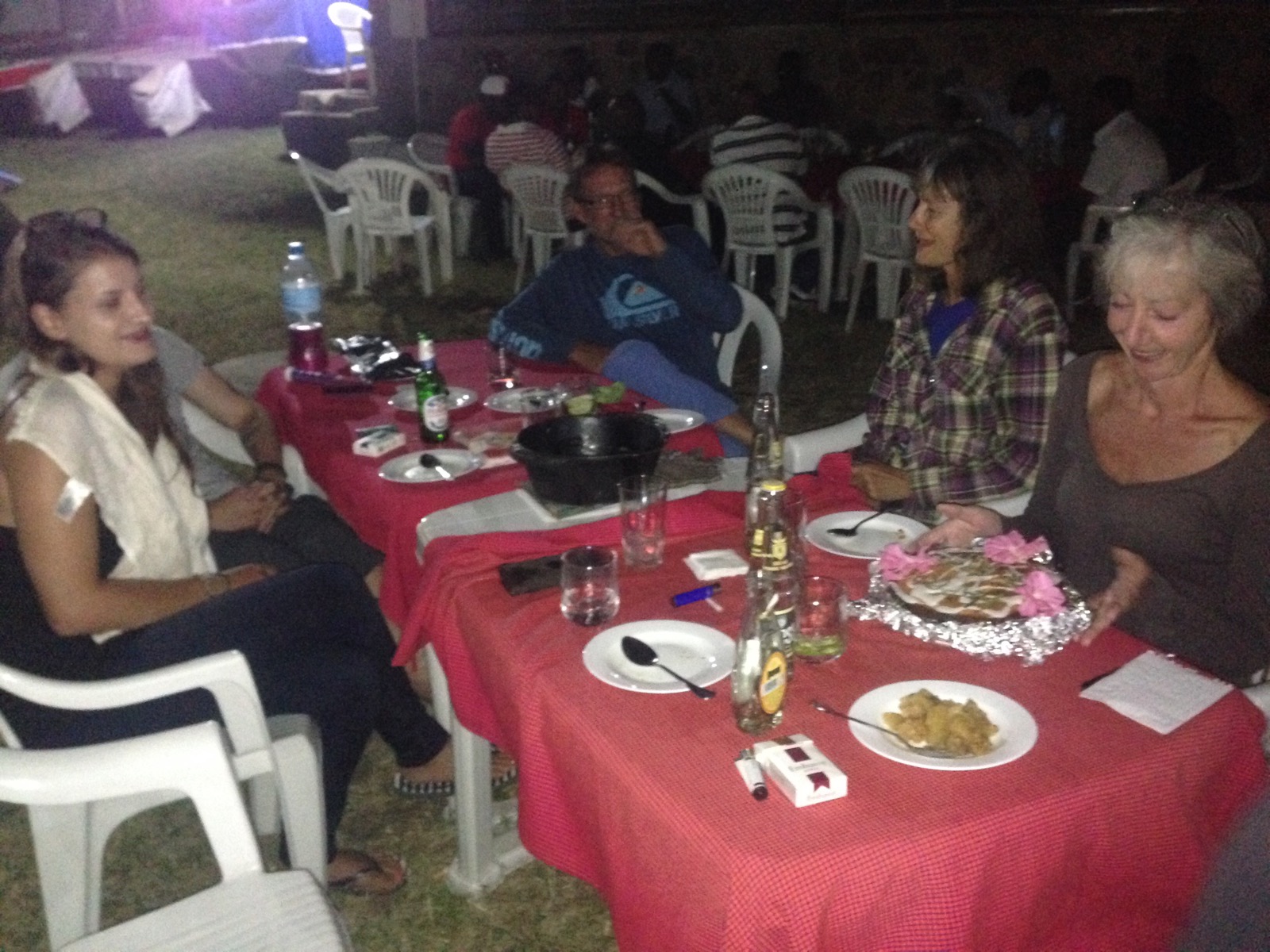 Almost as valuable, Wayne introduced us to Tanzanian Konyagi (called Waragi in Uganda): a slightly weak, marginally lemon-scented, but very palatable locally brewed gin. Combined with a bit of tonic, ice & a slice, you can't go far wrong for $10 a litre.
So our days have been spent chatting (not something we've had the chance to do recently with so few overlanders around), popping into a local bar for a plate of mixed fresh fruits for lunch (mango, banana, pineapple, guava, watermelon, cucumber & avocado) at $1 a plate…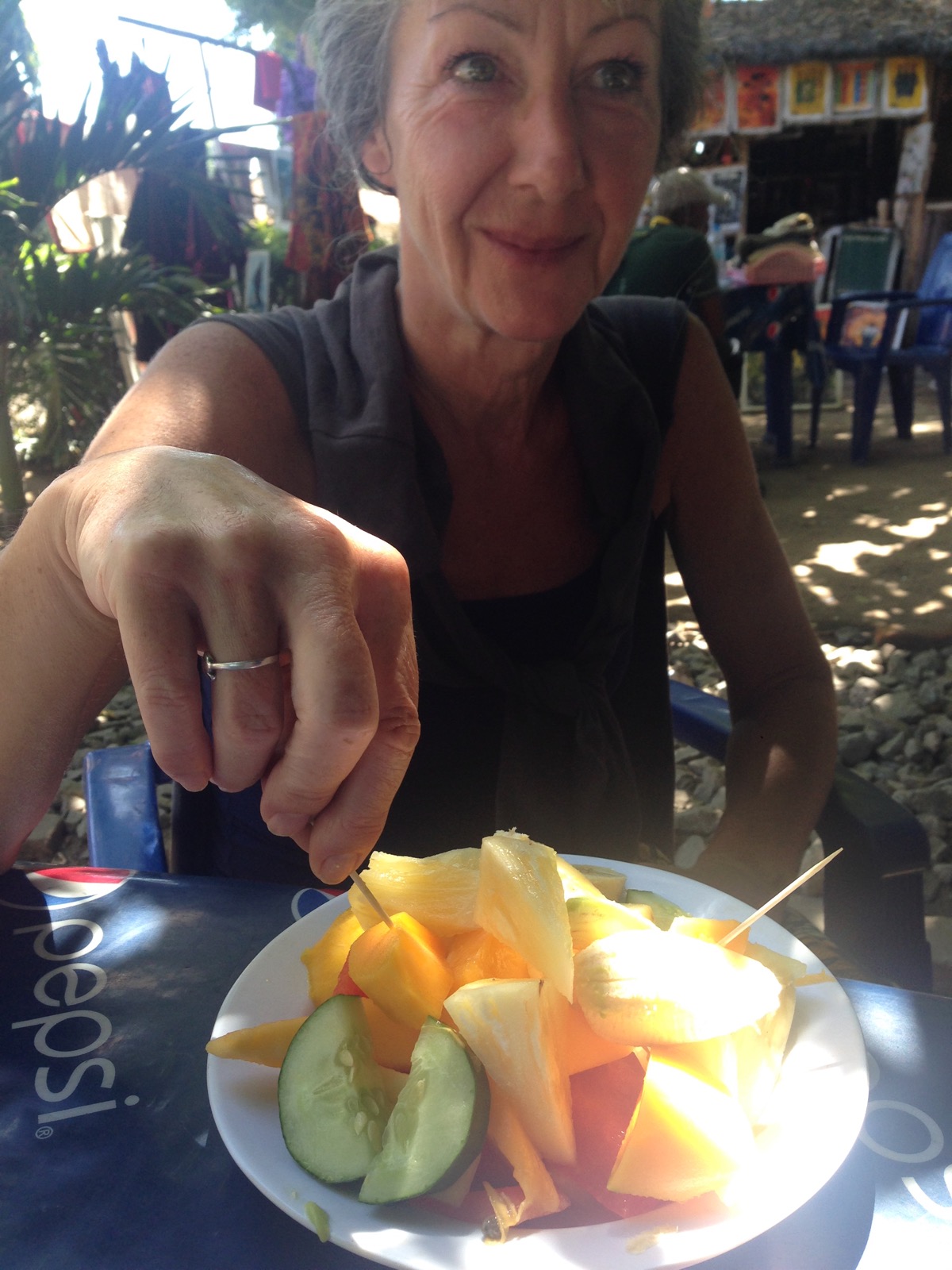 …and watching the wildlife hanging around the camp. In addition to the dozens of kingfishers, there are hundreds of Yellow Billed Kites that swoop through the camp at dawn and dusk. As numerous as we get Starlings at home.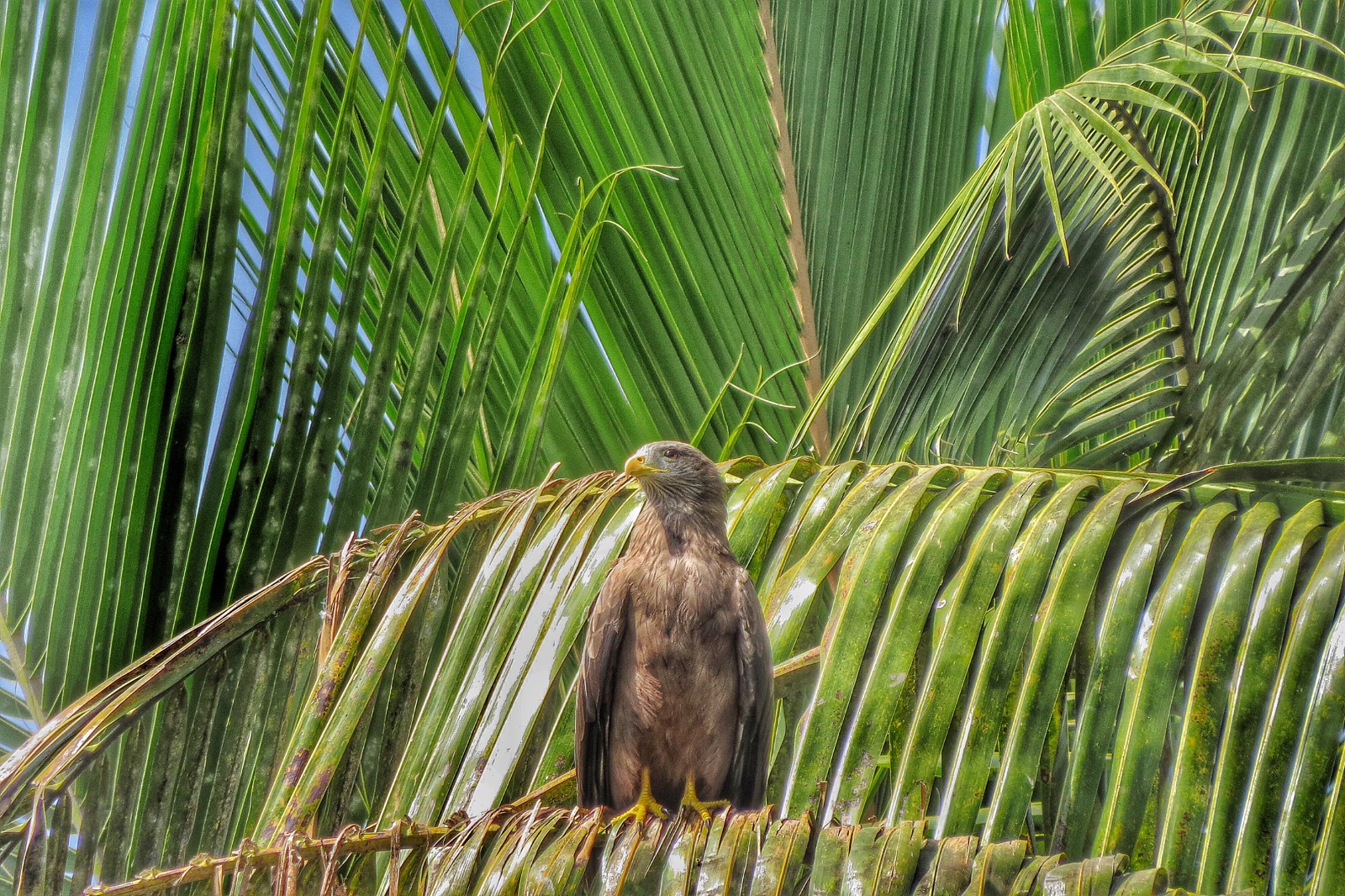 At sunrise and sunset they seem to like to bathe in the shallow water at the Lake Victoria shore. They're pretty wary of anyone encroaching on their turf…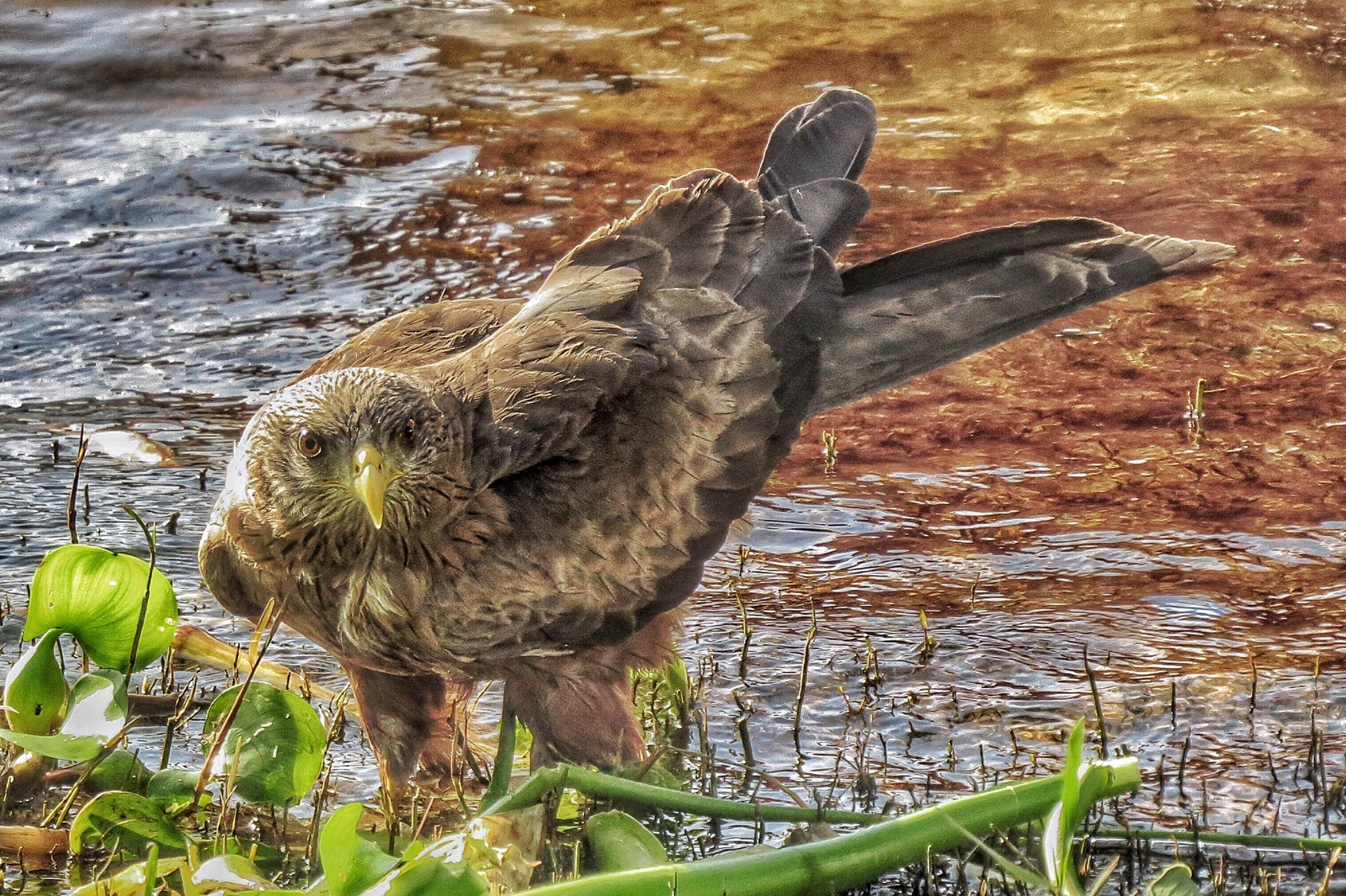 …and they approach the water tentatively at first…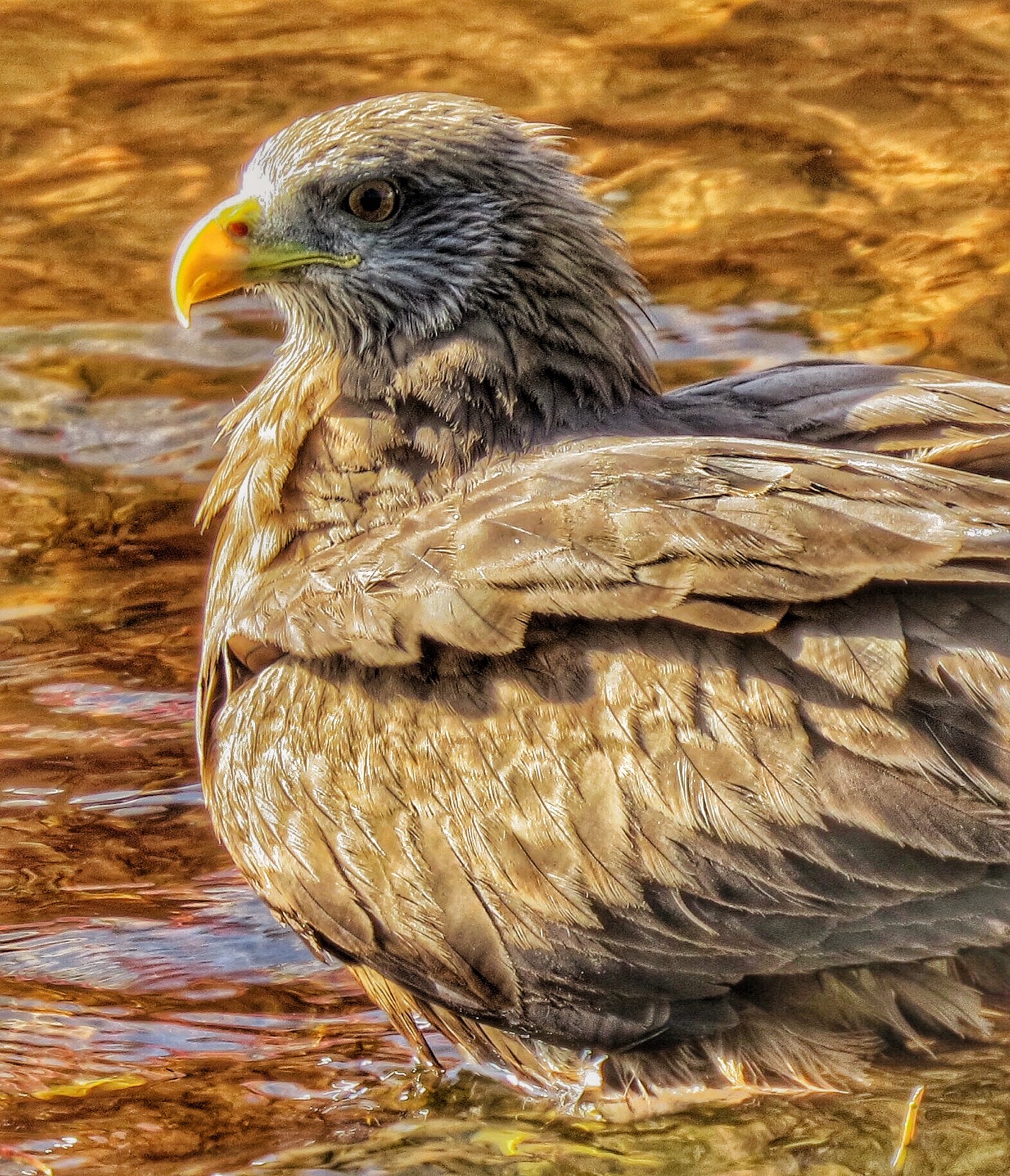 …but once they decide they want a bath, they get stuck right in…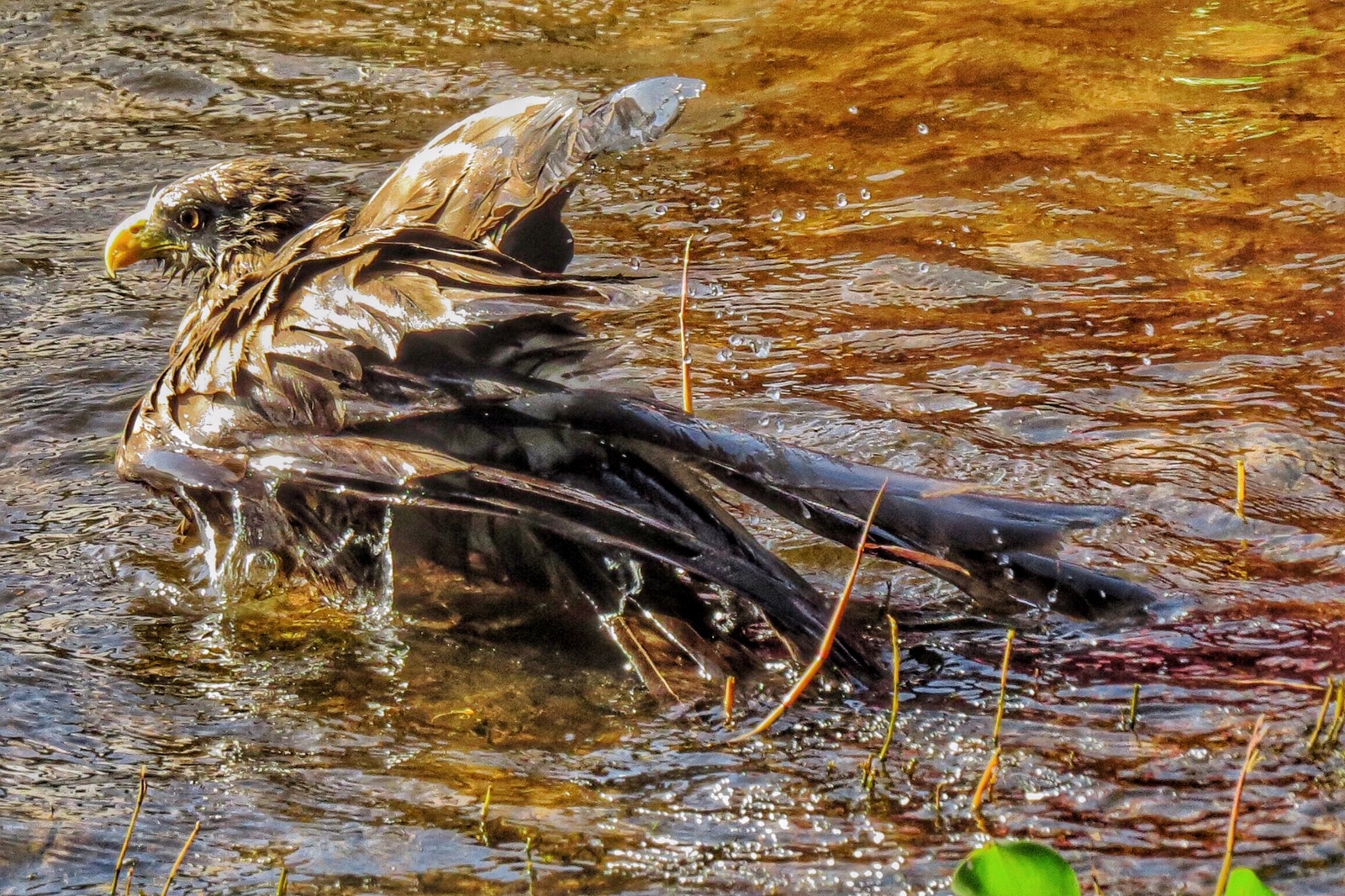 They're not quite so elegant when they're wet, or when they decide it's time to leave and their feathers are soaked.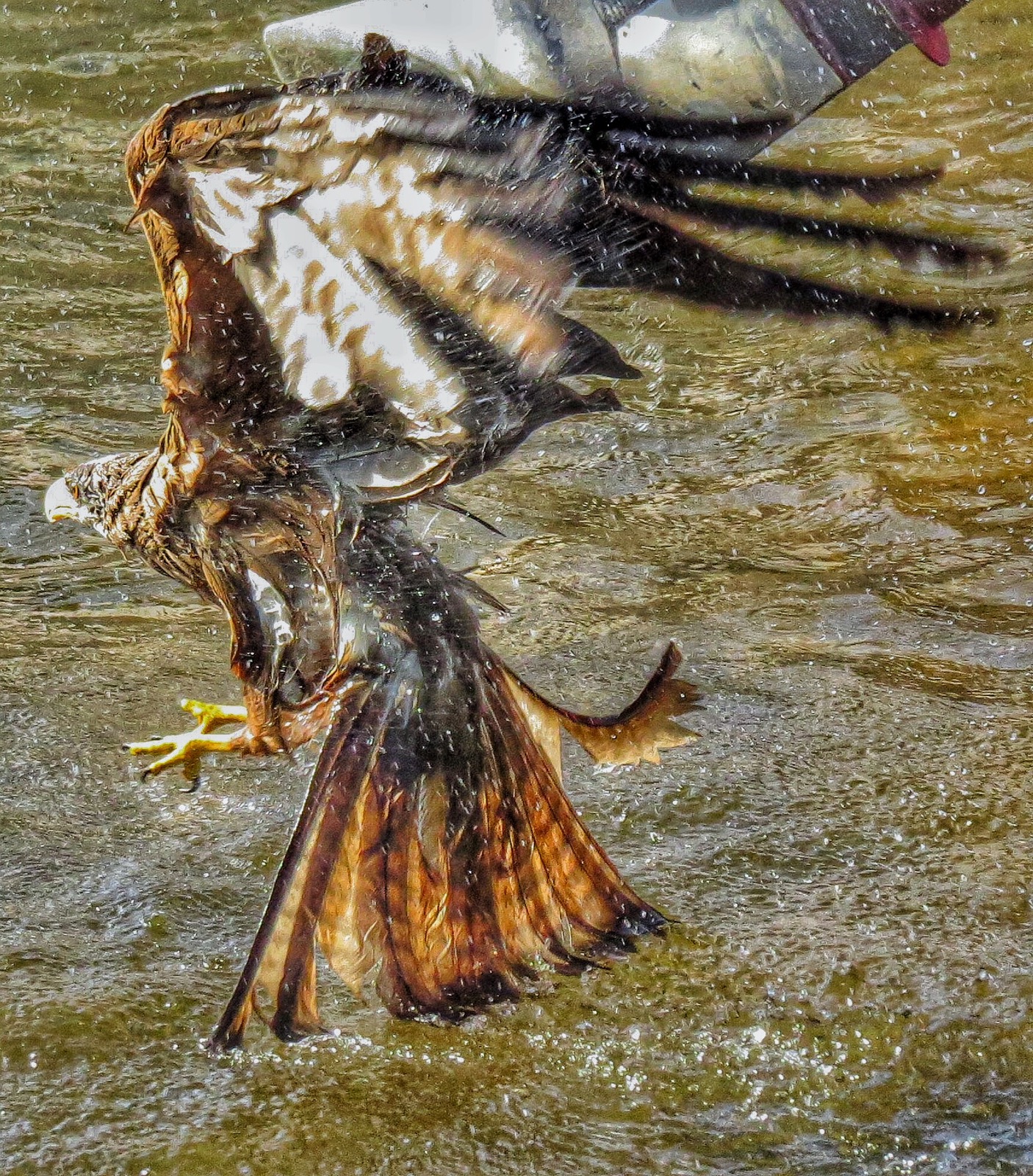 So, that's how our last 3 weeks have been passed. Well, that and wandering up to Schumann's workshop to see what progress has been made (typically none), phoning them to get updates (typically without reply) and getting grumpy with the time that it's all been taking (their original estimate was 6-9 days).
It's been a painful process. The owner, Mr Patel, is a pleasant enough chap (he's been in business here since 1969) and his Forman works hard, but it's not good enough.
Especially for the official Land Rover dealer.
Over the last 2 years in Africa (amongst many other things) we've had bush repairs carried out by mechanics using kitchen knives & hammers, welding done in pitch black conditions with electrical welders stealing power from street lights, an axel replaced at the roadside by a mechanic who arrived with it on a motorbike taxi and a chassis replaced while the car body hung from a shed roof.
We had been warned previously to stay away from official dealers, but in this case, there was no one closer. This is the first time we've used anyone officially associated with Land Rover in Africa. And it will be the last.
After 14 days of chasing Schumann's (the last 5 of which we were promised the car at 10am the following day) it was finally delivered back to us. They'd done a 30km test drive and proudly announced that the car was 'as sweet as a nut'.
I hopped in to go for a final drive with them. We stopped at their workshop 1.5km away for them to pick up a couple of tools 'just in case' and as I waited for them I noticed some oil dripping under the car. Not much, just a few drips.
'Is that right?' I said. 'That's the clutch housing. Why is there oil coming out of that?' What do I know – my lack of mechanical skills are legendary.
Anyway, I told them I wanted it checked before we drove any further. We backed the car into the workshop over the inspection pit. They removed the drain plug on the clutch housing. Six litres of oil (6 LITRES!) flooded out of the clutch. Checking the engine dipstick we found it totally dry! Some test drive they must have had.
As they had reassembled the engine / clutch they had either forgotten or damaged the O-Ring seal and all the engine oil flooded into the clutch. I'm glad they hadn't gone more than 30km.
The car was back in the garage. No apology, but they promised I'd have it back the following evening. They were almost right. They delivered it back at 7.30pm 2 days later, after yet another test drive (day 16).
The next morning, Rob gave me a hand to give it a check over. Opening the radiator expansion tank filler, we found (once again) that it was full of oil/water ice-cream (the same problem I had when I delivered it to them over 2 weeks earlier).
Two hours later they picked the car up again. Three days later, very pleased with themselves, they once again returned the car. They said the radiator cleaning (after the complete engine 'rebuild') hadn't previously been good enough so, as a gesture of good faith, they'd removed the old radiator and replaced it with a second-hand one they had.
Again, the next morning (it was pitch black the previous night) Rob and I checked it over. The radiator was leaking water from both the fins and from the nipple where the water system entered the oil intercooler. Also, all the bake / indicator lights seemed to operate like some sort of random Christmas Tree display, the steering wheel was on crooked (they had previously replaced the steering arm) and the seat covers (as well as every surface in the front of the car) were covered in oil.
Back again to the workshop.
Four days later I was summoned to the workshop to inspect the car, and pay my bill: I guess they were concerned that, being a little grumpy by this point, I might be reluctant to pay up and they weren't going to let it out of the shop till I'd handed over the cash (almost $2,500). I reminded them that my initial arrangement with Mr Patel was that I'd make a bank transfer and, being a Friday evening, this would not be possible until the following Monday morning.
After a cordial but fairly succinct discussion, I left with the car and a bill reduced by around $800 (they'd initially wanted to charge me for all 22 day's labour and the crappy old radiators they'd installed).
We left Mwanza 24 hours later, after I'd spoken to my bank and arranged to make 2 transfers of US$ into Schumanns' Tanzanian account.
Unfortunately, the account numbers they sent me by text message and email were wrong by one digit and the payments bounced (another cost to me of $30 for each payment and about $100 in international phone calls to the UK).
Top Tip: Stay away from Land Rover dealerships in Africa. If you need work done find a local shepherd, have him harness 30 goats to the car and tow you however far it's necessary to find a guy in a Chelsea football shirt, sitting under a street light with power cables connected to it by electrical tape. As long as he's got a spanner, a hammer and a bit of broken beer bottle to use as a welder's mask, he'll certainly do a better job!
So, we're headed to a proper, Vocational Training workshop that we used previously on the way north through Tanzania. It's 1,400km away (in the direction we were heading anyway) but I can trust them to check the car over properly. The power steering seal is still leaking (Schumann's were supposed to replace it) and there's still some muck in the radiator coolant but we'll take it slow and I'll get a second opinion from a professional before I make the final payment.
At least we're back on the road. That should be a good thing – but, they're Tanzanian roads.