The back of the Mercedes 4×4 behind us was a write-off. It had been hit by a truck at about 30mph after the queue of traffic we were in stopped; I stopped; the guy in the Merc behind me stopped; but the guy in the truck behind him didn't.
It happened in slow motion in my rear-mirror and fortunately there was enough space in front of me so that when the Mercedes bounced forwards into us we weren't shunted forward into the car ahead of us.
We were in another frustrating contra-flow system on the N4 near Matsulu, heading east to Kruger National Park, and there was no good reason why the truck was travelling so fast. Fortunately our tow-ball saved the Land Rover from any rear damage and just put a big dent in the front of the Merc.
I exchanged emails and phone numbers with the people in the Mercedes (no one was hurt) and left them all to it.
The contra-flow was at least 8km long and therefore so, now, was the queue trying to get past the smashed vehicles that now blocked the single lane road.
After that delay, by the time we got to the Malelane gate at Kruger the guards told us that it was still 100km to our booked campsite at Lower Sabie and we wouldn't make it in the 3 hours we had left till the camp gates closed just before sunset.
We headed instead for Skukuza camp and I must admit that although the Kruger landscape was beautiful…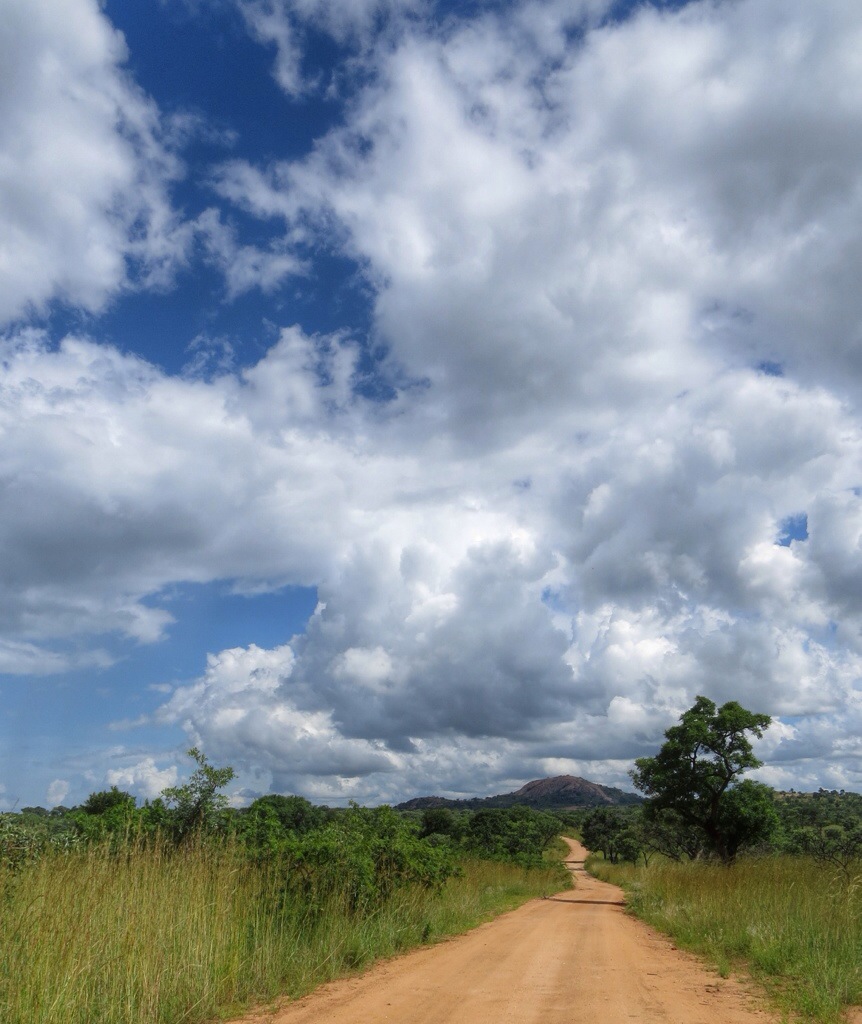 …my grumpy mood at being late, and the fact that the only game we saw in the 60km to Skukuza was two giraffes, didn't make me overly optimistic about Kruger as a destination.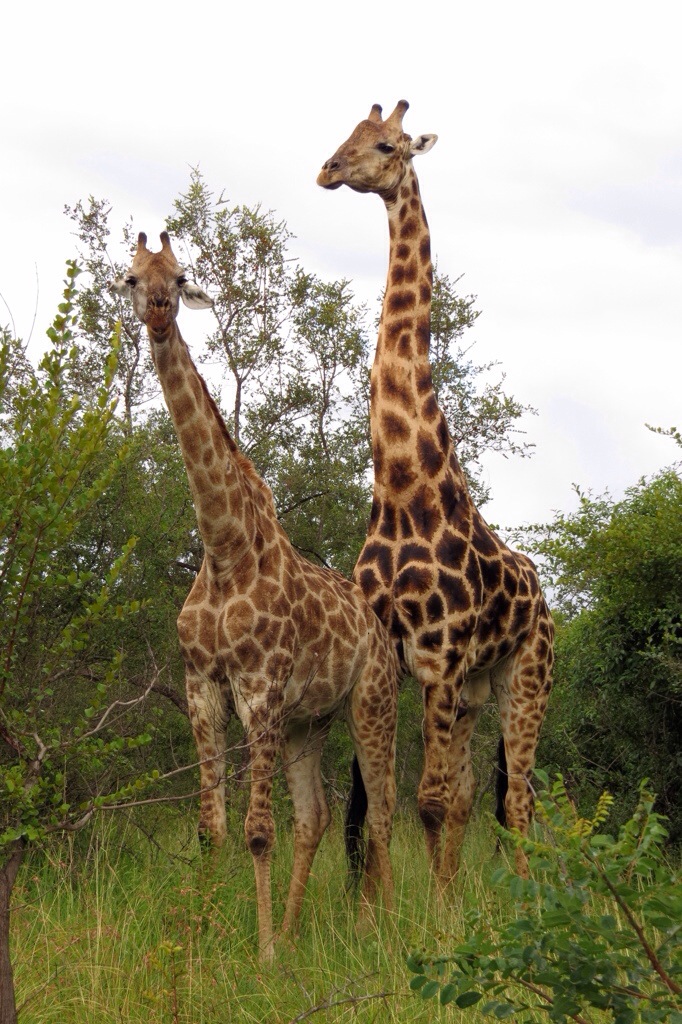 Over the next couple of days though we spent a lot of time on the dirt tracks in the triangle between Lower Sabie camp, Skakuza and Crocodile Bridge.
Game spotting in an area that has recently had a lot of rain like Kruger, is quite different to one in an area that had had so little (and yeilded so many great sightings) like Etosha in Namibia.
There is so much water about that the game doesn't need to use the waterholes.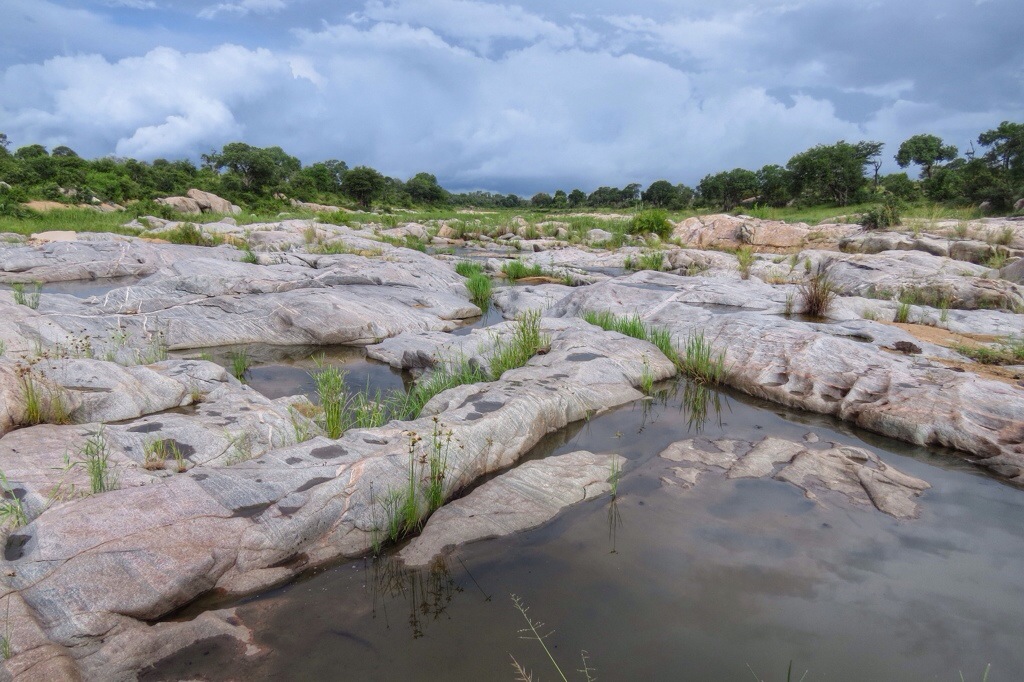 Also, the bush is pretty thick, the grass is high and you're not allowed to drive off of the designated tracks.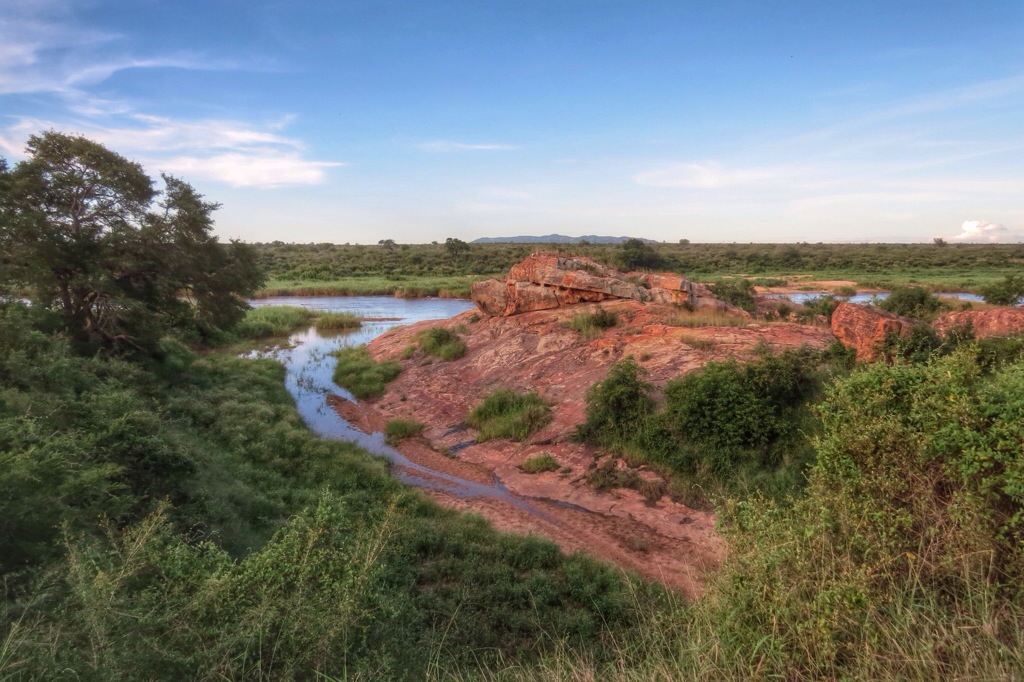 However, the fact that there's water also means that there are plenty of hippo in the river…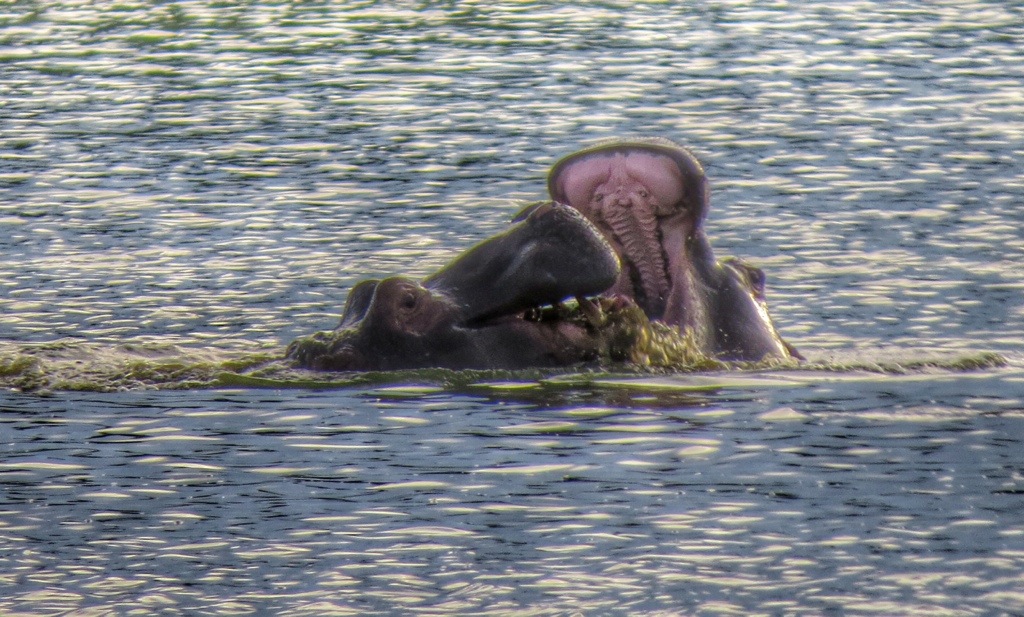 …although sometimes I wonder whether we're watching them, or they're watching us.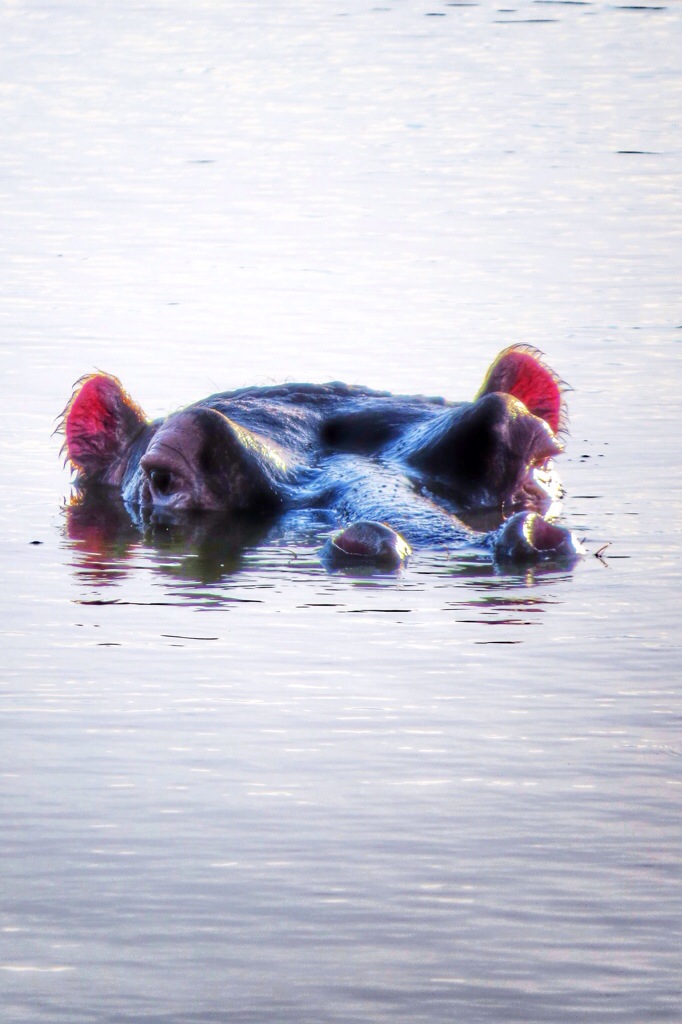 Kruger is a huge area – about the size of Scotland. There is a tar road that essentially runs north / south and a few that run east west to the rest camps. The speed limit is 50kph. Throughout the rest of the park are gravel / sand roads where the speed limit is 40kph and under no circumstances are you allowed off the gravel tracks, or out of your vehicle.
With little traffic around and with the bush so high, at any time you could come across something interesting around any blind corner.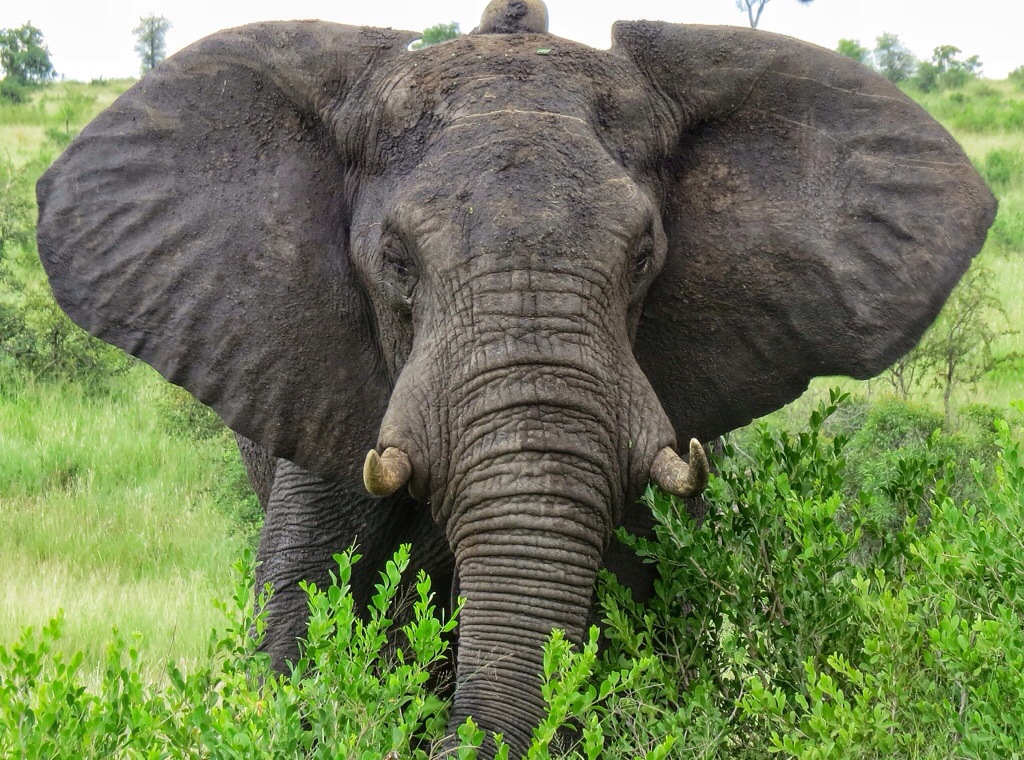 Or something dangerous…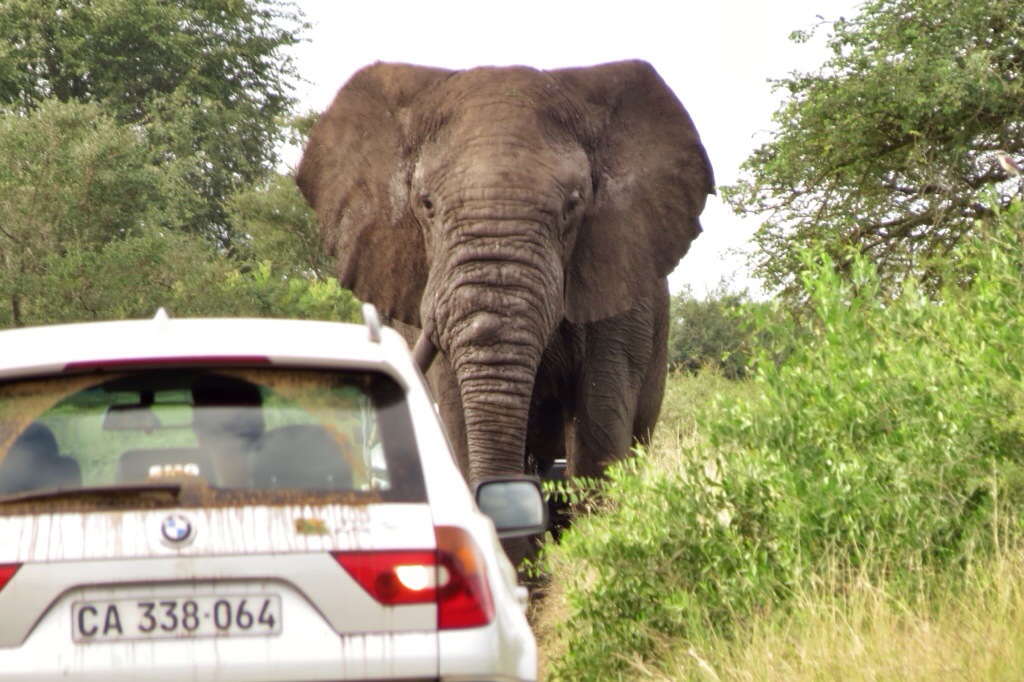 In the picture above, some idiot in a Land Cruiser was actually following the elephant about 20m behind it, pushing it towards us and the BMW on a narrow track. We came round the corner (slowly) as the guy in the BMW was backing up. Fortunately we were both able to back up the track for about half a mile before the big bull got off the track. The idiot behind him was oblivious to the fact that he was actually driving the elephant on and antagonising it.
Not all sightings are quite so close up. Helene spotted this White Rhino with a huge horn some distance away from the side of the track and we decided to watch it for a while.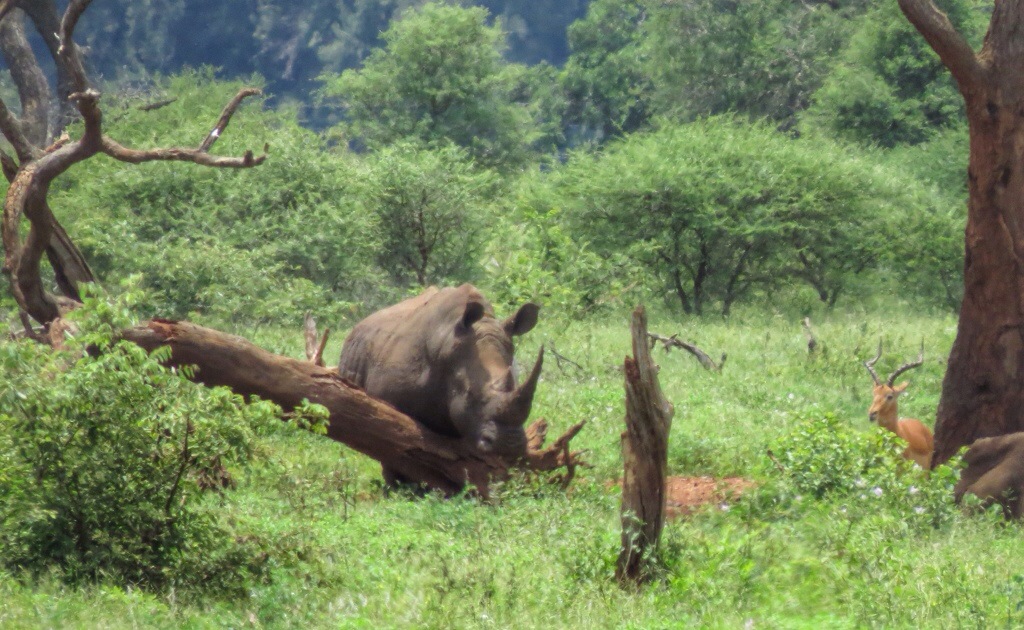 It was only after about an hour or so that we were able to piece together that there were actually 5 of them together- although we could never get a shot of them all properly…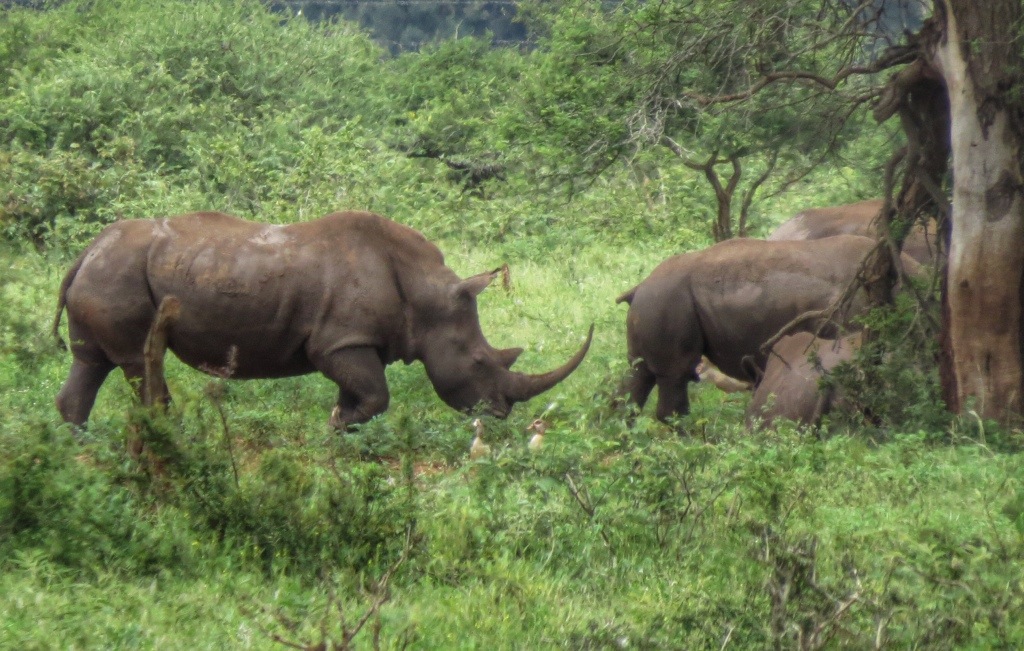 Over the 3-hour period we watched, a couple of cars stopped to ask what we were looking at in the distance. When they found out it wasn't lions, they moved on. It's very rare to see rhino in a social group (other than perhaps at night), particularly such mature animals, larking about together. What's up with some of these people – they'd be better off at a zoo?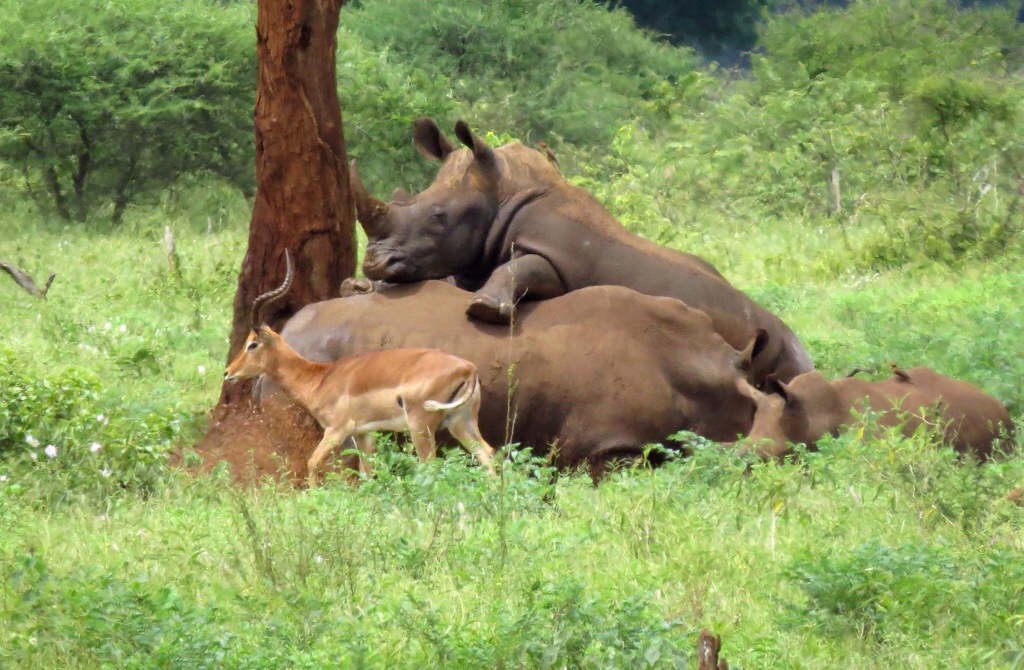 Another advantage of the high, dense bush (and some of the overcast skies we've had) is that there is quite a lot of birdlife around. At first it wasn't really of much interest, but Helene met up with an elderly South African couple who spent a couple of hours identifying some from the pictures we took. Now we're a bit hooked (although I haven't bought an anorak yet).
The Lilac Breasted Roller…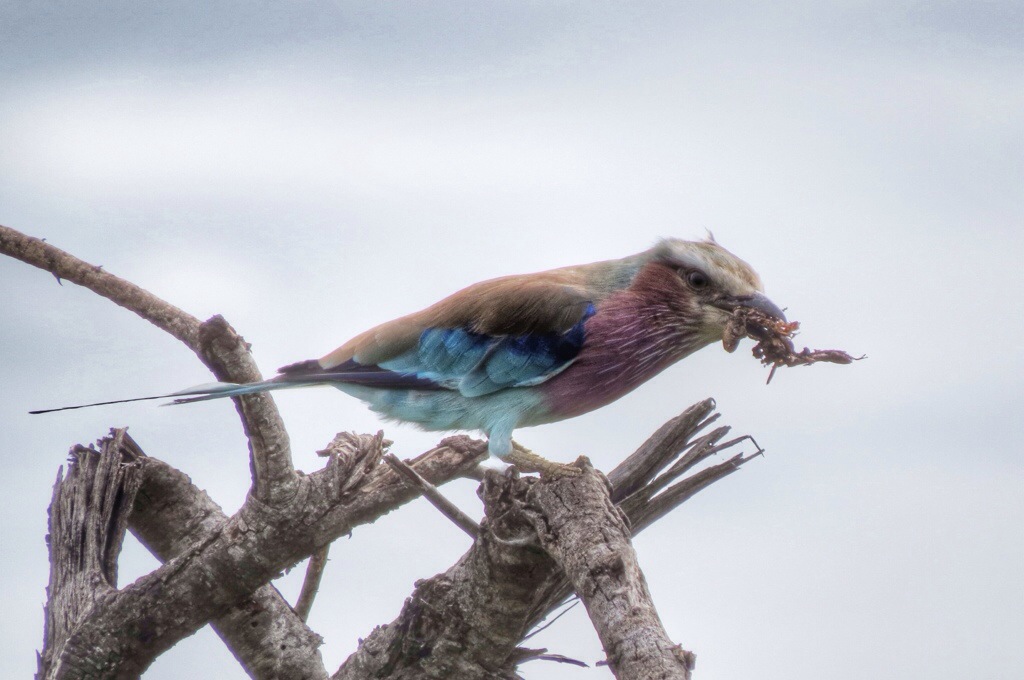 The Bateleur – about 2 feet (600mm) tall…
A Snake Eagle…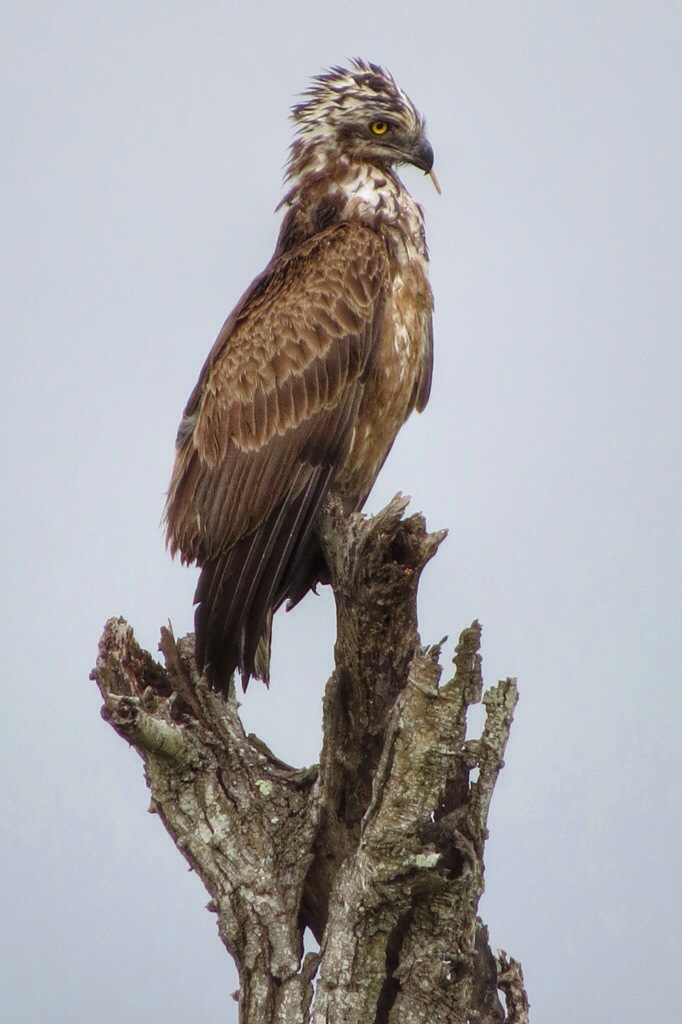 A pair of Bee Eaters…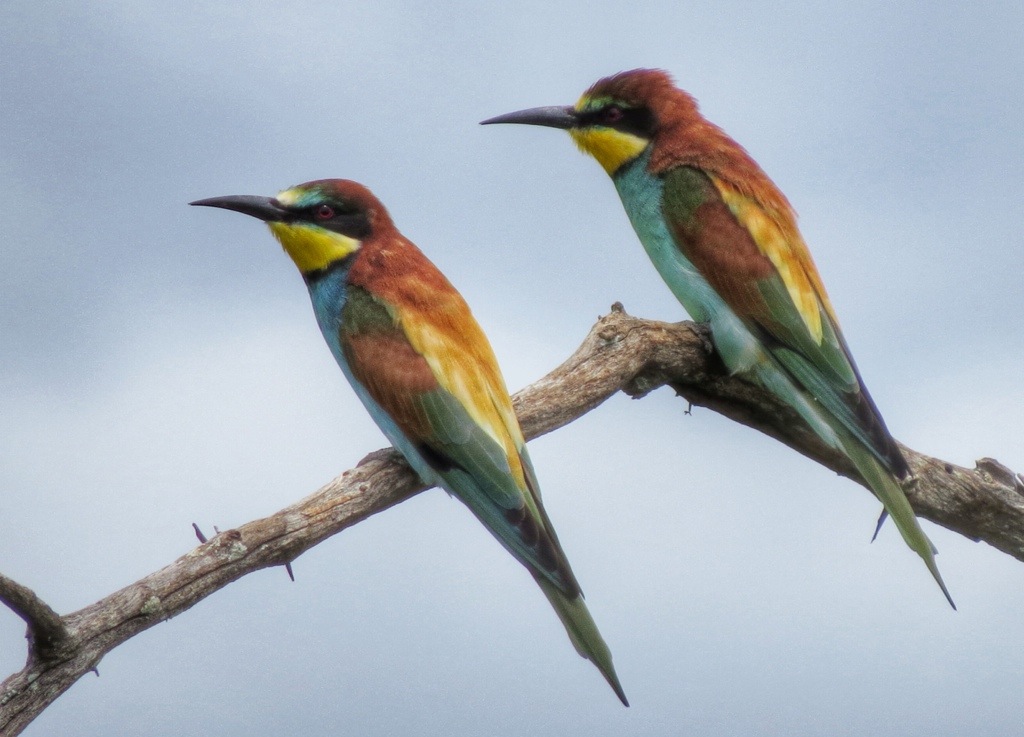 You really do have to keep your wits about you in such difficult landscape to spot game. However, the advantage of starting to look out for interesting birds is that we spotted my personal Game Holy Grail.
It would have been so easy to miss it as we drove along…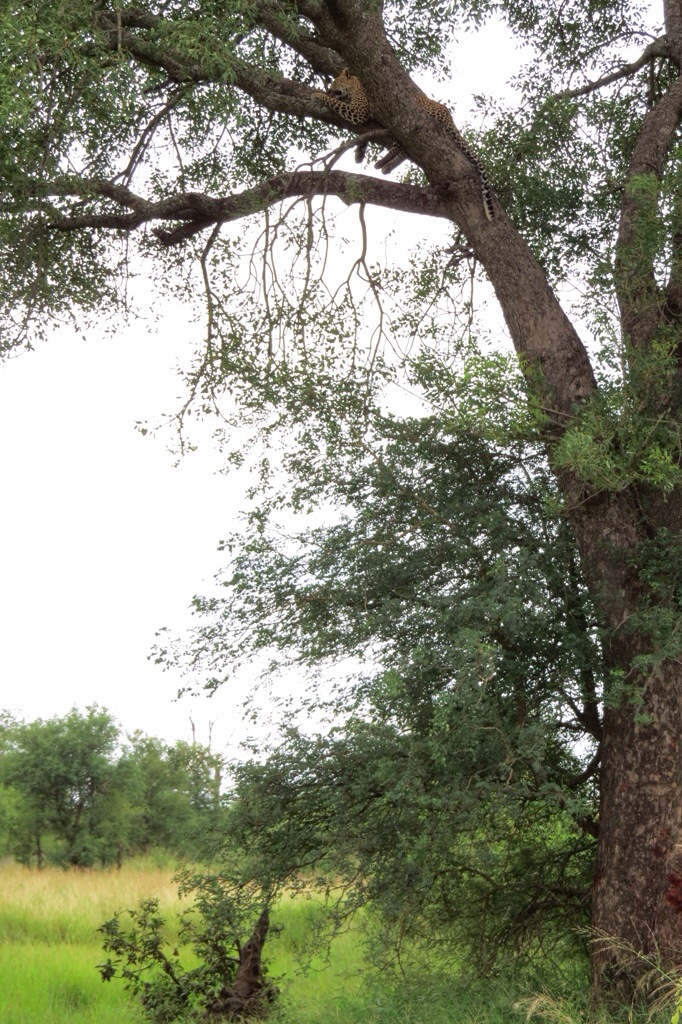 A leopard asleep in a tree. Actually, spread-eagled rather than just asleep.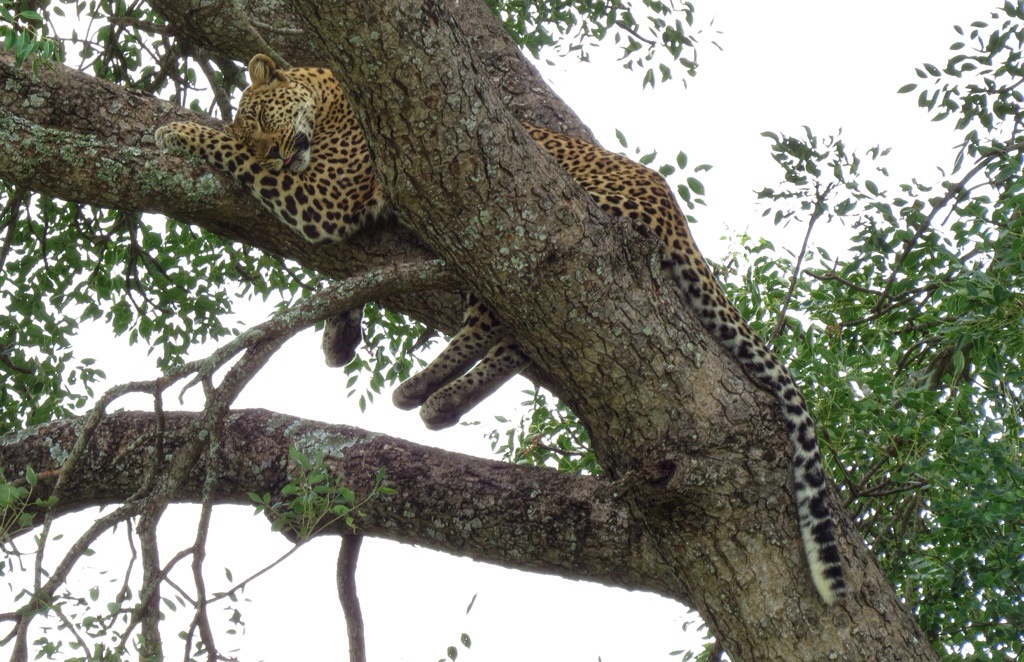 Not a care in the world…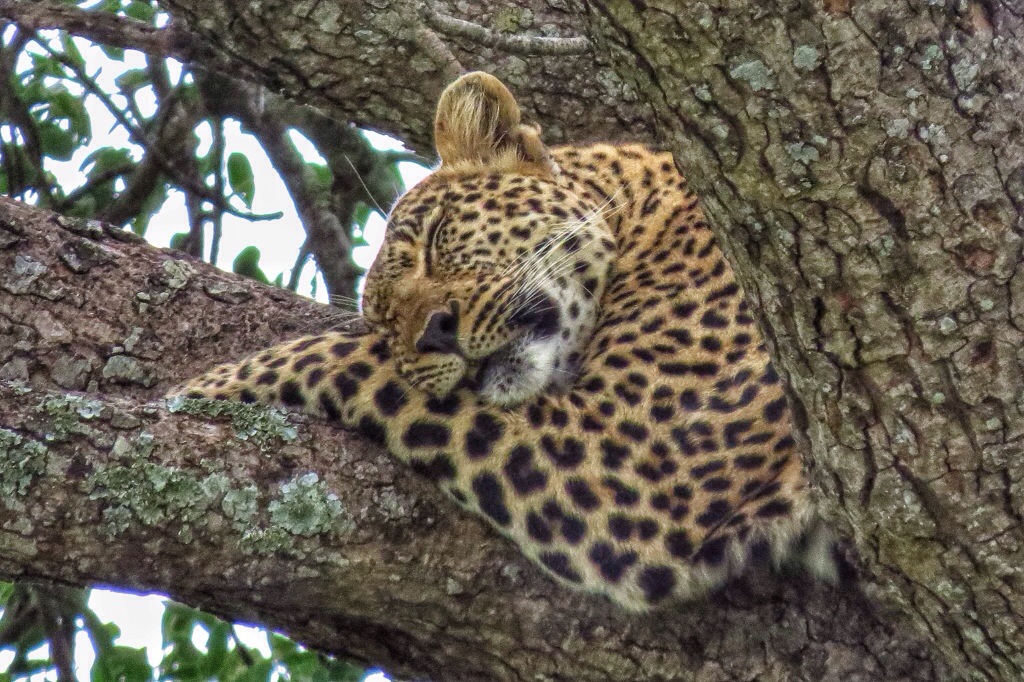 Once again, over an hour or so of watching, a number of other people arrived.
One quick photo ("hey Honey, I ticked another box in the book – lets go…").
Only one other chap and ourselves sat and watched for any length of time.
Once again we were rewarded when the beautiful cat woke…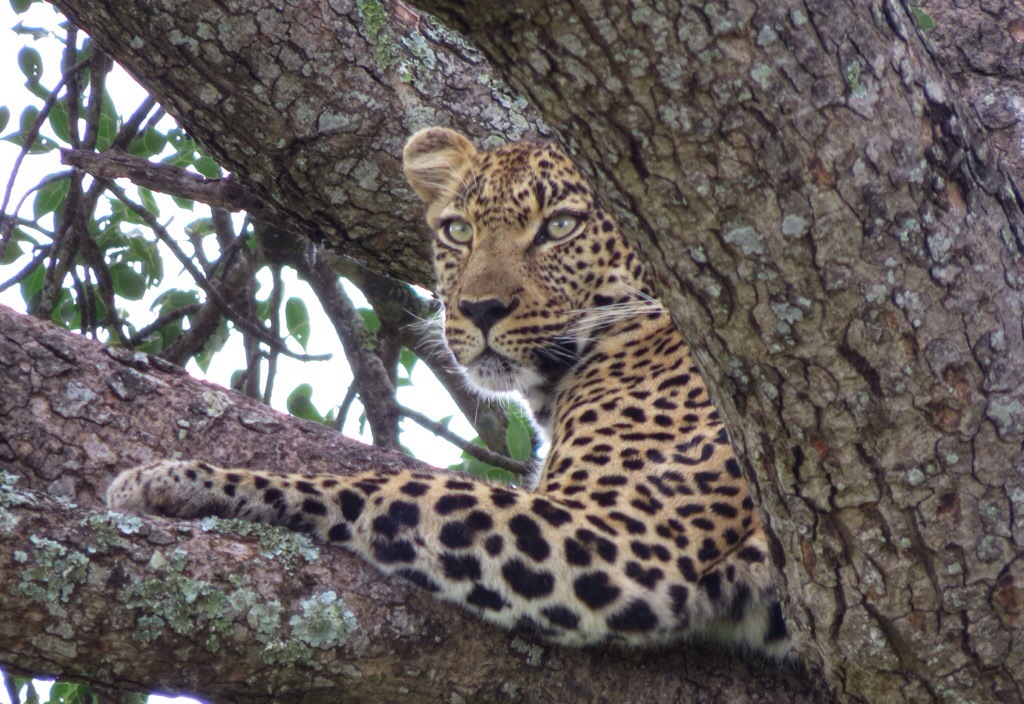 From asleep to menacingly alert in no time at all.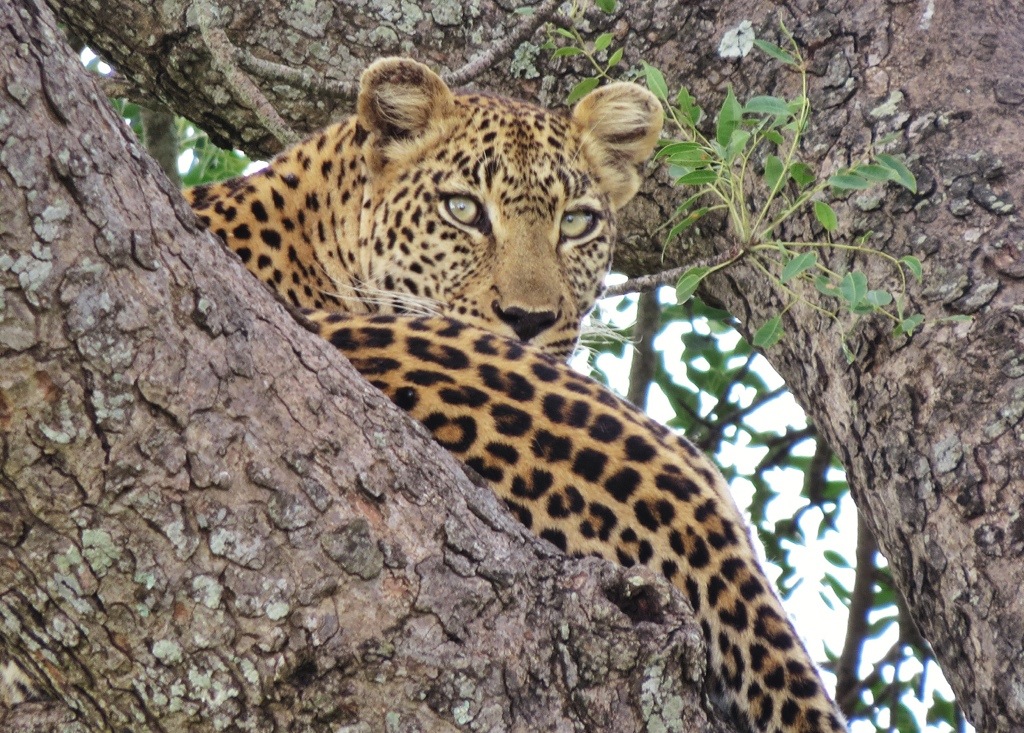 What a great (but blistering hot) way to spend an afternoon.
Given how game can come out of the bush from any direction and how strict the safety regulations are about not getting out of your car, hanging out the window or standing through the sunroof, we were a bit surprised to see this ranger out alone on one of the remote tracks.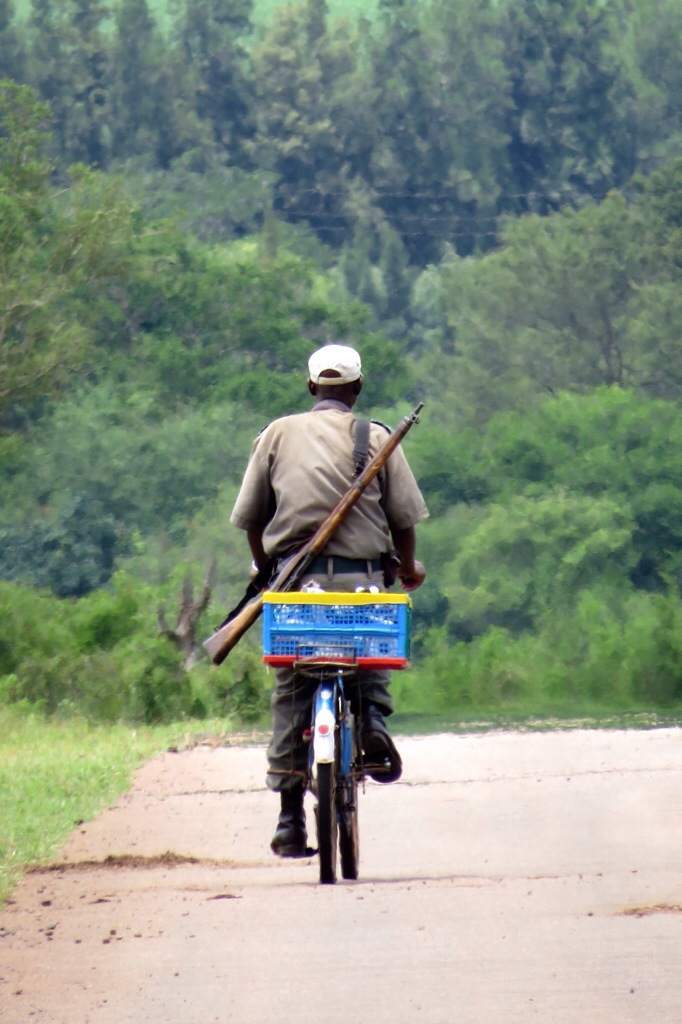 That gun may be old, but I guess it beats a catapult.