We had intended to stay up at Chitimba for only a couple of weeks over Xmas & New Year but, what with one thing and another we ended up staying around 6 weeks.
To Ed & Carmen's credit, they tried not to look too delighted each time we said we would be going in a couple of days, or too crestfallen when we changed our mind each time. Something always seemed to crop up. To the point that Helene started referring to the Camp as 'Hotel California'.
You can check out any time you like, but you can never leave…
I can't think of many places we'd prefer to spend time though.
One departure date was delayed by a week while we carried out some briquette-making demonstrations in the village with the Ezechial Women's Group.
A number of the staff at camp had expressed an interest and set up the demonstration. We went along to a small compound just outside the village and found 27 women waiting for us, with all the simple equipment we'd asked them to collate in advance.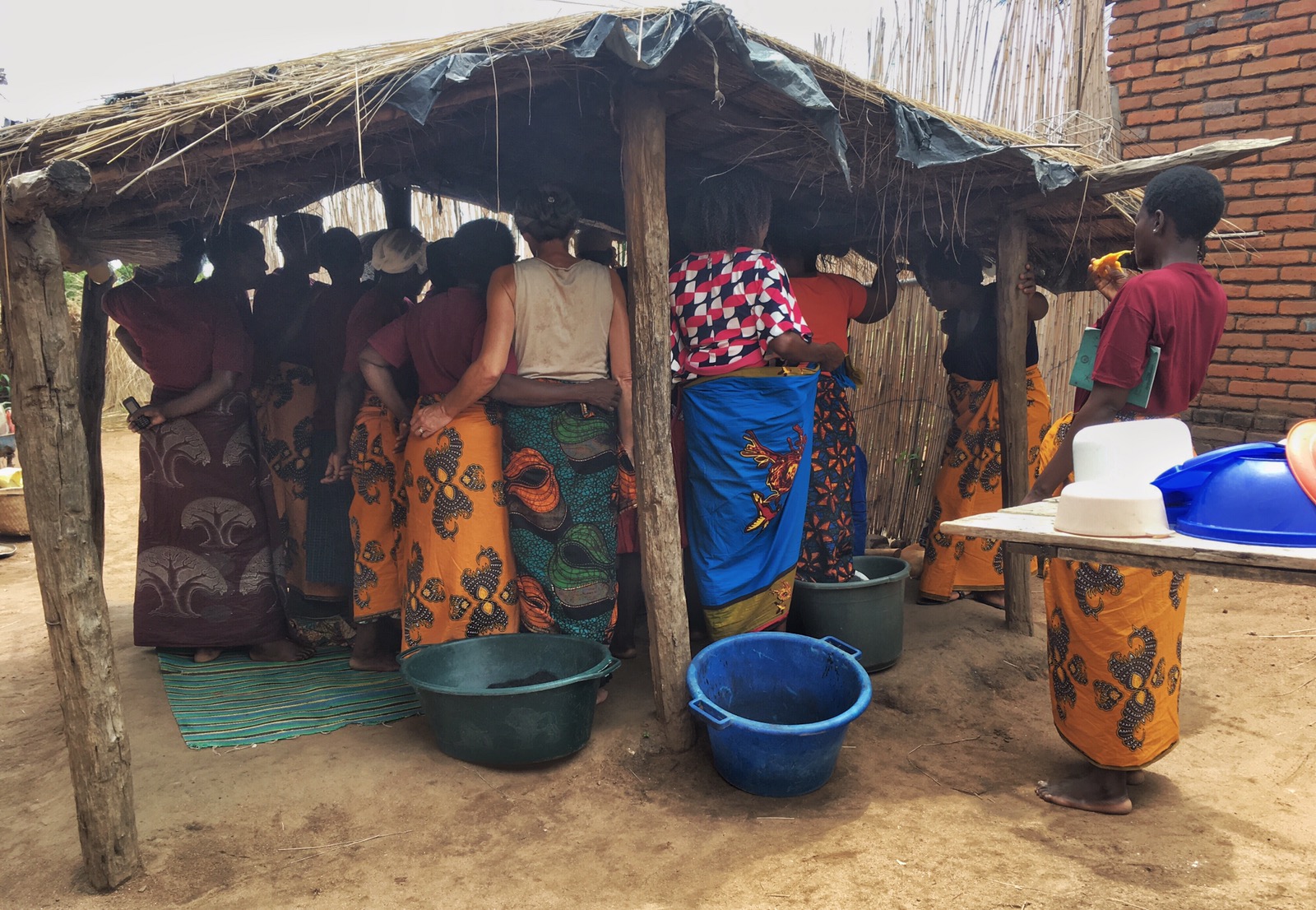 As has so often been the case, they were highly interested in the benefits, slightly sceptical regarding how easy we told them it would all be, but incredibly enthusiastic.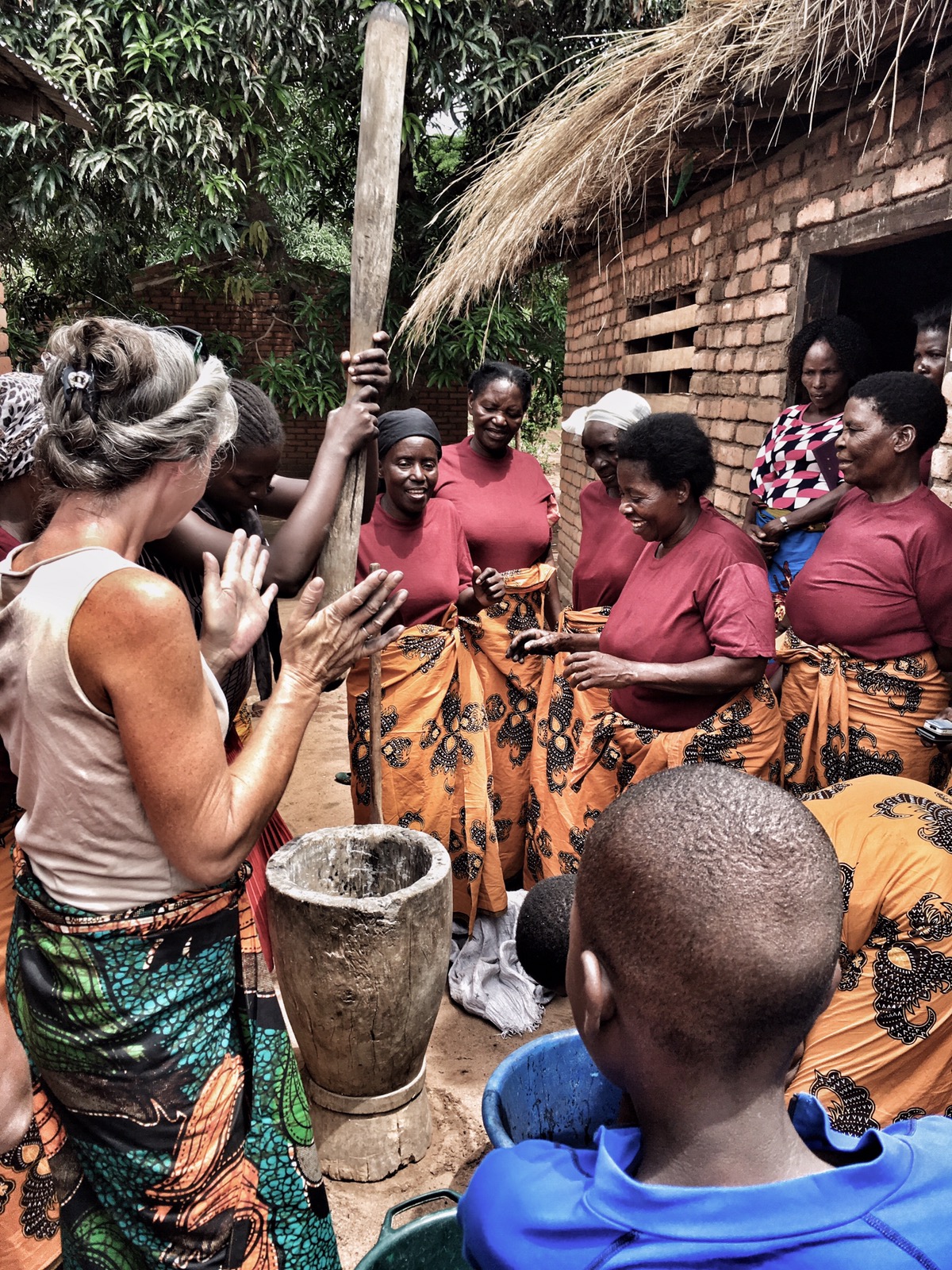 From a standing-start, with no prior knowledge, it takes only 2-3 hours for people to prepare the raw materials, make up the porridge used as a binder…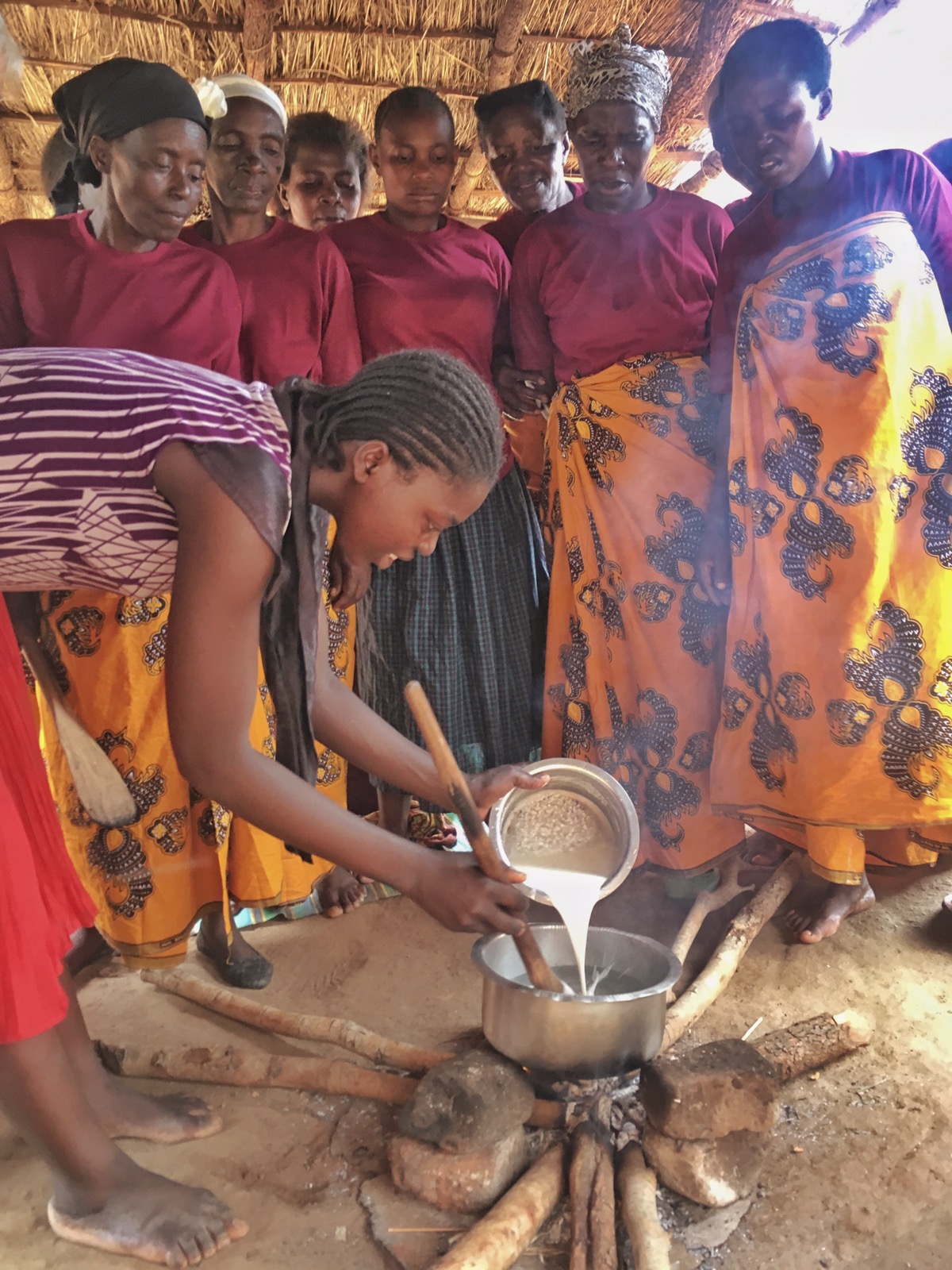 …mix up the charcoal fines with the binder and start moulding their first briquettes.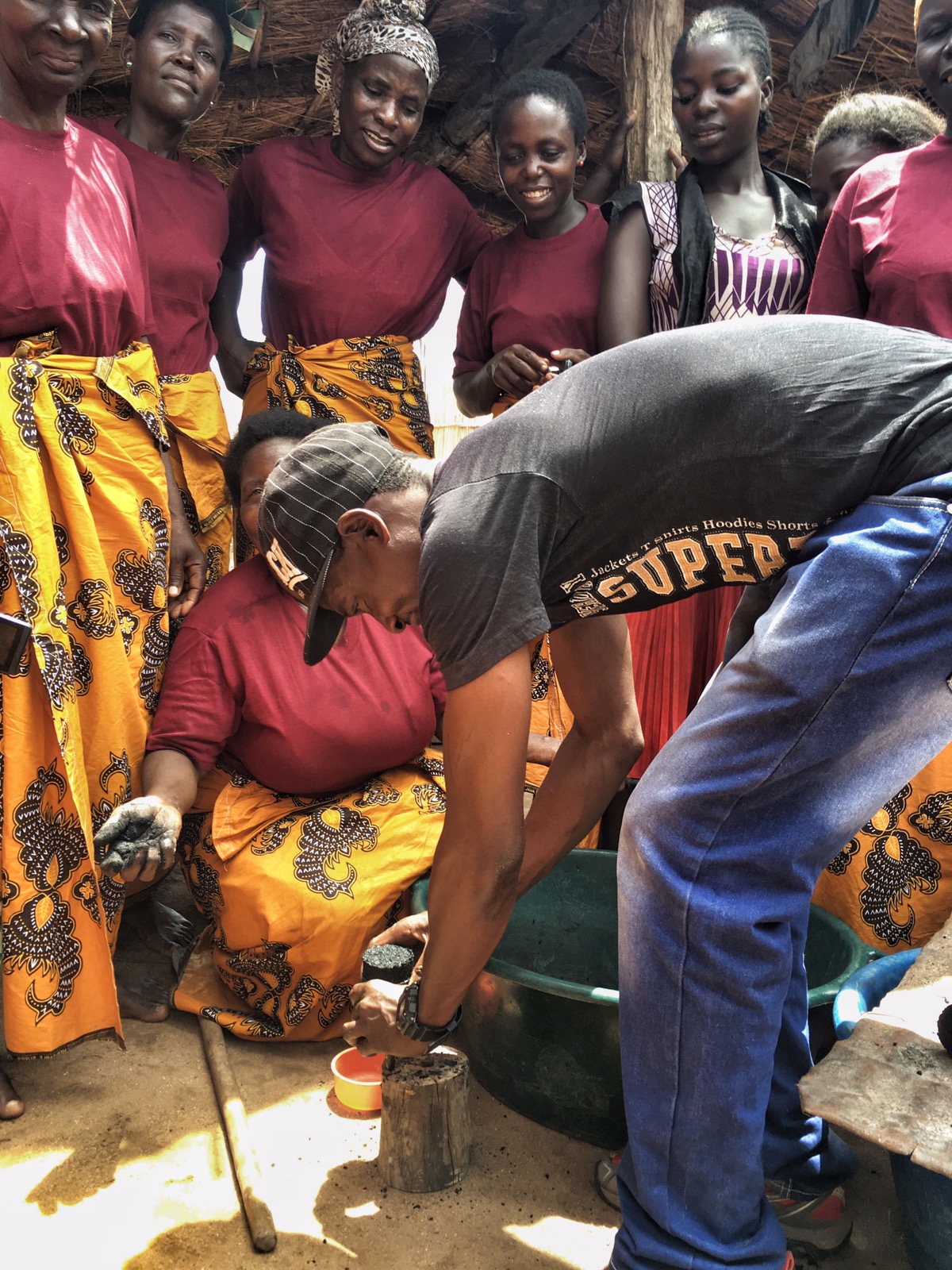 By the end of the morning, everyone has had some fun, learnt pretty much all they need to know about the process and produced enough briquettes to last the average family about a week.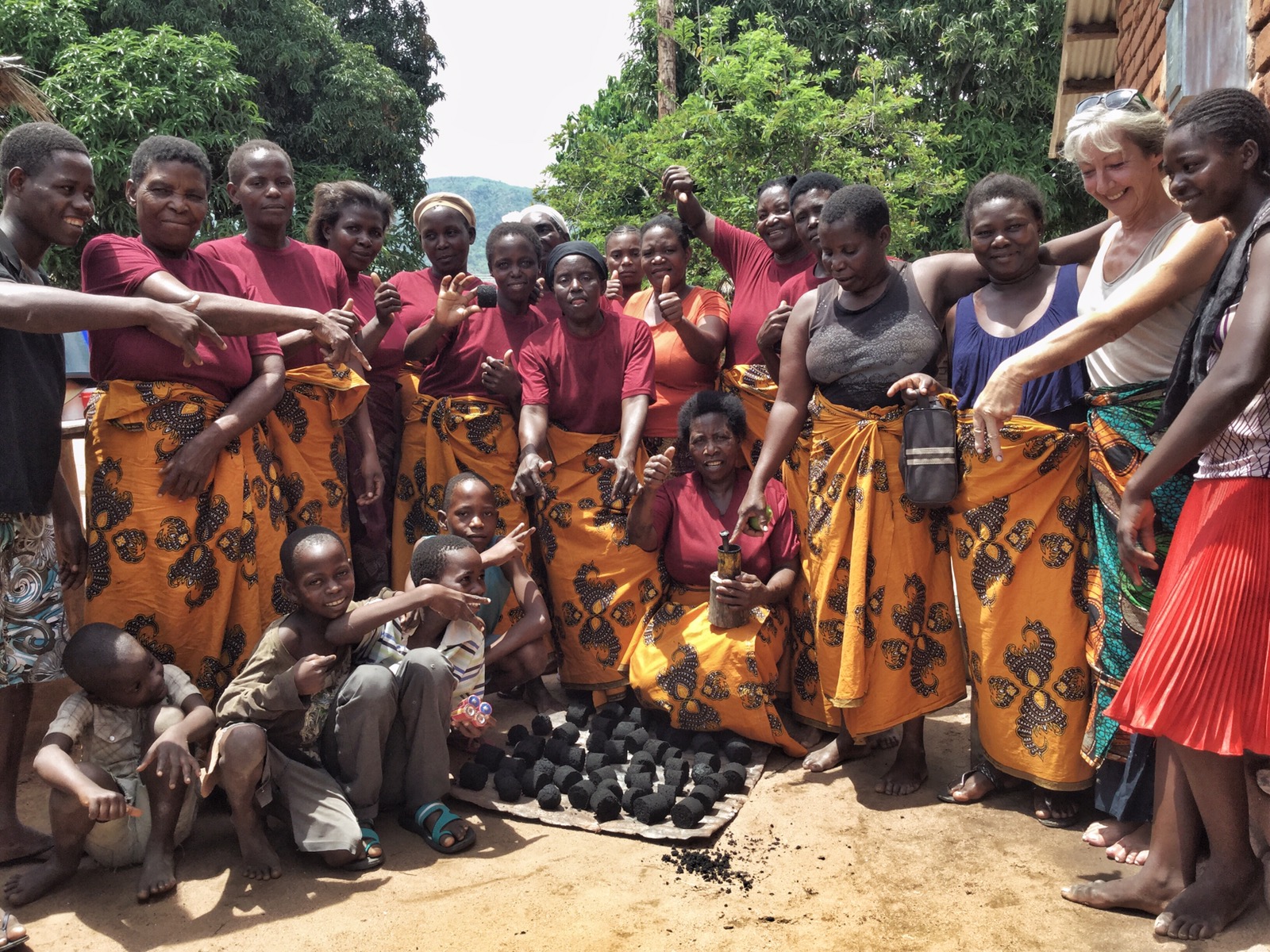 Our second intended departure date was delayed by finding out that Marco, one of the locals who comes into the bar, was a supervisor at a small local coal mine. We had driven past it a couple of times (basically just a trench cut into the mountain, where men hack out wet stone-coal using picks and hammers) and noticed a lot of waste coal chippings lying around. We asked Marco to bring us a bag of waste and decided to experiment making briquettes with coal dust (if it's free, local and waste – we had to at least try).
We knew they wouldn't burn smoke free like the charcoal ones do, but at least they'd be inexpensive to make. In the end, we got them to work and they burned hot & long (but were difficult to mould, dry and light compared to charcoal).
In the meantime we continued to help Ed & Carmen complete the new-build of the ablutions blocks and additional chalets they had built. They really will make a great addition to the camp and there are still more improvements on the way.
We also decided to try to build a simple 'rocket-stove' out of left over mud bricks. The staff typically cook a communal lunch – a huge plate of nsima, with a handful of sauce made of tomatoes and small fried fish cooked on an open fire (like the one in the briquette pictures above). This is time consuming and hugely inefficient.
As an alternative to an open fire, a 'rocket stove' uses the principle of having only one front opening and one top opening in order to contain the heat and to draw the incoming air through the fuel from underneath. The fuel sits on a shelf made of metal rods. As the air is heated it rises rapidly, is expelled and draws even more air quickly across the coals / wood. This produces a huge amount of heat for a relatively small amount of fuel. More fuel is added from the front rather than the top.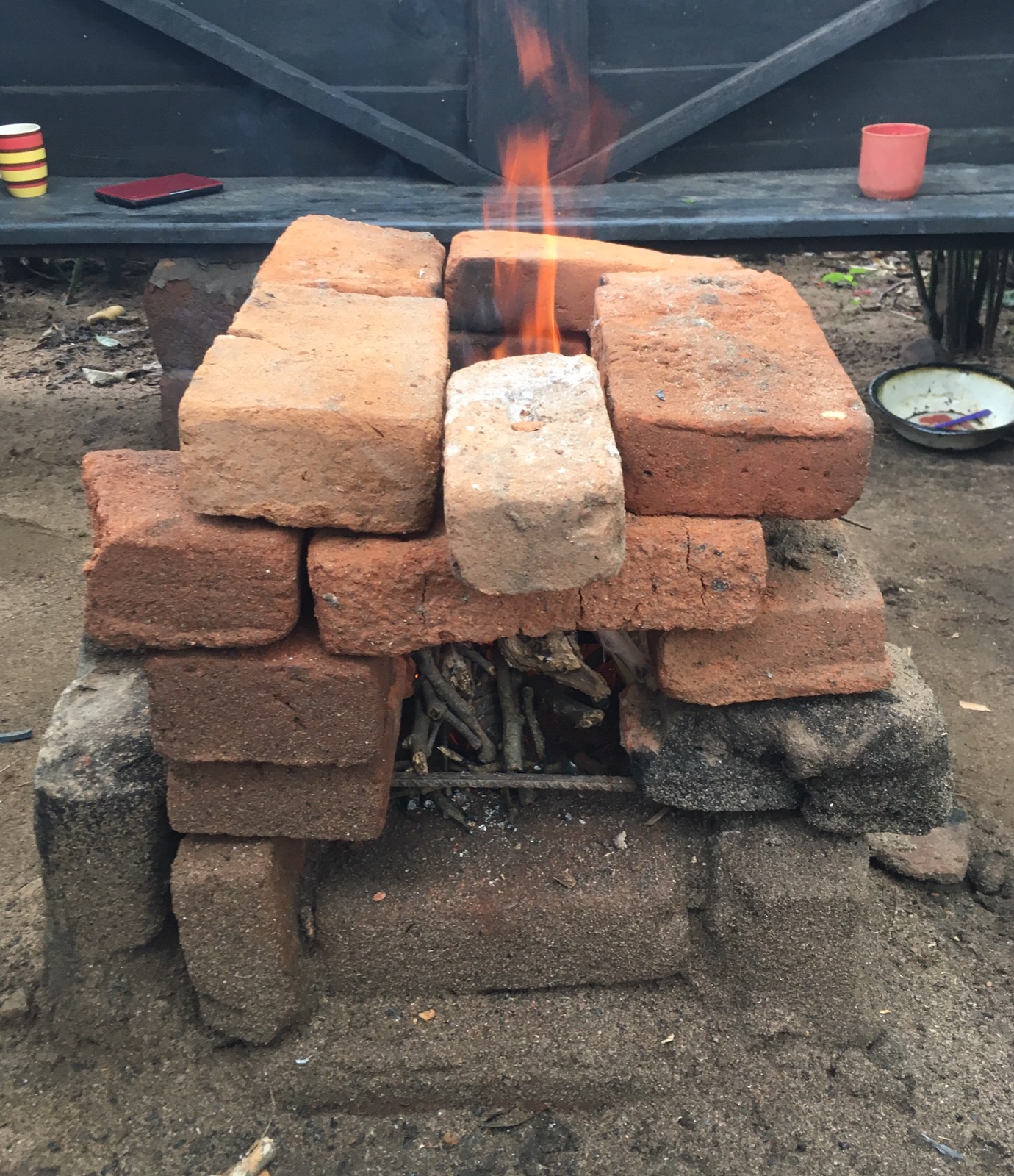 The experimental stove we built is not pretty, but once the bricks have been cut down to size and everything cemented over it will work even better. The guys love it. Water boils in 25% of the time it had previously taken them and fuel use is down by 70%+.
It wasn't all work though – there was plenty of time for play and for relaxing. Even watching a Chameleon can while away a good few hours. When we saw this one he had just come out of a bush. He walked in his stuttering manner across the terrace and tried to climb up a small wall. Unfortunately it was too sheer and slippery, so we didn't get the chance to see how he would cope with trying to turn bright orange.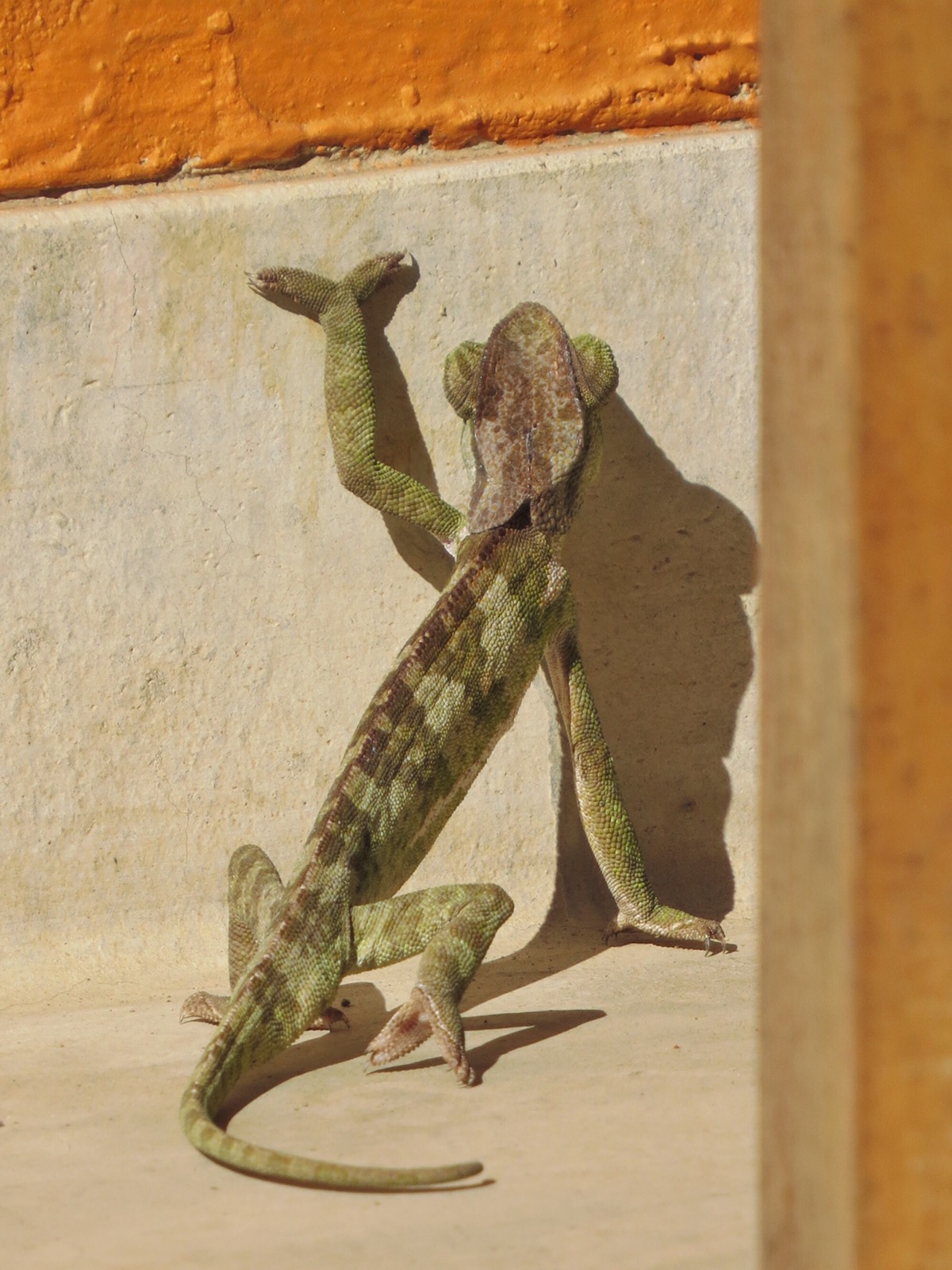 We even went to the Sunday afternoon netball & football matches in the village. In a small village like Chitimba this is probably the highlight of the social calendar every 2 weeks or so.
I pretty much have no interest in football, but it was great fun. There could have been 1,000 people there (almost the whole community) and as always there's a few who do a lot of drinking (home-brewed rotgut beer and vodka) and the same people later in the afternoon having pretty ineffectual, entertaining fights.
The vast majority though are just having a good time. The crowd aren't content to just stand on the sidelines of the very dusty, but hard-packed, rugged pitch. Their main pastime is dancing / running up and down the touch-line (usually on the pitch itself while the game is going on) singing their support for the team and generally getting in the way of the players.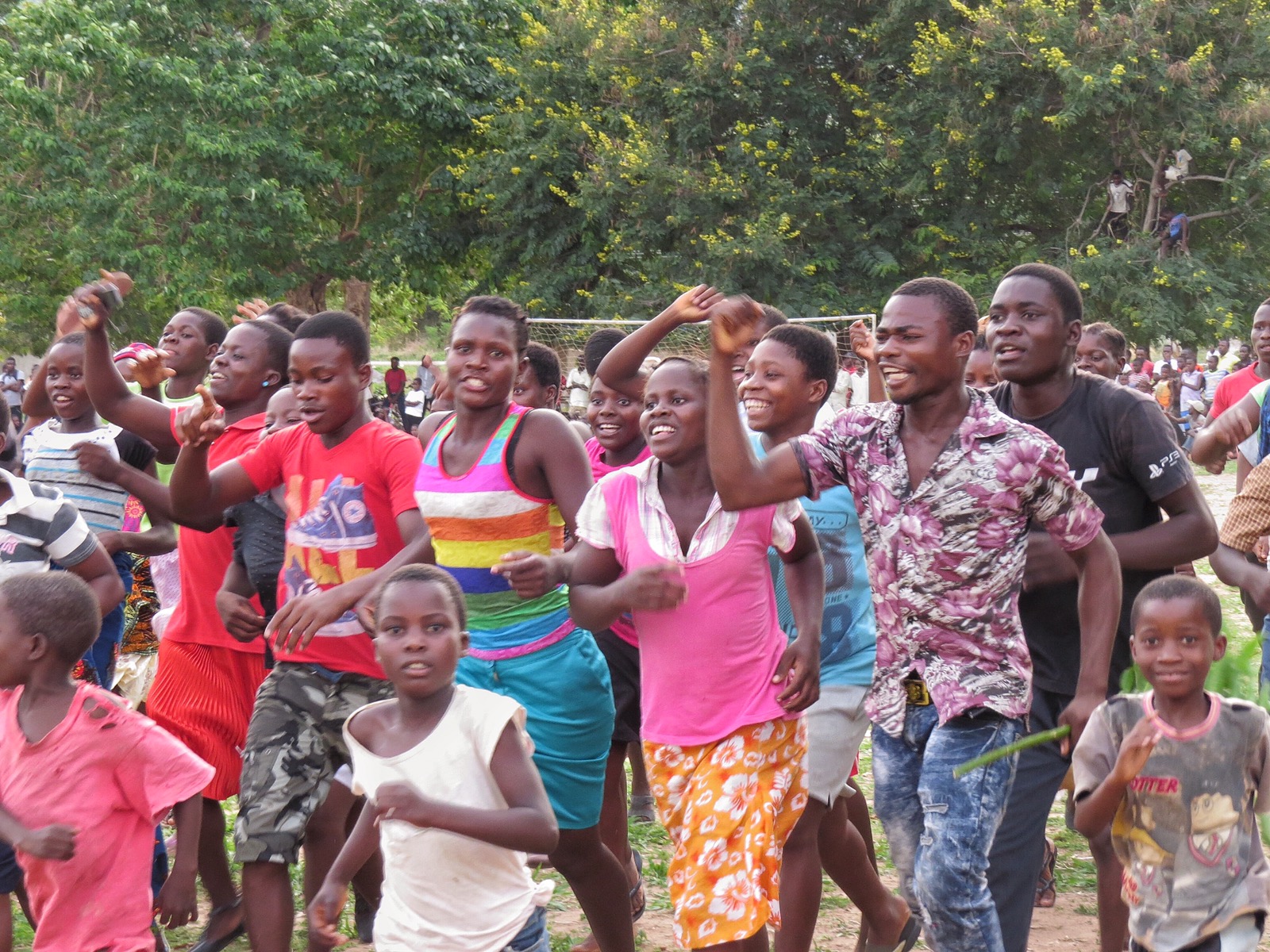 We even bumped into some people we know. Like Chico, one of the local woodcarvers and a security guard at Chitimba, who was proudly showing off a pair of sunglasses he'd made for himself.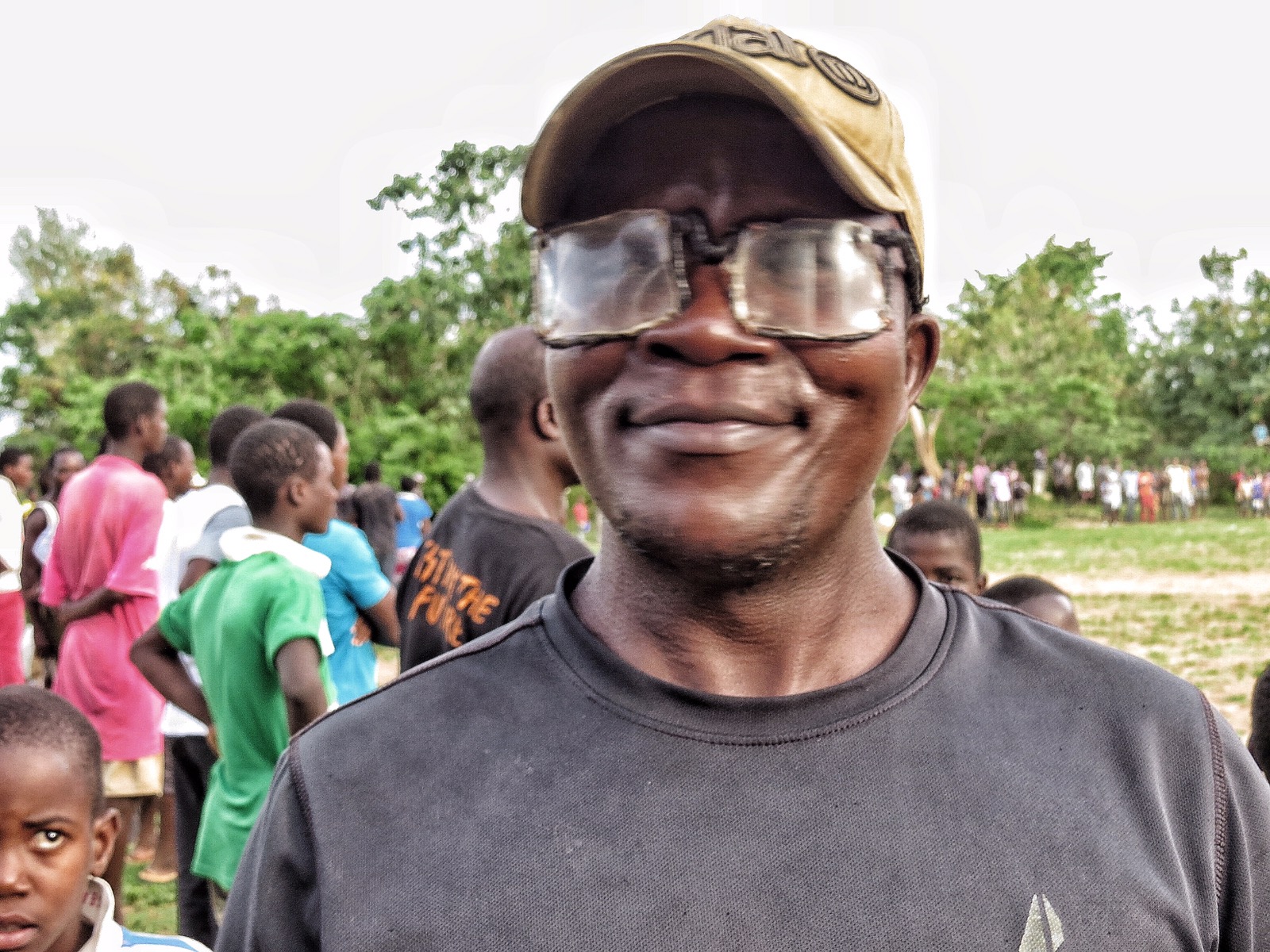 Other than that, our time at Chitimba was pretty quiet and relaxing. We had a couple of very colourful spiders in the room, a scorpion at the door (Helene wanders everywhere barefoot in the sandy grounds of the camp!) and a Vine Snake fell with a loud thud onto the back of my chair from the thatch on the beach shelter roof. That got me out of my seat pretty quickly.
We also had a couple of fantastic Lake-Fly sightings (without them striking the camp in any real numbers thank goodness). They may be a pest, but what a sight. Like a flotilla of ghostly ships, ploughing their way along the lake, at the mercy of the wind.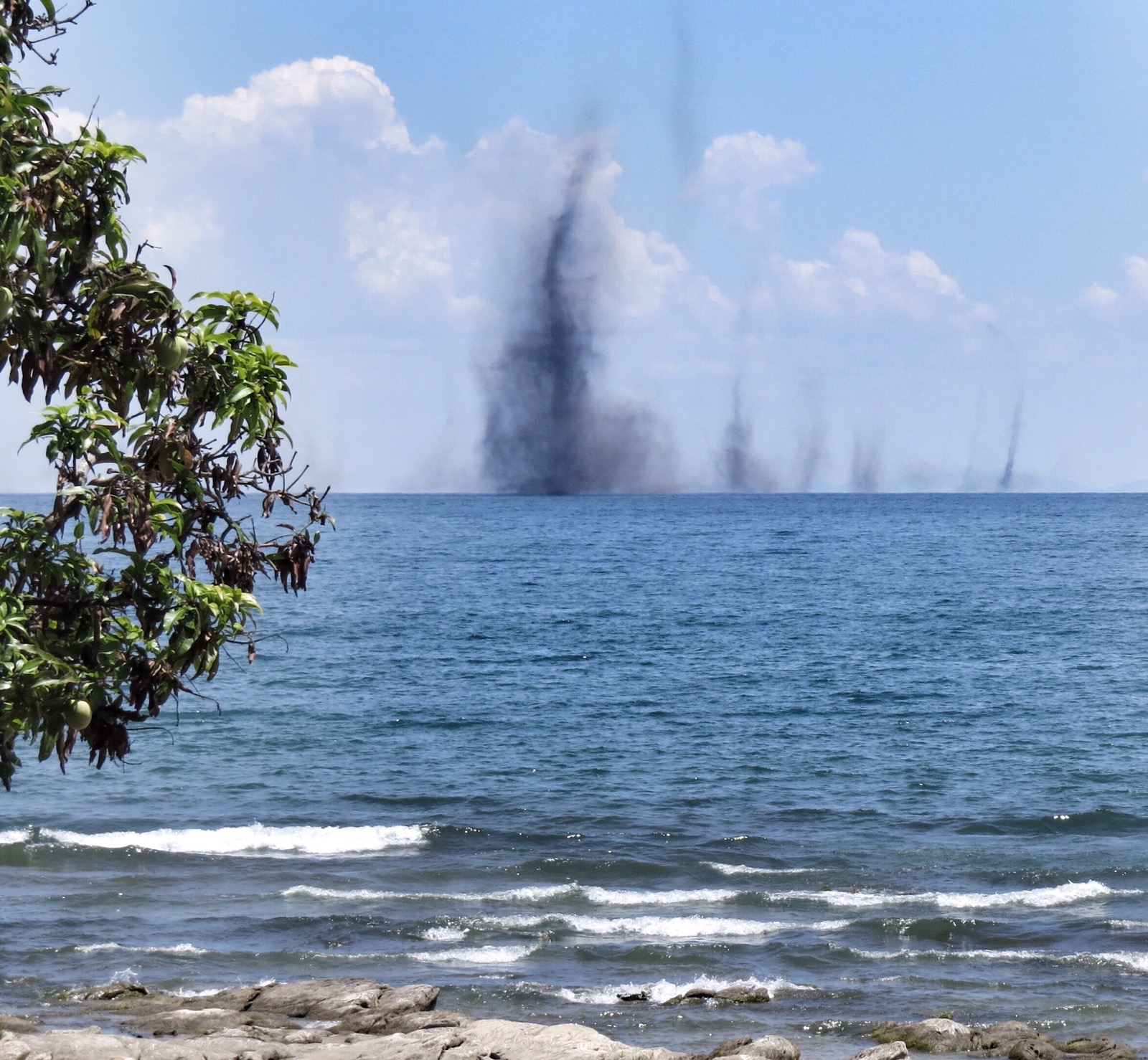 As we said before, the locals welcome them and the fishermen take them in their stride.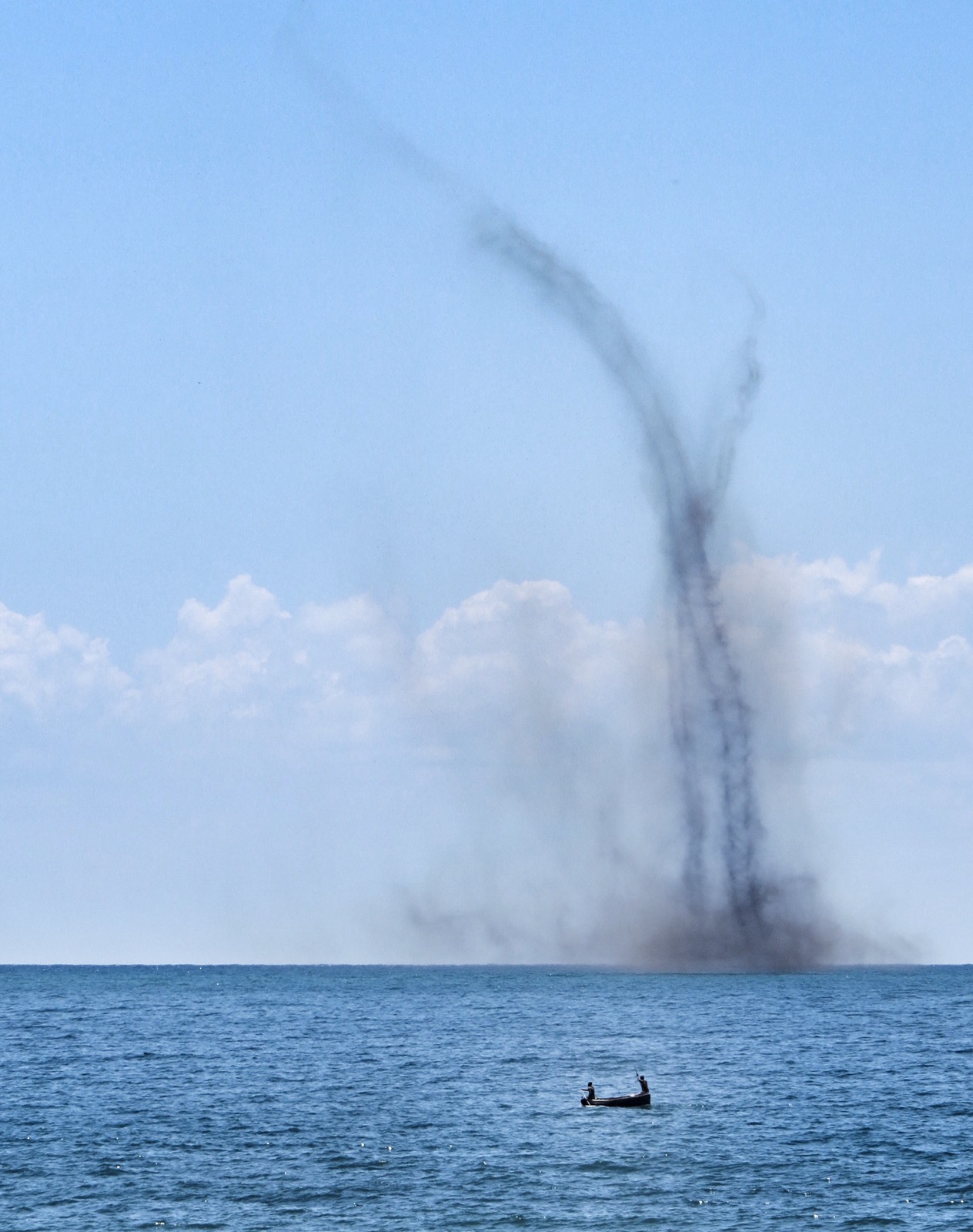 But otherwise, an uneventful few weeks. Perhaps best of all, the camp was fairly quiet. 5-6 tour trucks came in every week on their dash from Nairobi to Cape Town, but since it's supposed to be rainy season, most weren't more than half full.
There were a couple of other interesting visitors: a Psychology Professor from Boston who was writing a book about Malawi culture and a couple of retired Dutch surgeons who have been working in Malawian village-hospital operating rooms out here since they took early retirement.
Jan, one of the surgeons, was particularly pleased to hear that we'd taken time out to travel. As he said, the reason he retired early from medicine was that he realised that "Life is a sexually transmitted disease – with a fatal outcome. You'd better make the most of it!"
Our final delayed departure was caused by John, headmaster at a local orphanage school who, since he had told us he was trained as a boy to be a tailor, said he could make Helene a pair of trousers, skirt and scarf from some additional material she had bought at the Wednesday travelling market.
Anyway, eventually we lived up to our promise to Ed & Carmen, and left. After having been here so often, and looking after the place for them last year, they've become real friends and we were sad to go, but pleased to be on the road again.
Not that being on the road was that much fun. We still had the problem that we'd arrived at Chitimba with before Christmas – no brakes. Only this time, the rains had started and one of our windscreen wipers had failed.
Just to make life more interesting, our leisure battery wouldn't hold a charge and that meant that, unless the car was running, the fridge, water pump, power outlets, compressor, etc weren't!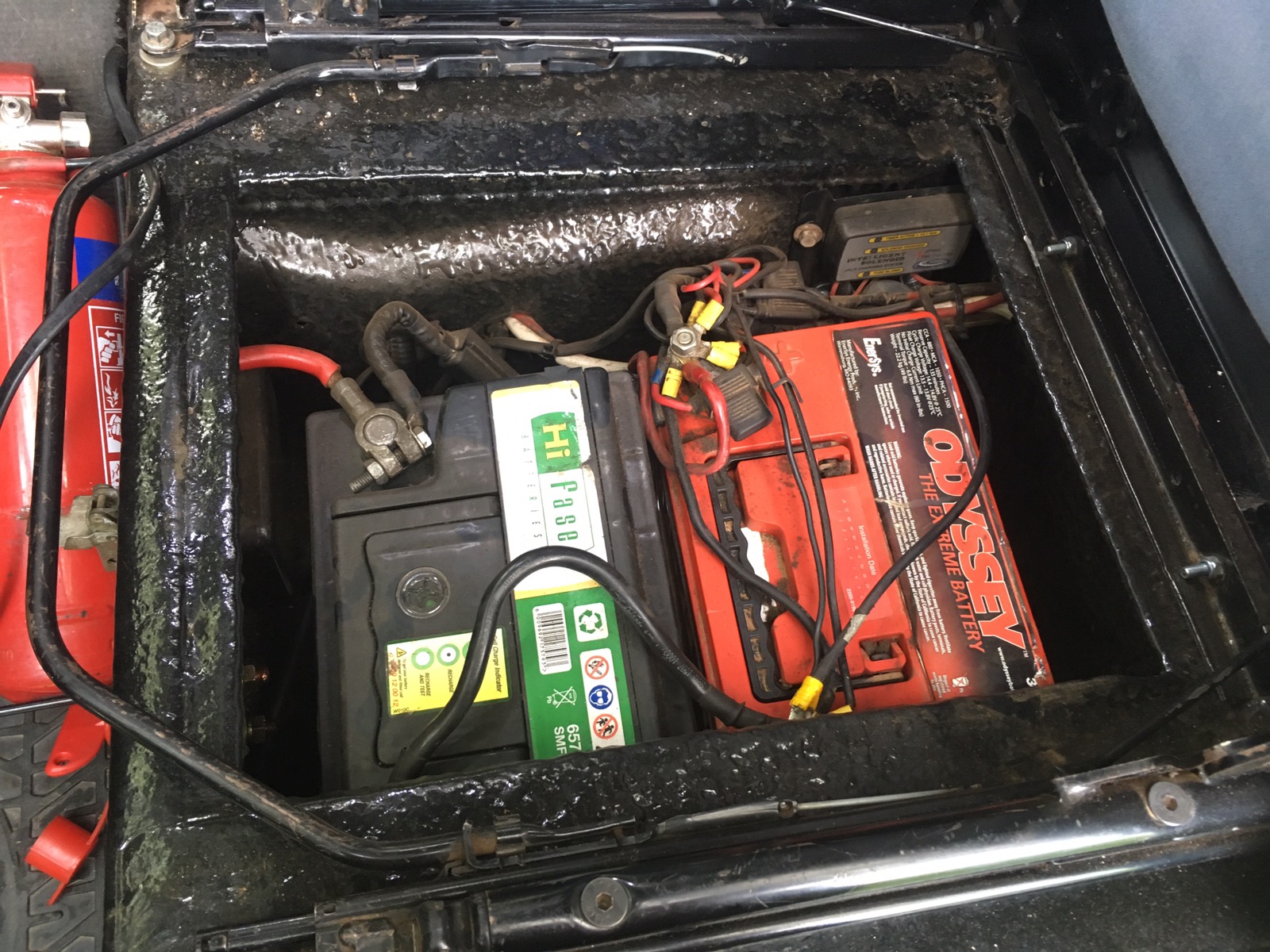 It took us 3 pretty tense days in the rain (via Macondo Camp in Mzuzu & Ngala Beach Lodge) to cover the 700 fun-filled kilometres back to Lilongwe where we hoped we'd be able to find some spares.