Having run the gauntlet of getting out of Turkey we were tired, but pleased, to arrive in the south-western tip of the island, at Paphos – a coastal town, set up for tourists (mostly Brits), but pleasant, Suddenly we feel as if we're on familiar ground.
'Familiar ground' is not what this trip is about – but it does give us a place to complete our planning for Africa while we scratch the days on the wall of Phil & Caroline's apartment until their wedding here in mid June.
It also gives us a semi-permanent base where can catch up with friends and family (after leaving the UK in a bit of a rush due to renting the house out faster than we anticipated).
Over the next 4 weeks brother Gareth (graphics wizard for the car & website), Judith & Paul (other half of 'The Stumblebums') and Charlie & her boyfriend will be coming out to see us – can't wait!
Paphos has everything you'd want from a holiday resort.
However, we're staying in Anarita (about 10 miles outside Paphos and about 5 miles inland). It has nothing you want in a holiday resort – which is everything we look for when we travel: only 3 small bar / restaurants, 2 small shops, a church, a pool and a view of the sea from the balcony.
Just what the doctor ordered.
Highlight of the village is Mike's Bar. Nothing to look at, but a warm welcome and cheap beer. Mike's a retired detective who spent many years travelling with Archbishop Makarios III (first president of The Republic of Cyprus) as one of his bodyguards.
He makes a mean Cypriot coffee – and showed Helene how to do it.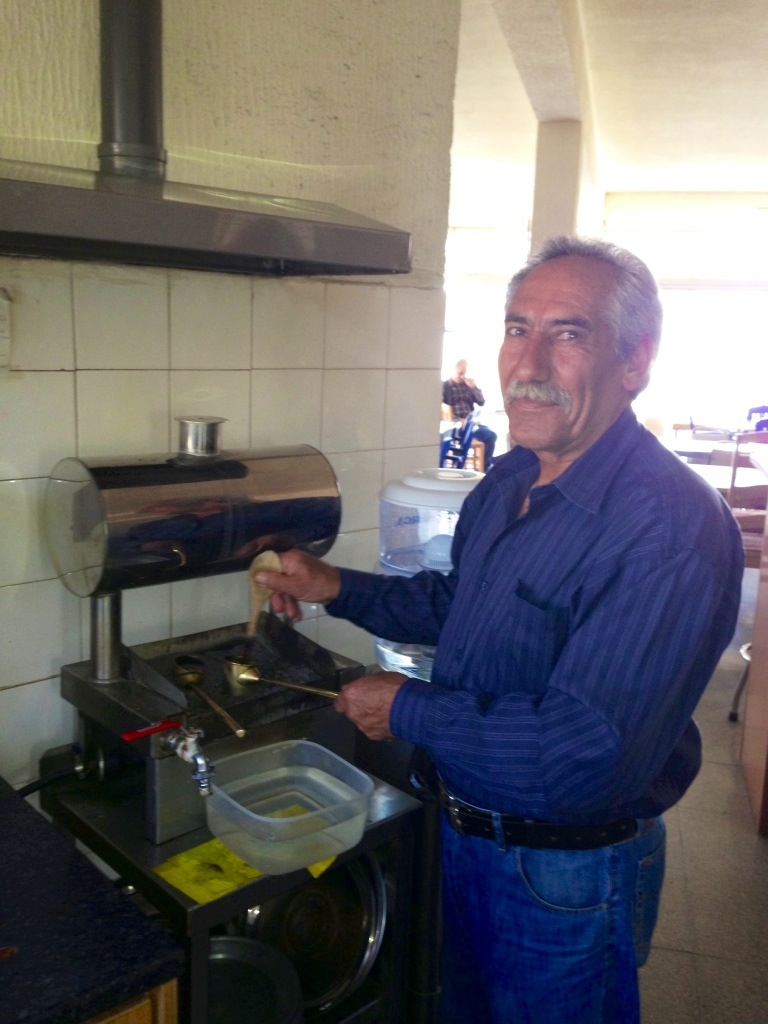 Water is heated in the horizontal tank at the top of the 'still' and then tapped-off into an egg-cup sized pan with a long handle that is half filled with coffee grounds that look like gravel. The little pan is then heated by pushing it around a deep tray of red-hot sand ('don't worry if some of the sand gets into the little pan') until it's boiling fiercely.
You need asbestos fingers for that part.
Then the boiling coffee grounds (& any miscellaneous grains of sand) are tipped into a small glass cup, doubled in volume with water from the top tank, and offered to you for downing like a Tequila shot.
That'll put hairs on your chest!