There's nowhere to camp in Kigali, Rwanda. Actually, there's probably only a handful of places in the whole country.

We ended up with the rooftent pitched on the driveway of a B&B in the city that advertises camping (called TR Companion). They have a very small lawn that you could get a backpacker's tent on, but for rooftents there's no alternative other than a notably sloping, short driveway. Rwanda is known as 'Le Pays des Mille Collines'. The land of a thousand hills.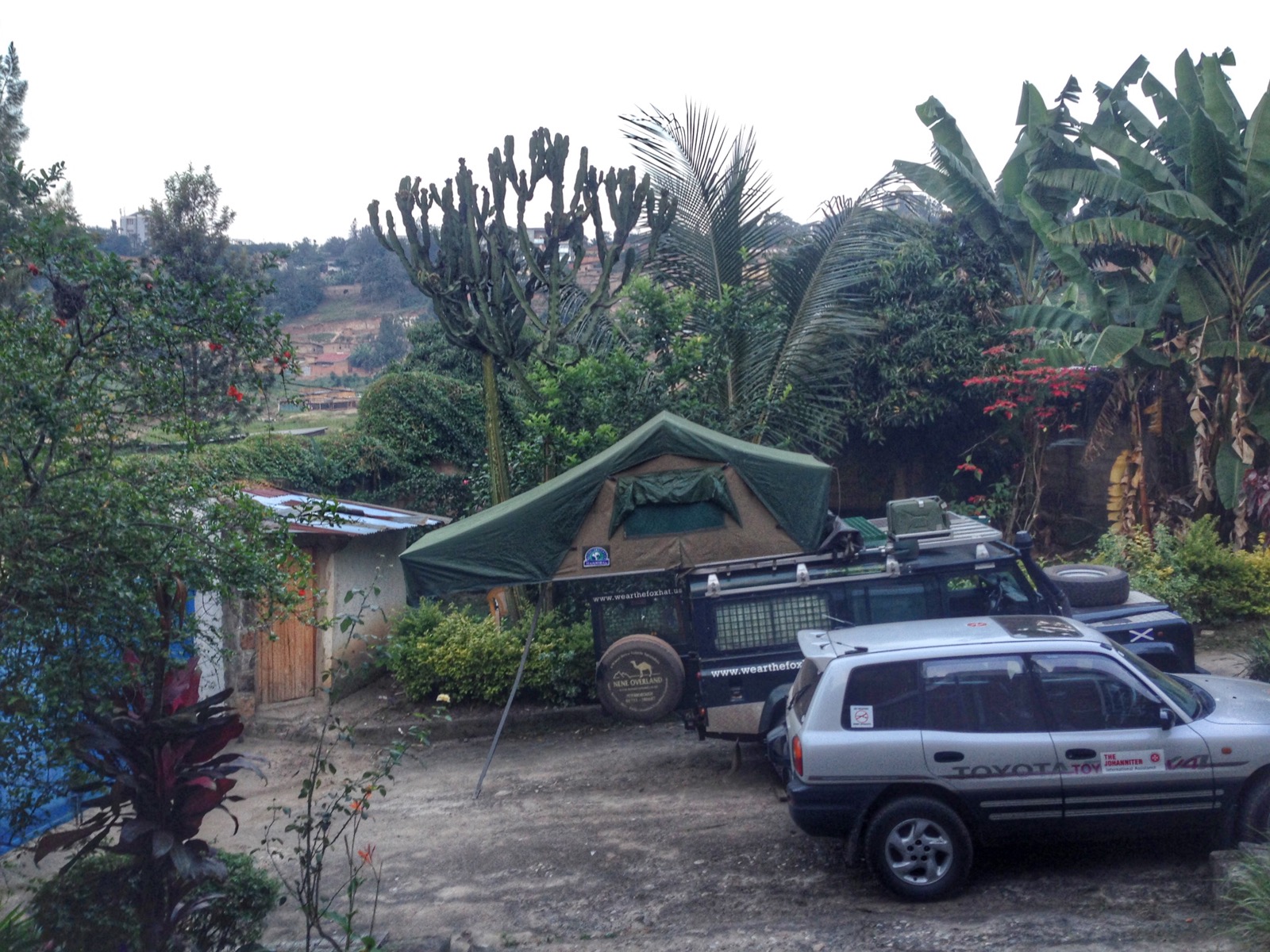 It's a strange place: 3 bedrooms and a camping area (?) sharing one bathroom, with a single shower (no shower head) over a single bath. All crammed onto a small plot. The 15-person, full spec Swedish sauna in the garden is bigger than the campsite.
Still, it gave us a chance to head for a local supermarket and stock up with decent meat & chicken for the fridge. Lots of French products in the supermarket, due to the long-standing Belgian / French influence here since the early 1900's (not all of it covered in glory, as with so many colonies).
The B&B campsite is friendly and has an 'honesty bar' for beers, but there's no fun in waking up in a ball at the foot of the tent in the morning after sliding down the mattress all night.
We didn't get a great deal of sleep either way. There was a hell of a racket most of the day and into the evening from about 1km away. Loud-speakers blaring music & passionate speeches, endless chanting and singing. I assumed it was a typically loud African wedding or some sort of 7-hour church service.
Unfortunately not. The British Embassy was just up the road and the chanting was a major demonstration in the streets to protest at the arrest in London of General Karenzi Karake, as a result of a European Arrest Warrant issued following the genocide that took place here in 1994. Just what we need – a failed military coup in Burundi and now protests against the British in Rwanda.
We left the city the next morning, heading west to Kibuye on the shore of Lake Kivu. It should be a bit more peaceful there. It was only about 120km but it took us 4 hours. Unusually, this wasn't because of the poor roads we've found throughout Africa. This time it was a combination of running into yet another anti-British demonstration against Karake's arrest…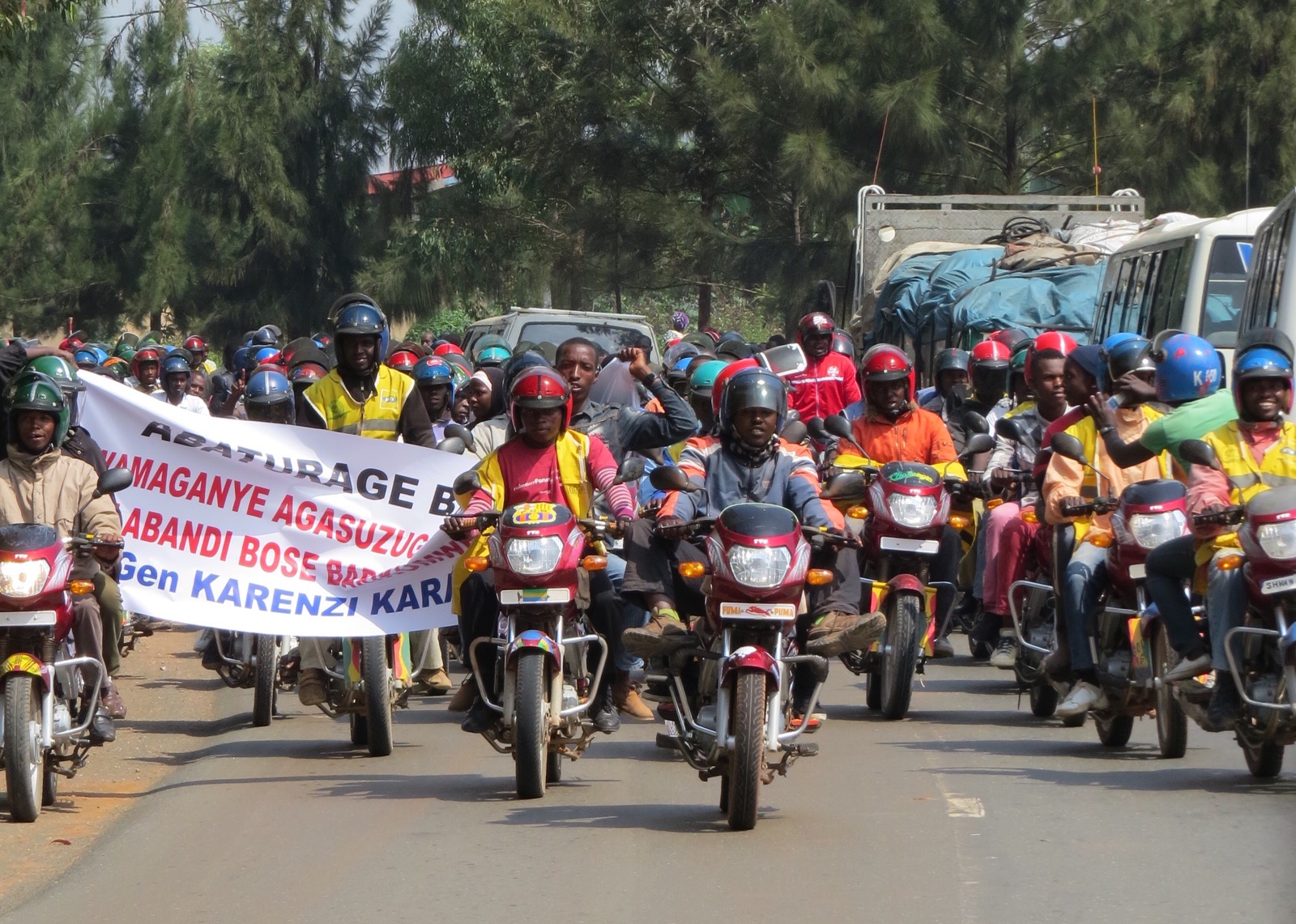 …and because (although the road is immaculate and without speed bumps) it's very undulating and twists like a roller coaster ride most of the way.
Once again though, the place is spotlessly clean and the countryside is beautiful. In places, perhaps because of the clay tiled roofs on many of the mud-brick buildings, you could be in the Midi-Pyrenees of South of France – I guess because of the French / Belgian influence again.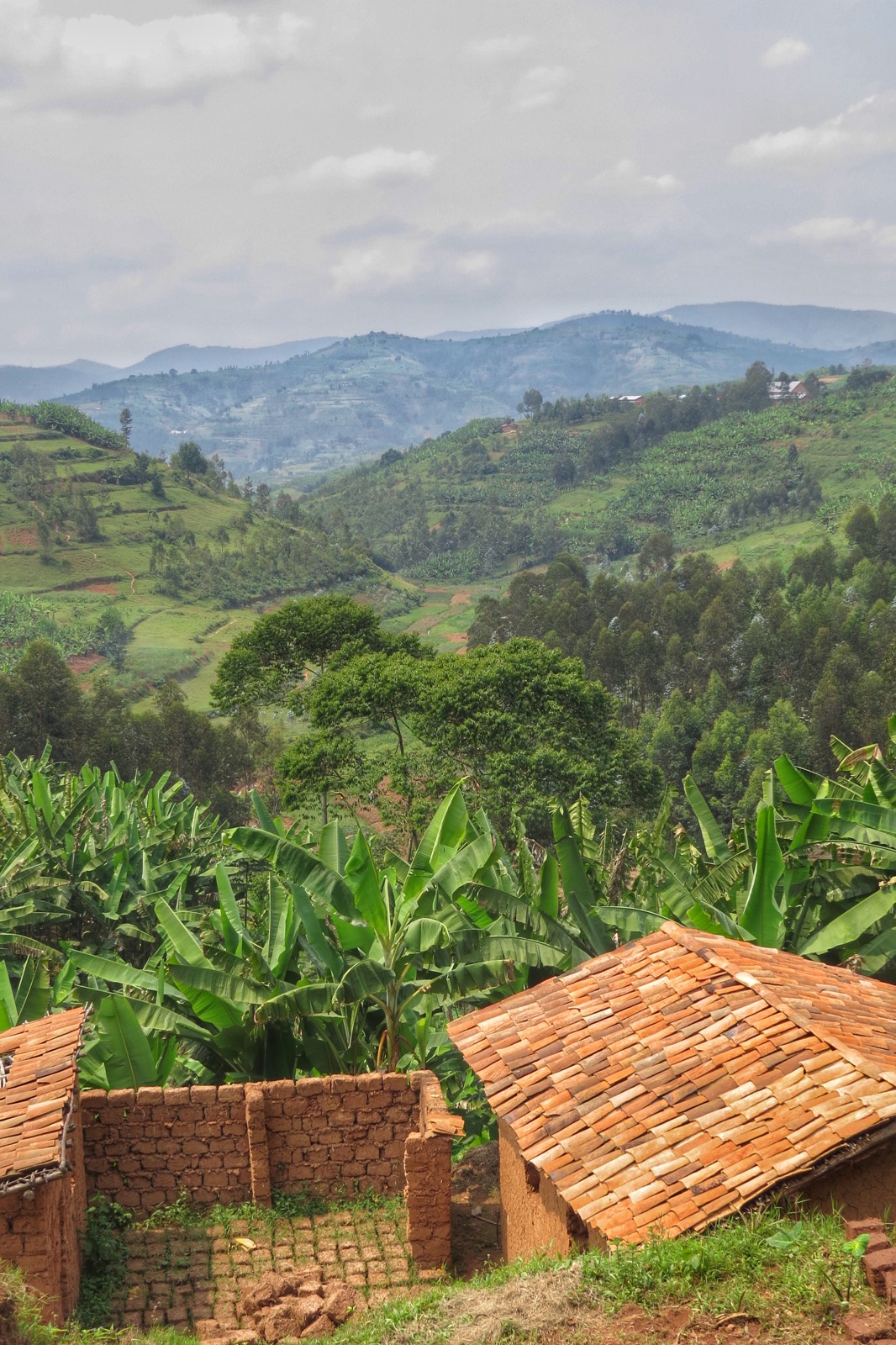 When we arrived at Kibuye we headed for the hotel Bethanie, where pals of ours Paul & Ellen (who we've met up with a couple of times on the road) camped some months ago. It's a pretty flash setup by African standards and in a beautiful location.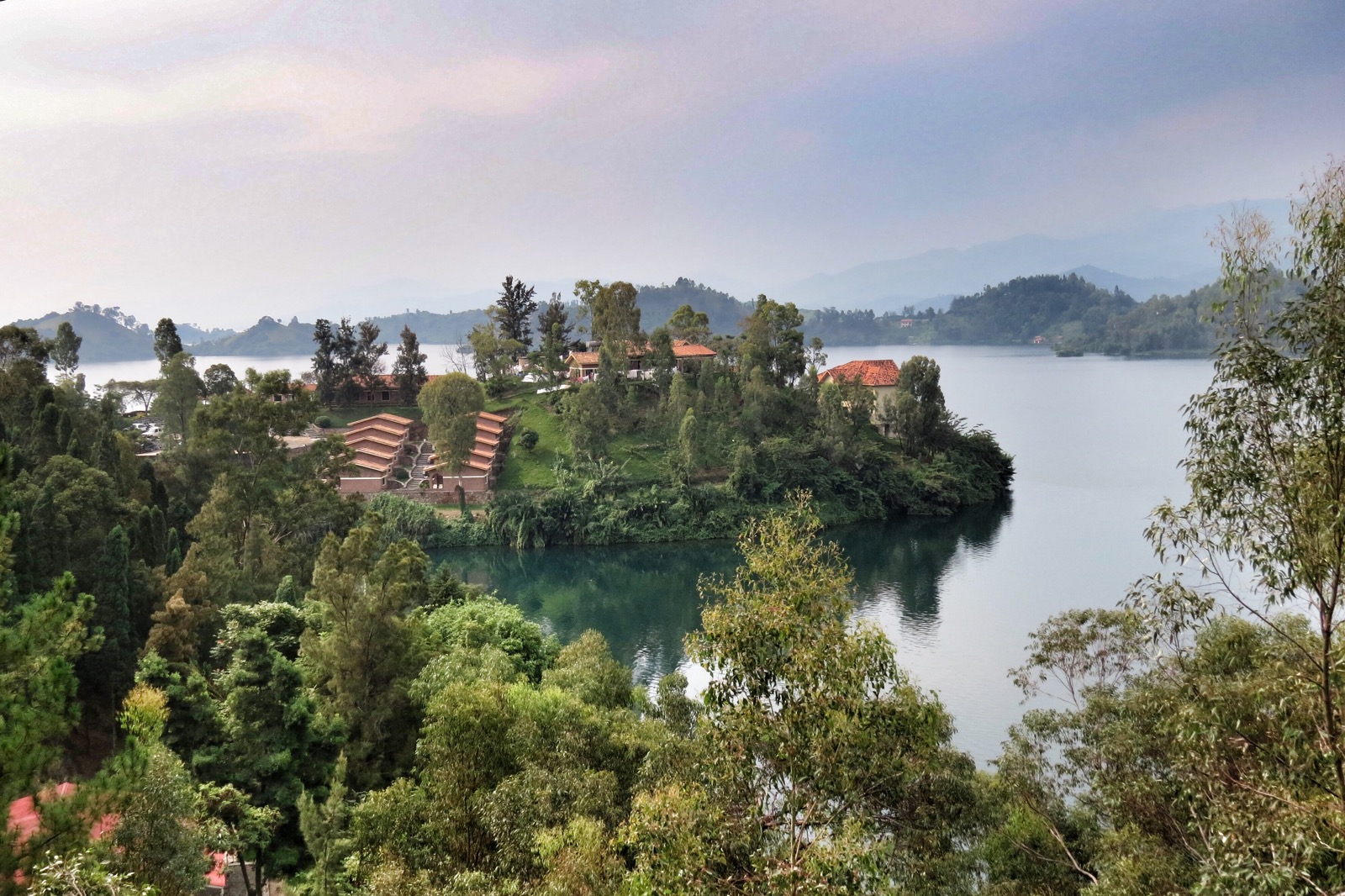 Unfortunately, we weren't able to camp as they were re-laying the grassy lakeshore area they normally allow camping on, but didn't want it destroyed by some lump of a diesel-leaking, rusty Land Rover. We looked around at the only other place that offered camping (Holiday Hotel) but they wanted $20 each per night, PLUS and extra $10 if we wanted a shower! Nowhere near as nice as Hotel Bethanie's location and, since Bethanie's simpler rooms there were only $24 per night (including an en-suite shower AND breakfast buffet!) we checked in for 3 days.
Our first hot showers for 2 months, a great setting, friendly people, good food and good bar service. It doesn't get much better.
Here hilly fingers of land reach out into the sea-green waters of the lake before plunging dramatically into the water. Not much to do all day (other than a couple of boat trips on Lake Kivu) but sitting around watching the world go by sounded good to me.
View from The Penthouse…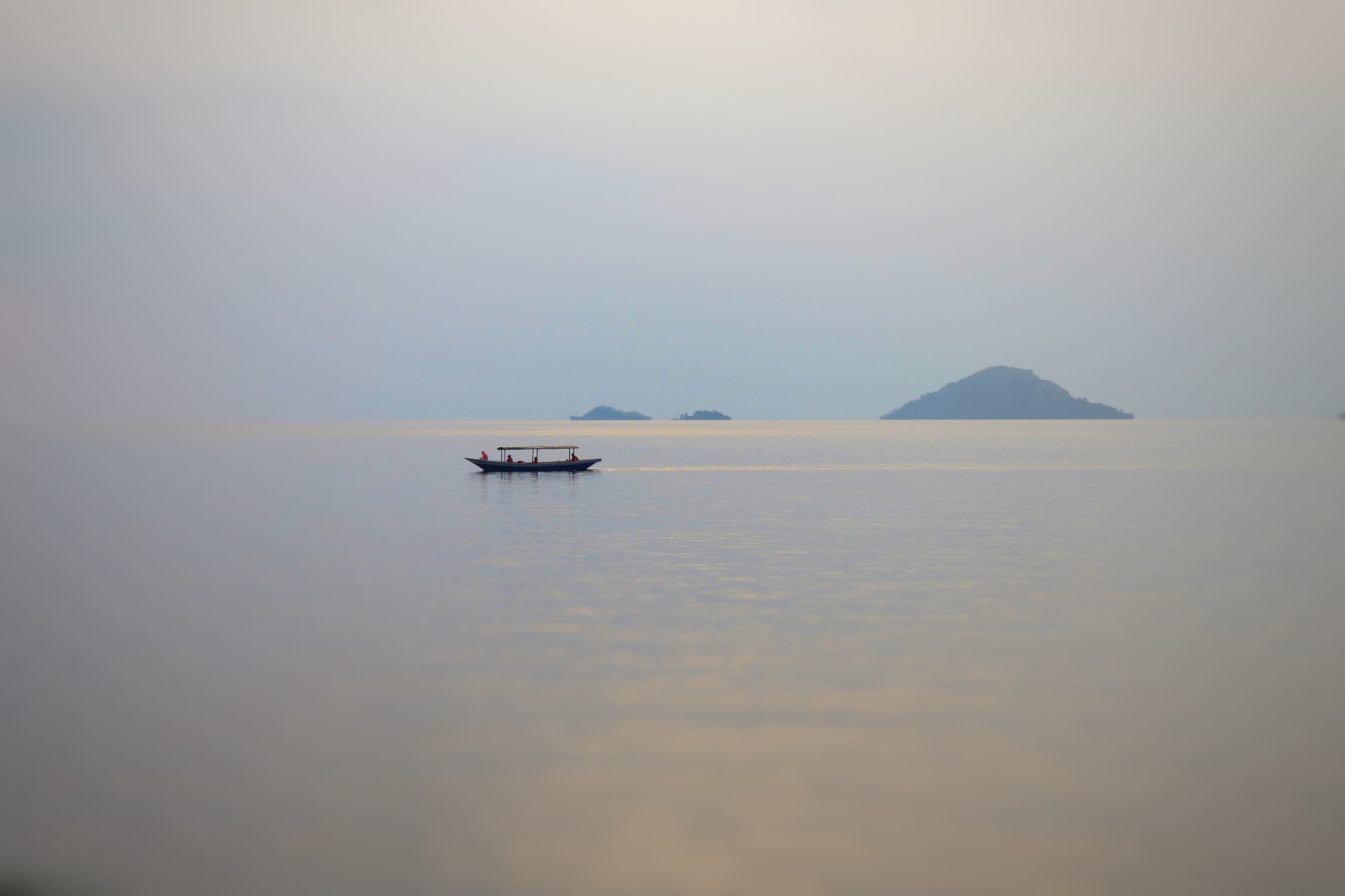 As you would expect, the fish in the restaurant was excellent. Favourite of all was the local equivalent of whitebait – straight out of the lake, around $1 a plate.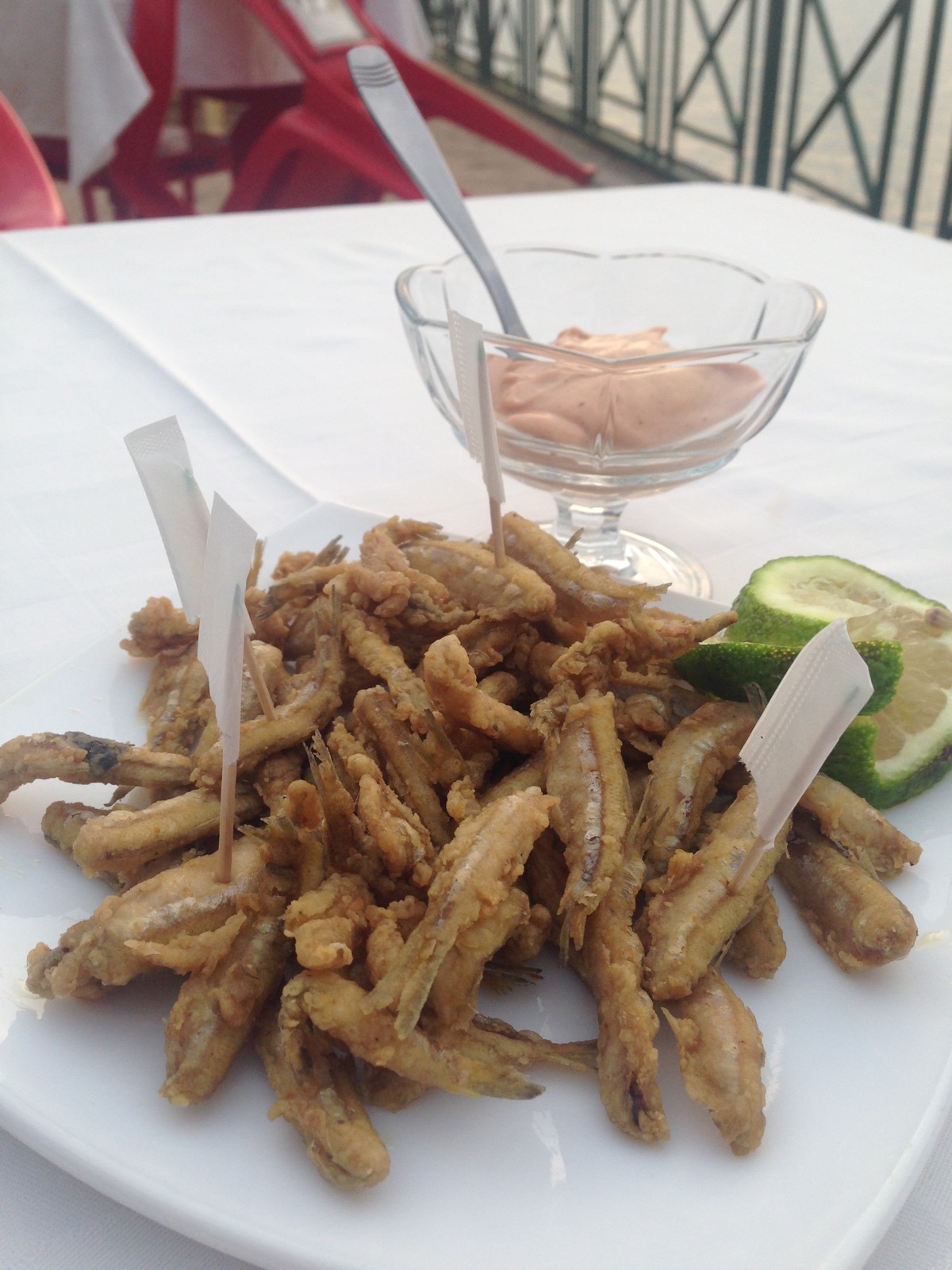 Other than that, not a lot to report for a few days. We sat around and watched a family of Clawless Congo Otters playing in the beautiful water outside our room…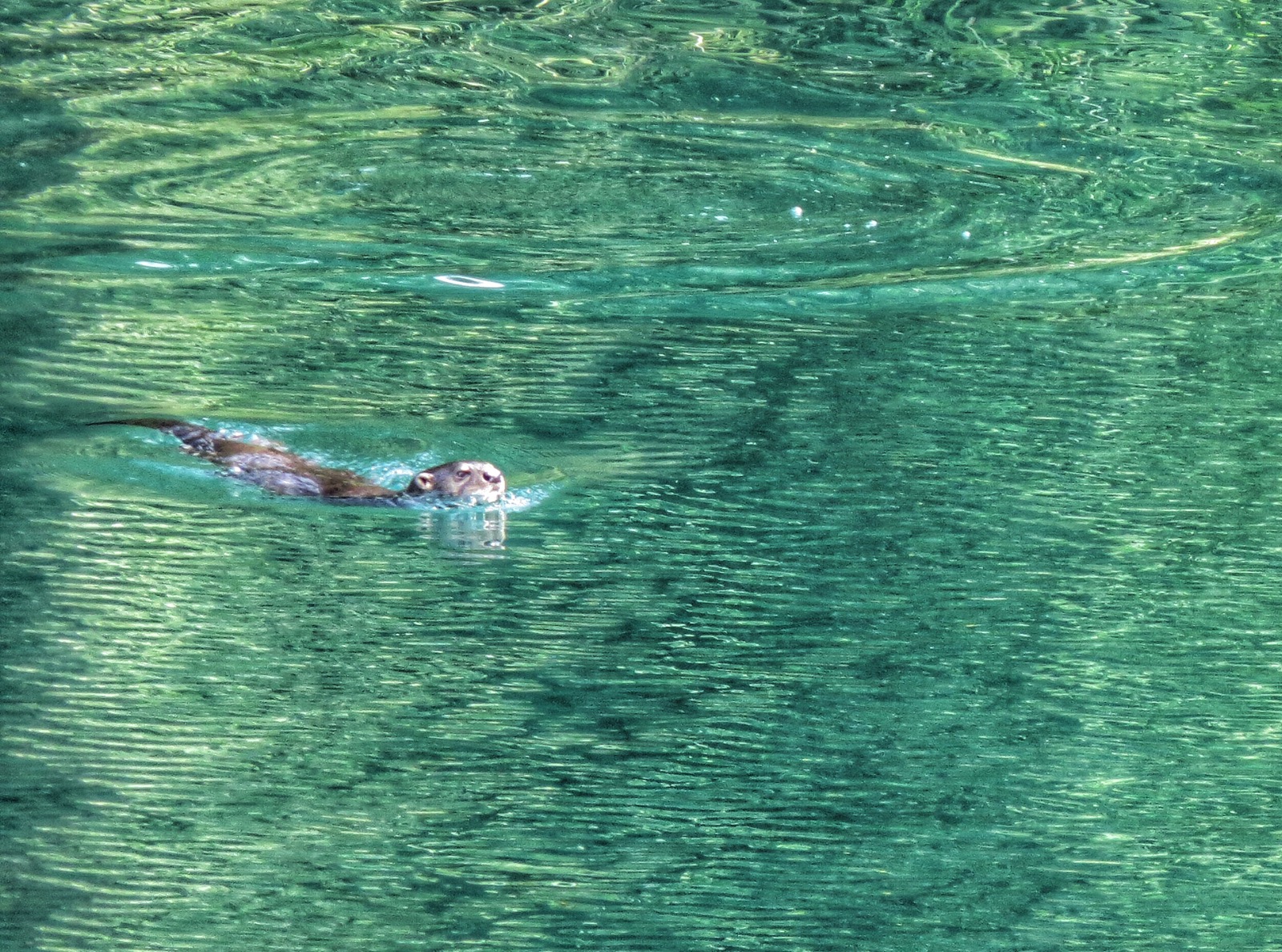 …waved at the fishermen as they went past…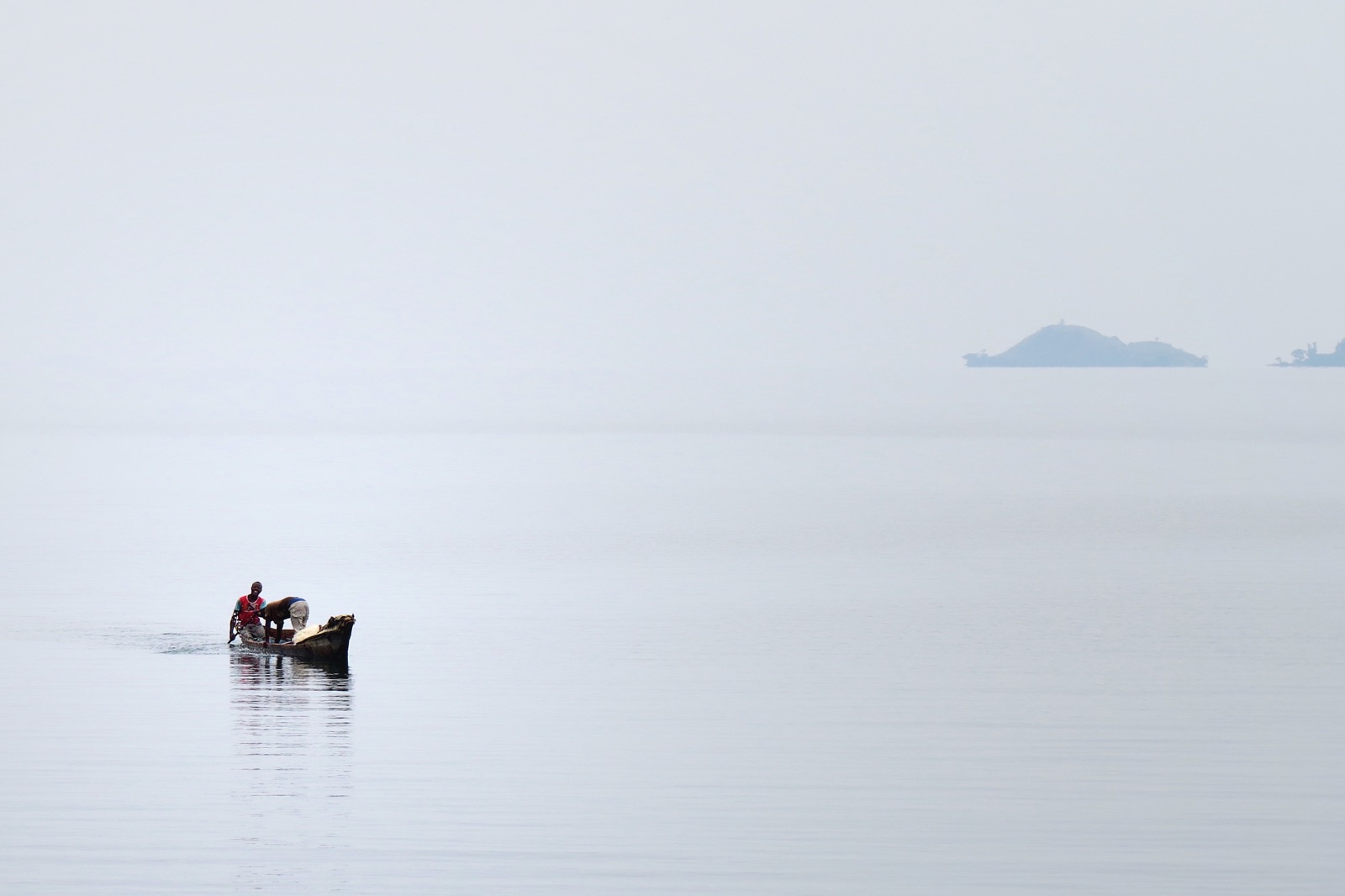 … and actually saw more Crested Cranes in Rwanda than we had throughout the whole of our 5 months in Uganda (where they are the national bird and are the centre of the Ugandan flag).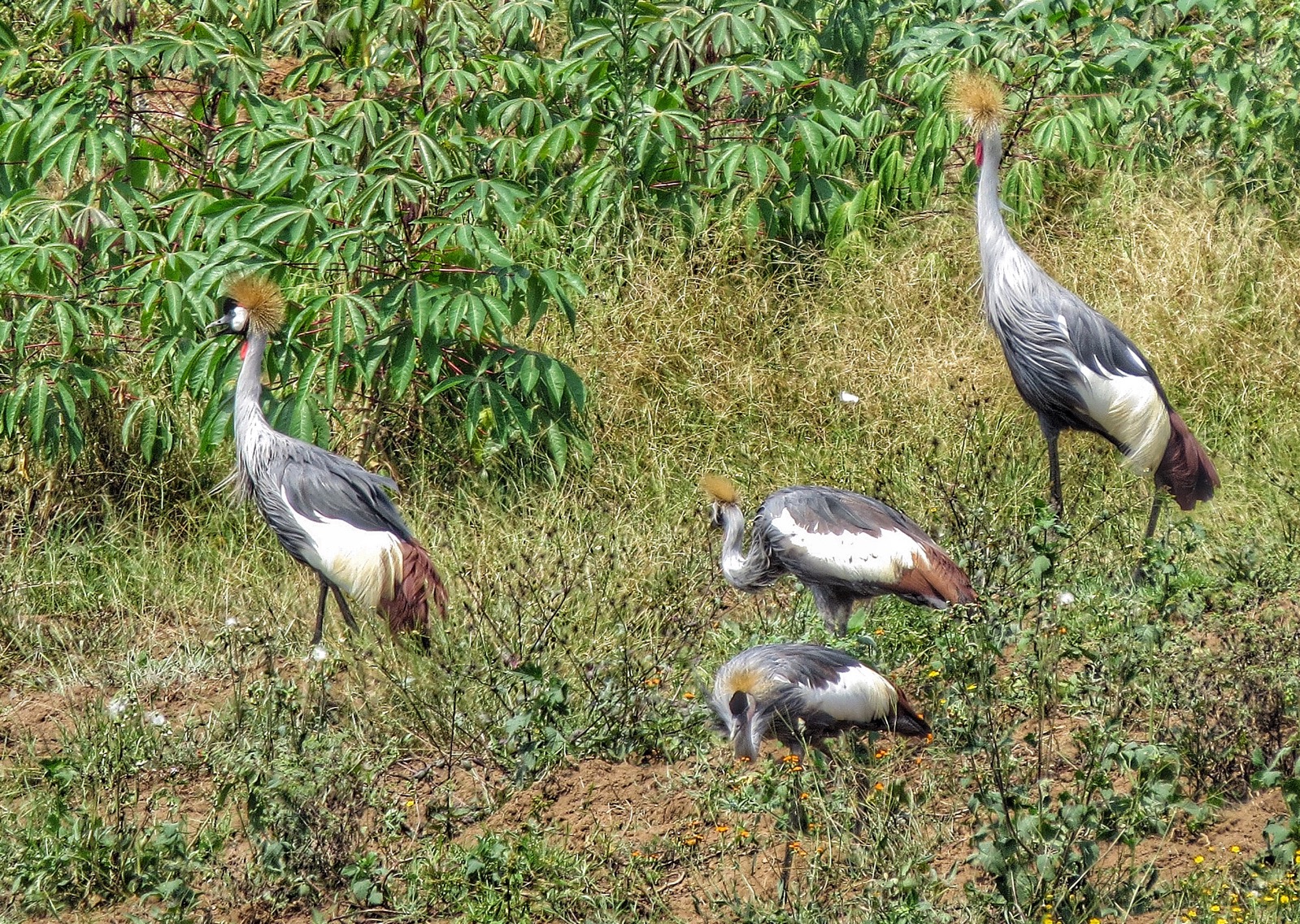 There are few dangers in the water here. Interestingly though, Lake Kivu has an odd history: the lake is part of The Albertine Rift Valley system, running North / South connecting Lake George, and Lake Tanganyika. It's one of only 3 known 'exploding lakes'. This rare type of natural disaster is caused by CO2 gas escaping from the lake bed (known as a Limnic Eruption) and rising to the surface. It doesn't happen often, but in 1984 the cloud surfaced and suffocated 37 people (a similar event in Cameroon in 1986 released over 80 million cubic metres of CO2 and killed over 1,700 people).
Suitably chilled from 3 days of doing nothing, we headed back to Kigali. We've developed a small leak from the seal on the power-steering box, but nothing much we can do about that out here. It just needs watching and topping up. The rattle from somewhere in the drivetrain is driving me nuts though. I've had all the bolts checked 3 times since having the chassis replaced and no one can find anything. It's odd, and only happens when backing off the revs in 3rd or 4th gear at speeds of over 40mph (60kph) – not that that happens much anyway.
Still, everything else seemed in order and the ride back was uneventful.
Our last day in Kigali we went to the Genocide Memorial Museum. Having read something about the tragedy (and vividly remembering the news coverage – broadcast only after the event!) I thought I knew what to expect.
What I didn't expect was such a graceful, thoughtful, straightforward, explanation of the situation that allowed such an appalling 3-month period to occur. The Museum is an outstanding, modern, succinct presentation of the events that took place in Rwanda only 20 years ago. It was an absolute catastrophe – in a period of only 100 days, over 800,000 people were killed. Not just murdered – slaughtered.
When we think of the term Genocide we think of some lunatic mobilising an army and using them to mass-murder some supposedly 'offending' part of his community. To some extent that's what happened here – except that this was hand-to-hand butchery with machetes, knives and nailed-clubs: carried out by neighbour upon neighbour, husband upon wife, adult upon child, priest upon congregation. Almost all of those killed (men, women, children & babies) were abused, tortured or humiliated prior to dying. Many of those not hacked to death were either attacked then set alight in crowded churches or thrown in their dozens into long-drop latrines and left to drown / starve / trample each other to death.
The story and exhibits the museum uses are somber, sober and very moving – passionate without being sensationalist: but dispassionately telling the story without making political statements. Many recently-filmed video testimonies are played of survivors telling their stories.
This was one 'tribe' against another (following decades of inter-marrying) and wiped out 12-15% of the population in 100 days! The world stood by and did nothing. In particular the United Nations (with the exception of some troops on the ground who demanded help and got none). It's probably not something that every tourist will visit (there are 250,000 bodies buried there in an area of only 3 acres) but it is something that I would wholeheartedly recommend.
Today Rwanda is a peaceful place (with the exception of the demonstrations against Karake's arrest in London – he is the head of Rwandan Security and was instrumental amongst the RPF when they came back to Rwanda in 1994 to stop the massacres).
The huge amount of aid that has poured into Rwanda over the last 15 years seems to have been used wisely. People are relatively prosperous by African standards, the infrastructure is excellent, their is little crime and the sense of community is highly visible – we arrived back in Kigali on the last Saturday of the month and throughout the 120km drive communities were out in their thousands on the streets, singing and chatting as they cleared paths, removed litter, cleared ditches, repaired walls, etc. It's the law: last Saturday of the month is a mandatory community day.
People here no longer describe themselves as Hutu or Tutsi (the two main tribes involved). They describe themselves as Rwandans. They are friendly, but reserved people. Sober, but laugh readily when engaged. Well educated and well mannered. It is the warmth, forgiveness and resilience of those who survived the massacres that best defines Rwanda.
It's hard to imagine that everyone over 20 years old you meet in the streets of the city or the villages lived through this event. It's even more amazing that they realise it for what it was and live together in the peaceful harmony that they do – as one people and one nation.
We were sorry to leave but, as I write this we're stuck on the shores of Lake Victoria in northern Tanzania. The car's in a workshop up the road and the engine, unfortunately, is not in the car…