Despite the car's brake problems, the drive to Chitimba Camp had been beautiful. The hills and plateau we had driven through lie at around 1300m altitude and their breadth & depth allow the opportunity to see skies that look like they've been painted onto the roof of a chapel.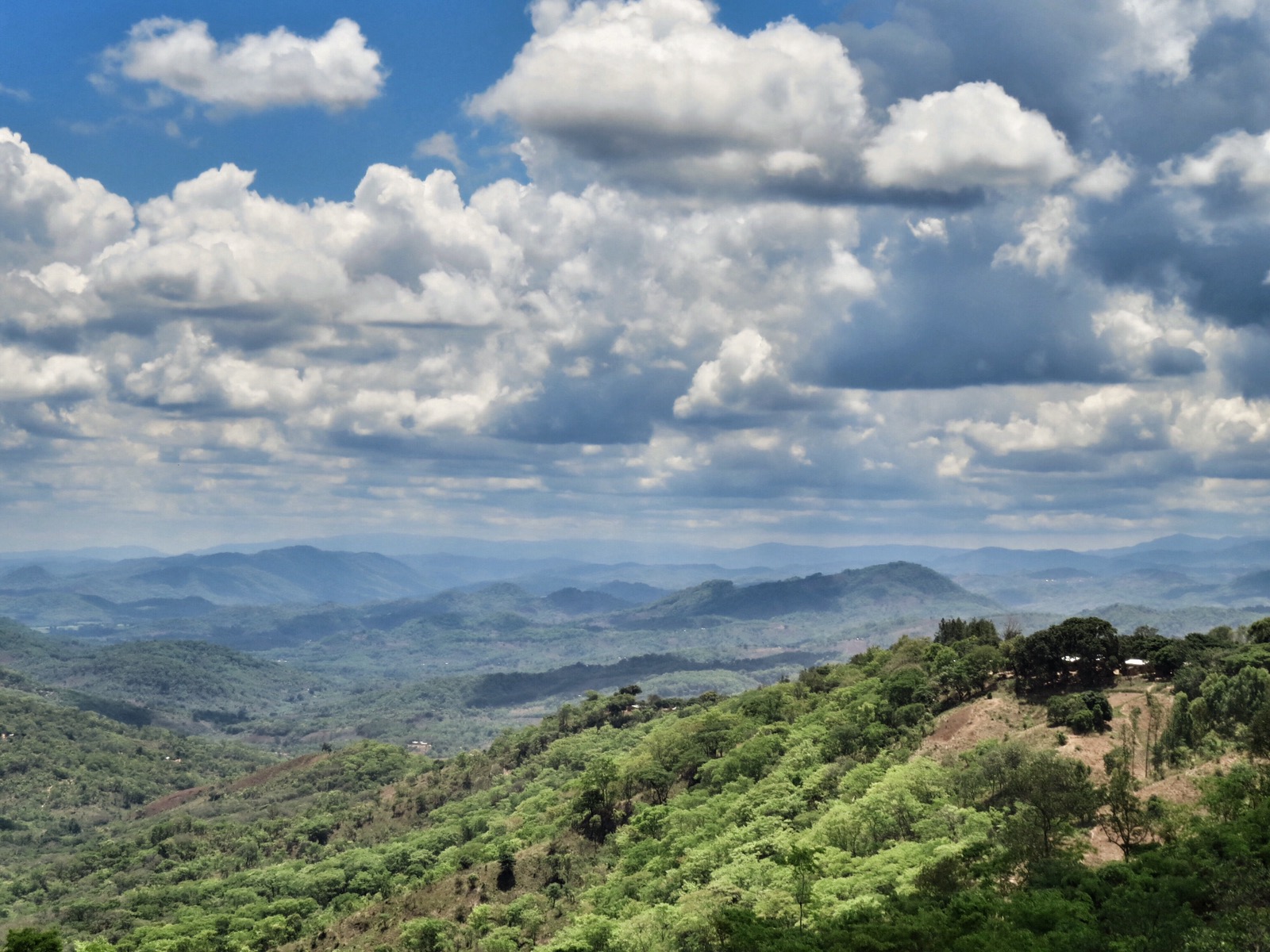 Despite the remoteness of the area and the sparse population, just about every conceivable acre of land that can be cultivated has been. Every square metre of it by hand, using a simple hoe.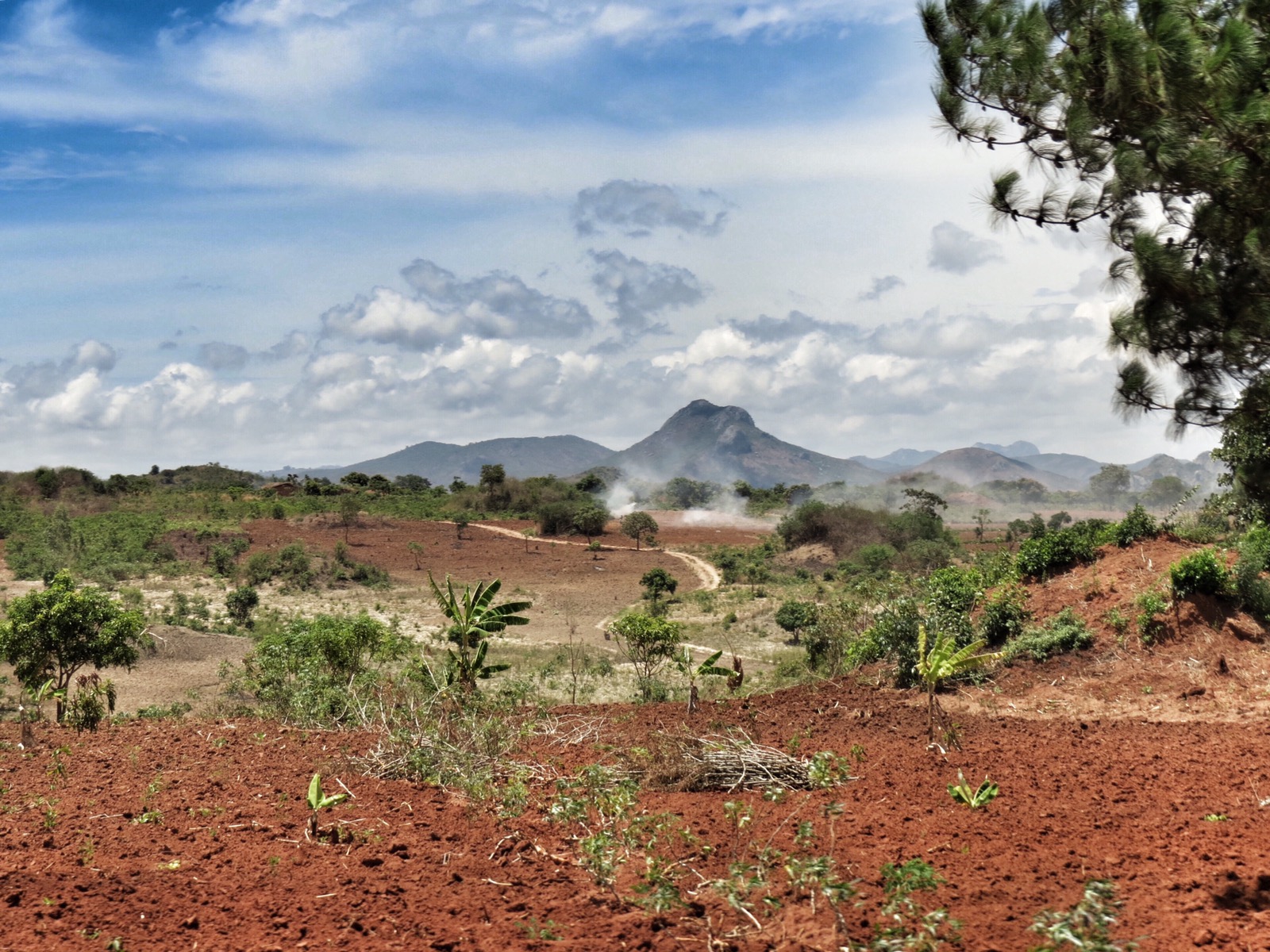 One thing about Africa though, even when you think there's no one around, you're invariably proved wrong. Even up here, someone's making some sort of a living running his own taxi-bike business.

First order of duty, once we'd settled in at Chitimba Camp (a few beers to relax after our downhill braking dramas) was to go through the 2 large bags of T-shirts and caps that we'd brought from the UK 3 months ago (thanks Luke) and some women's clothes donated to us by Caroline in Scotland.
There was enough for all of the 20+ staff to have at least one of everything. Some of the guys (security & maintenance staff) wanted the fancy rugby & football shirts. The guys in the bar / restaurant generally went for the designer-label T-shirts or baseball caps. Even the women wanted some of Charlotte's ski hats (they will swear blind they're freezing to death at certain times of the year when it can drop as low as 15-16 Centigrade overnight)!
In my opinion, Clement picked the singularly most inappropriate shirt.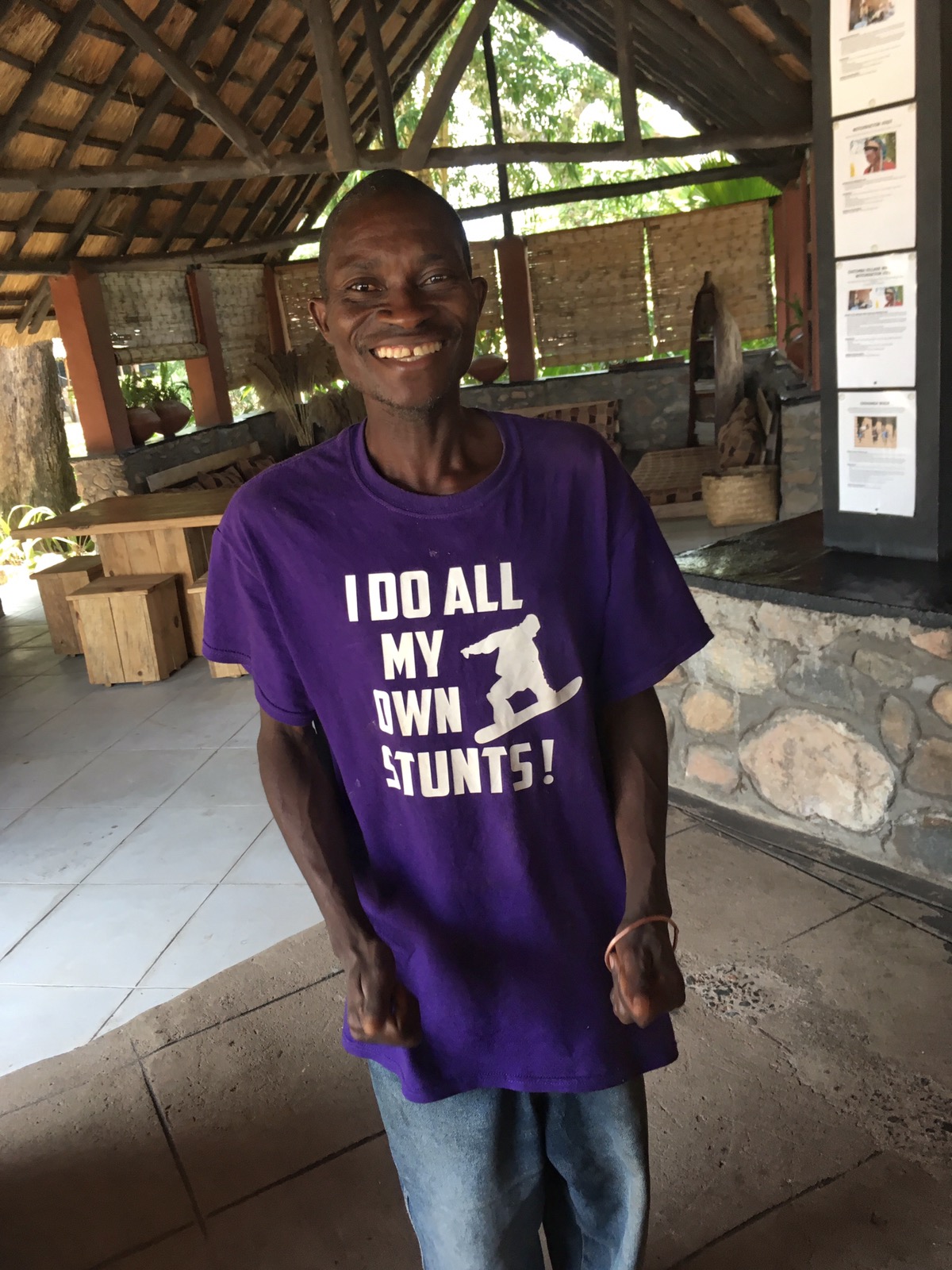 Bless him. Clement is one of the grounds-maintenance staff at Chitimba. Like all of the team he's very friendly and cheerful. He's mid 50's (I don't think anyone actually knows how old he is), about 1.4m tall, weighs no more than 50kg soaking wet and spends his whole day in the full glare of the sun raking the campsite and the beach. He's as strong as a python and as wiry as a pipe cleaner. The full extent of his English is "Morning Bwana, yah, yah," "Yeah Bwana, yah, yah," and "Tomorrow Bwana, yah, yah." Always with a smile, a laugh and a handshake for us at the start and end of each day (but never eye contact – unless there's a camera).
There's absolutely no doubt that Clement is one of the friendliest and most helpful people you could wish to meet, but he's definitely not all there.
And I doubt he even knows what a 'Stunt' is.
Top Tip: bring out as many spare t-shirts, hats, dresses (nothing short), skirts and socks as you can carry. You'd be stunned to find out what it means to people to get a gift like that.
Over the following few days, Helene slipped easily back into talking to the staff in the Tambuka language she picked up when we were last here. Every day starts with a formal but friendly greeting from each of the staff, and laughter as they get their head around the fact that she can hold a reasonably civil conversation with them – but that I can't even remember 'good morning'.
Actually, this is pretty much the case wherever we go. Helene has got the basics in Tonga, Lozi, Tambuka, Nyanja, Chichewa, Swahili, Ndebele and a couple of others I won't even attempt to spell. Once the locals' shock at hearing a mzungu even try to speak their local (general tribal) language subsides, the ice is broken and the laughing / giggling starts. Idiot that I am, I usually have to stick to a handshake, salute or boring 'good morning' in English while she rattles on.
Armed with even more Tambuka that Chitimba housekeepers Ruth & Rose taught her, she headed off to the 2nd biggest event of the week in the village – the Wednesday market. Not the best day out I've had in Africa: 3 tarpaulins heaped high with 'previously owned' flip flops; half a dozen sacks on the floor carrying a display of tomatoes, cabbages, and onions, a trestle table (highly professional entrepreneur) covered in thin plastic basins & buckets, 3-4 guys selling dried fish (a particularly evocative smell) and 2 or 3 groups of women selling clothes and cloth that they'd strung up on washing lines.
Still, Helene needed a Chitenge (traditional wrap that all the women wear when working, to protect their clothes) since we had a briquette-making demonstration set up with a woman's group the following week. Really good quality cloth, screen printed, 1.2m wide by 2m long for 3,000 Kwacha ($3.50). Bargain.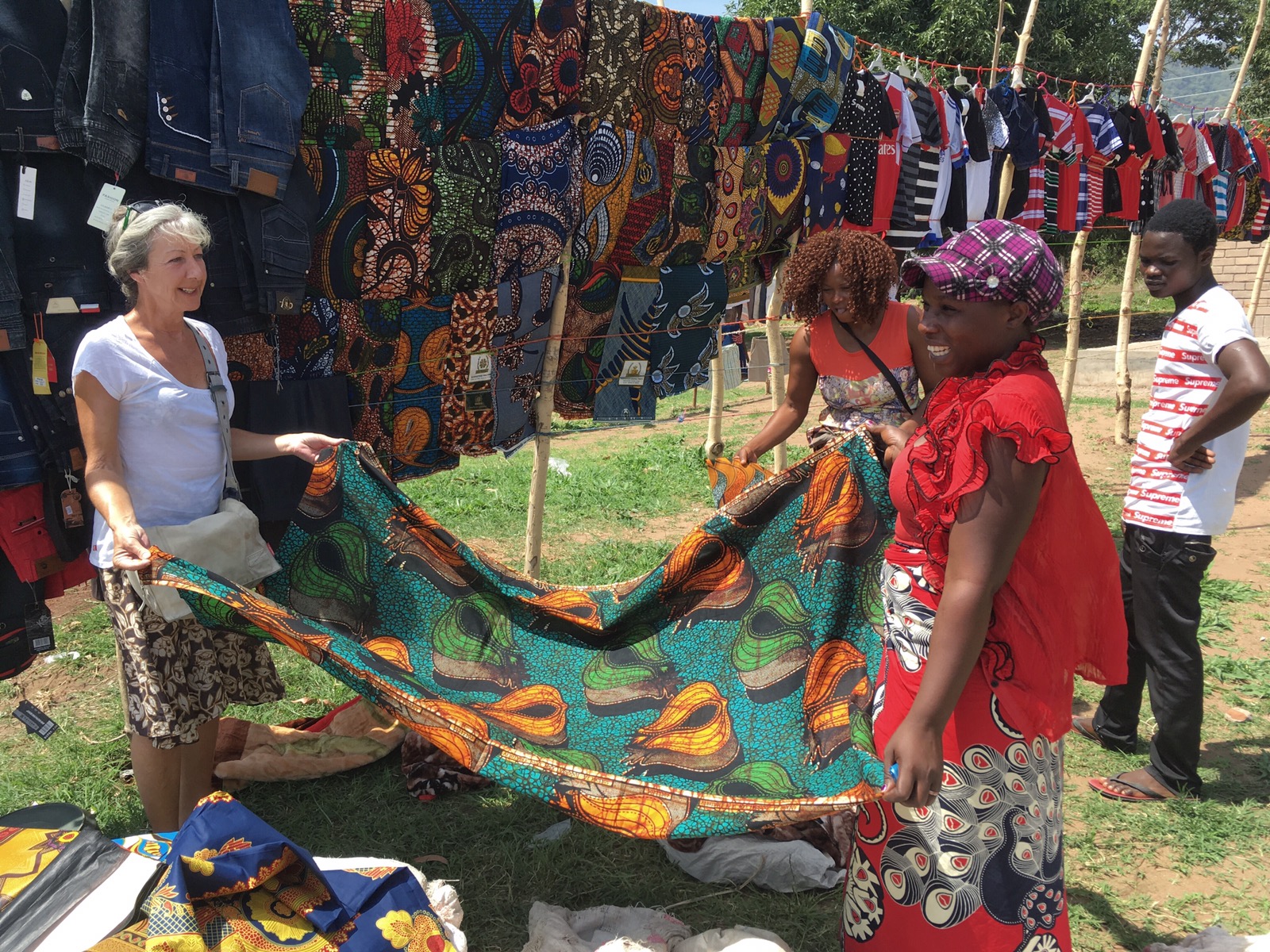 It's been 39-40 Centigrade in the shade for a week or so, and the temperature rarely drops below 23-25 degrees overnight. Fortunately Ed & Carmen gave us one of the rooms to use at camp. Comfortable though the rooftent is, it doesn't have an en-suite shower and an electric fan. I'd be misleading you if I said I hesitated for more than a fraction of second before accepting their kind offer.
At this time of year the camp is often quiet (theoretically rainy season) although some days 30-40 people can show up. When it's quiet it is like a slice of paradise. Ed's building programme is coming on leaps and bounds with new lounge areas, shower blocks and en-suite chalets. The whole bar is also being re-thatched and that should be complete before the end of January. The place is looking great.


Within only a few days, Christmas was upon us. Fortunately that was quiet so we got to enjoy a quiet meal with Ed & Carmen and a British woman called Jo who's been living in a hut along the beach for a few weeks and we invited to join us. Not a particularly traditional Christmas dinner, but a feast nevertheless – filet steak, pork chops, sausages, dauphinois potatoes and fresh green beans followed by home made steamed lemon, macadamia nut and apple pudding with fresh lemon curd (lemons from the tree in camp).
That's why I'm sweating like a pig at the table.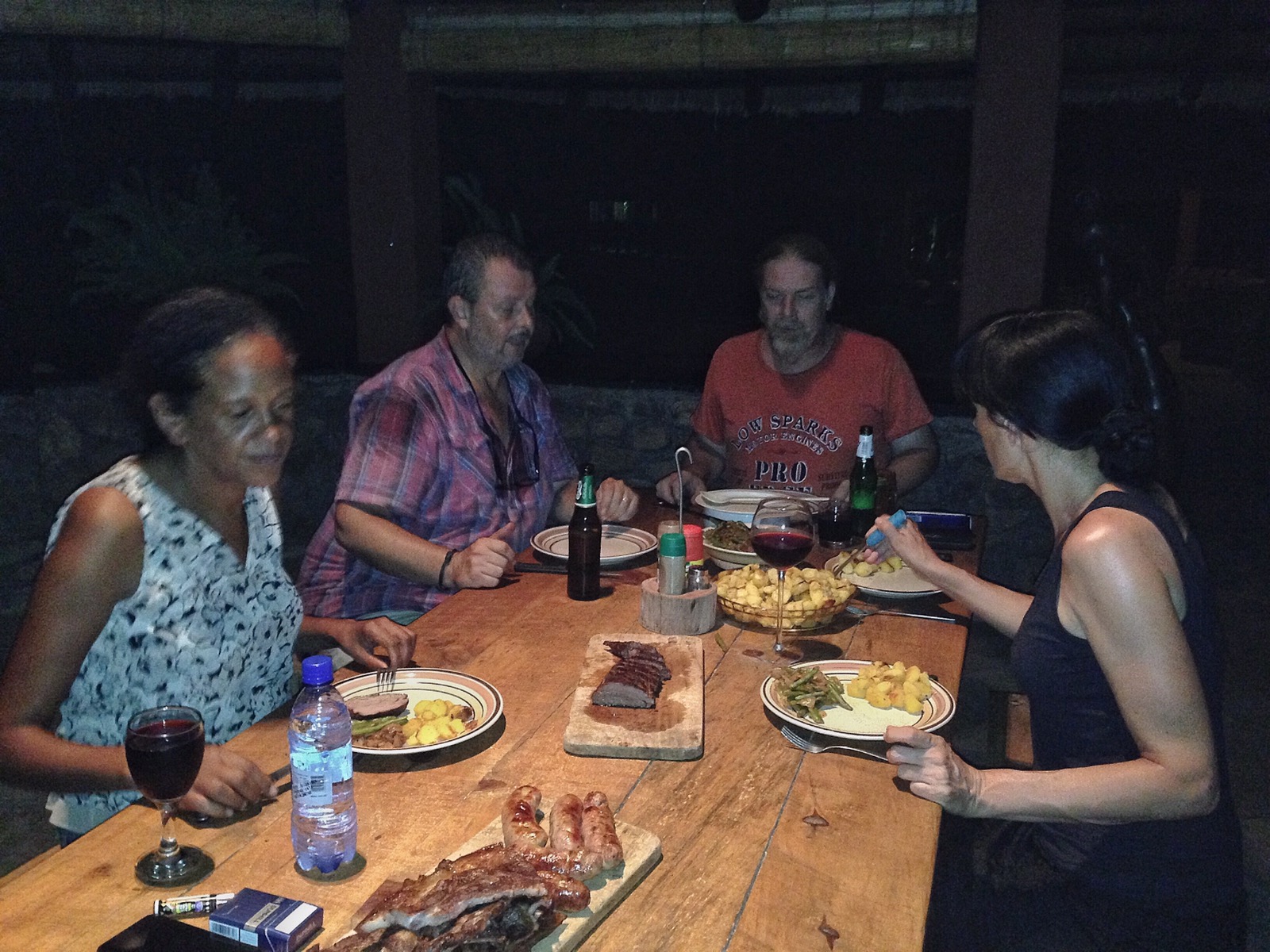 A few days later, we heard a shout as we were walking back from the village. Jo was in her 'workshop' and called us over to see what she had been doing. She was previously a passenger on one of the tour trucks (meat wagons) pounding up and down the east coast of Africa. Then she jumped ship (truck?) in Egypt, flew back to Malawi, got a bus to Chitimba, rented a mud / grass hut on the beach and (after having a woodcarving lesson at Chitimba when she first passed through) made arrangements with a local carpenter for him to teach her how to make furniture.
She turned up alone 3 weeks ago and set it all up herself. Pretty brave. She is about 1/3 of the way through her lessons and has already made a couple of the legs for her first coffee table. Not bad considering there are only 4 hand tools in the workshop (and one of those is a pencil).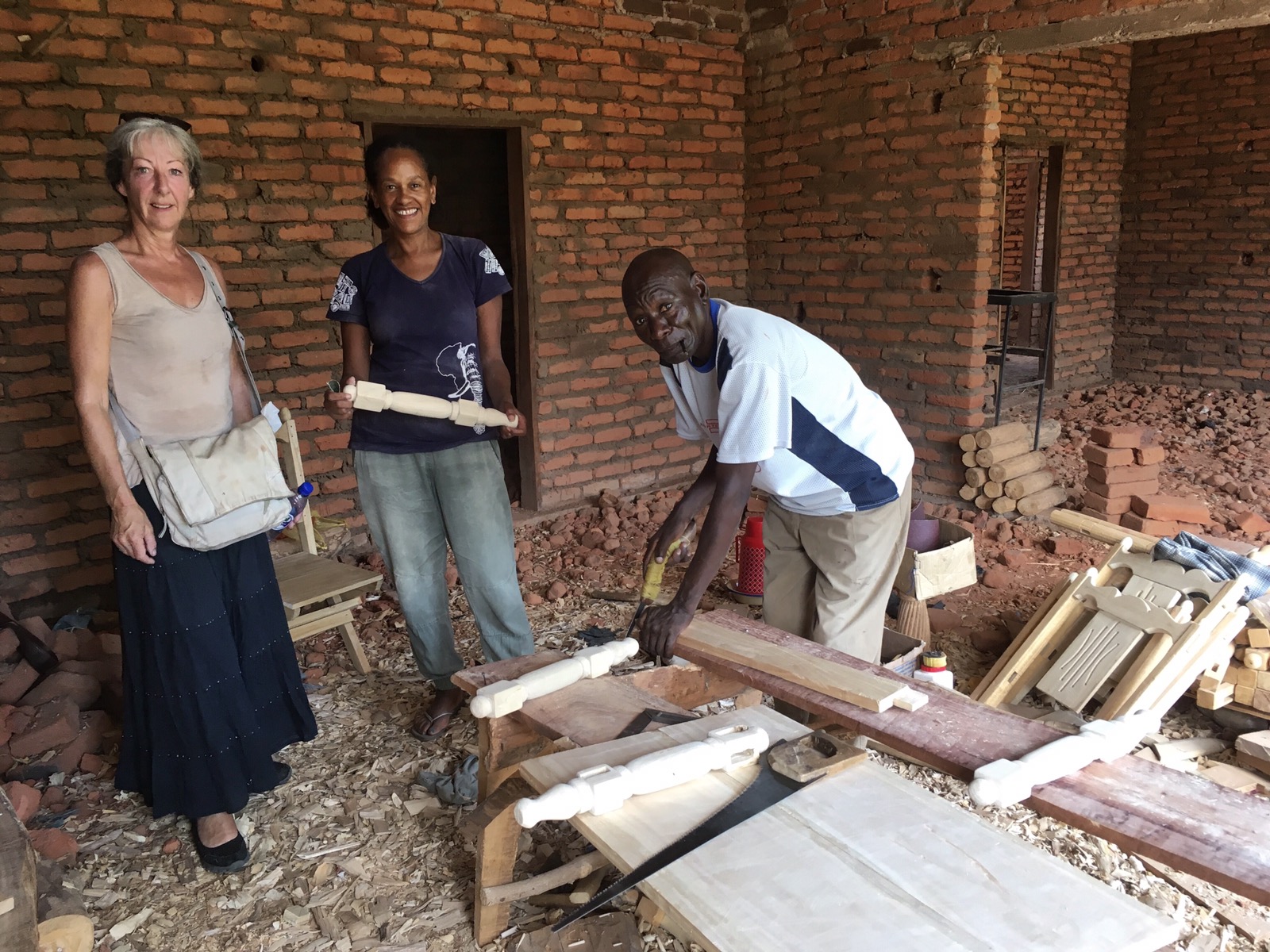 While Jo was busy whittling, Helene & I lent a hand to help Ed get the chalets and new ablutions finished. Nothing too technical, painting, oiling, cleaning, varnishing but no one de-snags a building job like Helene and besides you can't just lie around in the sun all day.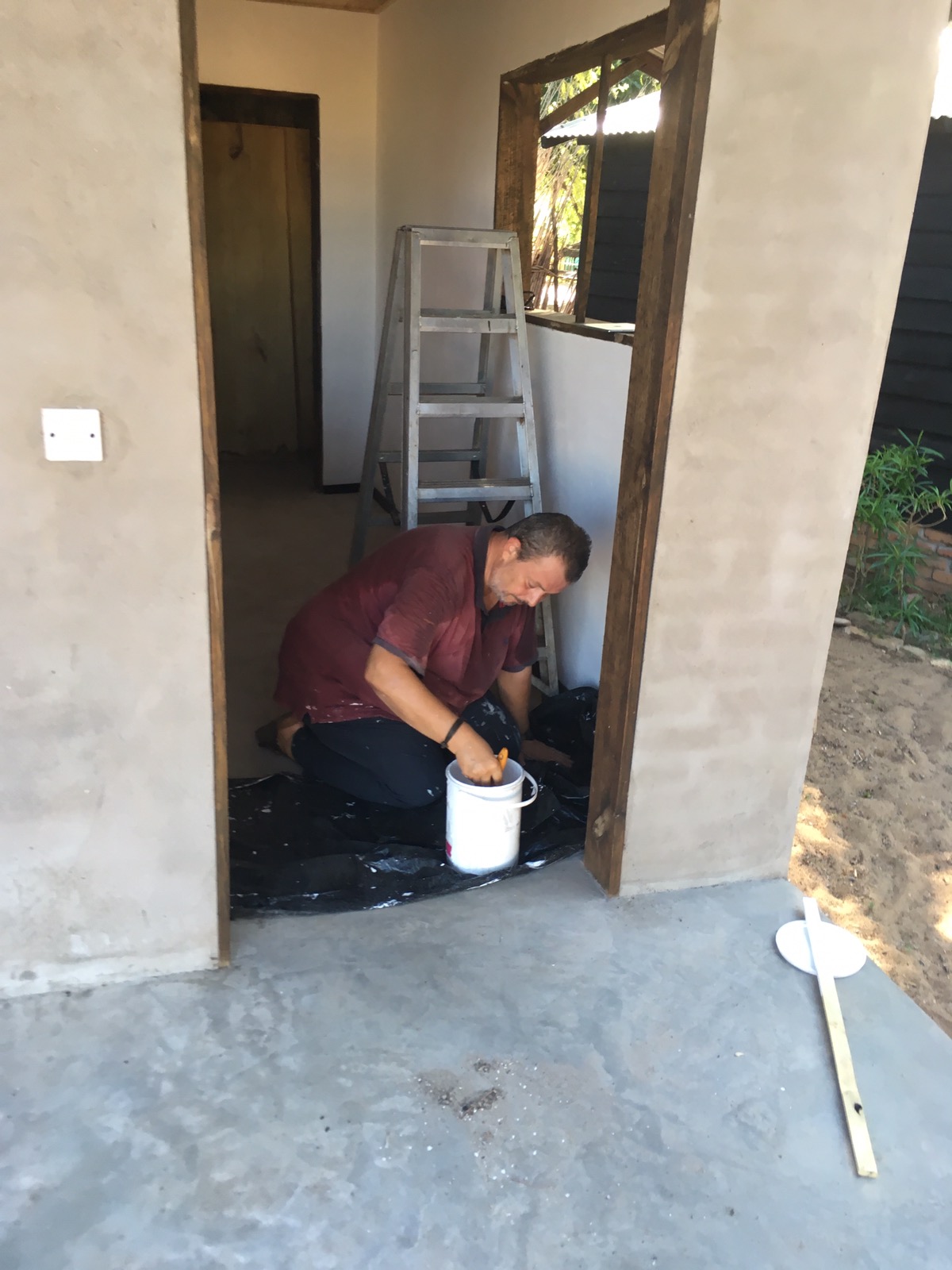 Slowly, the weather is starting to change. We've had a couple of cracking thunderstorms, tremendous lightening storms that last for hours (one of which blew up our phone charger and the electric fan) and the humidity is rising. Given the mountain and lake landscape though, there's usually a bit of warning that it's coming and the skies themselves tell the story of what to expect.
View From The Penthouse: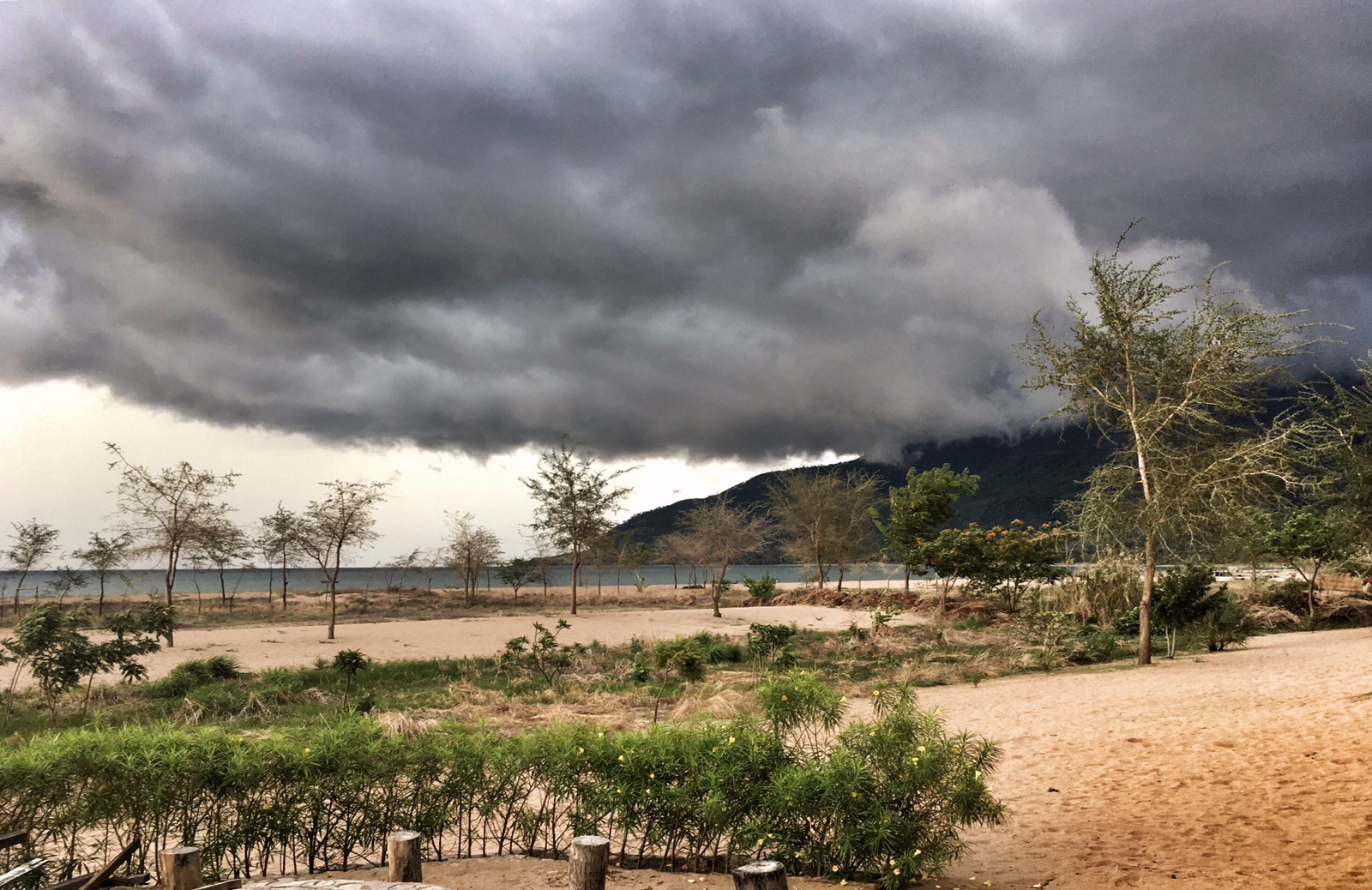 Once the sky clears though, there's no place like it.