We left Kruger by the Phalaborwa gate and headed west.
It was strange to be on main roads again. Despite them being quiet, for the first couple of hours the speed was almost un-nerving (55mph / 80kph!!). Driving through villages and small towns felt really claustrophobic after Kruger and it took us at least 2 days to stop instinctively searching the trees for leopards and the bushes for elephants.
We took mostly main roads west via Tzaneen (like a sub-tropical western Scotland) and Polokwane (a large sprawling city that saw a lot of redevelopment for the 2010 World Cup).
Since we'd heard so much bad press about money-changers at the borders we decided to get some Botswana Pula at one of the many banks in Polokwane. It took us at least an hour to find a bank that had Forex facilities – and 2 more hours to get some money out of them.
Once they'd got my passport behind the counter I got the full 'Spanish Inquisition' interrogation:
…Where was I going?
…Why?
…When was I leaving S Africa?
…Which border crossing was I going to use?
…Did I realise it would be an offence to give the currency to any other person planning to cross the border?
…Why did I need the money?
…Why did I not have an address in S Africa?
Etc.
All answers (and many more) were filled in on a form which I had to sign and attach to a copy of my passport. It then took another 30 minutes for the clerk to type all of my answers from the form into the computer, print out three copies of the computer form and have me sign each one for their records.
Finally, I was asked how much currency I wanted. I said a couple of hundred dollars in Pula and a couple of hundred of Zambian currency (might as well get it now rather than go through all this again).
"Not a chance" the clerk said. "I'm afraid we don't have any Zambian and I only have 680 Pula."
"OK, I'll take it all. How much is that?"
"That will be $70 sir"
Three hours searching & questioning – for $70!
Comical.
Oh well – he who laughs lasts.
Two days later we had passed through Mokopane & Baltimore, and were staying at The Big Fig campsite, still in S Africa, 10km east of the Botswana border at Grobblersbrug (Grobbler's Bridge). Another nice campsite, grassy, shady, very well appointed shower block, Lapa brai-pit, nice restaurant for breakfast and very friendly people.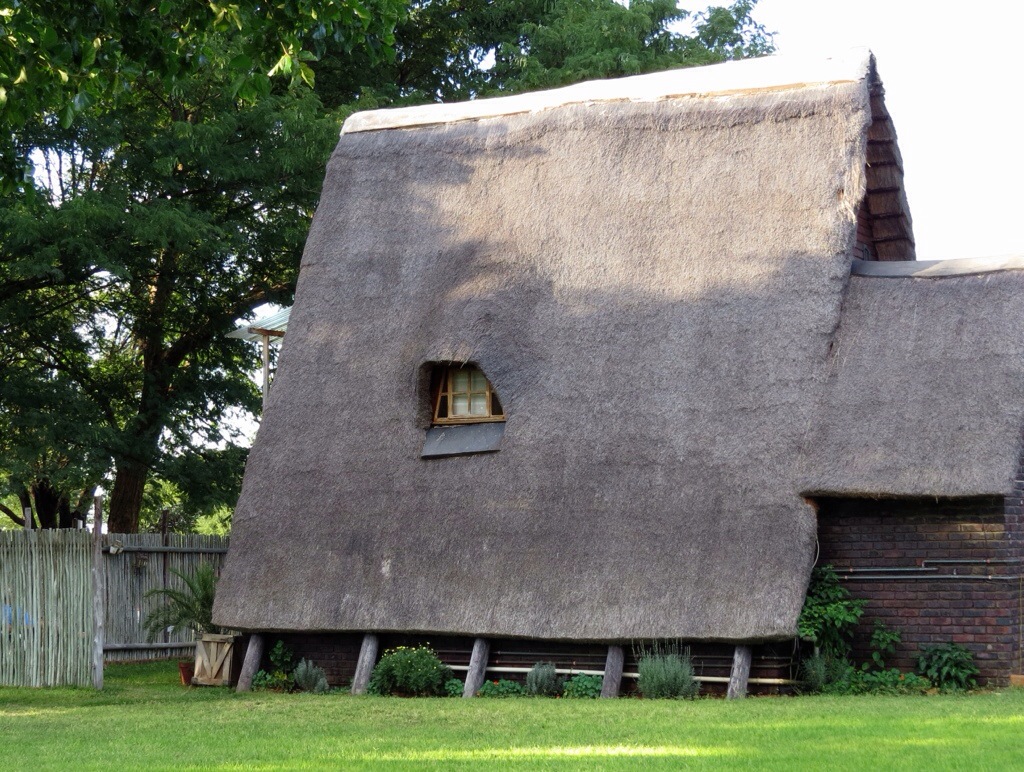 The only downside was that due to harvesting, the farm next door was packing tomatoes from mid morning 'till about 8pm.
Our previous Safari Tinnitus was replaced by 'doink-chi-chitty-tea-buuump-cheeee…..doink-chi-chitty-tea-buuump-cheeee…..doink-chi-chitty-tea-buuump-cheeee' to the point where it almost became subliminal.
We were planning to stay 4 days or so at The Big Fig. Mainly to eat up all the meat in the fridge. I'd foolishly stocked up big-time earlier – forgetting that all the guide books / blogs / travellers we meet warn that there are Veterinary Fences at the Botswana border and throughout the country. These are ostensibly to protect Botswana farmers by preventing the spread of livestock disease. They're commonly believed to be a way of feeding the border-crossing staff families though, since cars are searched and any meat or dairy products are confiscated (and supposedly destroyed).
So, for 3 days we ate fillet steak (2kg for £12 / $18), fresh chicken (1kg for £3 / $5), Texan Rib-eye steaks (1kg for £5 / $8). Eventually we couldn't eat any more and didn't really want to wait any longer. So I packed up a bag of fillet steak, rib-eye, ostrich burgers, pork sausages and chicken and gave it to the staff at the camp-site. I'd rather see it go to someone who'd appreciate it, rather than the border staff who undoubtedly either eat it or sell it after it's confiscated.
Steeling ourselves for the 'African' border-crossing hassle we arrived at Grobblers Bridge (the South African side at 8.40am). After getting our passports exit-stamped, visas checked, customs document stamped we drove to the Limpopo river Botswana side, Martin's Drift. Through the nicely air-conditioned offices, we got our documents stamped by the police, payed the cashier 250 Pula (£18 / $28) for 6 month's road tax and our Entry Permit (no visas necessary for EU citizens) and were back on the road by 9.30am.
In and out in 50 minutes.
Simples…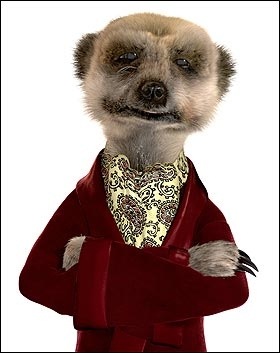 No Veterinary searches, or confiscated meat. Just waved through.
AAARGH!
Just to rub salt into the wound, I also went to one of the official money-changers and converted all my S African Rand to Pula: at a much better rate than in the town banks – and it took only 6 minutes!
Double AAARGH!
Oh well, to chear myself up I filled the tanks to the brim with cheap Botswana diesel P9.80 per litre (£0.65 / $1).
That was going to come back and haunt me too.
I'd tried to get the Carnet (car-passport / bonded temporary import permit) stamped at Customs but the Botswana Customs staff said it wasn't necessary, as it had been stamped when delivered to Cape Town and would only need stamping when we leave Botswana for Zambia.
I hope they're right!
The road from Martin's Drift is littered with potholes (some big enough to bath in) and donkeys (actually more dangerous than potholes). There's no camping for the first 100km or so over the border so, since it was still early we drove first to Palapaye (where we didn't like the look of the campsite next to the railway) and then 25km NW of Serowe, where we knew the Khama Rhino Sanctuary had camping.
Expensive (P400 / £25 / $39) per night, but a lovely, private camping pitch, in a beautiful, large game reserve. Khama RS was originally established to protect Botswana's last remaining white & black rhino by (and named after) the local Chief, who has since become President of Botswana.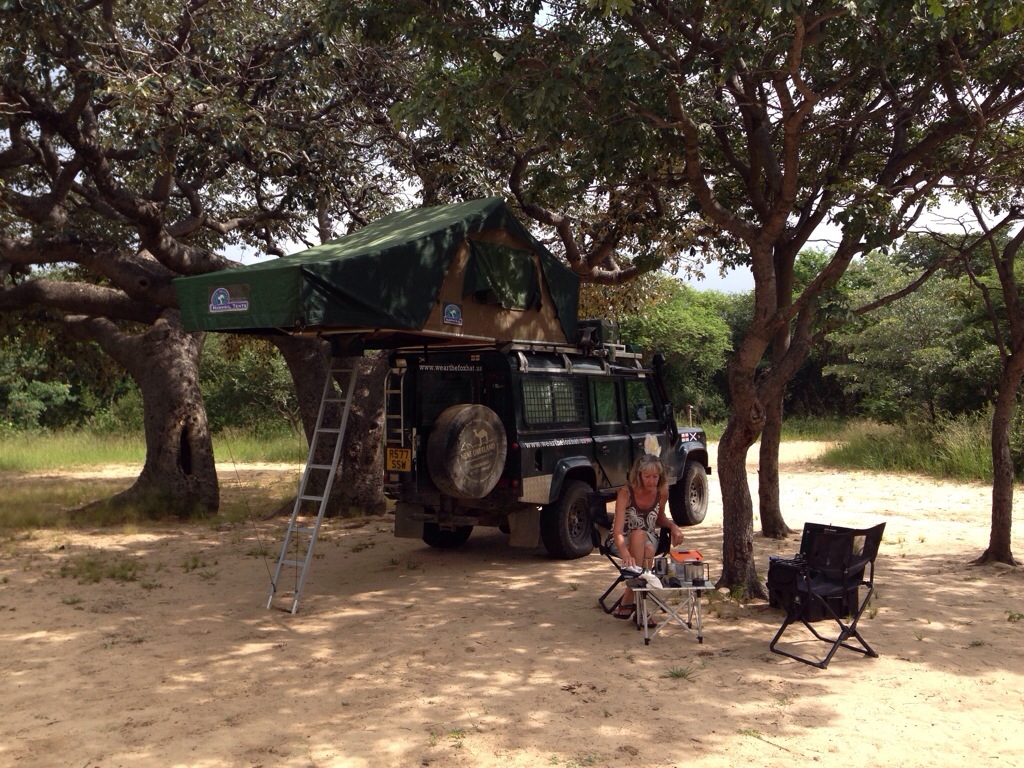 The camping pitches are attractive, large, individual and shady – but only have basic facilities…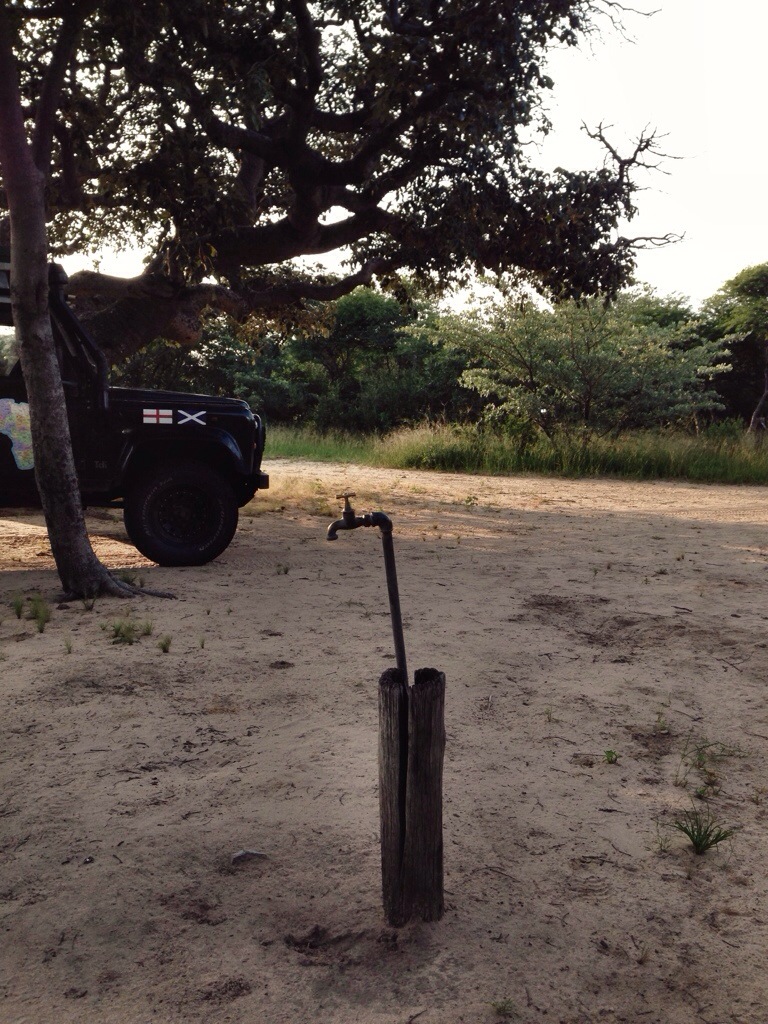 There is a shower block a short walk away, but since the pitches are un-fenced (the park has rhino, leopard, giraffe, wildebeest, jackal, warthog, kudu, hartebeest, etc) it's best not to go walking too far after dark!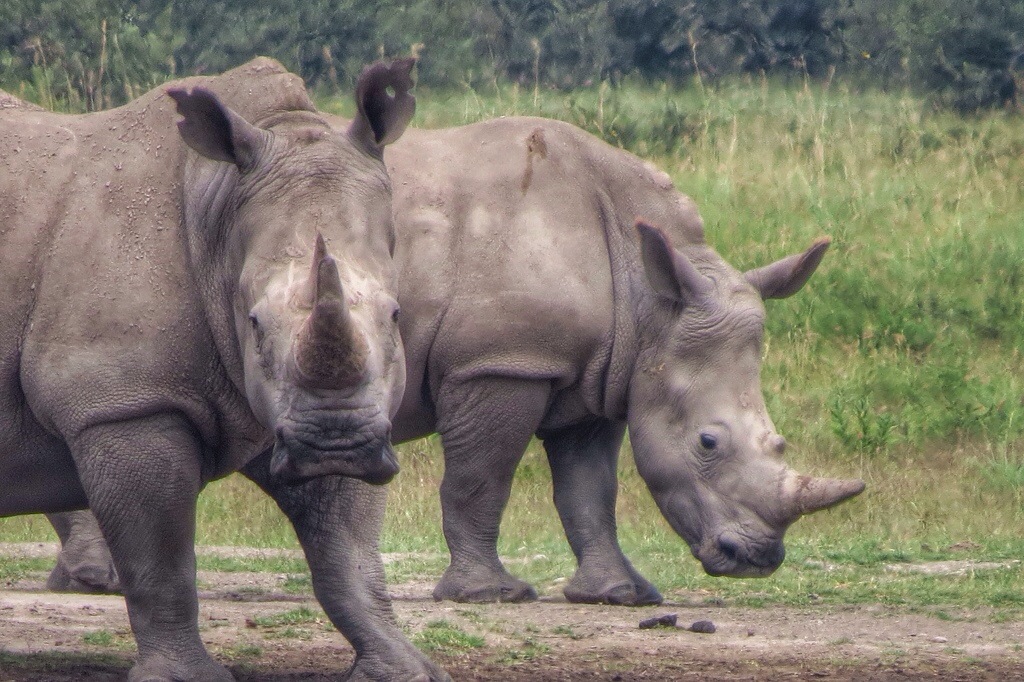 We camped for a couple of nights and really enjoyed driving the narrow, sandy tracks and open pans through the large reserve.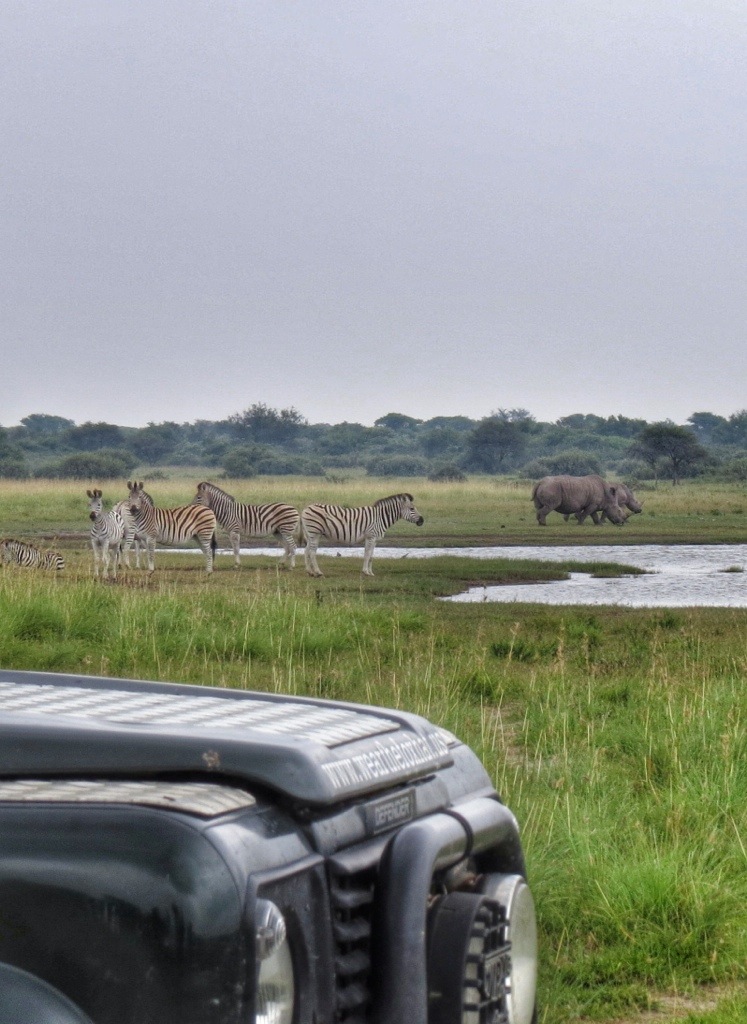 Although there are no lion or elephant, there's plenty to see.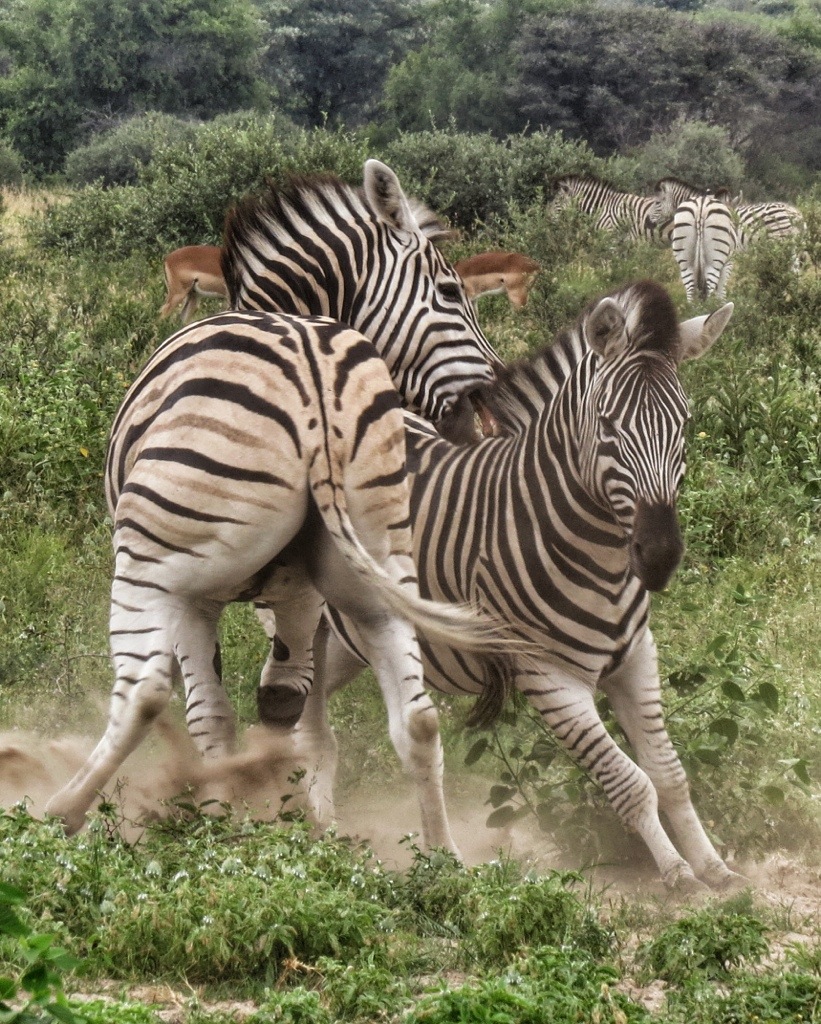 The stars of the show are the rhino…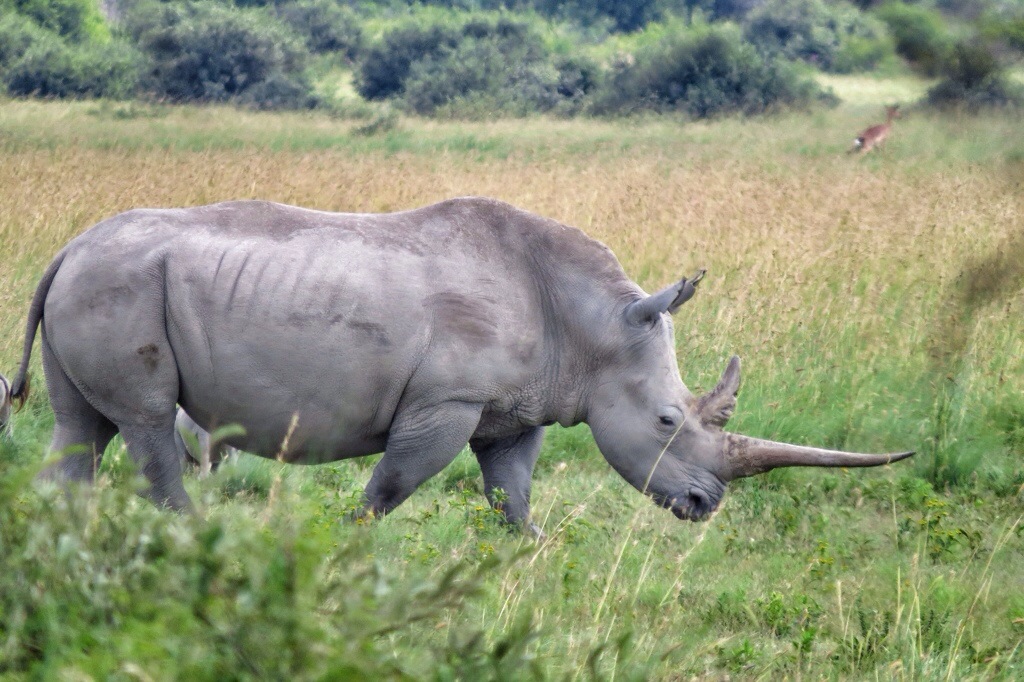 But there's other big stuff to see…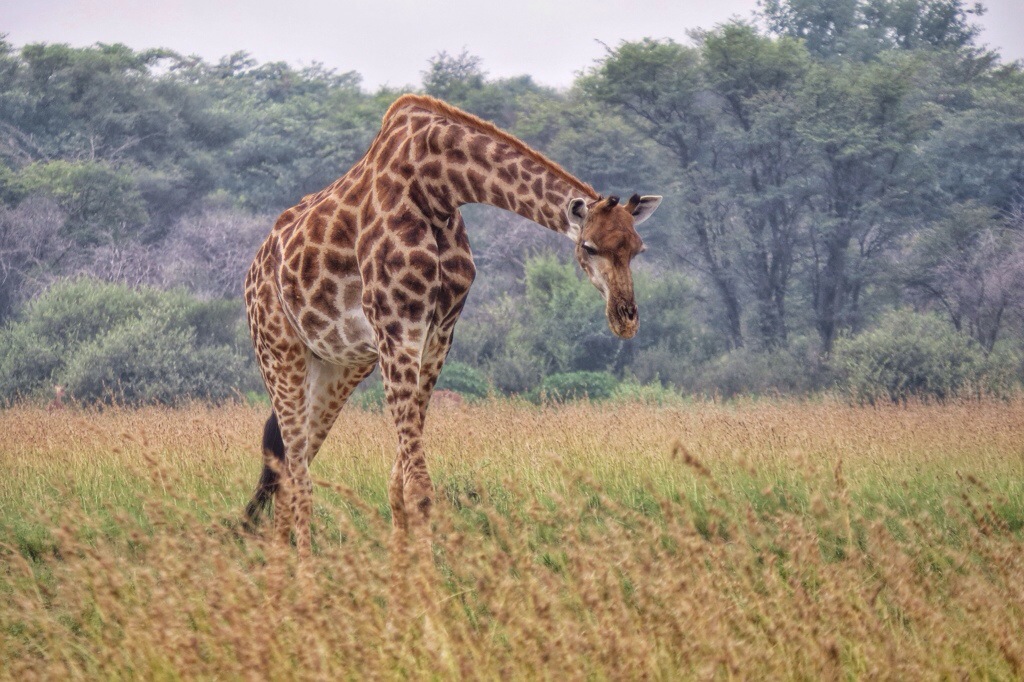 …and there's small stuff…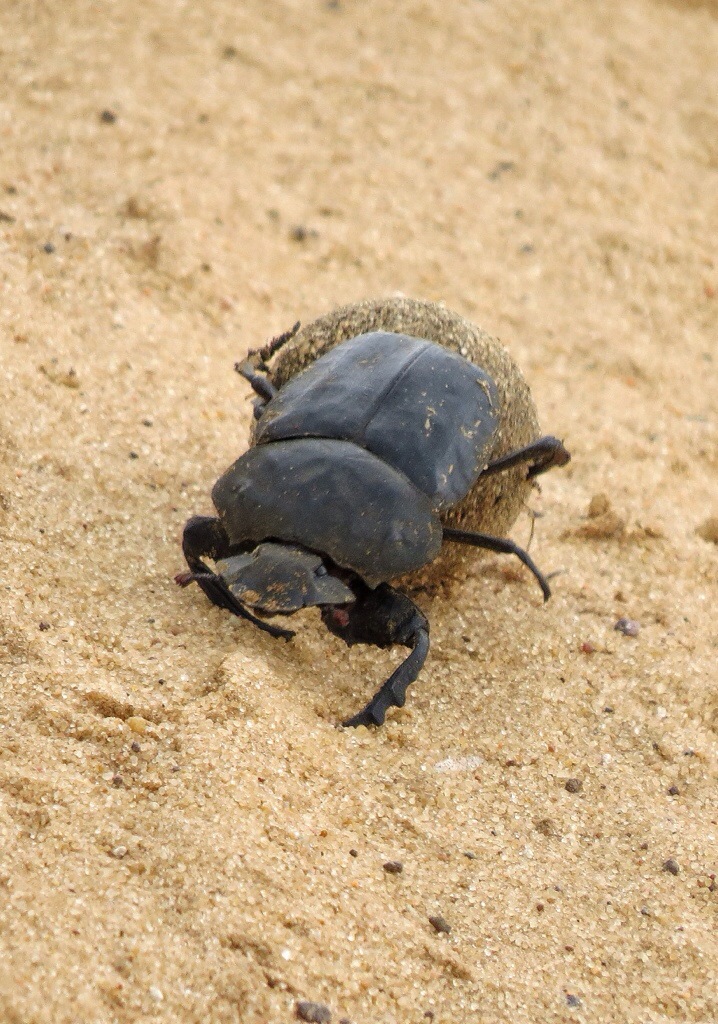 You need to keep your eyes peeled to avoid squashing the dung beetles on the tracks. The balls they are rolling (backwards, head down) are impressively perfectly round and are used as an incubator for up to 100 beetle eggs. That's why they're constantly moving and protecting them.
Of course, sometimes it's easier to spot them than others…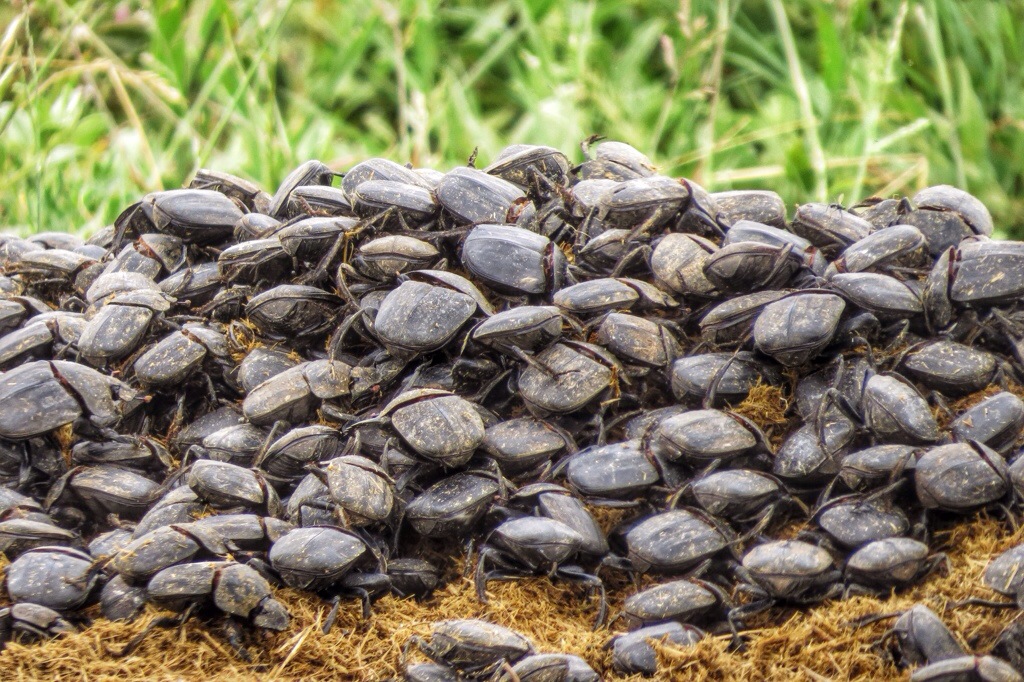 The KRS staff are all helpful, friendly and very professional. They also have a large training / intern programme.
This is Imani.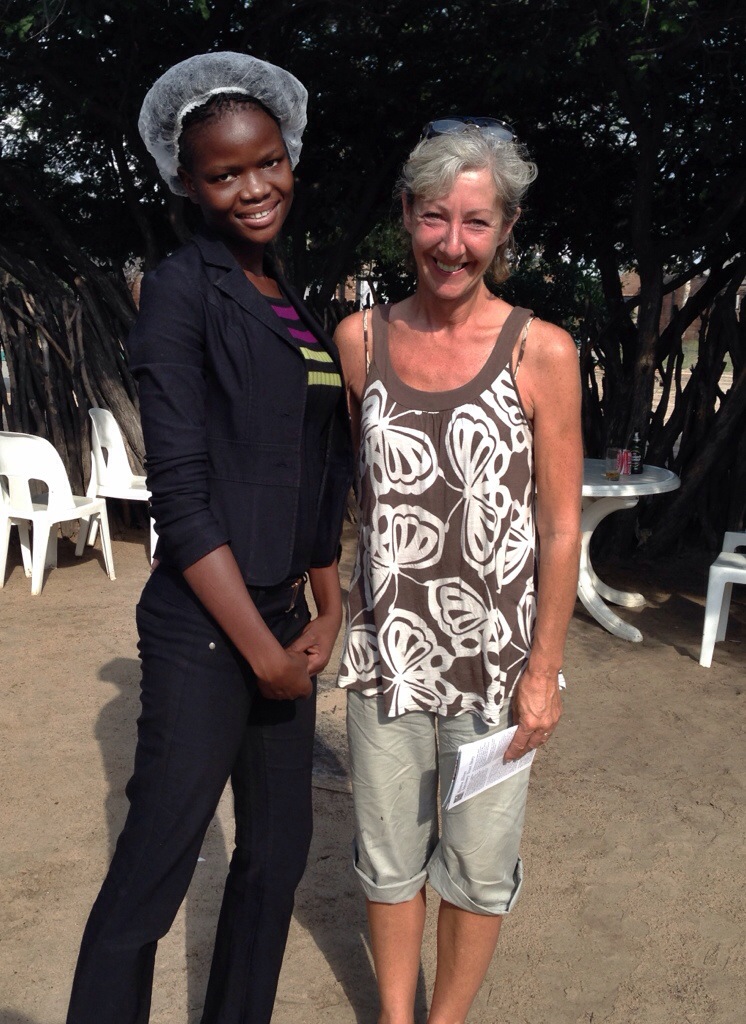 She's studying tourism at college, where she has learnt about The Great Wall of China and The Louvre. She speaks French and 5 African languages and is hoping to work outside Botswana once she graduates.
We left Khama mid morning on Sunday. Although we'd hoped to head west then north through The Makgadikgadi Pans, rain was forecast and there had been flooding in recent weeks. It wouldn't be sensible to try to cross the Pan north / south on our own under those circumstances so we headed east then north for Francistown.
About 55km from Palapaye the car started to chug like a steam train and we lost all power. White smoke streamed from the exhaust as if we were the first ones to arrive for the Land Rover Synchronised Driving Display Team.
Now what do we do? I called upon my extensive knowledge of all things mechanical – ie opened the bonnet and stared at the engine – but couldn't tell what the problem was.
Fortunately, as I alternately wracked my brains and swore, after 30 minutes a family who had also been at Khama recognised the Land Rover stricken at the roadside and pulled over.
Richard & Lisa were from Gaborone but had family in Palapaye. After a couple of calls they tracked down a recovery service telephone number, called the guy and arranged for him to come out.
Thanks guys.
Only a couple of hours later Kez (who owns a recovery company and a couple of up-market car washes) arrived with his truck and took us to a garage he recommended just outside Palapye.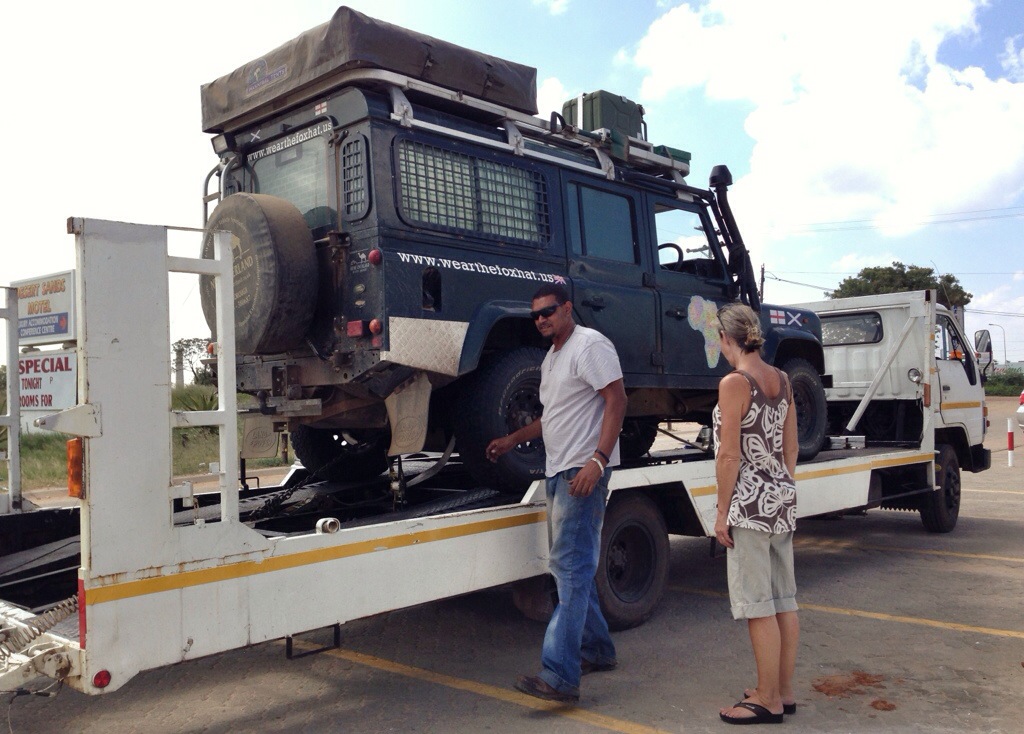 The garage was closed, but Kez gave us the number for Whitey (the owner) then took us into town and found us a hotel, checked out the room and made sure we had everything we needed for the night.
Total recovery charge including a big tip, P800 (£55 / $80).
On a Sunday.
What a star.
Kez (Palapaye) Telephone: +7158 66 66
We spoke to Whitey late Sunday evening and he arranged to come down to the Desert Sands Motel, where we were staying, at 7am the next morning.
By 8am the car was at Kgaswe Motor Services (Whitey's place) and Whitey was taking the turbo apart.
We were having breakfast at the Wimpy (the 'restaurant' in the motel) and I was trading emails with Liz & Frank, the Cyprus branch of Land Rover International Rescue.
Stuck in a one-horse town and our donkey is in bits.