Leaving Snake Park Camp for Ngorongoro Crater we briefly met a German family who recently flew their bike and home-made sidecar into Mombassa and are heading south. Nice guys, but they've got a real task on their hands – they've managed 1,000 km so far and already had to weld the sidecar back onto the bike 3 times.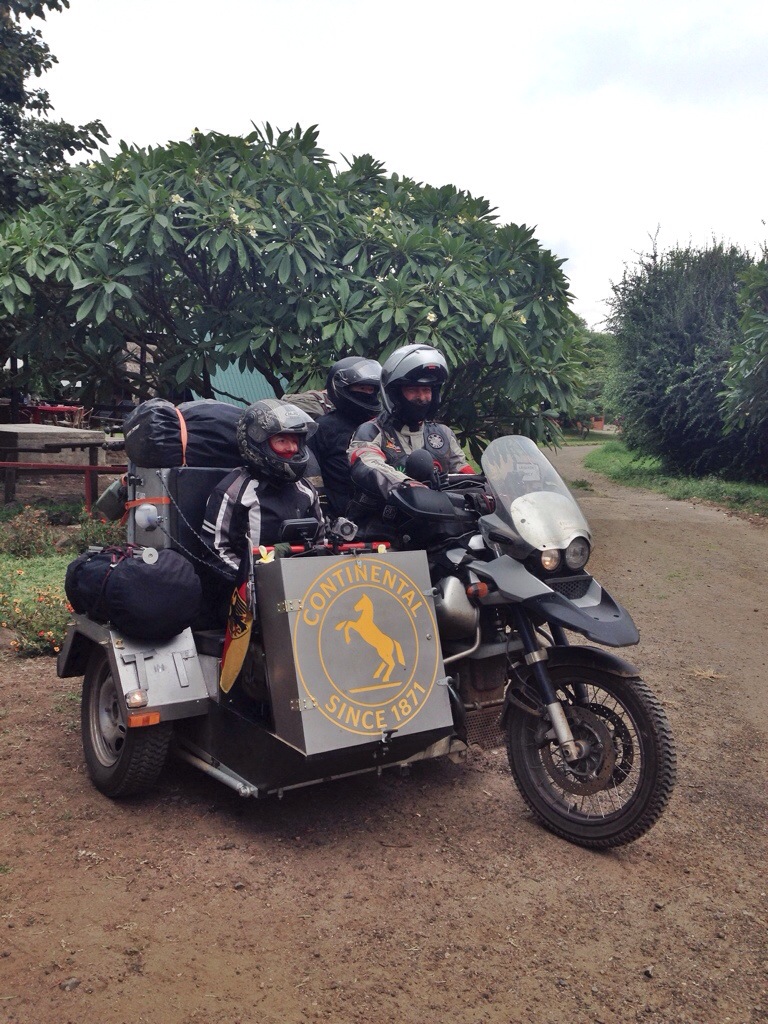 I don't know that I'd be brave enough to sit in that sidecar, facing the oncoming traffic! Particularly the way the bus drivers fly around these roads.
At the entrance gates to Ngorogoro Conservation Area (NCA) we presented our receipts for the Transit Pass payment we made at Exim Bank in Arusha and were told that we would need to drive 20km back down the hill to Keratu and get a physical 'Temporary Pass' to transit the NCA and reach the Serengeti.
We told them that this was contrary to what we were told at the main NCA office in Arusha and eventually (after a couple of phone calls to HQ) they let us through.
Cost to drive through the NCA along Ngorogoro Crater rim (the only way to approach Serengeti from the east): $50 per person + $40 for the car
Extra cost to take a foreign-registered vehicle down into the crater: $200 per day.
Extra cost if we wanted to camp in the NCA (not in the crater itself): $50 per person plus an additional day's NCA fees ie $240 extra!
Driving up the outside of the crater, at 2,360m altitude, the weather was pretty grim, the track was very slippery and I held little hope we would actually see anything.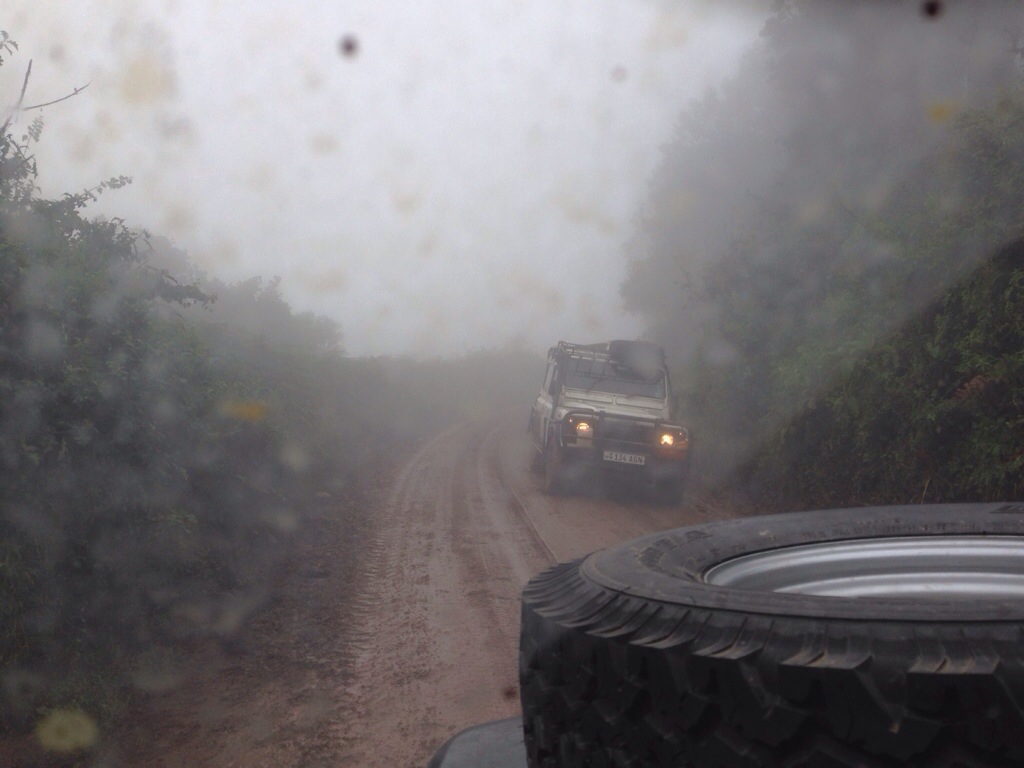 The track at the top actually runs along the ridge of the crater rim itself. Due to the steep drops and narrow path in places, stopping is only allowed at 2 recognised viewpoints. At each of them we could hardly see the car 5 metres away, let alone the crater.
Feeling pretty short-changed for our NCA entrance fee, we drove round the rim a little further and found the beautiful Serena Safari Lodge, where we stopped for a coffee – and for Helene to let me get over being so grumpy.
Within about 30 minutes (coincidentally about the time it takes for them to make 2 $8 cups of coffee) the mist had cleared from the west and showed us the beautiful views of the crater walls and Lake Magadi.
Panorama taken on the phone (unfortunately low-res on the blog)…

Ngorogoro Crater has one of the world's largest unbroken Calderas and, actually, that view may well be worth the $140 fee just to use the road.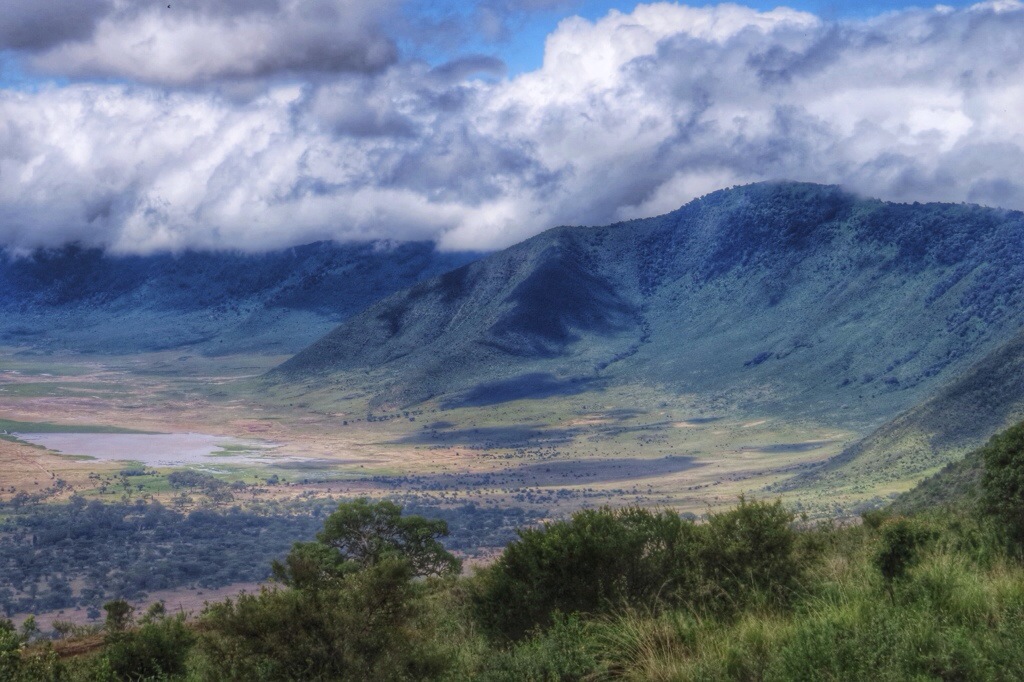 The lake is littered with Flamingos like dust on a puddle and there are many buffalo and wildebeest across the plains.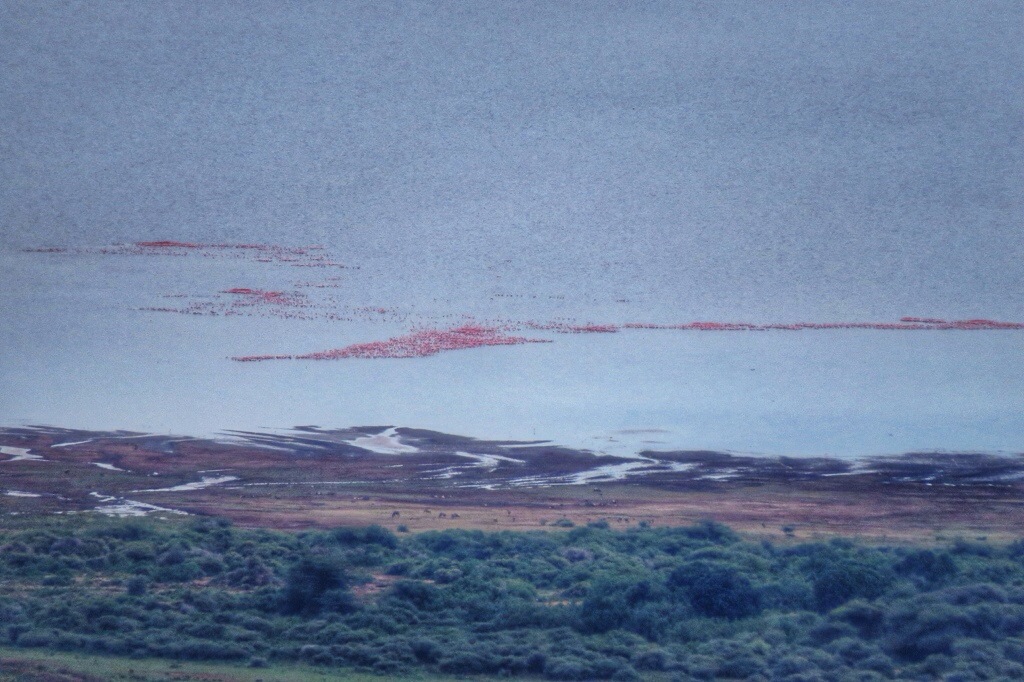 Driving down off the crater the weather and visibility improved as we came back to about 1,500m altitude. Best of all, we got our first view of the stunning Ngorogoro and Serengeti Plains.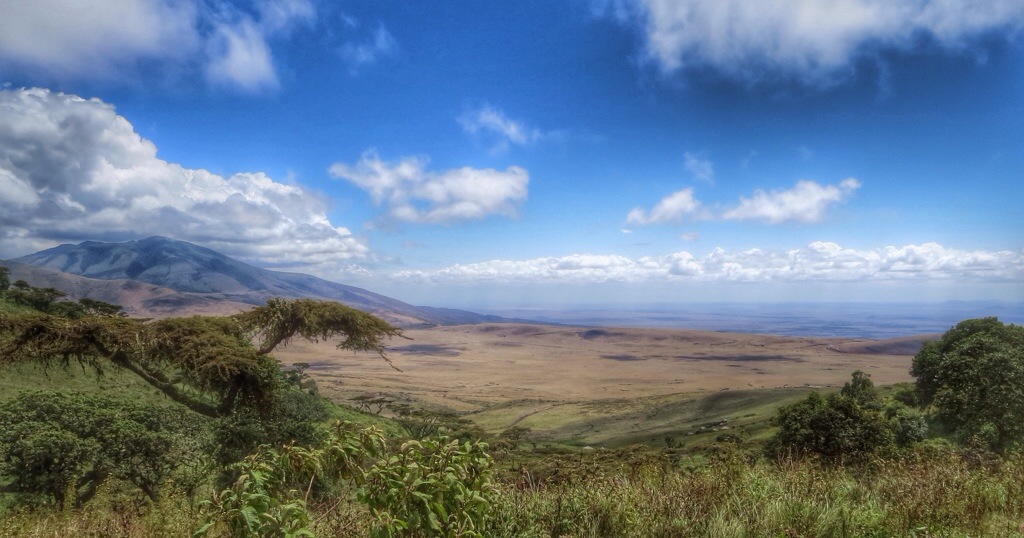 Top Tip: Ngorogoro is beautiful. BUT:- the Transit Pass is probably sufficient. It's $140 for 2 people to drive along the crater rim and take the 100km track west to Serengeti. Unless this is the only Game Park you will visit, it feels like extortion making foreign visitors pay an additional $440 to camp overnight and go down into the crater itself each additional day.
We still had 160km to go to get through the entrance gate to Serengeti National park and to our camp (Tumbili, near Seronera) in the centre of the park. A really beautiful drive across the plains.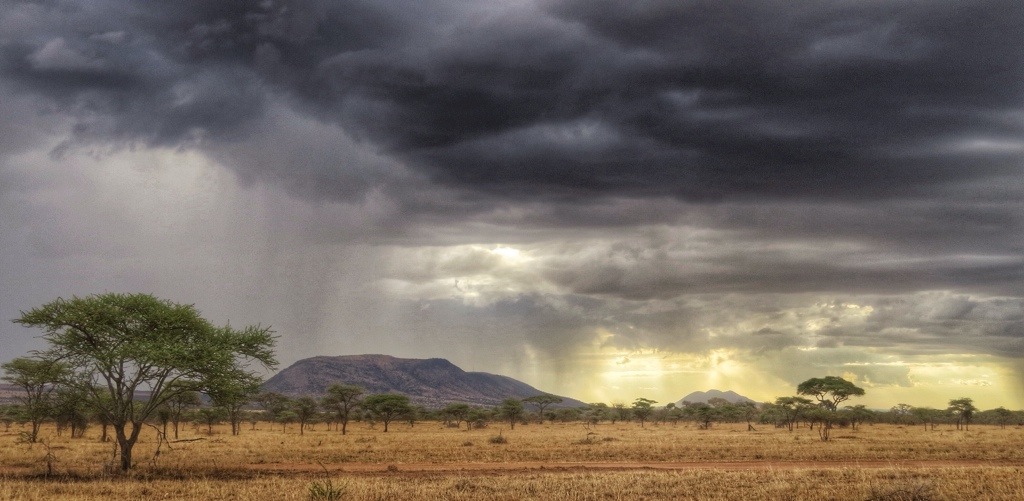 Driving across the plains, the landscape is massive and there are very few other people around, other than a number of Maasai villages. Some of them simple, individual grass huts…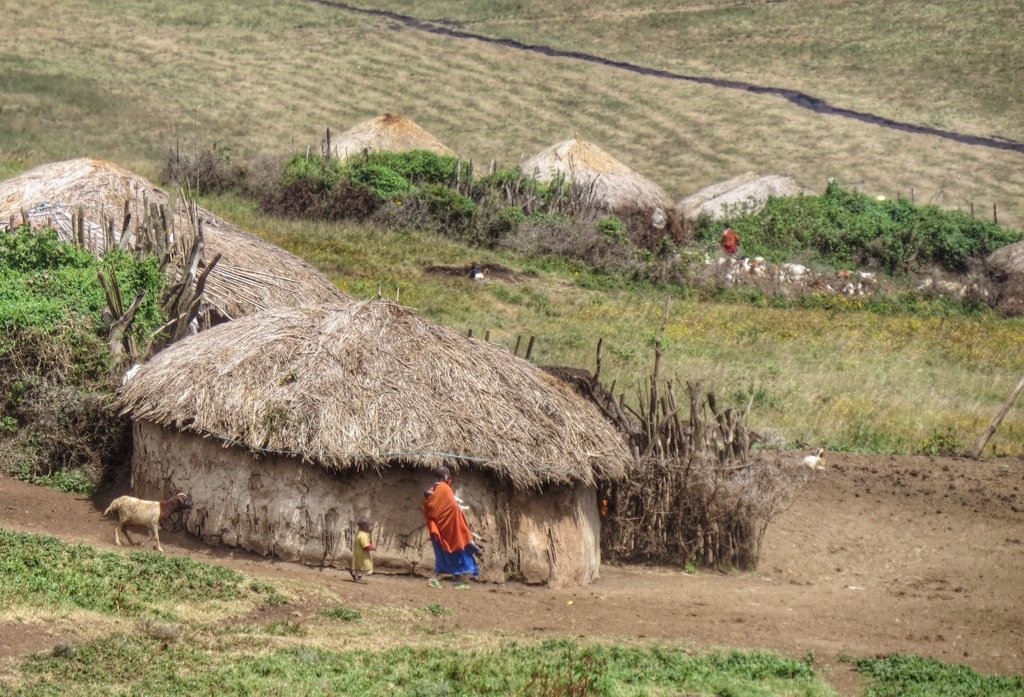 …others are more formal communities, with unusual mud roofs and protective brush fences…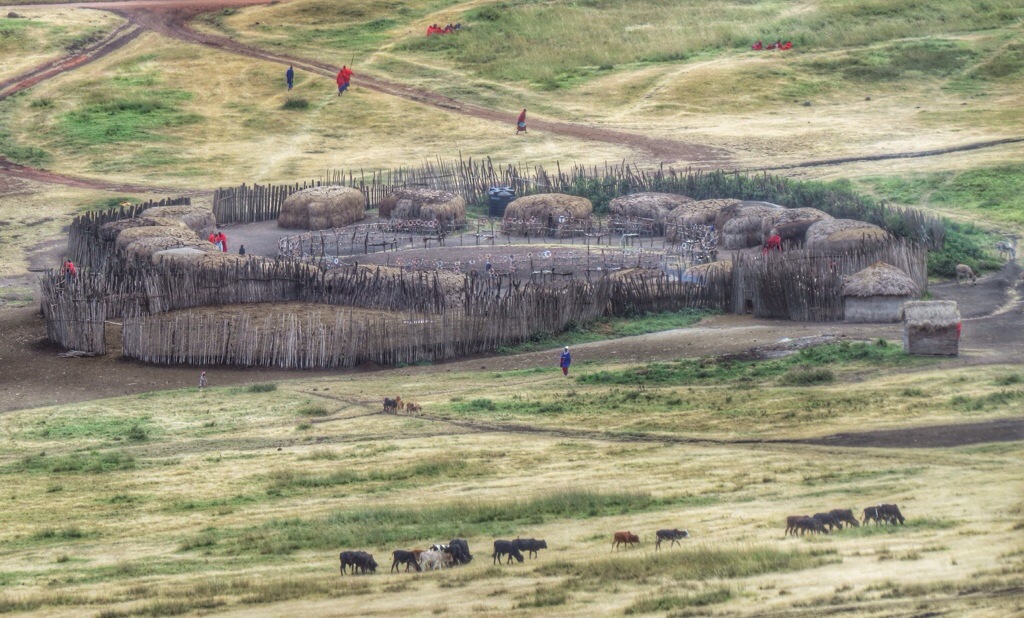 The people here live a subsistence lifestyle. They eat what they grow, herd sheep, goats & cattle, dress and live the same way their ancestors did.
The only concession we saw to modern living is that many of the men wear shoes made from recycled car tyres (presumably discarded by visitors like us, due to the rough terrain?).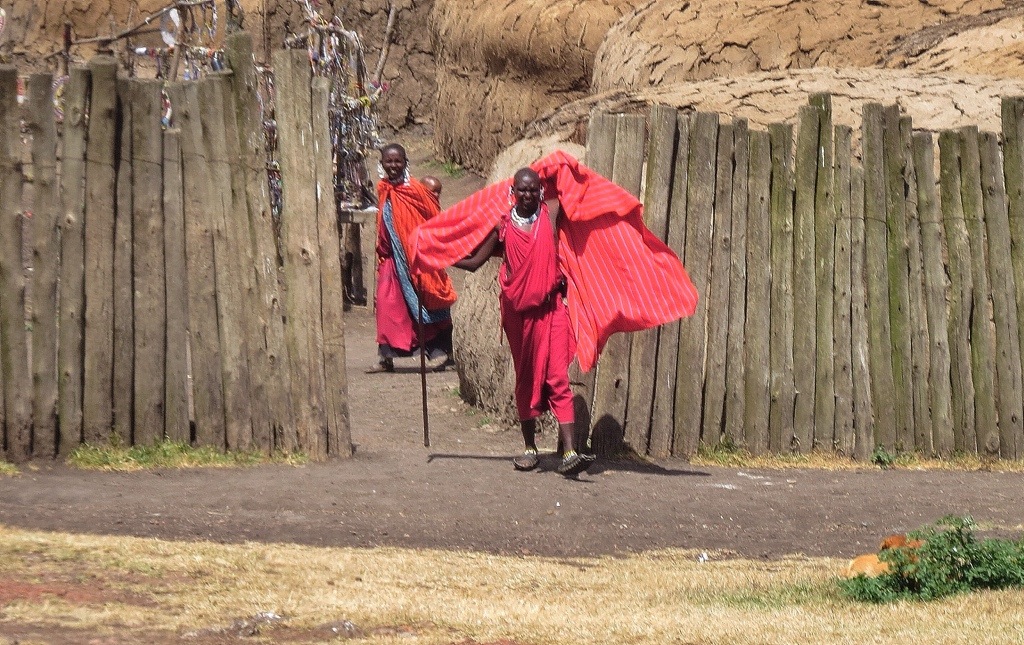 Here, a man's wealth is measured by the number of cattle he owns. A woman's, by the ornate beaded jewellery round her neck and in her stretched ear-lobes.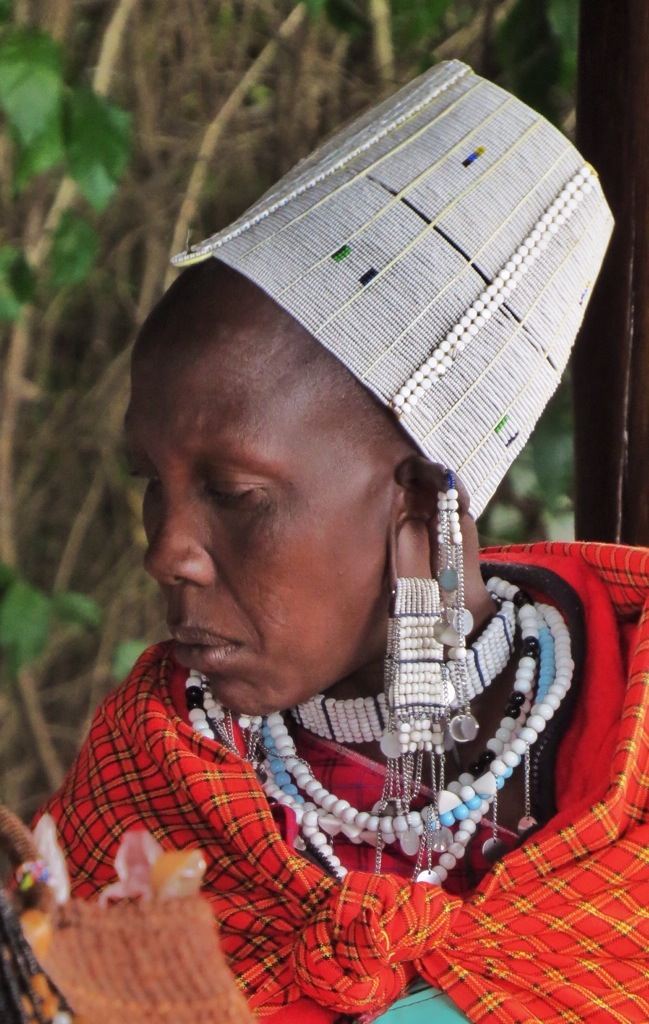 It all adds up to a scene that has changed little in hundreds of years.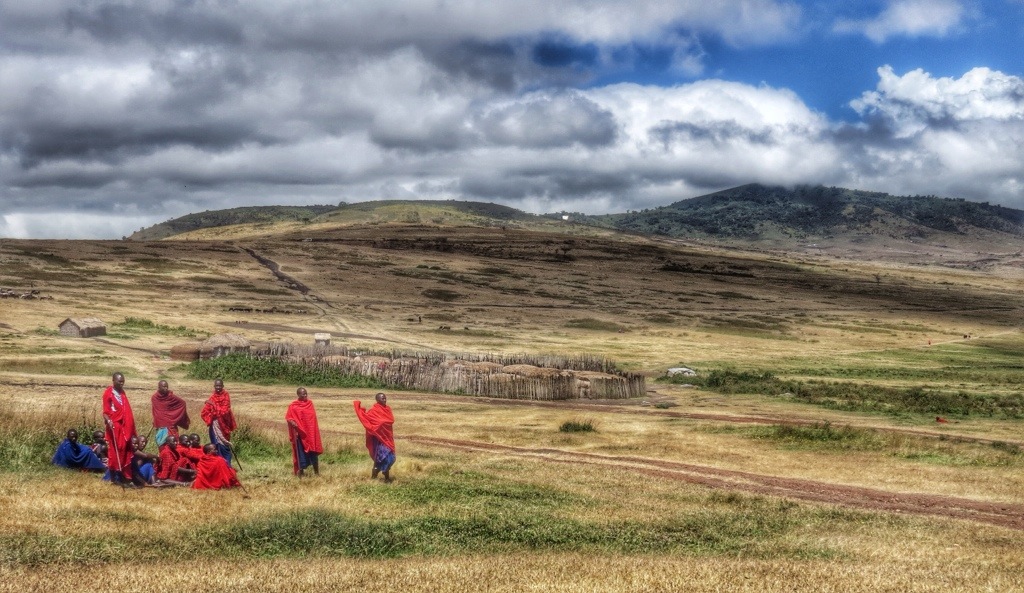 One thing that will probably never change is the state of the tracks in Serengeti National Park. Without doubt the worst condition of any park we have encountered in Africa.
They are so viciously rutted and corrugated that at any speed above 35kph they throw the car sideways, making it fish-tail and threatening a spin. At any speed below 35kph your eyeballs rattle so violently it's hard to see straight.
The nett result being that our brake pipes sheared in 2 places, leaving us with 100km to our camp and no brakes at all.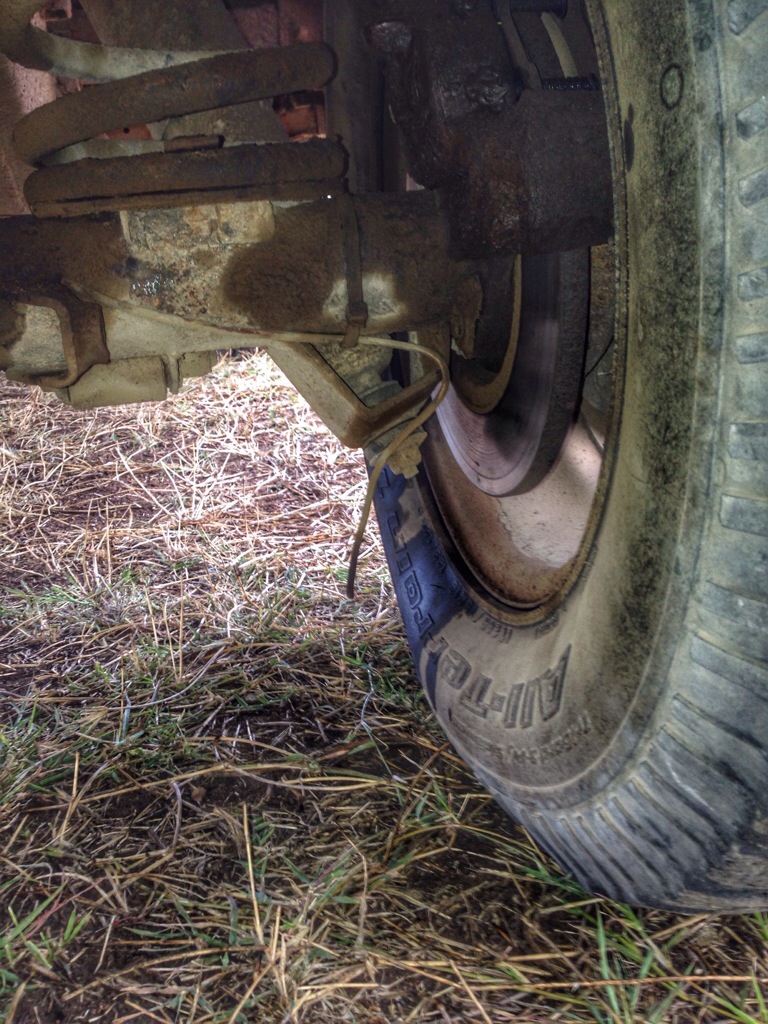 We passed a couple of road-grading machines at the side of the track. They're unused. Staff are so poorly (and infrequently) paid that they sell the diesel fuel and any parts they can strip off the machinery.
Serengeti really is stunningly beautiful. However, given entrance costs of $200 per day, plus $160 for 2 people to camp at a clearing with nothing other than a cold shower, where is the money going?
Anyway… I hate sounding like some whinging Safari Tourist. So, back to the fabulous side of Serengeti.
In the eastern and central areas there is little game around. The wildebeest migration is in full swing and they're in the Western Corridor or already in the north, crossing to The Maasai Mara in Kenya.
That doesn't mean there's nothing to see.
Fortunately (since we had no brakes and were crawling along in low-range gears) we managed to coast to a stop before running these girls over.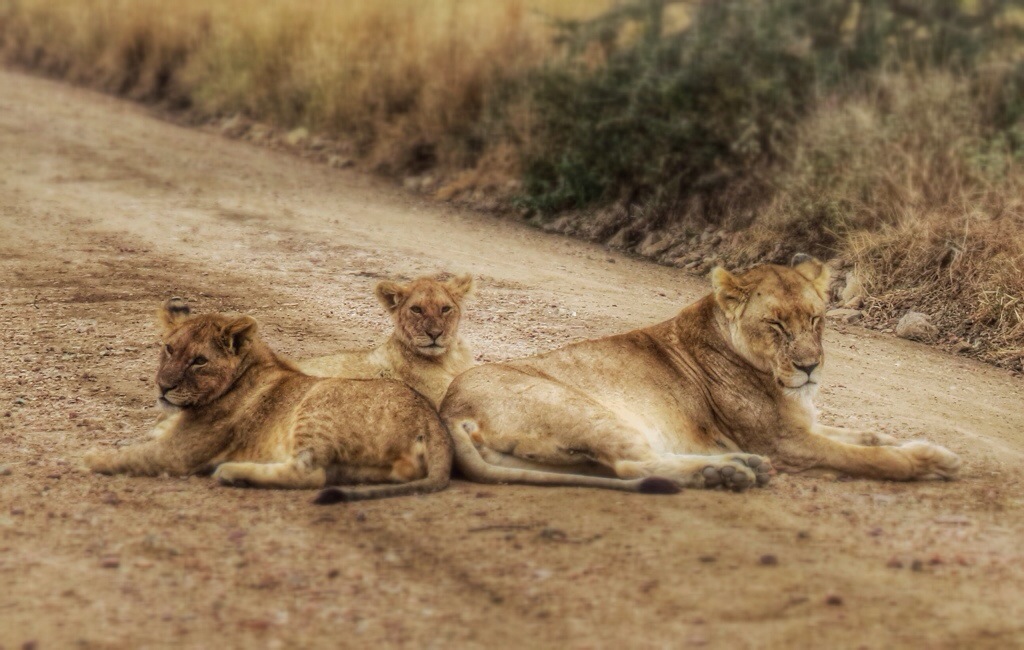 As always with lions, they do exactly what they want, when they want. If they want to sit in the middle of the track and preen themselves while you wait to go around, that's what they'll do.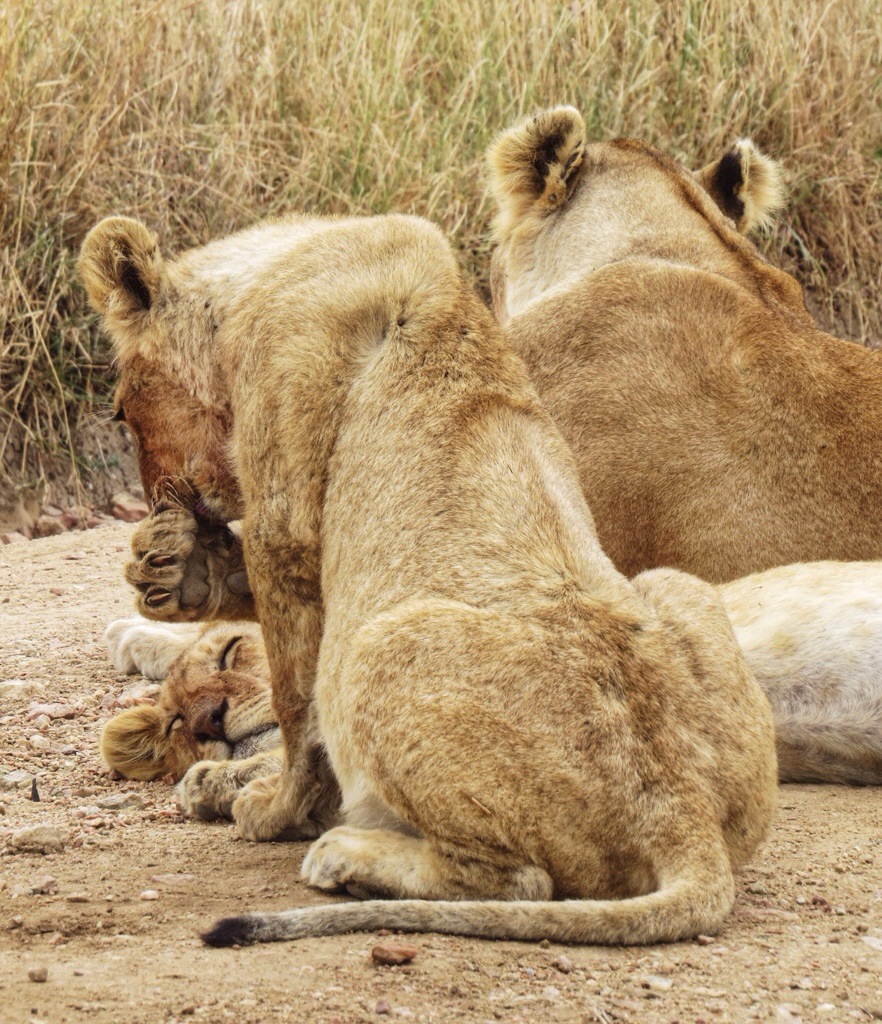 We couldn't wait and watch for as long as we'd like as it was getting late, we had to travel slowly and needed to be in camp before sunset.
There were few other vehicles around but, without brakes, meeting one coming the other way was an adventure for us each time.
On one occasion we came to a bend with a small single-track bridge over an almost dry stream.
Parked, in the dead centre, taking up the whole bridge, watching a couple of hippos, was a Safari Tour truck.
Parked on a bridge! A real no-no.
Fortunately I was still using low-range gears, going slowly. The hand brake on a Land Rover operates on the propshaft (rather than the rear wheel, as on most cars) so I couldn't use that to stop us. It would either break the prop or the hand brake.
The only alternative to either ramming the tour truck on the bridge or driving into the pool (with the hippos) was to drive the Landy up the side bank, until the incline stopped us and we rolled back down.
While I cursed the tour truck driver for being a bloody idiot, he must have thought I was some sort of lunatic Brit on his first day in Africa. He certainly gave me a bit of an odd look, as I hard-stared at him when he eventually cruised away.
We arrived at camp stressed, but having loved our first taste of Serengeti, just in time for sunset.
View from The Penthouse…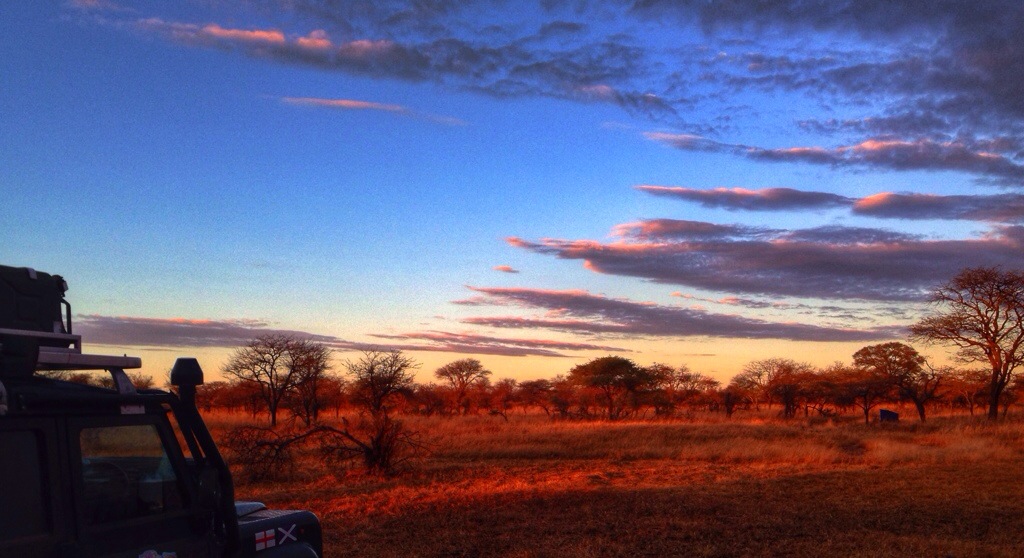 Early next morning we limped the car from our camp to a mechanic's workshop we'd been told about at the Frankfurt Wildlife Research Station.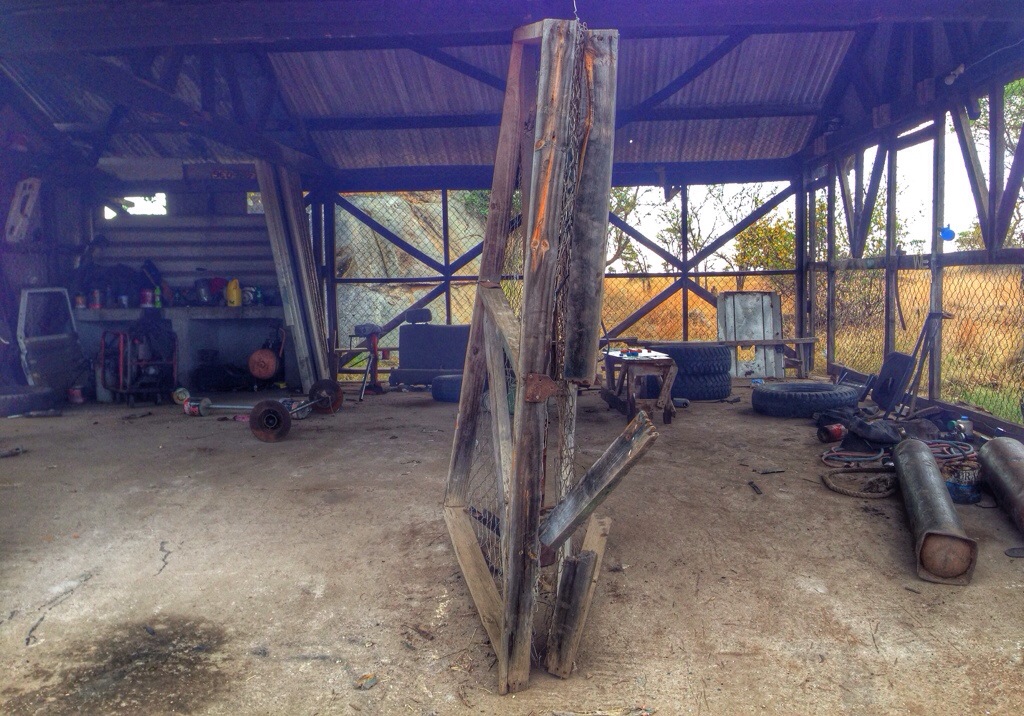 Pretty rudimentary, but any help would be better than nothing.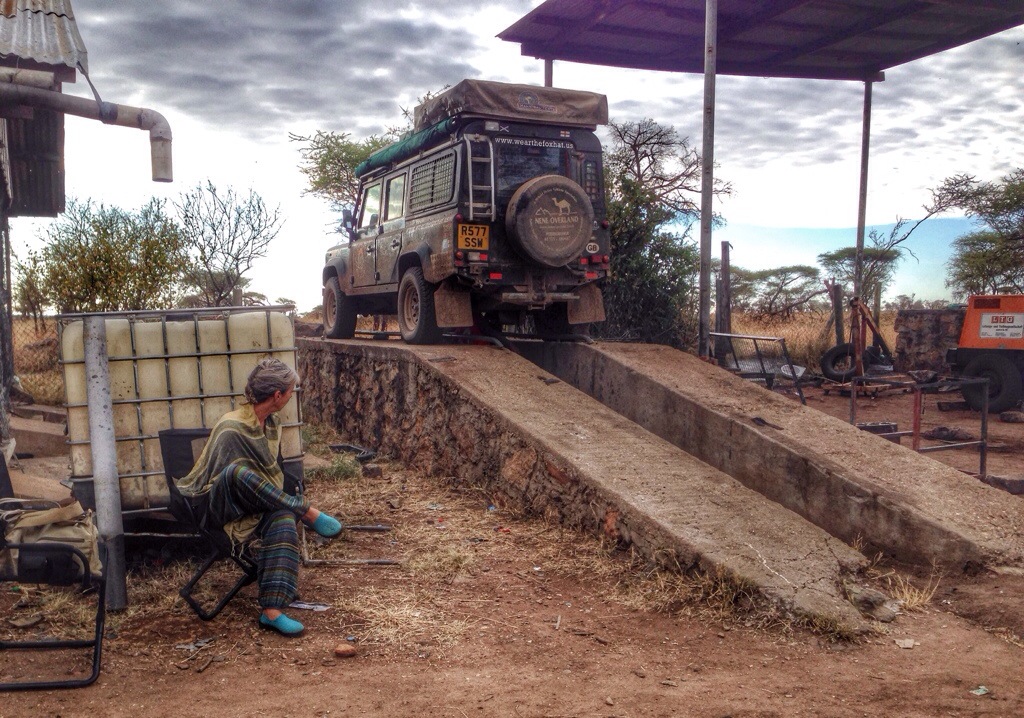 The mechanics didn't have much in the way of spares but, with bits of scrap lying around the yard and a few basic tools, they somehow cobbled together some sort of brake pipe.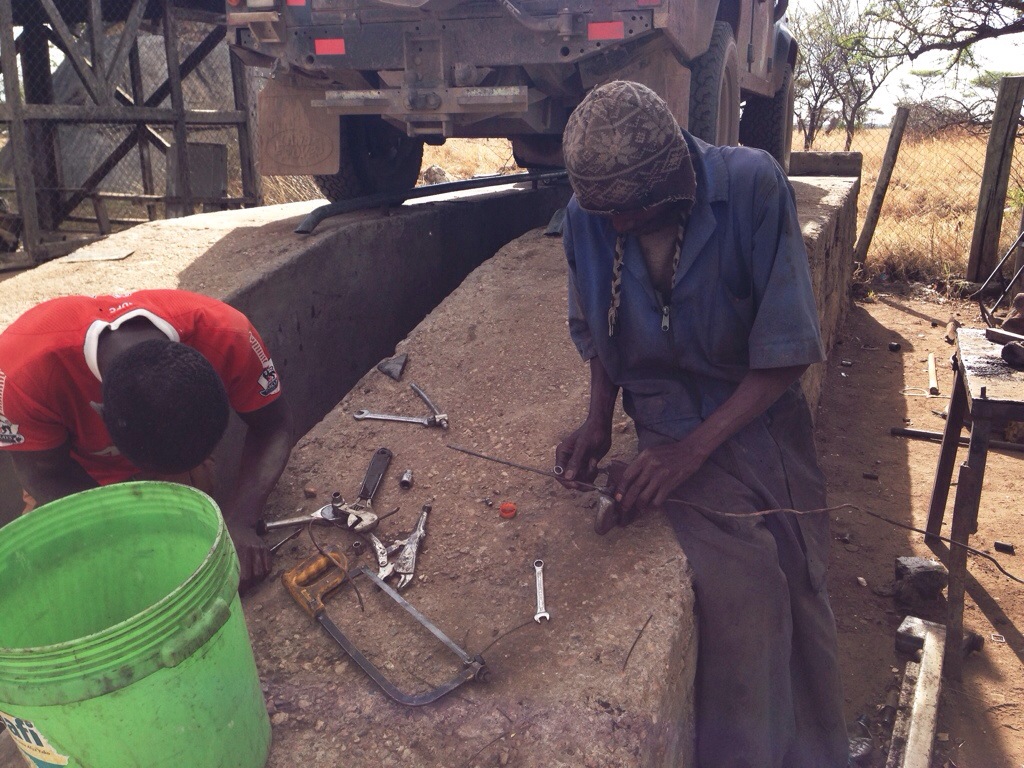 Three hours later, they put in some brake fluid, bled all four brakes, charged me $20 and said we were good to go.
A quick road-test made it clear to me that the brakes were about as effective as throwing out a parachute, but at least there was some pressure in the pedal.
We set off to enjoy the Western Corridor area of The Serengeti, wondering just how expensive this park was going to prove to be. So far, 24 hours had cost us $520 plus whatever the brakes would ultimately cost to fix properly.
Julius Caesar said of England "Veni, Vidi, Vici"…. I came, I saw, I conquered.
Scott says of Serengeti "Veni, Vidi, Visa"… I came, I saw, I paid.