With our reconditioned axel in place we left Jerome in Lushoto, back down the Usambara hairpins to the plains and headed 280km north west to Moshi. We just did a quick overnight stop at The Keys Annex camping and accommodation ($8 each to camp and they gave us a room to use for a shower / toilet etc as their showers weren't available. A friendly bar with funky wall murals and good, cheap, simple food.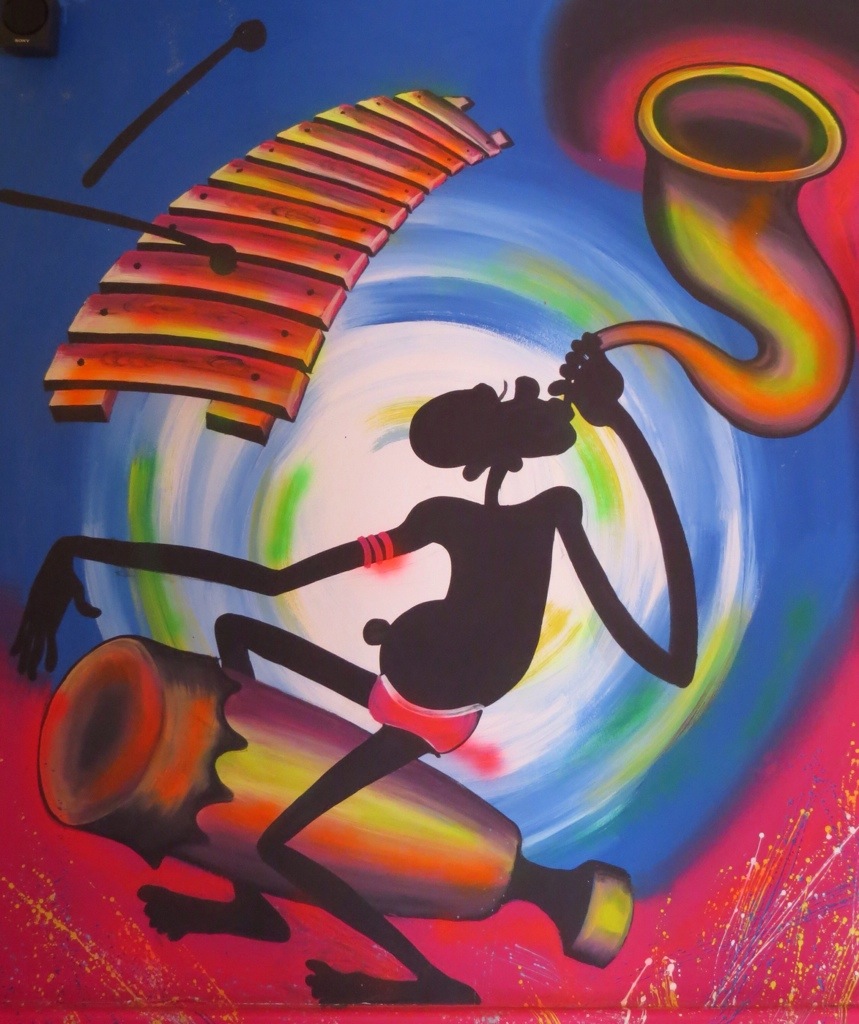 The following morning it took us at least an hour to find the KCMC Hospital (recommended by everyone in Tanzania as the best place to get my bite checked for further infection etc). It's not at the roundabout where it's marked on any of the maps, in the Lonely Planet books, or on the satnav / Tracks For Africa. FYI it's about 4km further along that road. They can't have moved it recently as when we finally found it out in the sticks, it's huge. Probably 20 buildings housing theatres, teaching facilities, admin areas and wards. There were at least 500 people (visitors, patients, students, etc) just milling around the main entrance. There is no signage anywhere once inside the gates and it took a while to find the Casualty department that we were directed to. The usual mix of chaos (as at any hospital in the world) and African organisation, but everyone was very friendly and helpful.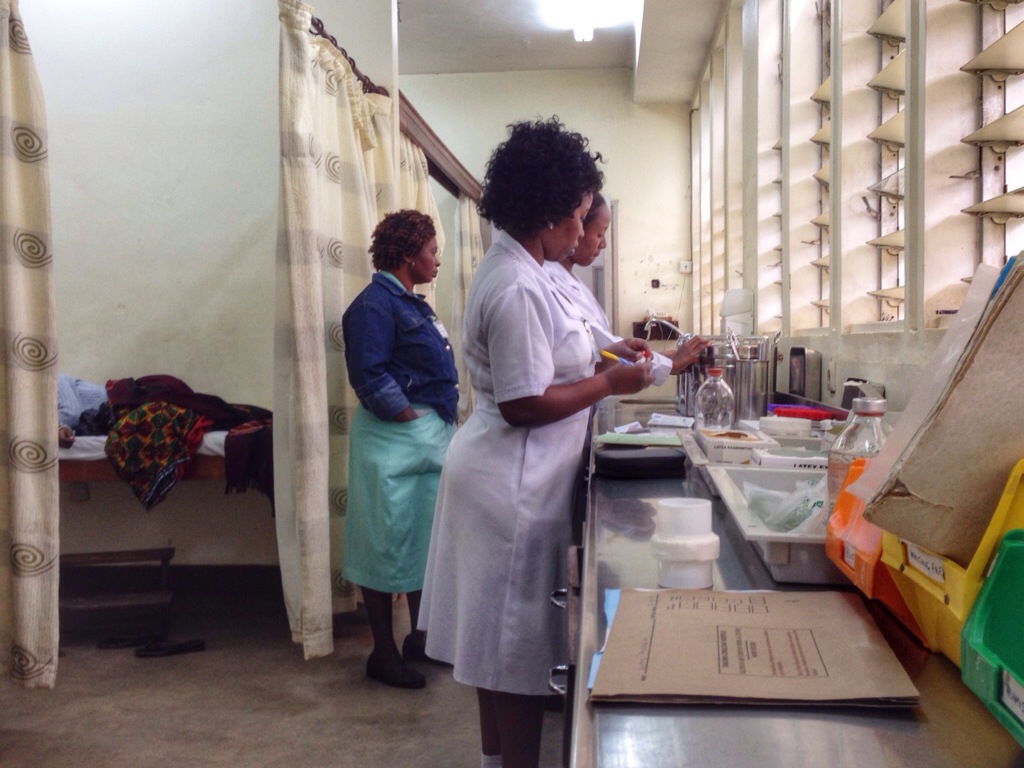 Given the state of some of the people wandering around Casualty, I felt a bit of a fraud taking up a doctor's time just to check a bite. However, after an hour or so I was seen by Dr Abedi.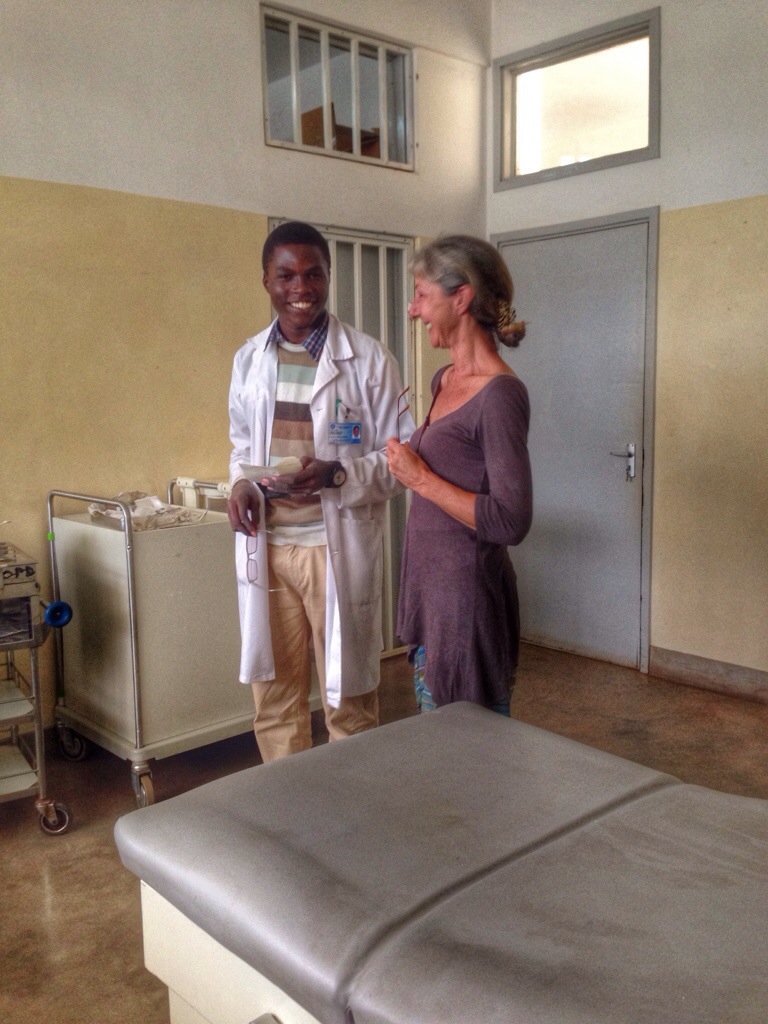 A really nice guy, keen as mustard, studied for 6 years and only qualified 3 months ago. He cleaned the wound, redressed it and told me that it was likely to take another month or two to heal and to get more dressings from the pharmacy in Moshi.
No charge for being seen as it wasn't worth the hassle to open a patient file in order to collect the money.
We spent another couple of hours in Moshi town as it's busy, vibrant and has a couple of excellent coffee shops – fresh brewed Tanzanian coffee beans. Wonderfull.
Security is pretty good as well. The Parking Attendants around here do a bit more than just hand out tickets…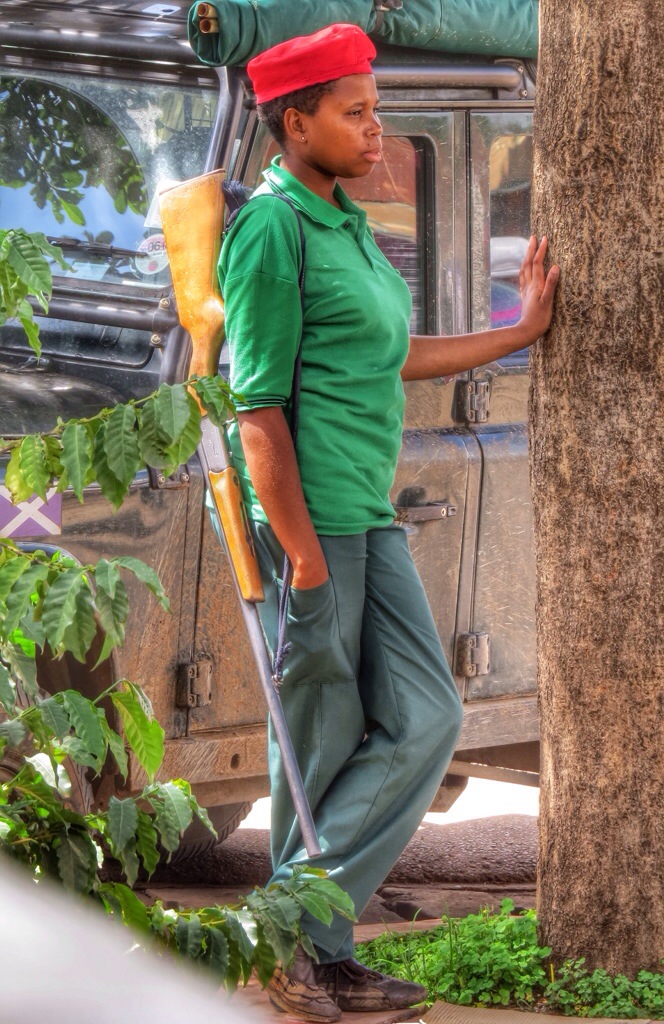 From Moshi we continued west to Arusha, around the foot of Mount Kilimanjaro. Most of the pictures taken of the mountain are from the Kenyan side rather than from the Tanzanian, since the southern face is generally shrouded in mist. It was covered as we passed but suddenly a brief break in the cloud at the summit itself allowed us a peek of the snow-cap.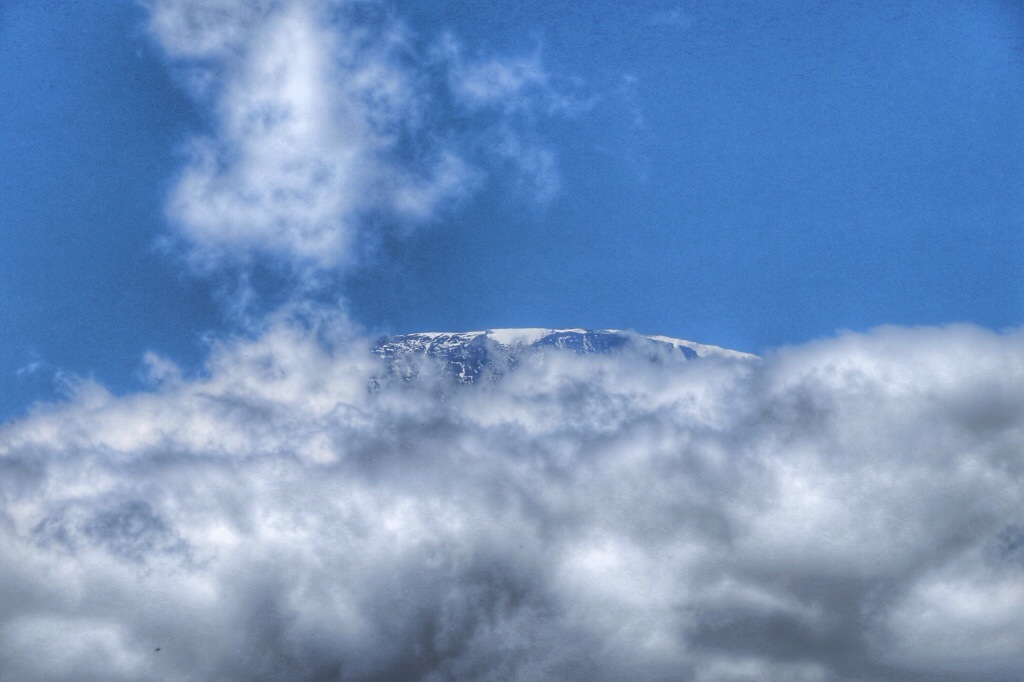 We sat at the side of the Arusha road for a while and over a period of an hour or so a little more was revealed. A very rare treat.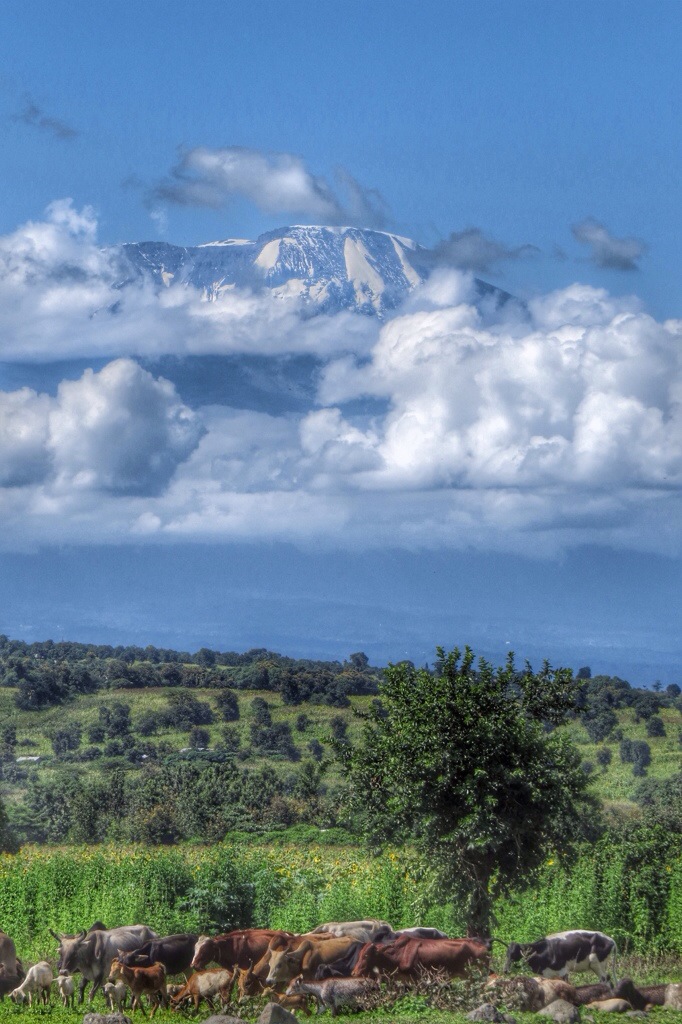 Only another 50km further down the same highway we passed the foot of Mount Meru – about 1,800m lower than Kilimanjaro, but (I'm assured by those who know) a much more challenging climb.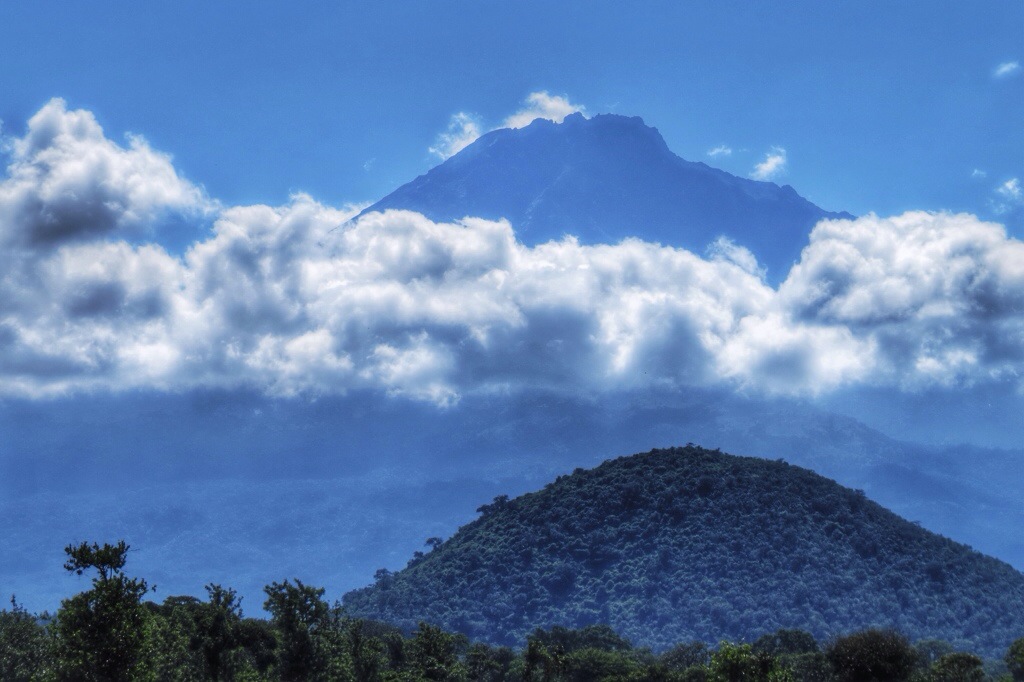 No snow on Meru due to the difference in altitude but once again it revealed itself from the mists as we sat and watched.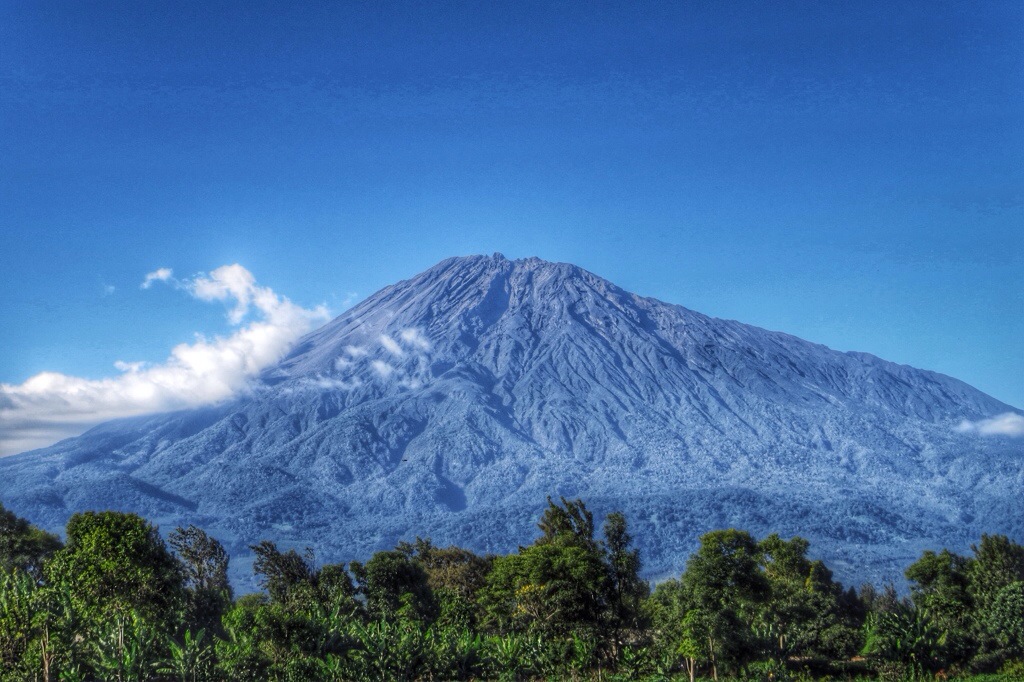 Kilimanjaro, Meru and right across The Serengeti to Lake Victoria is the heartland of Maasai country.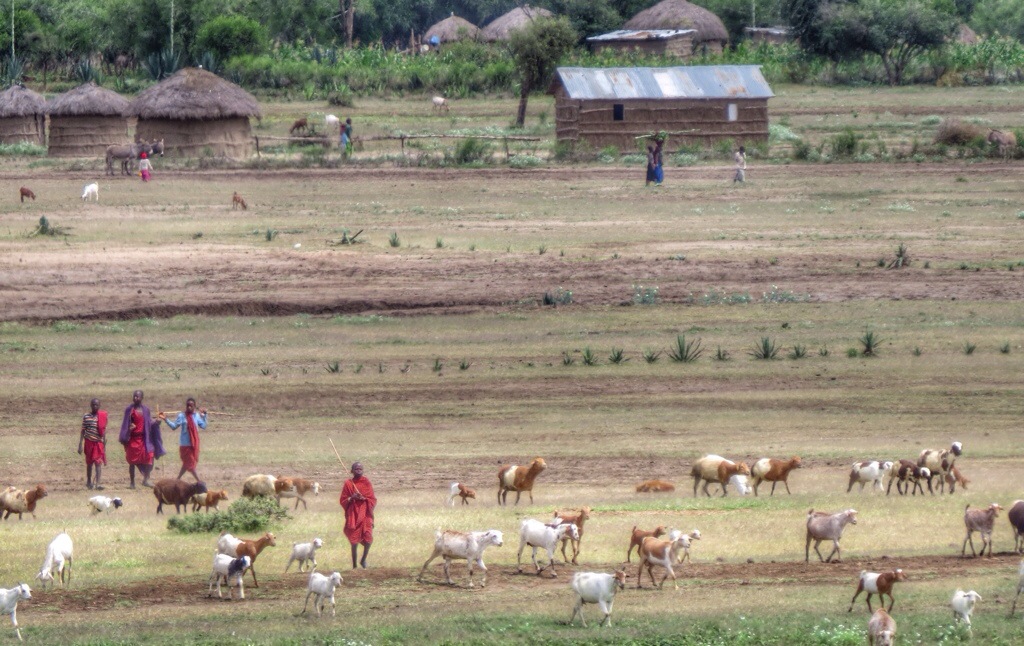 We were headed for Meserani Snake Park Camp, just west of Arusha, where everyone travelling west through the Ngorogoro Conservation Area (around – or down into – Ngorogoro Crater) on the only road west to The Serengeti, must pay for and pick up their NCA passes.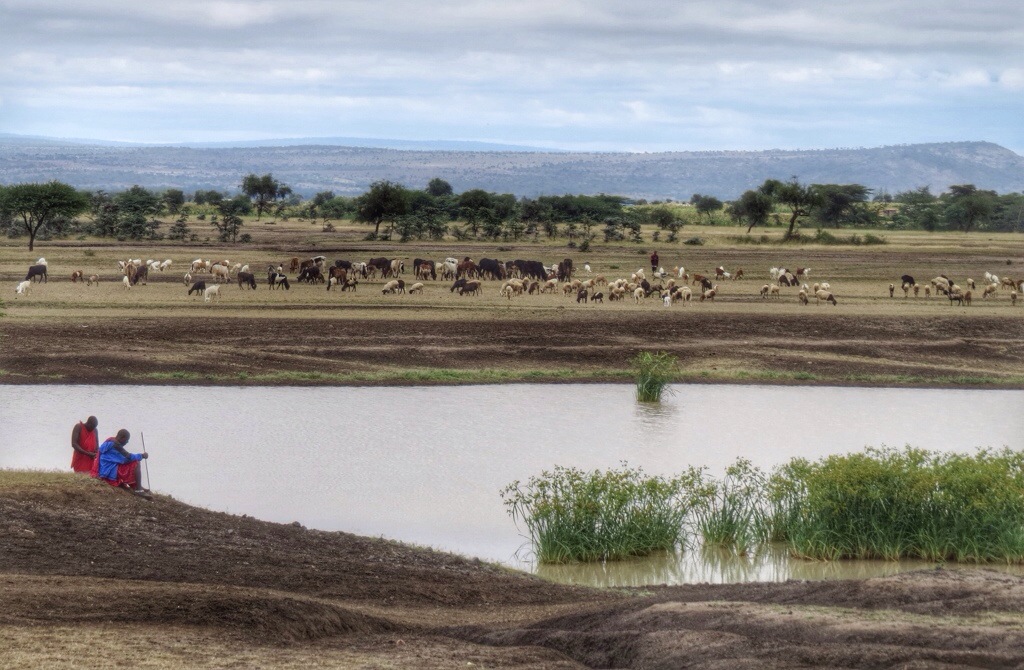 Arriving at Snake Park Camp on a Friday afternoon, we didn't feel like struggling through the weekend jams back into Arusha, so decided to stay a few extra days until the office reopened on Monday
I'm glad we stayed. Ma & BJ built the camp 17 years ago on scrub land and still run it with Deon, a friend of their son. They're no spring chickens but they're hard working & great fun. Informative, helpful and very funny hosts. We also spent a few days with Eddy, a tour leader chilling out for a few days before picking up his next guests in Nairobi.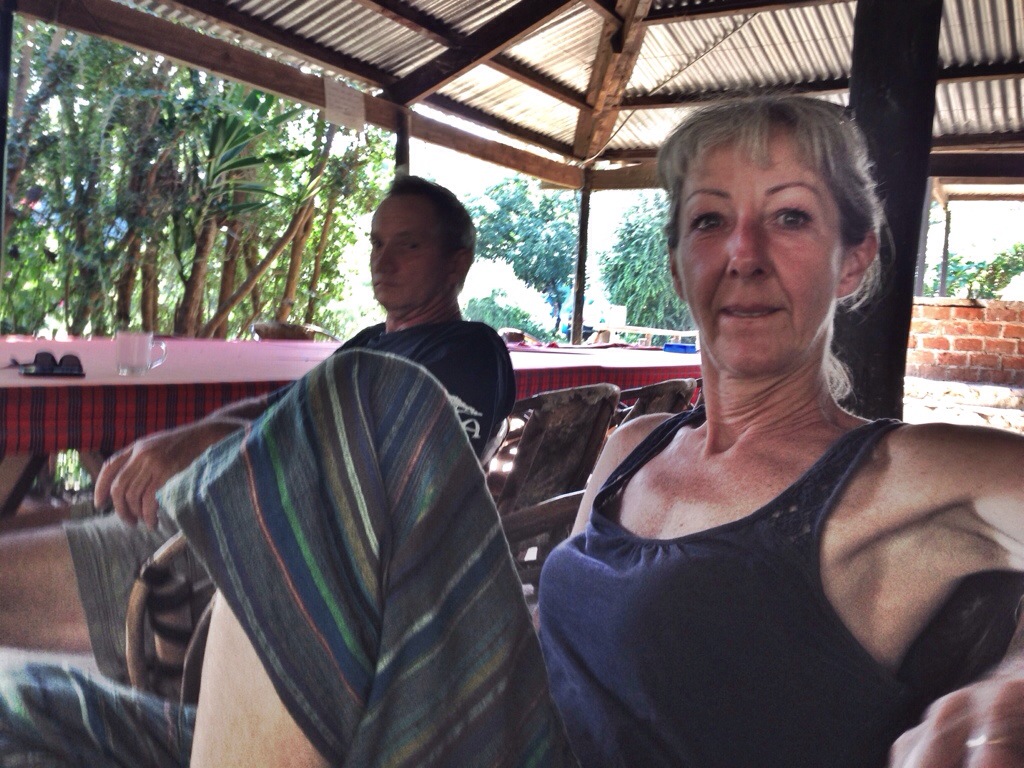 A very relaxing few days – we even watched the Monaco Grand Prix on TV and caught up with world news on Al Jazeera, one of the best (and surprisingly perhaps) least biased news channels in the world.
Most of all we laughed at Ma & BJ's stories of life in Tanzania.
One story in particular still makes me laugh now – BJ explained how his foolproof method of stalking and hunting buck or buffalo works…
…walk through the bush carrying an open black umbrella in front of you
…have 2 holes cut in it so you can see forward…
…have a third hole cut for the barrel of the gun (the stock can rest on the umbrella handle)
…have a stick with a baseball cap on the top held behind the umbrella, above your head
The hunted beast thinks you're an ostrich and ignores you to the point you could probably beat it with the butt of the rifle rather than shoot it!
Apart from just being a good place to stop on the way to Ngorogoro or Serengeti, the Snake Park is fascinating. It was started as a hobby by their son when they first arrived. Today they have around 30 species of snakes, some crocodile pools and some birds of prey. All of the animals and birds have been rescued and are either being re-habituated to be released, or are too damaged to be able to fend for themselves.
The campsite itself is swarming with birds, including Collared Love Birds that live in the thatch.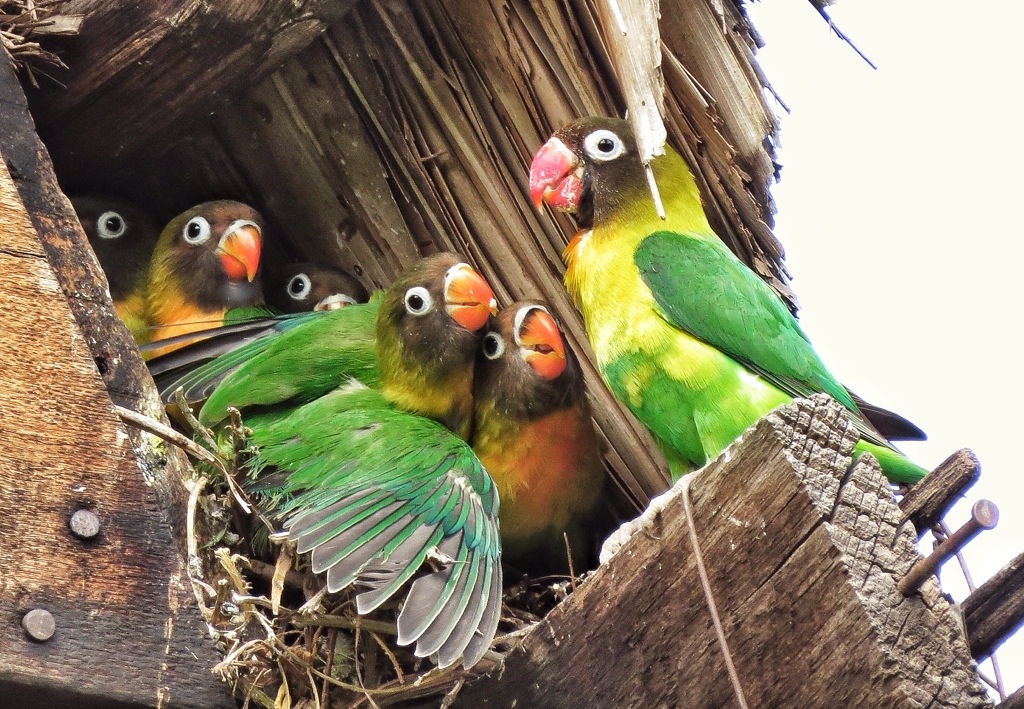 Snake Park Camp employ 40+ local Maasai. Camping is free if you pay $6 entry to the Snake Park. Profits from the Park, the bar and the vehicle repair workshop run by BJ are used to fund the Snake Park, a Massai Cultural Centre they have built, a small Maasai museum and a Health Clinic that is free to all (including administering $25-$150 a pop snake-bite treatment for local herdsmen). These days the clinic can treat up to 1,000 people per month.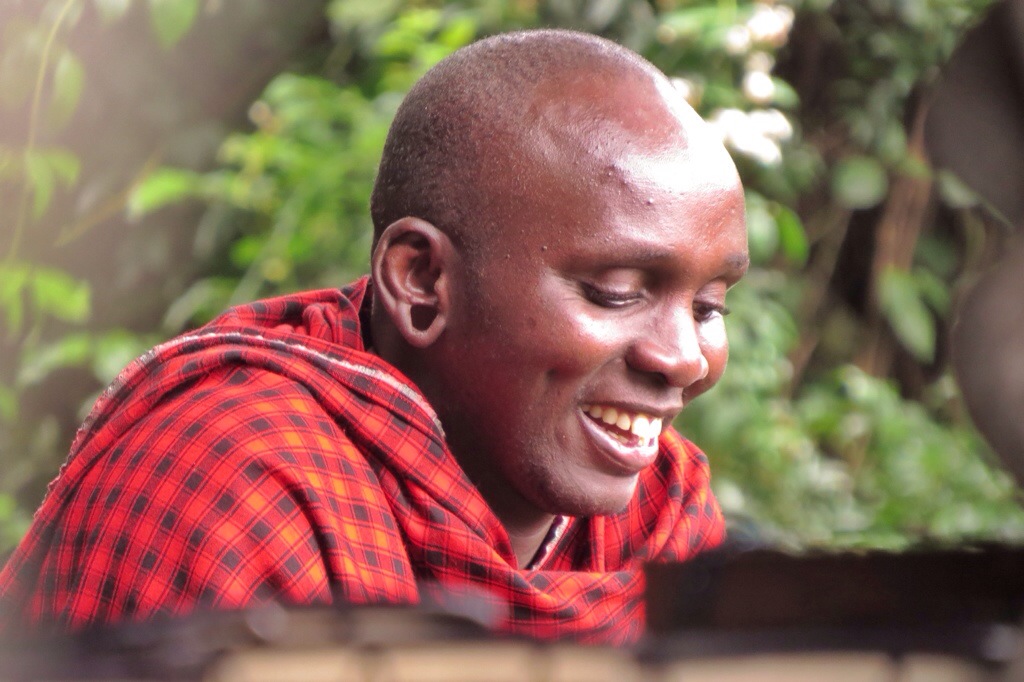 A fascinating place and a great welcome. Ma even had the cook make us dinner (normally provided for the tour-truck drivers, but there were none) and asked us to join in their breakfast a couple of mornings.
4 nights camping for 2 people, 8 dinners, 4 breakfasts, 2 free T-shirts, a pot of BJ's home-made Chilli Relish and many laughs: $75 / £42.
You can't do much better than that.
Next…Brake failure in The Serengeti!