We left Addo for Graaf Reinet about 350km inland – the first 50 being along the Sundays River valley which is swathed in huge Orange and lemon plantations.
Odd that everyone says don't go near elephants with citrus since they'll break down your car doors to get to it – yet a couple of kilometres away is one of the biggest growing regions in Southern Africa.
After the lushness (and freshness in the air) of Sundays River valley, the rest of the trip was pretty dull, broad scrubland plains, with little variation in the landscape and very little population. Apparently this is 'The Mohair Route' ie nothing but goat farms.
At the end of the day we reached Graaf Reinet, a historic, Colonial German-founded town amongst rolling hills. Quite a pleasant place to spend the night, with a number of buildings dating back to the early 20th Century – that in itself makes it stand out in South Africa, since most of the country's towns seem to have little that dates before the 1950's / 60's.
Once again the area is sparsely populated – nothing other than a couple of one-horse villages within a 150km radius of Graaf Reinet itself. The highlight for us though was a protected area just outside town called Desolation Valley.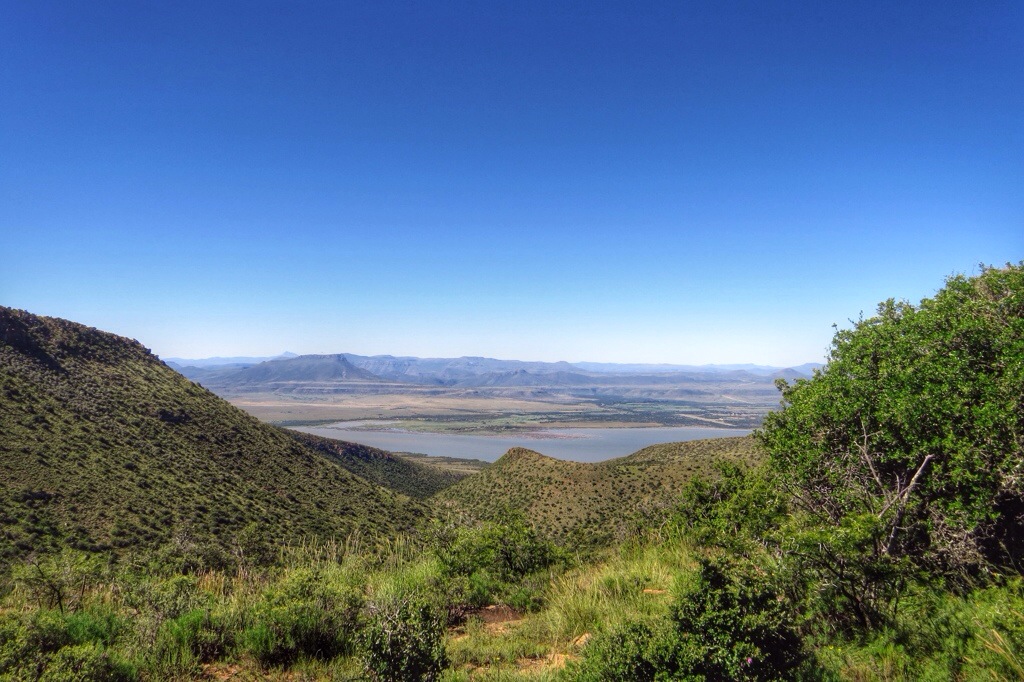 Set into the flat, wide valley are a couple of dramatic volcanic plugs…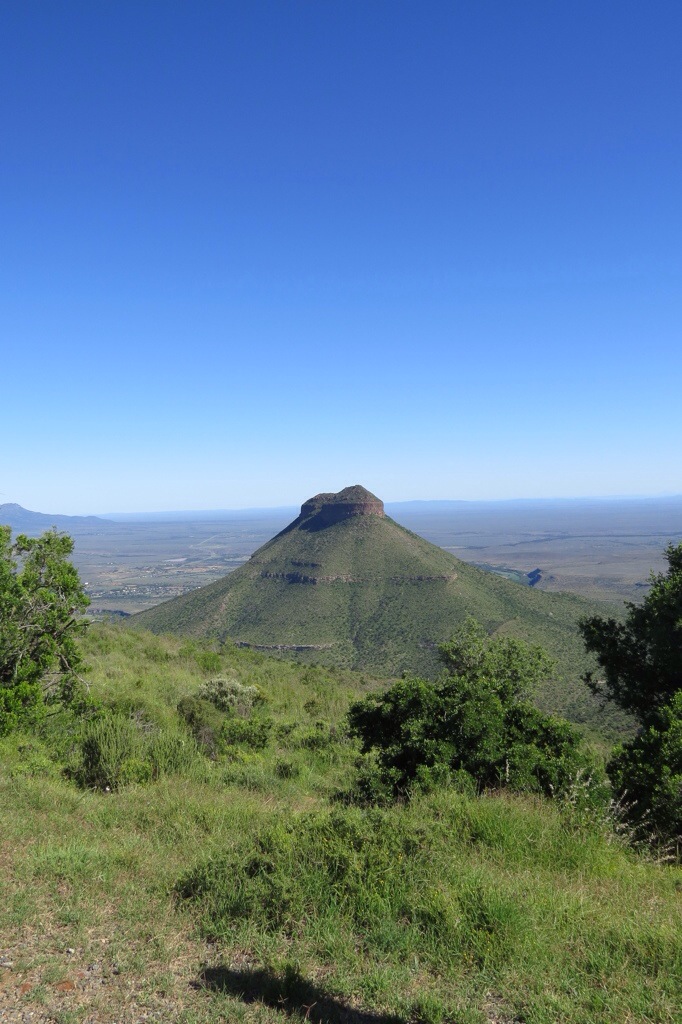 …and at the end of the valley a series of wind-eroded basalt stacks on the very edge of a 300m drop into a canyon filled with sub-tropical vegetation.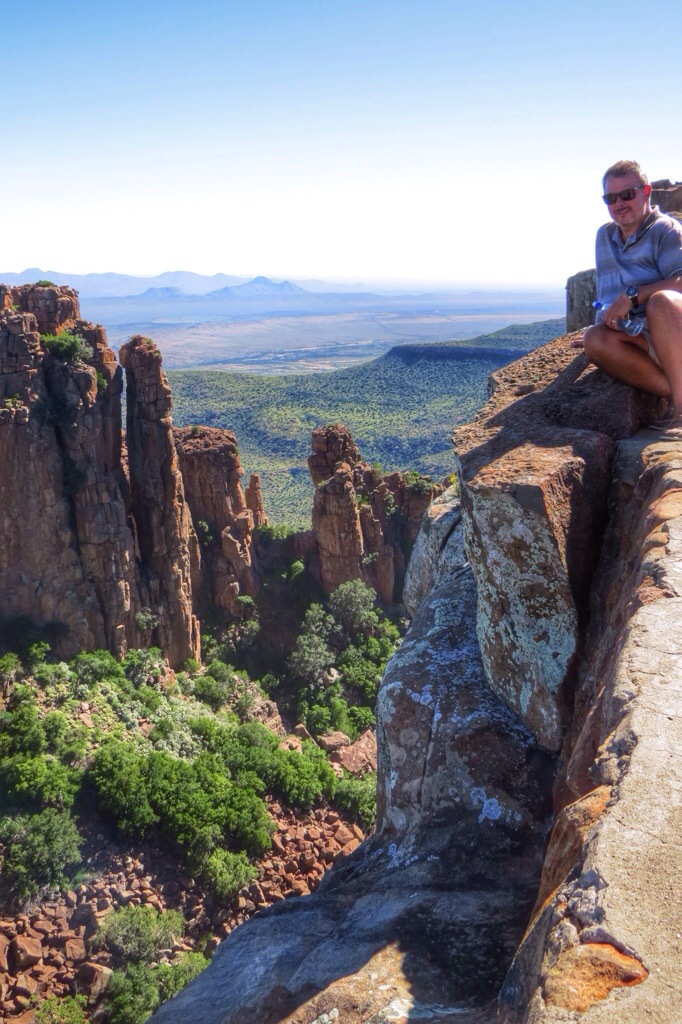 We could probably have stayed in Graaf Reinet a few days, but didn't. It's a nice town to walk around and there are many old-fashioned cafes, antique shops, craft shops etc, but that feels too much like being 'on holiday' and I want to avoid that feeling as much as possible.
We left the next morning and drove pretty much directly east, taking the R63 along yet more endless rolling plains of cactus-strewn scrubland to a small mountain village called Hogsback (named after the three ridges that dominate the skyline).
It's pretty remote out here, but even in the back-tracks of farmland and forest, wherever you stop for a picnic lunch you're always found by someone appearing out of nowhere to sell a carved elephant, hippo or, in this case 'Hog'.
It's (locally) believed that the valley of Hogsback was the inspiration for The Hobbit, after Tolkien lived close to here for a period. Add in a couple of ancient stone-circles and consequently the small village of ramshackle, character properties has become like a down-sized Glastonbury – dripping with hippies, psychic-reading chalets, walking labyrinths, crystal massages and opportunities to get in touch with your Guardian Angel. Great fun.
We camped at a local backpackers, 'Away with The Fairies' at the end of one of the forest lanes.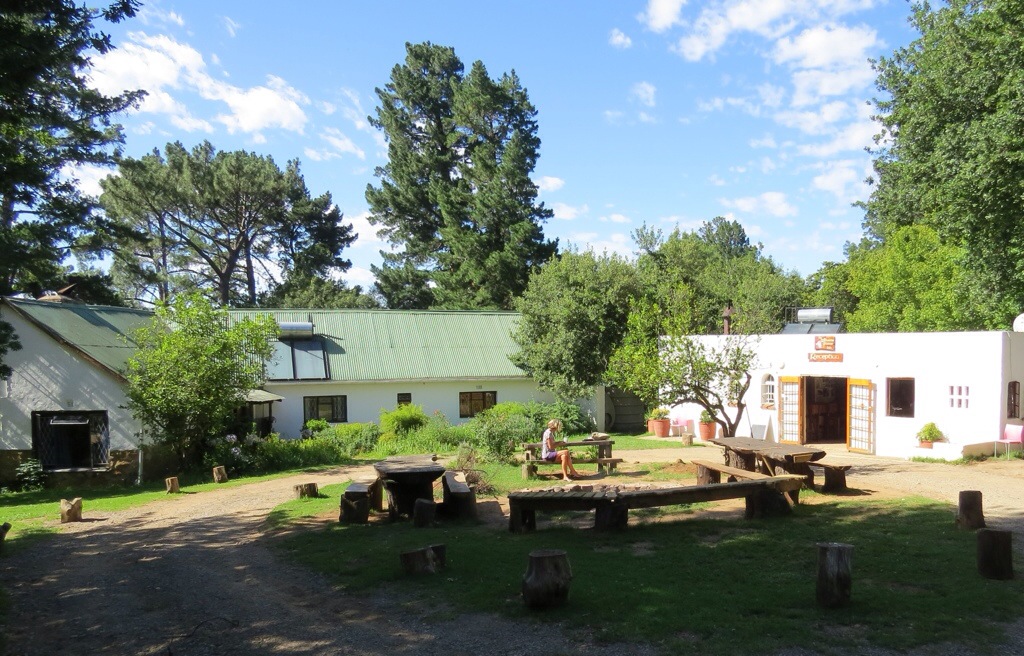 It was built 16 years ago by Dan & Monique, who give the place real character and made us feel really welcome.
At 1200m up, it has one of the best views of the 1900m Hogs Back plateau, a really good atmosphere, good food & cheap drinks in The Wizard's Sleeve bar, excellent coffee, good music, a real mix of 'character' guests and a roaring fire every evening.
They also have a bath with a view.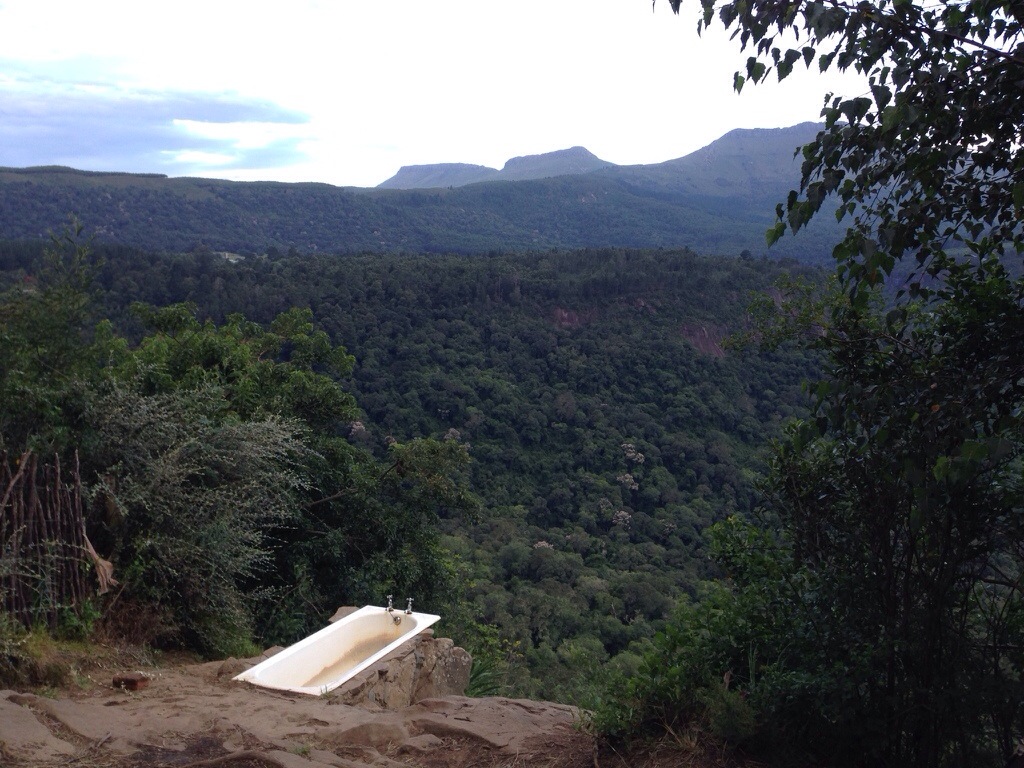 Fed by a donkey-boiler that provides piping hot water.
We haven't seen a bath for months.
Propped up on the edge of a 200m cliff – Sheer bliss.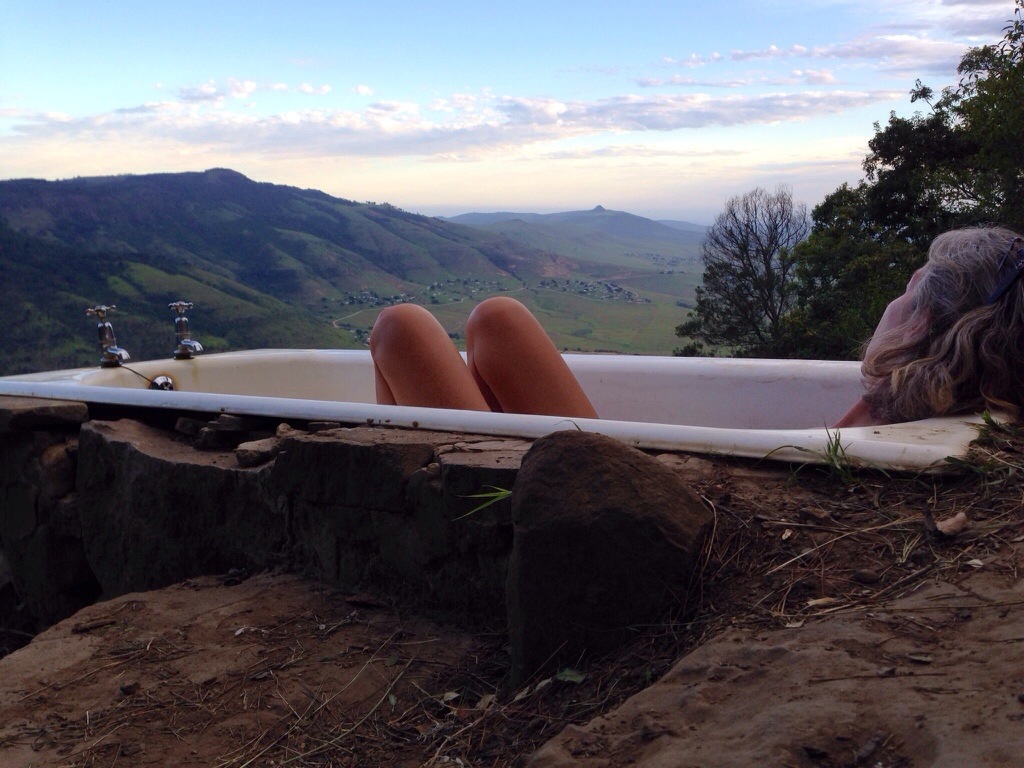 That night we camped with tree-frogs chirruping and monkeys howling in the trees around us. Once more, we were disappointed to leave but were keen to head down to the Wild Coast' south of Durban to see a little more of the Indian Ocean.
The drive through the farmlands east of Hogsback was beautiful for the first 100 kilometres. Quite a lot like central / northern England.

After the first 100km east to Alice, it turned into a real slog to the coast. About 300km of undulating hills and the occasional villages / townships that, for some reason, I found depressing.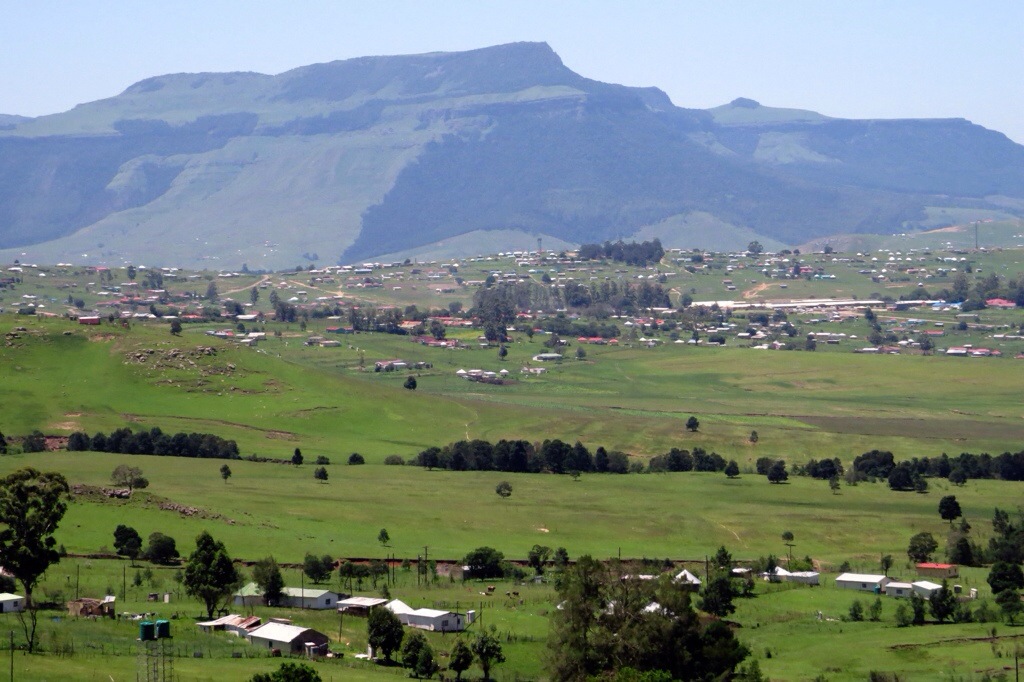 I don't know why – we've seen may townships and most of them seem to have a lot of life about them. We've also seen lots of rural communities and, although poor, most appeared to have something going on – either local farms / vineyards for people to work at; towns to travel to for work; or even just local allotments / vegetable gardens around the housing so that people could support themselves and trade crops with their neighbours. For about 200km though, despite the homes / huts looking more affluent than in many areas we've been, most of the communities we saw seemed to have no energy, no spirit, nothing positive about them. It didn't look like any effort was being made. I think that's what I found depressing.
I felt quite a relief as we got out of the plains and closer to the coast. Maybe it was that the 400km had taken us nearly 7 1/2 hours, maybe it was the heat, maybe the unending 'sameness' of communities we passed – it had seemed like a grueling day.
Within 50km of the coast the landscape changed again. Beautiful valleys, bustling little villages, streams of children in immaculate school uniforms walkings miles back to their township homes. Suddenly there was some life about the place again. Things were looking up.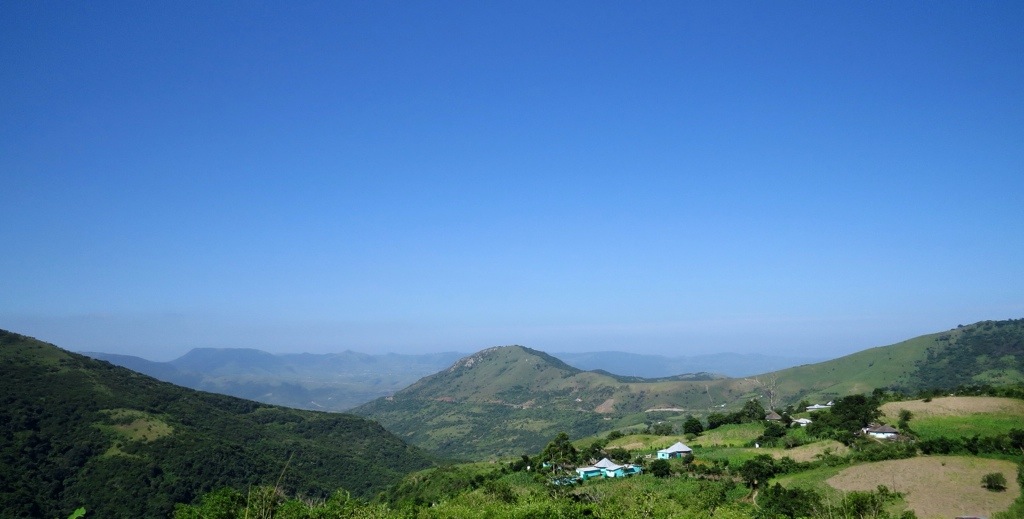 We arrived at Port St John, a typical S African village – bustling tatty-looking shops, a street market, loud music, traffic chaos, sheep for sale at the roadside in 3 metre square pens, dozens of mini-busses clogging the streets picking up fares (or at least stopped at random, double parked until enough people got on to warrant them leaving).
Lively and entertaining.
We'd heard from Dan & Monique that Amapondo Backpackers had a great location about 3km out of town at 2nd Beach and arrived looking for camping. They had it (in a garden behind the bar) but it was only suitable for tents – nothing for rooftents.
We weren't too concerned and said we'd camp at a flat spot we'd seen in the 'car park' ie the track up to the bar.
Our Indian Ocean view from The Penthouse for the next couple of days (not bad for a car park).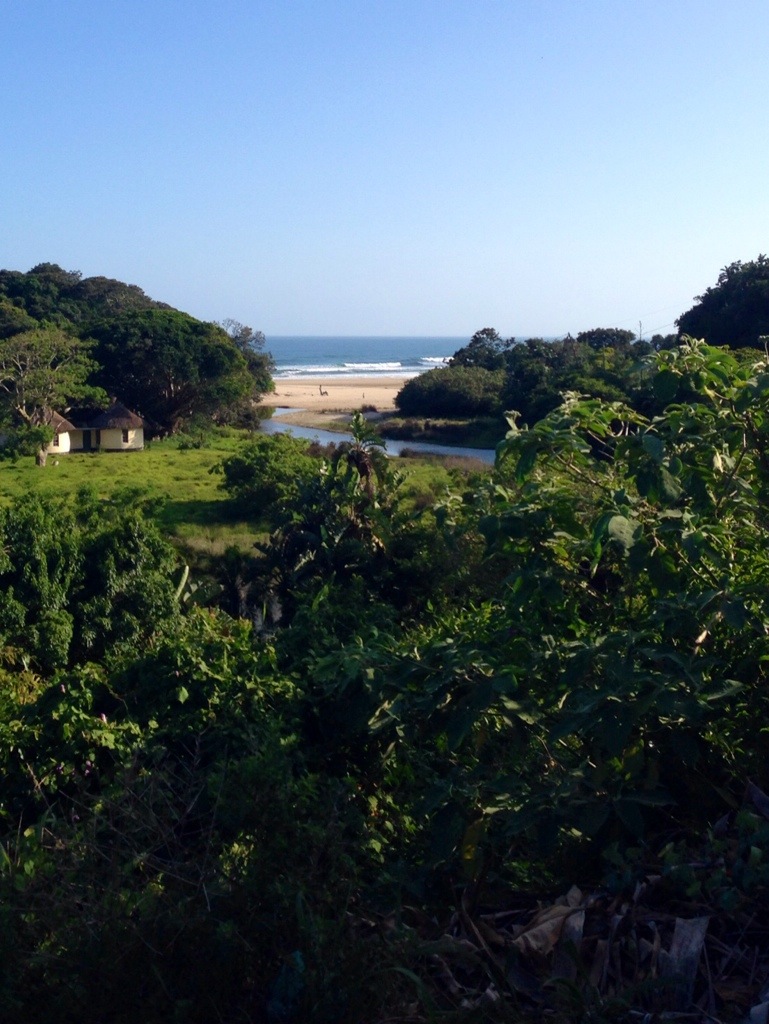 Another Hippy Joint with a good atmosphere: bongo drums, people making bags out of leather patches, good music, good food, Rastas, weed, hammocks, monkeys in the trees, a lively group of people (although one or two seemed to be designer-hippies, who got out of shiny hire cars with Samsonite luggage, dressed like Shaggy from Scooby Doo) and… a resident donkey in the bar.